With its majestic historical houses, delicious food, lively bazaar, natural rosewater, and traditional, dusty rugs, Kashan gives you a deep dive straight into the Persian culture.
Wander the narrow streets nestled between the old walls of the city and be prepared to communicate with Google translate if you haven't practiced your Persian. Helpful, smiley locals eager to help out if you get lost in the streets will likely follow you to your destination to make sure you find your way, like anywhere in this friendly country.
There are probably enough things to do in Kashan, Iran, for a whole week or longer if you have the time to discover every corner and find all those hidden gems between the city's golden walls.
If you don't have that much time, here are the top 10 things to do in Kashan that you shouldn't miss, including a tour to the Maranjab Desert and the Salt Lake, one of Asia's most impressive natural landmarks.
Disclosure: This post may contain affiliate links. That means that if you make a purchase through one of those links, I will get a small commission at no extra cost to you. If you have any questions about these services or products, feel free to ask me.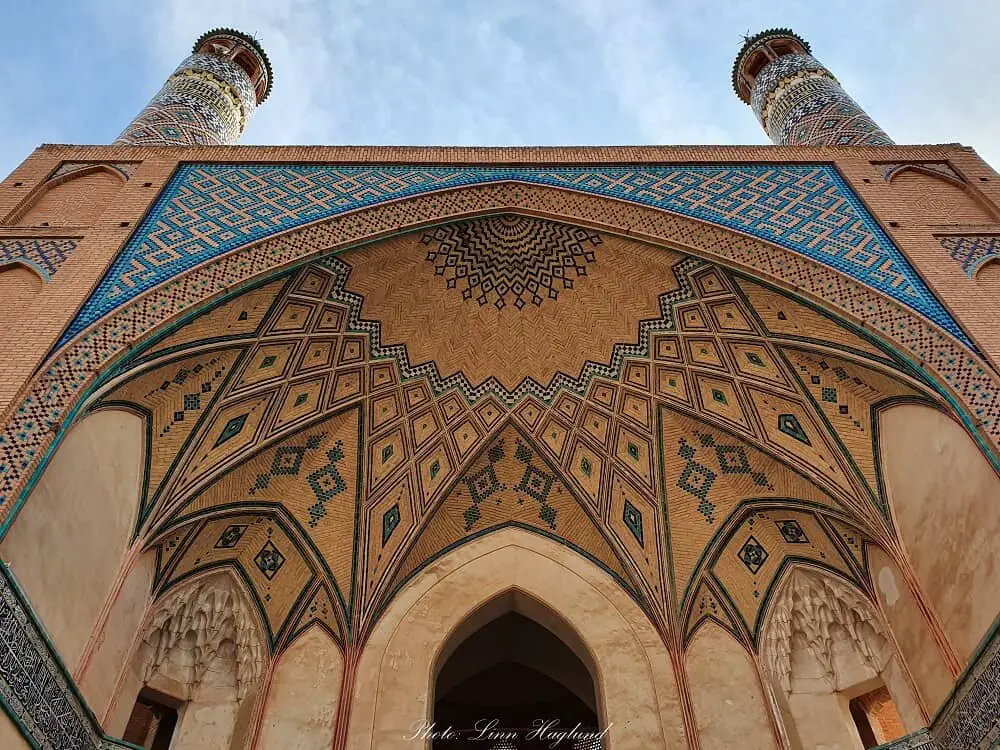 READ: 10 reasons I fell in love with Iran
How to get to Kashan, Iran
Kashan is on the main road between Tehran and Isfahan which makes it a natural stop for travelers to add to their Iran itinerary.
By plane
Kashan airport is one of the oldest in the country and serves both national and international flights. However, most travelers stop there on the road between Tehran and Isfahan traveling overland.
The airport is only 12 kilometers outside the city.
By bus
The city is easily reached by bus from several large cities, like Tehran, Isfahan, and Shiraz. Except for the latter, which offers buses to Kashan once a day, there are frequent daily buses and usually, you can just drop in at the bus station and buy a ticket for the next departure.
The bus time to Kashan from Tehran is about 3 hours, from Isfahan it's 2,5 hours and from Shiraz, it takes 7,5 hours.
There are VIP buses that cost a little bit more (but still insanely cheap) that give a lot more legroom.
The general rule on buses in Iran is that women and men can not sit next to each other, but on these long-distance trips you usually get a seat number on your ticket so you don't have to worry about it.
By train
You can also get a train to Kashan from Tehran or Isfahan.
From Tehran, the train ride takes about 3 hours and they run day and night, while it takes 2 hours and 30 minutes from Isfahan with two daily departures.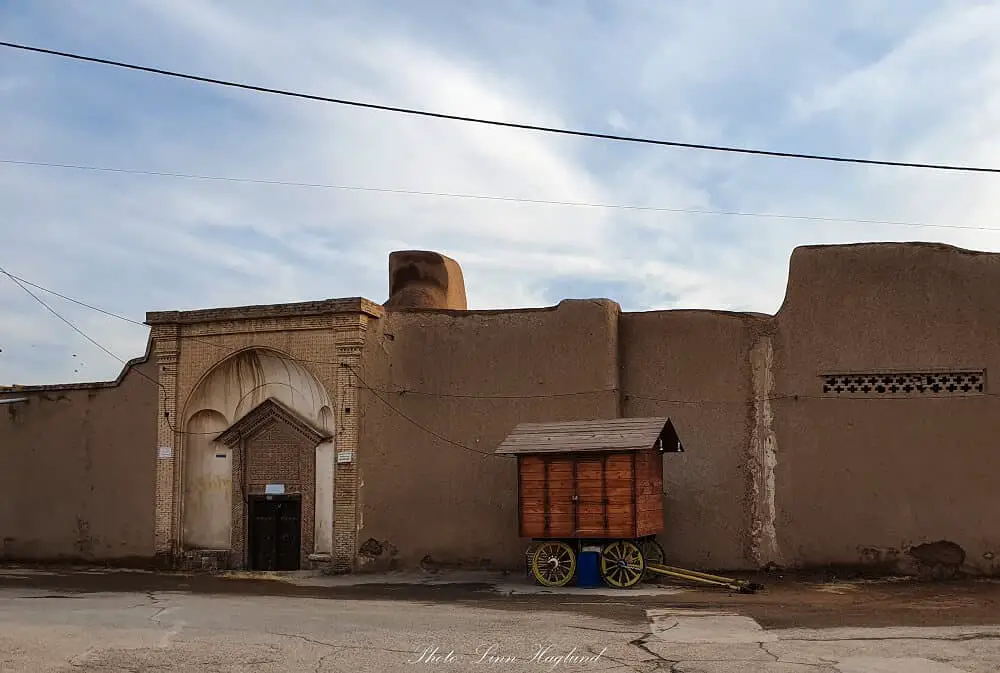 When is the best time to go to Kashan?
Before we look at the different seasons to travel to Kashan, I just want to remind you that the city is situated in a desert area, so temperatures drop with quite a lot at night time compared to the day temperatures, even in the otherwise burning hot summer months.
High season
June to August are extremely hot months in Kashan, with temperatures of 30-40 degrees Celsius at day time and mid 20's at night. It is also high season, though Iran is an off the beaten path travel destination so the crowds won't be too daunting. The heat could be, though. If you go at this time of year, make sure you wear a hat and bring sunscreen and enough water at all times.
Shoulder seasons
April to May and September to October are still warm at day time with fewer people around. These are excellent months to venture around the historic city of Kashan.
Low season
November to March are the coldest months, especially from the end of December and through February when temperatures can hit below zero at night. Days are yet pleasant to explore as long as you dress well.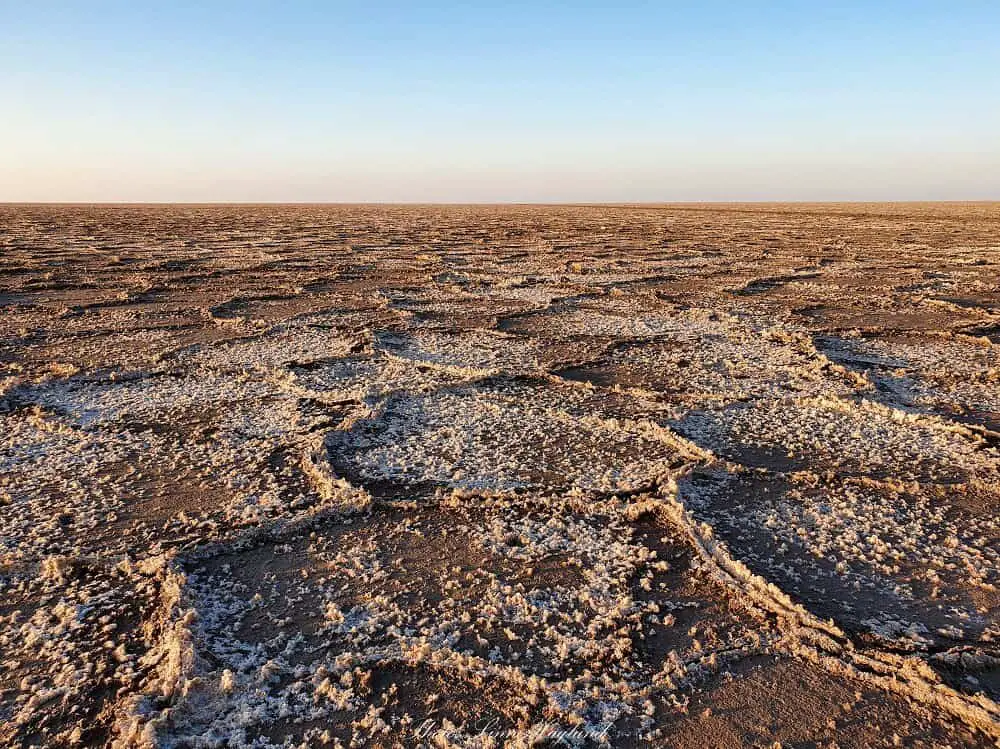 Where to stay in Kashan
Kashan is full of stunning guesthouses, many of them are historical houses made into hotels, so it is needless to say you will go back in ancient times almost anywhere you stay. Here are some recommendations.
Kooshk e Honar
This is a beautiful guest house run by the lovely Hamid Reza who will surely welcome you with warm tea once you arrive. He rents out the entrance part to a friendly, young couple that runs a café whereof the wife speaks perfectly English. So does Hamid Reza. He refurnished the ancient building with a friend and opened the guest house in late 2019. He offers dorms with shared bathrooms as well as private rooms. He is also super helpful if you want to book a tour or even transportation to your next destination.
Kooshk e Honar is only a short walking distance from the main tourist attractions.
Book your stay with Koosh e Honar here.
Hostel Green House
Hostel Green House is an old historic house that offers dorms and private rooms, all with shared bathrooms and kitchen. A welcoming hostel that gives a feel of the local way of life. The hostel manager, Ali, used to be a tour guide so he will most likely help to point out the best spots for your visit.
Book your stay at Hostel Green House here.
Amirza Traditional House
Well situated, Amirza Traditional House is only minutes away from attractions like the Historic Houses and the Bazaar. A clean, nice-looking guest house, though it doesn't offer dorm beds, prices for single or double rooms are reasonable.
Book your stay with Amirza Traditional House here.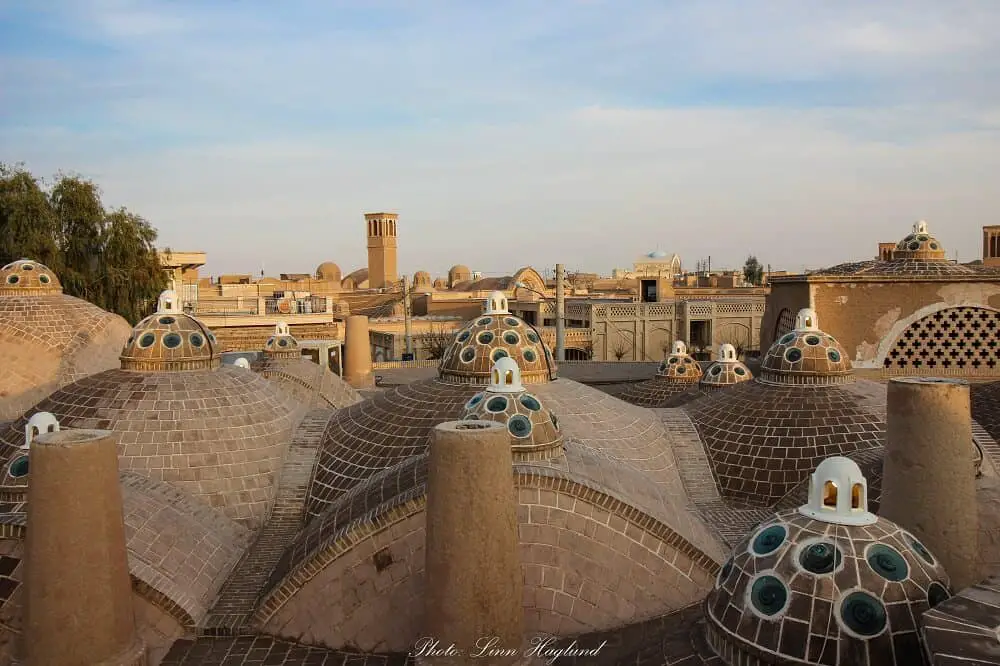 Travel insurance
When you travel to Iran, it is mandatory with travel insurance. It is necessary to specify on the actual insurance policy that you are covered for Iran, not only Asia. Otherwise, they will make you buy additional travel insurance before you can enter the country.
Normally I always use World Nomads travel insurance when I travel, but at the time of my trip to Iran (the end of 2019), they didn't cover the country. They have done in the past and might do it again in the future.
Therefore, I went with IATI travel insurance which turned out to be pretty easy to book with too and with good conditions. When I found out I had made a mistake in my first purchase they were easy to get hold of over the phone and they offered me a solution and money back on my account within a few days.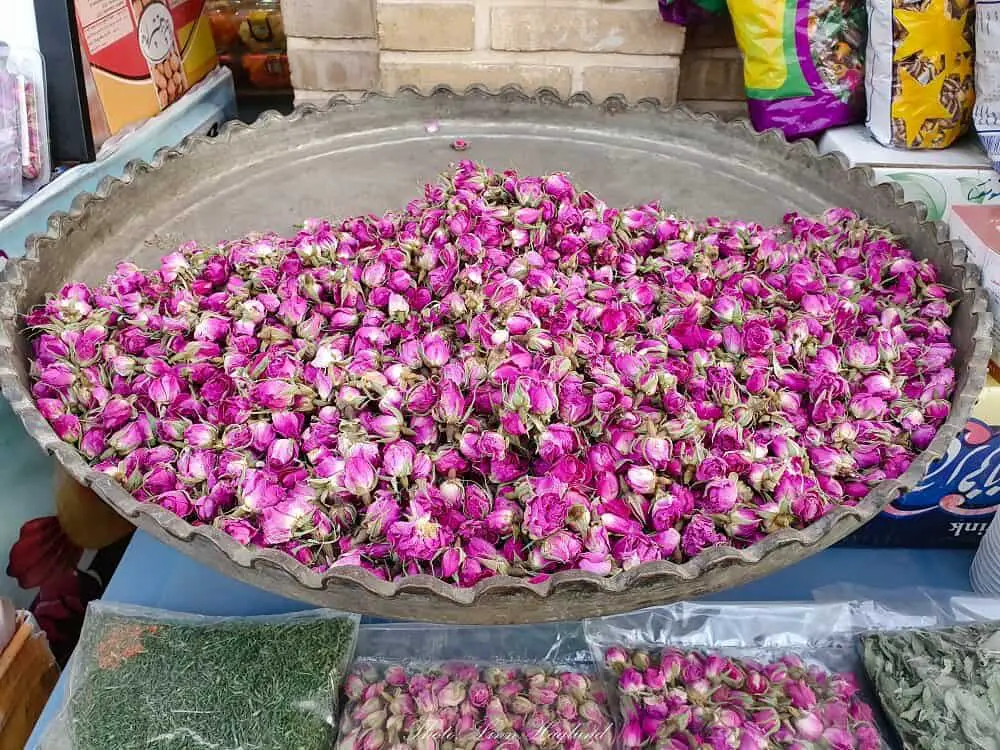 Things to do in Kashan
There are plenty of things to do in Kashan, so I've listed 10 of the top things you shouldn't miss out on.
Agha Bozorg Mosque
Agha Bozorg Mosque is one of the most beautiful mosques in Iran, built in the 18th century. It is beautifully symmetrical with a large courtyard in the middle with a pool in the center. The architecture is impressive, and at least a good hour is needed if you really want to explore every corner of this incredible structure. If you look closely you will see that various verses of the Qur'an are neatly inscribed in tiles and mosaics in the inside of the mosque.
Note: Women must wear a chador (a large piece of cloth that covers you from top to bottom) to enter. You will be given one free of charge as you enter and you will get help putting it on, so not to worry. Oh! And if you are as clumsy as I am and manage to mess it up during your visit you probably get help from other women to look decent again.
Entry fee: Free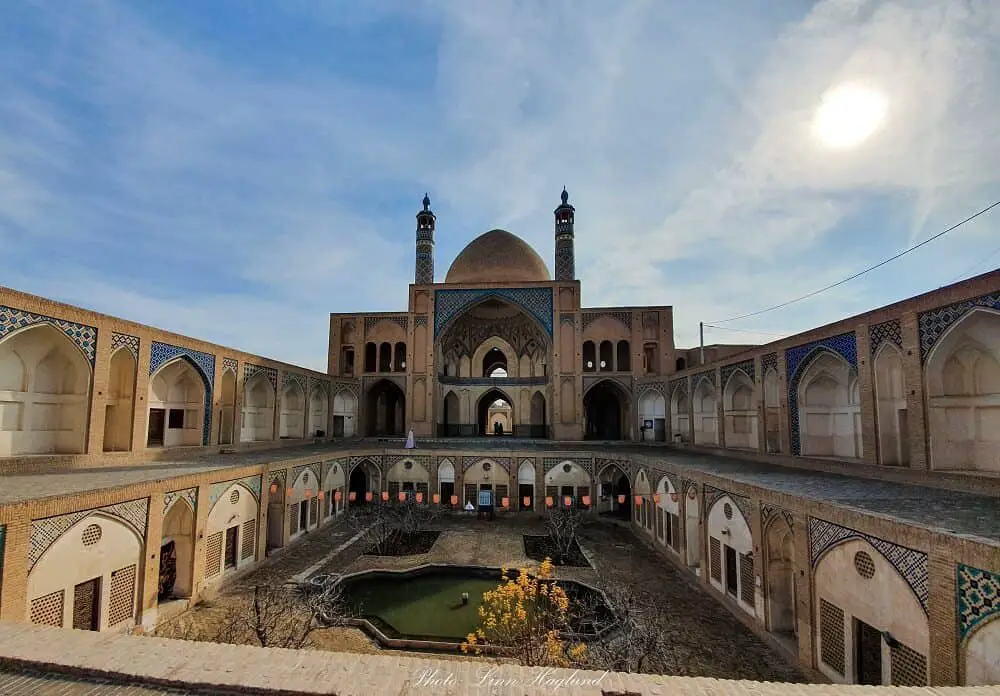 Taj Historical House
The 200-years old Taj Historical House, also called the Artist's House of Kashan, has a cute traditional courtyard in the middle. Since the house was transformed into an anthropology museum and artist's house, the different rooms showcase old artifacts and photos. A nice house to stroll around.
Entrance Fee: 200 000 IR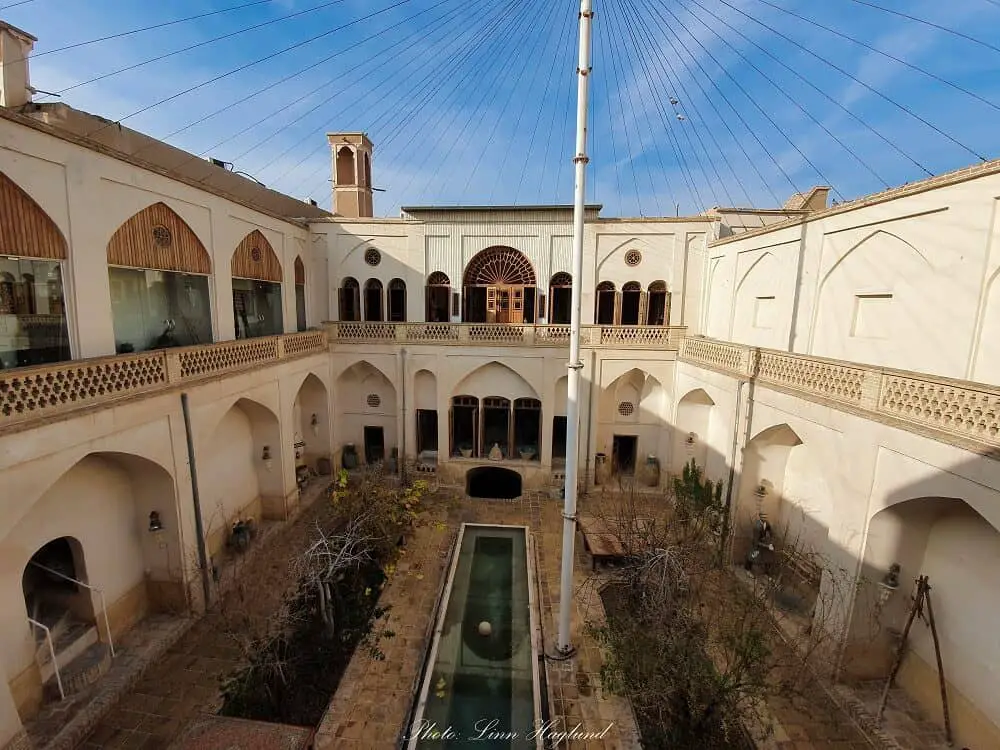 Abbasi House
Abbasi House was built in the late 18th century and is now under renovation and one of the three courtyards is more like a construction ground. Nonetheless, it is possible to walk all around and enjoy both the newly renovated parts and the less attractive parts. You can climb up to the rooftop for views over the city. Even though large parts are still a construction ground, it is a beautiful place to explore and go back in time.
A part of the house is transformed into a traditional tea house and restaurant and though fairly high-priced it is worth going if not only for a cup of tea to enjoy the beautifully ornated facilities.
Entrance fee: 900 000 IR for a multi-ticket for Abbasi House, Sultan Amir Ahmad Bathhouse, and Tabatabaei House.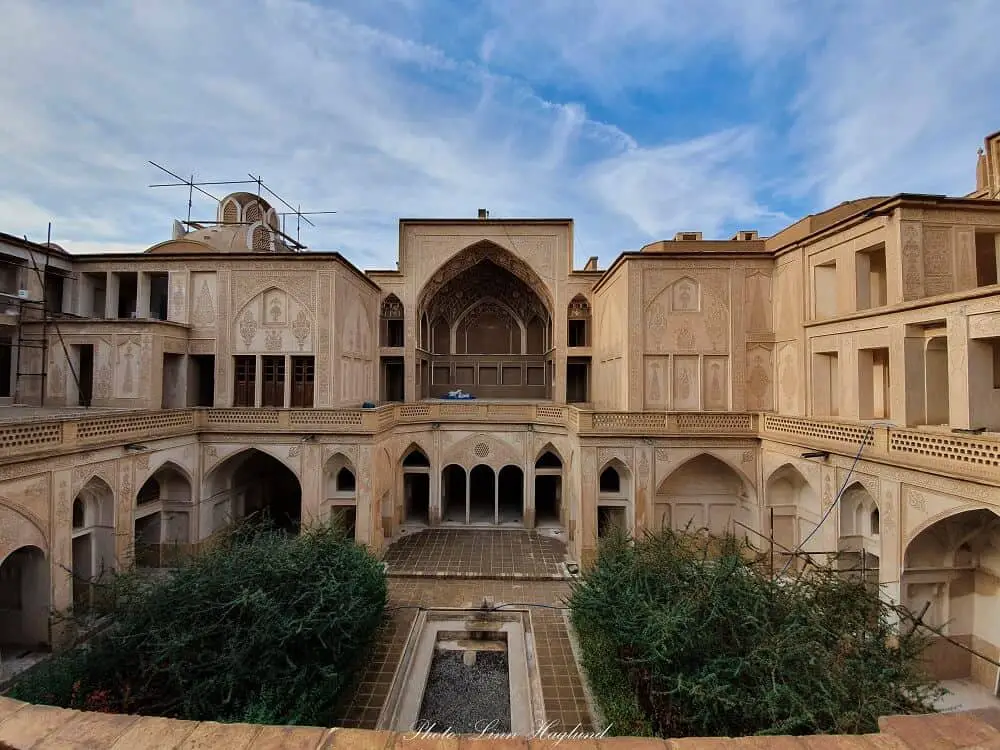 Sultan Amir Ahmad Bathhouse
Sultan Amir Ahmad Bathhouse is one of the many delightful surprises of Kashan Iran. It originally dates back to the 16th century, but as it got damaged in an earthquake back in 1778, it was renovated during the Qajar era. Beautifully ornated with tiles in shades of blue and yellow on the floors and walls. Look up, and the detailed paintings and mosaics in the ceiling will leave you breathless.
The bathhouse is a unique piece of architecture that takes you back in time and with the actual bath being underground, the rooms stay naturally warm. Don't forget to venture up to the rooftop on your way out. It's pretty cool!
Entrance fee: 900 000 IR for a multi-ticket for Sultan Amir Ahmad Bathhouse, Abbasi House, and Tabatabaei House.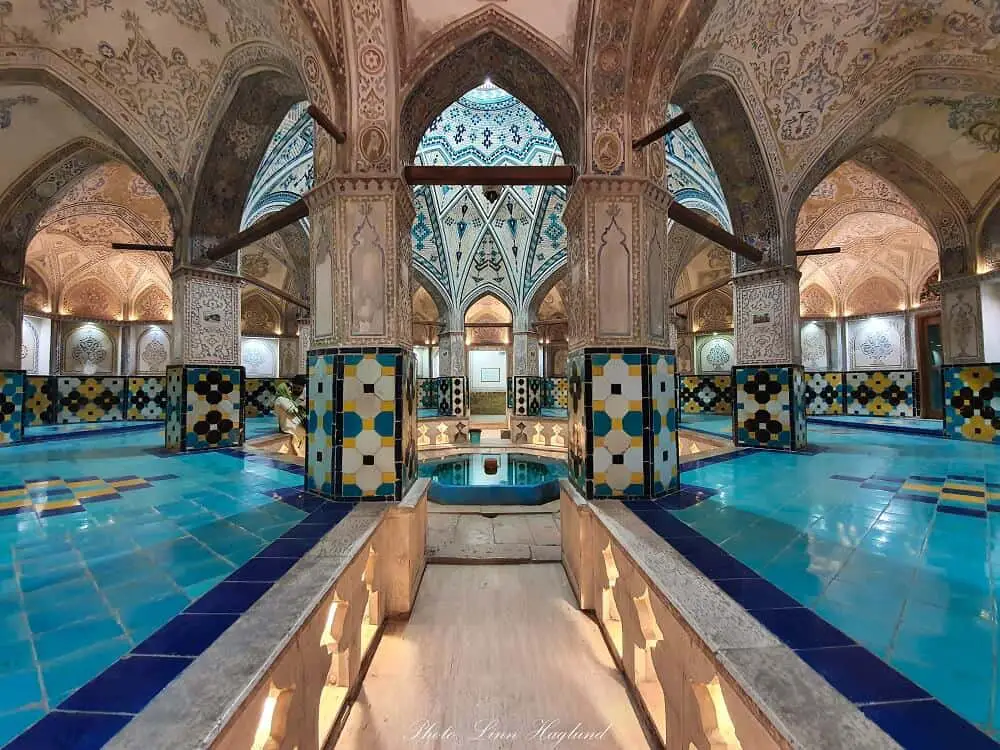 Tabatabaei House
Tabatabaei House is another spectacular historical house not to miss while in Kashan. The house was built during the Qajar dynasty and reflects the lifestyle of wealthy families of Kashan in the 19th century.
The details in the walls and ceilings are astounding while the contrasts to the simple rooms where the servants lived are drastic. This massive structure including several courtyards takes you back in time in a glorious way.
Entrance fee: 900 000 IR for a multi-ticket for Tabatabaei House, Sultan Amir Ahmad Bathhouse, and Abbasi House.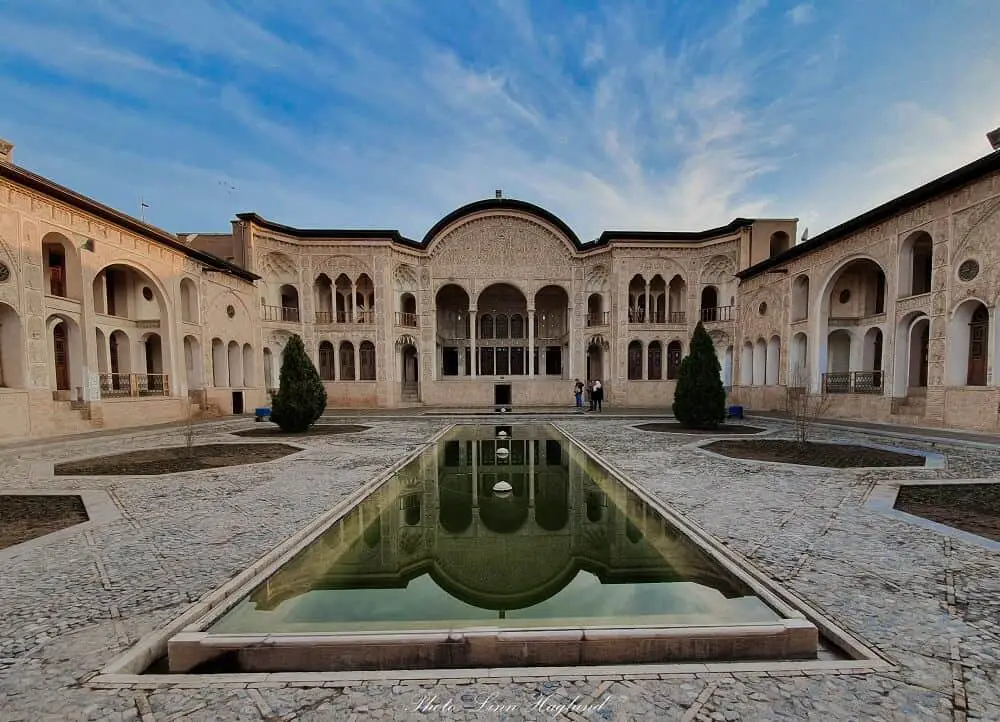 Stroll around the bazaar
No trip to Kashan is complete without a stroll around the bazaar. It is thought to date back to the Seljuk era and later renovated during the Safavid dynasty. The most beautiful part of the bazaar is the small caravanserai where luxurious Perian carpets have been sold all the way back to Qajars times.
The bazaar is also where you find official exchange shops in Kashan. Though you might get lost among jewelry, spices, and dried fruits in the search as not many people know English, you will manage to find your way with smiles, a few simple words, and a good portion of sign language.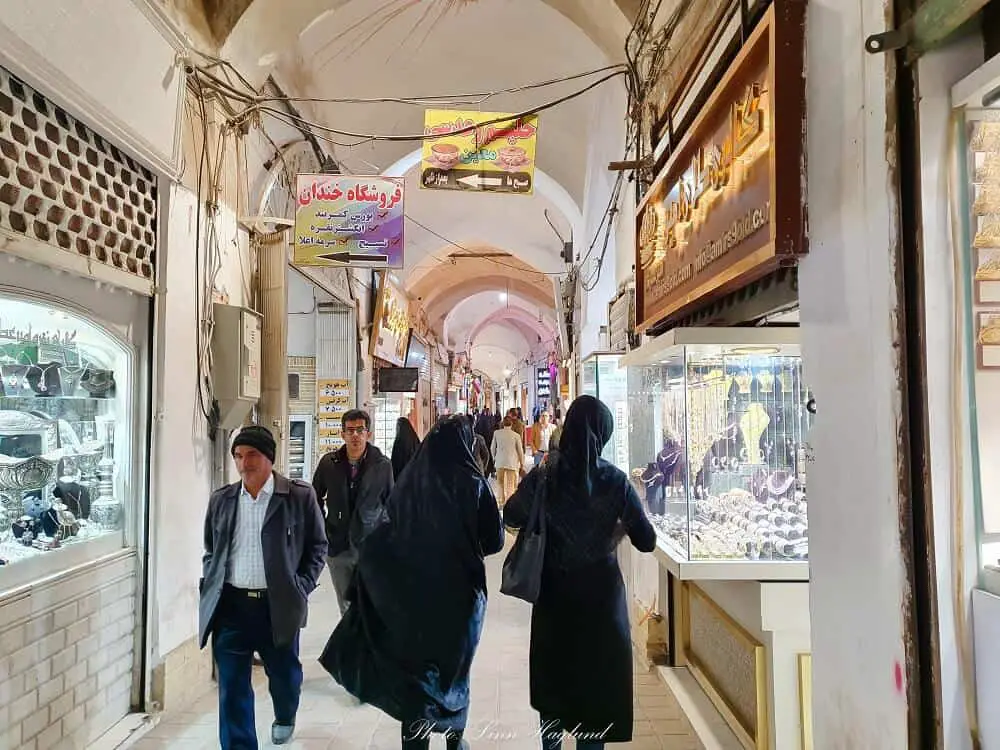 Noushabad underground city
Noushabad underground city is situated in Noushabad, 5 kilometers north of Kashan, and is said to be the largest underground city in the world. It was once built in secret to hide from hostile attacks on the city. As they dug the tunnels they built the nearby Noushabad Castle with the soil they pulled out of the ground. This way, no one paid attention to the new city forming under their feet. The tunnels are built on three different levels from 4 to 18 meters deep with several exits to different places in the city. The fascinating underground city was cleverly planned in ways of air circulation as well as safety and traps if the enemy were to come down so that they were always on top of the situation.
During a long time, the underground city was forgotten until a local randomly stumbled upon it as he was digging a hole in his garden only a decade ago. This is without a doubt a must-visit when you are in Kashan.
Entry fee: 500 000 IR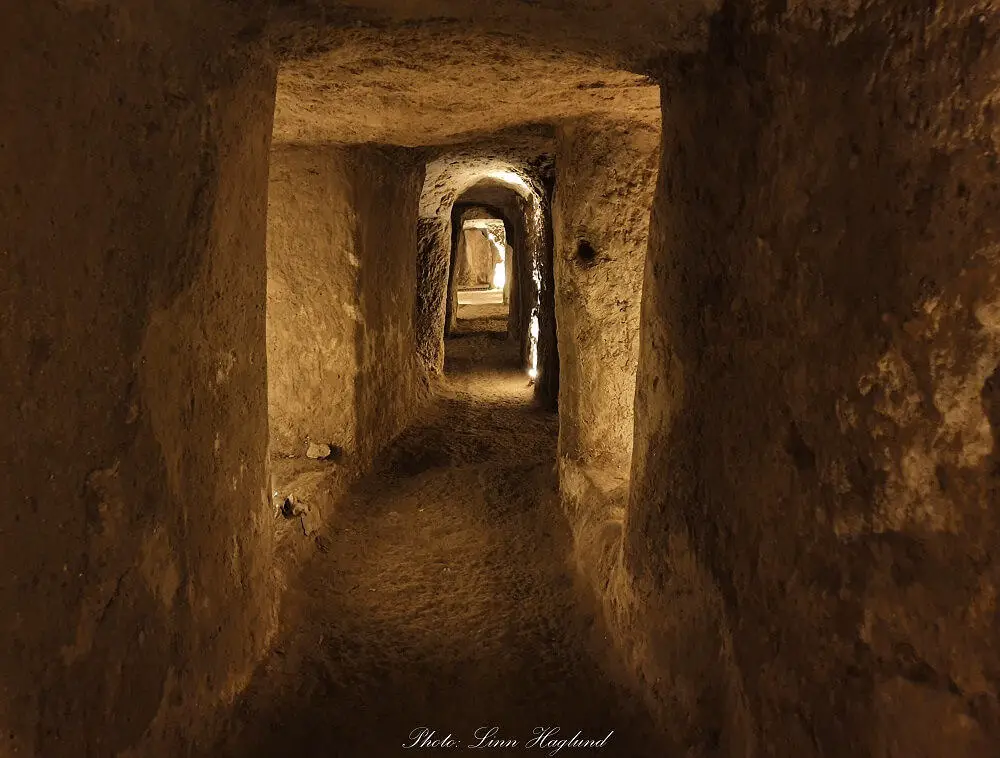 Noushabad Castle
The ruins of Noushabad Castle is situated close to the underground city. The most fascinating thing to do there is to walk up one of the many watchtowers for the views of the city. There is also a small cave in the wall you can enter.
The remains are all clay, so if it has been raining it can be sketchy to climb up the wall to the watchtowers. Definitely worth checking out if you like old ruins and the proximity to Noushabad underground city makes it an easy walk.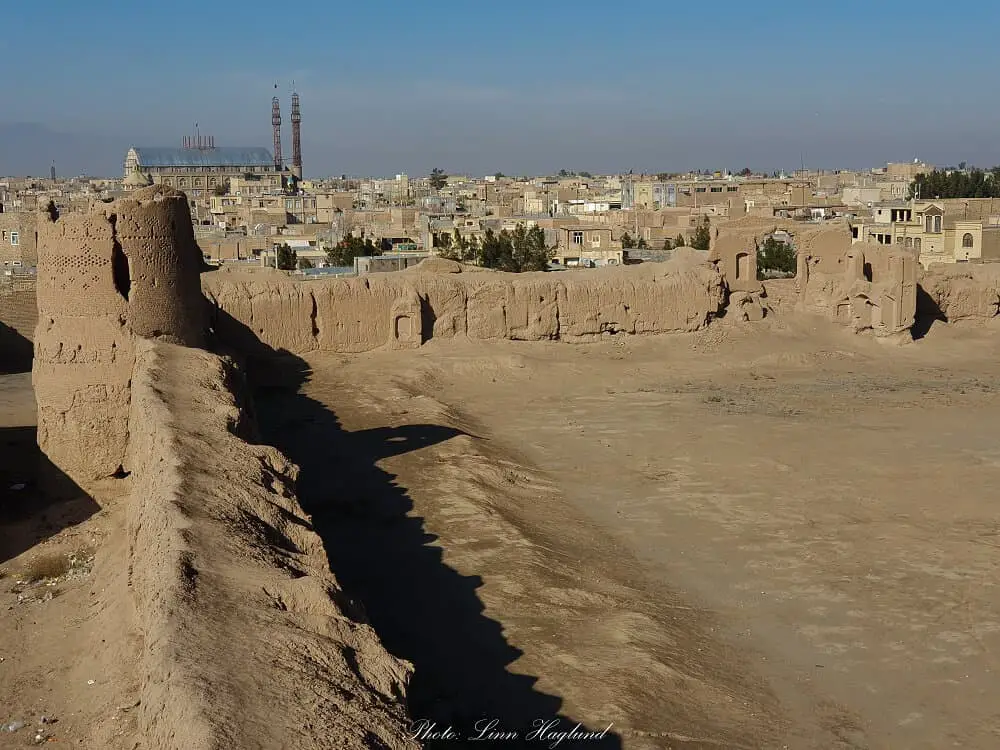 You might also like: 15+ Things to do in Isfahan – A complete travel guide to Iran's most beautiful city
Fin Garden
Fin Garden dates back to the Safavid era in the 16th century and is the oldest surviving garden in Iran. It was restored in the 19th century and is now listed as a UNESCO world heritage site.
Turquoise water runs through the garden and contrasts with the tall trees giving shade to the paths. It's hard to believe this lush green space is surrounded by desert.
The garden's buildings are beautifully decorated with detailed paintings that will leave you in awe.
Entry fee: 500 000 IR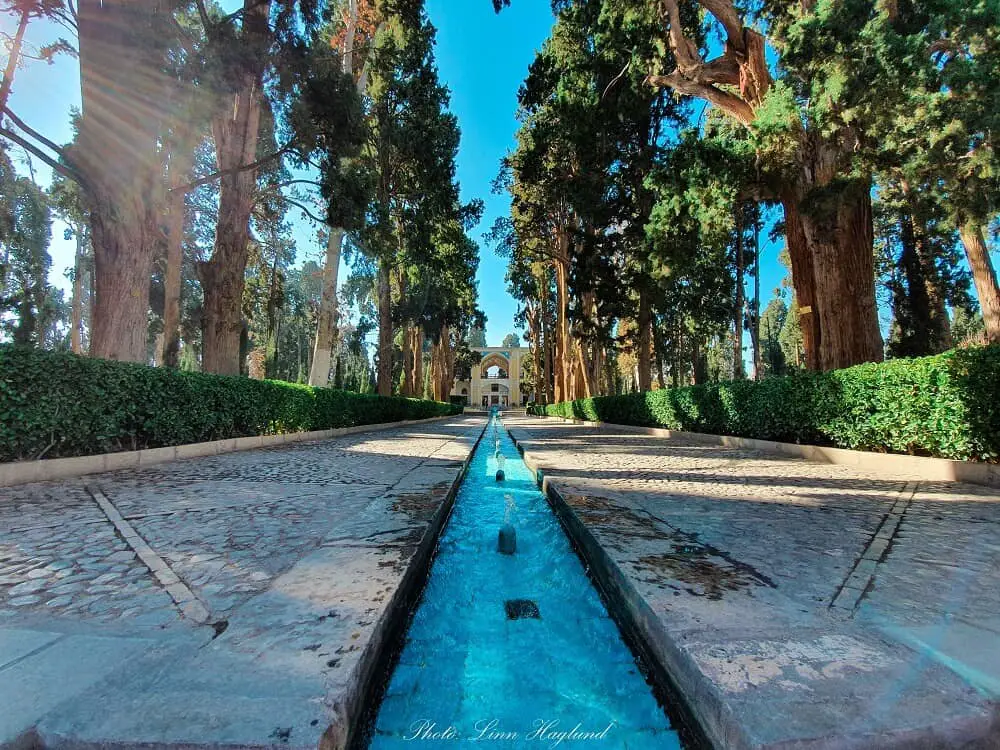 Maranjab Desert tour inkl. Salt Lake
The Maranjab Desert is situated north-west from Kashan and a half-day or full-day tour to the desert is definitely a must when in Kashan! There are tours that take you to different landscapes in the desert and the Salt Lake, which is pretty cool! When I was there (late December) it was pretty dried out, so there were only a few places with water that gave the natural reflections, but still beautiful. Some tours also take you to the Maranjab Caravanserai built in the 17th century to accommodate travelers who crossed the desert. Even today this ancient caravanserai serves as basic accommodation.
The highlight of the trip is without a doubt the sun setting behind the golden dunes. It's hard to beat a good sunset, but in the desert, it's even more magical. If you've been hanging around for a while, you know exactly how obsessed I am with sunsets!
Cost: We paid 5 000 000 IR for one car. If I hadn't found anyone to share with, I would have had to pay the whole lot myself. However, I did see slightly higher prices other places. In general, what you pay for is the 4×4, driver, and fuel which is not as cheap as it once used to be.
---
YOU MIGHT ALSO LIKE: How to spend 2 days in Garmeh: A desert oasis
---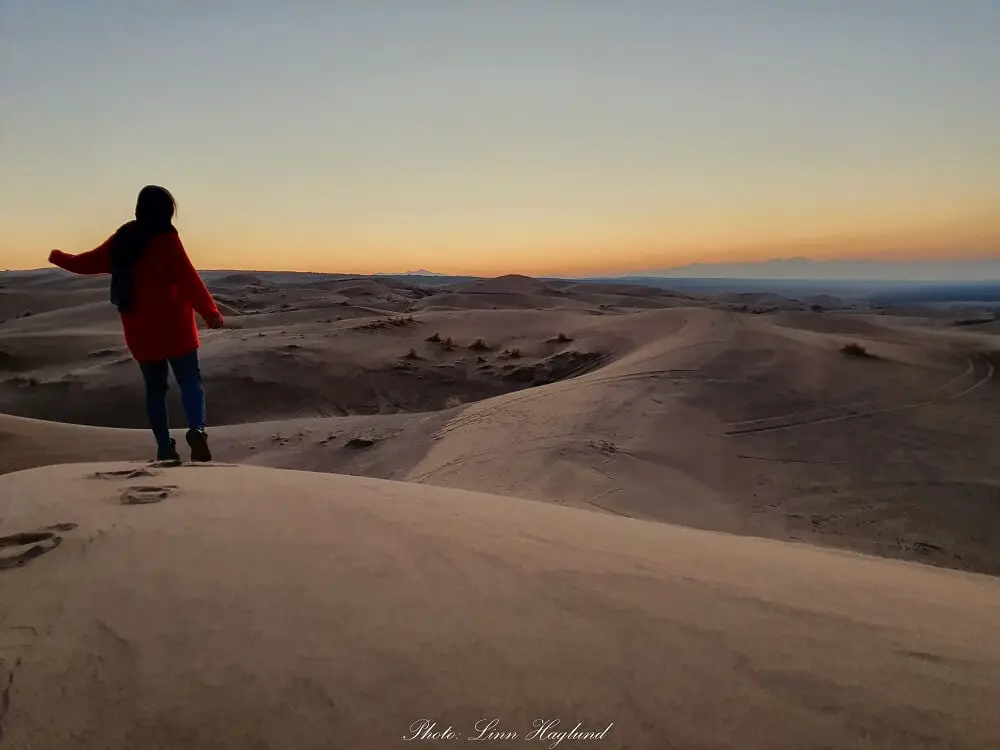 Responsible tourism in Kashan
Kashan is a traditional city compared to more modernized cities like Tehran and Isfahan so it is our responsibility as travelers to show respect. Here are a few tips for responsible tourism in Kashan.
Dress code
Needless to say, women have to wear a hijab in Iran by law. Also, you need to cover up past your elbows and down to your ankles. This includes the warm summer months. For men, it is also necessary to wear at least a t-shirt and long pants.
READ: Comlpete guide to what you need to know before you travel to Iran
Ask before you take photos
Note! It is strictly prohibited by law to take photos of any government or military buildings as well as protests and critical civil infrastructure. Ask before you take that photo because shooting any of the above by accident could take you to jail! And trust me you don't wanna go there. Drones are not allowed in Iran without special permission.
Warnings aside, there are so many beautiful things you ARE allowed to take photos of, so don't worry about coming home with an empty camera roll! That just won't happen!
It is always interesting to take photos of people when you travel to different cultures where people look and dress differently and even do different daily tasks. Just follow one main rule before snapping that shot. Ask for permission! Not every person is comfortable with strangers sticking a camera up their face (I know I'm not!), but if you ask first, maybe they'll say yes. If they don't, smile, keep going and ask the next person you would like a snap of. If you do this, you will still get a lot of beautiful photos, but you also keep a wonderful memory of the interaction you had with those people.
When it comes to children, there are a couple of things to be aware of wherever you travel in the world. First of all, ask an adult family member if it is ok to take a photo of their children, preferably their parents. It is even better if you take photos of the children together with the adults or many children playing together.
Second, NEVER tag location and time on photos of children on social media. You never know who sees it and you don't want to help child traffickers finding their next victims.
Find more information on things not to do as a responsible traveler here.
Avoid animal tourism
If one of your planned things to do in Kashan is a camel ride in the desert, I kindly ask you to reconsider it. Animals used for work and daily life in a culture that has done so for thousands and thousands of years is one thing. But once it becomes a tourism business, then it's something slightly wrong. The animals are no longer used for what the locals need in their daily life, but for tourists pleasure during what can be a few minutes or even a couple of days.
On our desert tour, the driver stopped by a little oasis where a camel owner urged us to get on his camel for a photo. He made the camel sit down so we could climb onto it, though the animal clearly couldn't be bothered to do so. My newly found travel companions and I didn't accept his offer to get onto the animal.
Only half an hour later we were rewarded with two freely running camels coming all the way up to our car to say hello. This was such a special experience. Not staged, not forced, just two camels hanging out. That's the kind of animal encounters you should look for!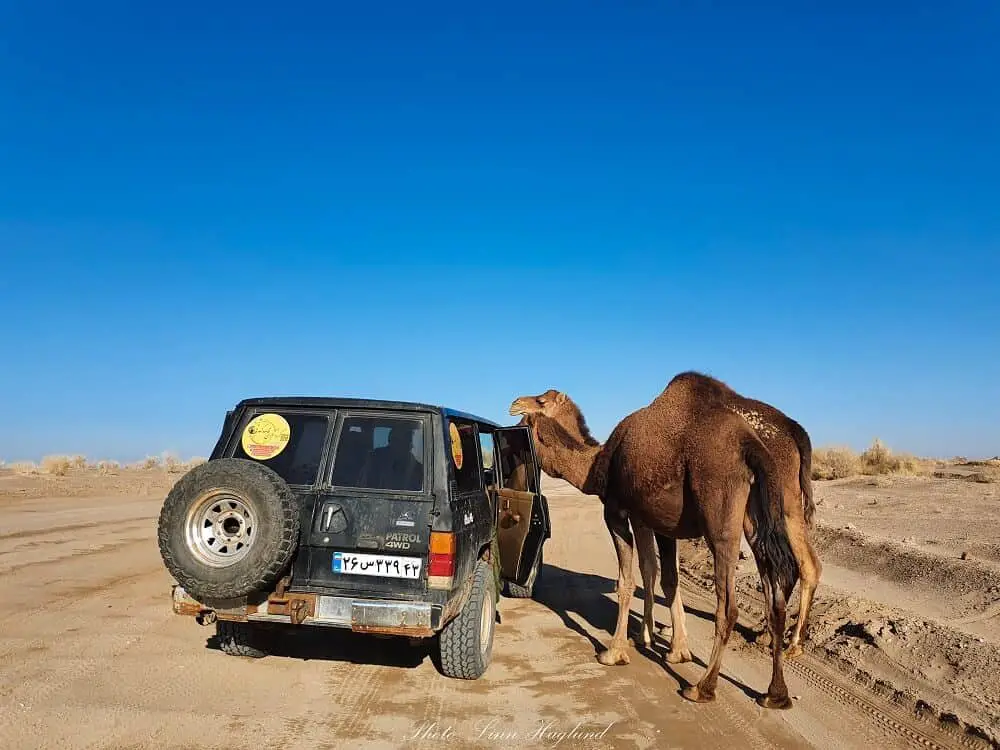 You can read more about unethical animal tourism here.
Bring a reusable water bottle
To avoid buying large amounts of single-use plastic bottles during your trip, bring your own reusable water bottle. I love this one from Greens Steel which keeps the water cold all day.
Water in Iran is safe to drink, but if you prefer a filtered bottle, this bottle from Brita is a good travel companion.
No paper in the toilets
Simple as that, toilets clog up in Iran if you throw anything other than poop and pee in there. So do your hosts the favor of not having to unclog it for you. There are always bins provided for paper and female hygiene products.
YOU MIGHT ALSO LIKE: A day trip from Kashan you find one of the oldest villages in Iran, the red village Abyaneh!
Pin it for later!