Recognized for "the friendliest people on earth" by travelers that also recognize it as one of the safest countries they have visited, Iran is still not on most people's radar. Politics and media are the main reason for this, and then there is the scariest thing of them all. Misperceptions spread from everyone around you (that surely NEVER have traveled in Iran or know anyone that has).
This is not anything new in terms of travel to countries off the beaten path and often it has to do with being worried about the unknown. It is completely natural, we are all afraid of the unknown.
What distinguishes a traveler from others is that a traveler seeks the unknown and dares to discover new cultures and widen their box of knowledge to make fewer things scary. Just to find out that people are people with the same dreams and struggles no matter where they're from. That different cultures enrich their views of life.
So, what makes it so dangerous to travel to Iran? Well, I was told it is very insecure and you can easily end up in jail.
Let's look at some facts.
In Singapore, it's illegal with chewing gum. As a tourist, you are allowed to bring two packs of chewing gum, but you get a jail sentence for possessing more than that as it's seen as smuggling.
In Dubai, you can go to jail for holding hands if you're not legally married or if you kiss in public.
In Spain, you can go to jail for driving too fast.
In Italy, you can go to jail for taking sand from the beach.
All these countries are popular tourist destinations. This only shows that there are rules everywhere you go and you need to respect them when you visit the country. You can end up in jail anywhere, really, for not respecting the rules.
I don't mind wearing a hijab and not taking photos of military and government buildings in Iran. Just as I don't mind following the traffic rules in Spain, leaving the sand at the beach where it belongs in Italy, and skipping the chewing gum in Singapore.
Politics aside, here are 10 good reasons why you should travel to Iran and experience the country that is so well-spoken of among travelers, for yourself.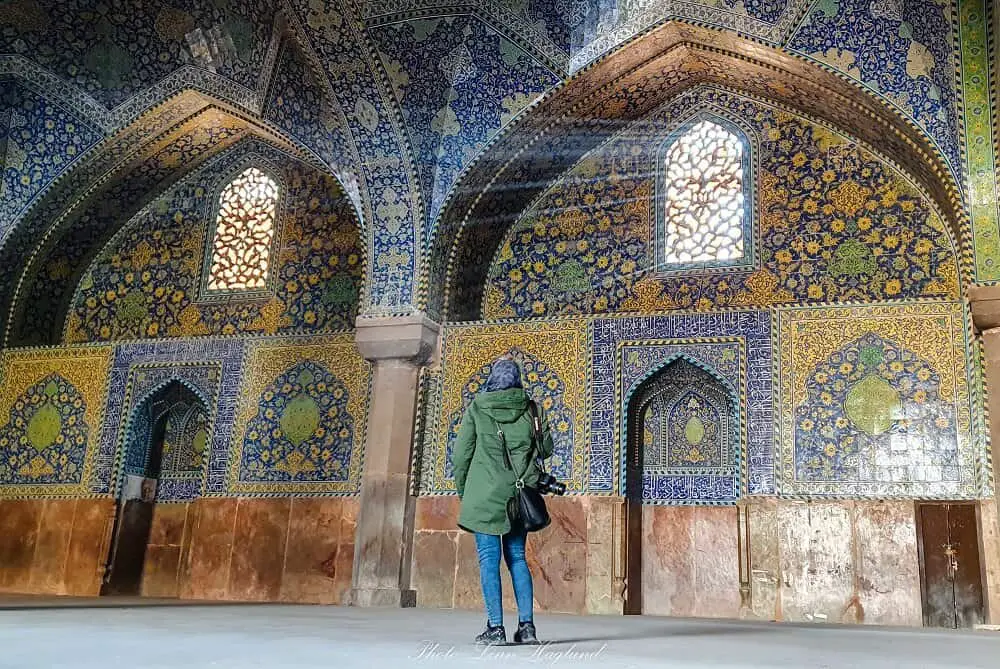 10 Reasons to travel to Iran
1. Incredible hospitality
I have already mentioned the friendly people of Iran. Their hospitality is beyond all expectations. You can expect being invited for dinner, followed across the city when you ask for directions to make sure you don't get lost.
You can expect strangers paying for you.
You can expect a lot of Google translate, laughter, and sign language.
You can expect warm sincere smiles.
You can expect feeling like home in a guest house.
You can expect to make new friends.
You can expect the unexpected.
This is if you are open to communicating with people. Of course, sitting in your hostel room with your arms crossed won't get you anywhere. Are you ready to meet some of the friendliest people on earth?
I'll share a couple of stories with you.
Asking for directions
I was looking for the metro station in Isfahan and asked a girl that walked the same direction as me. She didn't speak a word English but we managed to communicate with sign language and I understood that she was going the same direction so we could walk together.
After a few hundred meters we rounded a corner and there was the metro station right in front of us. I said "Merci" which is thank you in Persian and held my hand to my heart as I smiled at her. She smiled back, pointed at the metro station and kept walking towards it.
We both walked inside, she showed me a metro card asking if I had one, I signed back that I didn't and pointed at the ticket office that I was going to buy a ticket there. She signed back that "no, follow me" so I did.
She bipped her ticket at the entrance to the trains and made me pass through. When I turned around, she smiled, waved, and said "bye" as she turned around and walked out of the metro again. So, she did know one word in English after all.
Looking for food
The other story happened in Kashan. I went out at night to find a restaurant I was recommended by the girl in my hostel's café. I carefully clutched on to a piece of paper where she had written down the dish that she recommended. A vegetarian dish she had written in Persian that they had to make vegan for me.
Once I arrived at the restaurant it was closed. Everything around me seemed to be closed and the streets were dark and empty.
Just as I decided to go back to the hostel and eat something at the café, a girl came jumping out of a van. She looked at me and asked what I was looking for, that she was on her honeymoon and that they looked for somewhere to eat. Her English was pretty poor, but she tried to understand me and to explain.
As she was trying to tell me I had to come with them in the van to look for another place to eat, this other girl came around the corner. She spoke fluent English and ended up following the van-girl, her husband, and myself to another restaurant around the corner. She followed us all the way in and waited until the waiter had found us a table. Then she gave me her Instagram account and turned around smiling and waving.
The couple insisted I ate with them even though they were on their honeymoon. Her English was poor, his was non-existent.
We spent the whole meal laughing through Google translate and they insisted on paying the meal for me. They ended up following me all the way through the dark streets to my guesthouse so I wouldn't have to walk alone. Later, once they were back in the van, they sent me a selfie to assure me that they had arrived safely too.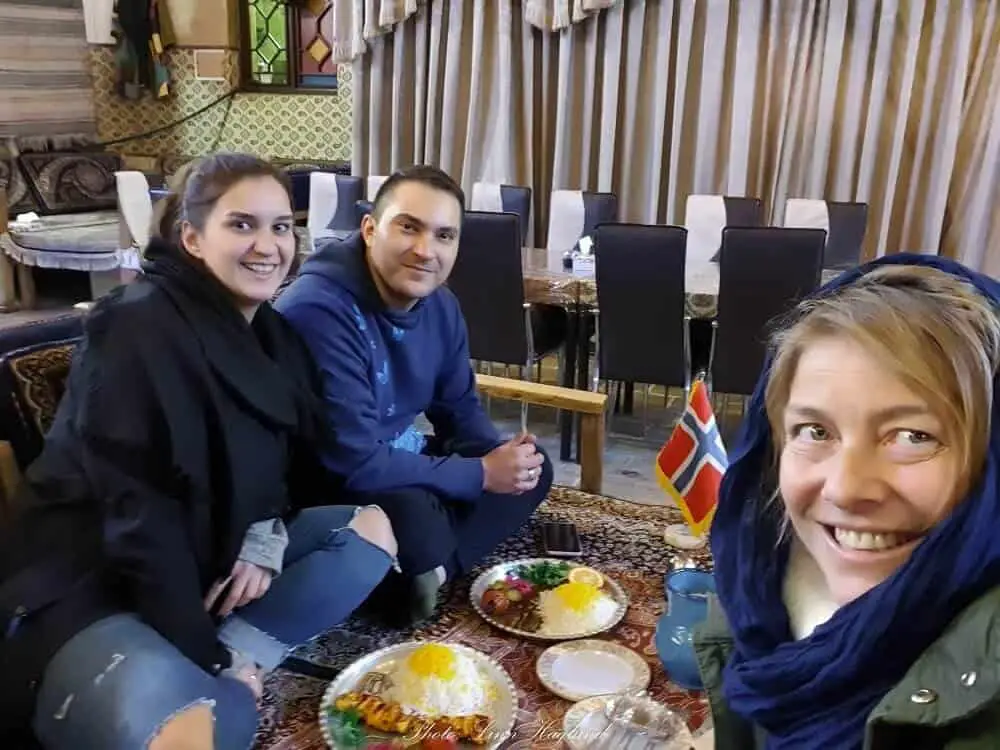 Yes, there are weirdoes in Iran too
Yes, there are weirdoes in Iran too, as anywhere. Honestly, I only met two or three. Guys that started walking next to me talking in English for no reason.
They were all kind and didn't make me feel threatened in any way, so I let them talk for a bit and when I thought it was enough, I stopped, smiled, said thank you very much and have a lovely evening. They smiled back, said thank you so much for letting them speak with me and walked off.
I don't think I've ever met any weirdoes that polite in my entire life! Close to 50 countries, nearly 5 years of full-time travel, followed by over 10 years of extensive travel both nationally and abroad and I have never met weirdoes that polite before.
Not of the sort that actually follows you around. Usually, they have to be yelled at by myself or others that come to the rescue. It's a first for everything.
2. Stunning nature
With the highest peak in the Middle East, Mount Damavand, towering 5610 meters above Tehran and several other mountains of over 4000 meters of altitude, there is no doubt that Iran is a hiker's paradise. The mountains offer everything from easy day hikes to multi-day treks.
However, there is so much more than just a dramatic mountain scene in Iran. Large parts of the country are covered in golden desert land while other parts are covered in lush, green jungle.
There are canyons, salt lakes, pristine beaches, unique natural formations, and salt caves.
There are also huge differences in the climate with the south being hot all year round with island life and scuba diving while the north sees snow in the winter with great skiing opportunities.
---
READ: How to spend 2 days in Garmeh: A desert oasis
---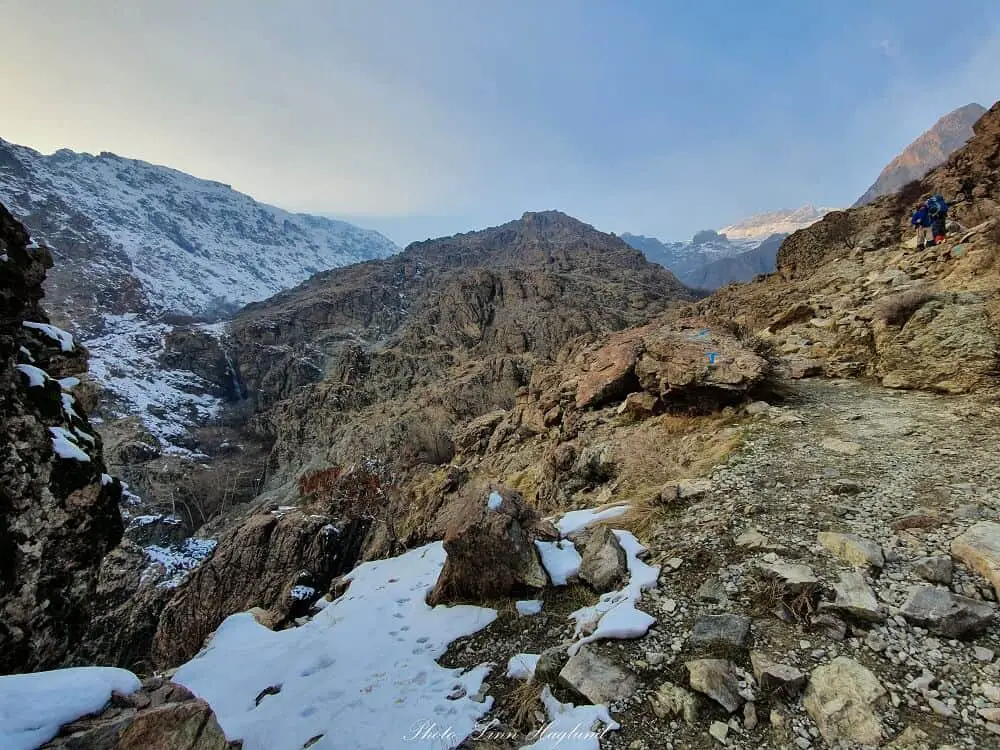 3. Mouthwatering food
Persian food is just awesome, and even for me as a vegan, there are plenty of options and I never ate the same dish twice. Iranian cuisine uses a lot of tasty spices and is often served with rice. They also make lots of tasty stews.
If you are open to connecting with the locals and accept an invite, you might get to taste some of the best homemade food you'll ever try!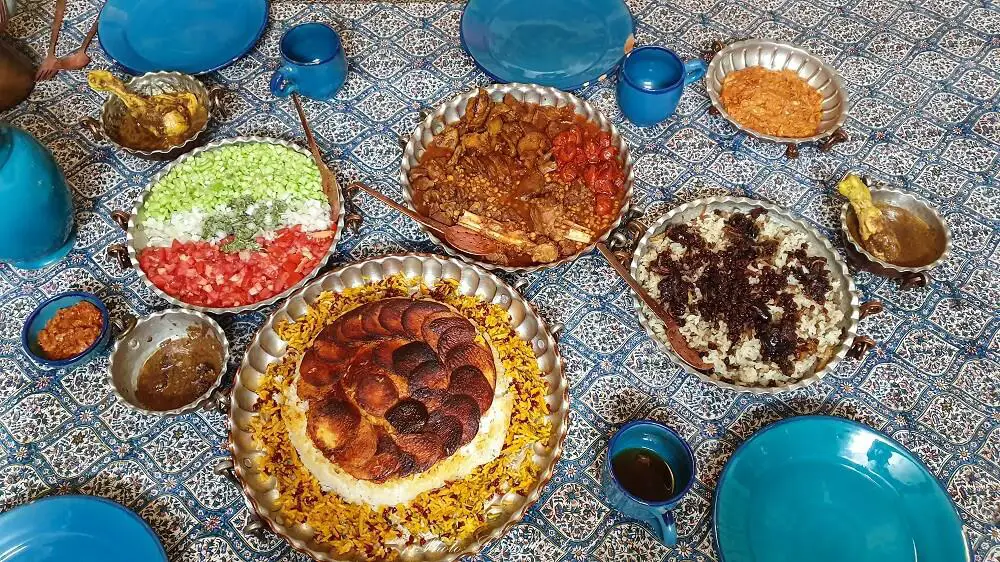 4. Really cheap
Iran is actually really cheap to travel in and one of the cheapest countries to visit in Asia. If your budget is low and you think you should stay at home for the holidays, you might actually spend less money traveling in Iran than what you would spend at home.
You get dorm beds for 4-7 Euros a night and private rooms between 10 and 20 Euros. Of course, you can stay in more luxurious places and pay more. They will still be insanely cheap compared to what you would pay in Europe or in the US.
Food and transport are also super cheap! You might find that the most expensive things you will spend money on are the entrance fees to mosques and museums, while the actual price is only about 4 Euros.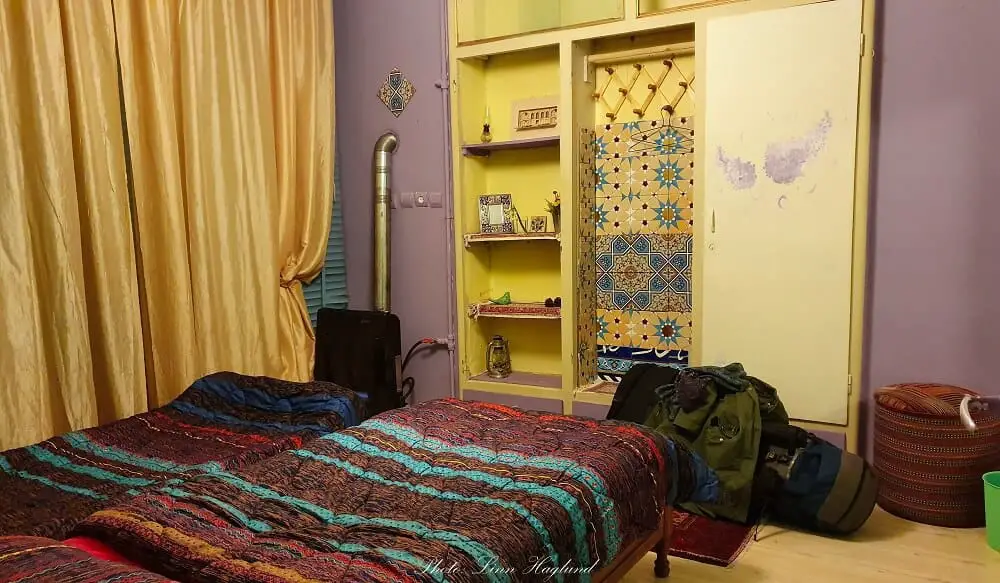 5. The locals need your tourist money
The fact that so many people are afraid of traveling to Iran, makes it even more important for the local economy to receive travelers that spend their tourist money.
We all know that an empty guest house doesn't give food on the table. A huge part of the benefits of sustainable tourism is to make sure you support the local communities economically. In Iran, you really have the chance to do so.
Instead of traveling to countries and places experiencing overtourism, why not go to Iran, where they are actually prepared to receive tourists but there aren't huge amounts of tourists already ruining the natural resources or the tourist attractions. This also means you get impressive sites all by your self – and maybe a group of local tourists.
That's a win-win!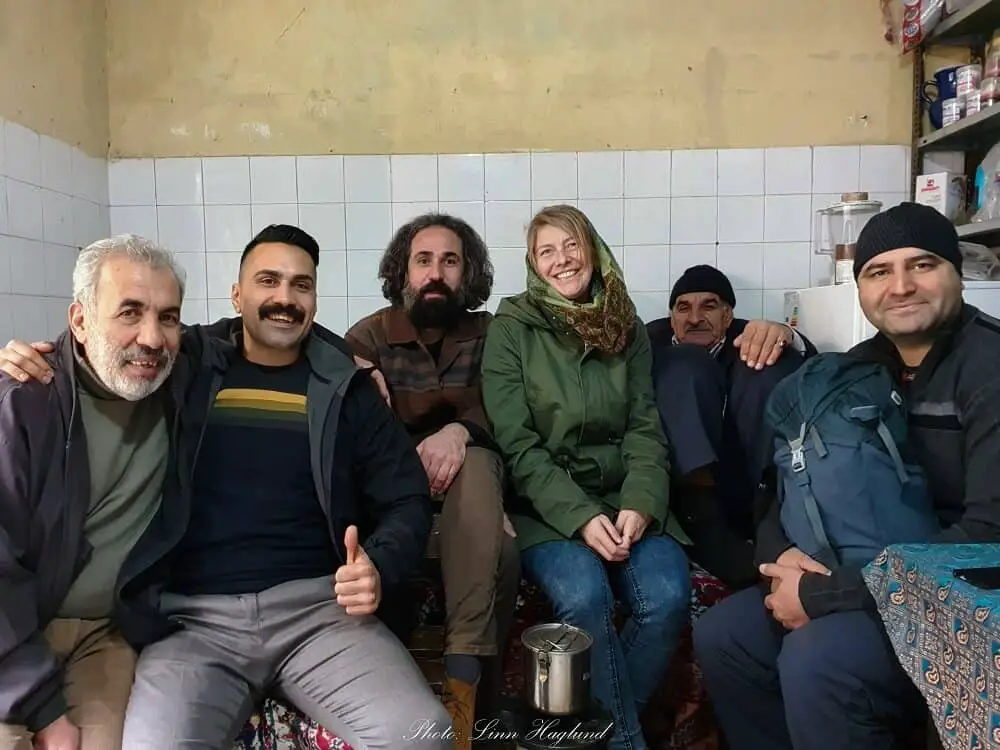 5. The highest mountain in the middle east is in Iran
Did I mention that Iran has the highest mountain in the Middle East and one of the most prominent landmarks in Asia? Mount Damavand towers 5610 meters above Tehran and is a challenge any outdoor enthusiast would love to take, including me. If this is too much for you, there are plenty of peaks over 4000 meters that are just waiting to be climbed. Even shorter day trips can be spectacular if you don't have the time for the ultimate challenge.
6. Easy and cheap to travel around by public transport
Transportation in Iran is super easy. There are buses transporting you through the whole country, with daily departures from all big cities. Even trains run between cities.
While both traveling by bus and train is easy and nonetheless cheap, you can also get private drivers that will get you to the places where public transport can't get you.
Within the big cities, you can move around by bus and metro, but there is also Snapp. This is the Iranian version of Uber and is extremely affordable. You need an Iranian phone number to make it work. Anyhow, you will probably get a SIM-card anyway while you're in the country.
7. Travel back in time
Iran is really a journey back in time to ancient Persian culture through stunning historic houses, fascinating, colorful mosques, and bustling bazaars.
Follow the ancient Silk Road through Iran's central desert past Kashan and Yazd. Stay in an old caravanserai to experience how it felt to travel at those times.
Visit the 2500 years old village of Abyaneh to experience the surviving culture from before the times of Islam.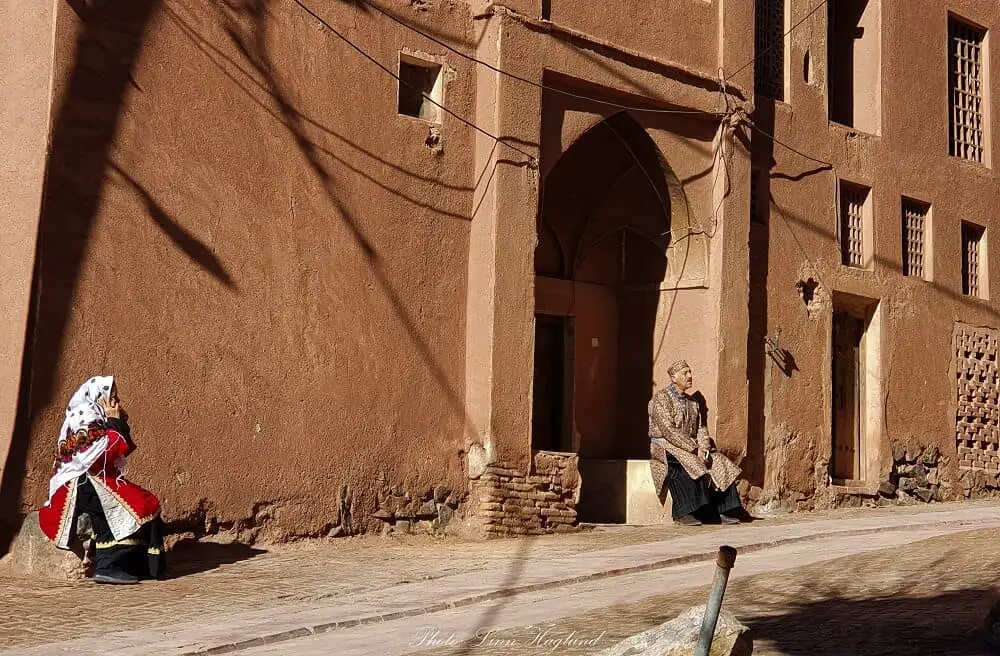 8. Breathtaking architecture
The architecture in Iran is from another world. Colorful mosques, historical houses with carved details you can only dream of, and mesmerizing mosaics.
There is so much beauty in the old structures in Iran that you can be thankful we have digital cameras nowadays and don't have to choose the 24 or 36 best captions.
Anyhow, no matter how many photos you take remember to slow down. Put your camera in your pocket and just let the sights and magic sink in.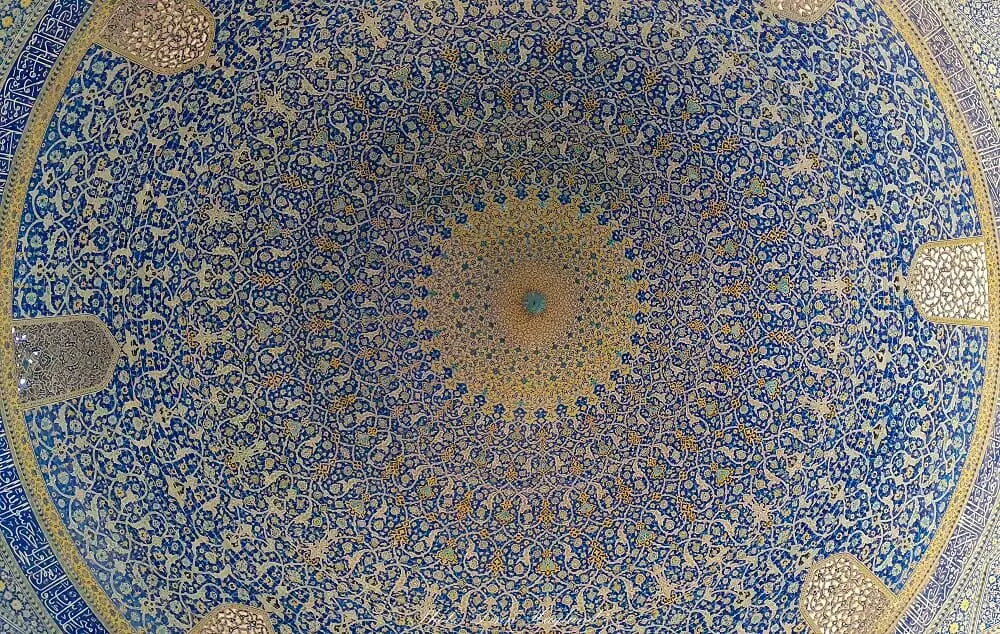 9. Iran is actually super safe
Really? That's not what I heard before traveling to Iran! Honestly, this is on the top of the safest countries I have traveled in. I can't remember feeling this safe traveling solo or with friends anywhere else. And I heard the same from other travelers.
Of course, you need to take your safety measurements as you would do anywhere. Watch your belongings, don't trust all the strangers that talk to you etc. But altogether, this is a safe place to travel around and most locals will do anything in their hands to make you feel safe.
10. Kill misperceptions about travel in Iran
By traveling to Iran, you will contribute to killing all the wrong perceptions there are about the country. You will realize it is safe to travel there. You won't get put in jail for no reason. You will meet the friendliest people on earth realizing there is still pure love for humanity in this world.
Plan your trip with my 10 days Iran Itinerary
Was this enough to convince you to travel to Iran?
Was this enough to convince you to travel to Iran? Well, there is only one thing to do, then. Book your flight!
You can read everything you need to know before traveling to Iran here
---
Ready to book your flights to Iran? Just do it!
---
If you have any travel experiences from Iran, I would love to know about them in the comments!
Pin it for later!