Boston is a truly charming city to spend the day. Normally, I'm not much of a city person, but Boston somewhat grew on me and I started to really like the city.
The charm of old architecture mirroring in the clean glass facades of fancy new corporate buildings. No wonder it's one of the most popular vacation spots in New England.
The city offers plenty of things to do, but with one day in Boston, I'll narrow it down so you can have a pleasant day without too much stress. This Boston itinerary includes where to sleep in case you have a layover in the city.
As one of the oldest cities in the United States, Boston boasts historical attractions, green spaces, and vibrant culture and should be on any New England bucket list.
It is also the only American state capital with a coastline and you can walk 69 kilometers (43 miles) along the Boston Harbor walk. You might start to realize that you could do with a lot more than one day in Boston.
Disclosure: This post may contain affiliate links. That means that if you make a purchase through one of those links, I will get a small commission at no extra cost to you.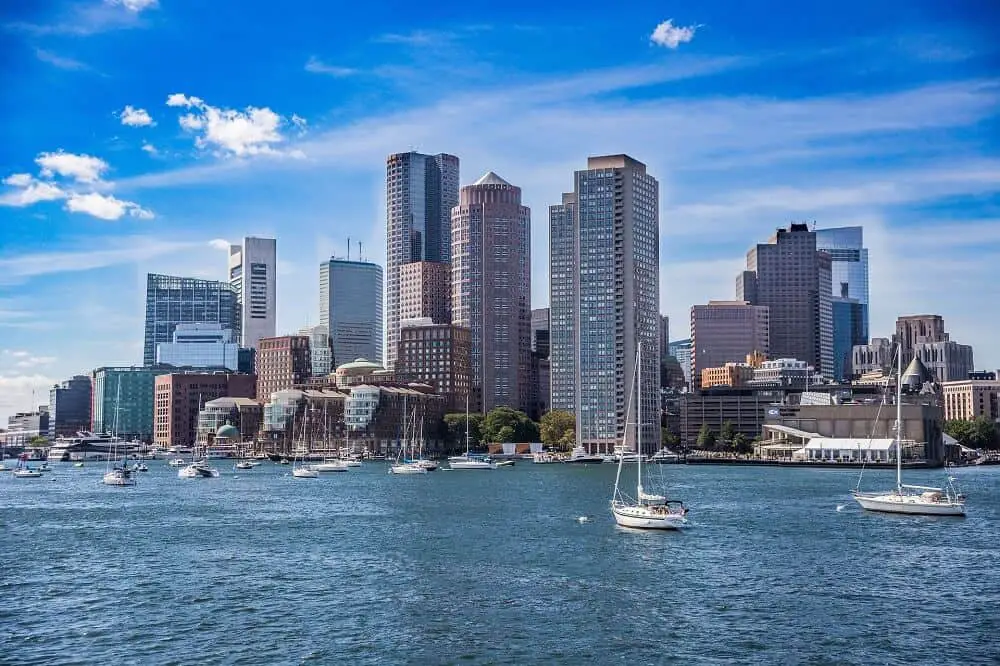 MORE FROM THE USA
How to get to Boston
Boston is perfectly connected with all big cities by bus and train but the city also has an international airport, Boston Logan International Airport (BOS), flying to a large number of destinations around the world.
It takes between 30 minutes and 1 hour to get from the airport to the city center, though I spent well past 2 hours by bus in rush hour.
The good news is that the Silver Line bus from Boston Logan Airport is free. And if you happen to arrive at rush hour like I did, it's less than 3 dollars for the subway.
By bus
South Station Bus Terminal is the main bus station in Boston and there are buses to and from large parts of the country including some destinations in Canada like Toronto and Montreal (though they do stop in New York on the way).
---
Book your bus trip to Boston here
---
By train
The main train station in Boston is also situated at South Station and you can easily get there from several major cities. Trains are in general a comfortable way to travel.
---
Book your train ticket to Boston here
---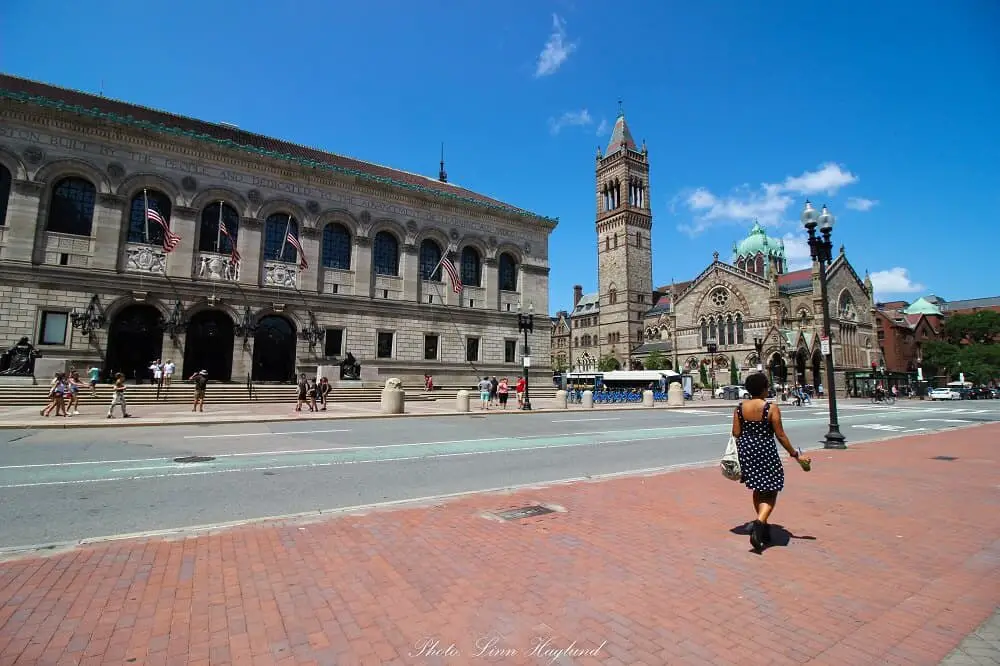 YOU MIGHT ALSO LIKE: Day trip to Nantucket
Where to stay in Boston
Do you need accommodation for the night before or after your one day in Boston?
There are so many great places to choose from when looking for a place to stay in Boston. I stayed at a couple of hostels which I highly recommend if you travel solo especially, but there are also great hotels in the city if you want your privacy. Here are my recommendations.
HI – Boston Hostel
HI – Boston Hostel has the perfect location just around the corner from Chinatown and if you love Asian food just as much as I do, you will love staying there.
They have clean dorms with lockers as well as private rooms, breakfast included. Both kitchen and common areas are of great size and perfect to get to know other travelers.
Book your stay at HI – Boston Hostel here
Boston Homestel
Boston Homestel is a pleasant hostel in a huge wooden Boston house where you'll feel comfortable and at home away from home. Staff is also very friendly and helpful.
The hostel is situated in a quiet area of Boston but close to the subway, so it's easy to get around.
The premises offer free WiFi, shared lounge, kitchen, and bathrooms.
Book your stay at Homestel here
YOTEL Boston
Situated in the Sea Port District, YOTEL Boston has an excellent rooftop terrace with panoramic city views.
The hotel has extremely comfy and adjustable SmartBeds, smart TV, cable channels, and monsoon rain showers in the bathrooms. Further, they have a 24 hours fitness center, a Club Lounge and restaurant.
If you really want to enjoy your night in Boston, this is the place to stay.
Book you stay at YOTEL Boston here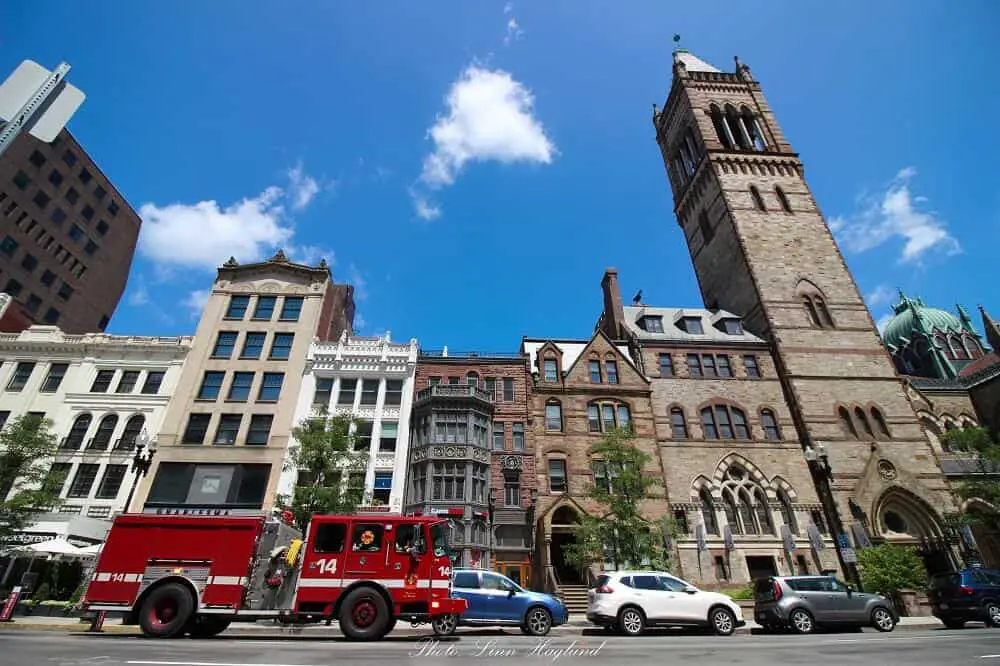 One day in Boston itinerary
There are plenty of things to do in Boston. However, this being a one day Boston itinerary, you won't have time for it all. I tried to compress as many great things for you that aren't too far away from each other so that you can enjoy a memorable day trip in Boston. Here are my top things to do in Boston in one day.
Boston Public Garden
Start your Boston itinerary with a lovely stroll in Boston Public Garden. If you come from South Station, it's only a 15 minute's walk away.
Boston Public Garden is a wonderful little getaway. If the weather allows it, you can go for a Swan boat ride in the lagoon around Mallard Island where mallards sunbathe and nest. The boat trips are only 15 minutes, but a great way to discover the park from a different perspective.
In the famous book about Mrs. Mallard the duck, Robert Mc Cluskey describes how she hatched her 8 ducklings in Charles River nearby and brought them to the park.
Today, the most famous sculpture in Boston is found in the gardens, a bronze sculpture of Mrs. Mallard followed by her 8 ducklings.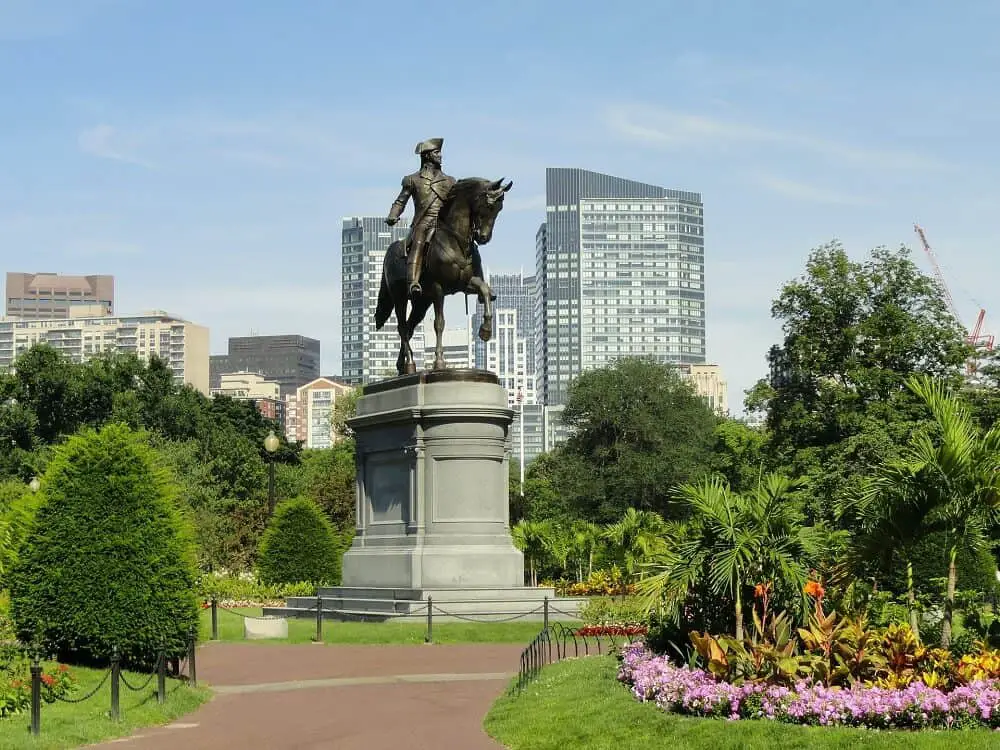 Boston Common
Pop over to Boston Common, which is a bigger park next to Boston Public Garden and the oldest public park in the United States, established in 1634.
In the heart of Boston Common you find the Frog Pond which is perfect for ice skating in the winter and even in summer there are always fun activities around the pond. This is a great place to have your morning coffee if you haven't gotten to it yet.
Lunch around Copley Square
There are several cafes and restaurants for lunch close to Copley Square. You can get cheaper food, takeaway to take with you to the square for a picnic, or enjoy a high end restaurant. You find it all within the blocks around Copley Square.
If you used to be a fan of the American sitcom series Cheers (or if you still are), I'm sure you'd love to know that the Cheers pub is just by Copley Square and you can enjoy pub snacks and a cold beer while ordering of a menu where several items are called after the characters of the show.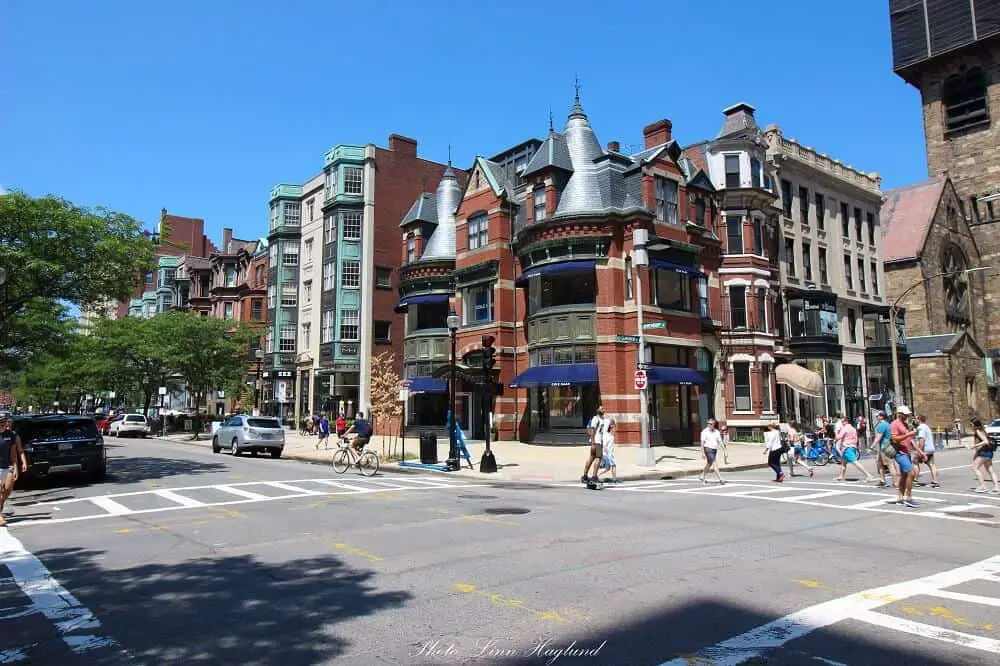 Trinity Church
From Boston Common and Boston Public Park, it's only a 6-7 minute walk to Trinity Church at Copley Square.
The church was established in 1733 and originally built in 1735, but during the Great Boston Fire in 1872, Boston's largest and most destructive fire in history, the building fell to ruins.
A new structure was raised and the church you see today was finished in 1877. It is beautifully built in a Richardsonian Romanesque style.
A mesmerizing colorful interior and astounding stained glass meets you once you enter the majestic building. It's not a surprise that you're standing in one of the most significant buildings in the United States.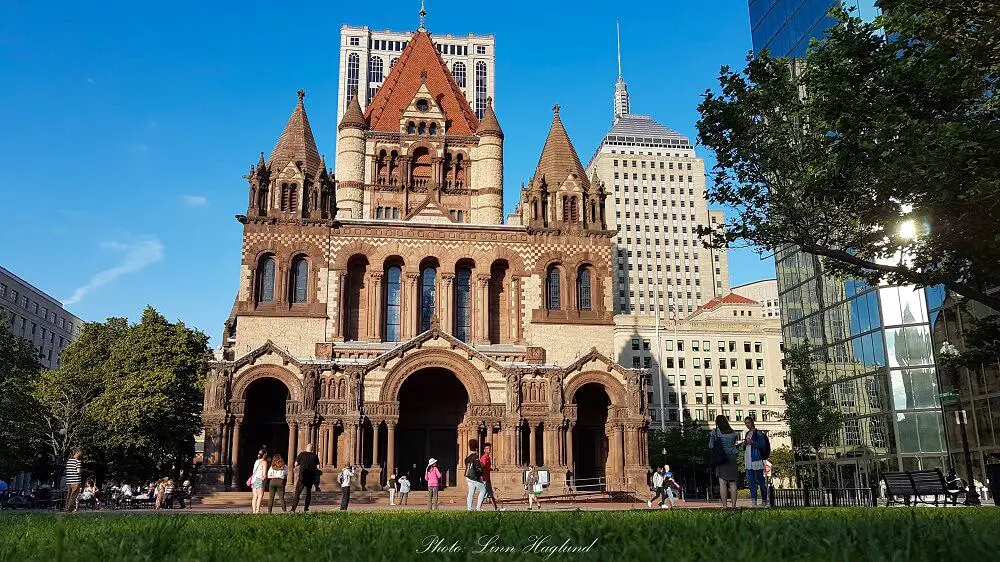 ---
RELATED: Epic weekend trips from Boston
---
Boston Public Library, Copley Square
Just across from Trinity Church on the Copley Square, you find Boston Public Library. As one of the best things to see in Boston in one day, it is said to be the most beautiful library in the United States. And I'm not surprised if it is.
Once inside the 1895 Renaissance Revival structure, astounding sculptures and architectural details meets the eye followed by spectacular paintings and tapestries.
I loved walking around the old library. The architecture is absolutely wonderful and reminds more about Europe than the United States.
The little courtyard had live music when I was there which made it the perfect place for a cup of coffee.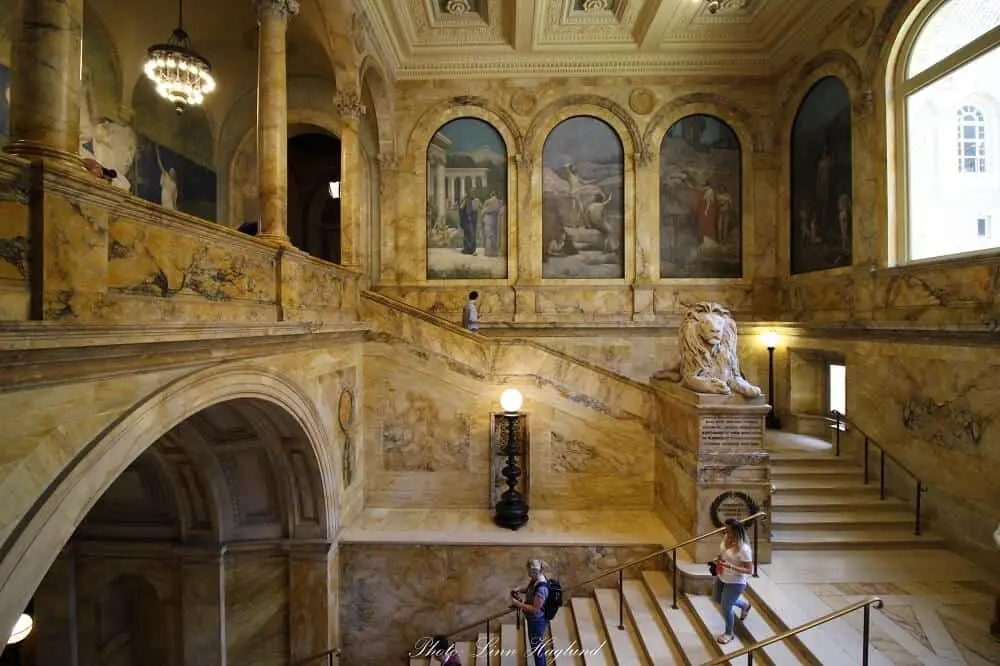 Old South Church
On the corner across the street from Boston Public Library you'll see Old South Church. A stunning Gothic Revival style structure completed in 1873 that stands out against the surroundings.
In 1970, it was designited a National Historic Landmark for its significant architectural significance.
The modest interior is amplified with beautifully colored windows and the church is definitely worth a visit while you're there.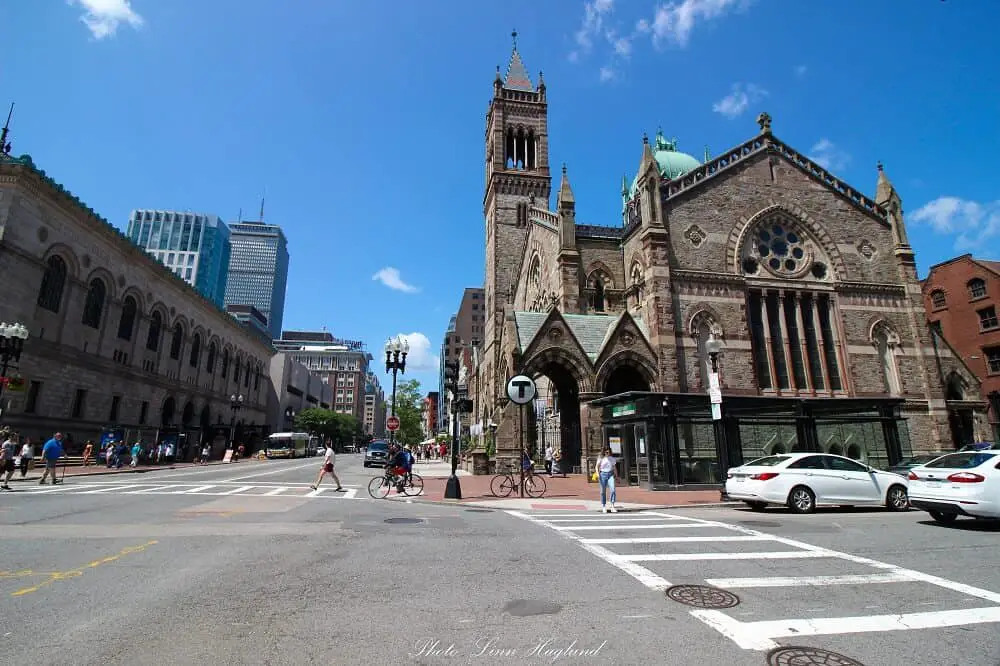 Climb the Skywalk Observatory
If you are still in Boston for sunset, I recommend you to visit the Skywalk Observatory at this time. Being the second tallest building in Boston with its 729 feet/222 meters, you can probably imagine the astounding view that awaits you when the descending sun paints the sky.
To get to the tower's lobby, you'll need to enter the Prudential Center Mall. You will need a photo ID to pass security.
The cost to enter is 21$ for adults. Skywalk Observatory is included in most of the Boston tourist passes, though, so if you plan on getting one, you will surely save a fair bit of money.
But no matter what, the views are worth it!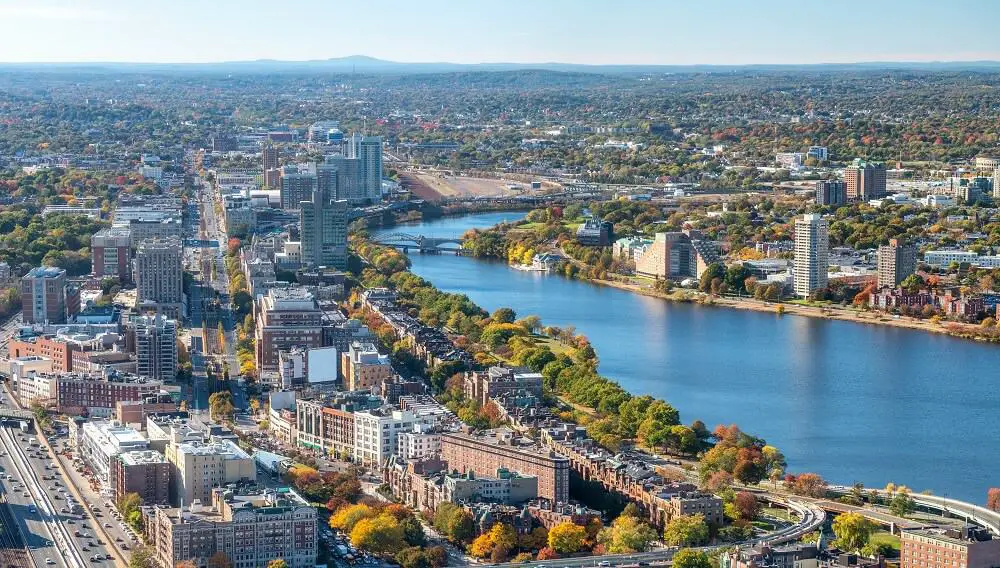 ---
YOU MIGHT ALSO LIKE: One day in San Diego itinerary
---
Chinatown for dinner
Chinatown in Boston has a great variety of amazing restaurants even for vegetarians and vegans. If you are heading back to South Station, it's a good place to close off your one day in Boston without having to walk too far on a full stomach.
My absolute favorite is My Thai Vegan Cafe which has amazing Thai dishes and the cakes are to die for! They are extremely big, though, so you might want to take it with you in a doggy bag or order to share.
If you stay the night, it's just around the corner from HI Boston Hostel.
Be responsible even with one day in Boston
There are many ways to be responsible travelers even on day trips. It's easy to forget as we are there just for a fracture of our life. But the locals live there every day and deserve fair treatment. Be respectful and receive respect.
As always, I have a big heart for animals and promote only ethical animal tourism, so I urge you to skip the zoo! You can read more about unethical animal tourism, why stay clear of zoo's, and what to do instead here.
Finally, make sure you minimize your plastic waste as much as possible. Bring your own reusable coffee cup instead of buying single-use coffee cups to take away. You should also make sure you bring a reusable water bottle to avoid buying water.
---
Get your reusable water bottle here
---
Get your collapsible and reusable coffee cup here
---
READ NEXT: The Ultimate Guide To Biking In Nantucket
Like this? Make sure you pin it for later!