The sun was shining as the 20-foot boat floated in the Indian Ocean somewhere outside the small island of Sainte-Marie in eastern Madagascar. The 5-6 tourists on the boat were mesmerized.
So was I.
Surrounding the boat, were 3 massive humpback whales. Just hanging out. While 5 shiny dolphins were jumping playfully around them.
We could have reached out and touched them if we wanted to. They were that close. Tourists clicking pictures. I was just soaking in the moment.
I couldn't get myself to ask them to move, as they sat on top of the seat I had tucked down my camera the same morning so it wouldn't get wet.
I was the guide that day. And this is the most amazing whale watching memory I have to this day.
Seeing whales in the wild is true magic. The size of these creatures, their playfulness, their strength, yet their gentle way of being. You can experience these incredible giants too.
That's why I got together with other whale enthusiasts to show you the best places for whale watching in the world! All ethical practices, of course.
But first, I'll get into what you need to look for to assure you support ethical whale watching and what to look out for so you can help report any unethical practices you might observe.
Disclosure: This post may contain affiliate links. That means that if you make a purchase through one of those links, I will get a small commission at no extra cost to you. As an Amazon Associate, I earn from qualifying purchases.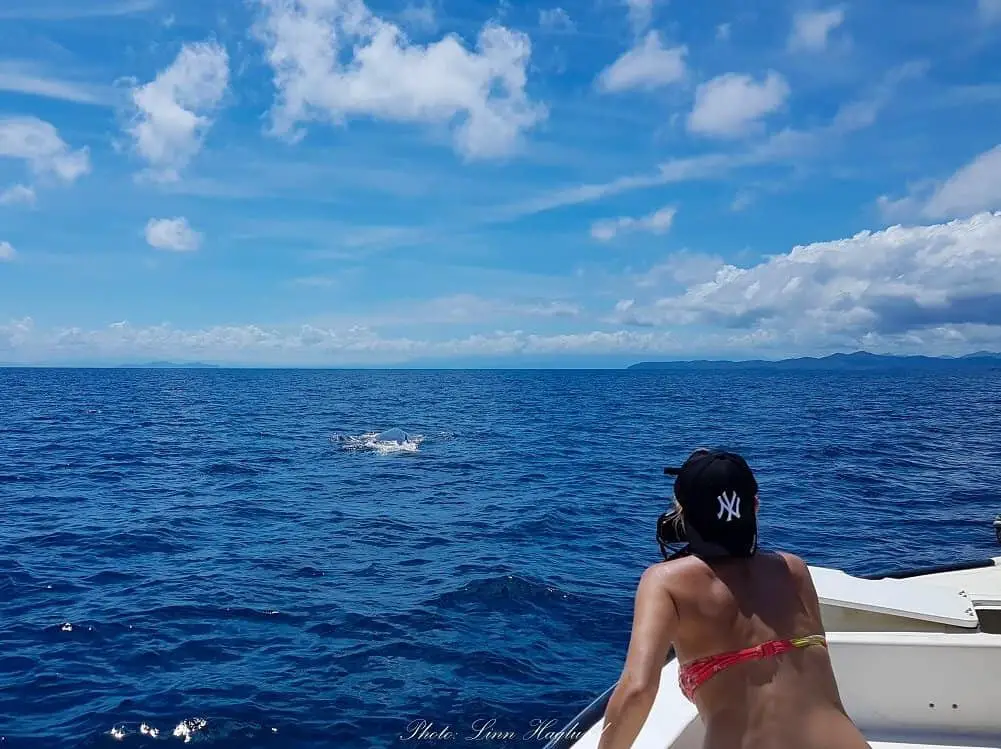 Ethical whale watching
There are a few rules when it comes to ethical whale watching that will help you distinguish ethical tour operators from unethical ones.
I worked for 3 months with my uncle in Madagascar at his diving and whale watching center once. It's a long time ago, but being in a sustainable travel destination, I did learn a lot about ethical whale watching. I'll share some practical tips with you here.
First of all, guides that show engagement and love for sharing educational information about the whales and talking about the right practices are usually a great sign.
A company working for conservation and not only taking tourists on trips is also worth choosing. Next, you want to see that they actually do what they preach. I've listed a few guidelines here.
The boat should not get close to the whales. If you're lucky, the whales will approach the boat.
The boat engine should be off when getting a safe distance from the whales.
Two boats should not get up on each side of the whale "closing it in" but drive up on the same side of the whale
The boat should only approach whales from the side and always slow. Never from the front or the back.
A group of whales should never be split up or encircled by the boats.
If there are already boats by a group of whales, your boat should leave them alone and look for other whales.
Red flags to be aware of
Some companies stick up a lot of eco stickers on their site, but these can be false. A good idea can be to check them up on their social media to see if they are still active.
If the operator doesn't talk about conservation or best practices, chances are they don't care too much about it either.
It is not ok to feed the whales, so stay away from any operators that offer that. Remember, no one can guarantee that you'll see whales, they're wild animals. However, in peak season you can be close to guaranteed to see them, though you don't know if they'll be far away or come close to the boat.
Whale watching on jet skis is a big no-no! This disturbs the marine environment and the whales don't like it.
If there are many boats going out whale watching in one place, it can get stressful for the animals. Many countries have restrictions on how many boats can approach one whale at a time, but if you can choose a destination, try to opt for an off the beaten path destination. Not only for the whales but also for a better experience.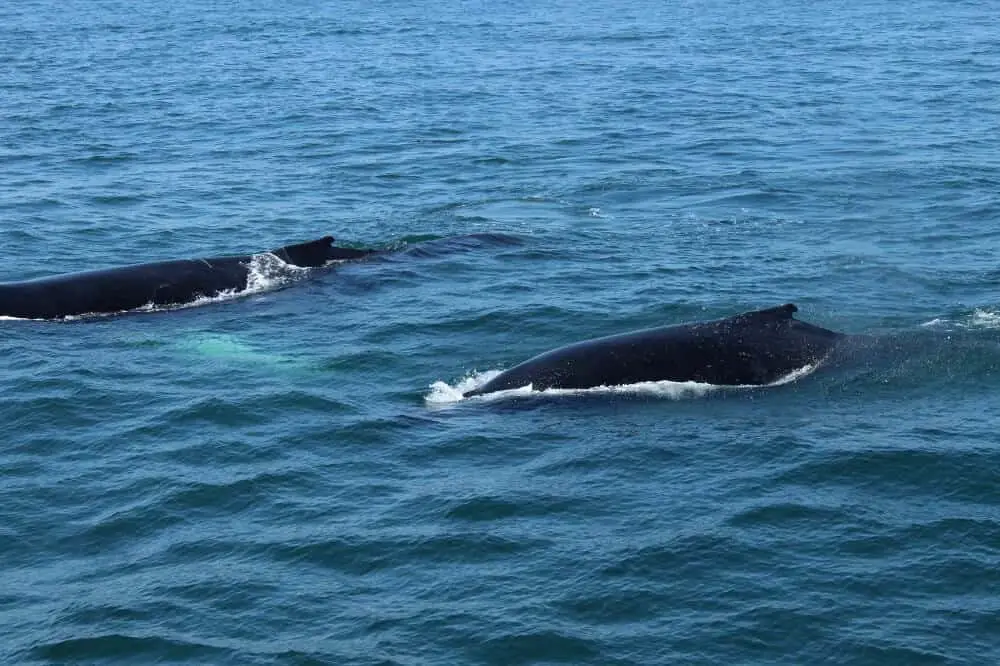 RELATED: Unethical animal tourism and what to do instead
Best places for whale watching in the world
Île Sainte-Marie, Madagascar
This small off the beaten path island in east Madagascar, is one of the best places for whale watching in the world. The fact that Madagascar is a fairly less-visited country in itself, gives you an idea that seeing whales from an island that not many of those visiting the country set foot on, must be a pretty amazing experience.
When choosing a whale watching operator, make sure you look for the signs of an ethical operator. But if you experience any unethical behavior during your trip, make sure to report it. They are very strict on ethical whale watching on the island and it's not allowed to swim with them.
You can also see whales off Nosy Be in northern Madagascar, but there are a lot more tourists there.
In general, Madagascar is amazing for wildlife and marine life is no exception to it. You can experience sea turtles nesting (ethically) and great scuba diving spots.
Whale watching season: June to September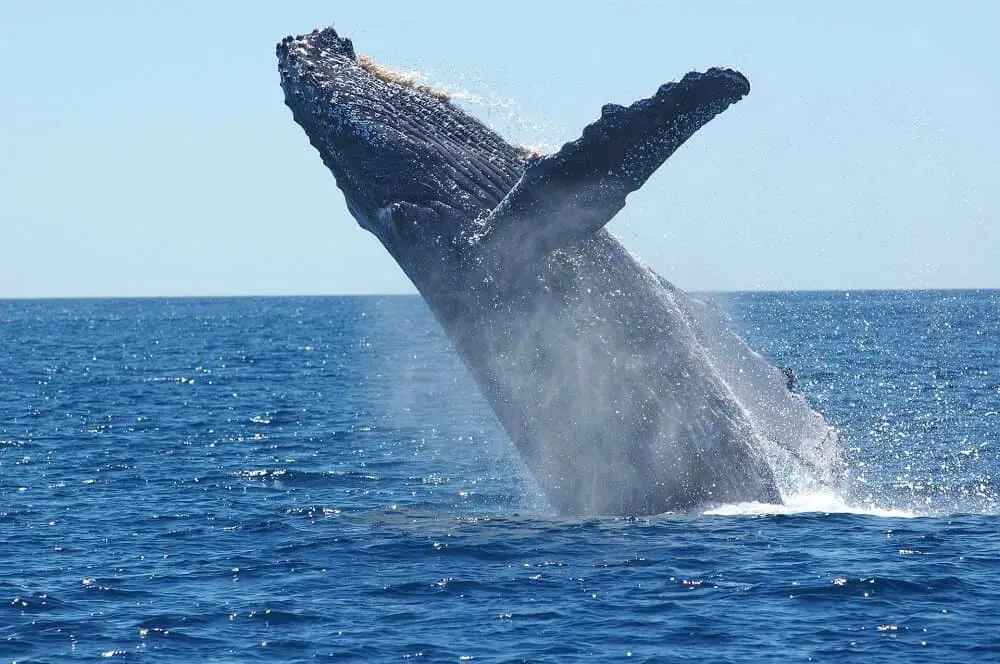 The Strait of Gibraltar, Spain
The Strait of Gibraltar outside Tarifa in Spain is one of the world's best places to spot orcas in season, when they migrate following the tuna. This usually happens through July and August, but some times they have been spotted as late as October.
However, this is the home of pilot whales which can be seen all year round and with some luck you might see fin whales and sperm whales.
There are also a lot of dolphins, so though you might not be guaranteed to see whales on any whale watching tour, you are highly likely to see some wildlife.
There are several ethical companies running boat tours from Tarifa and La Línea. They usually go out on 2-3 hours boat trips and the rest of the day you can enjoy some of Andalusia's most beautiful beaches.
Whale watching season: All year round for pilot whales and July to August for orcas.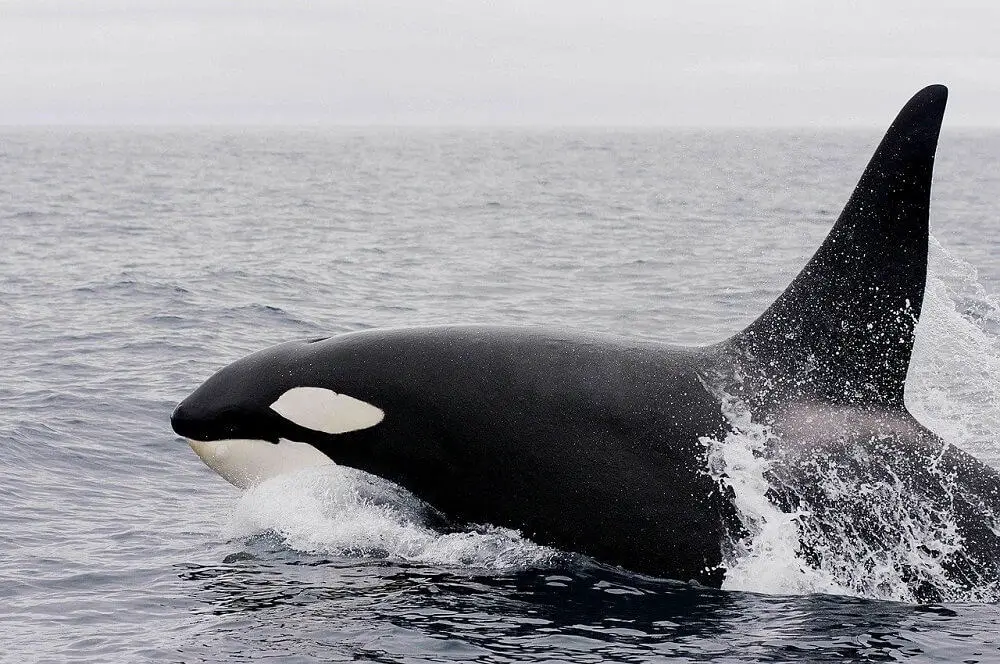 Seward, Alaska
Contributed by Dan of CabinCritic.co
A visit to Seward Alaska allows for access to Kenai Fjords National Park where you can see orcas, humpback whales, minke whales, fin whales, and grey whales.
Whale watching boats run daily from May through September. While you can see whales during the entire summer season, gray whales arrive in Alaska during the spring and leave in mid-May.
You can see Orcas year round and while it is possible to see humpback whales year-round, most migrate to Hawaii for the winter, leaving before September. 
From Seward, you can take a boat tour of the Kenai Fjords National Park lasting from 4 to 8.5 hours that are much more than just whale watching tours.
On the cruises, there are glaciers, rock formations, a variety of wildlife like sea otters, bald eagles, harbor seals, and of course, whales! The tours are narrated by a guide from the National Park Service.
To see what wildlife you can expect to see on your tour, look on Instagram for people who recently tagged Kenai Fjords National Park, and see what they shared. 
Whale watching season: May to September, but orkas can be seen all year round.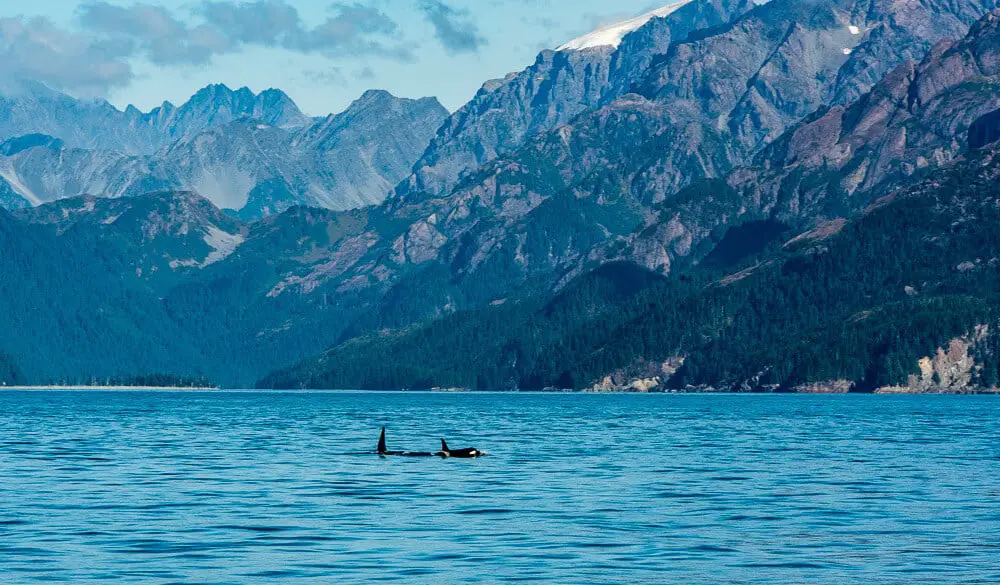 Hermanus, South Africa
Contributed by Disha of Disha Discovers
There are so many incredible whale watching spots in the world and Hermanus, South Africa is one of them. Located seventy-five miles from Cape Town, Hermanus offers many ethical whale watching tours.
One of the best companies for this experience is Hermanus Whale Watching. Their guides are extremely knowledgeable regarding the whales and make sure that you're having a fun and educational experience.
They offer a few tour times during the day. The earliest tour is the best option since there are fewer people on the tour. The tour lasts for approximately two hours and costs around $85 USD per person. Students and children can get a discount.
You can expect to see plenty of Southern Right whales during the appropriate season which is June until mid-December. If you're not there during that time, you can still take the tour and see Humpback and Bryde's whales.
The best part about doing a whale watching tour with Hermanus Whale Watching is that they're ethical and respectful of the whales. They let the whales approach the boat and they don't do anything to make the whales approach the boat.
Further, they move away if the whale is displaying avoidance behavior and they always keep a fair distance from the whales. 
Whale watching season: June to mid-December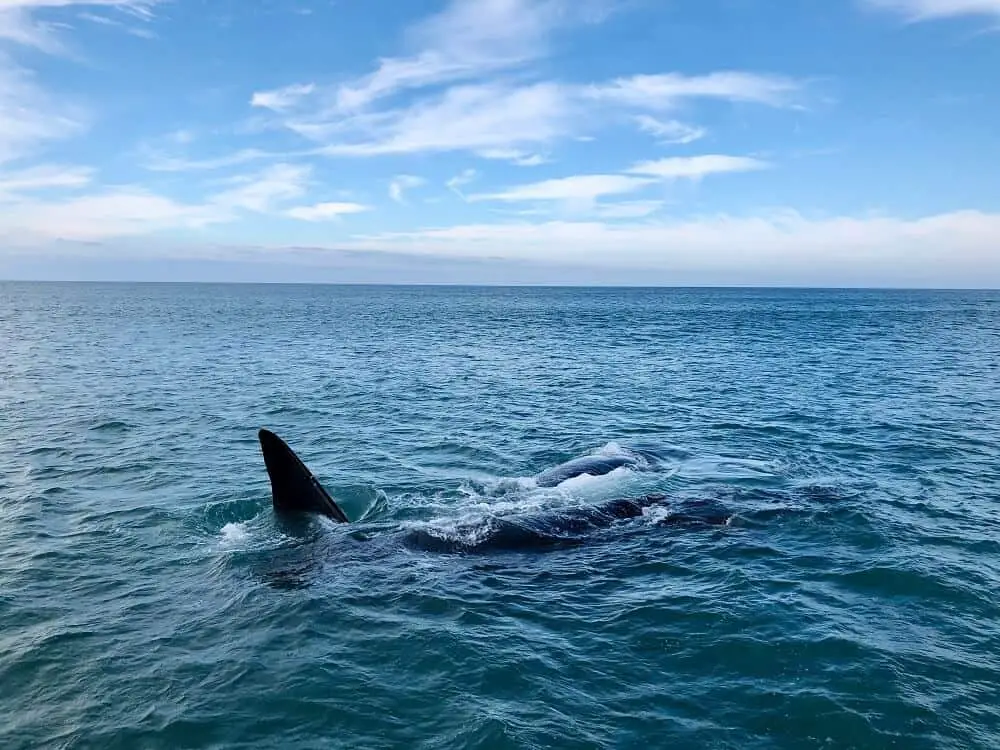 Sydney, Australia
Contributed by Paula Morgan of Sydney Expert
From June to November every year just under 20,000 whales make their way along the Australian Coastline right past Sydney Harbour. For the first half of the season they are heading north to warmer weather when the winter is over; they make their way home south.
The best time to see them in Sydney is during the first half of the season during the northern migration. At this time, they are travelling closer to the shore, and your opportunity to spot them from the coast is at its peak.
On their return journey, they travel further out to sea, so you will find you have more chance of a sighting from one of the many cruise operators who depart from Circular Quay.
Sydney Heads that mark the entrance to the Harbour, and the coastal cliffs of the southern and eastern beaches offer fantastic opportunity to spot these majestic creatures from dry land.
You are most likely to spot humpbacks and Southern Right whales here, however, you may also be lucky enough to spot a Minke whale or a Killer whale.
Whale watching operators operate under rigorous conditions. One of the most affordable quality operators is Oz Whale Watching who operate a couple of cruises a day during the season.
Whale watching season: June to November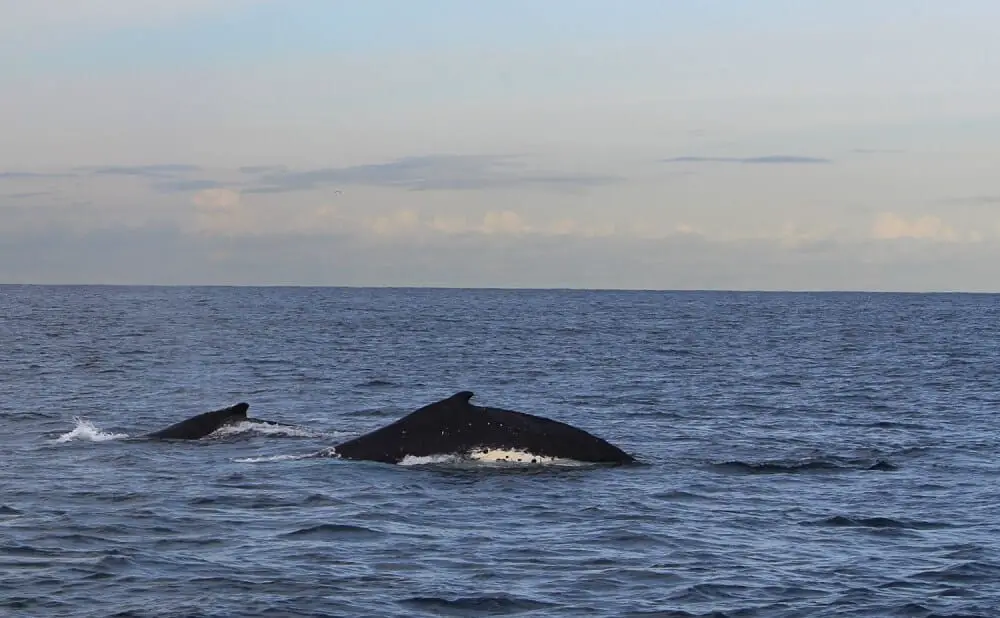 Baja, Mexico
Contributed by Chris of Called To Wander
Baja is one of the most beautiful cities in Mexico and one of the best places to whale watch in the world. Massive whale migration takes place on both sides of the peninsula so you are able to experience a variety of species such as blue, grey, and humpback whales. 

Grey whales are by far the easiest and most common whales to experience, particularly in early spring along the Pacific Coast. While there are a variety of tours you can book in advance, the best whale watching is done by simply arriving in one of the popular destinations and booking a spot on a small boat. 
The best places to whale watch are in Magdalena Bay, Adolfo Lopez Mateos, San Ignacio Lagoon and Guerrero Negro. If you plan to camp in Baja you can usually camp right in the same place you book your tour. 
While most of the tours are arranged on the spot, the Mexican government does highly monitor and restrict the whale watching industry so nearly every tour you take supports local fishermen (turned whale-watching captains) who follow strict eco-friendly guidelines.
Captains will only allow the whales to approach the boat. And a portion of your ticket fee goes toward eco-preservation initiatives. 
Whale watching season: All year round but December to April for Gray Whales and Humpback whales, and February to March for Blue Whales.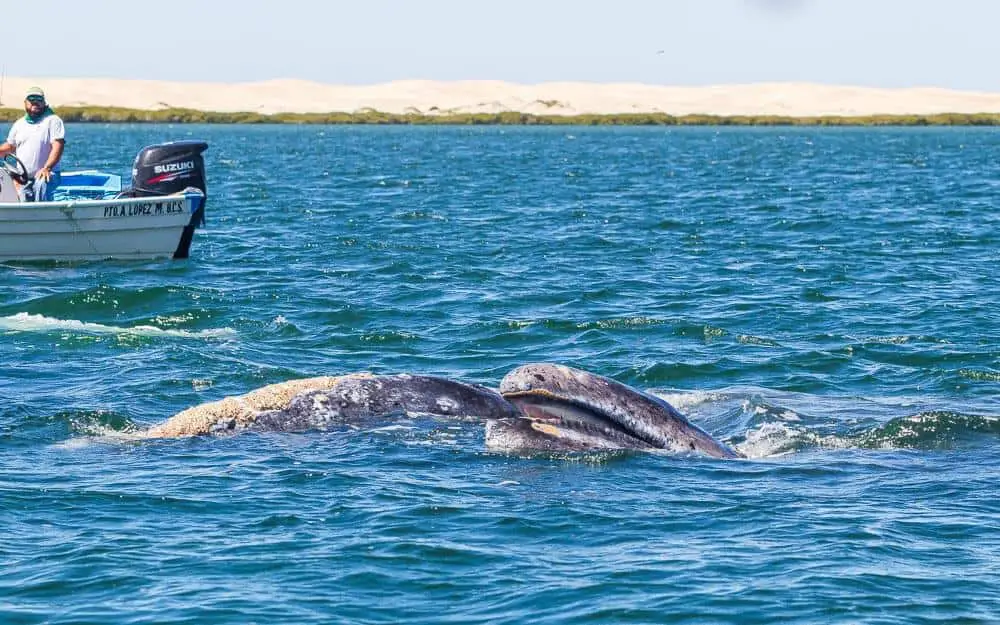 Mirissa, Sri Lanka
Contributed by Bailey of Destinationless Travel
Whale watching is one of the best activities in Mirissa, Sri Lanka between the months of December and April. During this time of year, visitors to this small beach town have the chance to spot Humpback whales, Sperm whales, and even the massive Blue whale! 
Most whale tours in Mirissa depart in the morning when there is the greatest chance of spotting them. Some tours also include a breakfast on board on the boat, or at the very least coffee or tea. Tours last for around three hours and during the right time of year, it is common to see at least one whale.  
Lots of tour companies get way too close to the whales to be considered "ethical" and these companies typically over pack the boat and undercharge.
Skip the cheap, unethical tour companies and head to Raja & the Whales, a well-known tour operator in Mirissa praised for their conservation efforts and respectable whale watching tours.  
Whale watching season: December to April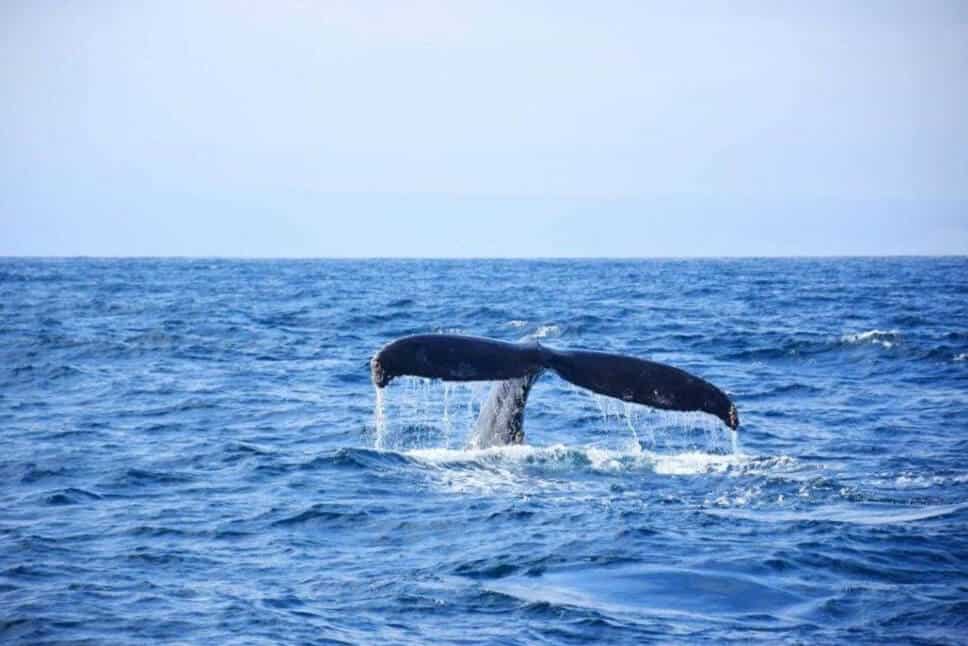 Tromsø, Norway
Contributed by Michele of The Intrepid Guide
For a unique whale watching experience, you can't beat visiting the Arctic Circle. Located at the top of Norway is the coastal city of Tromsø and one of the best things to do in Tromsø is to go whale watching around Kvaløya (literally, Whale Island).
You can see both humpbacks and orcas hunting and feeding on herring in the fjords. There is also a high chance of seeing Harbour porpoises, White-beaked dolphins, Minke whales, and Fin whales.
What is particularly magical about this whale watching in Tromsø is being able to see first-hand, humpback whales using their ingenious bubble net technique.
Bubble netting is where humpbacks work together to encircle their prey by creating a "net of  bubbles" around their prey, to confuse it then driving them to the surface where the humpbacks leap out of the water engulf them in their huge mouths.
The best time to go whale watching in Tromsø is during the winter months from late November and mid-January. During some seasons the whales may travel further north to Skjervoy to follow the herring.
The upside is that whale watching tours still operate from Tromsø, the downside is that it will end up being a full-day tour instead of a typical 3 hour tour. Either way, it's worth the effort for this once in a lifetime experience.
Whale watching season: Late November to mid-January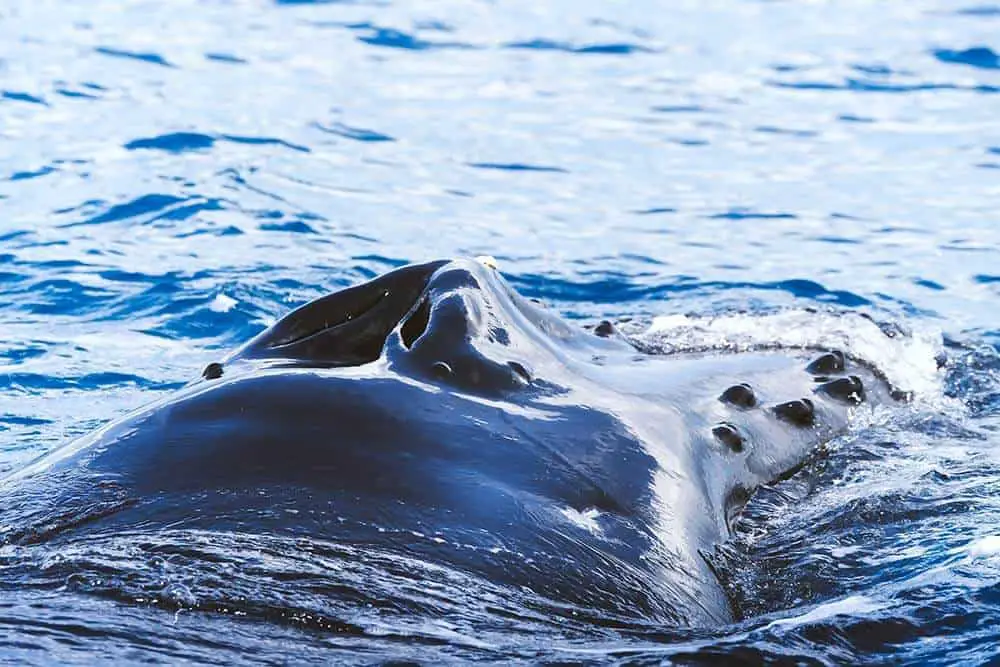 Tofino, Canada
Contributed by Liliane of My Toronto, My World
One of the best things to do in Tofino, British Columbia, Canada is to go whale watching. Tofino is located on the west coast of Vancouver Island and its shoreline opens up to the Pacific Ocean which makes it an ideal place for whale watching.
You can experience whale watching year around in Tofino. In the summer time you'll be able to see Humpback Whales.
Between February and April you can see Gray Whales since Tofino is part of their migration route between Baja, Mexico and Alaska. It's actually celebrated in Tofino with the annual Pacific Rim Whale Festival.
Occasionally, you can also see Orca Whales.
There are a number of companies in Tofino that you can choose from but a highly recommended one is Ocean Outfitters. They participate in a number of environmental campaigns and while they only conduct ethical whale watching tours they also have a carbon offsetting program for their boats which is fantastic.
Expect to be on the water for 2-3 hours. Since the tours are ethical they will not get right up to the whales since they don't want to disturb them but you will still be able to get a great look!
Whale watching season: Mid-February to October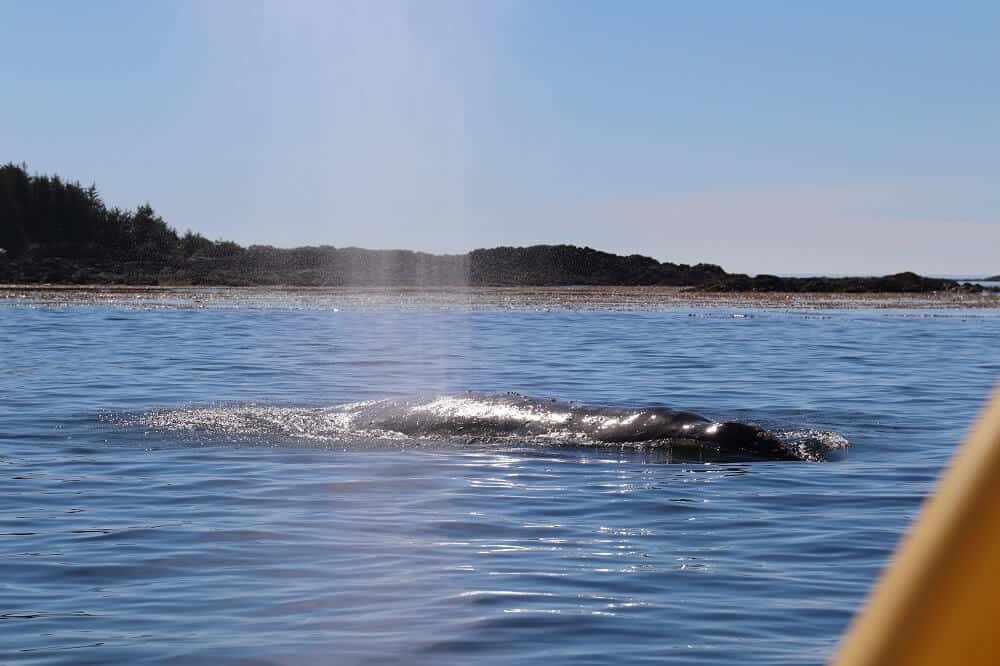 Provincetown in Cape Cod, USA
Contributed by Melissa of Navigation Junkie
Cape Cod extends 70 miles into the Atlantic Ocean, making it the perfect destination for marine life sightings, including the much desired whale sightings.
The Stellwagen Bank National Marine Sanctuary is located about 28.5 miles from Provincetown and will take you into the feeding grounds of five different species of whales, including Finbacks, Humpbacks, Minkes, Pilots, and the endangered Right Whales.
In the summer months, the whales migrate to this area for the rich supply of plankton. Whale watching season in Cape Cod runs from mid-April to October, but the best months for sightings are June through September. 
There are a couple options for whale watching tours, but Dolphin Fleet Whale Watch is one of the most popular. The tour lasts approximately 3 hours and not only are you almost guaranteed to sight some whales. While you're in one of the best places in New England, you also get to enjoy views of the famous Provincetown sand dunes and lighthouses.
The ride out is a pleasant one and you can enjoy some snacks and beverages. The top deck makes for the perfect location for enjoying the ocean breeze and getting the up close views of the whales.
Throughout the tour a naturalist will provide you with information on the location and species of whales that you see, including explaining the different behaviors you observe from the whales. It is an experience you won't forget!
Whale watching season: Mid-April to October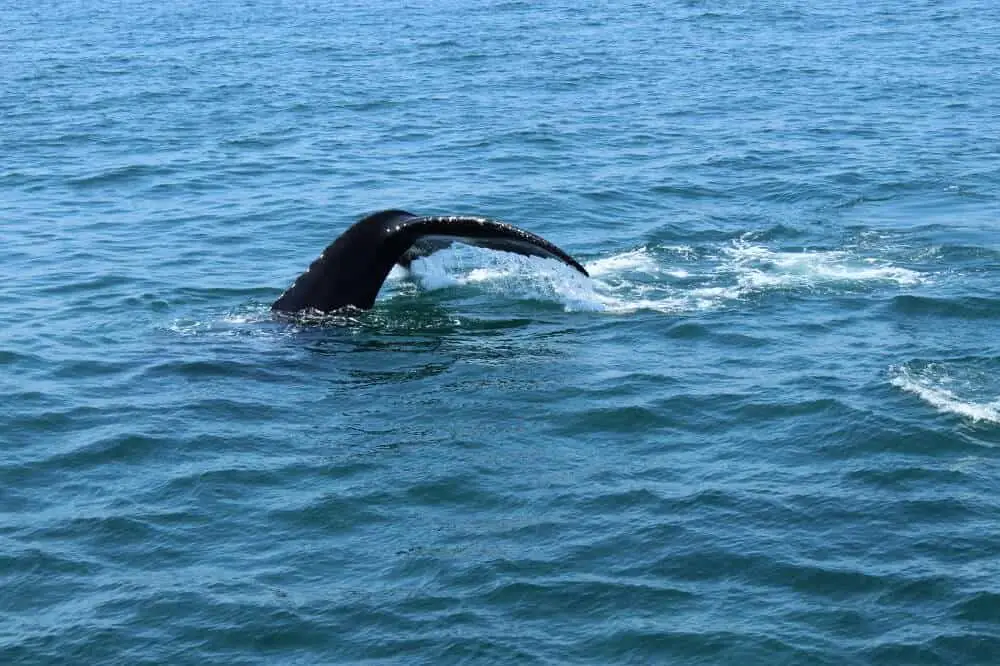 Samaná, Dominican Republic
Contributed by Chris of Punta Cana Travel Blog
Whale watching in the Bay of Samaná, Dominican Republic, is one of the most popular excursions for travelers to Punta Cana and the entire country.
Tours are running between mid of January and mid/end of March as these are the months when the humpback whales are coming into the warm waters of the Samaná Bay for giving birth to their babies and feeding them the first weeks.
Even though Samaná is the most popular whale watching area in the entire Caribbean and attracts its share of visitors, all tour operators for these excursions need special permissions as whale watching in the Dominican Republic is following some strict rules.
The boats must maintain a distance of at least 50 meters towards the whales, engines must be turned into neutral when observing the mammals and a maximum of 3 boats is permitted in direct proximity to the whales. 
Whale watching tours are possible from Punta Cana and Samaná and are usually combined with a visit to Cayo Levantado for some beach time, an island in the Bay of Samaná that is also known as Bacardi Island. 
Whale watching season: Mid-January to mid-March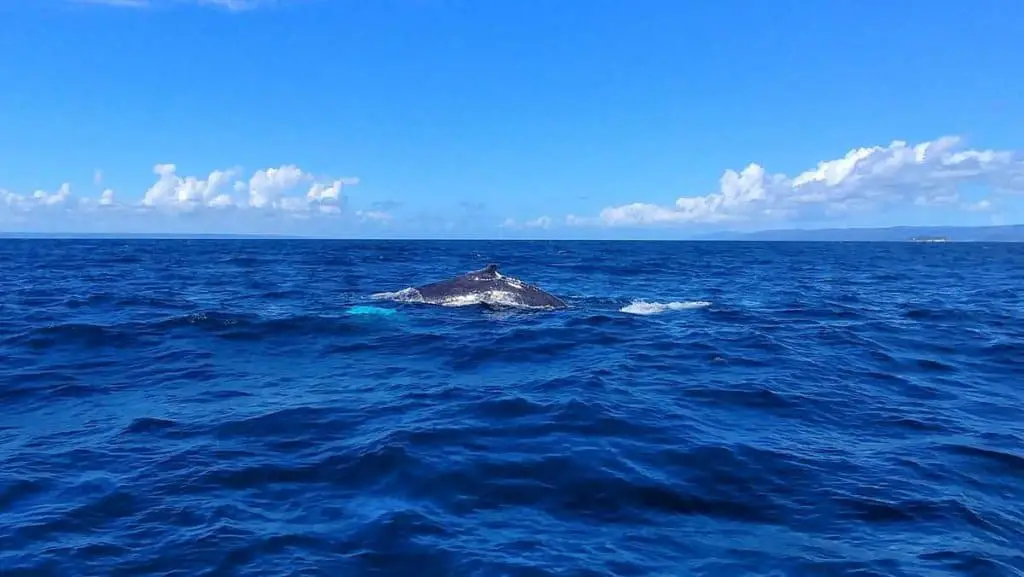 Peninsula Valdés, Argentina
Contributed by Erin of Sol Salute
Patagonia is a nature lover's dream so it should be no surprise that it is also one of the best places to see wildlife in Argentina. Peninsula Valdes a major breeding ground for penguins, elephant seals, sea lions, and of course, whales. Southern Right Whales return to the peninsula every year to breed and orcas call these waters home year-round. 
You can see whales here from May through late November but the best months are September and October when the numbers reach their peak along with the arrival of other animals. 
Reserve a boat excursion with Botazzi for the best experience. They respect the space whales need and offer an unforgettable outing. Watch for Orcas from the shore at Punta Norte on the peninsula.
Check the tide tables and time your visit for one hour before and after high tide when orcas use the high tide to beach themselves to hunt of seal pups. 
Finally, on the beach between Puerto Madryn and the peninsula, you can go whale watching on the beach for free. The water is deep just offshore and the whales are mere meters from your place on the sand.  
Many use the city of Puerto Madryn as a base but for the best experience stay on the peninsula itself in Puerto Piramides where you can see the whales from the balcony of your hotel. 
Whale watching season: October to December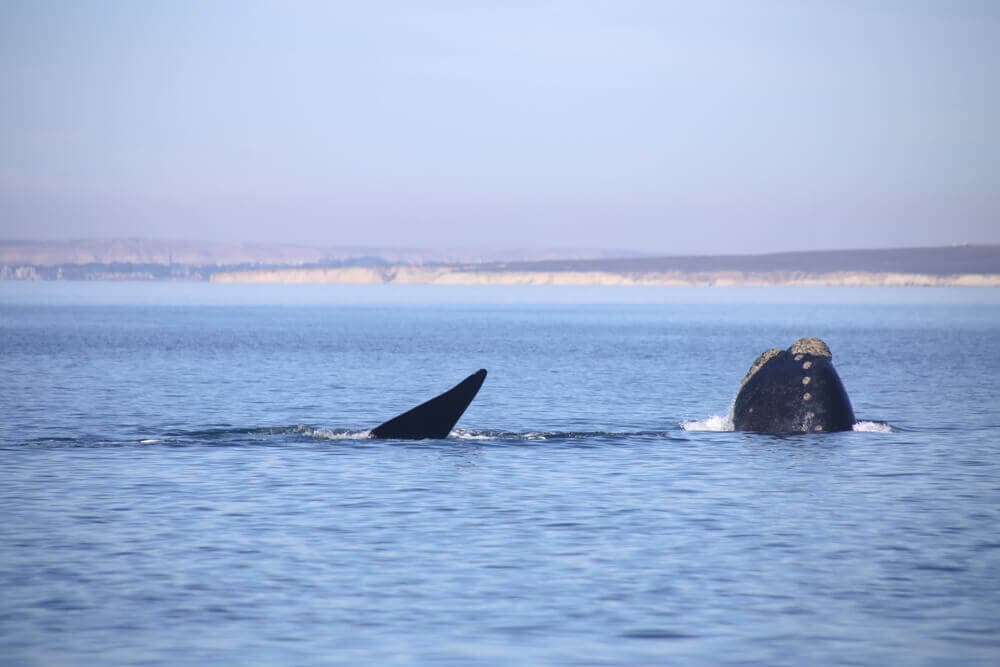 Reykjavik, Iceland
Contributed by Albi of Ginger Around The Globe
Even though Iceland might not be the obvious option when it comes to whale watching, it is surely one of the most ethical places to see the whales.
Despite being one of the countries that still hunts mink whales for food, whale watching is very ethical to gentle giants.
You can whale watch straight from Reykajvík. There are a couple of companies that are doing whale watching tours. The most popular ones are on the bigger boats.
You can spend whole afternoons searching for whales. In Iceland, it is even possible to see not only mink whales but also big blue whales.
The companies that offer these tours always keep a good distance so the whale that you are watching doesn't feel threatened but at the same time, it is close enough for a picture.
On the boat, the guide explains everything about whales in Iceland and how the culture has changed throughout the years.
Whale watching in Iceland is a very nice, educational, and ethical experience.
Whale watching season: April to October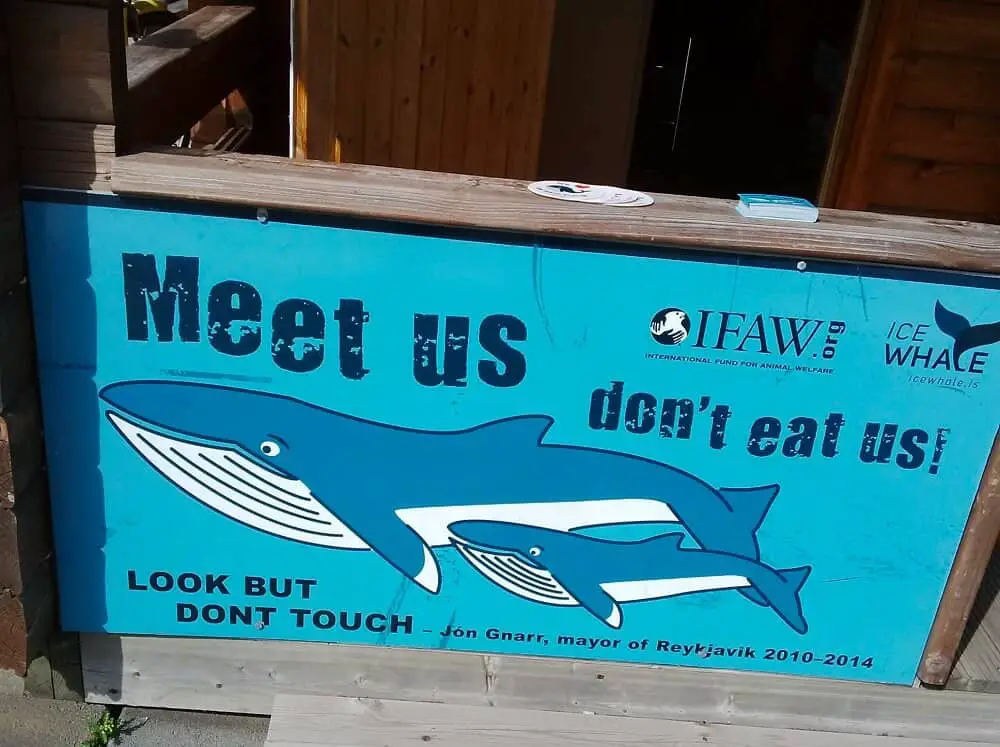 Corcovado, Costa Rica
Contributed by Dzangir of Dr Jam Travels
Costa Rica's biodiversity is stunning, 5% of all spices can be found in this small country. This goes as well for marine life. Whales can be spotted all year round, while they come from both poles to mate in calm and warm waters of Drake bay.
The peak months are August through the end of November, with peak in October, when it's almost guaranteed to see whales in the Drake Bay, Caño Island and Corcovado area.
They are also commonly spotted from March till June. There you can see humpback whales, killer whales, pilot whales, sei whales and beaked whales.
There are also dolphins living in big pods of hundreds; bottlenose, spinner, roughtooth, rhisos and spotted dolphins.
Starting spot would be Uvita or even better Sierpe. There you start on a river and through mangrove you come to the Pacific ocean and continue to Drake Bay.
Whale watching season: August to November and March to June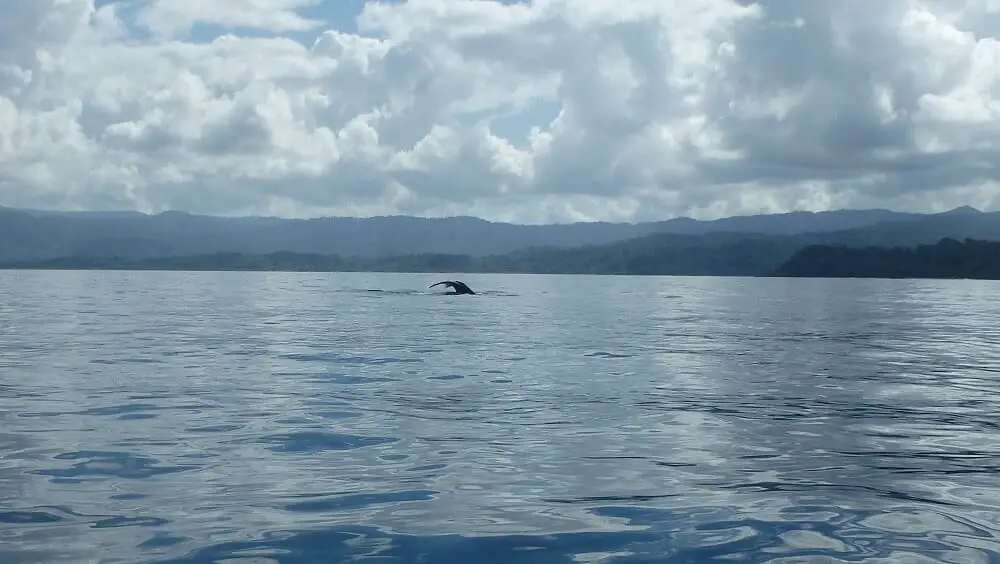 Newfoundland, Canada
Contributed by Lora of Explore with Lora
Newfoundland is one of the best destinations to see whales and puffins in North America. Every summer, thousands of humpback whales make their way to the coast of Newfoundland to feed.
There are over 22 different species of whales you can see here, including fin, sperm, belugas, and blue whales.
The best part about whale watching in Newfoundland is that there are so many! All you have to do is park your boat in the water, and the whales will come around you and play.
There are whale watching tours all over the province, but one of the most ethical companies is Hare Bay Adventures in Central Newfoundland. We spent four hours on the ocean with them and were the only boat in the water, surrounded by dozens of whales.
The best time to see whales in Newfoundland is during July and August, as this is when the Capelin start rolling onto shore which is what attracts them.
Even though this coincides with the summer season, you'll need a sweater and jacket as it can get chilly on the water! Whale watching is one of the best things to do in Newfoundland so be sure to add this to your itinerary.
Whale watching season: Mid-May to September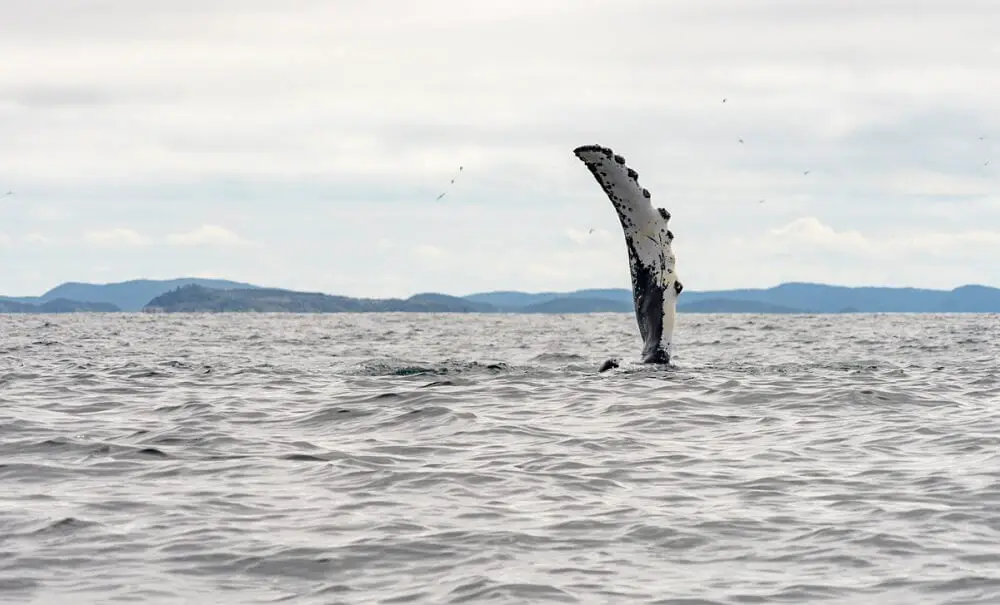 Abrolhos Marine NP, Brazil
Contributed by Bruna of I Heart Brazil
Boasting some incredible Brazilian beaches and wildlife, Abrolhos Marine National Park is a mecca for whale watching lovers.
That's because Abrolhos protects a significant portion of the largest coral bank and the most essential humpback whales nursery in the South Atlantic.
Many other animal species also come to this marine national park to reproduce and lay eggs, such as sea turtles, sea birds, and an infinity of fish and invertebrates that make up the most extensive marine biodiversity in Brazil, let alone the South Atlantic.
From June to November, around 20,000 humpback whales feed and reproduce in this area off the Brazilian coast. You can spot them from the boat that leaves from Caravelas harbor.
Boat tours are available both on a full-day trip and liveaboard concept. Either way, the national park administration has strict rules for the boats, which are only allowed to stay at a minimum of 328 feet away from a whale group for no longer than 30 minutes, among other rules.
While you can scuba dive in this area, you are not allowed to swim anywhere within 164 feet from dolphins and whales, all for their well-being.
Whale watching season: June to November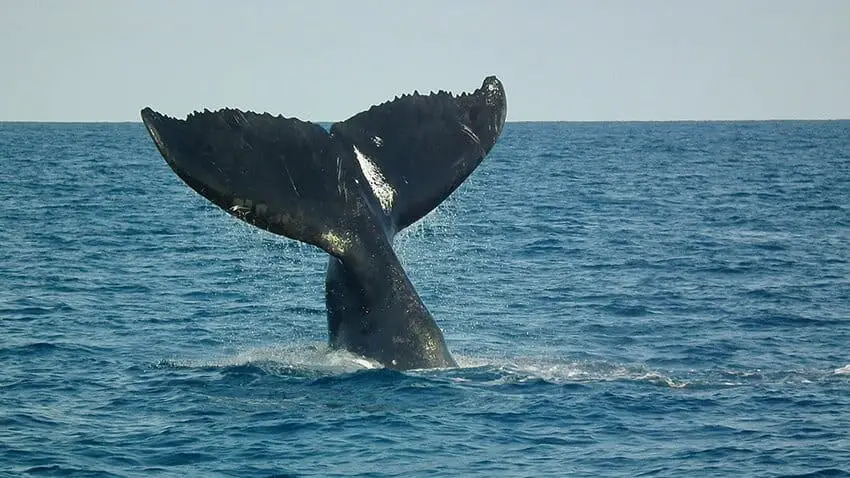 Sao Miguel, Azores, Portugal
Contributed by Kris and Sylvia of Wapiti Travel
Not many people know the Azores Islands.  It's a hidden pearl in the middle of the Atlantic, an excellent place to avoid the crowds and get close to nature.  What even less people seem to know is that it is also a great spot to see whales, as well as dolphins.
25 different species of whales and dolphins inhabit the waters around these volcanic islands. Humpback whales can be seen year-round and with some luck you can even spot sperm whales and blue whales. These are the largest living species and can get up to 30 meters long and weigh more than 170 tons. 
These massive animals pass the Azores in April and May when they're migrating.
In general April till October is a great time to see whales. Whale watching tours in the Azores are being organized from Terceira, Pico and São Miguel. 
As São Miguel is the largest island, it offers the most choice and this island is also the best to see the larger species like the blue and the fin whales.
Whale watching season: April to October
California, USA
Contributed by Tatiana of Familiy Road Trip Guru
If you love whales, you absolutely need to come to California because this one of the few places in the world where you can see whales year round.
In December through March grey whales are migrating along the California coast: early in the season from North to South and later in winter and in March – from the South to the North.
There are several places in California that are great specifically for grey whales watching. If you want to see them on the boat, then San Diego and Monterey Bay are your best options.
If you want to see them right off the coast, then the town of Pacifica near San Francisco and Point Reyes National Seashore give you great viewing points.
Come summer, killer whales and humpback whales come to feed to nutrients reach waters of Northern California. You can easily observe them in Monterey Bay and in Pacifica, as well along Big Sur coast.
If you plan to see whales off the boat you will probably be able to see them very close but if you plan to watch them off the coast I strongly suggest you bringing binoculars with you.
Whale watching season: All year round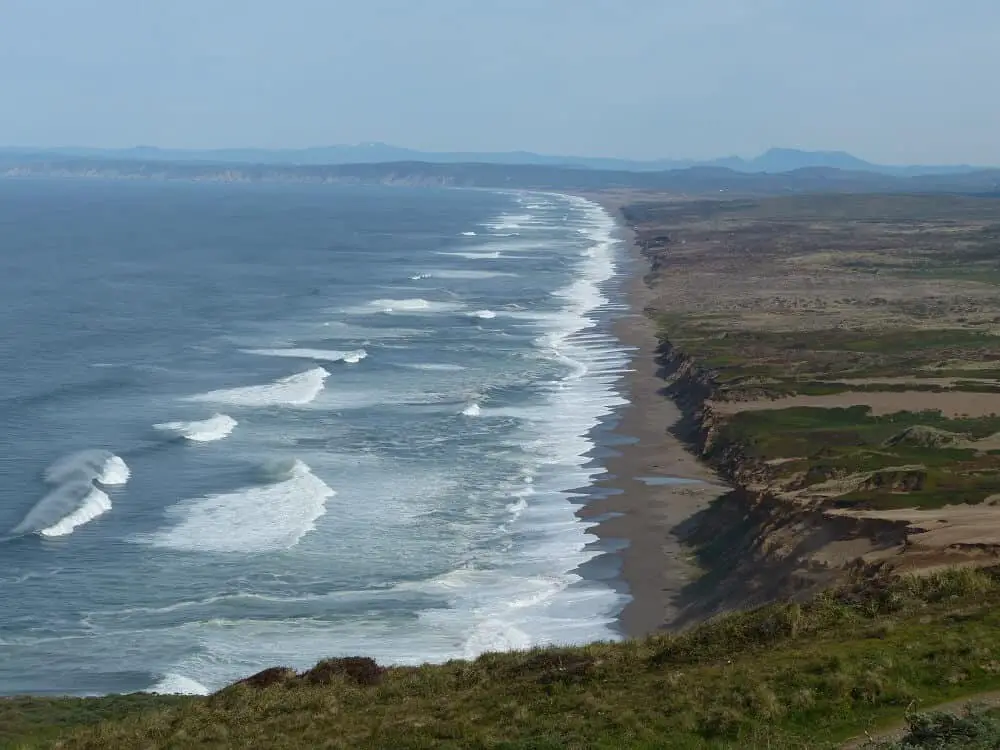 Nullabor Head of the Bight, Australia
Contributed by Natalie and Steve of Curious Campers
The location makes this one of the best places for whale watching in the world. The Head of the Bight is at one end of the Great Australian Bight – a dramatic 1200 kilometre stretch of coastline along southern Australia.
The nearest capital city is Adelaide over 1000 kilometres away. The Head of the Bight is a great stop if you're doing a Nullarbor Plain road trip. It's near the Nullarbor Roadhouse.
The whales are at the Head of the Bight between June and October. Mothers and calves arrive in their hundreds and can be seen from a boardwalk lookout. Southern Right Whales are most common but Humpback and Blue whales can be spotted too.
The view from the lookout is stunning. On one side, the Bunda Cliffs rise 120m out of the water. On the other is a deserted beach with enormous sand dunes. Between them are the whales. They are often quite close to shore so you have no trouble seeing them. You really can watch them for hours.
Access to the lookout is via the Head of the Bight Visitor Centre. It is open from 8.00am to 5.00pm. There's an admission fee which starts at AUD$16 for adults.
Whale watching season: June to October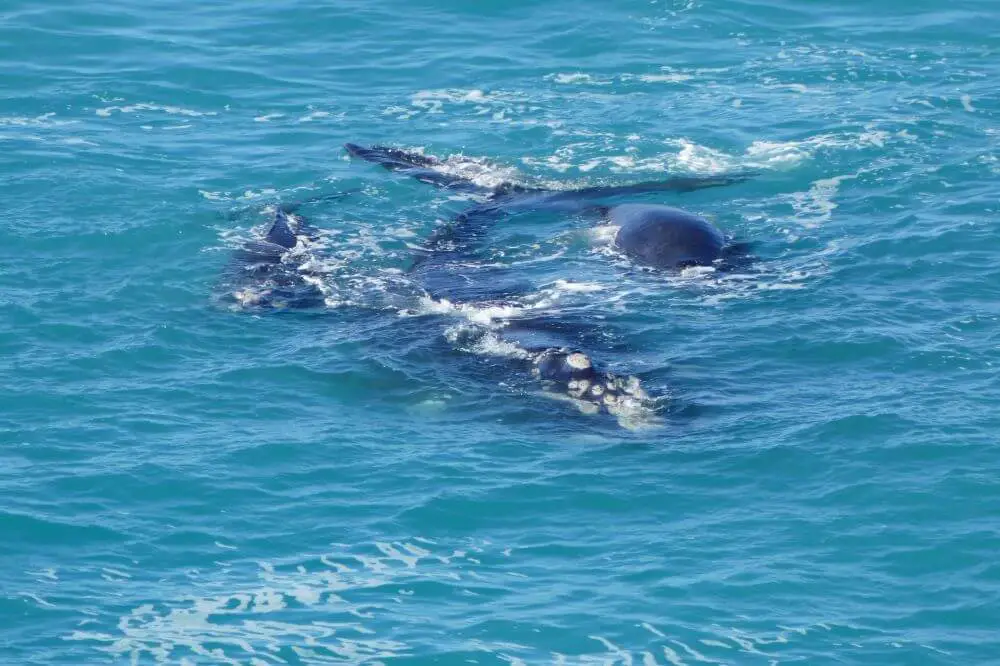 Ilulissat, Greenland
Contributed by Jurga of Full Suitcase
Greenland and especially the area around Ilulissat Icefjord, is one of the most beautiful places to see whales in the world. This protected area is listed as a UNESCO World Heritage Site and commercial activity here is quite limited, guaranteeing a truly unforgettable experience.
Not only is Ilulissat a great place to see various types of whales, but what makes it even more special is that you are surrounded by floating icebergs dotting the ocean as far as the eye can see. The scenery here is simply incredible!
The best time to go whale watching in Greenland is in summer, when big groups of whales frequent the nutrient-rich waters of the Disko Bay. You can see three types of whales in Greenland: humpback whales, minke whales, and also fin whales.
There are several companies organizing whale watching tours in Ilulissat. But you can also often see them during scenic boat tours to the Ilulissat Icefjord and sometimes also when kayaking in the area. Or you might get lucky and simply see whales from the shore.
Whale watching season: July to September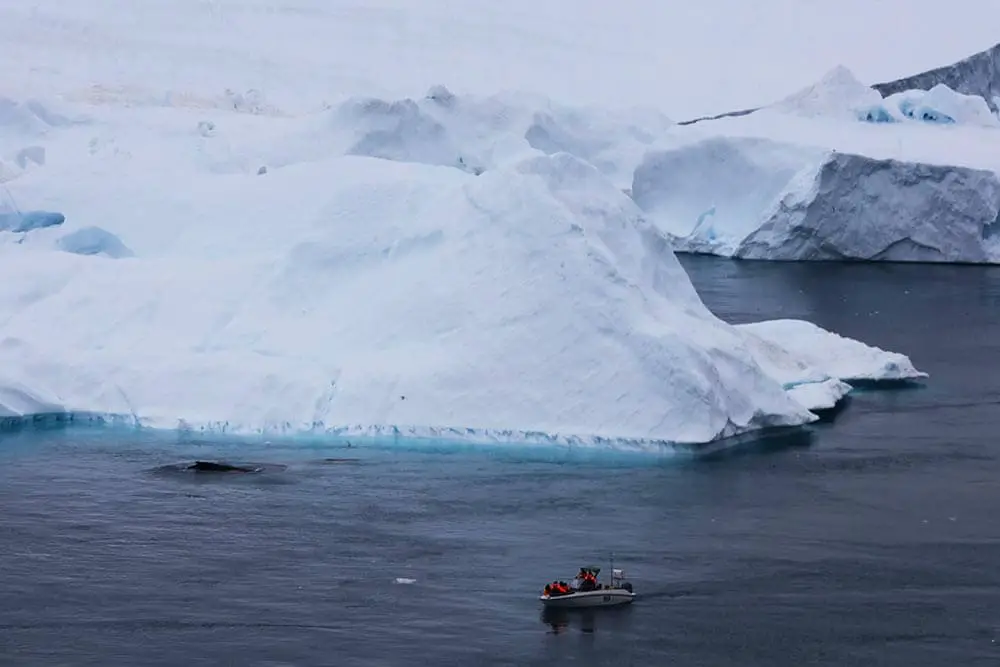 Pacific Coast, Colombia
Contributed by Adam of Cartagena Explorer
Every year, humpback whales migrate to Colombia's Pacific coast from their homes in the Antarctic.  They come to enjoy the warmer waters and mate.  They return the following year to give birth.
There are several places on Colombia's Pacific coast to see whales ethically.  They are near the small towns of Bahía Solano and Nuquí, both reachable by charter flight.  There are some beach lodges closer to the city of Buenaventura as well, however Buenaventura itself can be dangerous, so it is recommended that travelers use caution if passing through.
Nuquí makes for a great choice as it offers an excellent stretch of beach known as Playa Guachalito, where many of the hostels.  Most of those lodges operate on solar power, serve locally caught fish for their meals and employ locals.  The hostels Piedra Piedra and La Joviseña make for good options for where to stay as does the more upscale eco lodge El Cantil.  Most places in the areas will include a boat ride out to see the whales.
While they will be present on the coast throughout the late June to early November period, August seems to be the best month to ensure there is plenty of activity.
Whale watching season: Late June to early November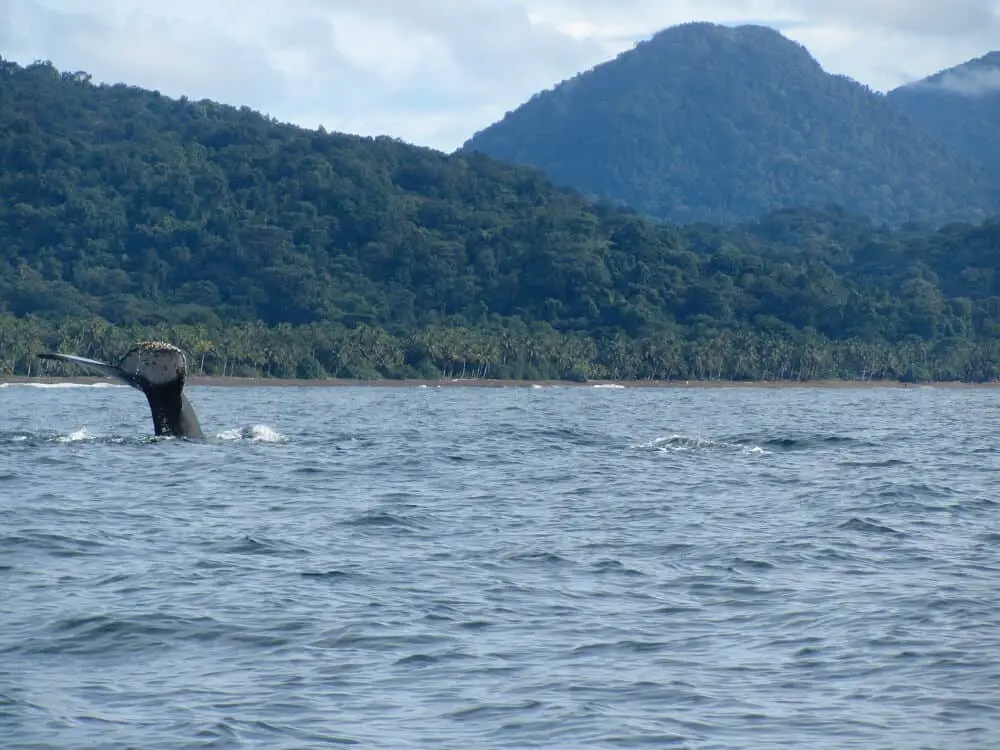 Reflections
There is no doubt there are many exciting places to go whale watching in the world! If you're so lucky that they swim up close to your boat, you'll get a memory for life. Stuck in your heart no matter if you get that perfect photo or not!
Wildlife is magic, and when you meet up with some of the biggest living creatures on the planet, it's hard to beat.
I hope you got inspired to find ethical companies to go whale watch with so you can contribute to a safe future for the worlds whales!
Pin it for later!