Breathtaking beaches, vibrant cities, intriguing history, national parks, tranquil lakes, and quaint towns. New England has it all. If you're planning a trip to this incredible corner of the US, you're up for a memorable trip.
It can be hard to choose the right place to go, so I've put together some of the best places to visit in New England in this post with the help of fellow travelers. No matter what your interests are, I'm sure you'll find something for you here.
Disclosure: This post may contain affiliate links. That means that if you make a purchase through one of those links, I will get a small commission at no extra cost to you. As an Amazon Associate, I earn from qualifying purchases.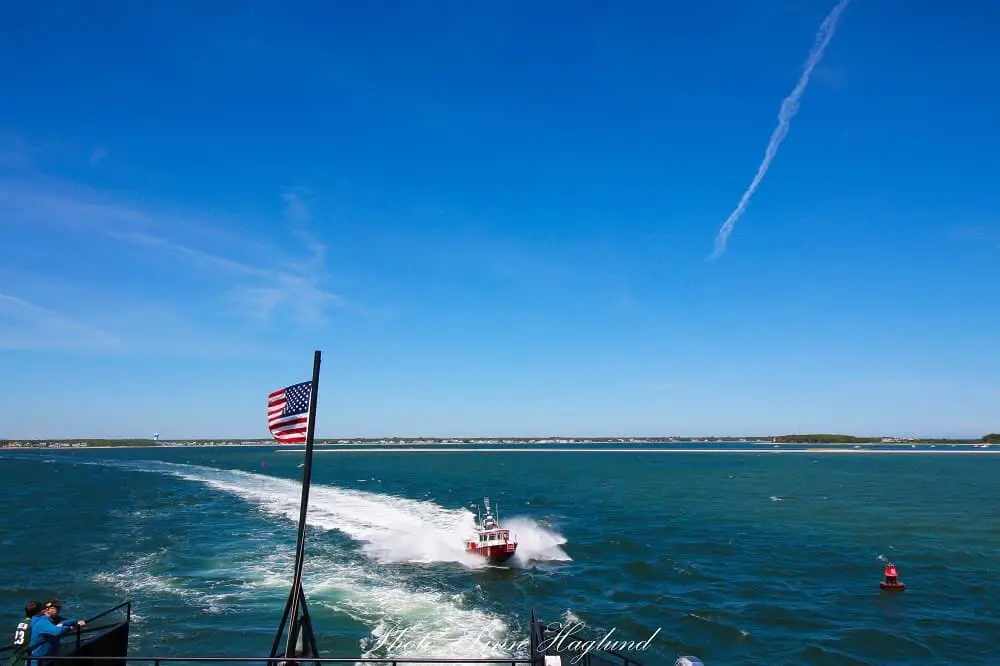 Best time to visit New England
New England is a wonderful place to see the different seasons. Depending on what you want to experience, the best time to visit New England will vary. Here is a breakup on the different seasons so you can decide what fits your trip the best.
Summer
New England is a wonderful summer destination for beaches, whale watching, visiting the islands, relaxing by the lakes, or going hiking. Temperatures can reach 90 degrees Fahrenheit (30+ C) and are perfect for outdoor activities.
Fall
Fall in New England is majestic! Travelers from all over the country visit to see the fall colors that cover the region. It's also a great time of year to go hiking as the temperatures can be around 70 degrees Fahrenheit (20+ C) in day time.
Winter
In winter, most of New England covers up by a white blanket and the mountainous areas offer fun winter activities like skiing and snowshoeing. You also find stunning winter national parks to explore. But you can also experience a lot of rain with a chilly wind.
Temperatures can range between 32 Fahrenheit (0 C) to -10 to -20 Fahrenheit (-25 C)at the coldest during January and February, especially in the mountains.
Spring
Spring is stunning with blooming flowers and daytime temperatures rising. Yet, the temperatures tend to drop at night and it's not unusual with as cold as 32 Fahrenheit (0 C) at the night.
YOU MUGHT ALSO LIKE: Best pop up tents for camping
Best places to visit in New England
Nantucket, MA
Nantucket is one of the best places to go in New England in summer. There are daily ferries from Hyannis, but you can reach the island by boat from New Bedford or Harwich Port in Cape Cod too.
You can easily go on a weekend getaway from Boston or Providence by car as it's just over an hour's drive. Nantucket also has its own airport that connects with destinations throughout the country.
There are plenty of things to do in Nantucket from visiting museums to relaxing at one of the mesmerizing sand-blown beaches. Explore Nantucket by bike to get the most out of the nice summer days. The bike trail network on the island is great!
Make sure you go to Siasconset to see some of the oldest houses on the island. But also to walk the charming Sconset Bluff Walk that takes you along the cliffside by the beach and all the way to Sankaty Head Lighthouse.
In Millbrook you can go hiking on the forest trails where you might be lucky to see wildlife.
Nantucket is also known to be one of the best places to go whale watching, so if you love wildlife, make sure you head out to sea.
Downtown is full of life, bars, cafes, and shops. This is also where you find the island's museums where you can learn all about the whaling history, African American history, and even lightship basket making.
Nantucket truly has something for everyone and is one of the top notch places to vacation in New England.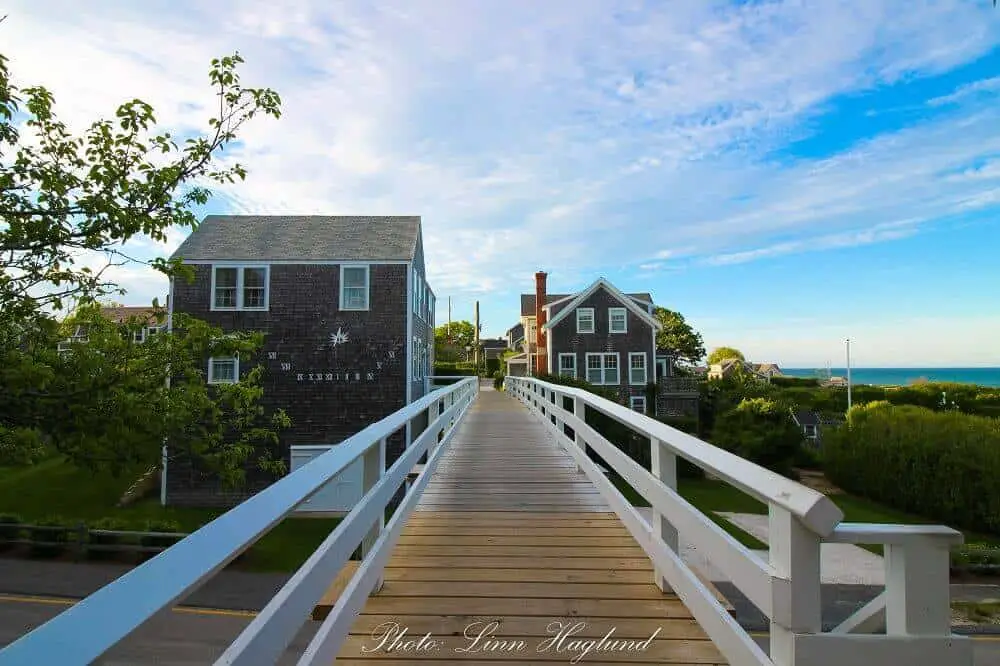 Boston, MA
No trip to New England is complete without a visit to the charming harbor city of Boston, one of the most popular NYC weekend getaways as it's only a short drive away. You can easily reach the city by plane from all over the country, but also the rest of the world.
While this might be one of the most important places to see in New England, Boston makes for a great base for day trips to surrounding places too.
But don't forget to explore the city while you're there. The first thing you should add to your Boston itinerary is the 2.5 mile Freedom Trail. It pretty much takes you through all the historic sites.
Make sure you visit the stunning Boston Public Library and Trinity Church, both on Copley Square. If you missed it on the Freedom Trail, go for a stroll through Boston Common, the oldest public park in the country and Boston Public Garden.
For the best views of the city, climb up the Skywalk Observatory, it's usually included in most tourist passes. Sunset is the absolute best time to go!
Stay at HI Boston Hostel for a centrally budget option or YOTEL Boston for a modern hotel by the seaport.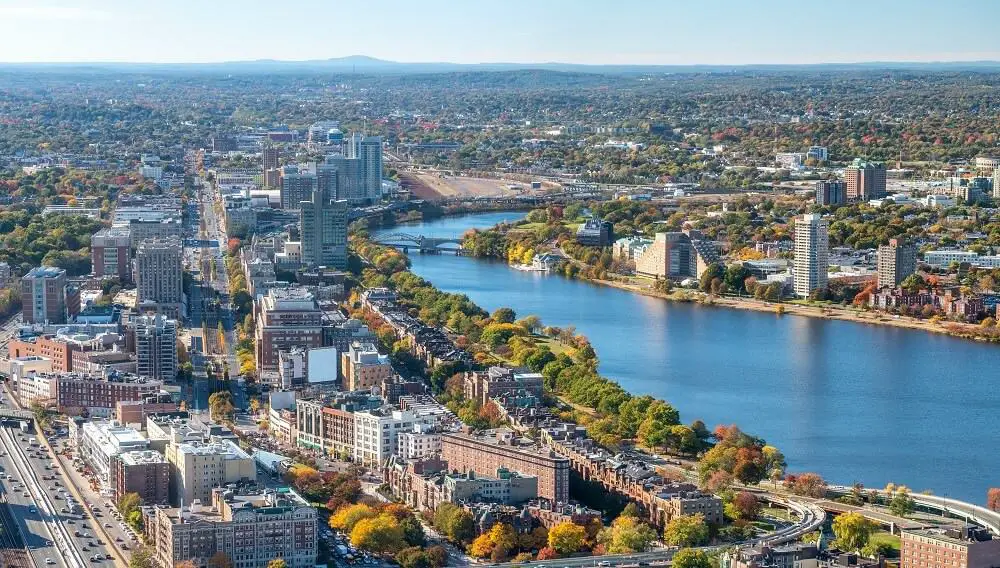 Acadia National Park, ME
Recommended by Ale of Sea Salt & Fog
Located on the rocky northeastern shore of Maine, Acadia National Park is a stunning wonderland of beautiful ocean views, charming lighthouses, and all-around New England charm. 
Getting to Acadia is an easy, scenic 4.5-hour drive from Boston, or 3 hours from Portland, Maine. The park is easily accessible from the town of Bar Harbor, where you'll want to spend the night.
One of the best things to do in Acadia is to watch the sunrise from Cadillac Mountain. In the early morning light, the sun lights up the mountain and the horizon in beautiful shades of pink and purple. The views here are unlike any other and are worth braving the morning chill for. 
Acadia also has miles of carriage roads that you can hike, bike, and even ski on in the winter -making it one of the popular national parks to visit in the winter too. Easy hikes here include going to Witch Hole Pond, where you can spot dragonflies in the meadows. You find some of the best hikes on the East Coast in the park.
During sunset, head over to Jordan Pond. The pond here is flanked by deep green rolling hills. After the sun goes down, frogs come out to play. 
You can't visit Maine without seeing a lighthouse, and Bass Harbor Head Lighthouse is as charming as they come. Watch the sunrise or sunset from the rocky shore, you'll have waves lapping at your feet. 
You'll want to spend at least two days visiting Acadia as this is one of the top places to visit in New England as well as one of the best national parks on the east coast.
The town of Bar Harbor has plenty of quaint bed and breakfasts, but the Ulikana Inn is a rustic cottage straight out of a fairy tale.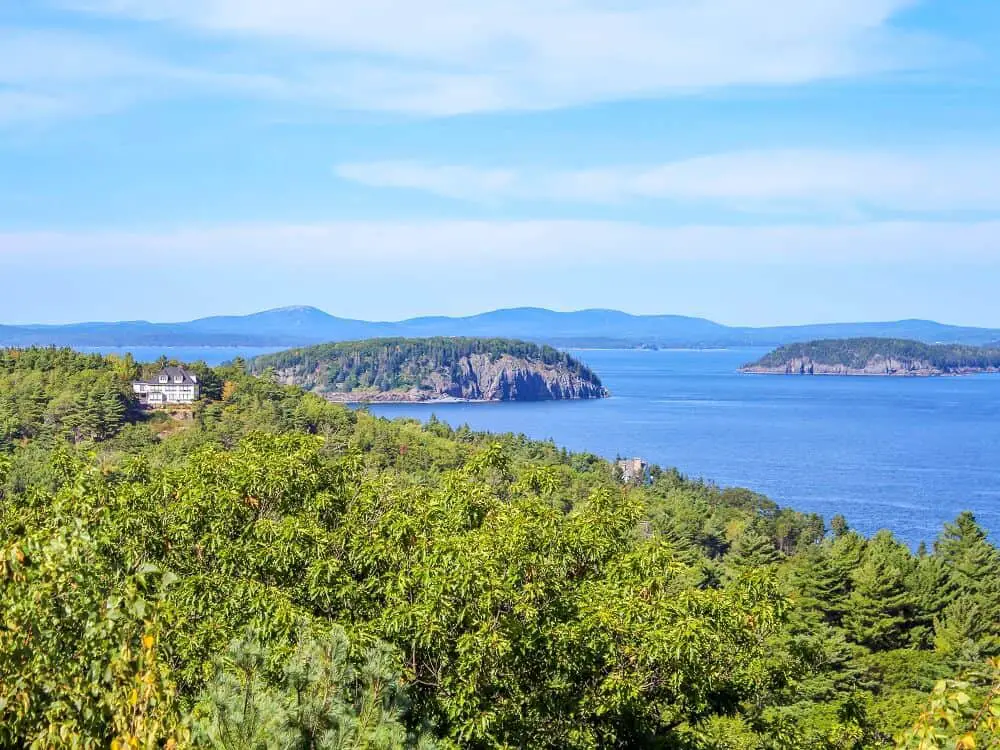 Providence, RI
Recommended by Jade of The Migrant Yogi
Providence, RI is one of the best vacation spots in New England. Although it's small in size, Providence makes up for it with thriving nightlife and a burgeoning culinary scene.
Get excited to visit one of the best restaurants in Providence (with some very excited vegan and vegetarian options!)
There is no shortage of things to do in RI's capital city. You can explore its neighborhoods, each of which with its own sparkling personality. 
Check out local museums, Thayer Street, Prospect Park, or even venture down to South County for a trip to Rhode Island's fabulous beaches (all of which under an hour away.)
If you come to Providence during the summer, be sure to visit Waterplace Park. If you've never been to Waterfire before, don't miss this iconic Providence event.
Generally held on Saturday nights from June-August, fires are lit along the center of the river. Food trucks, vendors, and street performers are all eager to show off their skills. You can even take a gondola ride down the river during the lighting!
For rainy days or cooler months, Providence has plenty of indoor activities to keep you busy. Book lovers can visit John Hay Library at Brown University to check out their special collections and ancient treasures.
If you're more into art, the RISD Museum has work from celebrated artists as well as the students of Rhode Island School of Design, one of the most prestigious art schools in the country.
Theater is also a very popular activity in Providence – Trinity Rep and PPAC are both top choices.
For a centrally located hotel, the Dean Hotel Providence has a prime downtown location and an excellent on-site restaurant.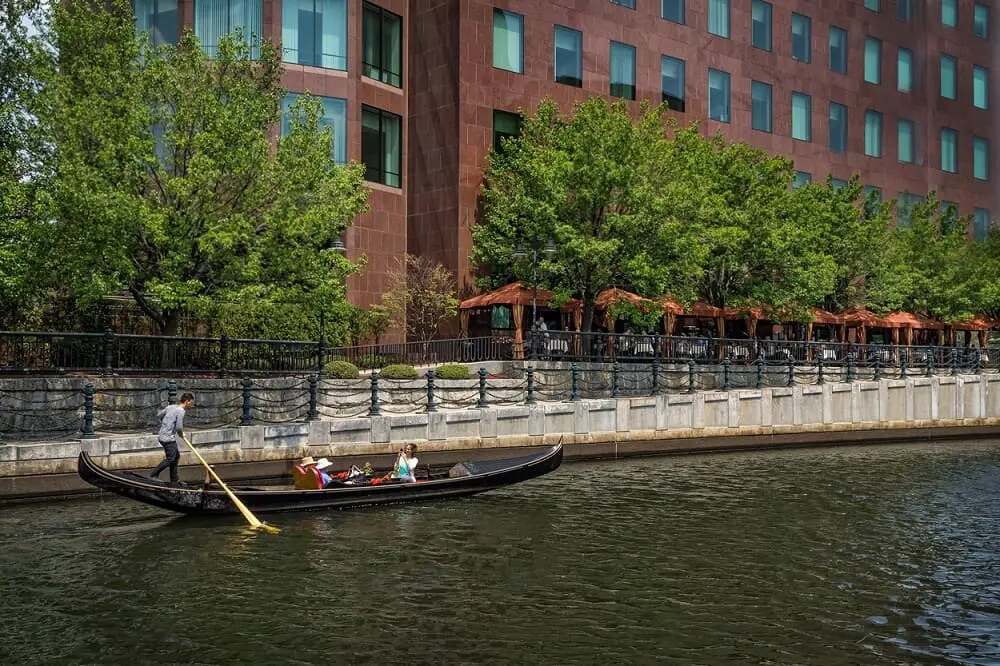 Salem, MA
Recommended by Katie of The World on my Necklace
Salem is one of the better-known places to go in New England, famous for being the location of the witch trials of 1692.
But don't let Salem's dark history deter you from visiting. It's a beautiful harbor-side city in Massachusetts, with cobbled pedestrian streets, beautifully restored historic buildings, lots of museums and historic sites, and great shops and restaurants.
You definitely don't need to be interested in the witchy side of things to appreciate Salem, but if you are, there are numerous witch museums, a witch trials memorial, witchcraft shops, and the Witch House.
You should also definitely try to visit in October when Salem really embraces its dark history, celebrating Halloween every weekend of the month.
In October, the streets and shop windows of Salem are decked out with spooky decorations, and I can guarantee that you will see lots of people walking around in costumes.
On the non-witch related side of things, there's still lots to do in Salem including visiting the excellent Peabody Essex Museum, finding out about Pirate lore at the New England Pirate Museum, taking a tour of the House of the Seven Gables – made famous by Nathaniel Hawthorne's book of the same name, and just wandering around town, shopping at the small businesses and boutiques.
One of the best places to stay in Salem is the historic The Merchant. It's centrally located and is close to many of the city's attractions.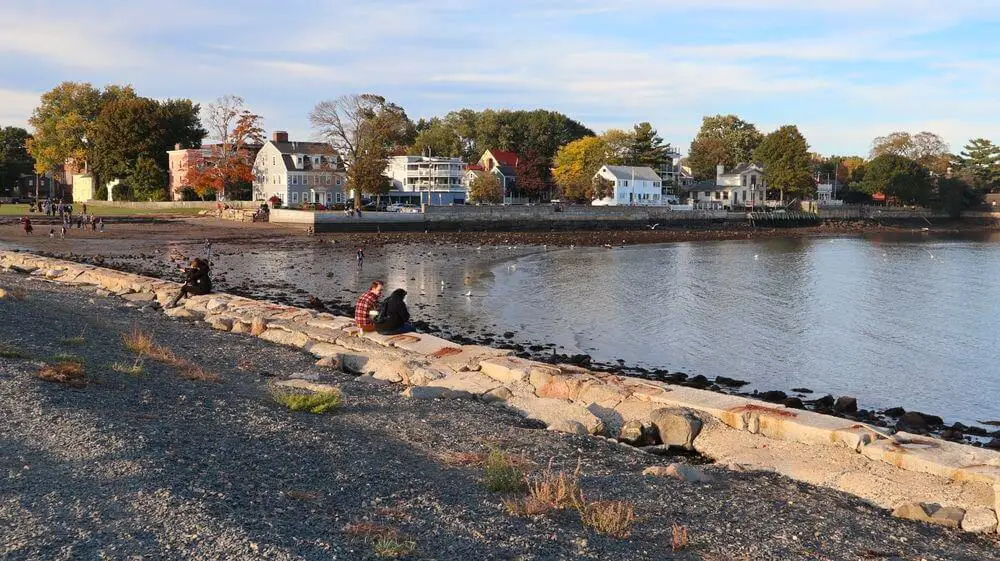 Portland, ME
Recommended by Elena of The Carry-On Chronicles
Eclectic Portland, Maine is a vibrant city that blends a modern, artistic scene with culinary delights and a rich history. It's accessible by car, Amtrak, and Portland International Jetport, Maine's largest airport.
One of Portland's calling cards is its many lighthouses. Each of the six are located within an easy, 20-minute drive of the city.
The most iconic is Portland Head Light, the oldest in Maine. It resides along Fort Williams Park and offers visitors access to an award-winning museum. Due to its striking nature, Portland Head Light is a popular subject of many photos.
Spring Point Ledge Lighthouse is another visually stunning structure to photograph. It sits at the end of a stone breakwater on the Southern Maine Community College South Portland Campus.
The Portland Breakwater Light – affectionately known as "Bug Light" – resembles a 4th-century Greek monument. It's located in Bug Light Park, next to the South Portland Historical Society Museum.
Two Lights State Park is the vantage point for Portland's "twin" lighthouses. The eastern lighthouse is still active as an automated light station, whereas its western twin is out of commission, serving exclusively as a private home.
The Ram Island Ledge Light is unique in that it's only accessible by private boat. It has an interesting history and was once responsible for numerous shipwrecks. Today, travelers can catch a glimpse of it while visiting Portland Head Light.
Portland offers a variety of accommodations, including the popular mid-range option, the Portland Harbor Hotel.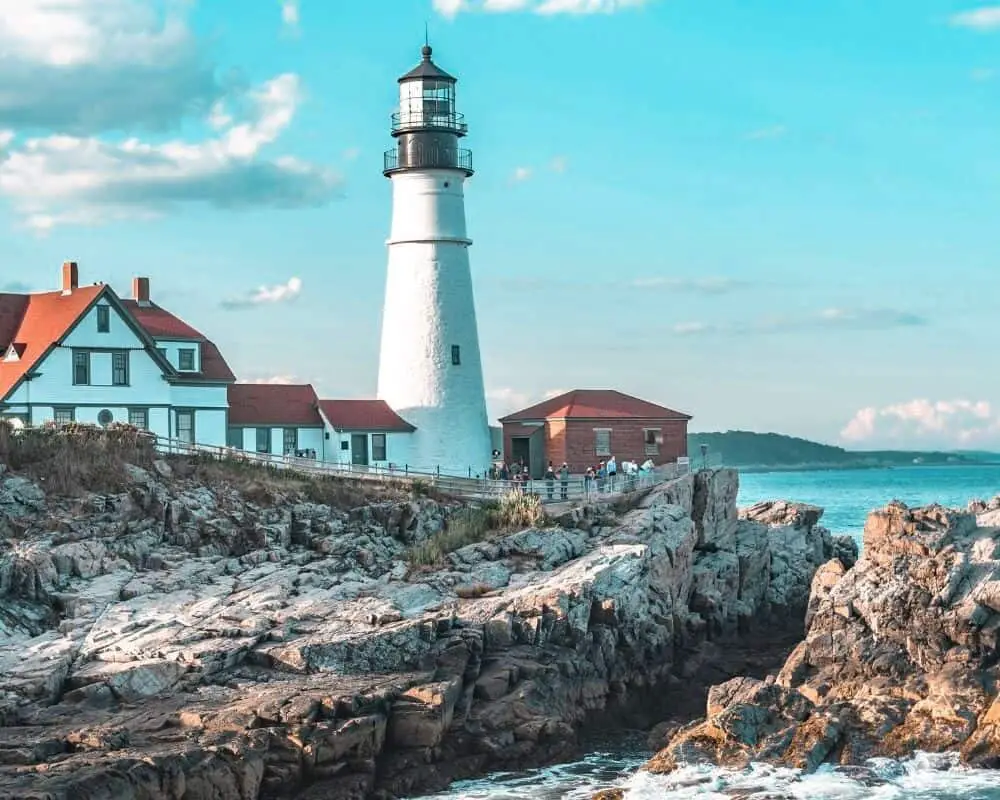 Provincetown, MA
Recommended by Derek and Mike of Robe Trotting
One of the best places to visit in New England is located at the very tip of Cape Cod – Provincetown, Massachusetts. It's one of the most remote places in the country which adds to the charm of the destination.
The easiest way to reach Provincetown is to take the ferry from Boston to the outer cape. Riding the ferry not only saves you time stuck in traffic, but it's a lovely 90-minute cruise along the coast and through Cape Cod Bay.
It's common to see whales along the way and you'll definitely pass whale watching boats.
The enchanting beach town is full of gorgeous beaches, cozy cottages, and a vibrant LGBTQ community.
One of the most picturesque spots in Provincetown is the Race Point Lighthouse and its surrounding Race Point Beach. The lighthouse first opened in 1816 and is surrounded by scenic hiking paths along the dunes.
In the downtown, historic clapboard houses have been converted into high-end lodging and Provincetown Airbnb properties.
Commercial Street is the epicenter of Provincetown and features trendy boutiques, beach cafes, and the town's nightlife.
Venues like the cabaret room at the Crown & Anchor Restaurant host some of the biggest stars from Broadway and RuPaul's Drag Race fame. No matter what time of year you visit Provincetown, you'll feel like a star yourself.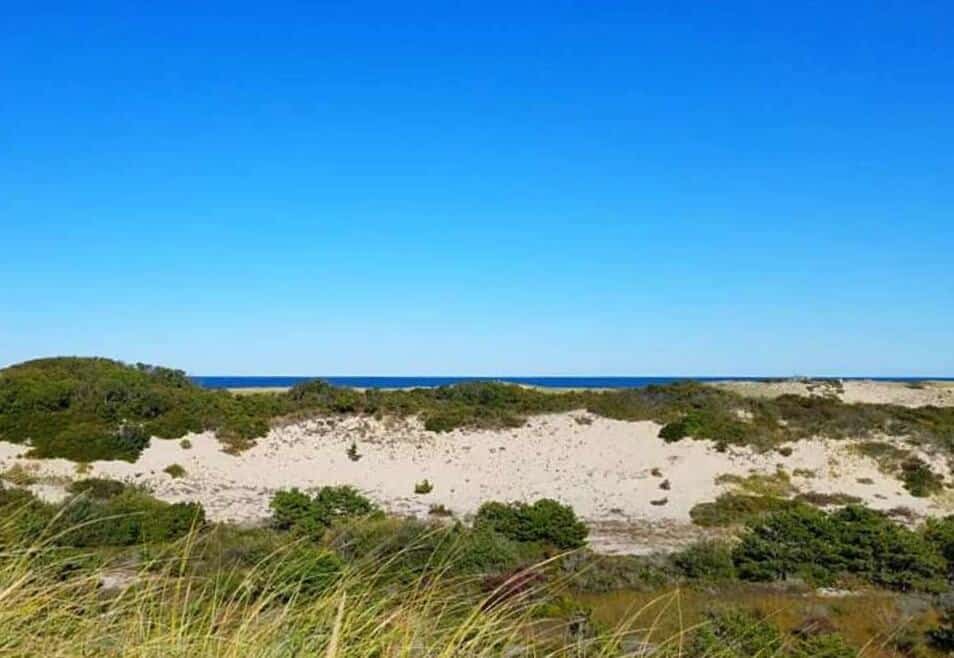 Wolfe's Neck Woods State Park, ME
Recommended by Moshe of The Top Ten Traveler
Wolfe's Neck Woods State Park is a relatively smaller park in the south of Maine and one of the places in New England you do not want to miss. It is located on the water of Casco Bay, just 30 minutes drive up from Portland, and it's a fun spot to stop at on every road trip in the area.
The way to the park is through the little town of Freeport and takes about 5 minutes from the town center. As you park your car, you realize you are in the middle of a beautiful white pine forest. Next to the parking lot, there is an open area where people come to picnic and a map of the trails. Most of them are easy to walk on, and some are also accessible for wheelchairs.
Choose any of the trails that go along the coastline and start walking inside the beautiful forest. You will cross small bridges, take a seat on one of the wooden benches and enjoy the peaceful view of the Casco Bay islands. If you are here in the summertime, you might catch a sight of ospreys, usually close to Googins Island.
Wolfe's Neck Woods is a popular park and gets busy on weekends, so if you want to enjoy a quiet time come here on a weekday. On your way in or out, make a stop to stroll on the charming streets of Freeport – it's great for a meal or just a coffee break, and even some shopping.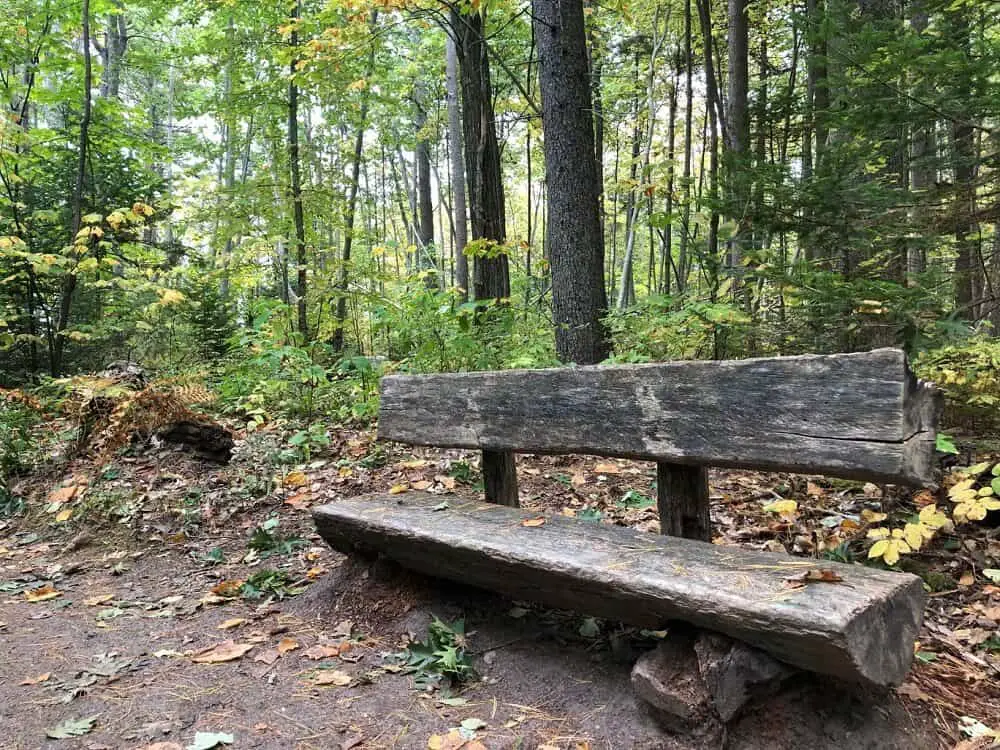 Newport, RI
Recommended by Pamela of The Directionally Challenged Traveler
One of the best places to visit in New England is the small seaside town of Newport, Rhode Island. Located on Aquidneck Island, Newport is quaint surrounded by breathtaking beaches and sea cliffs. 
There are plenty of things to do in Newport for any visitor. You can take a stroll along the Cliff Walk to take in the nature of the area. The Cliff Walk is 3.5 miles long and has beautiful views of beaches and the famous Newport mansions.
There are a few parking areas so you don't have to do the whole thing if you're short on time. Park near The Breakers, one of the most famous mansions so you can do that when nearby.
The mansions of Newport are famous for their history and architecture. Some of the mansions were built in the 1850s! In the evening, walk around Bannister's and Bowen's Wharves for a variety of food and shopping.
Any visit to Newport wouldn't be complete without delicious food! If you arrive in Newport for breakfast, head to Cru Cafe near the Audobain Museum – the blueberry stuffed french toast is a great way to start the day.
Tennis fans would enjoy a tour of the International Tennis Hall of Fame. If you want to stay in the heart of Newport, stay at the Marriott Newport – it's within walking distance to Bannister's Wharf. 
A wonderful mixture of nature, history, and food make Newport one of the best places to visit in New England.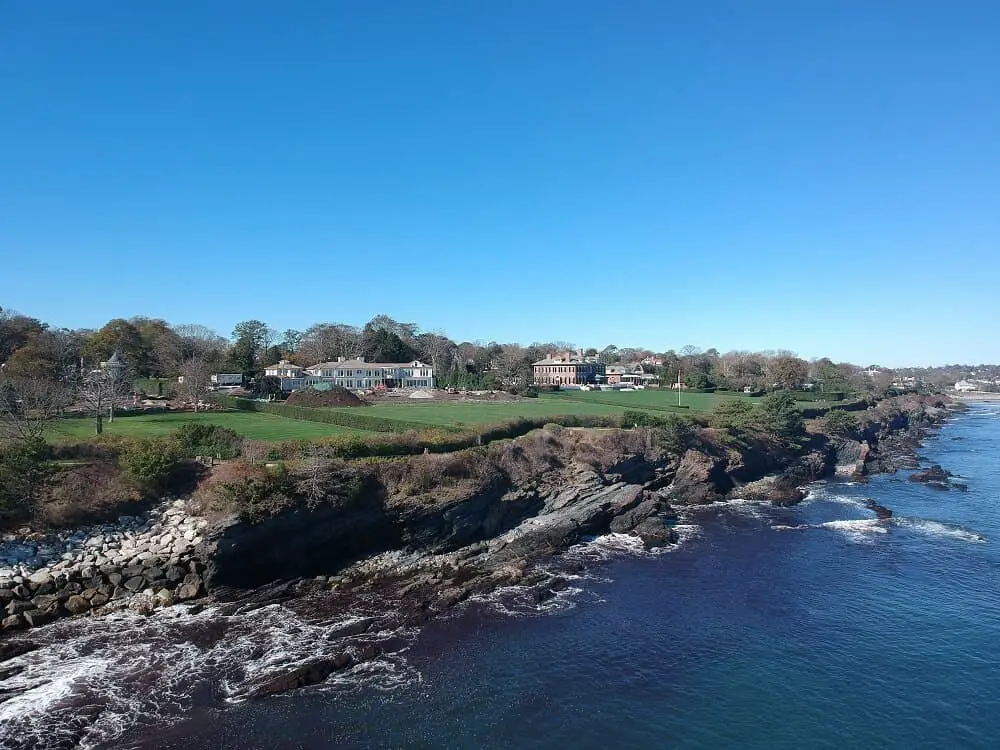 Block Island, RI
Recommended by Meg of HTW Travel
Located 13-miles from mainland Rhode Island is Block Island, a quaint island covered with picturesque beaches and rocky cliffs.
Block Island is known for its lighthouses and nature, which makes it one of the best places to vacation in New England. More than 40% of the island has been set aside for nature conservation.
The easiest and most popular way to travel to Block Island is by ferry, either the slow ferry or fast ferry, but the fastest way to reach the island is by plane. Daily flights between Westerly, RI and Block Island take just 12 minutes. 
The best way to explore is by renting a bicycle or moped. Even though the island is only 6-miles wide, there are hills, and renting a bicycle will be a workout! Whichever option you choose, there are many things to do on Block Island.
Be sure to see the two lighthouses, North Light and Southeast Light, and don't miss the Mohegan Cliffs. A steep wooden staircase will bring you to the bottom of the cliff to enjoy a walk along the rocky beach.
Spending the night on Block Island is a special experience, opt for a resort with a stunning view, such as the Spring House Hotel. Spending a day or weekend on Block Island is the perfect retreat to add to any New England bucket list.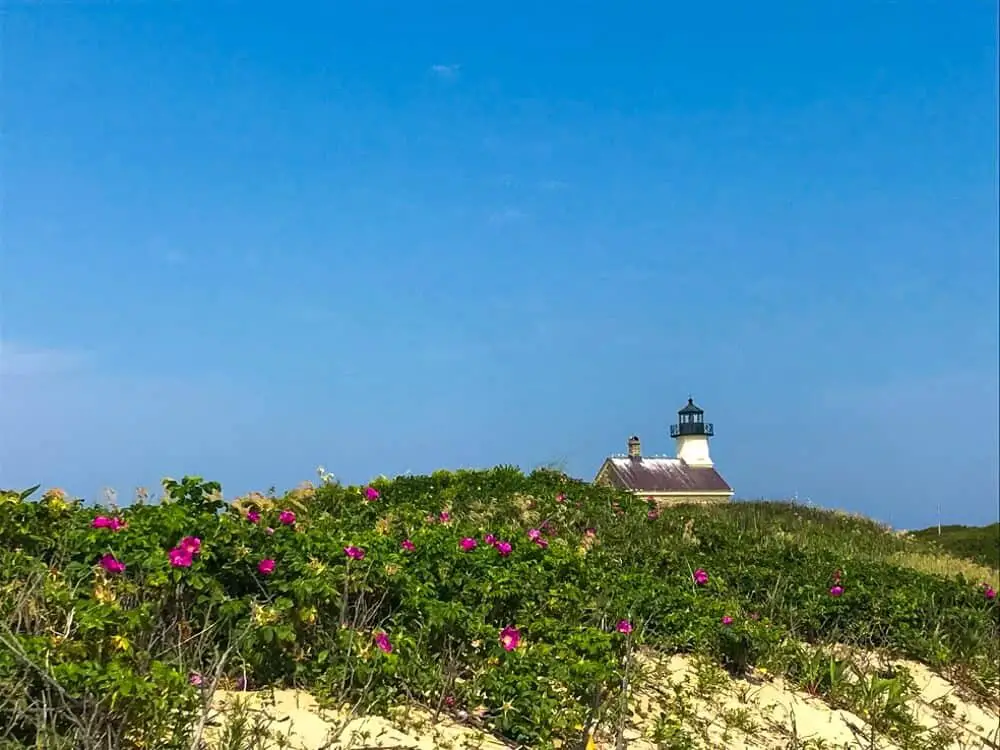 Martha's Vineyard, MA
Recommended by Jamie of Adventures in New England
Martha's Vineyard is an island located off the shore of Massachusetts. Having an area of just under 90 miles, there are many things to do on Martha's Vineyard. It's a great day trip from Boston. You can get to Martha's Vineyard by ferry or airplane.
When you alight from your ferry ride to the island you will most likely be in the town of Oak Bluff which used to feature a grove of trees, but is now a bustling tourist destination.
Here you will find the famous gingerbread houses and the longest-running platform carousel, as well as many restaurants and stores.
Jump on the inexpensive VTA buses to explore the rest of the island as well as the farms, ponds, lighthouses, and many beaches. Be sure to stop by the "Jaws" bridge and explore the Kennedy connection at Chappaquiddick.
The Cliffs of Aquinnah is a perfect spot for a picnic. You can climb to the top of the Gayhead Lighthouse there for a spectacular view.
If you live an active lifestyle, the island is perfect for hiking and biking. The many ponds also provide ample opportunities to kayak. 
Also, be sure to visit the 300-year old fishing village of Menemsha. In Edgartown, you can stay at the Harbor View Hotel for an amazing view over the Edgartown Lighthouse. However you plan it, you will have an excellent getaway on Martha's Vineyard.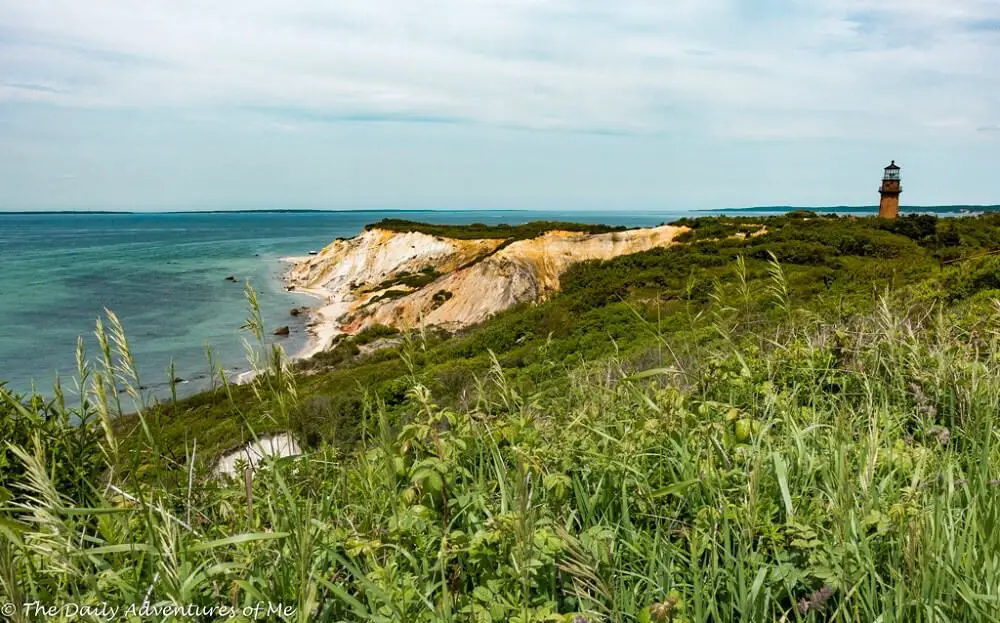 White Mountains, NH
Recommended by Jenny of Limitless Hiker
The White Mountains in New Hampshire are absolutely stunning and a must-visit for any nature lover.
Especially in the fall months when the entire area is glowing with shades of orange, yellow, and red, and makes the perfect fall foliage road trip.
Drive along Kancamagus Highway and through Bear Notch Road to North Conway for a scenic drive with multiple viewpoints along the way. Next, stop by Franconia Notch State Park and visit Flume Gorge and hike the Artists Bluff Trail.
It's well known for its waterfalls and red covered bridge. While you're in the White Mountains area, stop by Crawford Notch State Park and hike the Mount Willard Trail for beautiful overhead views of the changing leaves.
If you're interested in hiking harder trails and bagging peaks, here is your chance! You can go further north to Mt. Washington, which is the tallest mountain in the northeastern side of the US at 6,289 feet.
You can also hike sections of the Appalachian Trail. Some of the most challenging sections of the AT thru-hike go through New Hampshire. This is also a great way to break out your backpack and tent and spend a couple of nights in the backcountry soaking it all in.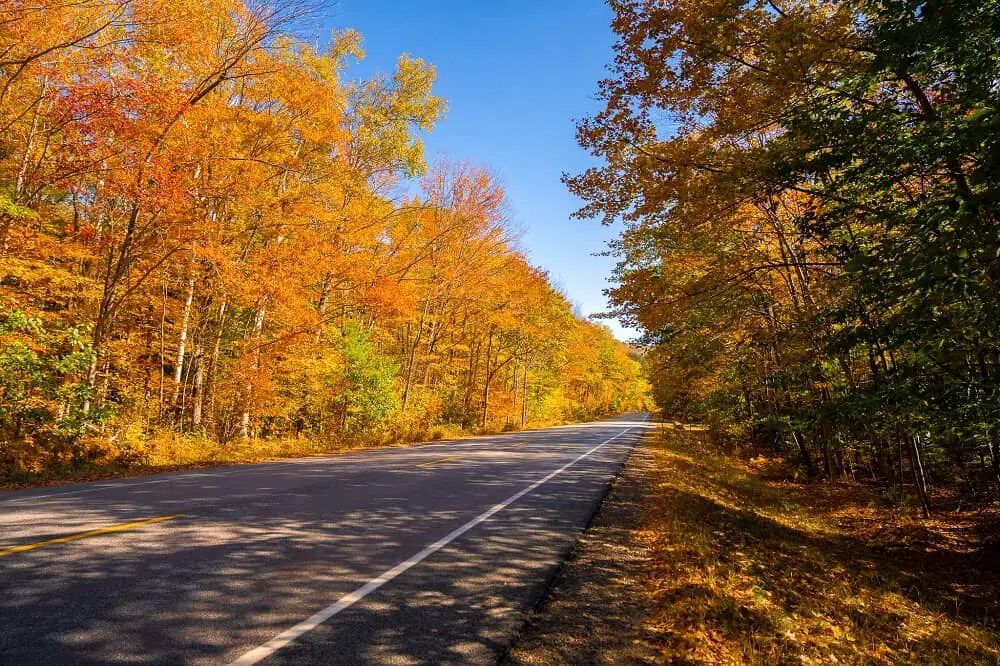 New Haven, CT
Recommended by Lyndsay of The Purposley Lost
If you're looking for the best places to visit in New England, you need to make a stop in New Haven, Connecticut.
The Elm City is linked to the New Haven Metro-North train line, and a train from New York City's Grand Central Terminal will take you to the city's Union Station in about 2 hours. There are taxis outside the station to get you to the city center.
You'll find many things to do in New Haven. Start with Yale University, a historic institute of higher education next to the Town Green. Walk across the stunning school campus,  through the Yale Shops, and even visit one of Yale's museums.
The Yale University Art Gallery and the Yale Center for British Art house incredible works, and the Yale Peabody Museum of Natural History is world-renowned for its dinosaur fossils.
Make sure you stop for a show at one of New Haven's phenomenal theatres, too. Yale Repertory Theatre, the Shubert, and the Long Wharf Theatre are all highly regarded regional houses with top-notch productions. You can check their websites for their seasons' showtimes.
And, you won't be leaving New Haven without stopping for apizza. Apizza is a pizza variety unique to New Haven that originated during the 20th century from Neapolitan immigrants.
You can't go wrong stopping at either Frank Pepe Pizzeria Napoletana, Sally's Apizza, Modern Apizza, or BAR.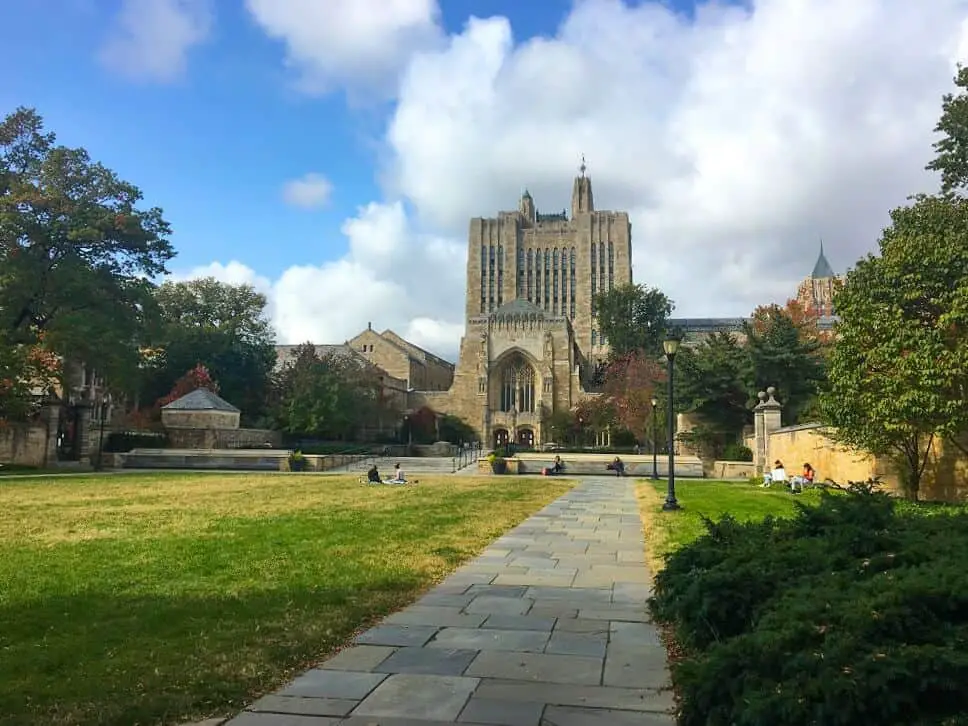 Hartford, CT
Recommended by Disha of Disha Discovers
There are so many beautiful places to visit in New England and Hartford, Connecticut is one of them.
Touted as one of the best getaways on the East Coast, Hartford is brimming with things to do. Plus, it's easily accessible. You can get to Hartford by road trip or by flying into Bradley International Airport. One of the best hotels in Hartford is the Marriott Hartford Downtown as it's right in the center of the city.
Hartford was first settled in 1635 and it's one of the oldest towns in Connecticut and the United States. It was actually the wealthiest city in the United States by the late nineteenth century. Today, Hartford is nicknamed the "Insurance Capital of the World" because several insurance companies have their headquarters there.
One of the best things to do in Hartford is to visit the Mark Twain House & Museum. Mark Twain and his family actually lived in this house from 1874 to 1891. It has been restored and it now serves as a museum. You'll be able to step back into time here and learn about the family and Mark's personal life.
Wadsworth Atheneum is also a great place to visit and it houses an outstanding American art collection. You can also take a guided tour of the State Capitol. Elizabeth Park Rose Garden and Bushnell Park are also a must. Lastly, be sure to check out one of the best collections of American coins at the Museum of Connecticut History.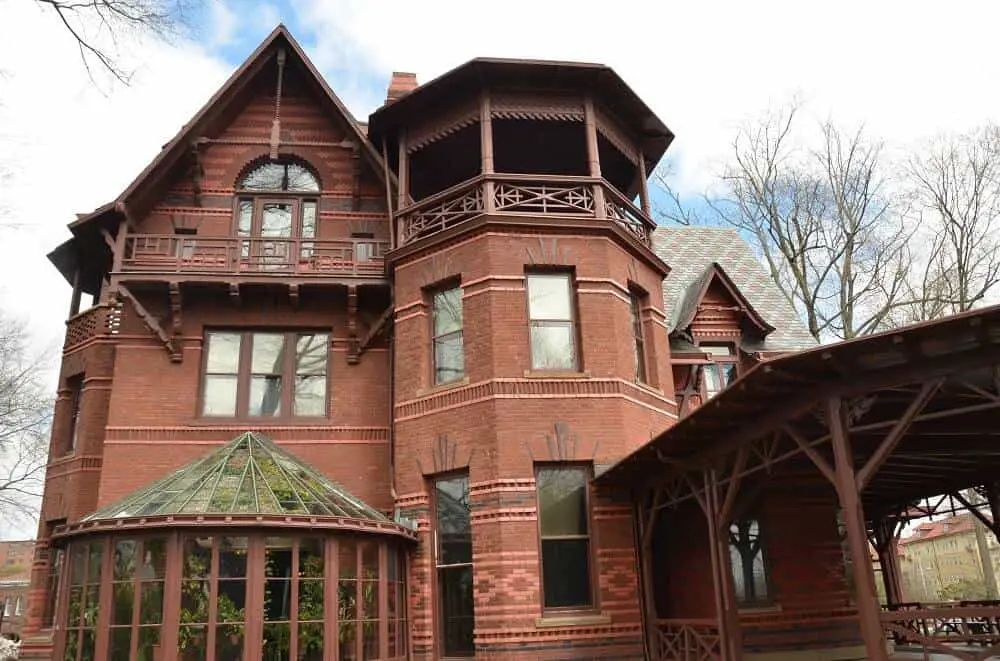 Lake Winnepesaukee, NH
Recommended by Jamie of Travel Addict
Lake Winnepesaukee is an amazing destination in New England for those looking for a variety of activities ranging from boating to hiking, and even the US's largest indoor arcade. The destination is well suited to all types of travelers as well from families to couples, and groups of friends.
The lake is located in New Hampshire on the southern edge of the White Mountains. It offers a fantastic base for anyone who wants to explore the wider region. There are not many options to get to the lake without a car, but in the summer months, there is a bus route from Boston.
The best way to get to Lake Winnepesaukee is by car, yet in summer there are occasional buses that can be taken from Boston to the lake. It's not uncommon to see a seaplane or two, landing on the lake during the summer months if you want to find a more exotic mode of transportation.
The most popular activites in the lake involve renting a boat or visiting the local beaches. This is a great way to spend a day out on the lake soaking up the sunshine and atmosphere in the summer months.
In autumn the lakes region provides a dramatic landscape of fall foliage and many hiking opportunities. For the adults, there are a variety of wineries and meaderies in the lakes region as well, including Hermit Woods in Meredith.
Other popular attractions include the Scenic Railway, Funspot (the largest indoor arcade), the boardwalk in Weir's Beach, the sculpture walk in Meredith, the historical Castle in the Clouds, or a ride on the MS Mount Washington.
The town of Meredith offers an accessible and beautiful location to stay in and has a variety of hotels from the luxurious Mills Falls to the utterly quaint Tuckernuck Inn.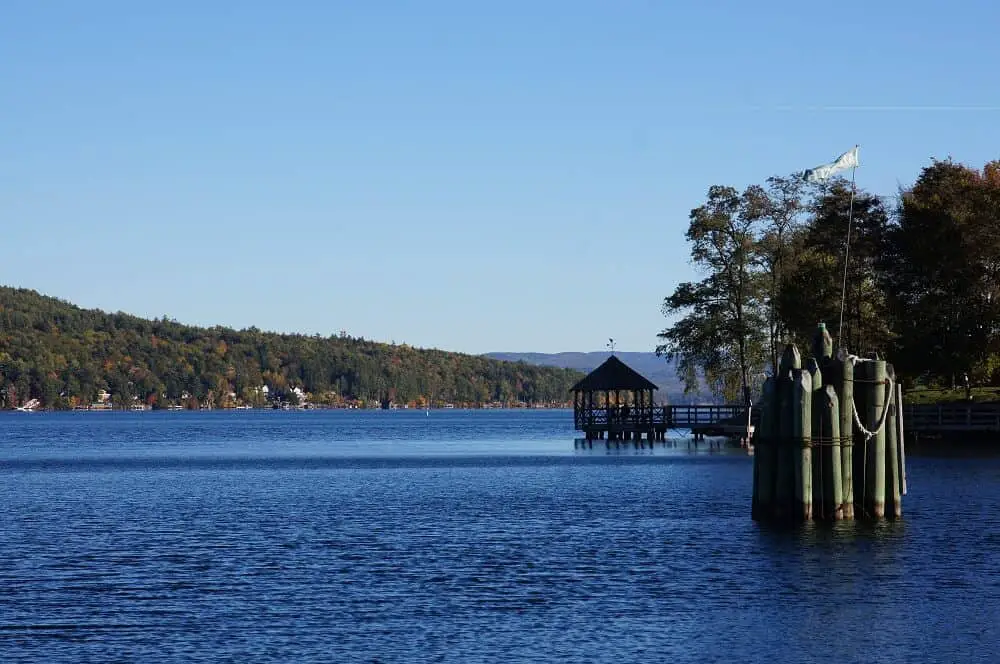 Reflections on New England vacation spots
There is no doubt there are a lot of stunning New England vacation spots for all kinds of travelers. With so much variation from breathtaking nature to vibrant cities, and charming towns, your set for a wonderful trip wherever you choose to go.
New England is also one of the best places to travel for fall colors, so together with a coastline perfect for summer, you can enjoy this part of the country all year round.
READ NEXT: Best New England road trips
Pin it for later!