Do you want to discover Cuba off the beaten path? La Batata hike is one of the undiscovered gems of Topes de Collantes National Park in Cuba. The hike rewards you with its pristine river and a hidden natural cave system.
Most tourists go to the nearby Vegas Grande waterfall and miss out on this untouched paradise. With the fresh scent of trees and moss, this hike takes you through a lush green jungle covering up the overgrown mud trail where geckos frequently cross. You will find yourself alone with nature where signs of humans are few.
In this post, I will tell you everything you need to know to hike La Batata trail. Get ready to explore one of the most unique hikes in Cuba!
Disclosure: This post may contain affiliate links. That means that if you make a purchase through one of those links, I will get a small commission at no extra cost to you. If you have any questions about these services or products, feel free to ask me.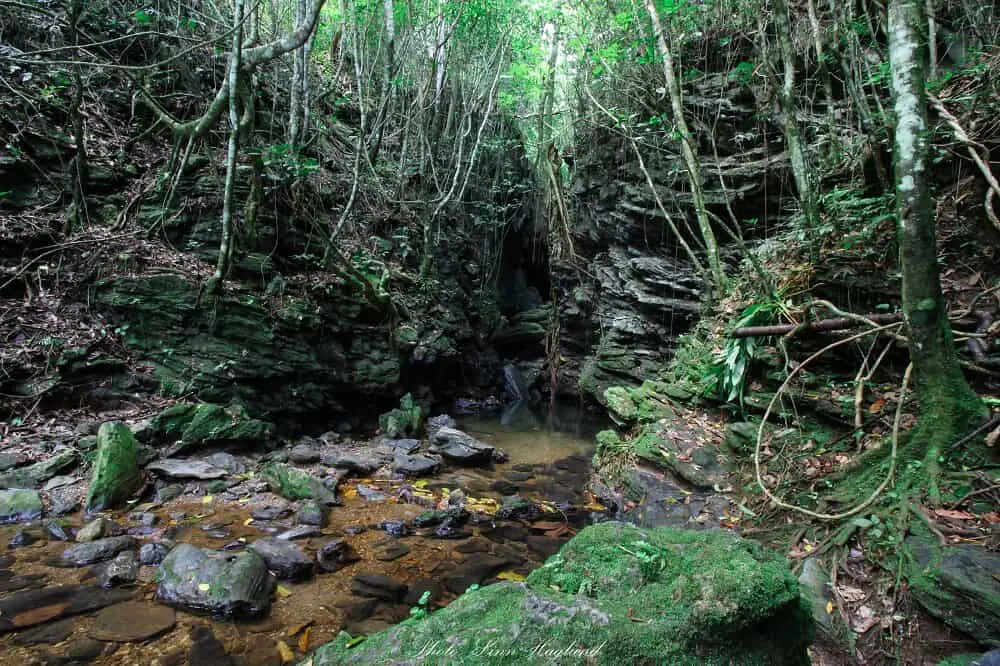 How to get to La Batata Hike
La Batata Hike is situated in Topes de Collantes National Park about an hour drive from the touristy city of Trinidad. Most tourists don't even get to the National Park, and even fewer get to this hike.
You can get a shared taxi from Trinidad. It is best to go early in the morning and if you arrange it in advance you can do the hike to the pristine waterfall, Vegas Grande, on the same day.
The driver will wait for you at an arranged time to return and drive you back to your Casa Particular or your hotel.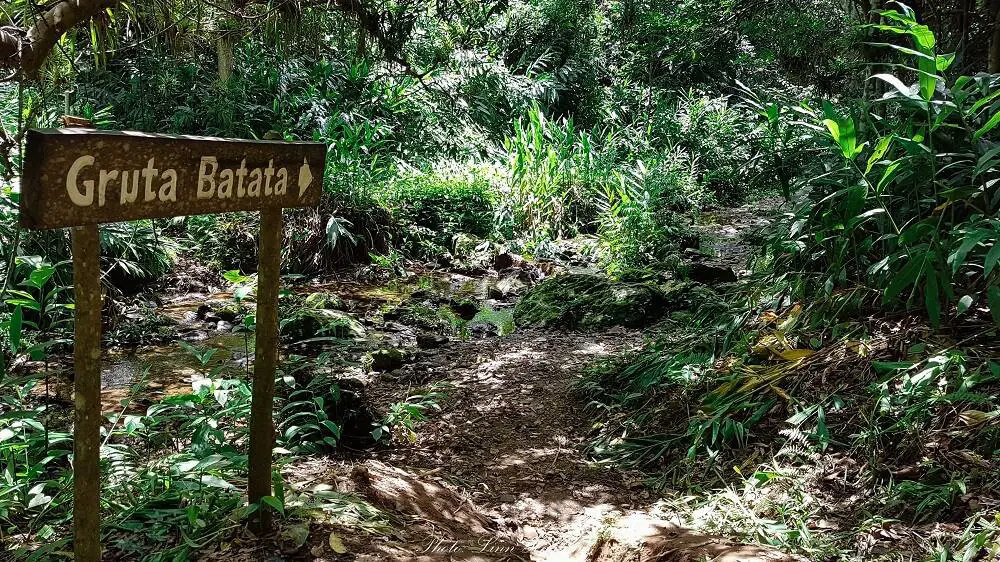 You might also like: Fun and unique things to do in Cuba
When is the best time to go to La Batata Hike?
Late November to mid-April is the coolest period to go, with temperatures ranging between 13 and 23 degrees Celsius. This is the dry season with less possibility for rain. However, it also means less water in the river and the cave system.
From mid-April to late November, you can expect a lot of heat, humidity, and rain. While the waterfalls in Cuba get wonderfully flowing, it also means you might get stuck in the rain as I did on my hike. Nevertheless, it is a beautiful time a year to hike in Cuba and it makes your surroundings even lusher!
Normally, the rain comes in the evenings. So if you go in the early morning and get back by lunchtime, you can be lucky enough to enjoy a nice sunny hike.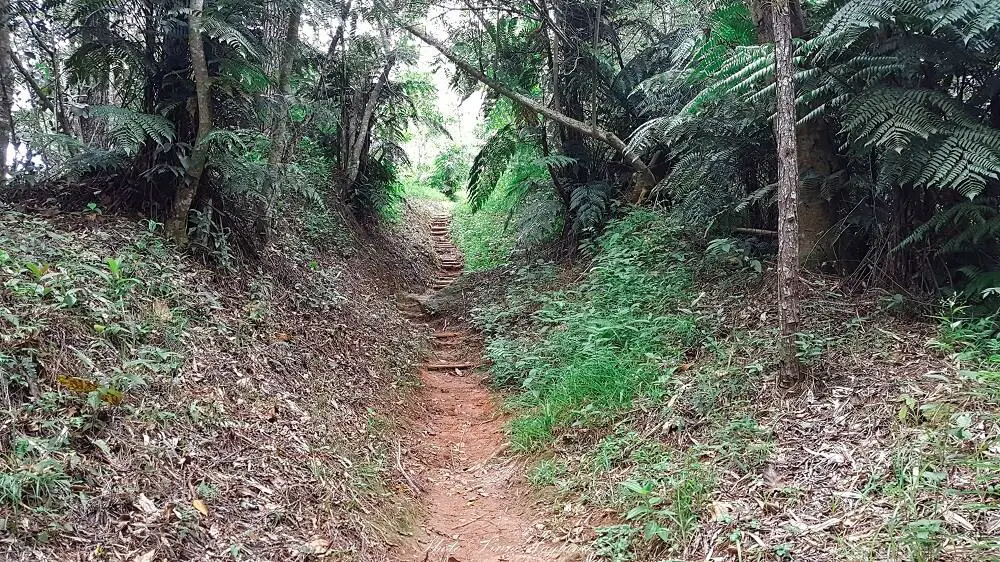 What to bring for your hike
I recommend you bring an eco friendly backpack with some essentials for the day when you head out to hike La Batata. If you go in the rainy season, make sure you bring a rain cover for your backpack or put your valuables in waterproof bags.
I was there in the rainy season, and as I arrived at the caves, the rain started pouring down. Within seconds, I was drenched. Luckily, I had a rain cover for my backpack.
Honestly, I thought that the buckets of water that poured down between my back and the back of the backpack would have drenched my passport and camera that was inside, but for some miraculous reason, it was only a little bit damp inside!
I can't recommend my camera bag enough after this! Of course, including the rain cover that is included in a pocket on the bottom!
If you need a camera backpack you should definitely look into this Lowepro backpack:
Filtered water bottle
Make sure you bring a LifestrawGo water bottle that you can fill up before you go. As it actually filters away 99,9% of all waterborne diseases, it is the absolute best travel companion for your Cuba itinerary.
Lunch and snack
Any hike needs some sort of snacks. Bring a sandwich for lunch or just some fruit and nuts. It will help keep your energy levels up even on a hot day!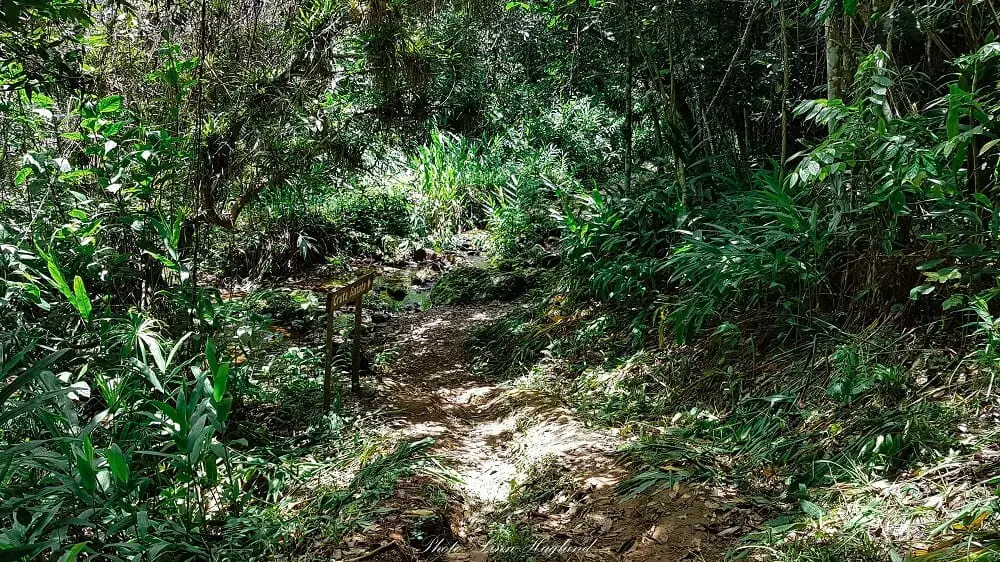 The hike
La Batata hike is not a technically difficult hike. It is not much elevation either, so anyone in a normal physical state can do the 6 kilometers return walk. While it goes a little bit up and down, the only thing to be aware of is that the path can get slippery if it rains. Especially uphill.
As usual, I was walking in my trusted Havaianas and had a hard time walking back in the pouring rain! I didn't slip, but it might have been because of my many years of training in flip-flop-hiking, so I wouldn't recommend it.
The hike starts close to Casa del Café in Topes de Collantes, where you can have a wonderful Cuban coffee before or after your hike.
Apparently, there is a fee to be paid for the hike of less than 10 CUC. When I went, there was nobody sitting there to take the money and I assume that can have a connection to the upcoming rain. The Cubans might have been a little bit more prepared than I was!
Where you pay, cross the road and continue on the narrow path that takes you straight into the mossy green. Shortly after, you cross the river along a fallen tree that is prepared for hikers with a wooden rail on one side.
Once crossed the river, you walk through a lush forested trail winding up and down while you hear the river trickle alongside you. Sometimes you cross it again.
Sudden noises in the bushes are evidence of small wildlife getting out of the way when they hear your steps. Colorful butterflies rushing by, giving you just enough time to get a glance at their astounding beauty before they disappear between the branches of the trees.
As the fresh scent of green trees and grass penetrates your nostrils the river crosses the trail. After about an hour of walking, you get to the natural cave and underground river system with small natural pools and waterfalls which is incredibly beautiful!
There are different water levels in the separate caves, some of them might get waist-high.
Unfortunately, when I was there, it started to rain just as I arrived so I had to pack away my camera.
On a dry day, this is a really nice place to hang out, take photos, cool down, and explore the cave system.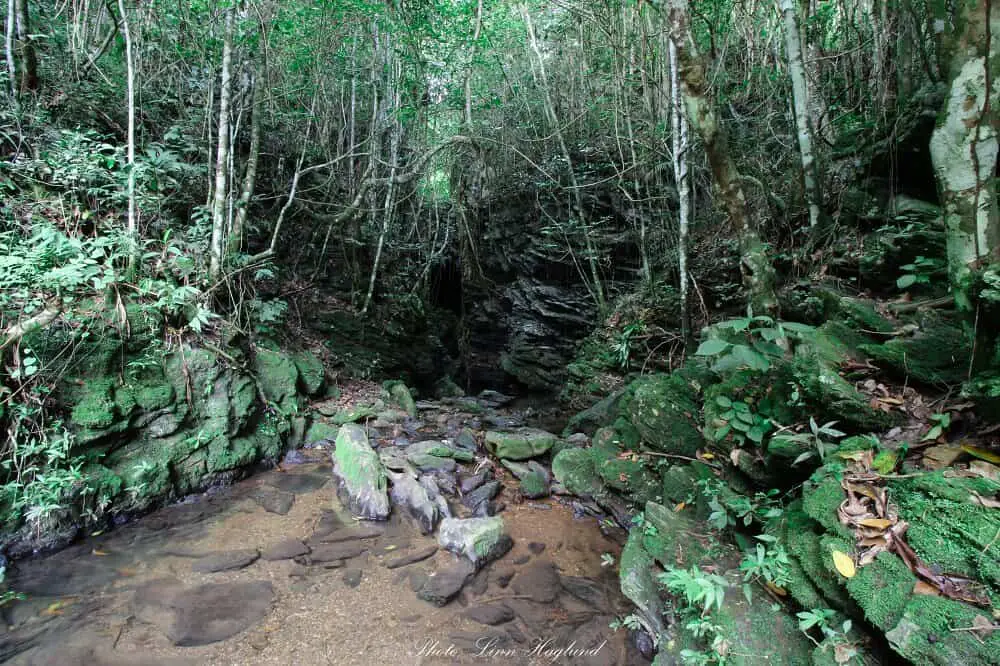 READ: How to explore El Nicho Waterfalls
Reflections
Doing La Batata Hike in the rainy season was wonderful! It was wonderful to walk in the dampness of the grass to the vivid sound of the river rushing by in the wilderness.
What did suck, though, was the sudden rainfall surprising me while I had just arrived at the most exciting part of the trek; the natural caves and underground river.
The rain in itself was not the worst threat to me. It was more so to my camera gear. And my passport which was placed in a very stupid location inside my backpack. Luckily it survived and honestly, I don't know if I learned from that experience!
What made me turn around without questioning if I could overstay the rain and explore the site, were all the bugs trying to eat me alive wherever I found shelter.
On a hot humid day in the Cuban jungle, you don't wear more than Havaianas, shorts, and a top right? I needed to get out of there quickly! And lucky I did. Because the thick, brown river of rainwater rushing down the narrow path I was about to climb on my way back was not meant for flip-flops. The more I waited the more water would rush down.
---
Haven't got your flight to Cuba yet? Make sure you book it here!
---
READ NEXT: Things to bring to Cuba and other ways to support the locals
Did you like this? Pin it for later!