Cuba is a unique country, not only because of its incredible nature and charming cities but also because of the friendly Cuban people.
To make sure you get the most out of your 10 days in Cuba itinerary at the same time as the locals get the most benefits, I have created this Cuba 10 day itinerary (though you can stay longer in each place if you have more days to spend).
That way you will benefit more from connecting with the place and its people – which is only one of the amazing benefits of backpacking in the Caribbean instead of going on a cruise.
On my recent trip to Cuba, I spent a lot of time talking to the locals. This gave me a good insight into how we as travelers can make the right choices to have a better trip at the same time as we assure our tourist money goes to the people. Get ready for an unforgettable trip to Cuba!
Disclosure: This post may contain affiliate links. That means that if you make a purchase through one of those links, I will get a small commission at no extra cost to you. If you have any questions about these services or products, feel free to ask me.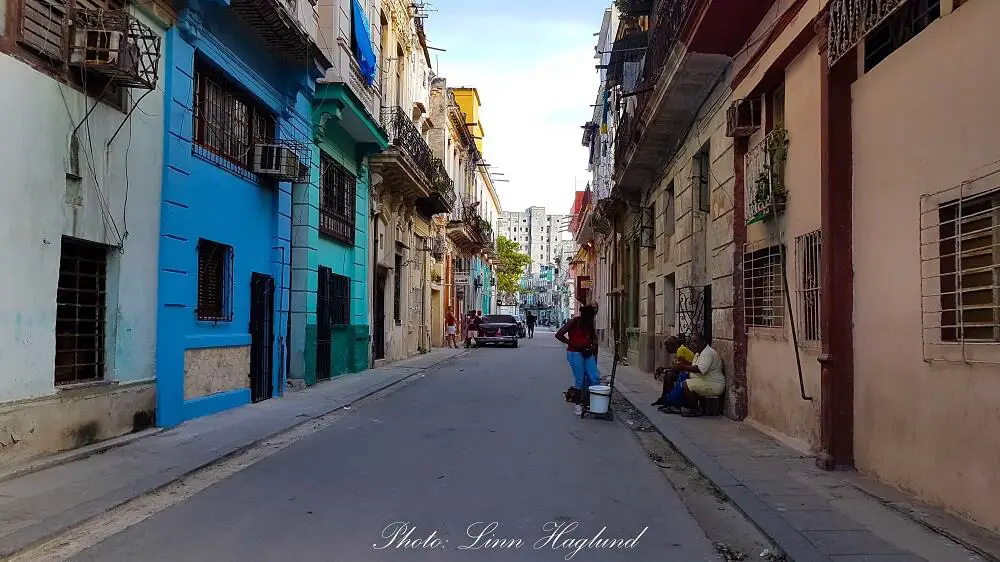 How to get to Cuba
The easiest way to get to Cuba is by plane. There are plenty of airports throughout the country, though this itinerary assumes you fly in and out from Havana.
From the US it is actually illegal to travel to the island by boat, and as of October 2019, American flights are only allowed in and out of Havana.
It is also illegal to travel from the US to Cuba as a tourist. But don't worry! You can still travel to Cuba from the US. I tested it out earlier this year and can affirm that it is totally legal. You just need to do it the right way. I will explain.
---
Book your flights to Cuba here!
---
How to travel to Cuba from the US
In order to travel from the US to Cuba, whether you are an American or not, you need to officially travel under one of the following 12 rules:
Visit family
Official business of the US government, foreign governments, and certain intergovernmental organizations
Journalistic activity
Professional research and professional meetings
Educational activities
Religious activities
Public performances, clinics, workshops, athletic and other competitions, and exhibitions
Support for the Cuban people
Humanitarian Projects
Activities of private foundations or research or educational institutes
Exploration, importation, or transmission of information or information materials
Certain export transactions that may be considered for authorization under existing regulations and guidelines
Do you see the highlighted line in bold? Support for the Cuban people. That's the way you can travel to Cuba from the US as a "tourist". There are a few guidelines you need to follow.
You need to make sure all your activities while in the country support the Cuban people. That's easy, and it's responsible tourism at its best.
Make sure you stay at Casas Particulares, eat at paladares (private restaurants), that you take privately owned taxis, and use only private local tour guides. In other words, don't stay at or spend money on government-owned businesses.
It is recommended that you save your receipts as you can be asked for them on your return to the US as proof of your travel purpose. The US government can ask for them up to five years after your return.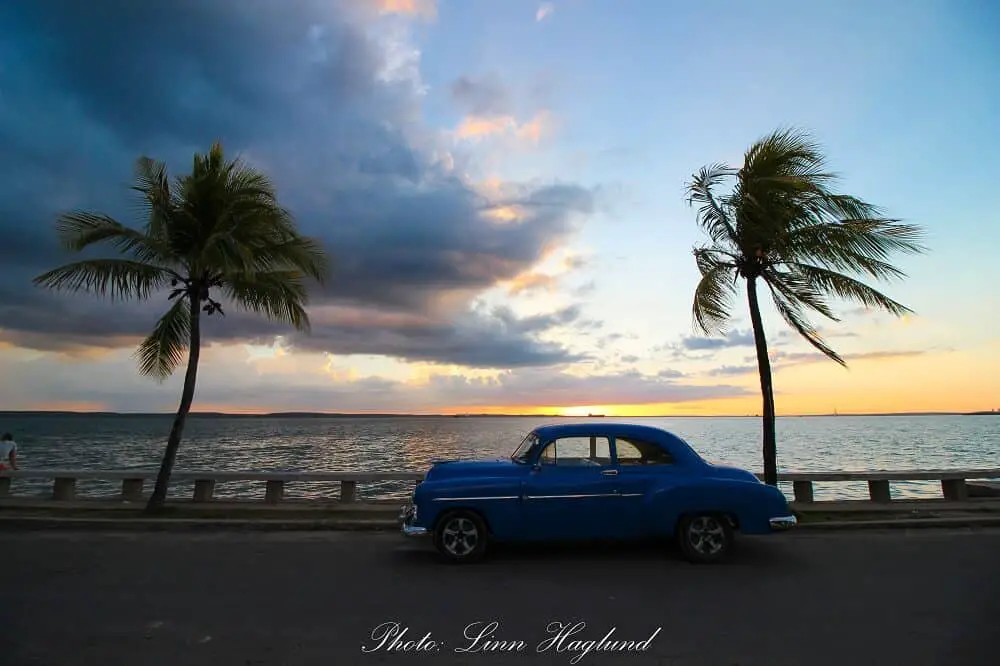 Best time to travel to Cuba
The high season in Cuba is mid-November to April, with dry warm temperatures up to 30 degrees Celsius.
May to mid-November is the wet season. Temperatures are still high, just as the humidity. If you like to dry off after your shower, this is not a good time to travel to Cuba. However, heavy showers tend to come in the afternoon and the morning is usually nice and sunny.
Prepare for your trip
There are a few things to be aware of before you travel to Cuba. I have listed the most important below, so that you can be prepared and avoid last-minute stress.
Cuban Tourist Card
Before you go to Cuba you need to get a Cuban Tourist Card. This is not to be confused with the reasons for entry to Cuba from the US. Even though you travel officially to support the Cuban people, you are required to enter with a Cuban Tourist Card.
You can get this online or from the airline you fly with. I recommend checking with your airline first as it might save you some hassle and money. I flew with Jet Blue, and it cost me 50 dollars at the airport before boarding to Cuba.
Travel insurance
You need travel insurance in order to enter Cuba. They might ask for it at the airport to allow you into the country, so it is important that you print out the travel insurance documents before your trip.
My preference is Word Nomads travel insurance. They are just so easy to deal with, and the worst thing I know is to try to understand insurance papers. World Nomads make it easy to get a quote online. You can also ensure extra gadgets like cameras and laptops as well as adventure activities. With no hidden costs, you can buy it directly online once you get your quote. It is also possible to add things to your insurance later on.
What I like the most about World Nomads travel insurance is that they are a highly responsibly conscious insurance company with the same values as I have. When you get your travel insurance, you can also support a conservation project.
Get your quote with World Nomads here.
Money
If you have a US credit card, you need to bring cash to Cuba, as your card will not work.
For other nationalities, there are ATM's in the main cities in Cuba, so with any other credit card, you will be fine. However, I experienced, especially in Havana, that ATM's often ran out of money. I spent a lot of time chasing cash machines, though it was a good way to talk to the locals.
Note: It is recommended to bring either Canadian dollars, Pounds, or Euros, as they charge an extra high exchange fee for US dollars.
In Cuba, there are two different currencies: CUC for tourists and CUP for Cubans. One CUC is approximately 24 CUP and about the same as one US dollar.
---
---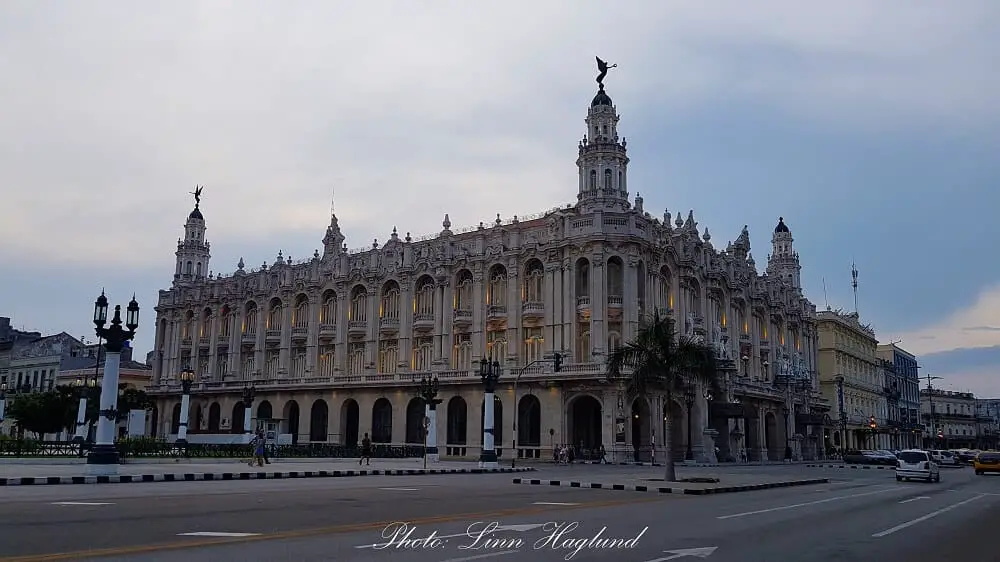 What to pack for 10 days in Cuba?
Suggested reading: Things to bring to Cuba and other ways to support the locals
Cuba is a tropical country with reasonably high temperatures all year round, with the wet season being tremendously humid.
I still recommend bringing one pair of long pants/skirt and a long-sleeve shirt/hoodie for long trips in shared taxis. If the aircon is on, then you will need it!
Further, drinking water in Cuba can be questionable, so make sure you bring a filtered water bottle that you can fill up on your adventures.
Find the best sustainable backpacks here.
Other than that (and your underwear), here is a list of essentials for spending 10 days in Cuba:
3 pairs of shorts/skirts
4 t-shirts/tank tops
Swimwear
Mosquito spray
1 towel for the beach
Shampoo/soap/toiletries
Camera with charger and extra memory card
Power adapter (If you have different plugs than the US)
Hat/caps
Detergent to hand-wash clothes
You might also like: Useful gifts for world travelers.
Cuba 10 day itinerary
This Cuba 10 day itinerary will start and finish in Havana. So, make sure you book your flights to Havana.
Day 1 – Havana sightseeing
One of the most popular things you should do while in Havana, is to take a tour around the city with a vintage car. They aren't cheap, but it is so worth it! Also, it is an activity that supports the locals.
Depending on the length of the tour, they will take you to the different tourist attractions in the city. This way you don't have to walk around to see it all.
You should also walk along the Malecon at sunset and through the streets of old Havana to get the local feel of the capital city. Look for paladares to have your lunch and dinner, or get a cheap pizza on the go and have it in the park while you watch the people walking by.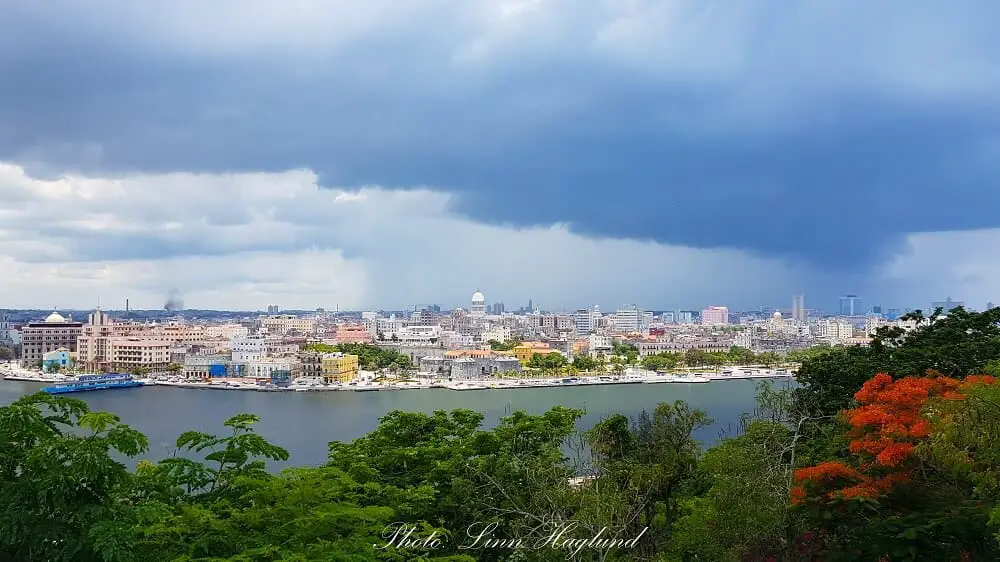 Note: I advise you to not take a tour with the horse carriages. The horses are standing in high temperatures and are not treated as they should. There are other ways of seeing the city than exhausting these animals.
The main attractions not to miss in Havana are Catedral de la Habana and the surrounding Plaza de la Catedral, Plaza de Armas, Museo de la Ciudad, Castillo de la Real Fuerza, Plaza Vieja, Fortaleza de San Carlos de la Cabaña, Castillo de los tres Santos Reyes Magos del Morro, and Capitolio.
With a vintage car tour of the city, you will get through a lot of these places.
Where to stay in Havana: There are many Casas Particulares to choose from, both in Old Havana and Central Havana.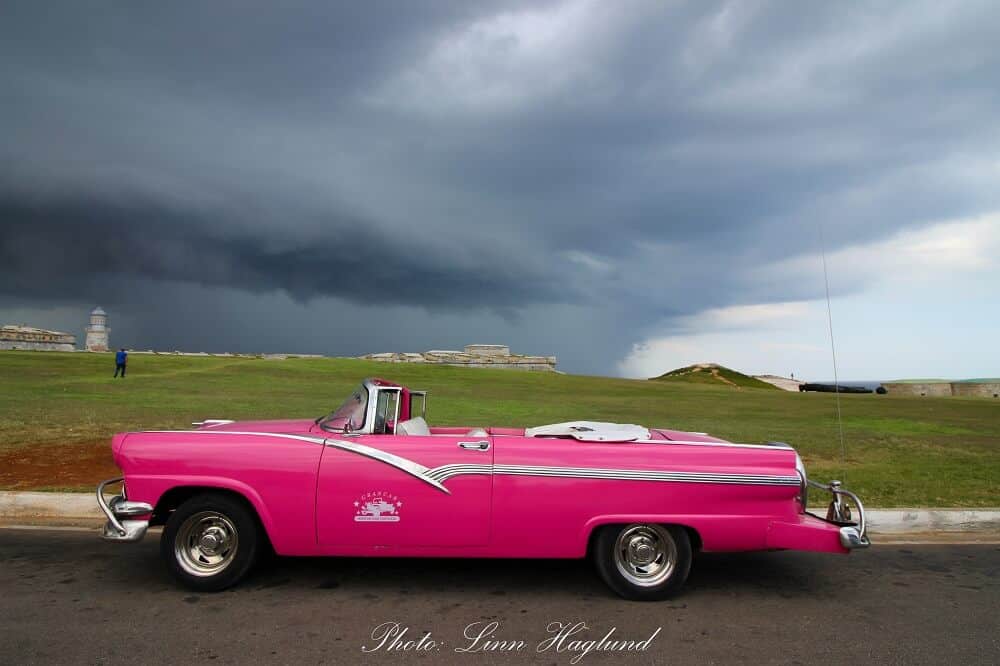 Ask your host at the Casa Particular to book a shared taxi for you to Trinidad the next morning.
Day 2 – Havana – Trinidad
If you haven't booked a Casa Particular in Trinidad yet I am sure your driver will find a great place for you.
Full of colorful buildings the old part of Trinidad, Casco Antiguo, is incredible to walk through for stunning photo opportunities. It is also the part of the city filled with music, vibrant bars, restaurants, and shops. Spend the rest of the day walking around and breathing in the positive atmosphere of the city.
If you want to learn to dance salsa, this is the place to be. Casa de la Musica is a popular spot where tourists and locals get together to dance.
Where to stay in Trinidad: You should choose a casa particular in the Casco Antiguo. I stayed in a lovely casa particular about a 15 minutes walk away, but it was pretty dark to walk back alone at night.
Day 3 – Trinidad sightseeing
Spend the day exploring all the best attractions in Trinidad.
In the heart of the Casco Historico, you find the beautiful Plaza Mayor. In the middle of the square, you can troll through small gardens surrounded by cobbled streets and historic buildings dating back to the 18th and 19th centuries.
This is also where you find the big set of stairs where the surrounding bars have set up chairs and tables to serve cool drinks during hot days. There is usually live music throughout the day and night and don't be surprised if strangers ask you to dance salsa on the street.
Make sure you climb the clock tower to get the best views of Trinidad. The entrance is 1 CUC and it includes the historical museum featuring artifacts from the revolution. The stairs to the top of the clock tower are pretty steep but the views on the top are spectacular.
Palacio Cantero is another museum, also with breathtaking city views. Museo de Arquitectura shows how the 18th century's homes looked like and Museo Romantico showcases various luxury items.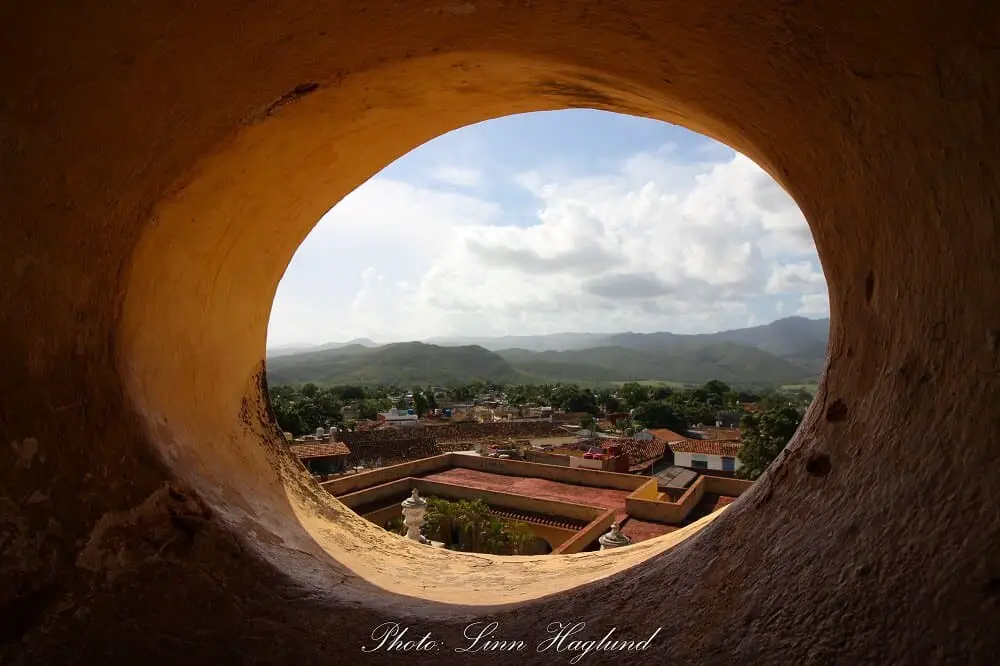 Remember to book a shared taxi to Topes de Collantes Nature Reserve for the next morning.
Day 4 – Topes de Collantes Nature Reserve
Bring lunch for this day out unless you want to gamble on finding food along the road.
Only a 40 minutes drive from Trinidad is the incredible nature reserve Topes de Collantes. For a whole day out in nature, I recommend two hikes in particular. They are a small drive apart, so the best thing is to get a driver for the day that can pick you up after the first hike and take you to the second one and finally back to Trinidad.
Start the day with hiking to Vegas Grande waterfall. It costs 10 CUC to get there. It takes about an hour to walk to the waterfall, so make sure you bring enough water. The last 20 minutes of the hike is pretty steep down, but I assure you that the waterfall will have you mesmerized. Go for an enchanting swim in the natural pool to cool down before you start your ascent back up.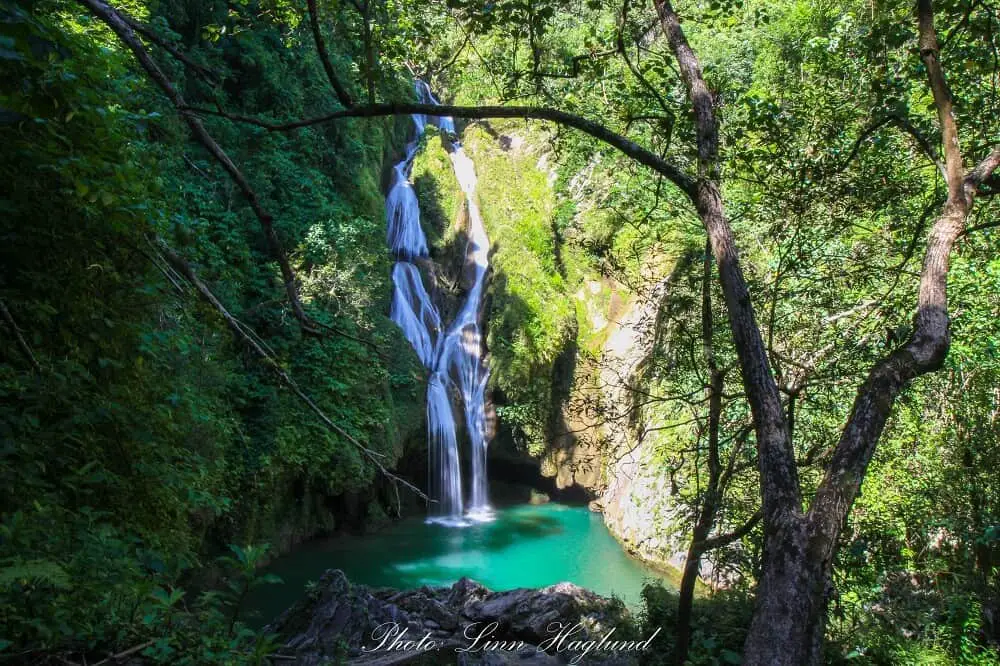 The second trail you should do is La Batata. This is not so frequently visited by tourists, but still has an entrance fee. It is supposedly less than 10 CUC, but there was no one there to collect money when I did the hike so I can't confirm it. The hike takes about an hour each way.
This trail takes you through thick jungle, along a small river. There are a couple of water holes along the way to cool down. At the end of the trail, you find incredible rock formations and a natural cave system. This is such an underrated hike.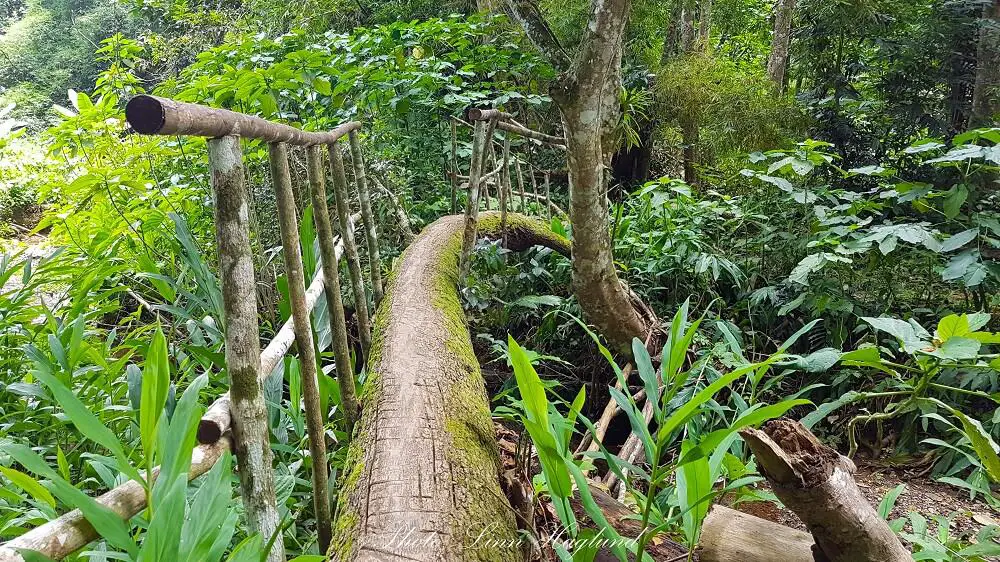 Once back in Trinidad, find a cozy paladar for dinner. Ask your casa particular owner to book a private shared taxi to Cienfuegos for the morning after. They might also sort out a casa particular for you if you haven't booked one already.
Day 5 – Trinidad – Cienfuegos sightseeing
Once you get to Trinidad, stroll around the streets in Cienfuegos and admire the old pastel-colored houses. In the heart of the city, you find José Martí Park which is surrounded by emblematic buildings.
Climb the lookout tower in the Ferrer Palace for the best views of the city. From there you pretty much see everything. The ground floor of Ferrer Palace is home to the Provincial House of Culture where local artists showcase their work.
Visit Catedral de Nuestra Señora de la Purísima Concepción, built in the 19th century by the Spaniards.
Have lunch in one of the paladares before you grab a taxi to the outskirts of the city to visit Cienfuegos Botanic Gardens, Jardín Botánico de Cienfuegos, which are the oldest ones in Cuba, founded in 1901.
Go for dinner in one of the many restaurants along Paseo El Prado.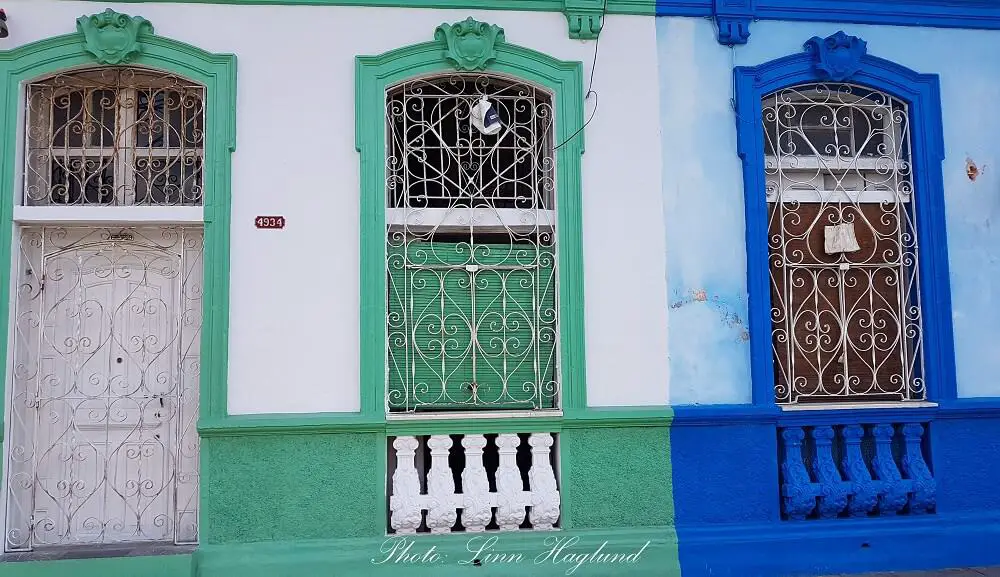 Remember to ask your casa particular owner to book a shared taxi to El Nicho for the next morning.
Day 6 – El Nicho and Punta Gorda
El Nicho waterfalls are situated in Topes de Collantes Nature Reserve and it takes about an hour to drive there. Make sure you leave early as they restrict allowed entrances in peak season. It is only a 20 minutes walk up to the main falls along a jungle trail that crosses the river in several points. There is more than one water hole to cool down in on the way.
For a less crowdy swim, walk down from the ticket office and follow the path along the river until you get to a large swimming hole surrounded by nature.
The entrance fee to El Nicho waterfalls is 10 CUC. The trip usually takes half a day.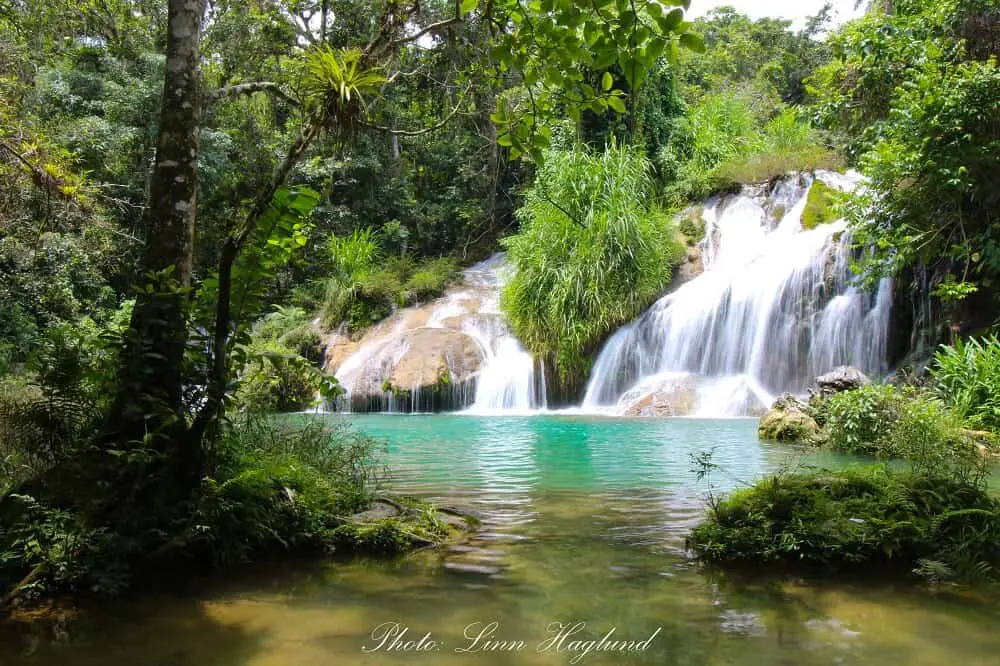 When you get back to Cienfuegos, walk down to Punta Gorda to enjoy the rest of the day at the beach with the locals. There are a few restaurants you can choose from along the Malecon. Just before you turn into the Malecon there is a family-run restaurant called El Lagarto which is recommended by the locals. Another good option is the last one you get to before entering the grassed area on the tip of Punta Gorda.
Punta Gorda is not really a beach, though the locals call it so. The area is partly covered in grass and partly in sand, with trees and paths spotted with benches. In the middle, there is a bar where you can get cool drinks to sip on while you immerse yourself in the Caribbean Sea.
This is the most perfect spot for sunset in Cienfuegos. Make sure you don't miss it before you go for dinner.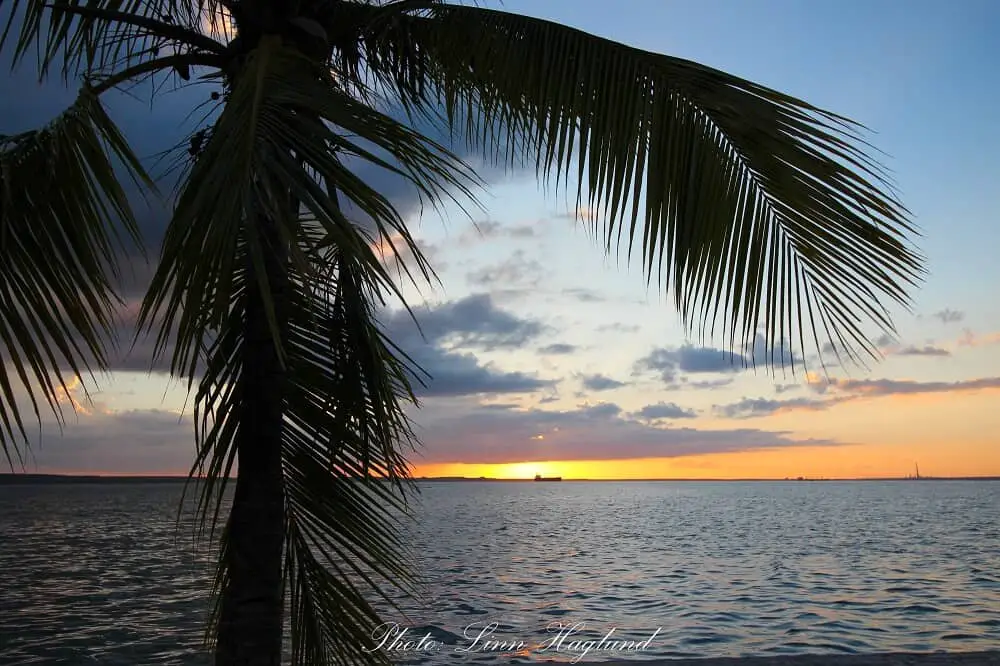 Remember to book your shared taxi to go to Viñales the next day.
Day 7 – Cienfuegos – Viñales
The drive from Cienfuegos to Viñales is over 5 hours. With stops on the way and the possibility of a change of vehicle, you can expect it to even become 7 hours.
Viñales is pretty small, so wherever you stay will be walking distance to the city center.
Once you get to Viñales you have time to walk around the little town which consists of one main street where all the restaurants and bars are found. Have a drink and some food and enjoy live music in one of the backyards.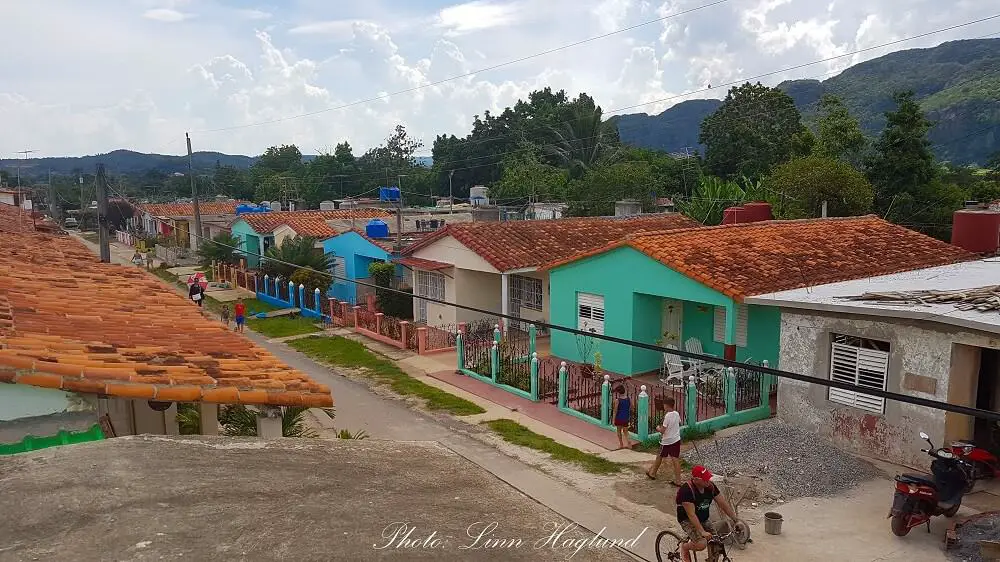 Day 8 – Walking in the valley of Viñales
Viñales is home to some of the most unique landscapes and hikes in Cuba. A day hiking with a local guide or just walking the valley on your own is definitely the perfect way to spend the day. The valley is famous for its tobacco fields so you can visit the tobacco farms to learn more about their work.
Note: I suggest you avoid horse riding trips in Viñales. As you see so many places in the world, animal tourism in Viñales is becoming more and more popular among travelers. This makes more and more horse owners look for income from tourists. As the situation in Cuba is today, the horse owners might not have the resources to look after their horses' needs. It's not necessarily your single horse ride that becomes a problem but the thousands of horse rides for tourists alltogether. I suggest you support the locals in different ways on your trip to Cuba.
Remember to book a shared taxi to get to Cayo Jutias the next day. Your casa particular owners will help you out with that. The taxi will wait for you at the beach during your day out.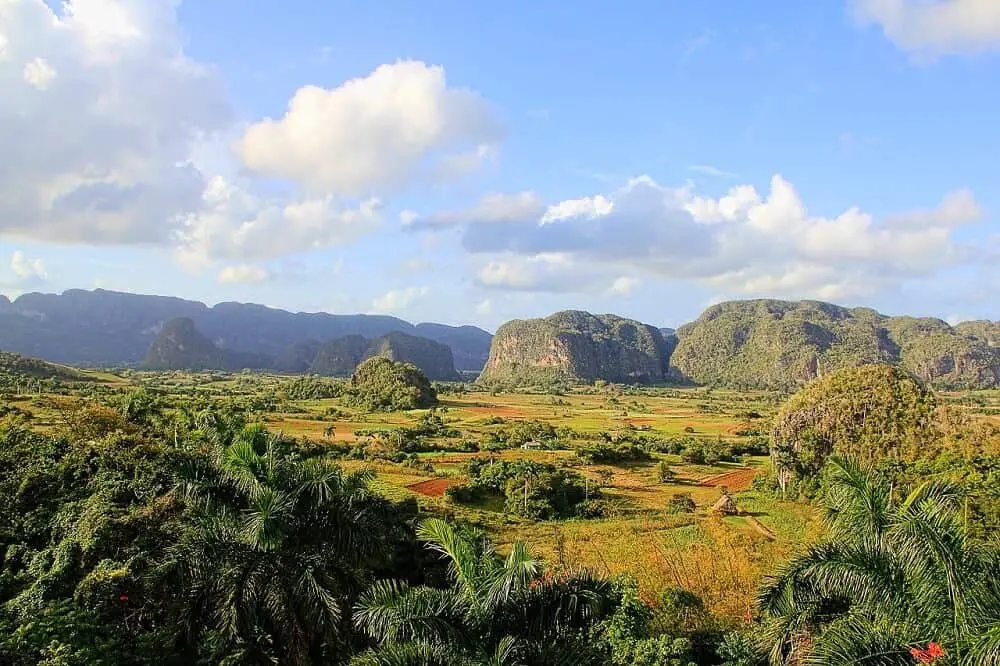 Day 9 – Beach day at Cayo Jutias
Cayo Jutias is known to be one of the most beautiful beaches in Cuba, and not without reason. The white-sanded beach and the bright turquoise crystal-clear water is a must on your Cuba 10 day itinerary.
If you go either right or left from the beach bars set on the drop-off point, the beach is covered in tree trunks and you can easily find shadow. If you want to stay near cold drinks, there are sunbeds you can rent by the beach bars.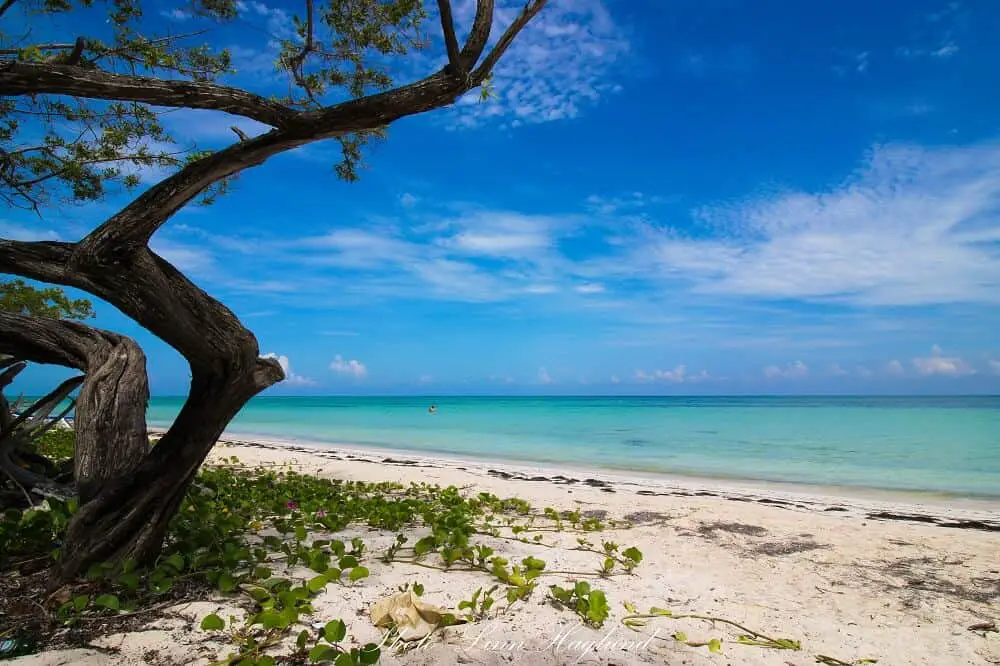 Tips! You can get freshly opened coconuts for a few CUC. They do serve them with or without Rum to your liking. I recommend using your own metal straw as they serve them with plastic straws and it is hard to drink straight from the coconut without spilling.
In the evening when you get back to Viñales there is time to walk around the streets in town and sit down for a nice dinner and a drink.
Remember to get your casa particular owners to book a shared taxi back to Havana for the next day.
Day 10 – Viñales – Havana
The drive from Viñales to Havana takes about 3 hours including a break, however, traffic into Havana can make the journey longer.
Enjoy your evening in Havana with all the things you didn't get to see the first time you were there, revisit your favorite restaurant and soak in the vibe of this beautiful city. Once you have been there before, you will notice how you see it with different and more relaxed eyes the second time around.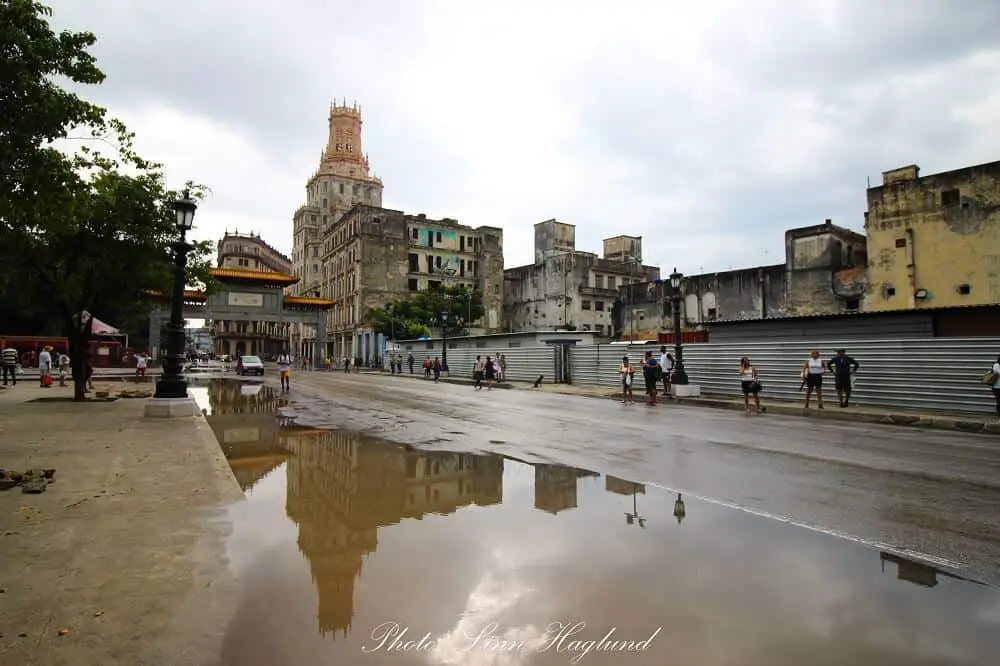 How to travel responsibly in Cuba
Cuba is quite a different country to travel to, and there are a few things I would like to highlight when it comes to responsible travel in Cuba.
Support privately owned businesses
In Cuba, it's fairly easy to support privately owned businesses. The main things you can do are:
Stay in casas particulares
Eat in paladares or at your casa particular
Take private taxis or private shared taxis
Use private local tour guides
Bring gifts to the locals
Regular Cuban families struggle to get ends to meet between rations of food, low wages, and high prices. It is a nice gesture to bring things to Cuba to give to the people you meet.
Make sure you give things away in a respectful way and don't give out things to unknown people on the streets as this can contribute to creating a culture where tourists mean free things. On the other hand, some people can feel offended. How would you react if a stranger came over to you on the street and gave you a t-shirt?
Therefore, I suggest you only give to people you have created a relationship with. It could be the owners of the casa particular, the taxi driver, a person you stopped and talked to on the street.
Avoid animal tourism
Going on a horse carriage tour in Havana or Trinidad might seem idyllic but the well-being of the horses is not guaranteed. Standing in beating heat day in and day out to carry tourists around on paved roads is not a good life for a horse. You're better off getting another form of transport to see the town.
There are also a few places where you can see animals in captivity and I highly recommend you avoid those. You can read more about unethical animal tourism here.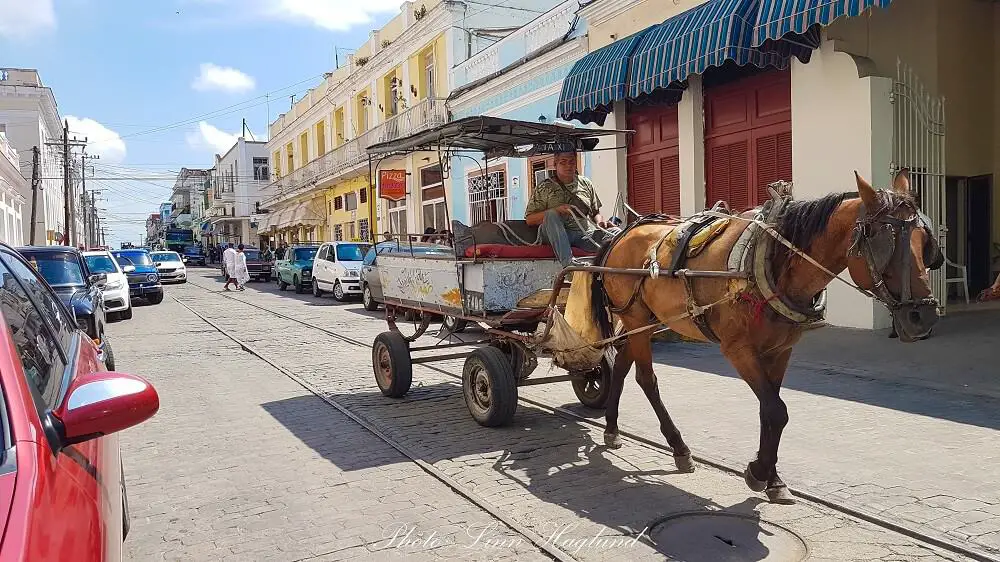 Don't leave any rubbish behind
Even though you see a lot of trash covering large areas during your 10 days in Cuba, make sure you don't contribute to it yourself.
Travel with a LifeStrawGo filtered water bottle
LifeStrawGo filtered water bottle is a lifesaver in Cuba. You can travel 10 days in Cuba without buying a single water bottle. This is not only good for the environment, but also for your wallet.
Further, it can get hard to find water sometimes, especially in more rural areas where they simply have run out of bottled water.
Then it is perfect to be able to fill up your LifeStrawGo in any sink along the road without worrying about waterborne diseases.
I hope this Cuba 10 day itinerary comes in handy for your trip! I would love to know how you experienced Cuba in the comments below.
Did you enjoy this Cuba itinerary?
I hope you found this Cuba itinerary useful to plan your trip to Cuba. I would love to know how your trip went and where you traveled to. Feel free to share your experiences and tips in the comments.
Pin it for later!