Cuba is a unique country and one of those places you hear you have to travel to "before it is too late." It had been on my bucket list since forever and I was stoked when the opportunity to travel there finally came.
There are s many incredibly fun and unique things to do in Cuba and it is a great country to explore off the beaten path too.
Most people think about cigars and colorful vintage cars when they think of Cuba. However, the country has so much more to offer and I am sure you will find something of your liking on this list of things to do in Cuba. It is jam-packed with culture and nature, perfect for adventurous travelers that want to experience something different.
While a lot of people travel by cruise ship, I highly recommend backpacking in the Caribbean as a more sustainable approach to traveling and in-depth experience.
But before we look at these unique things to do in Cuba, let's look at some practical information before your trip.
Disclosure: This post may contain affiliate links. That means that if you make a purchase through one of those links, I will get a small commission at no extra cost to you. If you have any questions about these services or products, feel free to ask me.
How to get to Cuba
It has been a lot of talk lately about the difficulties for Americans to travel to Cuba. I didn't expect it to be a problem for me as a European traveling to Cuba from the US. But apparently, I go under the same rules as any other person traveling to Cuba from American soil. Therefore, I want to share what I learned in the process before we move on.
Since June 2019, things have become complicated for Americans who want to visit Cuba. You are not allowed to travel as a tourist or through the organized People to People tours as you could before. These were tours including some sort of collaboration or volunteering with a local organization, school, artist, etc.
No American cruise ships, fishing vessels, or private boats are allowed to enter Cuba.
So, how can you travel from the US to Cuba?
An option for Americans is to travel to Cuba through a different country. This goes for other nationalities too. Other nationalities can travel to Cuba from their own country with the visa regulations of the respective country.
Or you can just fly directly from the US to Cuba.
But then you have to follow the beneath guidelines. Also, new regulations of October 2019 say that airlines from the US can only fly to Havana, all other Cuban destinations are banned.
Fly to Cuba from the US
Today, Americans and all other nationalities traveling from the US to Cuba need to officially travel for one of the following 12 reasons:
Visit family
Official business of the US government, foreign governments, and certain intergovernmental organizations
Journalistic activity
Professional research and professional meetings
Educational activities
Religious activities
Public performances, clinics, workshops, athletic and other competitions, and exhibitions
Support for the Cuban People
Humanitarian Projects
Activities of private foundations or research or educational institutes
Exploration, importation, or transmission of information or information materials
Certain export transactions that may be considered for authorization under existing regulations and guidelines
You can easily travel for number 8, Support for the Cuban people. It means you need to support activities that leave money to the locals, you need to stay at Casas particulares and not hotels, travel with private transport, and you need to eat in private restaurants/Casas particulares.
It is recommended to save all receipts to prove you have done your duty in case they ask for it at the airport when you exit the country.
I was not asked anything when I re-entered the US from Cuba, other than if I brought anything from there (which I didn't coz I was dead broke as always).
You can read more about the official reasons to travel to Cuba here.
With one of the above travel reasons, you can enter with a Cuban Tourist Card that you in most cases can buy directly from your airline. I recommend checking with your airline in advance. I flew with JetBlue and they charge 50 dollars at the check-in in Boston (also with a European passport).
---
---
Things you need to know before you travel to Cuba
Cuba is not known for being the easiest country to travel to, and there are a few tips you should know before you go there.
You need to show documentation for travel insurance when you enter Cuba (or they won't let you in). In general, print out all travel documentation before you go as it can be hard to get an internet connection or a printer once in the country.
Bring cash to change (preferably Euros, Canadian Dollars, or Pounds as they have a better exchange rate than US Dollars)
Cuba has two different currencies. One for tourists (CUC) and one for Cubans (CUP). For reference, CUC is worth more or less the same as US dollars. 1 CUC is 24 CUP.
If you have an American credit/debit card it will not work in Cuba
There are cash machines in all the major cities, though, especially in Havana they often run out of money.
There is no free Wi-Fi access in Cuba. Therefore, you need a specific internet card to access Wi-Fi. It normally costs 1 CUC for one hour. Wi-Fi signals are only accessible in certain hotels/restaurants or parks. Make sure you download the most important Cuba apps you'll need before your trip.
Get your travel insurance with World Nomads here.

Fun & unique things to do in Cuba
Cuba has so much to offer from culture to nature experiences. I recommend you take the time to talk to the people. If you don't speak Spanish, try to communicate with those who speak some English.
I promise you, you will get so much more out of your experience as you learn so much about the real situation in Cuba and learn how extremely friendly the Cubans are.
You will also find that the Cubans don't have easy access to a lot of things, so I recommend you read this guide for things to bring to Cuba before you go. This way you can help the ones you get to know along the way.
Now, let's find out what to do in Cuba and what you should put on your Cuba itinerary.
Vegas Grande waterfall at Topes de Collantes National Park
Vegas Grande waterfall at Topes de Collantes National Park in Cuba is a treat to the eyes and melody to the ears. Plunging from the cliff above, the white water drops to form a natural emerald pool below.
It is surrounded by rocks and towered by green forests. Take a dip in the pool (the water is cold!) or do some soul-searching while sitting on one of the rocks.
The gorgeous sight of the waterfall and the sounds of the jungle, with only a handful of humans around, create a serene atmosphere that you will never want to leave.
You can hire a cab from Trinidad town for a round trip to the Topes de Collantes National Park. Cost: 30 CUC each way. From the parking, it is an easy walk through the forest to the ticket counter.
If you are into birding, watch out for some beautiful species along the path. Purchase the entry ticket for 10 CUC per person and continue with the hike to the waterfall.
Soon, the easy forest walk turns into passing through a cave and then further hiking down steep descents of uneven rocky paths. The downward hike is somewhat challenging but achievable.
Remember, while returning, you will need to hike "up" the slope you descended while coming. However, it is not that tough if you are at a decent fitness level. For this 2-hour hike, we recommend good hiking shoes to foot your landings comfortably.
Vegas Grande waterfall at Topes de Collantes National Park is a magical encounter with nature. It is a classic example of how Cuba is much beyond its postcard images of classic cars and buildings.
Suggested reading: Find out more about what to expect from your first trip to Cuba.
Contributed by Pubali and Indranil of Paradise Catchers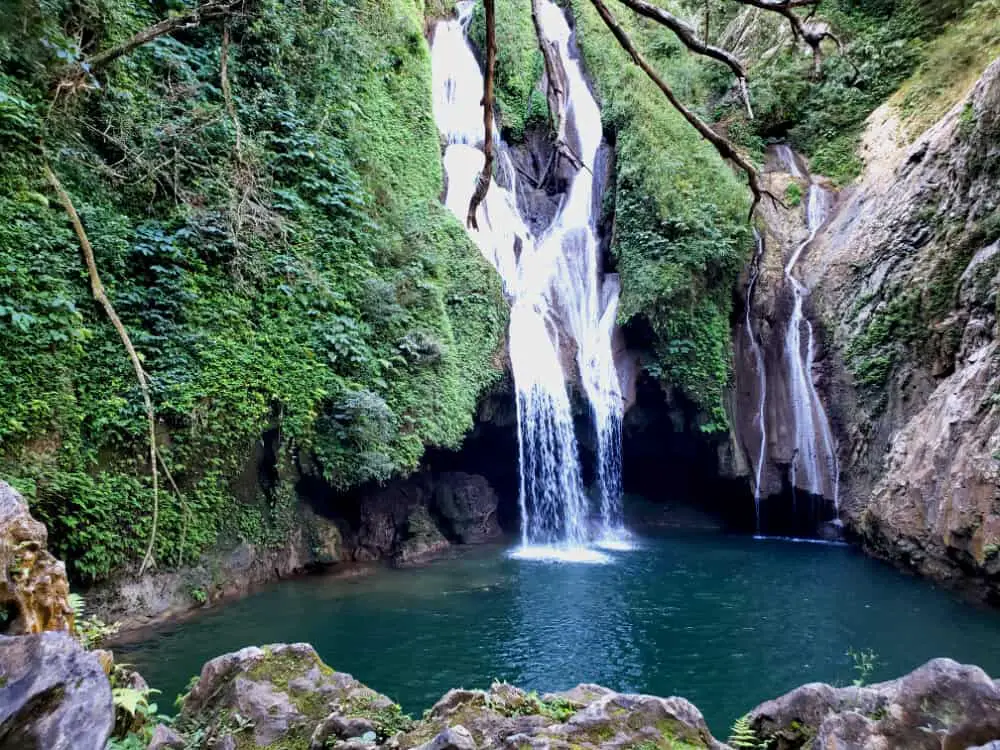 La Batata hike at Topes de Collantes National Park
La Batata is not as popular as Vegas Grande waterfall but without a doubt one of the best hikes in Cuba. The trek goes through the lush green forest, crossing the river a couple of times. The trail goes up and down and narrows into a one-person path nearly covered in grass. A sign that there are not too many people getting there. I actually only met a group of three people on my way back.
Once you get to the end, there is a curious cave formation along the river. A small, shallow water hole where you can cool down leads to the river-cave system.
You can get to La Batata hike from Trinidad. The cheapest way is to get a shared, private taxi. They will usually wait to pick you up once you are back from the hike.
The hike takes about an hour each way. There is an entrance fee to get in, though there was no one there to collect money when I did the hike. I was told it is about 6-8 CUC.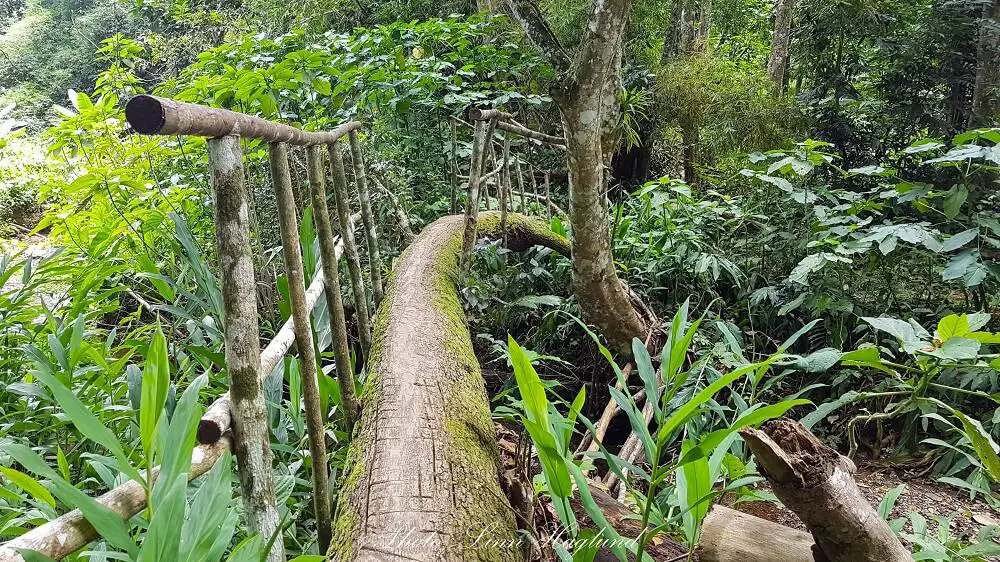 Las Terrazas
If you're looking for a bit of escape from the city life in Havana, then you should head out to Las Terrazas – an eco-village about an hour's drive from Havana. This village was founded out of Cuba's reforestation project that began in 1968. Following the start of that effort, over 6 million (!) trees were planted in the area, with the village being founded shortly thereafter.
Las Terrazas is now considered a UNESCO Biosphere Reserve and is home to over one hundred bird species and several coffee plantations. In addition to just being a beautiful place to visit, you can try a variety of activities here. These include zip lining, bird watching, local coffee tasting, and more. In addition, there are many local artisans there as well, so you can buy lovely local artwork as well.
There is a river that runs through Las Terrazas, and you can stop here to catch a swim with the local residents – around 1000 people live in the village today. If you get hungry on your visit, you will also find a restaurant on site that features locally grown food with vegetarian options. (Not an easy feat in Cuba).
If you want to experience the tranquility of the village a bit longer, you can stay on-site at Hotel Moka. This hotel essentially funds many of the resources in the village, such as the community library and on-site museum. Las Terrazas was truly one of the highlights of my travel to Cuba, so I hope you'll check it out!
Contributed by Christen from Travel Wander Grow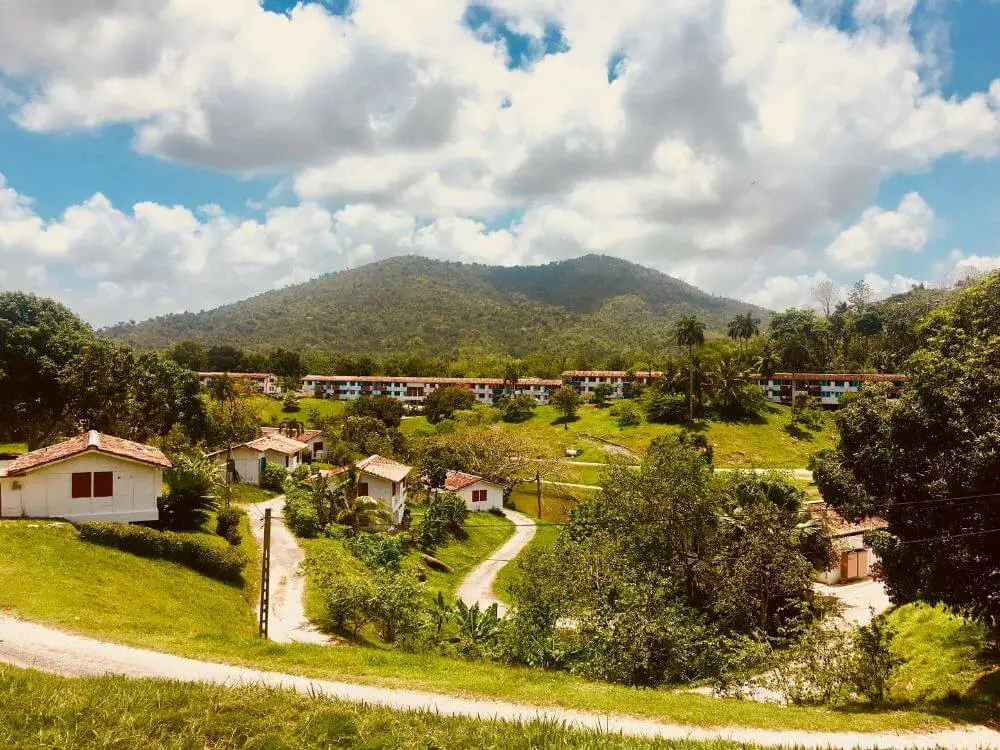 Snorkeling in Cayo Jutias
One of the nicest activities you can enjoy in Cuba is snorkeling, and the best place to do it is Cayo Jutias. Though there are many beautiful beaches in Cuba where you can lay in the sun, relax and swim, few offer the same kind of experience you can have in Cayo Jutias.
Located at about 45 minutes drive from Vinales, Cayo Jutias is a tiny island that is easily reached by car through a "pedraplen." It's a gorgeous 3 km long sandy beach rimmed with mangroves and a kiosk or two where you can hire a bed and snorkeling equipment.
The water is of a gorgeous turquoise color, and incredibly clear, and a short swim will take you to the coral reef where you'll be able to admire colorful corals and beautiful fish. As the water is very calm and warm even in the winter months, you can literally spend hours swimming around to spot underwater creatures.
My tip to make the most of Cayo Jutias is to go there independently. The rather expensive tours are usually no more than transportation and a very basic lunch in the only onsite restaurant, but all extras – including the rental of snorkeling equipment – will have to be paid. Furthermore, tours leave the beach very early in the afternoon, so you won't have a chance to admire the sunset!
Contributed by Claudia Tavani from My Adventures Across The World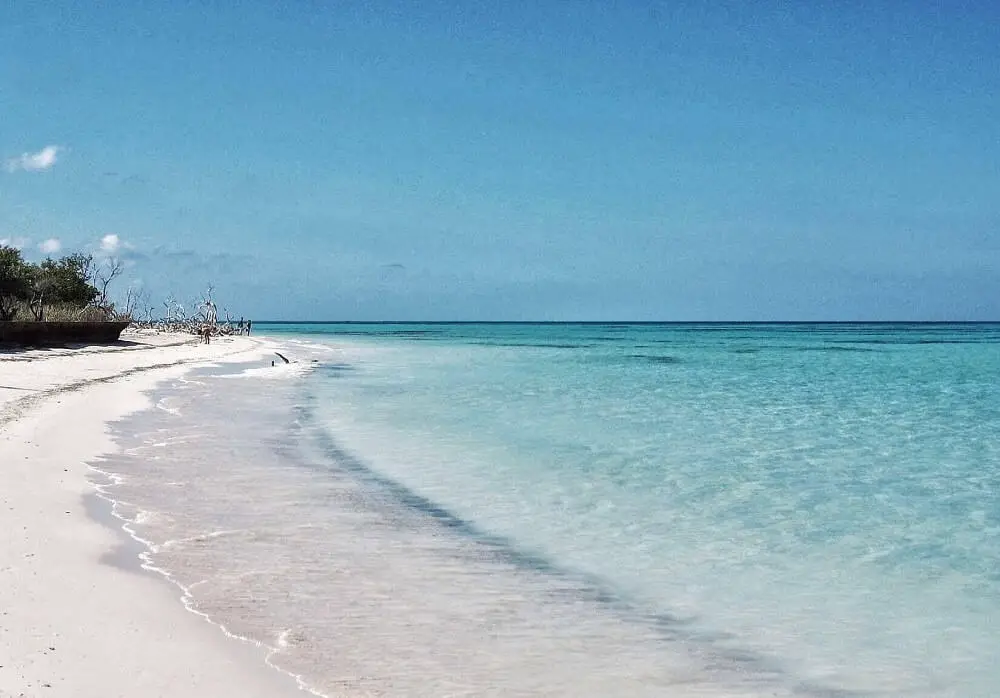 Visit Habana Compas Dance Company
The entrance to the Habana Compas Dance Company isn't impressive. In fact, it looks like an automotive repair shop. I was seriously questioning why our tour guide, Rashid, had brought us to this unattractive neighborhood in Havana. But as we entered the noisy and colorful studio, I became intrigued, and when the dance demonstration started, I knew we were in for a treat.
Compas Dance combines Afro-Cuban rhythms and dance with Spanish flamenco moves and instruments. The result is mesmerizing. A series of short dances ensued, all very energetic and athletic. A few numbers included chairs that the dancers used as props and percussion instruments. Some have called this company the Cuban version of STOMP.
This youth dance company was founded in 2004 and has become well-respected both nationally and internationally. They've completed several international tours.
As Compas has grown in popularity, it's become more difficult to get reservations to see one of their demonstrations, so anyone interested in seeing this group in action should make arrangements at least three months in advance.
Contributed by Wendy from Empty Nesters Hit the Road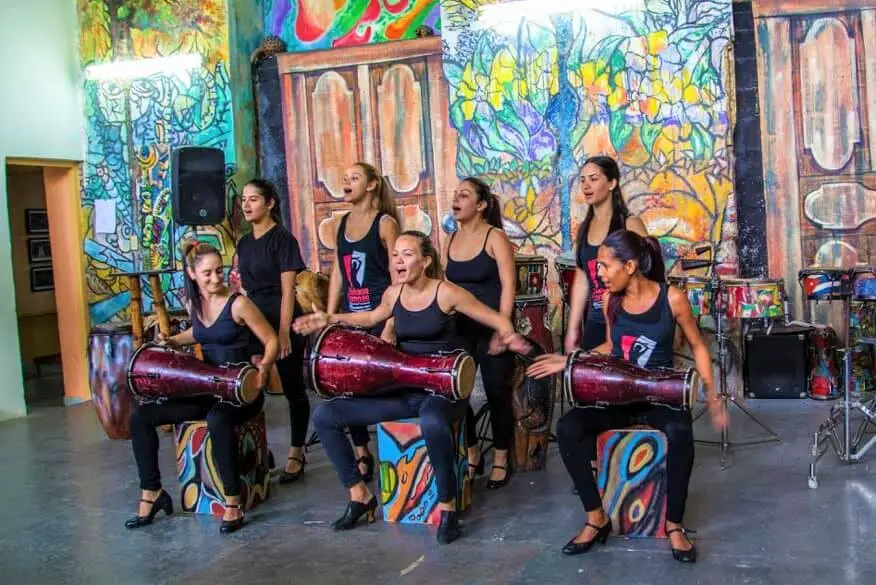 Scuba dive in Cueva de Los Peces
One of the most unique things to do in Cuba is to scuba dive in Cueva de Los Peces. In contrary to what the name indicates (The Fish Cave), there are no fish in the cave. Nor in the pond where the cave opening is. However, this is a unique freshwater dive that starts in a beautiful swimming hole where you descend among people bathing.
The dive is at a maximum of 25 meters, though you are far from the bottom of the cave. You get a flashlight as the cave only gets light from the narrow openings above where the river flows, which creates incredible rays of light through the dark of the cave. Sometimes it gets pitch dark and you have to rely only on your flashlight. It is absolutely mesmerizing!
If you have minimum your Advanced Open Water license you can do the dive. Otherwise, the swimming hole in itself is an incredibly beautiful spot for swimming. Only a few hundred meters away, you have the beach. From there you can do beginners scuba dives or snorkeling and there is fish in abundance.
You can get to Cueva de Los Peces from Playa Girón or Playa Larga with a tour or shared taxi.
Written by Linn from Brainy Backpackers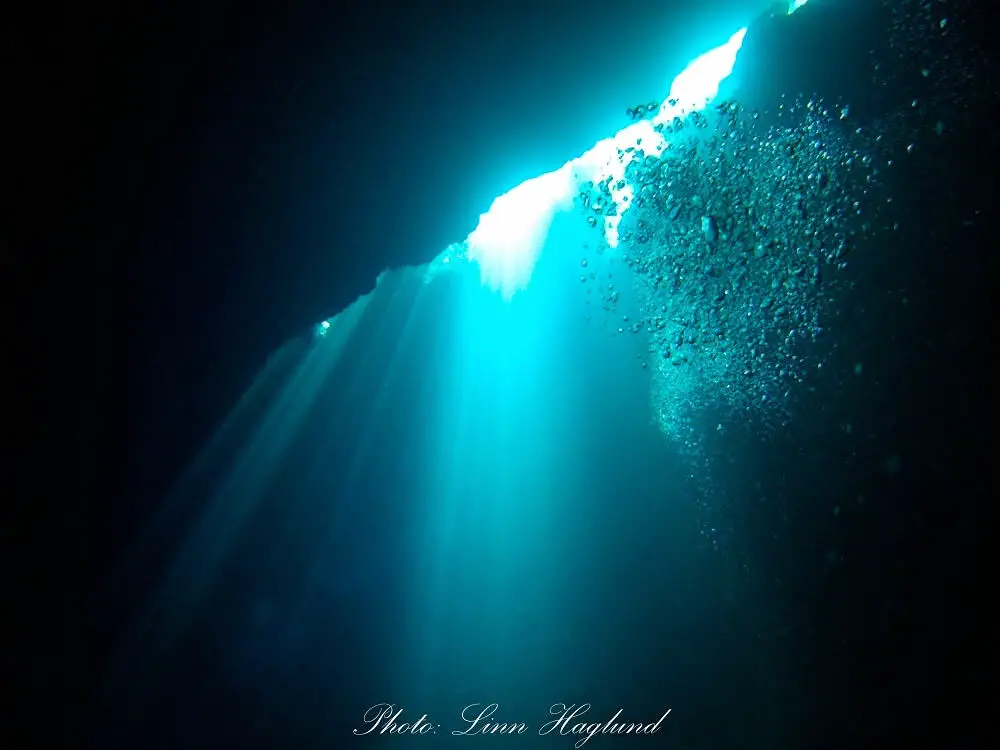 Viñales
Viñales is a beautiful part of the Cuban countryside known for its farming. A short drive from the Viñales town center visitors can find the picturesque Finca Agroecologica El Paraiso or agroecological farm paradise. Set on top of a hill the farms land stretches into the valley below. It is a family-owned and run organic farm and restaurant, serving produce fresh from the farm lovingly prepared into Cuban dishes that vary depending on the season.
While the food is prepared, visitors are free to stroll around the grounds and take in the view of the sun sinking beneath the mountains that border the valley, and check out the rows upon rows of vegetables tended with care.
The meal was included in the tour I was with, but drinks could be ordered from the bar at an additional cost. The house specialty is a concoction of coconut water, pineapple juice, mint, basil and naturally, liberal amounts of Cuban rum. It is called 'no stress' and was absolutely divine!
We were seated at a long table to enjoy our drinks and before too long dish after dish was placed in front of us in huge quantities, rich and tender meats and vegetables full of flavor. We all ate our fill but there was more food than we could possibly have eaten.
More than just a simple meal, Finca Agroecologica El Paraiso offers a unique Cuban culinary experience. It was undoubtedly one of the best meals I had during my time in Cuba and well worth the visit for anyone passing through or staying in Viñales.
Contributed by Holly from Globe Blogging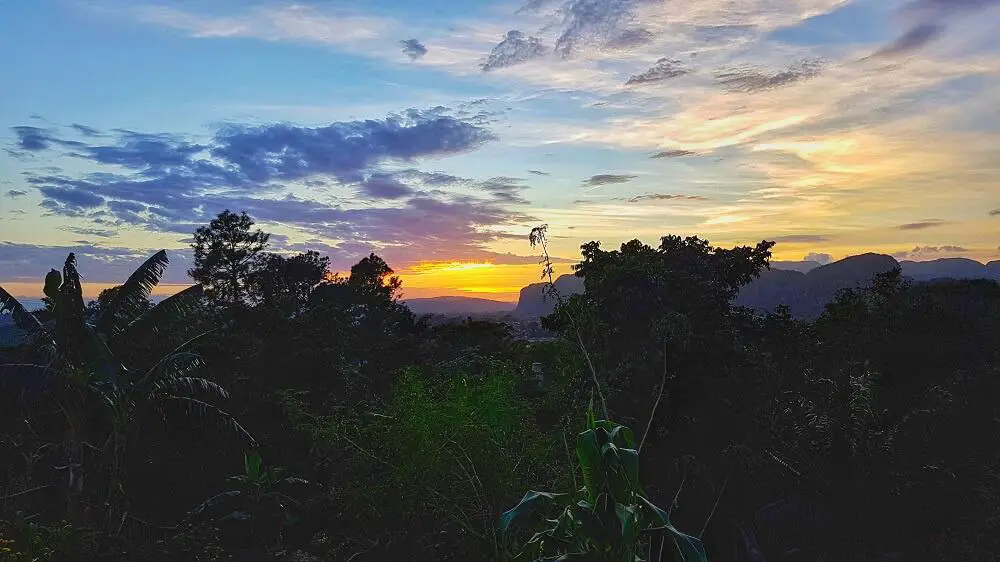 Fusterlandia
Most people who come to Cuba have little idea just how much there is to do after you have a Cuba libre, smoke a cigar and take photos beside the classic cars.
But Fusterlandia is one of the most fun and unique things to do in Cuba, and the classic car drivers are happy to take you out there.
José Fuster is an incredible local artist that many say is the Cuban Picasso. He created a dreamland in his neighborhood with mosaic tiles first covering his home and then extending out into the neighborhood. It's a wild and wonderful place. Admission is free but of course, they would prefer you to buy some local art to support the neighborhood after you take all of your Instagram photos.
It's also a fantastic stop in a vintage convertible car ride because it's outside Old Havana. Ask your driver to skip the Malecon and instead drive through the different neighborhoods. To get there drive through the Vedado neighborhood with old mansions, and where Cubans eat and go out to drink. It has the best nightlife and the streets and architecture were modeled after Miami.
Then pass through Miramar and Playa, where wealthy Cubans live in impeccable mansions. Old Havana is great, but Havana is so much more than that. Fusterlandia shows you a side that few tourists know about.
Contributed by Ayngelina from Bacon is Magic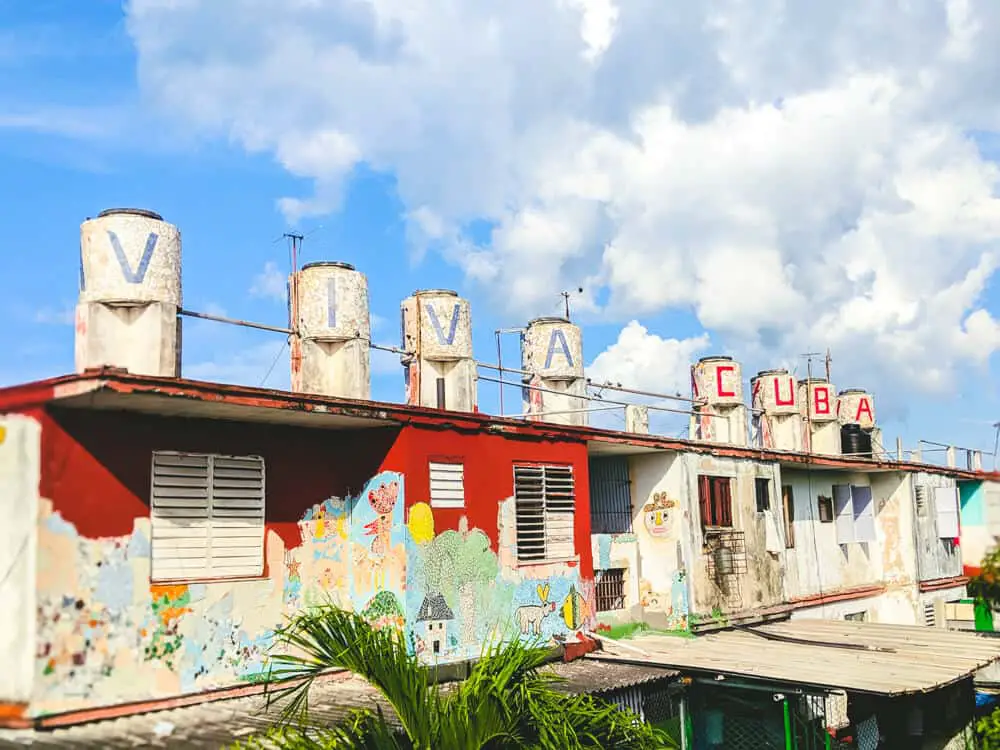 Hiking Pico Turquino
If you're up for a serious challenge while in Cuba, then Pico Turquino is calling for you. Although this mountain in the heart of the Sierra Maestra National Park is "only" 1.974 meters high, it's definitely a rough one due to its extremely uneven trail. Along the way, you'll learn a lot about Cuban fauna and flora and you'll notice the change in vegetation as you climb higher. If you're lucky, you might even spot the red and blue tocororo, Cuba's national bird.
The hike offers some impressive viewpoints over the valley (or over the clouds, if you're unlucky. It's a tropical rain forest after all.) Reaching the summit of Pico Turquino is definitely about the challenge, as -to be honest- it won't be the highlight of the hike. It's a flat piece of land surrounded by high trees with a large statue of the Cuban national hero José Marti. Nevertheless, completing the full hike and discover this untrodden part of Cuba is a rewarding experience that you won't forget anytime soon.
A hike up to Pico Turquino will generally take up two days, with one night at camp Aguadas de Joaquín, situated at an altitude of 1 350 meters. You could combine this hike with a visit to Comandancia de la Plata, Fidel Castro's former headquarters during the Revolution, which would add a third day to your itinerary.
So how can you get there? It's mandatory to hire a guide to enter the Pico Turquino National Park.  I booked my tour with the tourist agency Cuban adventures, who set us up with an English-speaking guide and also helped arrange transport from Santiago de Cuba and back to Bayamo. Although it is possible to arrange transportation to Santo Domingo yourself, it will be difficult and time-consuming.
Contributed by Sophie from Bitten by the Bug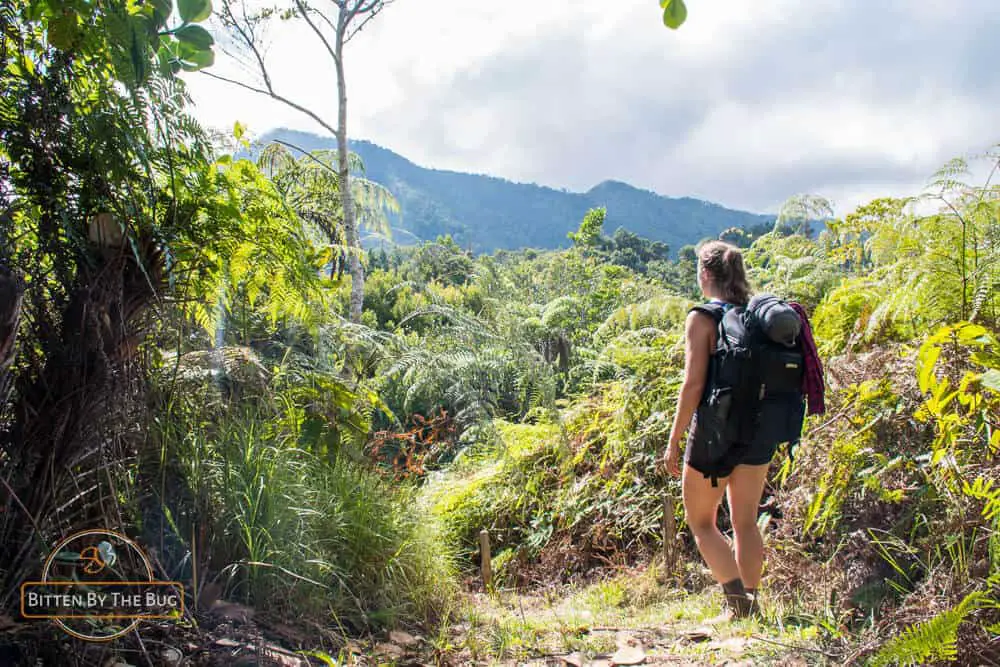 Visit Sancti Spíritus
Sancti Spíritus plays second fiddle to its more famous neighbor, Trinidad, and therein lies its charm. It may not have the UNESCO World Heritage status of Trinidad, but as a result, it also sees far fewer tourists and far less of the usual hassle that seems to follow tourists everywhere they go in Cuba.
If you're looking for a quiet, sleepy colonial town where you can admire pastel-colored façades and soak up the colonial charm without being hounded by touts, then Sancti Spíritus is the place for you. The town's historical center is a lovely place to wander around aimlessly. It's also very compact, so you can easily see everything on foot. Be sure to check out the picturesque humpbacked bridge over the river Yayabo, built by the Spanish in 1815.
But more than sightseeing, Sancti Spíritus is really about seeking out an authentic Cuban experience away from the crowds. For some local Cuban food, stop in at one of the paladares. These are local, family-run restaurants where you can get a full plate of food for $1.
The Viazul buses that most budget travelers in Cuba use do stop at Sancti Spiritus, but the departure times of these buses cater more for people departing from or arriving at Havana and Santiago de Cuba. If you want to go from Camagüey to Sancti Spiritus, for example, you may find that you have to catch the bus in the middle of the night.
If you're feeling adventurous, try taking the trucks used by the locals instead. You may be overcharged, or the conductor may refuse to take foreigners at all, but if you can finagle your way on to a truck you are sure to have a very local, authentic Cuban transport experience.
Contributed by Wendy from The Nomadic Vegan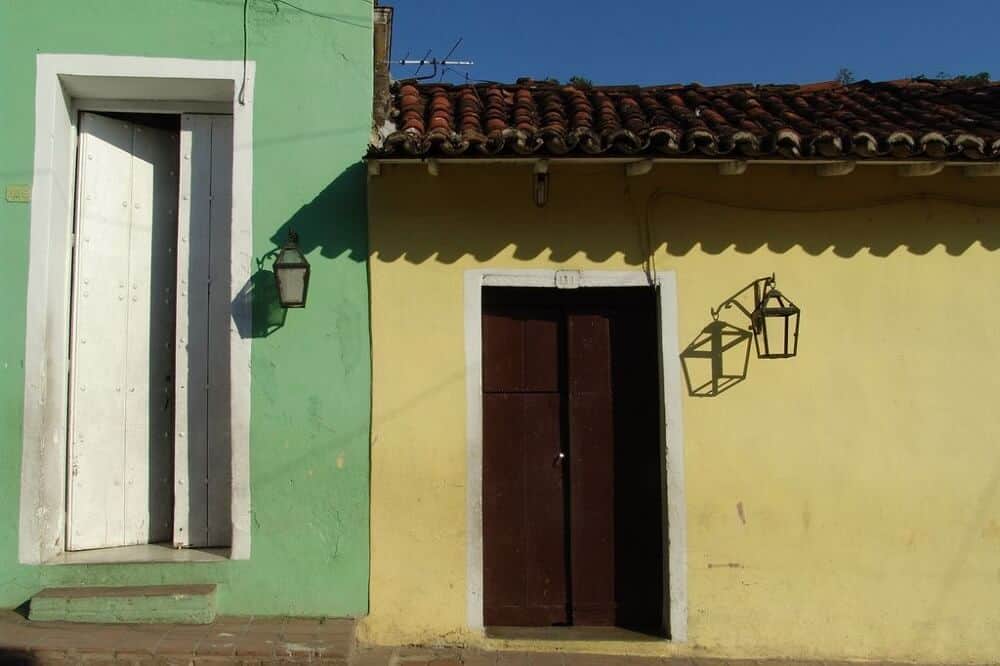 The Fabrica de Arte Cubano, Havana
One of the most unique things to do in Cuba is to visit The Fabrica De Arte Cubano in Havana, the brainchild of famous Cuban musician X-Alfonso.
This art gallery turned new-age nightclub is a local favorite due to the very interesting and unique aspect of the place. It certainly is a hidden gem in Cuba!
Every Thursday to Sunday at 8 pm sharp, Cubans line up to access a world that excites the imagination.
The venue, located in an old warehouse in Havana, is somewhat of a maze to visit, which really adds to the excitement and appeal of the place. Each room at the gallery contains something new and interesting to look at from modern art to theatre performances to live music. 
Some of the most unique rooms in the gallery include a totally blacked out darkroom and a music room with an eclectic mix of paraphernalia: from autographed Fenders to Beatles posters to Bob Marley music sheets.
If you want to try salsa dancing in Cuba, this is also a great place to do so as another room at the venue contains salsa lessons.
In addition to the many activities at the venue, which are sure to keep you occupied for hours, there are multiple bars, cafes and one restaurant at the venue, which are reasonably priced (2-4 CUC for an alcoholic drink and around 15 CUC for a main meal at the restaurant). You are free to eat and drink as you walk around and enjoy the exhibits at the gallery.
Practical information about visiting Fabrica de Arte Cubano
If you are traveling to Cuba on a budget, you will be happy to know that the Fabrica De Arte Cubano is one of the best-priced things to do in Havana.
It only costs 2 CUC to enter the venue (2020). We read about people paying more on a Sunday (15 CUC) but this is simply untrue and a scam.  Only ever pay the listed price on the door, never buy outside the official ticket counter at the venue.
Upon entering, you will be given a drink and food card that gets stamped during the evening. As you leave, you pay the final bill based on what you consumed during the night.
Note: You are not required to purchase anything inside, only the 2 CUC to enter. Purchasing food and drink is entirely optional but if you happen to lose the drink card there will be a 30 CUC fee when leaving.
The Fabrica de Arte Cubano is located a 15-minute drive from downtown Havana. It should only cost between 10-15 CUC for a taxi to access the venue, provided you negotiate!
Contributed by Nadia & Mike from Couple Travel The World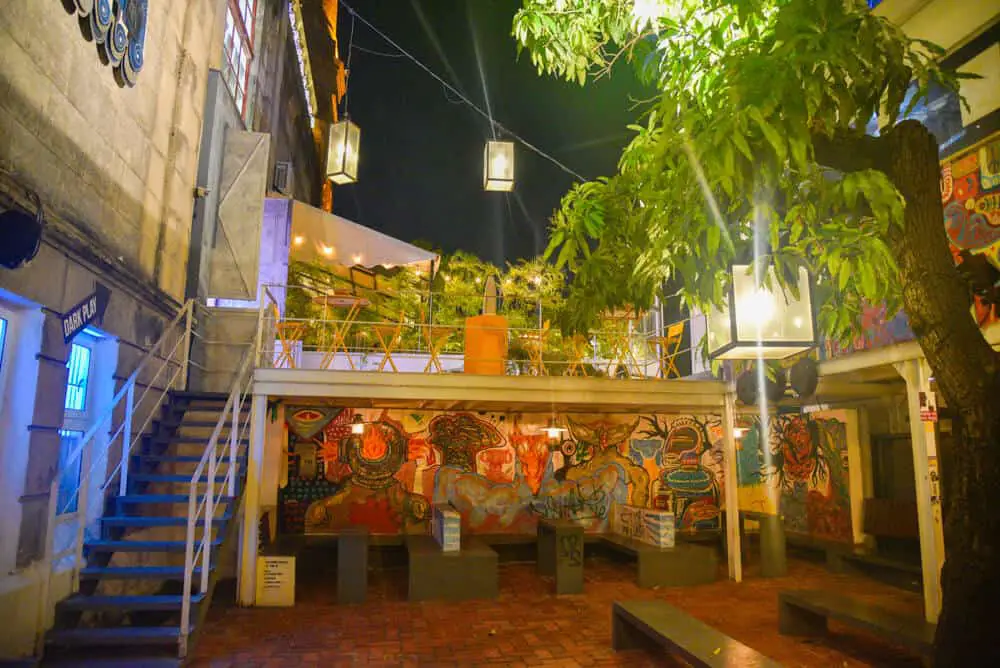 El Nicho
El Nicho is a beautiful waterfall in Topes de Collantes National Park, popular among Cubans and tourists alike. There are two waterfalls along the 20 minutes hike and the water is incredibly refreshing.  The top natural pool is quite big and you can walk around it to avoid all the people if you don't mind walking through some water.
There is also a big water hole for swimming on a different path that goes down from the parking lot. I found this short walk incredibly beautiful and the natural pool not so crowdy.
The easiest way to get to el Nicho is from Cienfuegos. If you take a shared, private taxi prices are not too bad and the driver will wait for you to finish the hike.
There is an entrance fee is around 10 CUC.
Note: This is an extremely popular spot, and as the locals go here a lot too, it gets very busy in high season. Make sure you get there early, as they do stop access when it gets too many people.
Written by Linn from Brainy Backpackers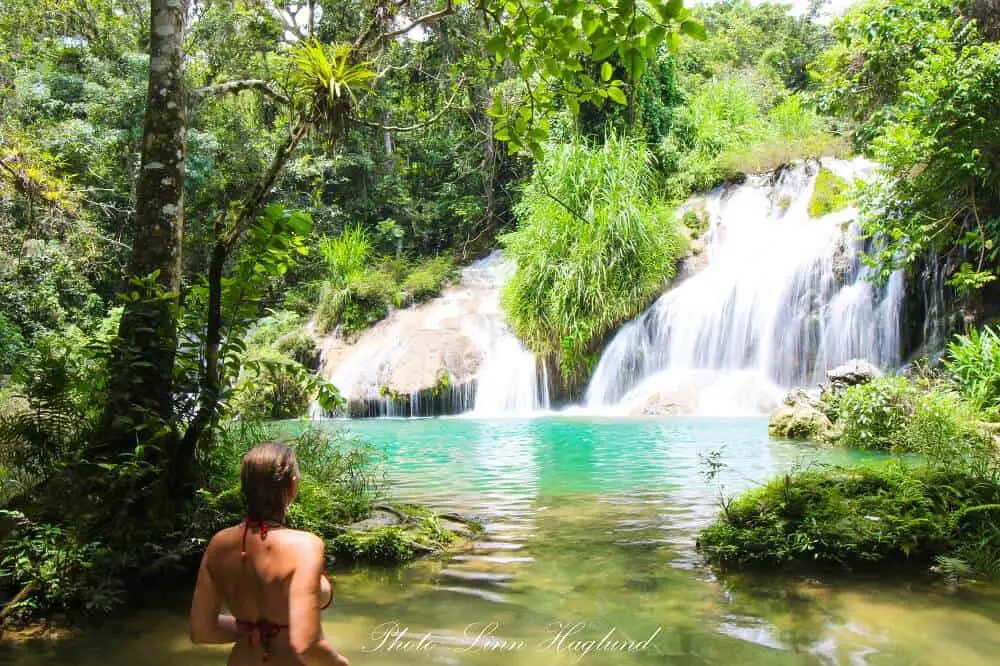 Dive or Snorkel the Bay of Pigs
As far as unique things to do, you can't get more unique than diving into history.  The Bay of Pigs, near Playa Giron in Cuba, is the site of the failed US invasion of Cuba in 1967.    It's also where you can dive or snorkel from the shore in the extremely clear water of the Caribbean Sea.
Let's take the history first – if that's your thing it's possible to dive on wrecks from the failed invasion, but you will have to take a boat trip for that.  Most of the diving and snorkeling here is shore-based, so it's not only cheaper (US$25 a dive) but you just walk in or jump from the rocks.  When you're done diving, if you're staying in Playa Giron you can head to the museum of the invasion and brush up on the Cuban version of what happened here.  The museum is in Spanish only but you may luck out and find an English-speaking guide.
Whether you dive or snorkel, you'll be collected from your casa particular in the morning and all equipment is provided – beginners can even take a specific taste dive for an additional US$10.  Snorkelers pay just US$3 to use the dive bus to the dive site of the day.
Guides are well trained and will help you out, they'll also likely have their underwater camera with them and you can expect to see all manner of marine life including lobsters and the invasive lionfish as well as a reasonable variety of corals.
It's a great opportunity to experience some history and see the underwater sites of Cuba for a bargain price!
Contributed by Sarah from Cuba's Best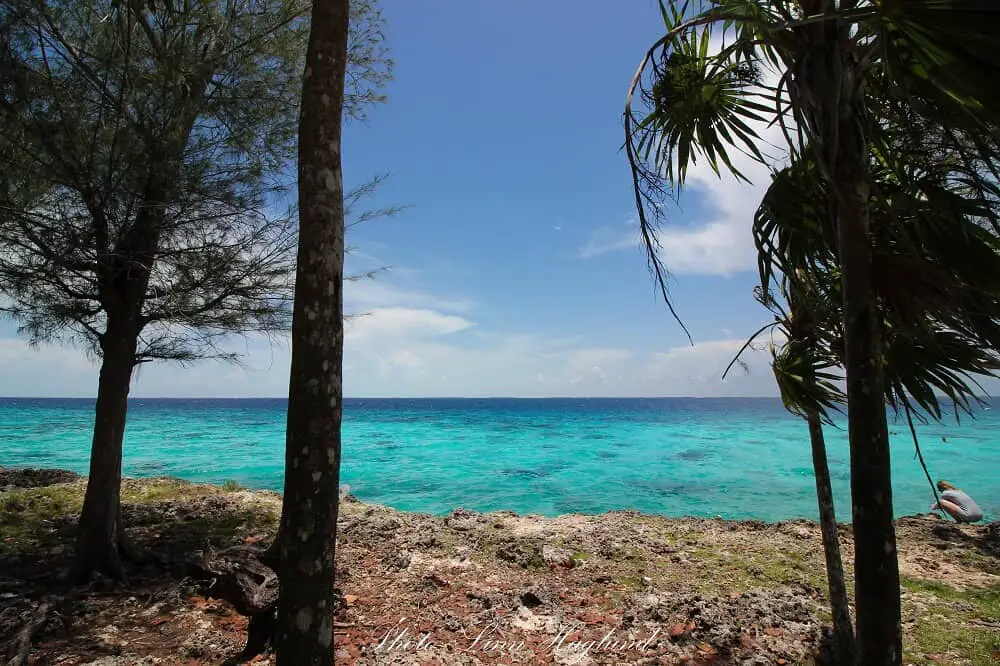 The University of Havana
When looking for unique things to do in Cuba you may not have to think outside the box too much. With the island being such an interesting place culturally, it has so many unique things to do. If you find yourself in Havana and looking for something rather unique, you must check out the University. A truly monumental building that must be seen to be fully appreciated. The University of Havana was founded in 1712 and actually one of the oldest universities in the Americas.
Oozing with beautify architecture you'll likely encounter the famous steps which lead up to the campus. Although a very peaceful location, the university is free for Cuban citizens. Many of which who are so happy to be there that if you get the opportunity to talk to them, they may offer to give you a tour. You'll learn how Fidel Castro was the President of the Cuban University Student Federation. Half a day can easily be spent here soaking up all the history and Ancient Roman style buildings.
Make sure you carry some comfortable shoes and some lunch to help keep you going. As you walk around the campus, you'll notice how well kept the grounds are kept. All in all, the University of Havana is a wonderful place to come and learn all about Cuba.
Contributed by Daniel from Layer Culture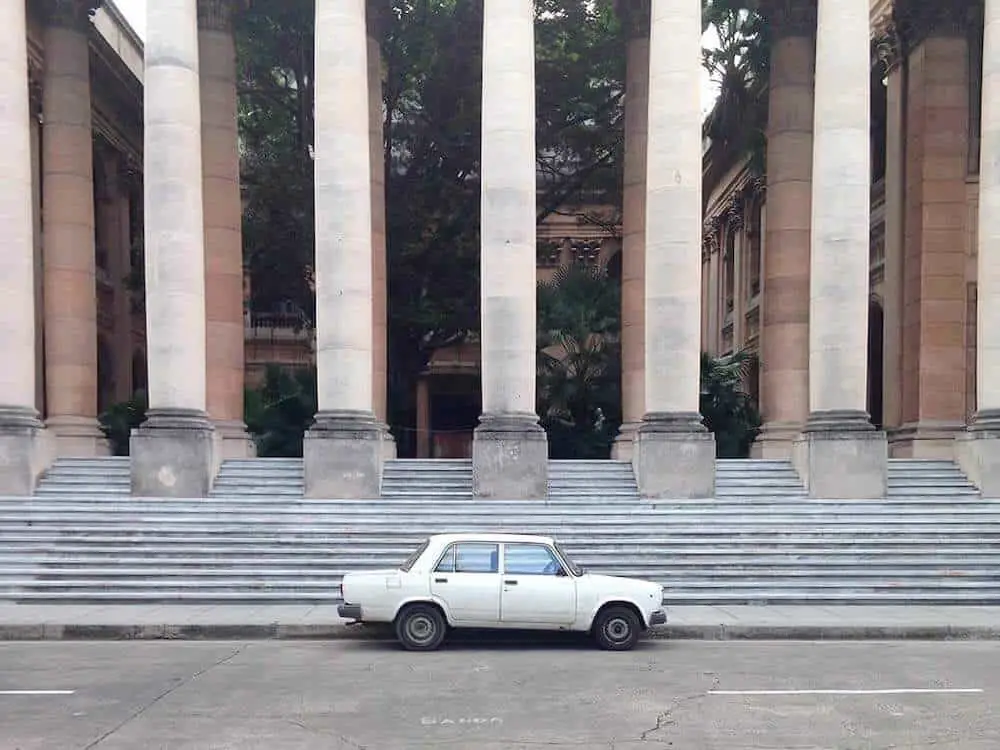 Reflections of what to do in Cuba
After reading all these amazing unique things to do in Cuba, the country becomes so much more colorful than just vintage cars. It has so much to offer, from culture, nature and underwater experiences.
One thing I want to emphasize is the importance of not treating the Cubans as museum items. You often hear you have to travel to Cuba before it is too late. I have said that myself. Because I wanted to experience the Cuba I had heard about so many times. I had this picture of Cuba that I wanted to experience.
But let's not forget that they are real people living there. And these people deserve a good decent life just like you and me. So let's not enjoy their misery, but rather learn from how it is and contribute with what we possibly can when we visit. Curiously and respectfully. You can bring clothes, hygiene products, pain killers, etc. to give to people you meet on your trip. The absolute majority of those you will meet need it.
You can read more about what I learned about the real Cuba after conversations with locals here.
Support the [Cuban] people
I traveled to Cuba to "support the Cuban people", and I am proud to do so. I don't think my travel choices would be much different if I didn't have to officially. I wanted to stay in Casas particulares and I wanted to spend money on the privately-owned restaurants and local guides.
How I look at it, it is a great way of sustainable travel. It is a great way of supporting the local economy as well as it is for me to learn about the Cuban culture. I look at travel differently after visiting Cuba. I will always want to travel to support the people of the country I am visiting in some way. That is part of traveling sustainably, right?
Further, we need to travel to serve the country's animals and the country's nature. The restrictions to travel to Cuba from the US just put perspective on responsible travel for me, and maybe it should be a requirement for traveling to any country?
What do you think about the topic? I am curious to hear your thoughts in the comments.
Pin it for later!