If diving in Thailand is on your Asia bucket list (which I highly recommend!) then you might find it overwhelming trying to figure out where to go. With 1430 islands and paradisiac coastlines in both the Andaman Sea and the Gulf of Thailand, there are endless places to go scuba diving in Thailand for all levels.
The Similian Islands have a name of their own, being compared to the epic Galapagos Islands in Ecuador. Still, even popular party destinations like Koh Samui will surprise you with pristine dive sites just a boat ride away from drunk backpackers immersing themselves in buckets of rum and vodka.
You, instead, want to immerse yourself in the crystal clear water, exploring colorful coral reefs, swimming through large schools of fish, and spotting sharks. Dive into caves, around limestone islands, and feel the wind in your hair as the diving boat takes you to the next dive site.
Read on to find out where to find some of the absolute best scuba diving in Thailand.
Disclosure: This post may contain affiliate links. That means that if you make a purchase through one of those links, I will get a small commission at no extra cost to you. As an Amazon Associate, I earn from qualifying purchases.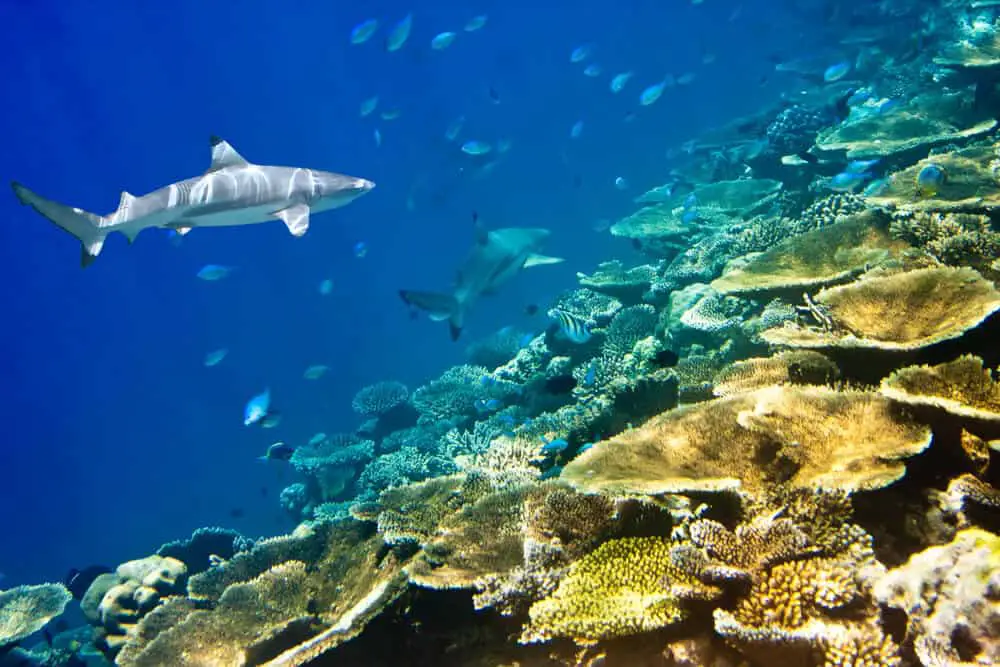 Scuba diving in Thailand cost
The scuba diving in Thailand cost might be a concern to you. We all know that scuba diving isn't a cheap hobby and you might have to budget a little extra for your island hopping in Thailand if you want to incorporate a diving trip or two.
There are many variables that play into the cost of scuba diving in Thailand, like how far a boat ride the dive site is and how many dives you'll get on the trip.
If you dive directly from the beach, you can save a lot of cash as it cuts the petrol costs, boat staff costs, and boat maintenance costs. That said, this also limits your options.
Some dive centers have all equipment included in the price and others don't, which means you can save a little bit of money if you travel with your own diving equipment, though this usually isn't a big cost.
I found that most dive centers take something around 3000 Bath (about 80 USD) for a 2-dive trip and around 4000 Bath (around 100 USD) for a 3-dive trip. While it varies from place to place, I would say it's not with much.
When looking for a place for diving in the Philippines to dive with Tresher sharks near Malapascua Island, I found a big difference in price by moving from the foreign-owned diving centers on the beach and to the locally owned dive sites that were situated slightly on the inland.
I have not experienced that in Thailand, though, and I found more locally-owned dive sites in Thailand in general.
Personally, I have not yet been on a liveaboard when scuba diving in Thailand yet, but after researching prices, they range from 11.500 Bath (about 300 USD) to 40.000 Bath (about 1050USD.)
Note that the more expensive a liveaboard is, doesn't necessarily equal more dives. So I highly recommend that you shop around a bit looking at what is included in the liveaboard, how many people it fits, and what is important to you.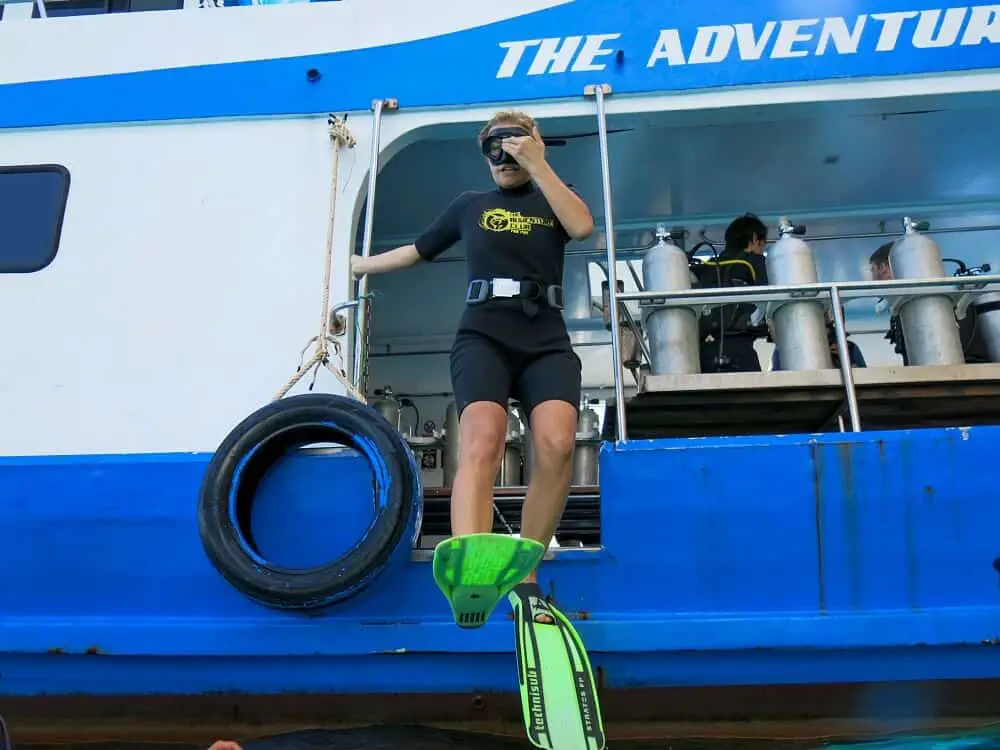 Top spots to dive in Thailand
Finally, let's check out the top recommended places where you can dive in Thailand! I have been scuba diving in Thailand several times and still can't wait to go back there to explore some of these bewildering dive sites you are about to explore. Diving in any of these places is a must for any Thailand bucket list.
Koh Phi Phi
When looking for the best diving in Thailand, Koh Phi Phi is an excellent choice as one of the best places to visit in Thailand for first timers.
Surrounded by Koh Phi Phi Marine Park boasting 20 unique dive sites there are excellent diving opportunities for every level around Koh Phi Phi.
Besides an abundant hard and soft coral presence, you can also expect to see reef sharks and sea turtles. Epic wall dives might also reward you with unusual meetings with tiny sea horses and Ghost Pipefish.
However, if you're not interested in searching for small creatures, you'll most likely be happy with being surrounded by schools of colorful fish and spotting Nemo in the soft anemones.
There are multiple dive schools offering dives as well as dive certification from Open Water to Instructor levels. I've been happy with both Princess Divers and The Adventure Club.
For other things to do in Koh Phi Phi, there are stunning hiking routes through rural areas and the most popular is up to the island's viewpoint. Relax at the beach or in one of the resort pools with a cocktail in hand or splurge on an affordable Thai massage.
It's easy to reach Koh Phi Phi by ferry from both Phuket and Krabi. Phuket has an international airport where you can fly from all over the world.
Among the best places to stay on PhiPhi island is the Phi Phi Villa Resort with an epic pool overlooking the Andaman Sea. A nice budget option is the Tropical Garden Bungalow where you can enjoy cocktails in the pool bar.
Similan Islands
Recommended by Martina of PlacesofJuma
The Similan Islands in Thailand are famous worldwide as one of the most stunning Thailand diving spots. They are located near the popular resort of Khao Lak and the archipelago is a protected Marine National Park. The mainland is about 65 kilometers away, and the island can be reached by a 60–90-minute speedboat journey.
Here you will find neither hotels nor resorts, just a beautiful archipelago of 9 islands, some of which are even completely closed to visitors.
Most divers, however, come by day trip from Khao Lak or Phuket, or also by a several days dive safari to the islands. The latter is definitely recommended as there are numerous dive spots to discover around the islands. There is no place like the Similan Islands for Thailand liveaboard diving.
The best time for diving is from November to April when the national park is open. An insider tip is February, at this time you have good chances to see big fish.
In fact, the Similan Islands are well suited for experienced divers, as there are greater depths and many spectacular waterscapes with tunnels, swim-throughs, and overhangs, as well as challenging dive sites with stronger currents.
However, there are also tours for beginners, which are less deep areas and have fewer currents.
Especially fantastic are the colorful corals, there are numerous tropical reef fish, giant mackerels, turtles, and also sharks to discover. There is also the possibility to see real highlights like manta rays and whale sharks!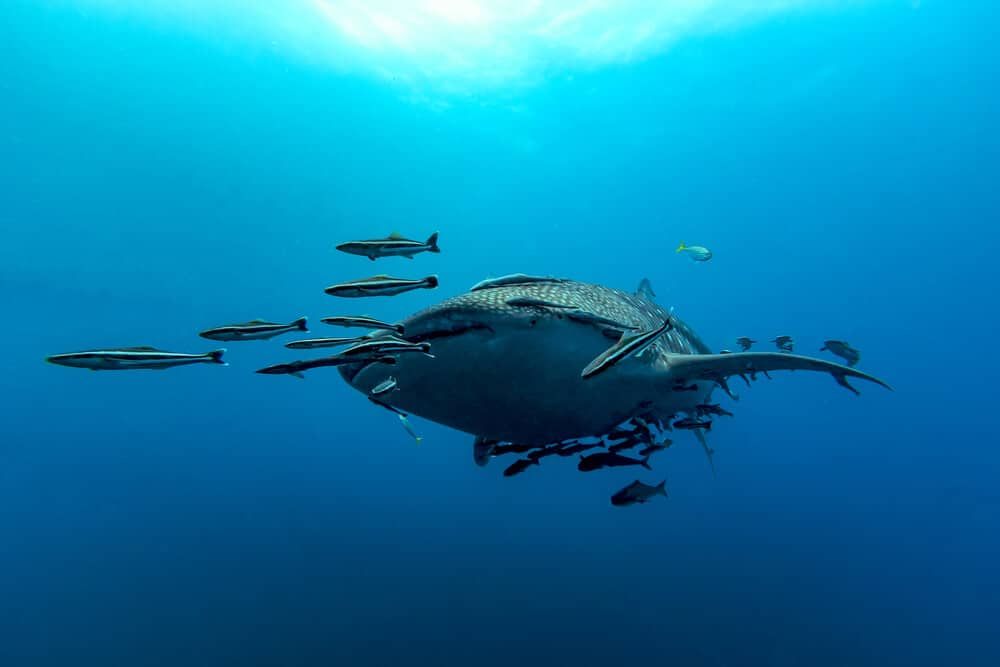 Koh Samui 
Recommended by Lotte from Phenomenal Globe Travel Blog 
You may be thinking: scuba diving on Koh Samui? While the ocean surrounding Koh Samui itself isn't a good place for diving and snorkeling (basically it's just a large underwater bank of sand), there are several good dive schools offering scuba diving excursions and PADI certifications.  
Diving is usually either done around nearby Koh Tao or at Sail Rock, which is only a 50-minute boat ride from Koh Samui. Sail Rock is a unique and gorgeous dive site. This 40-meter pinnacle is one of the best wall dives in the Gulf of Thailand with lots of marine life.  
Of course, every dive is different but generally, you can expect to see large groupers, big schools of Barracudas, Sail Fishes, and even seasonal Whale Sharks and Manta Rays if you're very lucky.
Besides bigger fish, you can also spot colorful nudibranchs and Christmas tree worms, which are some of my favorite underwater creatures despite their diminutive size.  
Sail Rock is a great spot for all levels of divers, more advanced divers can start at a lower level and slowly make their way up (and even dive through the Chimney, a small cave (if you're certified to do so).
Beginners or people doing their PADI certification will have lots to see closer to the surface, colors are better higher up and the water will be a bit warmer too.  
We booked with Dive Point (a small dive school owned by Fiona), but the boat was operated by Silent Divers. 
Besides diving, there are lots of fun things to see and do on the island itself and I recommended spending at least 3 days in Koh Samui. The easiest way to get to Koh Samui is by hopping on a 1-hour flight from Bangkok.
If you've got the budget for it, the Kimpton Kitalay Samui is a wonderful place to stay.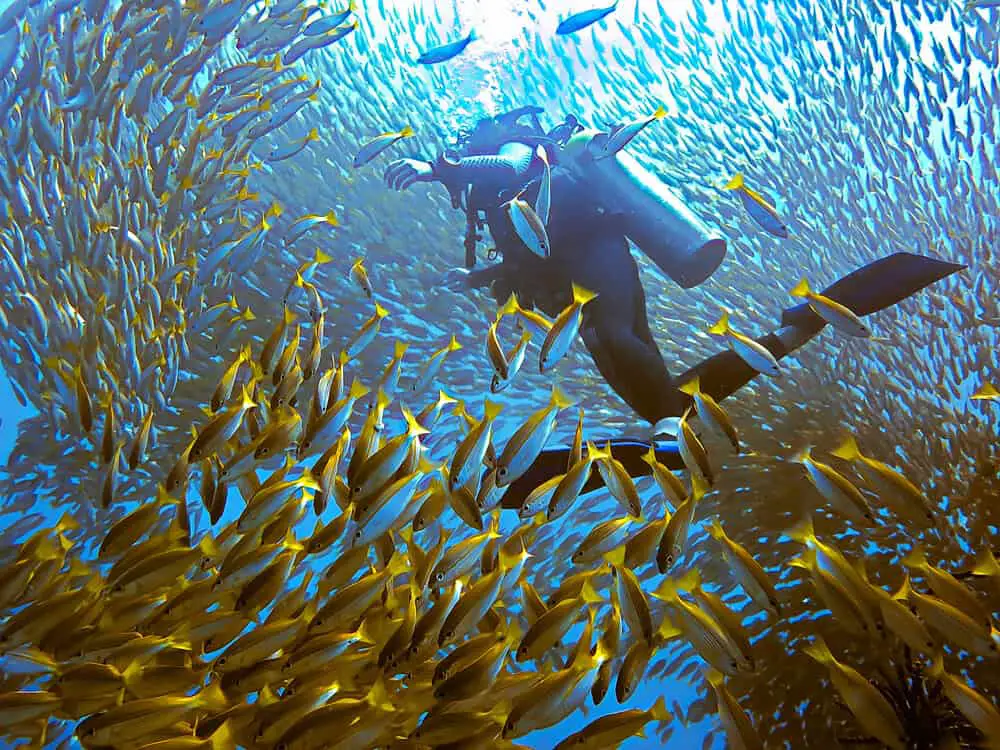 Koh Racha Yai
Recommended by Rose of Rose Campau
Koh Racha Yai is a small island located off the southern coast of Phuket that is as beautiful above water as it is below. There are six named dive sites with year-round diving opportunities ranging from shallow bays to reefs as deep as 30 meters, making it a great location for expert divers and total beginners alike.
Marine life is healthy and thriving at Koh Racha Yai, with common sightings including scorpionfish, blue spotted stingrays, lionfish, octopi, barracuda, pufferfish, and garden eels amongst the abundant staghorn coral.
Aside from diving, there are a number of outdoor activities on Koh Racha Yai such as jet-skiing, kayaking, hiking, mountain biking, and yoga. Spending some time here also makes a great side trip out of a longer trip exploring Phuket's mainland.
The best way to get to Koh Racha Yai is by flying into Phuket Airport, driving about two hours south, and then catching a ferry.
The island is about 15 kilometers from the shores of Phuket's Chalong Bay, so it can even be a day trip destination if you'd prefer to stay mainland.
A great place to stay is The Racha, which provides transportation to the island and includes its own PADI-certified dive center on-site with dozens of options for lessons and guided excursions.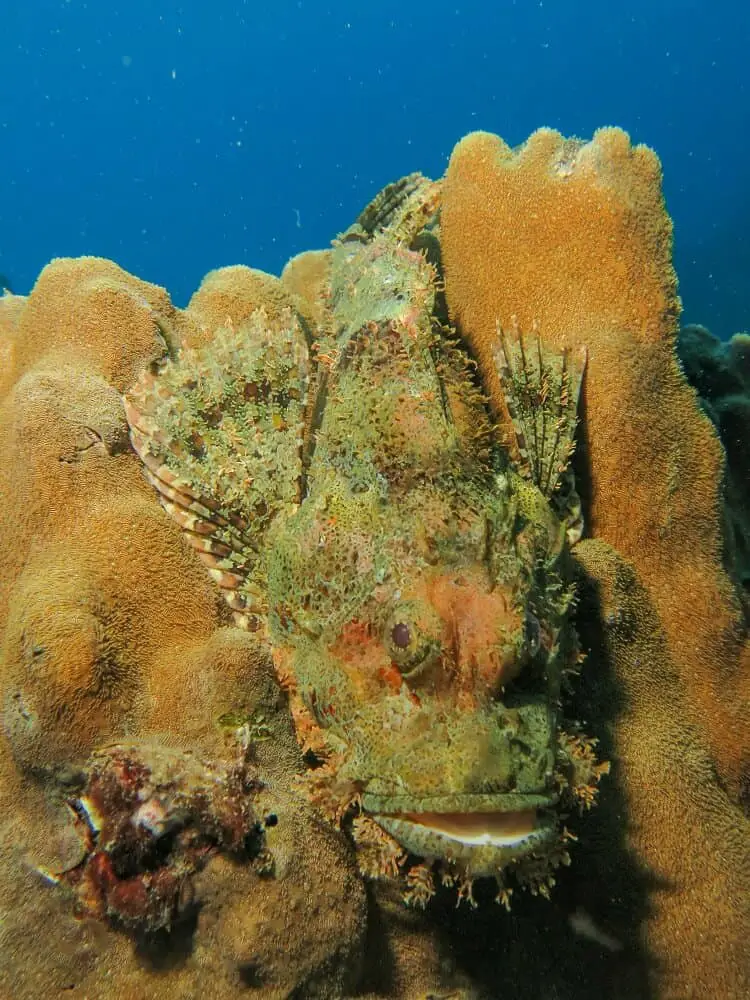 Koh Phangan
Recommended by Pilar of Travel the World Pages
Koh Phangan is an island in the Gulf of Thailand that became worldwide known due to its Full Moon parties. But partying is not the only activity you can do on the island. The island is home to several stunning beaches, waterfalls, and many scuba diving centers.
There are some nice reefs around the island where you can dive but visibility conditions can be a challenge. The best diving spot around Koh Phangan and where most diving schools will bring you every day is "Sail Rock" (Hin Bai).
This giant pinnacle, one hour by boat from the island, is brimming with marine life and holds a surprise for those who choose to dive in the right period of the year. It is one of the best dive sites for whale shark encounters in Thailand.
Another great dive site that you can reach from Koh Phangan is "Ang Thong" marine park where you will be greeted by colorful butterfly fish, black tip reef sharks, and blue spotted sting rays among others.
Sail Rock and Ang Thong are both suitable for divers of all levels and you can have your Open Water diver course in both places. Haad Yao divers go to Sail Rock almost every day.
The fastest way to reach Koh Phangan is by boat from Koh Samui. There are daily planes from Bangkok to Koh Samui. You can stay close to Haad Yao at High Life Bungalow.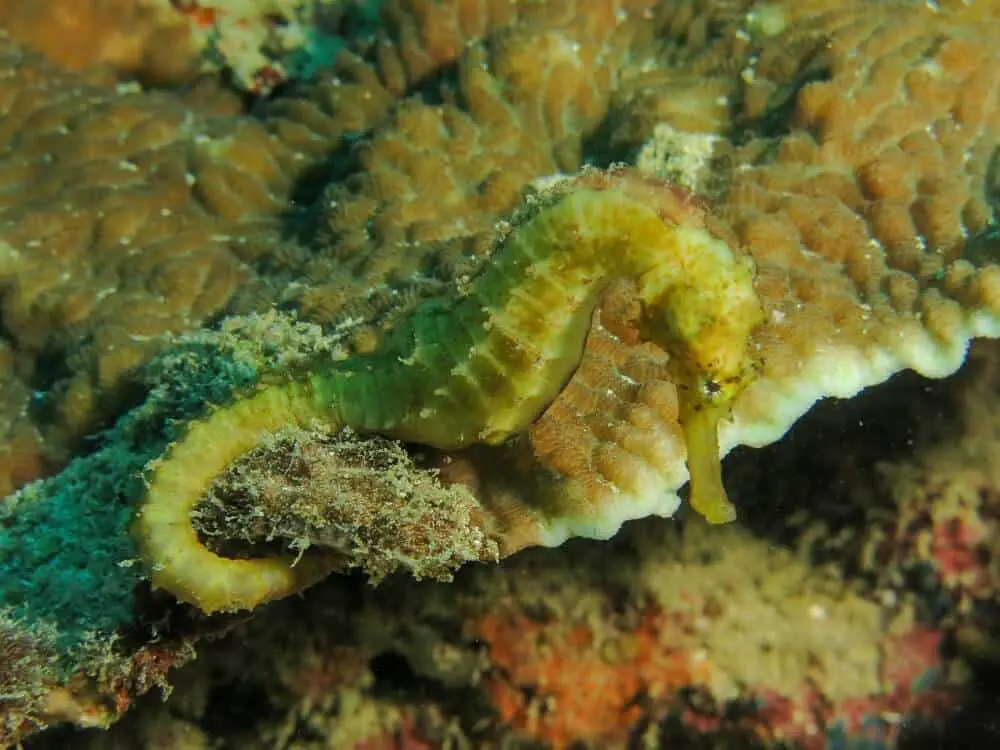 Koh Tao
Recommended by Victoria of Guide Your Travel
Koh Tao is one of the best islands for diving in Thailand and tourists often come here just to get their PADI certification. This is one of the most popular places to get certified in the entire world and also one of the most affordable.
With close to 70 dive schools in Koh Tao, the choice to find the right one can be a challenge. Big Blue Diving and Roctopus are both very popular and can help you get your certification at all different levels from beginner to divemaster or even open water.
However, the majority of visitors are beginners and getting their first introduction to scuba diving in Koh Tao. This makes the island incredible for all different levels of experience and you can see incredible animals like whale sharks, turtles, barracuda, and even sea snakes.
This will depend on the depth you go to of course as well as the season. Koh Tao is great for diving but also a fantastic destination for hiking, snorkeling, and just relaxing by the beach.
Head to Koh Nang Yuan as a day trip for some of the best views in Thailand or go urban exploring at the lost resort in Tanote Bay. The Viewpoint Resort is a great place to stay during your time in Koh Tao although there are more budget-friendly options for divers as well.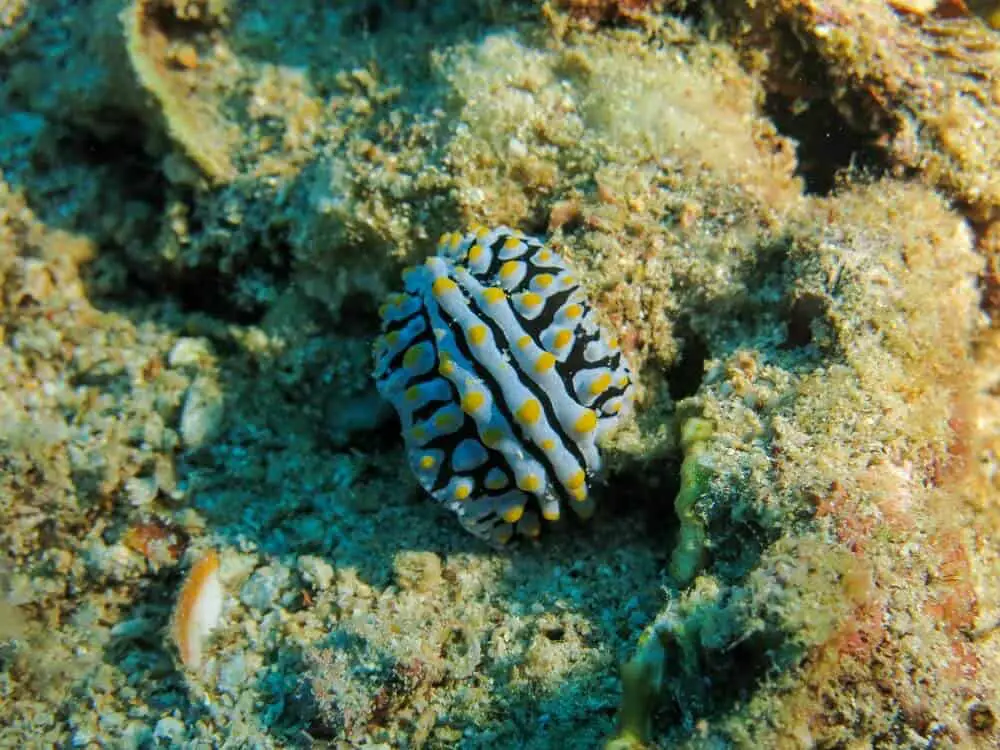 Koh Chang
By Alexander of Travel Your Memories
Koh Chang is Thailand's third largest island and is a great place to add to your Thailand itinerary because of its untouched nature. It is located in the east of Thailand, so you can combine it well with a trip to Cambodia.
However, the true beauty of the island can be found underwater as it hosts some of the best dive sites in Thailand.
The underwater life in the vicinity of Koh Chang is truly beautiful and scuba diving Thailand doesn't get much better than this. Expect loads of colorful tropical fish, large barracuda, and lots of beautiful coral reefs making diving in Koh Chang a must-do.
Whether you are an experienced diver or just want to learn Koh Chang is a suitable place to dive. Besides experiencing some of the best diving spots in Thailand, you can also snorkel at Koh Chang.
You can book many diving tours on the island. The best-known organizations are BB Divers and Dolphin Divers, which are also recommended by Lonely Planet.
Popular dive sites are Koh Rang and the shipwrecks off the coast of Koh Chang: the Thornbury shipwreck, the HTMS Chang, and the T11 wreck.
With a lot of luck, you might even see whale sharks. The best time to dive is between November and May when visibility is best and the water is calmest.
Besides diving, you can visit beautiful beaches and waterfalls, and rent a scooter to tour the island. If you are looking for nice accommodation, Chivapuri Beach Resort is recommended, as they have an exclusive beach there, parted from other tourists.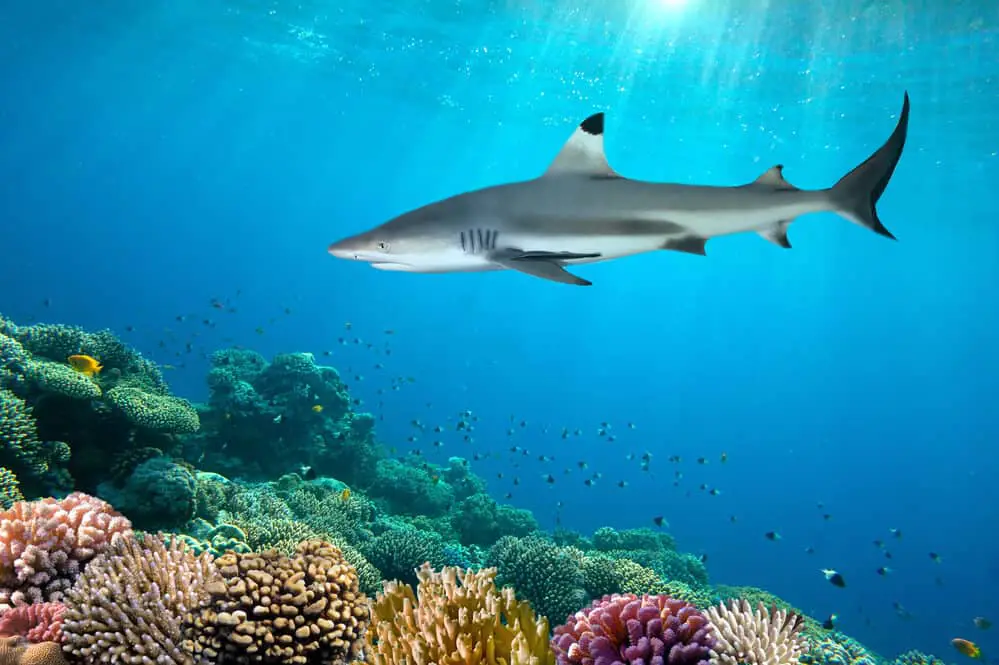 Koh Lanta
By Cassie of Cassie the Hag
If you're looking for a relaxing destination to enjoy beautiful underwater views, you'll love diving in Koh Lanta. While the diving costs are more expensive here than some other budget Thailand dives, it's generally considered worth it – both for the exceptional dive centers and the location itself. 
There are dive sites here for beginner and medium-skilled divers, such as Koh Ha (which includes swimming into a large cavern), Koh Bida, and Koh Rok, whereas experienced divers can take an adventure at the Hin Deang, Hin Muang, and Kled Keow Wreck dives.
A vast assortment of marine life has been spotted here, including whale sharks, rays, and turtles, alongside dozens of small and large fish varieties.
There are many 5* dive schools, including Andaman Dive Centre. They were more dedicated to sustainability than in other locations I've dived, with reusable water cups on board and reminders not to touch any underwater wildlife.
Options for diving courses include PADI open water certificates, refresher courses, and PADI divemaster! You can choose between day trips or diving and accommodation packages for fun diving.
In between your dives, don't forget to explore Koh Lanta! Explore the area with island hopping trips, snorkeling off the pristine local beaches, or rent a scooter to explore Mu Koh National Park.
Many accommodation options are available, with many overlooking the laid-back beaches, including the budget-friendly Andawa Lanta Resort or the luxury Pimali Resort.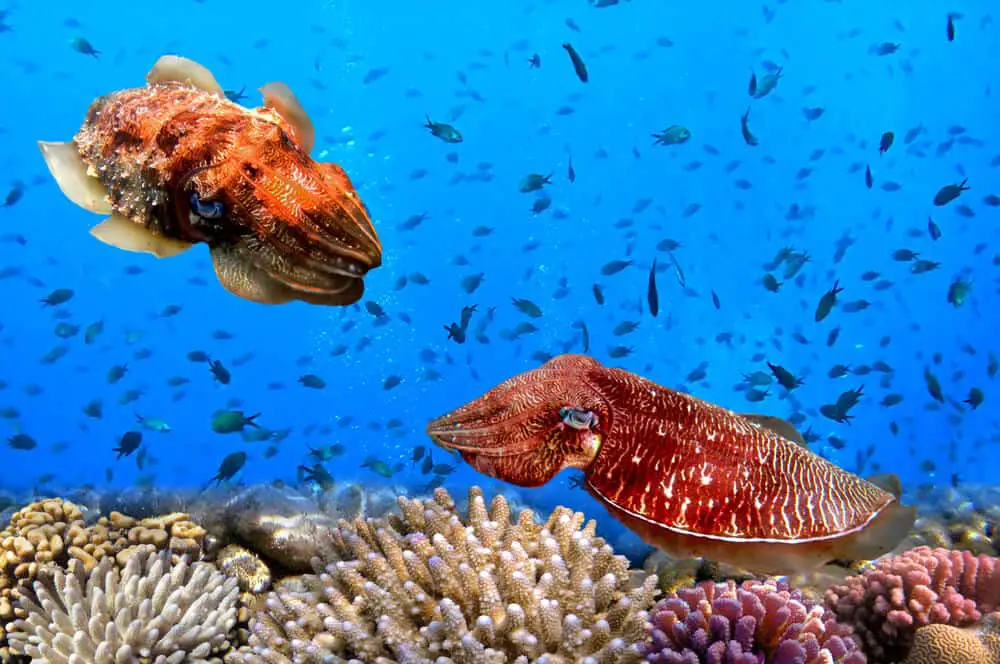 Reflections on scuba diving in Thailand
After looking at some of the best places to scuba dive in Thailand, I bet you've already started planning your trip to Thailand. I've dived in multiple dive sites across different countries, and I have to say that when it comes to diving, Thailand is high up there with the most epic places.
There is no reason to wait to try scuba diving for the first time. I accompanied my friend taking his Open Water course in Thailand, diving along on some of the dives, and it was a great experience.
With so many incredible places in the world to scuba dive, Thailand definitely deserves to be added to your diving bucket list.
Make sure you practice sustainable tourism in Thailand and follow ethical diving practices: don't touch the reefs, and don't feed fish. If you find any rubbish underwater, make sure you pick it up and put it in your pockets to dispose of it properly once back on land.
If you happen to see unethical practices from any dive instructors or other dive center employees, make sure you report it so that we can all contribute to a clean ocean and safe dive environment for both divers and the underwater inhabitants.
Enjoy scuba diving in Thailand!