Thailand is one of the most popular countries to visit in Southeast Asia and is on most party backpackers' bucket lists. However, the country is paying the hard toll of overtourism and devastated nature.
So, should we stop traveling to Thailand altogether?
Not likely.
The economy in Thailand is much dependent on tourism. So how can we as travelers make sure we leave a positive impact on the country, its inhabitants, nature, and wildlife?
Sustainable tourism sounds like an epic global effort and it sure is. But we can all make a difference by ensuring WE make the right choices when traveling.
To help you get started, I've put together these easy steps to sustainable tourism in Thailand that you can incorporate without considerable effort on your next trip to the land of smiles.
Disclosure: This post may contain affiliate links. That means that if you make a purchase through one of those links, I will get a small commission at no extra cost to you.
Sustainable tourism in Thailand
Support local
One of the easiest ways to support Thailand eco tourism is to support local. Whether it is by shopping in locally owned stores, or street stalls, choosing street food and local restaurants over foreign-owned chain restaurants, or checking in at a Thai-owned hotel or homestay instead of a foreign-owned chain hotel.
Luckily, when it comes to food, the local food is so amazing that it is hard to opt for anything else. When it comes to picking hotels, it might be trickier.
If you travel off-season (I'll get back to that later,) you can easily walk around looking for a place to stay when you arrive at your destination. Other than large cities like Bangkok and Chiang Mai, you can easily find local bungalows and hotels a little bit away from the main streets.
This way, you support families that naturally get fewer guests and you might even save a few Bath since the hidden places often are more economical.
Community-based tourism in Thailand is also a great way to support sustainability.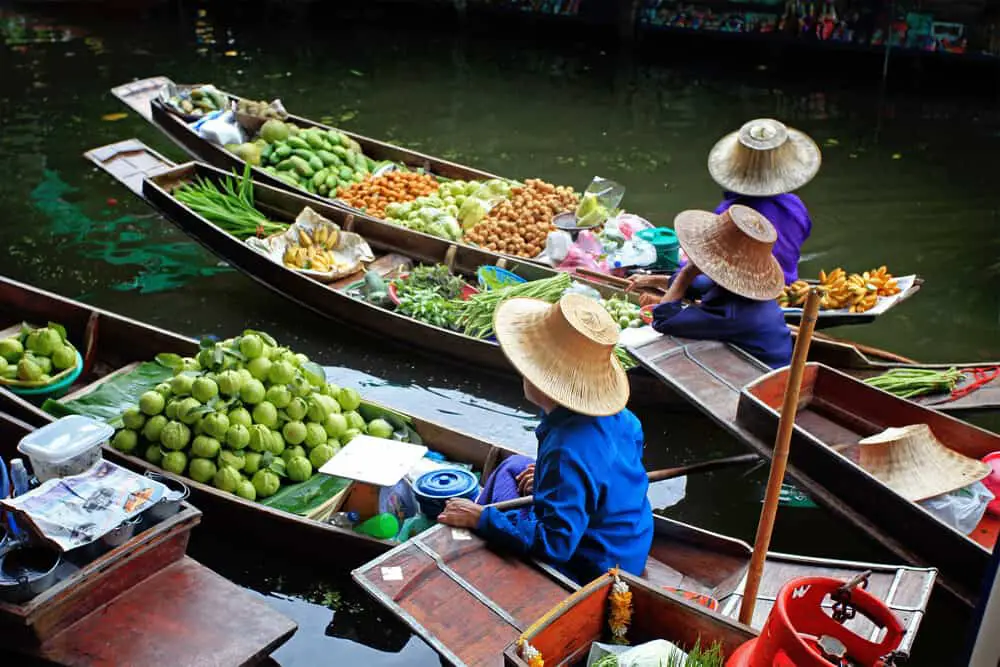 Avoid Tiger Temples
When talking about responsible tourism in Thailand, I have to mention the tiger temples. I still see articles trying to seduce tourists saying that the tigers aren't drugged and that it's totally ethical to visit.
Well, it's not. Generally, any place that lets you take selfies with wild captured animals is a no-go. The first few times I was in Thailand, everyone talked about one of the best things to add to your Thailand bucket list– visit the Tiger Temple where tigers and monks lived in harmony.
There, you could take a picture with a tiger, and even better, with a cute tiger cub. In 2016, the tiger temple was shut down due to unethical practices and trading tigers and their body parts.
According to the above article, tourists mainly wanted selfies with the tiger cubs. Thing is, these babies grow up in size in only 6 months and are no longer cute cubs. So how do they breed so many cubs constantly to constantly have them for tourism display?
How is it even ethical to make so many babies when the animals are going to live the rest of their lives in captivity and there are no plans for conservation or preparing rescued tigers for returning to the wild?
These places are literally tiger zoos. You can read more about why you should not visit for-profit sanctuaries and zoos in this post.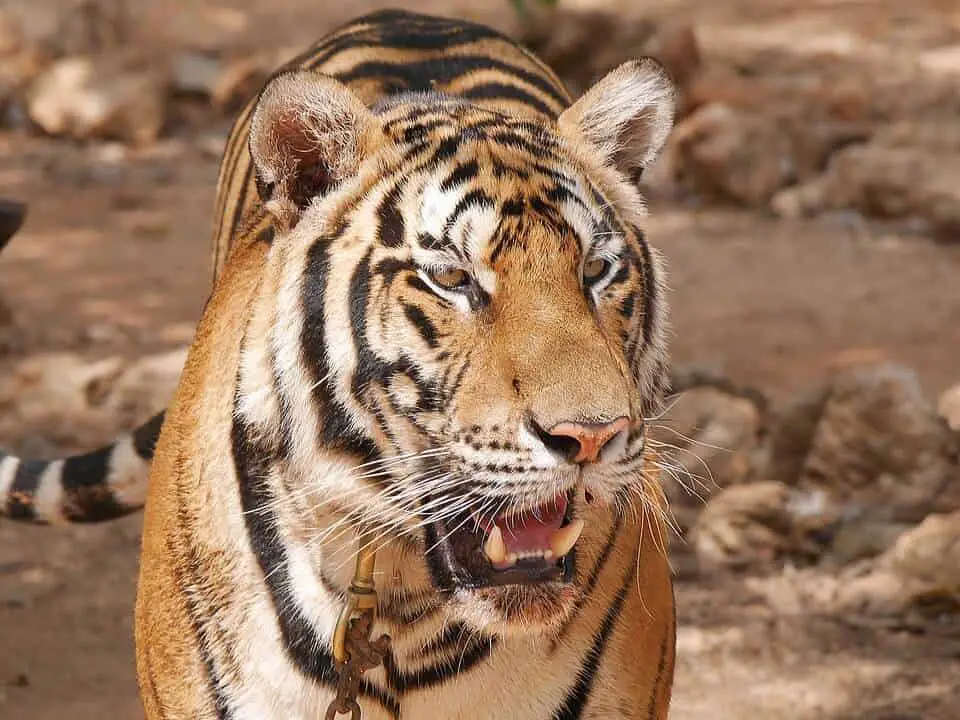 Don't ride, bathe, or feed elephants
It's already quite widespread that you shouldn't ride elephants. Their spine is not created so that it should handle the weight.
Furthermore, the dreaded process of training elephants to obey humans is something that no one should support. It literally starts with the baby elephants being taken away from their mothers at a young age. They are then put through psychological and physical torture which is referred to as "The Crush."
Yet, there are a lot of sanctuaries that greenwash their business in Thailand.
There are even places that own two different elephant sanctuaries. One is where elephants are used for elephant rides and paintings, etc. while the other is for the ethical tourists that just want to see the elephants and have an ethical experience.
Thing is, the same elephants that you have an ethical meeting with today, might be sent to carry tourists around at the other venue the next day. In fact, the money you pay goes to the same owner and supports the same unethical activities that you don't want to take part in.
Unfortunately, it's hard to assure that the elephant sanctuary that you visit is ethical.
Further, some sanctuaries offer tourists bathing with the elephants. Think about it. Bathing the elephants means that the elephants have to take a bath at the exact time when tourists are around, they have to be watched over by a mahout so they won't accidentally hurt the tourists, and they lose the sense of freedom to do what they feel like when they want to.
Which is kind of the point about being in a sanctuary, isn't it?
You can find a list of ethical elephant sanctuaries in Thailand and beyond here.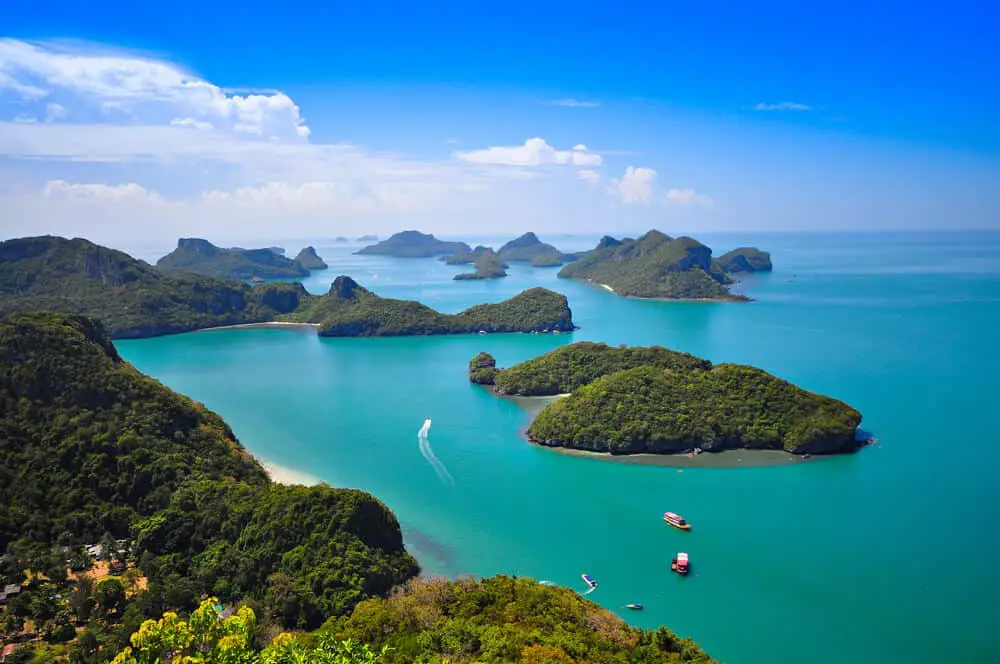 Travel long distances by boat, bus, or train
When traveling long distances, it can be tempting to take a flight. But sustainable travel in Thailand by train or bus (or boat) can be just as easy.
You avoid the check-in and boarding process, and unless you're only carrying hand luggage, you save the painful wait for your bag.
If you head to one of the bigger islands with an airport, like Phuket or Koh Samui, why not make it an epic Thailand island hopping experience instead and explore some other islands along the way?
Islands like Koh Phi Phi, Koh Lanta, Koh Mook, and Koh Phangan are great for this, but there are also lesser-known islands worth tapping into.
You can save money both on accommodation and transport costs by taking the night train or night bus, though I have heard some dodgy experiences about night transport, thus I've avoided it myself.
However, if you have enough time and want to practice green travel, Thailand has an excellent network of public transport between places.
Travel in the shoulder seasons
When you consider sustainable tourism, Thailand is an epic destination to travel to in the shoulder seasons. If you don't mind heavy rains, feel free to head there in the rainy (low) season too, which is considered the low season. I haven't been there personally during this time (July to October,) but it rains A LOT!
In November, the tourist season starts to peak and even the beginning of December in Thailand is better than later in the month and throughout March.
The other shoulder season is from April to June and you might experience mild, dry weather as in the high season. But with fewer tourists.
This is excellent news! And on top of that, the prices of accommodation are often lower. However, some lesser frequented places and islands, like Koh Mook, might not be possible to reach, so make sure you do your research before your trip.
Traveling outside the peak season also contributes to a boost in the local economy at a time of the year when families usually don't earn much money as well as less stress on the destinations in high season.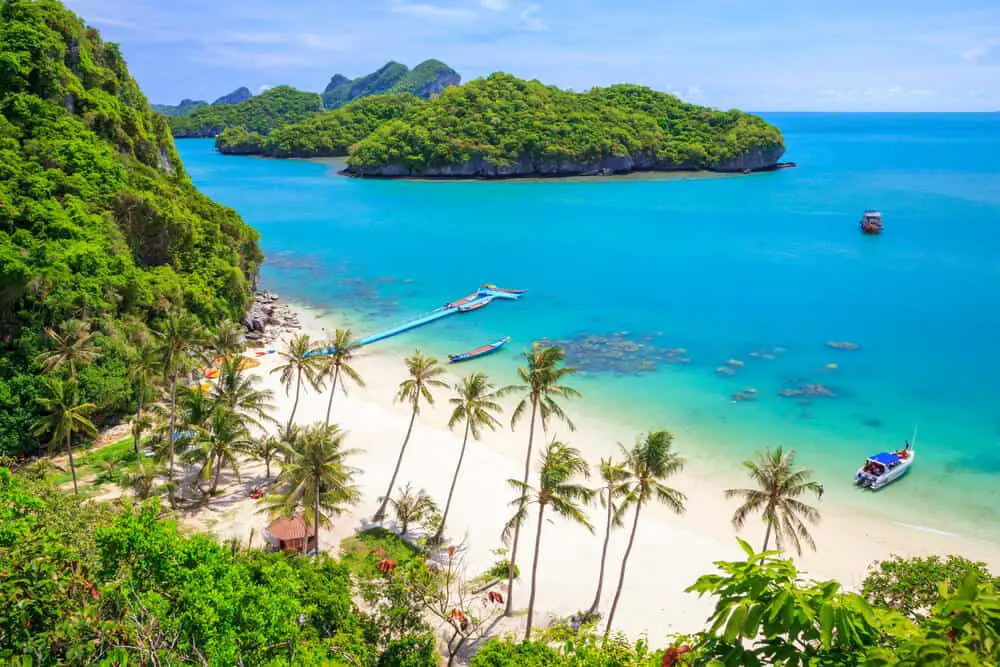 Travel off the beaten path
Traveling in Thailand off the beaten path is a great way to contribute to eco tourism. Thailand has a heavy tourist load in certain areas while others don't see many travelers.
Spreading the tourist money to lesser-visited places supports a positive impact of tourism Thailand can benefit from as a country.
There are many amazing hidden gems in the country where you can enjoy long white-sanded beaches without the crowds, stay in homestays to get a deep dive into the local culture and customs, and head out into the untouched jungle. Even if it's your first time in Thailand, it is well-worth traveling off the beaten path.
Traveling off the beaten path is truly one of the most rewarding ways to contribute to green tourism in Thailand.
Choose ethical tour companies
When you go on day tours in Thailand, make sure you choose ethical tour companies. First of all, make sure they only promote ethical activities on their tours, eg. no unethical animal tourism.
A company that's locally owned and proactively supports ethical and eco friendly activities, supports conservation work or local organizations, is usually a good place to leave your money.
If you are unsure about their take on sustainable tourism in Thailand, you can always ask them a few questions about it. If they try to avoid answering, it's often a bad sign.
On the other hand, if they can show for projects they support in any way, it means they are making a difference, or at least on their way to improving.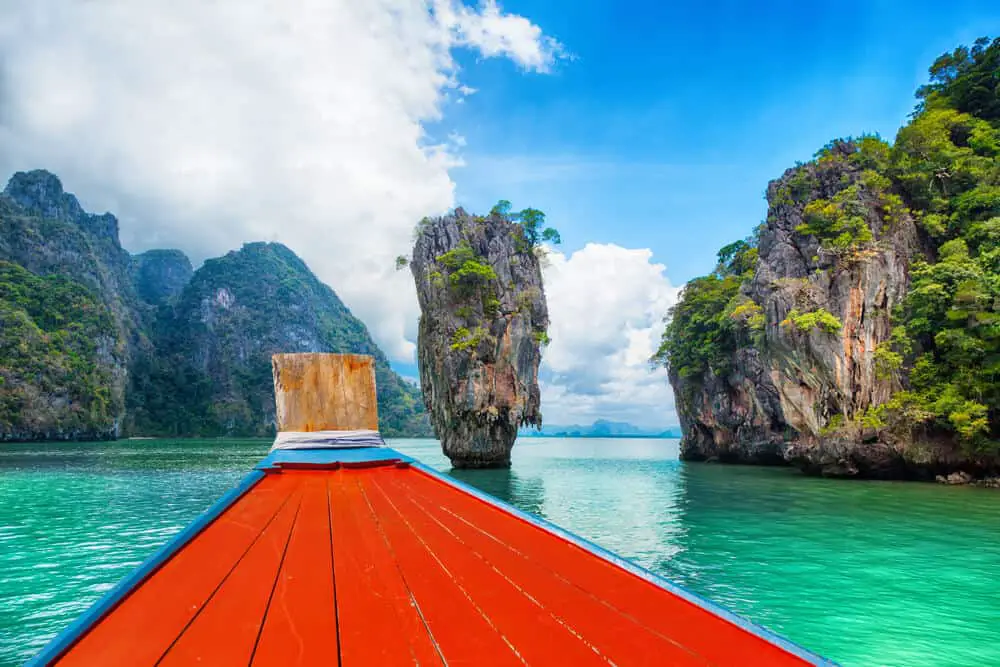 Choose ethical and local dive centers
If you go scuba diving in Thailand (which you totally should,) you should take time to carefully choose an ethical and locally owned dive center.
Most islands in Thailand have a variety of dive centers to choose from and in most places, there is at least one local dive center to choose from.
A dive center that promotes ethical diving and leave no trace, is usually a positive sign, though others might not show it, yet practice it.
Even if the dive center promotes ethical diving, it's good to know that not all dive instructors or other employees follow these guidelines.
So if you go on a diving trip and experience dive masters and instructors touching corals, feeding fish, throwing cigarette butts in the water, or doing other unethical actions, let the managers know in a nice way.
It might be that they don't know (even though as a diver I think that they should know,) or that they aren't being a good example for the company.
Finally, make sure you, as a responsible traveler, pick up any rubbish you might find during your dive and put it in your pockets until you can dispose of it in a proper manner.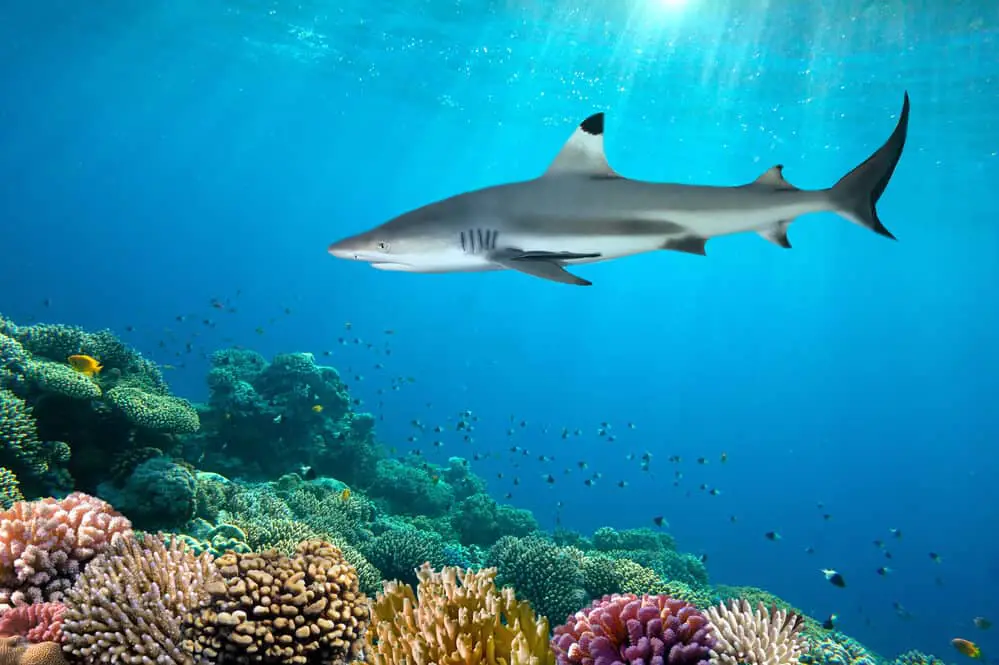 Do a beach clean-up
An easy way to contribute to responsible travel in Thailand is to do a beach clean-up. There are many local organizations to look up for organized clean-ups.
I suggest doing a quick Google search on the destination you're at or checking local Facebook groups for beach clean-ups.
However, you don't need to join an organized beach clean-up to make a difference. I often just brought a bag or five with me to the beach and started picking. Sometimes local kids or other travelers would come and join me, while other times I would pick a few bags by myself.
No matter how you do it, I can assure you that it feels really good to see the result!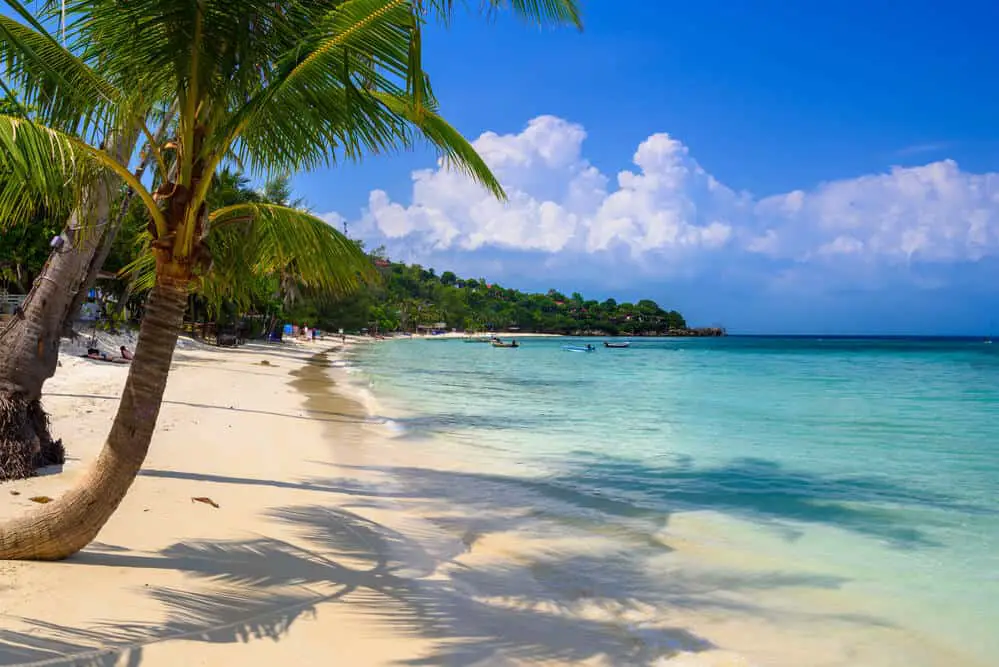 Choose human-powered transport when possible
When traveling, it can be tempting to take tuc-tucs or taxis for shorter distances, while you could easily walk half an hour instead.
Instead of renting a scooter, consider the distances you plan to undertake and see if it's possible to rent a bicycle to get around. I get it, some areas can be too far apart for day trips with the bike, but I'm sure you can swap out the scooter at least on some excursions.
Finally, can you rent a kayak to explore around the island instead of booking that boat tour?
There are many possibilities and a slow pace travel experience often rewards you with a whole lot of unexpected adventures that you would never have had otherwise.
Reflections on eco tourism Thailand
There is no doubt that you can contribute to sustainable tourism in Thailand easily by incorporating a few of the above suggestions.
You can also focus on visiting eco tourism destinations in the countries you visit to make a positive impact while supporting great initiatives.
Thailand is truly one of my absolute favorite countries in Southeast Asia and the one I've returned to time after time, so seeing that you are concerned about exploring it in a responsible way warms my heart!
No matter where your trip to Thailand takes you, I'm sure you will have a blast. Thailand eco tourism is becoming more popular these days and the more we talk about traveling sustainably, the more people will join in with new knowledge.
Happy travels!