Whether you travel to Thailand for the first or fifth time, there are a few things that should be on your Thailand bucket list.
After exploring the country excessively over several trips returning to places and heading to new places, popular and hidden gems alike, Thailand has turned into a "home away from home" in southeast Asia.
While I think it is impossible to have explored it all – because let's be honest, the more you travel, the more you add to your bucket list – I have experienced way more than the average traveler in the Land of Smiles.
The incredible country is not only temples and tropical islands (though there's nothing wrong with either!) but you can explore deep jungles, chase waterfalls, and uncover ancient civilizations. Thailand has it all – and most of all, the weather is just amazing!
In this post, I've put together some of the things I think should be on every travelers Thailand bucket list so that you can start planning your Thailand itinerary.
Read on to build up your own unforgettable bucket list Thailand adventure.
Disclosure: This post may contain affiliate links. That means that if you make a purchase through one of those links, I will get a small commission at no extra cost to you.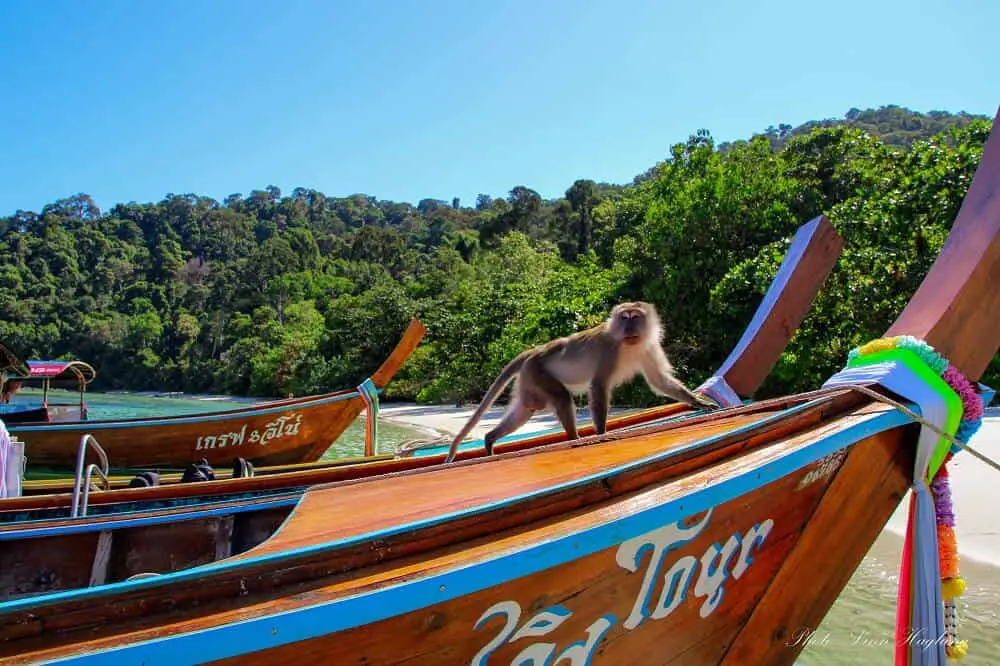 BE A SUSTAINABLE TRAVELER
Top tips for sustainable tourism in Thailand
Thailand bucket list
Go island hopping
Since Thailand is loaded with breathtaking islands, each with its own unique features, island hopping is a popular activity among travelers.
Island hopping in Thailand gives you the opportunity to discover more than one island and transport between islands is easy as Thailand is such an organized tourist country.
Depending on the time of year you travel, head to the Andaman Sea to discover islands like Koh Lipe in the far south, Koh Mook, and the more popular and bigger island of Koh Lanta.
Another popular itinerary is Phuket, Koh Phi Phi, or Koh Samui and Koh Phangan. No matter where you choose to travel, island hopping in the land of smiles will change your life.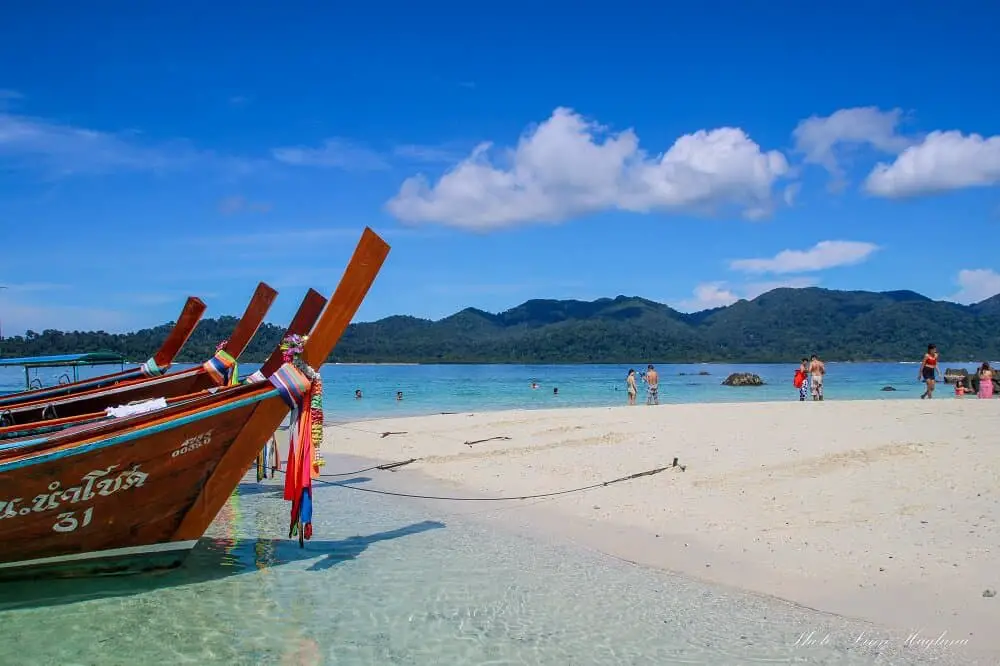 Visit Wat Arun in Bangkok
The prang towers at Wat Arun, which are 82 meters tall, are the most beautiful buildings in the capital city and visiting is one of the best things to do in Bangkok.
You'll see the majesty of the towers on the riverbank when you arrive by boat. The trip to Wat Arun is a must do in Thailand, and it's convenient because the river taxi stops there. Thus you can easily fit it into one day in Bangkok.
Even though the stairs are steep and narrow (beware if you have vertigo!), the views are worth it. This temple is beautiful, with tiny porcelain mosaics in different colors all over it.
The big stupa is lit with green lights every night, making for a beautiful show. It only costs 50 baht for you to get in, and it's open daily from 8 am to 6 pm.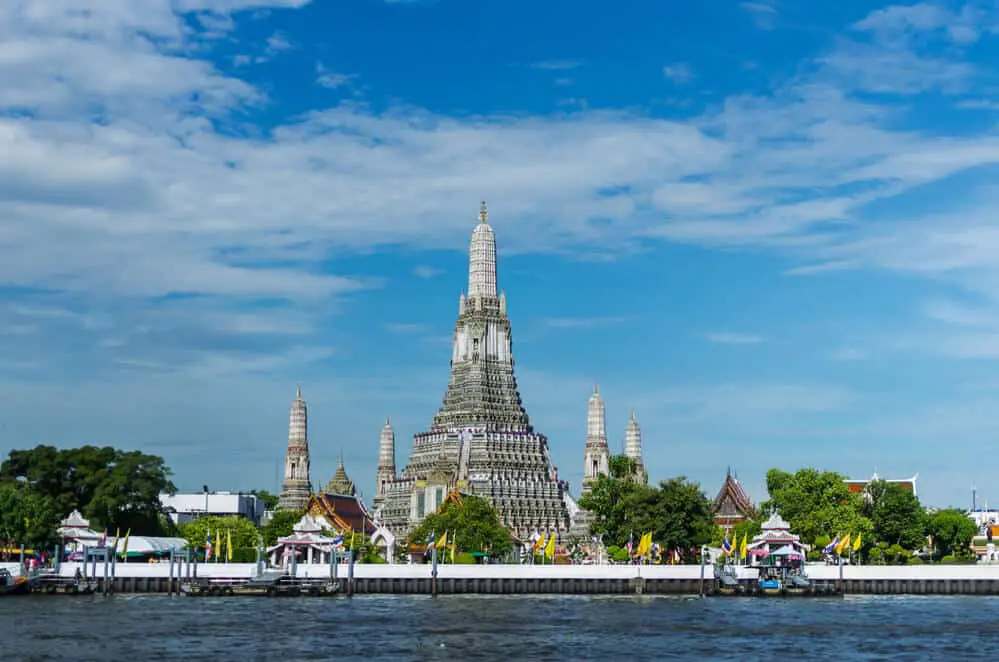 TOP RATED ACTIVITIES IN BANGKOK
Go on a boat trip around Phi Phi islands
A boat trip around Phi Phi Islands is popular among tourists and should be on your Thailand bucket list, especially if you are a fan of Leonardo di Caprio!
The actor filmed scenes for his film "The Beach" on Maya Beach, which is accessible through a boat tour. Note that the beach has been closed due to overtourism in periods, so keep responsible tourism in mind whenever you travel.
Among the best things to do on Phi Phi is to hike up to the viewpoint to enjoy a stunning view of the Andaman Sea and the Koh Phi Phi islands. Afterward, you can go for a leisurely stroll along Ton Sai Bay's sois to experience Kho Phi Phi Don's busiest region.
With so much to do on Kho Phi Phi Don and five other islands in the Ko Phi Phi group, it is included in the list of the best things to do in Thailand for most travelers as one of the best places to visit in Thailand for first timers.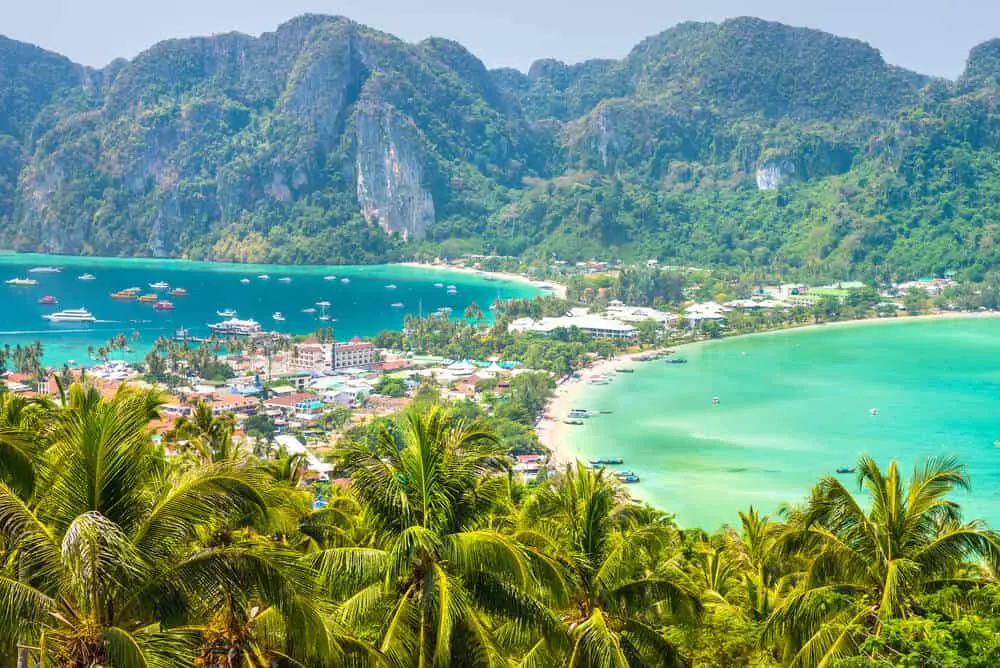 Kayak to Emerald Cave in Koh Mook
Visiting Emerald Cave is among the top things to do in Thailand. It's Koh Mook's most popular attraction and one of the most impressive natural landmarks in Asia. To reach the cave you have to rent a kayak and go early in the morning to avoid the crowds and have the best light to snap beautiful photos.
It is a 80 meter long tunnel where you can only swim through or kayak at low tide to reach the tiny beach inside the end of the cave that opens up with vertical cliff walls to the natural light above you.
But, don't forget to bring a waterproof sports camera and a flashlight or headlamp if you plan to kayak for an extended time. This is surely one of the most impressive things to do on Koh Mook, which is still considered fairly off the beaten path in Thailand as most tourists just visit the cave without seeing the rest of the island.
You can alternatively swim and snorkel in Emerald Cave on a boat tour. All tours include snorkeling gear, waterproof lanterns, and lifesaving jackets for emergencies.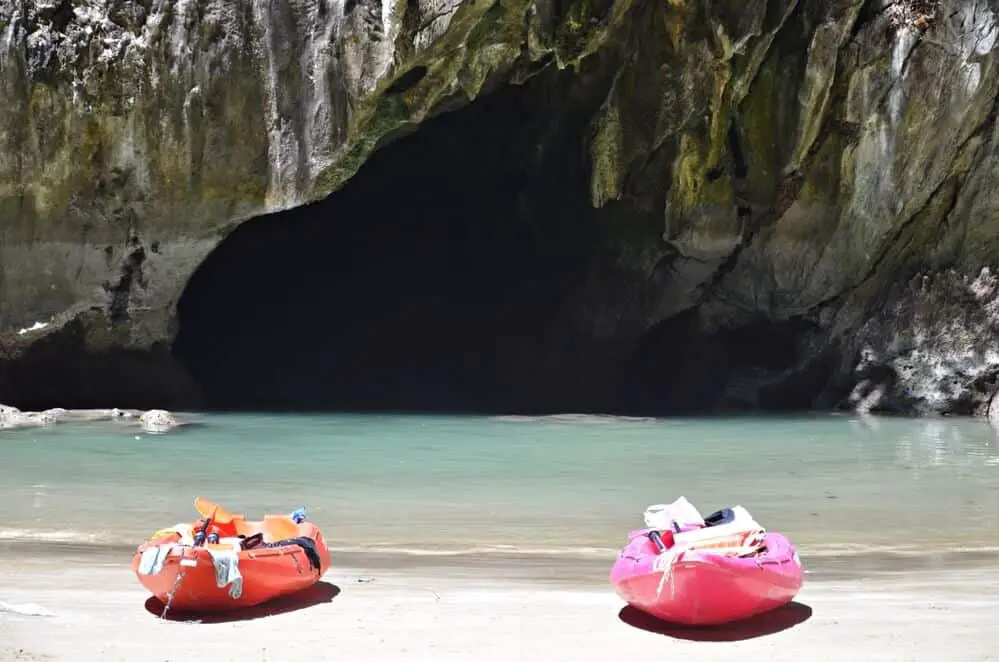 Scuba dive in the Similan Islands
The Similan Islands are situated north of Phuket, and are an ideal island stop for diving aficionados. Scuba diving at Similan islands is among the must do things in Thailand because the waters around the island are clear and can provide up to 30 meters of underwater visibility (100 feet). 
Due to its magnificent underwater ecosystem, it has been named one of the top ten diving locations in the world, and it is comparable in beauty and marine life to the Galapagos Islands. I bet you already can guess that this is one of the absolute best places to scuba dive in Thailand.
These islands have beautiful coral reefs and crystal-clear shallow water. If you like exploring distant and barren areas teeming with animals then visiting these islands is for you. You'll witness komodo dragons, various tropical birds, and other creatures.
To travel to these islands, take a day trip boat cruise from Chalong or Patong. Scuba diving at the Similan islands is best done during the dry season, which runs from December to May.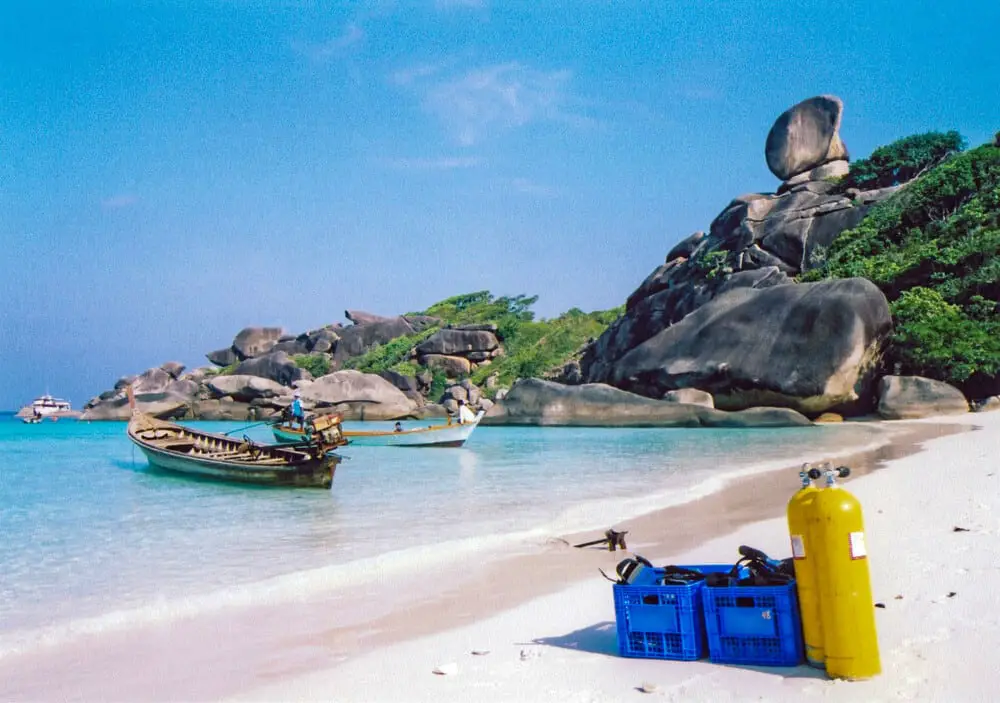 Explore Ayutthaya
Your trip to Thailand would not be complete without visiting Ayutthaya to fully appreciate the country's history. This ancient historic city, constructed around 1350, served as the Siamese Kingdom's second capital. And it became one of the world's largest, key centers of diplomacy and commerce from the 14th through the 18th centuries.
Unfortunately, in 1767, the Burmese stormed and destroyed Ayutthaya. The city was devastated by fire, forcing the population to flee.
What remains is a notable UNESCO World Heritage Site covering 289 hectares. The magnificent Buddhist temples and high 'prang' (reliquary towers) reveal the city's heritage and architectural magnificence.
There are numerous day trip options from Bangkok to Ayutthaya. You can travel individually or join a group tour.
The entrance fee varies depending on the temples you visit during your day trip. The most significant temples in Ayutthaya, including Wat Chai Watthanaram, Wat Phra Si Sanphet, Wat Mahathat, Wat Ratchaburana, and Wat Phra Ram, cost 50 baht, but others are free.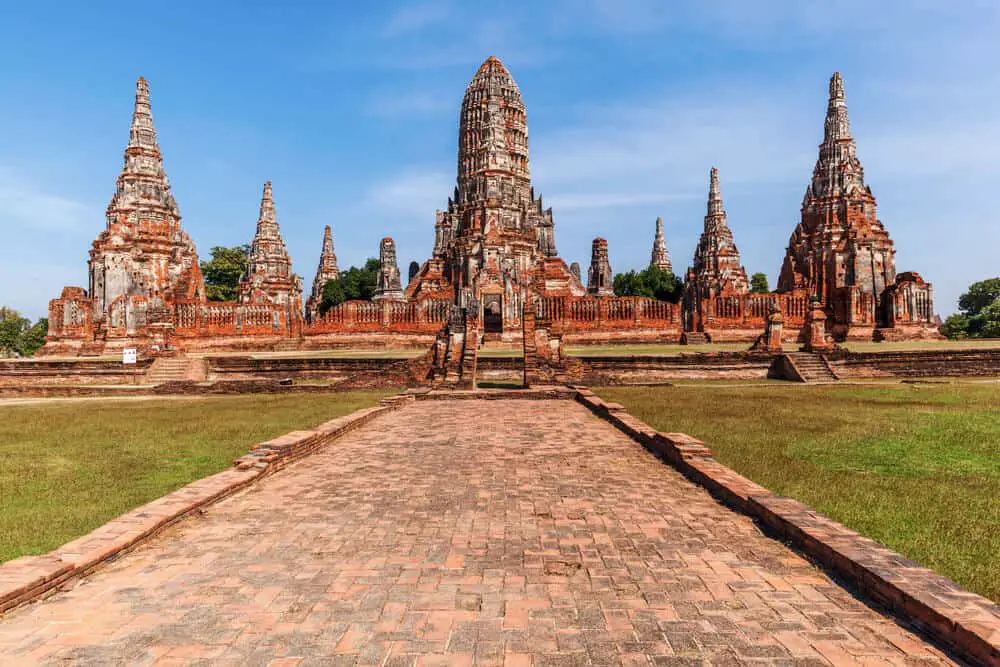 Visit the Big Buddha in Phuket
When you plan a trip to Phuket, you must put the Big Buddha on your list of the best things to do in Thailand. This 45-meter-tall statue made of marble is a must-see.
The famous Big Buddha was built in 2002 on top of Nakkerd Hills in Chalong. It is a famous religious landmark for Thais and tourists. On a good day, over 1,000 people visit the impressive monument so you can only imagine how this has turned into a Thailand bucket list attraction.
The Big Buddha is free to visit, but putting a small amount in the donation box is a nice gesture, since the Big Buddha was built entirely with donations.
Even though the Big Buddha is a popular place for tourists to visit and among the best things do in Phuket, it's important to remember that the statue is also part of a temple where monks live and work. Because of this, it is essential to dress modestly, with shoulders and knees covered and no beachwear.
Remember that your clothes will be checked at the door, and if it doesn't cover you enough, you can borrow a free sarong or shawl for your visit.
You can visit the Big Buddha daily from 6:00 to 19:30, which means you can visit it at sunrise and sunset.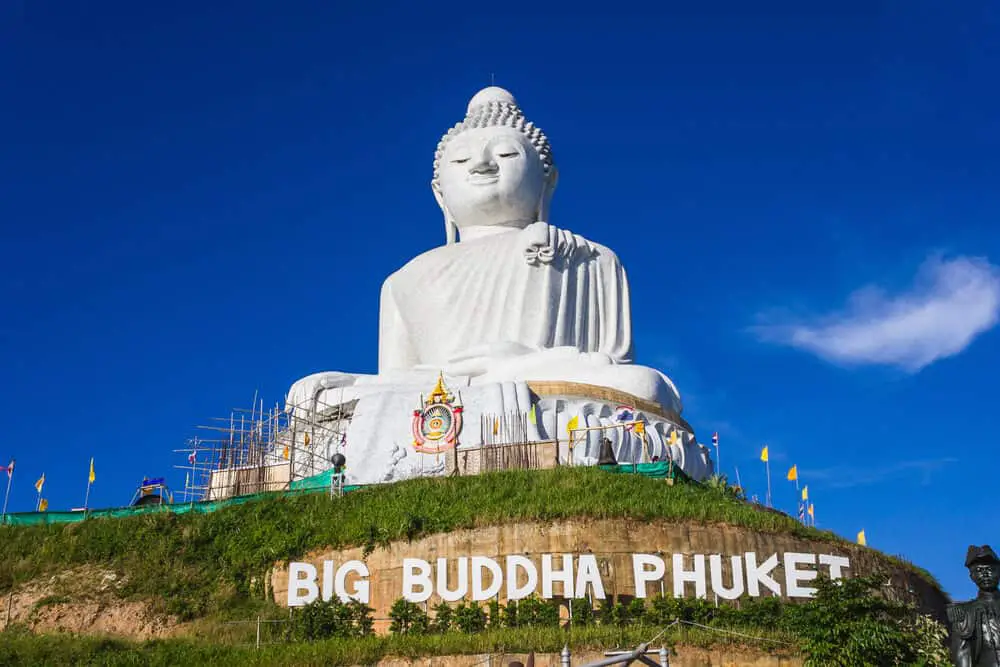 TOP RATED TOURS FROM PHUKET
Explore Sukothai by bike
Another great place to include in your Thailand bucket list is Sukhothai, considered the cradle of Thai civilization. It was previously the site of Siam's first capital city, constructed in the 13th century by the famed King Ramkhamhaeng.
You should visit Sukhothai Historical Park, a popular tourist destination. It's best to visit this park as early as 6:30 to avoid crowds.
But first, you will need to rent a bike to tour Sukhothai Historical Park. You may rent one for 30 THB daily at OR Shop, located just in front of the park.
After you've got your bike, purchase your ticket to the park. You must pay for the admission fee and the bike, which should cost 100 THB (20 THB for Thais) + 10 THB. Now you're ready to ride to Wat Maha.
Wat Maha is the most spectacular temple in the park. This temple was built in the late 13th century and has a massive lotus-bud-shaped chedi, four corner stupas, four Khmer-style prangs, an assembly hall, and many other amazing features. 
Afterward, ride to Wat Si Sawai, situated directly south of Wat Maha That. Then return Wat Maha, but instead of turning right, take a left towards the Silver Lake, where you will discover Wat Traphang Ngoen, a modest Sukhothai-era temple with a beautiful view of the Silver Lake.
Then proceed to Wat Srasri, placed photogenically in the center of the lotus flower-filled Tra Phang Tra Kuan pond, located just north of the Silver Lake.
After riding around the park in a circle, you should reach King Ramkhamhaeng Monument, where you may pay your respects to the great king who reigned over Sukhothai from 1279 to 1298.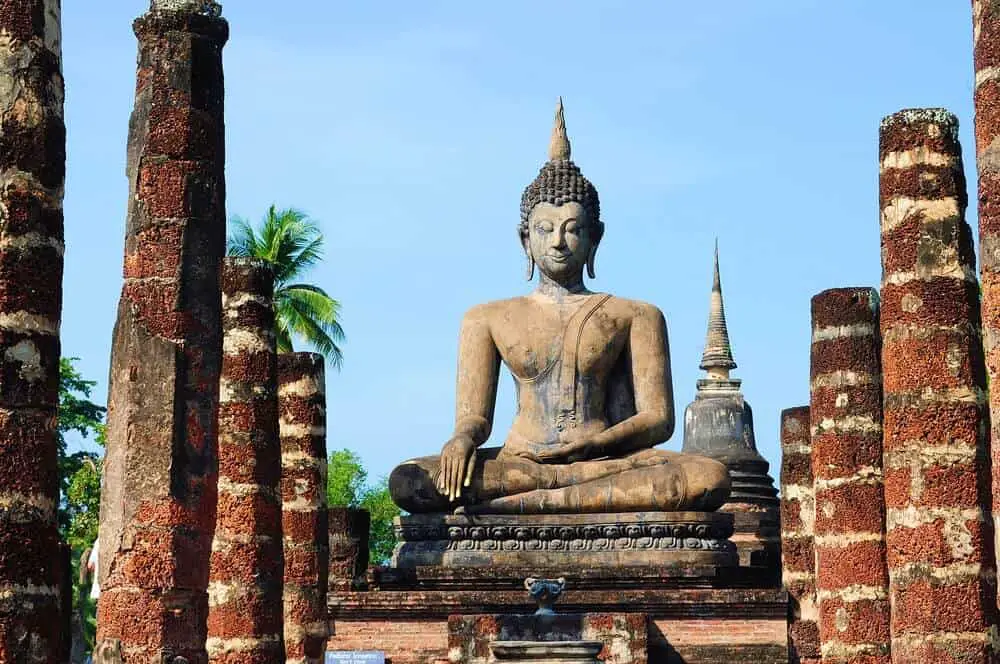 Visit the Grand Palace in Bangkok
A visit to the Grand Palace is a must do in Thailand. It is Bangkok's most popular tourist attraction. It was completed in 1782 and served as the official residence of the King of Siam. After then, the Thai king and his court called that area home for more than 150 years, up until 1925.
While at the Grand Palace, visit the Emerald Buddha, a priceless Buddhist relic dating back to the 14th century, housed at the Wat Phra Kaew temple.
Millions of tourists yearly are amazed by its golden stupas, giant guardian sculptures, brilliant embellishments, and wall murals. The Grand Palace should be your first and last stop in Bangkok. You should be there as early as possible to escape the biggest crowds.
There is an entrance fee of 500 Baths, and it is open from 8:30-15:30. Males must wear long pants, and females must cover their knees and shoulders.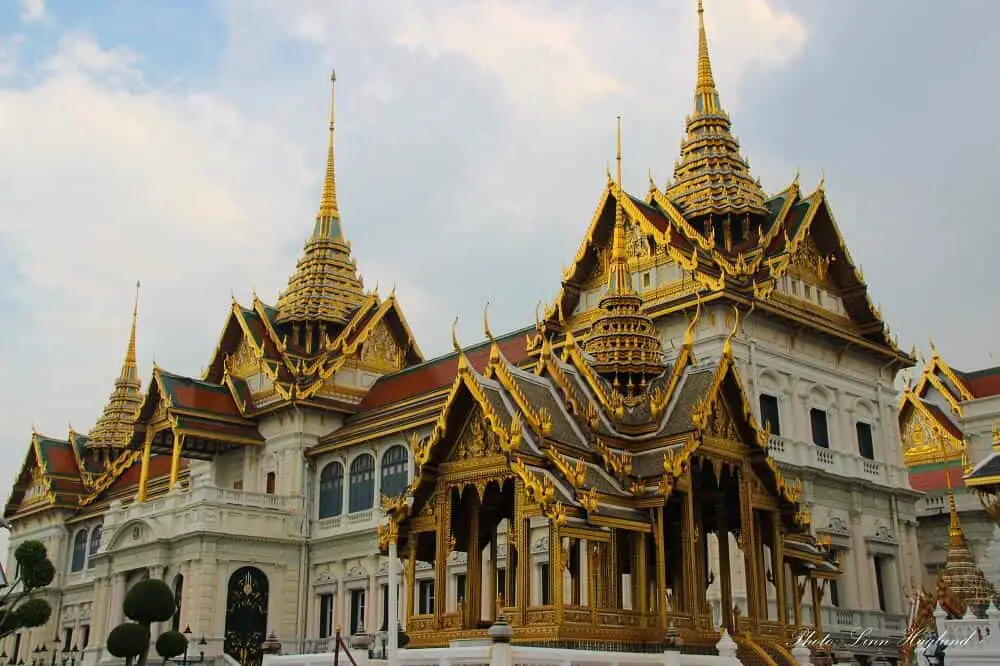 Chill at the beach in Koh Ngai
When planning an island-hopping vacation in Thailand, don't forget to include the small, deserted island of Koh Ngai, which is home to powdery white sand beaches.
There are several places to stay on the island, including the luxurious Koh Ngai Resort, or you may choose to stay in one of the inexpensive bungalows near where long-tail boat docks.
You can spend a day or two on Koh Ngai relaxing on the beach, reading a book, and eating delicious Thai cuisine. This is the perfect place to recharge batteries on a longer Thailand itinerary.
There are several coastal restaurants where you can get a bite to eat and a cool drink while strolling along the undeveloped beaches. There are also restaurants in the island's hotels where you can stay up late listening to live music.
Note that there are no cash machines on the island, so you must bring cash if you want to pay anything outside the resorts, including getting a longtail boat off the island.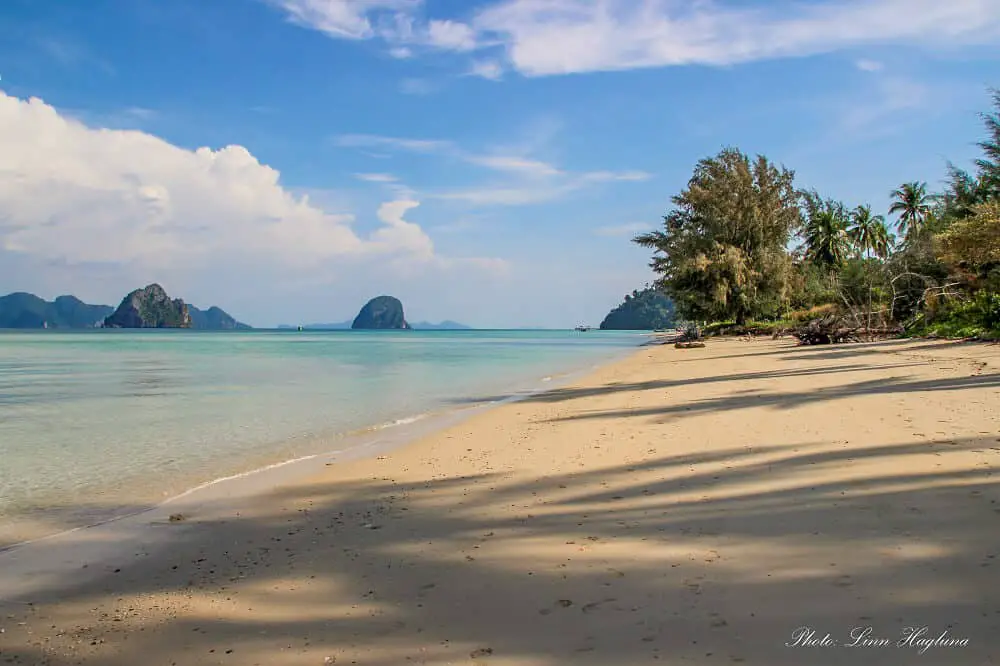 Have drinks at a hippie bar in Koh Lanta
If you're planning your perfect bucket list Thailand adventure, be sure to include Koh Lanta. This island is filled with energy.
Hanging out at the many beachside hippie bars is just one of the many epic things to do on Koh Lanta. They are perfect for relaxing with a cold drink on a cushion while listening to some reggae music.
You can visit Koh Lanta Old Town for the day if you need a change of scenery. Go to several diving shops to learn about the best dive sites, such as Hin Daeng and Hin Muang.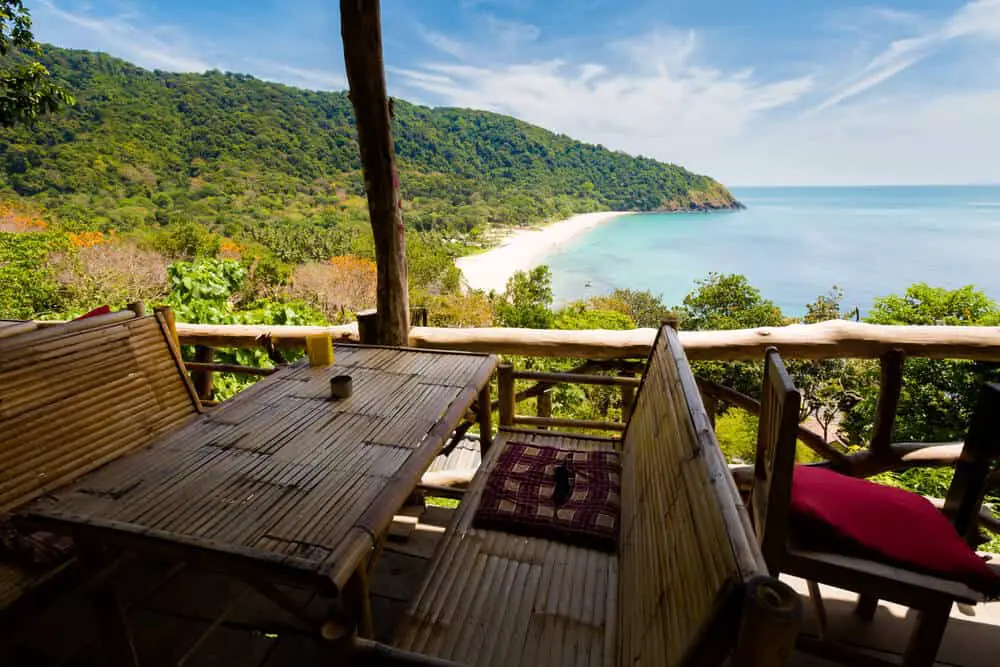 TOP RATED TOURS FROM KOH LANTA
Explore Koh Phangan by scooter
Renting a scooter and cruising around Koh Phangan is an exciting experience worthy your Thai bucket list. This popular island is the best place to stay on your first trip to Thailand.
The best mode of transportation is a motorized scooter. Some slopes might be challenging for inexperienced drivers, so renting an automatic scooter is best. That said, I managed fine with manual gears.
A scooter tour around the island is a must when you visit and among the best things to do in Koh Phangan. You may go to Bottle Beach to sunbathe or ride up Khao Ra Mountain, the highest point on the island, to enjoy the spectacular views.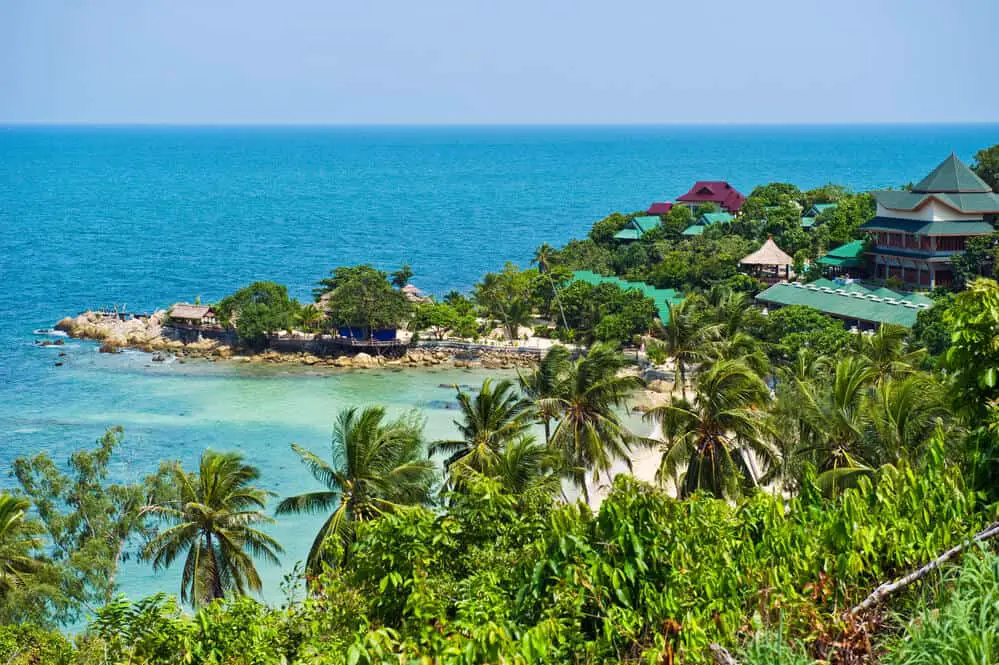 Walk from beach to beach at Koh Lipe
Koh Lipe, located near Thailand's southernmost point, is readily accessible by speedboat or ferry from any of the nearby islands.With its pristine white sand, palm trees, and warm blue water, Koh Lipe's beaches are pure paradise.
Tarutao Marine National Park encompasses Koh Lipe and the surrounding 50 islands, islets, and reefs. Koh Lipe is so small that you can simply walk from beach to beach and enjoy its various attractions.
Note that some areas are only accessible during low tide, so you might move away from the beach if the tide is high.
Strolling along Walking Street is also among the best things to do on Koh Lipe. It is nestled in the center of the island and has a variety of beautiful bars and eateries.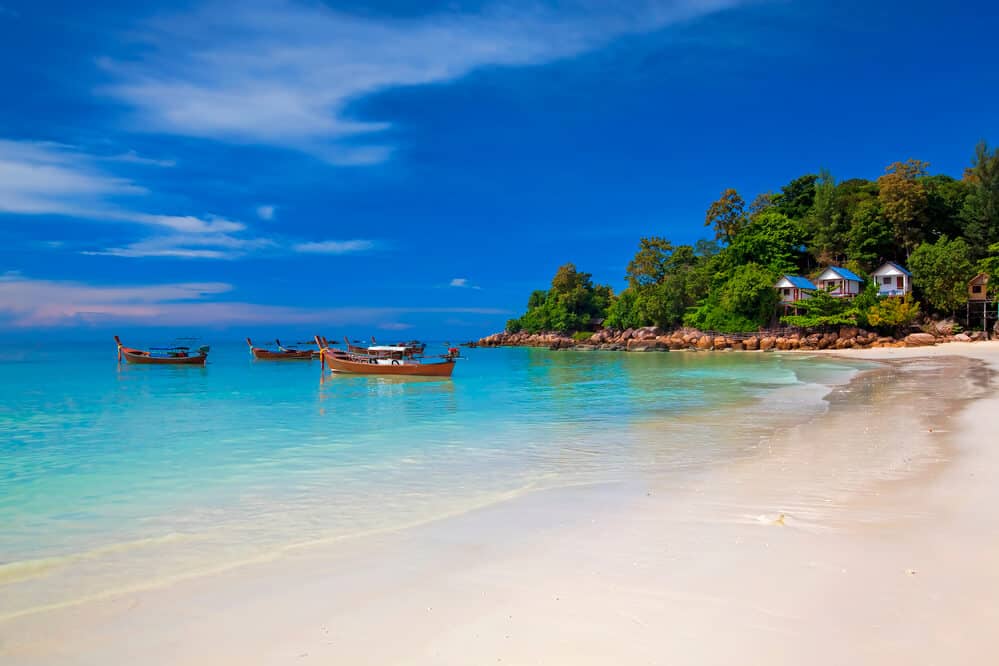 Explore the temples of Chiang Mai
Chiang Mai is home to many notable attractions, but the religious temples are among the city's most famous landmarks. There are more than 300 'wats' in the city, making it unique among all the Thai cities.
Almost all of the temples in Chiang Mai are built in the 'Lanna' style, distinguished by their swooping timber roofs. You can start your temple hopping tour by visiting Wat Chedi Luang temple complex in the heart of the Old City.
Then proceed to Wat Phra Singh, one of Chiang Mai's most aesthetically spectacular temples, located only a short distance from Wat Chedi Luang. 
Afterward, visit Wat Sum Pow, constructed during the time of the Mang Rai kingdom and Wat Chiang Man, one of the oldest temples in Chiang Mai, was constructed in 1296 by Lanna King Mengrai, who also laid the city's first foundations. These are just some of the many Buddhist temples in the area.
Chiang Mai's temples will take your breath away if you like architecture and most temples are extravagantly decorated. The embellishments on the building's façade are stunning and always meticulously maintained and definitely the best things to see in Chiang Mai.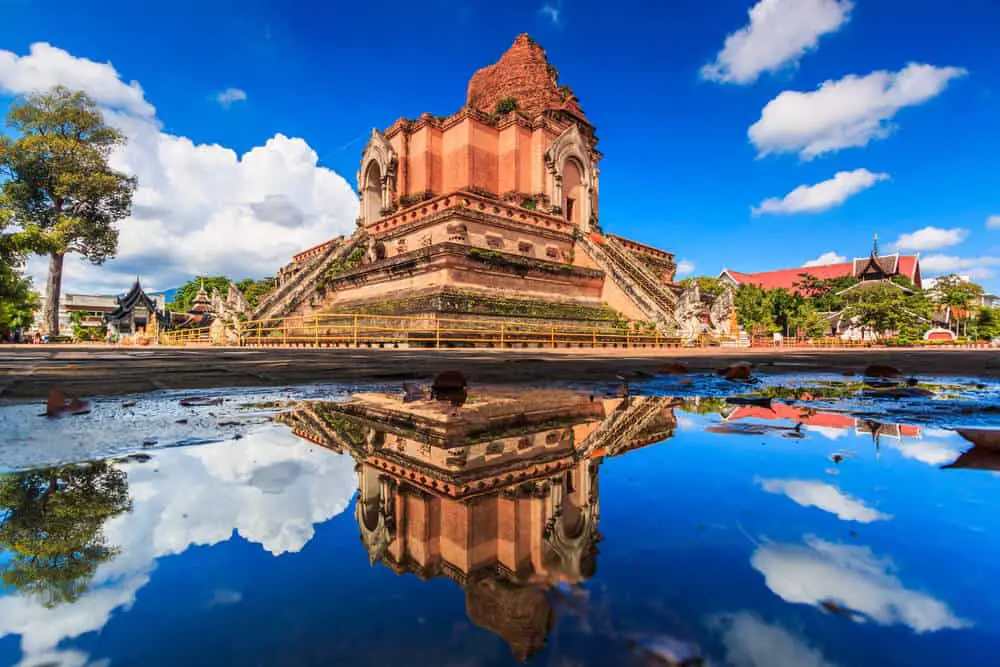 Go scuba diving at Koh Tao
Koh Tao is one of the top islands for scuba diving in Thailand, and it's a great pick for every kind of vacationer.
Among Koh Tao's top attractions is a day of scuba diving and beach lounging. Those looking to go scuba diving on a shoestring budget will find that Koh Tao has some of the best affordable diving in the world. Let's be honest: island hopping in Thailand isn't complete without at least one scuba diving experience. 
Koh Tao is easily accessible from adjacent islands and islets. It is possible to rent a fast and luxurious speed boat as well as a slower but less expensive local boat.
You can stay at Tanote Villa Hill Resort, which boasts wonderful landscape and is directly on the beach. This hotel is more expensive, but it is definitely worth it for those who can afford it.
Reflections on bucket list Thailand experiences
With this, you have a kick ass Thailand bucket list to start planning your adventure in the land of smiles. I can't recommend Thailand enough, it was the fist country I ever visited in southeast Asia and it has become the country I've visited the most times outside of Europe.
There is just so much to see and do whether you want to chill at the beach or you want to hang out in the mountains, or go hiking gin the jungle. It is an easy country to travel too, as it is so organized towards tourism.
Happy travels!