There's no better way to explore exotic Thailand than by going island hopping and this should be on any Asia bucket list. Boasting long whitewashed beaches, dense jungle, hidden caves, world-famous full moon parties, and some of the best diving spots in the world, you will have a blast whether you're a seasoned traveler or it's your first backpacking trip.
There are so many amazing things to do in Thailand, not to speak about its islands. You can begin by imagining walking barefoot on fine sanded beaches, kayaking in crystal clear waters, scuba diving or snorkeling with sea turtles, and discovering small uninhabited islands by longtail boat.
Only you can set the limits for what to experience when you go to the Land of Smiles, island hopping from one paradise to another – this is truly a Thailand bucket list experience. Stay in paradisiacal bungalows on the beach sipping a cold Singha beer accompanied by the sound of the waves flushing onto the beach.
But with more than 1400 islands, it can be hard to decide where to begin, especially if it's your first time in Thailand. After traveling extensively in Thailand and exploring a whole lot of its islands, I decided it was time to put together a Thailand island hopping itinerary.
However, I guess you want to keep your options open, so I asked a few other travelers too where they enjoyed island hopping in Thailand. As a result, I have put together a few itineraries you can choose from depending on which part of the country you are in, and what your interests are.
Read on to find the most epic destinations for island hopping Thailand!
Disclosure: This post may contain affiliate links. That means that if you make a purchase through one of those links, I will get a small commission at no extra cost to you. As an Amazon Associate, I earn from qualifying purchases.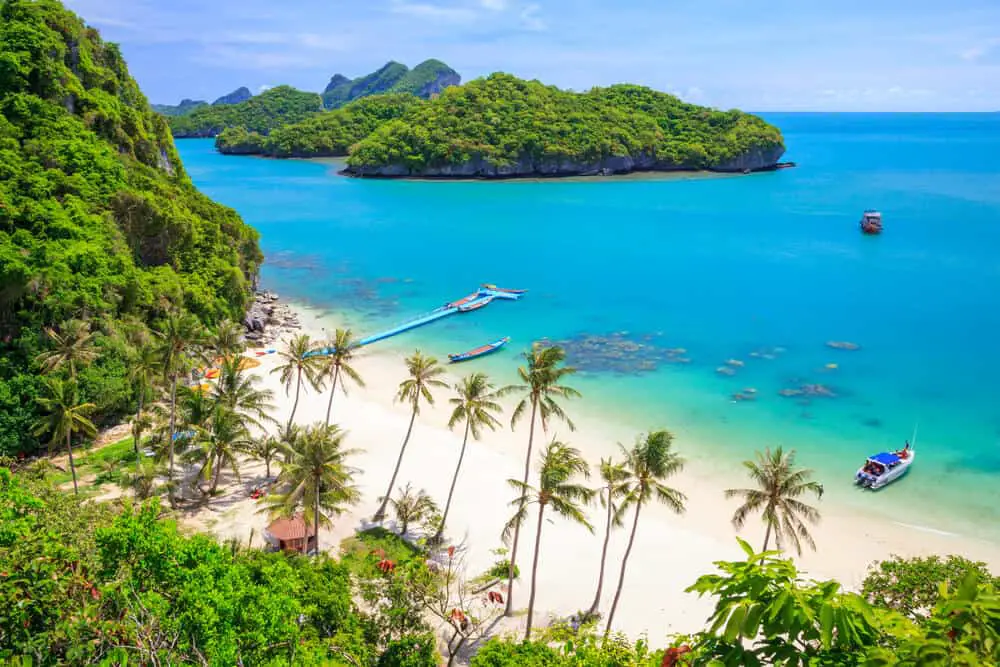 Tips for ethical island hopping in Thailand
Thailand has long been popular for elephant rides and tiger temples among backpackers. Even though more and more travelers become aware of unethical practices, there are still way too many being tricked to think they go to an ethical establishment.
I know, because I used to be one of them. That's why I'll take time to shed light on it here before you plan your Thailand island hopping trip.
Unfortunately, with more savvy travelers comes more "greenwashing" of sanctuaries so before you go to any animal sanctuary, make sure you do your homework.
Here are the main attractions you should avoid:
Elephant rides
Bathing elephants
Tiger Temples
Zoos
Aquariums
Feeding sealife
Dive centers that feed fish and touch corals
Selfies with captured wildlife
Tours that include any of the above
You can often find yourself in a situation where you become unsure if the activity you want to join is ethical or not. If you're not 100% sure, skip it. If you find out during or after the activity that it wasn't ethical as you thought, let others know so that they can avoid it.
Further, to be involved in a sustainable tourism circle, I highly recommend staying in locally owned hotels and eating in locally owned restaurants.
With the popularity of tourism in Thailand growing significantly over the last decades, there has also been an increase in foreign-owned hotels and restaurants taking over the most popular islands.
By foreign-owned, I don't mean expats that have moved to Thailand, got married, had kids, contribute to the Thai economy, and that is there to stay.
I'm talking about the typical American chain hotel that has been built where there used to be a wild jungle full of wildlife that has now been completely cleared out and the money spent goes straight out of the country.
Read more about sustainable tourism in Thailand here.
Thailand island hopping itineraries
Island hopping Thailand itinerary 1 (10-14 days)
Phuket
The biggest island in Thailand is also one of the most popular. However, most tourists flock Patong beach and don't spread much around the island, so whether you want to hang out with the crowds or you want to rent a scooter to explore the other corners of Phuket, this is one of the best place to start a Thailand island itinerary.
There are many cool things to do in Phuket. Head to the more relaxed beaches like Karon Beach, and head to the Karon Viewpoint where you'll see the epic view of the three beaches below.
Like so many other places in Thailand, Phuket also has a big Buddha that you must see while on the island. The island is also dotted with beautiful temples, but if you're only to see one, make sure you make it to Wat Chalong.
One of the unique villages to see in Phuket is Rawaii, where the Sea Gypsies – Moken – live. These people are still living their authentic lifestyle which makes this a golden opportunity to get a cultural immersion in their lifestyle.
You could easily spend a week in Phuket, but I would rather spend more time on any of the other destinations of this Thai islands itinerary, so if you're limited of time, cut down to 2 days. A great place to stay is the Hotel Tide Phuket Beach front.
You can travel from Bangkok to Phuket by plane, train, or bus. There are overnight buses and trains, though for security reasons, I'd recommend traveling during the daytime. The airport in Phuket, however, is international and you can fly from most of the word directly to the island.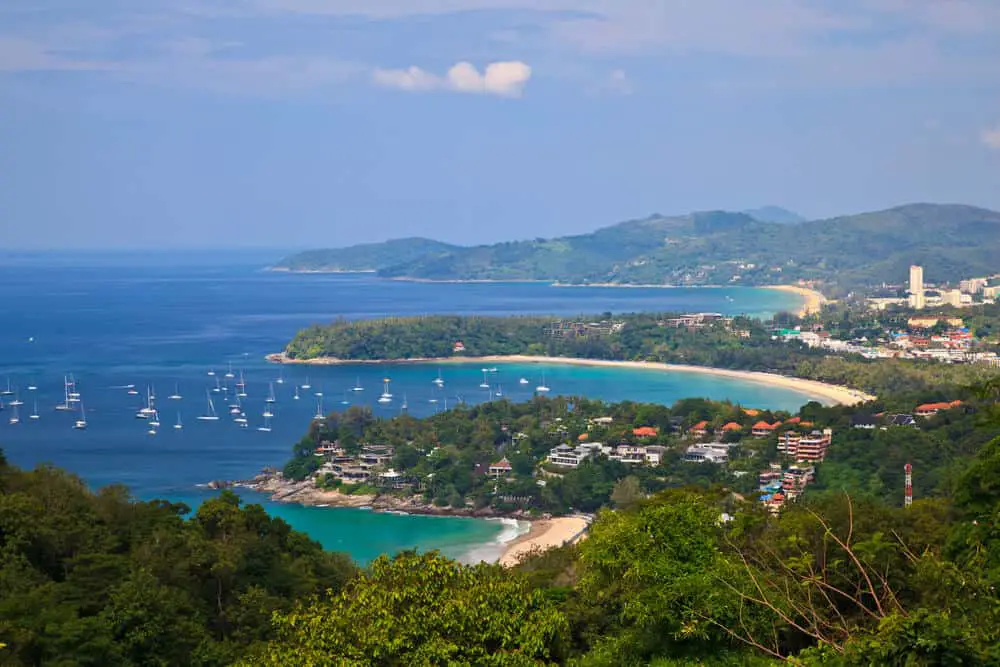 Koh Yao Yai
Recommended by Ilse of Digital Travel Couple
Koh Yao Yai is a beautiful Thai island in Phang Nga Bay with little tourism. This sleepy island takes you back in time with only a little tourism development, untouched nature, and some of the friendliest Thai people you can encounter. Koh Yao Yai is the perfect island for peace seekers who want to have an off the beaten path island experience.
Koh Yao Yai is located in Phang Nga Bay between Phuket and Krabi. From Phuket, it's easy to get to Yao Yai by a daily ferry or speedboat.
Except for relaxing, snorkeling, and exploring the beautiful deserted beaches and rural life of the locals, there is not much else exciting to do on Koh Yao Yai.
It's a great island to unwind and have quality time. But, it is the perfect base to explore more of beautiful Phang Nga Bay!
Koh Hong is one of the closest islands which is definitely worth a day trip to snorkel and admire the impressive limestone cliffs. Other day trips are to James Bond Island or go to the neighboring island Koh Yao Noi.
The roads on the island are very decent and well maintained. So if you and your kids are comfortable enough riding a motorbike, it's the most fun way to explore the island.
Be aware that you officially need a motorbike license to be insured when renting a motorbike in Thailand. Another option is to explore the island with a local taxi, a Songthaew. 
There's accommodation for every budget on Koh Yao Yai. From lovely family bungalows to some fantastic luxury resorts such as Santhiya Resort and Spa. Whether you are a backpacker or a luxury traveler, there will be accommodation for you on Koh Yao Yai!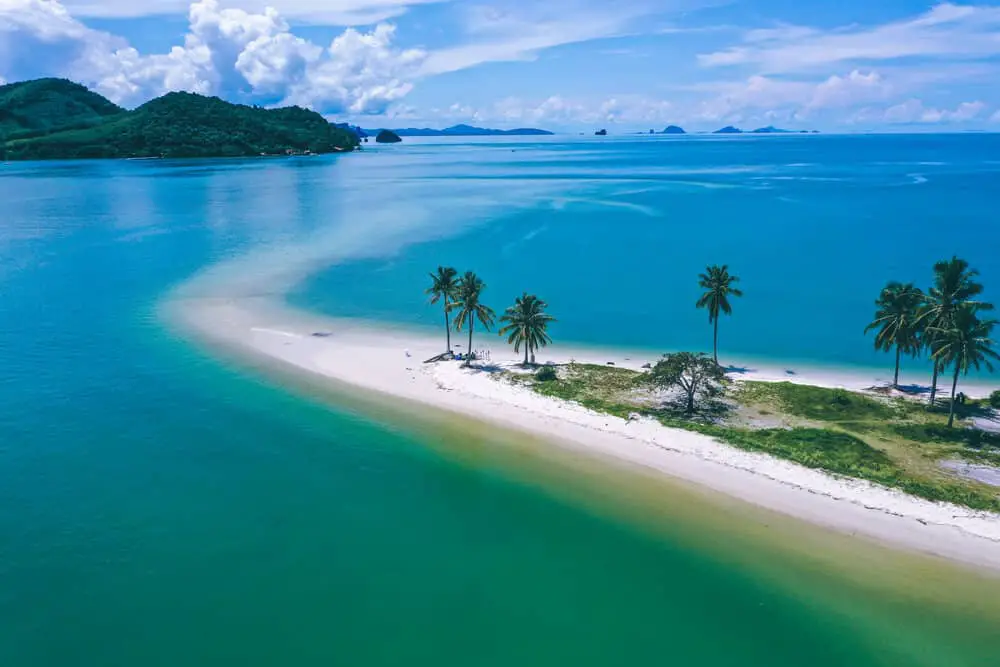 James Bond Island
Recommended by Francesca of Travel Heal Love
James Bond Island (once known as Khao Phing Kan) is a famous Asian landmark in Phang Nga Bay. This stunning archipelago includes around 100 islands, many of which have peculiar sheer limestone cliffs that vertically come out of the emerald-green water in the most unique shapes.
You can read more about unethical animal tourism here. In that article, I've also listed a few questions you should ask yourself before you consider any activity that includes animals.
If you want to go for an island hopping experience you may want to visit Koh Panyee, Hong Island, Koh Thalu Ok, Naka Island, and Koh Panak as part of a daily tour or go on a day trip from Koh Yao Yai.
But talking more in detail about James Bond Island, it has been a significant attraction since it was featured in the 1974 Bond movie with its precarious position, the big upper part, and relatively slim at the bottom. Locals call it 'the nail' because of its shape which reminds this tool.
Moreover, on James Bond Island you can see another beautiful natural phenomenon, Khao Phing Kan, the beautiful smooth leaning rock forming a big gap and being a great photo opportunity.
You can easily reach the island on board a speed boat from Phuket, Phang Nga, or Krabi province and view James Bond Island from a boat or a small beach on Koh Ping Ghan. Unless you go on a day trip from Koh Yao Yai, you will have to commute to either of the mentioned destinations to get there.
Today the rock is part of a protected marine area (Ao Phang Nga Marine National Park) and boats aren't allowed to get too close to the island, but you can still have a perfect look at it even from some distance.
Also, to enter the National Park area you have to pay a ticket (300 baht for adults and 100 baht for children). If you are in Thailand this is a must-see, you will not regret visiting it!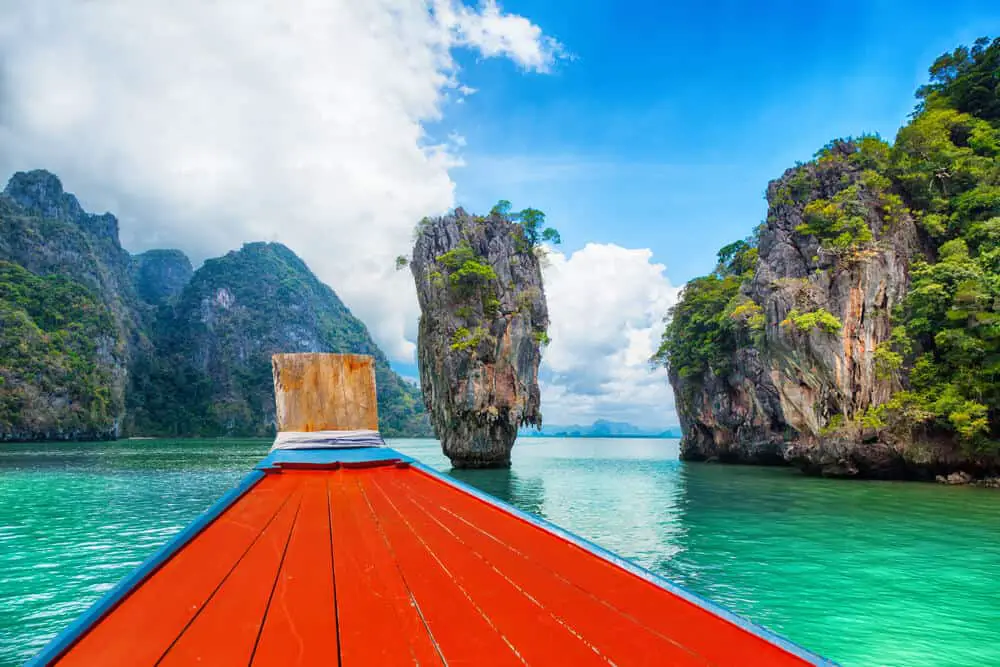 READ BEFORE YOU TRAVEL TO THAILAND!
Phi Phi Island
Recommended by Monique at The Thailand Travel Hub
Koh Phi Phi is not an island – it's a group of 6 islands. Koh Phi Phi Don is the main island where most visitors stay.
The Koh Phi Phi islands are Krabi Province and are excellently located as an island hopping vacation in Thailand – they lie midway between Phuket and Koh Lanta.
Day trips from Phuket to Koh Phi Phi are popular as they are only 40 km southwest of Phuket. There are four main attractions on Koh Phi Phi Don that, it's possible to visit on a day trip.
Maya Beach is the top destination as it's where "The Beach" was filmed (though it's been closed for tourism due to overtourism,) but Monkey Beach comes in a close second. You can visit both on the same long-tail boat tour.
You can also combine a visit to the Viewpoint with its spectacular view of the Andaman Sea and Koh Phi Phi islands with a wander through the sois of Ton Sai Bay to see the busiest area on Kho Phi Phi Don.
With so many great things to do on Kho Phi Phi, thousands of travelers base themselves on Kho Phi Phi Don for at least a week.
Phi Phi Villa Resort is fantastic value for a week-long stay on its own private beach area, with a large pool and terrace area, and modern rooms with ocean views.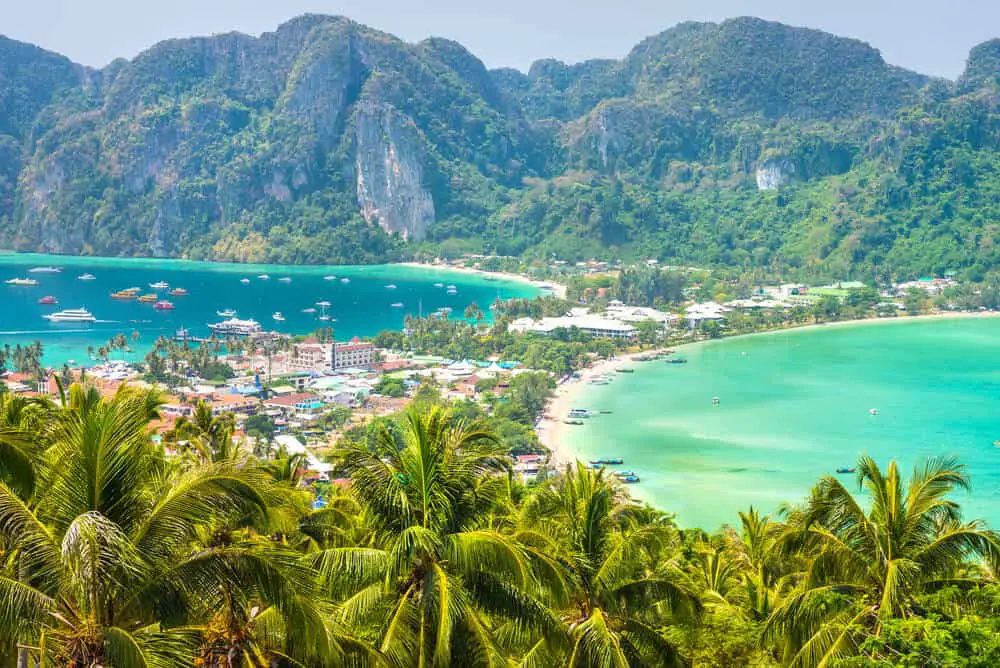 Island hopping Thailand itinerary 2 (10-12 days)
Koh Lanta
Koh Lanta is one of the most epic destinations to start your Thai island hopping itinerary. The island is part of the Mu Ko Lanta National Park and consists of idyllic nature scenes and long white sanded beaches like Relax Beach that are lined with hippie bars. For a more remote beach, head to the Bamboo Bay by the limit to the national park.
Among the top things to do on Koh Lanta is to relax, explore by scooter, go hiking, and indulge in mouthwatering Thai food – don't miss out on the night market in Ban Saladan for a budget feed. It's a big island which is organized for tourism and it's easy to get there.
From Bangkok, you can fly or take the bus to Krabi, then take the ferry which takes 1 hour and 15 minutes. I recommend spending 3-4 days on the island to get around to the best beaches as well as hiking in the national park. It's easy to get around Koh Lanta by renting a scooter.
Check in at Lanta Fa Rung Beach Resort situated on Klong Klong Beach where you can have drinks at the bar, eat at the restaurant, and challenge your travel buddies in a game of pool.
Top Tip! Keep in mind that the next islands you're heading to on this Thailand island hopping tour don't have cash machines. While you can pay by card in many places, you should get out enough cash before leaving Koh Lanta to keep you going for the next week or two. Don't make the same mistake as I did!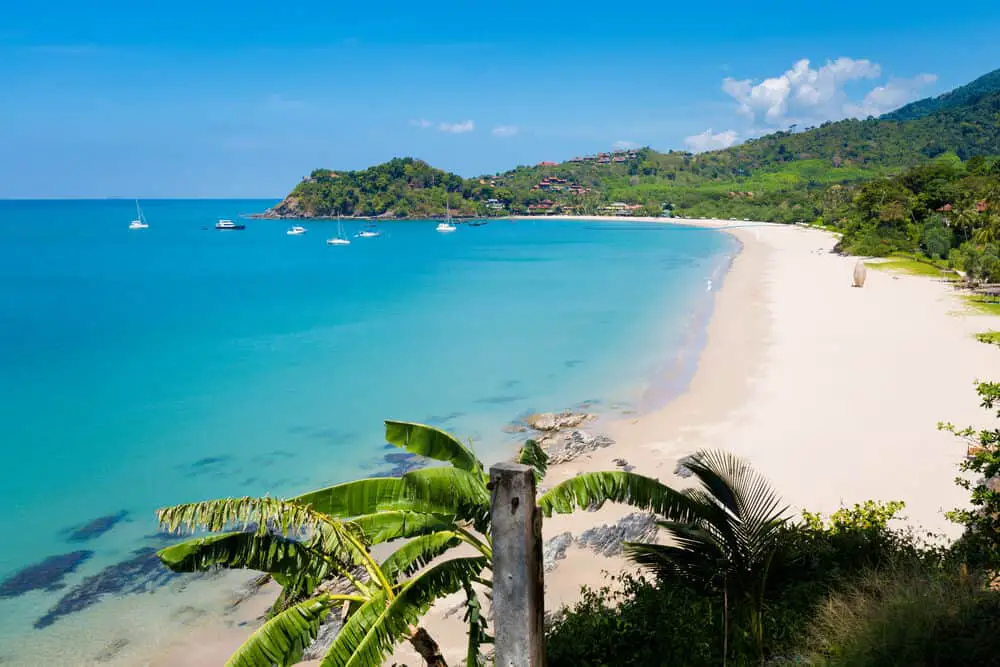 Koh Mook
One of the most underrated islands in the Andaman Sea is Koh Mook. Still being Thailand off the beaten path, this paradisiacal island is mainly famed for the Emerald Cave. Most visitors go on a boat trip from Koh Lanta without actually seeing the rest of the island. Big mistake.
Koh Mook has so much to offer, especially when it comes to nature and local fisherman's island vibes. Boasting some exceptional resorts, the island also holds a number of budget bungalows where you can retreat and enjoy long, empty beaches, rent a scooter to cross the island, or head into the jungle for an epic hike.
Yet, most importantly, by actually staying on the island you can avoid the crowds from nearby islands heading to the Emerald Cave. Rent a kayak and float around the bay in the crystal clear water at sunrise to experience this magical place by yourself.
Koh Mook is easily reached by ferry from Koh Lanta. It takes 1 hour and 15 minutes and there are two departures a day. You should spend at least 2 days in Koh Mook.
Stay at Smile Resort Koh Mook for a pleasant stay with a wonderful restaurant a short walk from Hua Laem Prao Beach.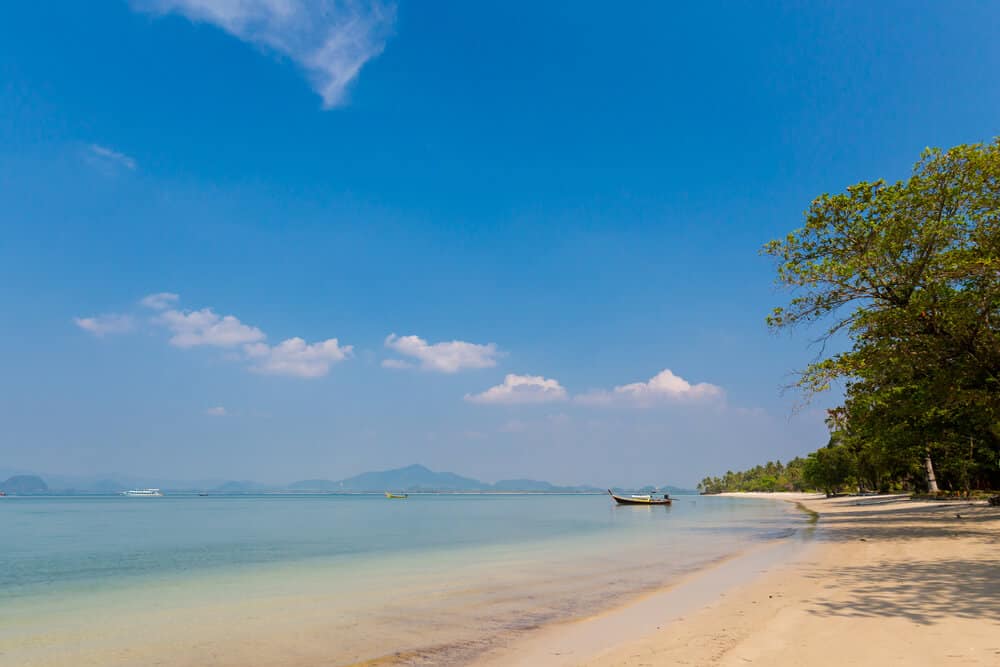 Koh Ngai
From Koh Mook, take a longtail boat to the tiny uninhabited island of Koh Ngai. Featuring untouched white sanded beaches, this is the perfect destination to add to your itinerary when island hopping Thailand to get a relaxing beach break.
There are a few hotels on the island like Koh Ngai Resort, or you can opt for budget bungalows where the longtail boat drops you off.
The good thing about Koh Ngai is that there are literally no activities to do on the island so you can spend a day or two just lazing at the beach, reading a good book, and eating your weight in amazing Thai food.
The hotels on the island have restaurants and bars where you can enjoy late nights of music under the stars, but you'll also find a handful of individual restaurants along the beachfront that are perfect for lunch or a cold drink when walking along the untouched beaches.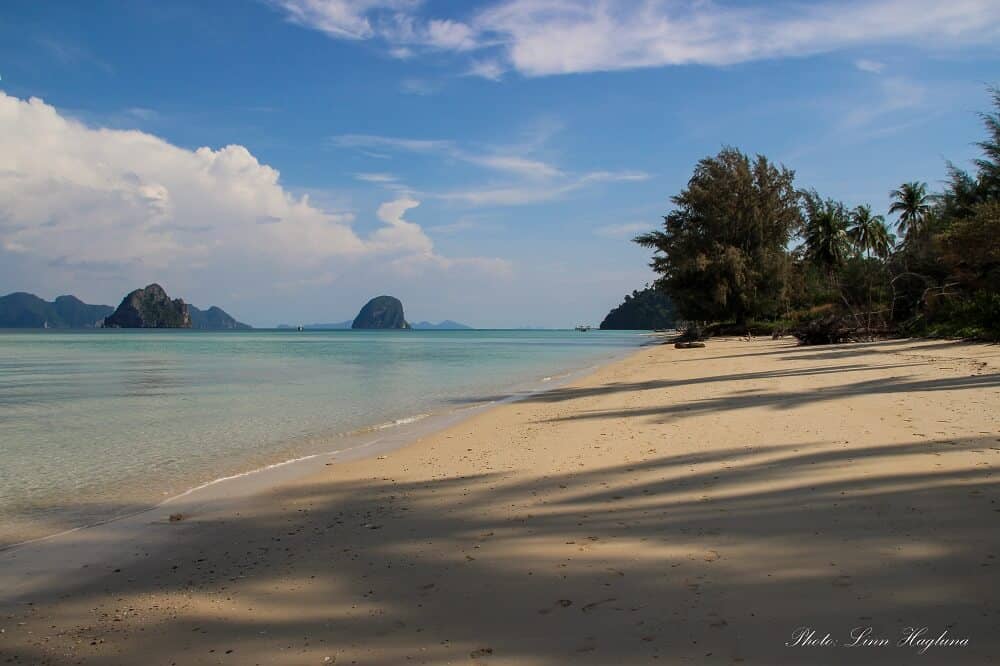 Koh Adang
Recommended by Sam of Sam Lee Travel
Koh Adang is one of the must-visit islands in Southern Thailand. Located near Koh Lipe, you can expect to find tranquility and undisturbed peace on this beautiful undeveloped island. 
Koh Adang has several stunning attractions. The main attraction in Koh Adang is hiking the 45 minutes to Koh Adang Viewpoint. 
At a height of 690 meters, Koh Adang Viewpoint has three lookouts. You can admire the unobstructed panoramic view of the surrounding sea and Koh Lipe from the top two lookouts.
Besides the thrilling hike, Koh Adang is also famous for snorkeling activities along its crystal clear coast and pristine sandy beaches. 
If you do not have your own snorkel, you can easily rent one from Koh Adang's ranger station for 50 THB (US$1.40) for one day. 
Since Koh Adang is less developed, there is only a three-star resort on this quiet island. 
Adang Island Resort comes with beachfront bungalows and villas, offering a secluded sanctuary stay to their guests. 
This relaxing resort has an outdoor pool, a restaurant, and several wooden romantic vibe-oozing canopies along the sandy beach.
It is recommended to stay at Koh Adang for at least one night to check out all the attractions at your own pace. Alternatively, if you are looking for a cozy retreat, a three-night stay at Koh Adang will suit you better.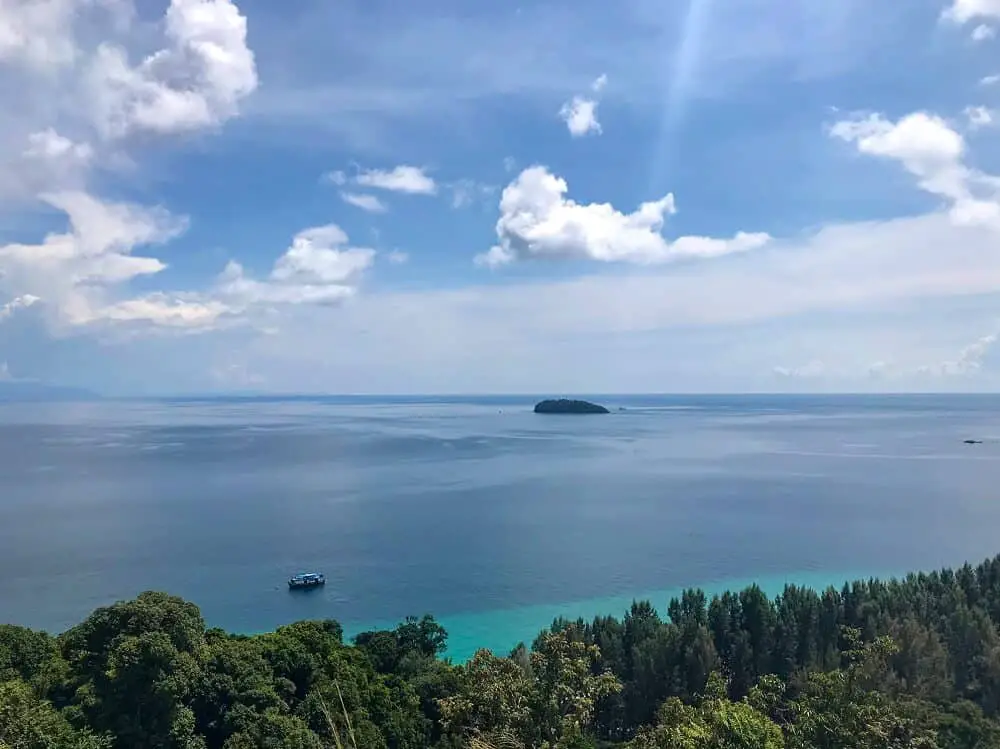 Koh Lipe
Recommended by Martina of PlacesofJuma
Koh Lipe is definitely one of the most amazing islands to visit in Thailand. This little paradise island is located at the southernmost tip of Thailand, not far from the Malaysian border and you can easily get there by speed boat or ferry from Saturn or from the other islands nearby.
This island has become pretty famous in Thailand because it is one of the top hot spots for divers and snorkelers due to its fascinating underwater world!
In addition, Koh Lipe has fantastic snow-white sand beaches with palm trees and warm turquoise seas reminiscent of a picture-perfect paradise, which makes it the perfect place to end this Thailand Island hopping adventure.
The island is part of Tarutao Marine National Park, which consists of 50 other islands, islets, and numerous coral reefs. Stunningly, Koh Lipe beaches have beautiful coral reefs perfect for snorkeling. If you wish, you can also book exciting excursions in the area, including snorkeling or diving.
Due to the small size, you can explore all the places and beaches of Koh Lipe on foot. Really lovely is also the Koh Lipe Walking Street in the middle of the island, where you will find fantastic restaurants and many charming bars. 2-3 days on Koh Lipe is perfect.
Fantastic are also the many beach-front accommodations on Koh Lipe, like the wonderful hotel Ten Moons – the perfect choice for a very special stay on the island!
Lipe is easily reached from Koh Adang. You can hop on a traditional longtail boat to any of Koh Lipe's main beaches (Pattaya Beach, Sunset Beach, and Sunrise Beach.) The trip only takes about 15 minutes. A one-way boat transfer for one person costs about 150 THB (US$4).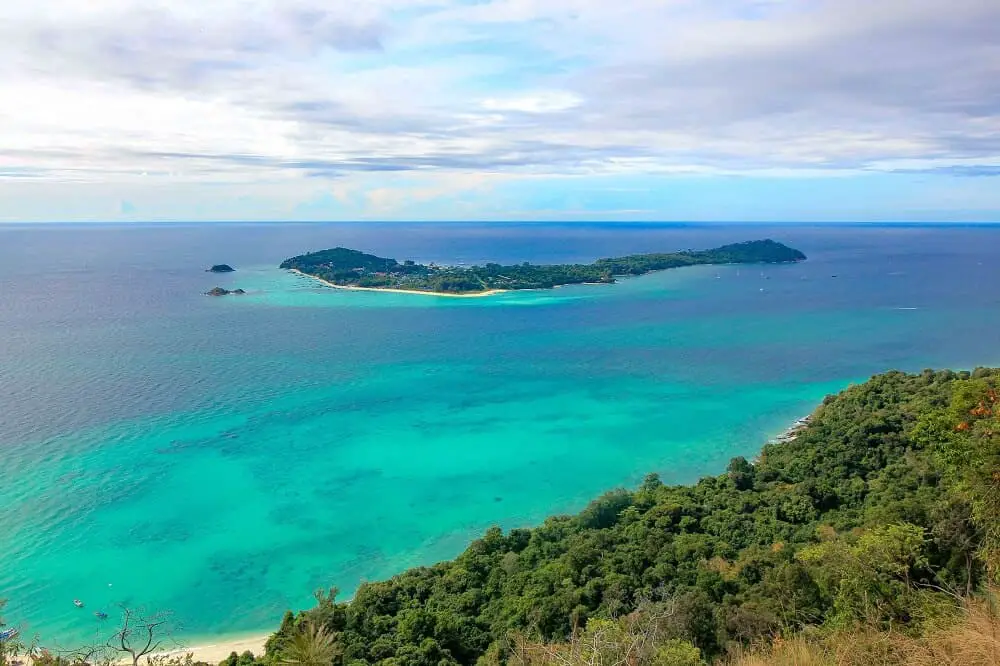 Island hopping in Thailand itinerary 3 (1 week)
Similian islands
Recommended by Giorgy of G-Extreme Travel
Are you looking for epic island hopping while visiting Thailand? You should absolutely not miss this earthly paradise on your travel destination list: The Similan Islands!
Located in the heart of the Andaman Sea north of Phuket (Southern Thailand), these eleven islands are the perfect island stop for any snorkeling and dive enthusiasts.
Recognized as one of the top ten diving sites in the world thank to its extraordinary underwater world, you can easily compare this beauty to the magical marine life of the Galapagos Islands!
Not only do these 140 square kilometers Islands offer incredibly colorful coral reefs and crystal clear shallow water. They hold out for lovers of remote and desolate places full of wildlife.
Instead of offering good underwater visibility of up to 30 meters (100 feet), the Similan Islands' surface is transporting you to Jurassic Park's atmosphere! You won't have to face dinosaurs, however, you are going to see reptiles such as komodo dragons and other varieties of tropical birds and small critters.
The Similan Islands National Park is a protected area. In order to be preserved, only two of eleven islands permit land visitors! Therefore independent travelers are forbidden.
For this reason, nothing could be taken and left on the islands. And you are only allowed to walk barefoot!
The only way to reach this piece of paradise is on a day trip boat departing from Chalong or Patong. Otherwise, research a liveaboard option for divers at least for a whole week.
To make your Thailand island hopping experience to the fullest, keep in mind when to visit. Usually, the best time to visit the Similan Islands is during the dry season: between December and May. You could make this a week diving trip easily.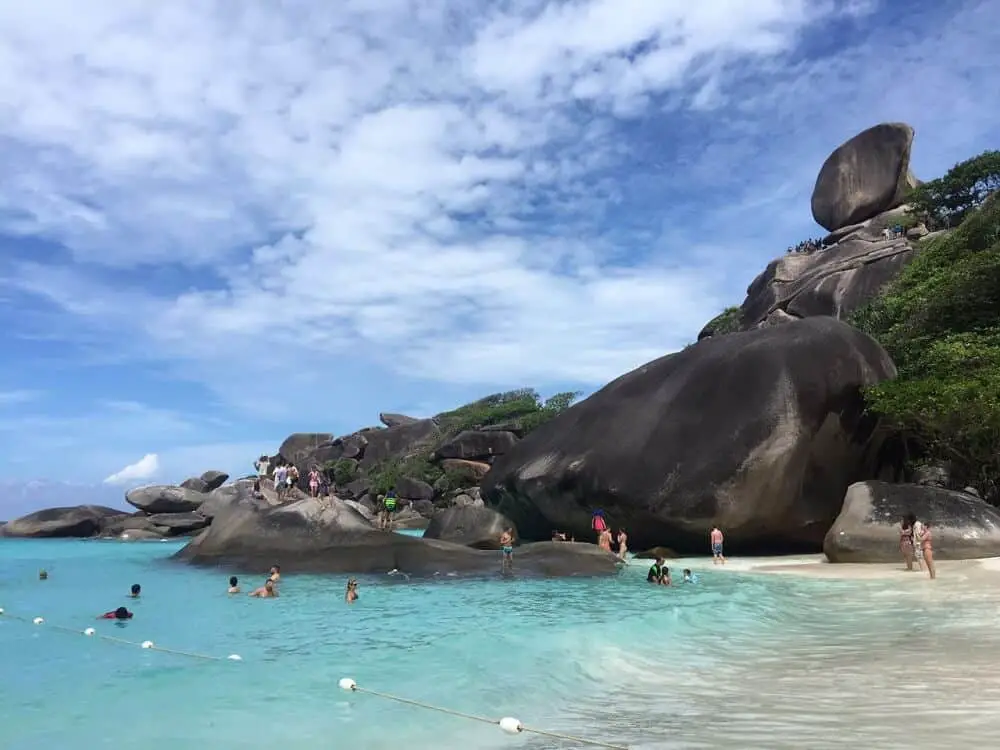 Thailand island hopping itinerary 4 (10-14 days)
Koh Samui
Recommended by Jolene of Wanderlust Storytellers
Dreaming of an island destination with white sandy beaches and palm trees? Look no further than the island of Koh Samui, Thailand. 
Koh Samui is the second largest island in the country so you will have lots to see and do to keep you busy during your Thailand island hopping!
You will need a minimum of 5-7 days on this island to experience the top sights. The easiest way to get to Koh Samui is by direct flight from Bangkok to Koh Samui, which lasts around 1 hour and 15 minutes.
There are many beaches to visit on this great island however if you are looking to snorkel then Coral Cove or Silver Beach are the best beaches for this. With the crystal clear and calm waters you will not be left disappointed with the abundance of marine life that you will see. 
Koh Samui offers some amazing views and there is no better place to check out the views than at Lamai Viewpoint on Laem Mai mountain which is surrounded by the natural beauty of this island.
However, the view is not all that you can experience here. Visit Sira Tara Waterfall and the Valentine Stone. If you are after some adventure, add the zipline to your package and you can zip down the mountain with the valley below your toes!
Although this island can keep you busy for days – it is perfect for beginning your island hopping tour to Koh Phangan and Koh Tao.
The top day trip would be to visit the Ang Thong National Marine Park which is made up of an archipelago of 42 islands spanning 102 square kilometers.
The best way to get the most out of this trip is to book a tour as you will get to explore the park and some of its unique islands on a speedboat. Not to mention you will visit Emerald Lake, kayak, snorkel, and have some traditional Thai meals as well!
For a great place to stay at affordable prices, the Flow Samui Beach Resort is a great option for a breathtaking beachside holiday.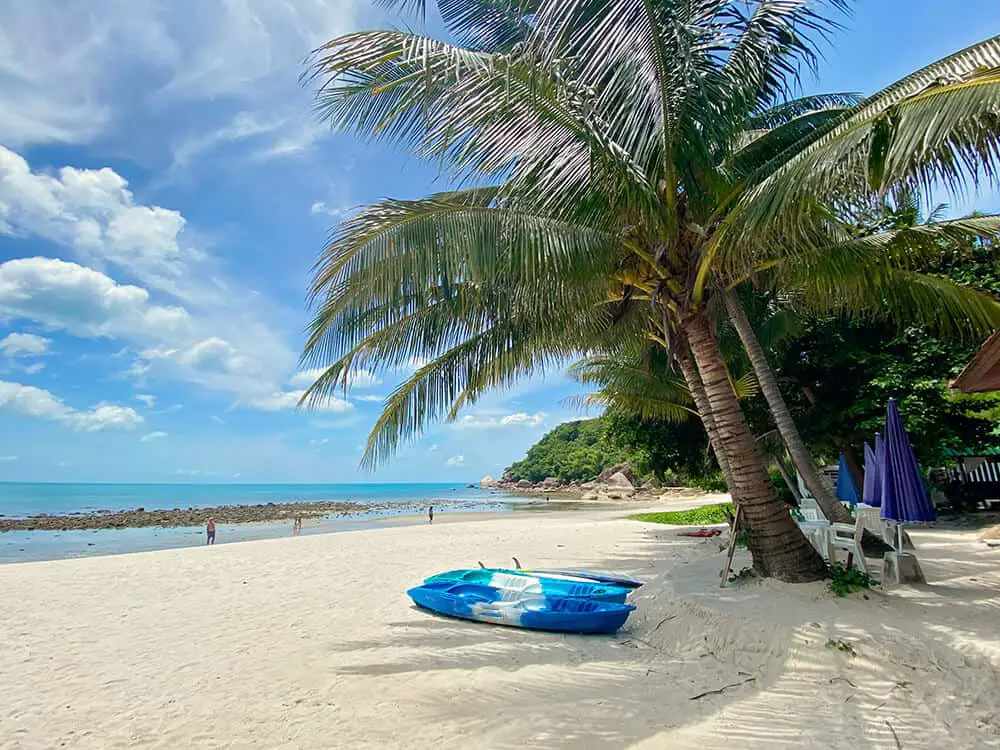 Koh Phangan
Recommended by Lana of Wallflower in Wanderland
With scenery ranging from lush green jungle to powder white beaches, Koh Phangan caters to laidback, nature-loving, travelers just as much as the partygoers. The island is world-famous for its iconic Full Moon Party, the ultimate beach party that brings in thousands of travelers every month. 
As well as living the ultimate party dream, there are numerous things to see and do on Koh Phangan. You can hike through the jungle to the picturesque Phaeng Noi Waterfall, experience an amazing view at the Three Sixty Bar with a drink, and relax on many beautiful dream beaches such as Haad Salad Beach, Leela Beach, and Haad Yuan Beach.
A must-do is to head on an excursion to the epic Ang Thong Marine National Park where you can snorkel or explore by kayak. 
Depending on budget, timescale, and itinerary, there are numerous options for getting to Koh Phangan. The closest airport is Koh Samui, but many travelers tend to fly into either Surat Thani or Chumpon and catch the ferry from there.
A more budget-friendly option is to get a combination of bus and boat, from either Bangkok or Phuket. Combination tickets can be purchased online at 12Go.
You should spend at least 3-4 days on the island to get around and enjoy the beaches and nightlife before you continue your Thai island hopping journey.
You'll find accommodation in Koh Phangan where you can step straight from bed to the ocean (such as Castaway Beach Bungalows), huts hidden in the jungle (like Santhiya Resort), or places right in the life of the party, such as the Wanderlust Hostel.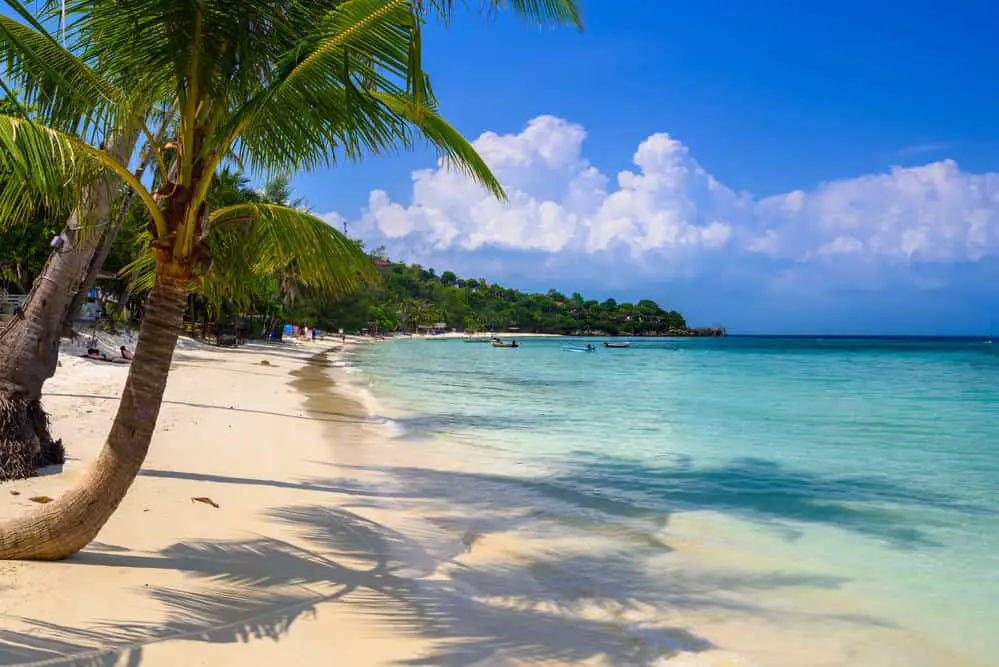 Koh Tao
Recommended by Victoria of Guide your Travel
Koh Tao is one of the best islands to visit in Thailand and a fantastic choice for all types of travelers including backpackers, honeymooners, and adventurers.
In fact, Koh Tao is known for its world-class diving spots and is ideal for those hoping to get into scuba diving on a budget. And let's be honest, while island hopping in Thailand it is mandatory to try scuba diving at least once.
You can easily reach the island from neighboring islands like Koh Phangan and Koh Samui or from the mainland town of Suratthani. Speed boats are usually fast and comfortable and there are also more affordable local boats available that may be a bit slower.
The best things to do in Koh Tao include going to Koh Nang Yuan for a day to relax and hike, going on snorkeling trips, and spending time by the beach.
Koh Tao is also great for hiking and is even home to a unique abandoned resort, ideal for urban exploring. The underwater world and jungle here are absolutely breathtaking and Koh Tao's nature is incredibly stunning.
Stay at Tanote Villa Hill Resort for amazing views and direct access to the beach. This hotel is definitely a bit pricey but it's worth it for those looking to splurge. If you're short on time you can spend 2-3 days in Koh Tao although you might want to extend your trip if you can.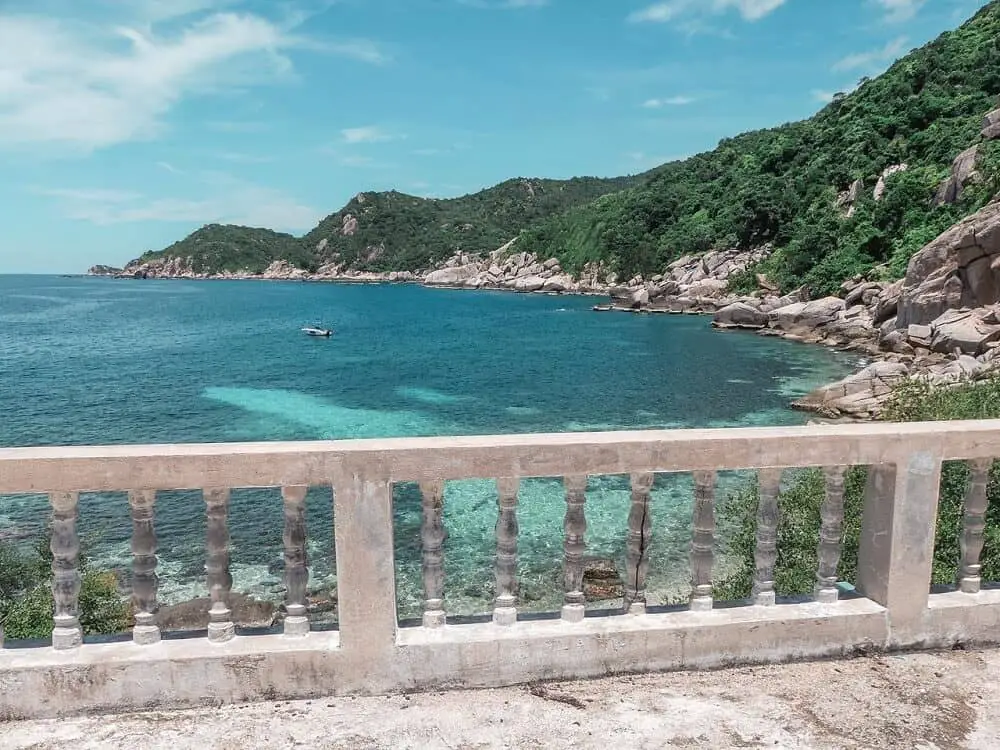 Thailand island hopping itinerary 5 (1-2 weeks)
Koh Chang
Recommended by Allan of Live Less Ordinary
Found in the Gulf of Thailand east of Bangkok, Koh Chang is not so well known globally, as it is cut off from the usual island hopping trails around Phuket or Koh Samui in southern Thailand.
However, it is the 3rd largest island in Thailand (after the 2 mentioned above) with lots to explore on and around the island. 
Koh Chang would be the main island of the eastern archipelago along with Koh Maak and Koh Kood which are also popular tourist destinations.
Nevertheless, Koh Chang would be the best base for snorkeling and island hopping with lots of affordable accommodation, restaurants, and Thai street food, on both sides of the island.
There is also a lot to explore including many beaches, inland waterfalls, and Salak Phet Mangrove Forest is a great off the beaten path attraction. So you could easily fill a week in on the island and it may be best to drive or hire a motorbike when planning inland excursions.
A great place to stay would otherwise be AANA Resort and Spa which has free kayak hire and firefly mangroves on its doorstep. 
The quickest way to reach Koh Chang would be by flight to Trat airport where it is easy to organize onward travel to the island.
However, it is not far by either bus or minivan from Bangkok Eastern Bus Terminal reaching the pier in 5-6 hours. It is also possible to take the car ferry across to drive on the island.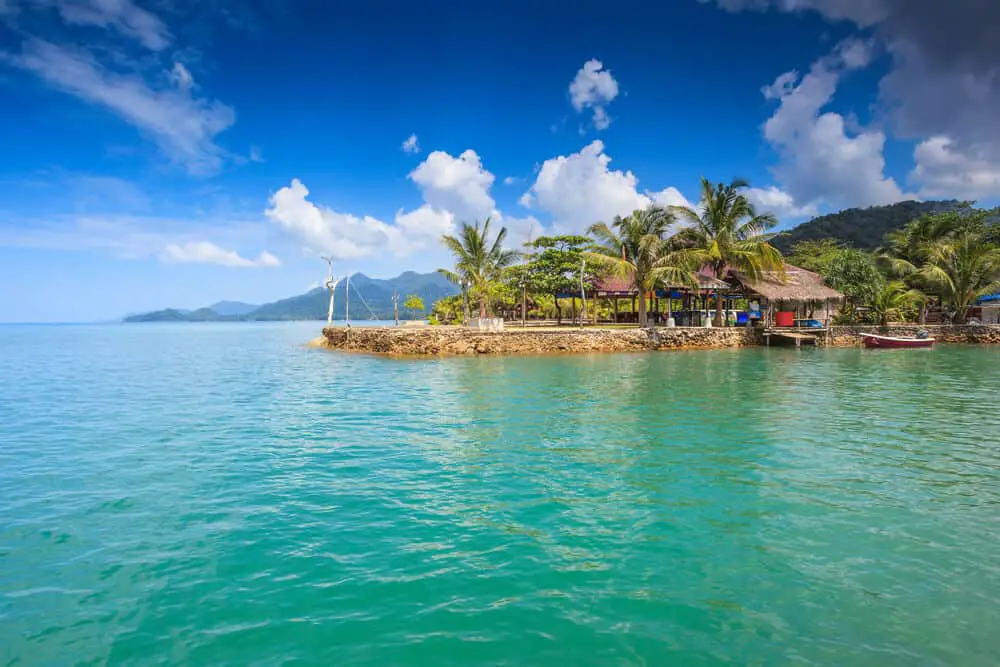 Koh Phayam
Recommended by Pilar of Travel The World Pages
Koh Phayam is one of Thailand's hidden gems, a place where you can still truly unwind and scape
from the hordes of tourists that have taken over most of the best locations in the country.
The island is located off the West coast of Thailand, very close to the Myanmar border, and a few
km distance to Koh Chang Noi, and Laem Som national park, home to 20 protected islands.
You can get to Koh Phayam from the Ranong pier, which is reachable from Bangkok by plane or
by bus, or from its neighboring island Koh Chang Noi, by long tail boat.
The island is perfect for swinging on a hammock while reading a book, but you can also do some
other activities such as surfing, snorkeling, diving, kayaking, and hiking through lush jungles to the
island's viewpoints.
Further, the sunsets are stunning and there are several rasta bars where you can enjoy
some live music while sipping a cold beer at night.
You can see the whole island in a couple of days, however, I would recommend you to stay at least a
week. My recommended place to stay is Bamboo Bungalows.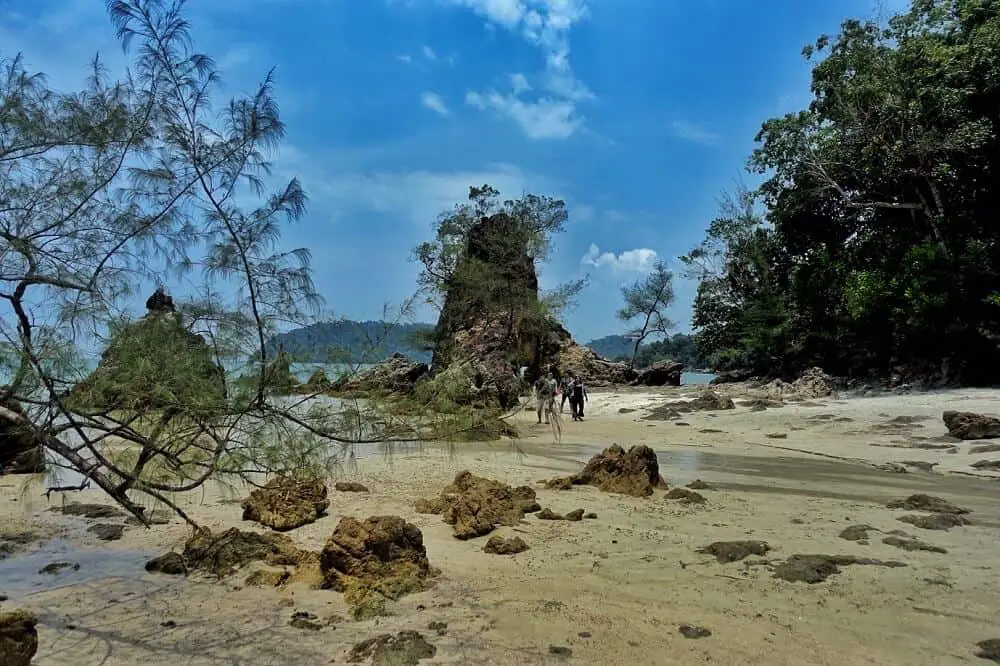 Reflections on island hopping in Thailand
I hope you found a Thailand island hopping route that appeals to you and your available time. If you have a month in the country, I suggest you combine two itineraries to make it to more places on your Thailand island trip.
There are so many incredible places to see and explore in the land of smiles and the islands are only part of it. Make sure you check out these things to do in Bangkok if you pass by the beautifully chaotic capital city.
If you don't scuba dive, it's the perfect time to try it on your Thailand island travel! There 's such an epic underwater world in these seas.
No matter where you choose to travel, I wish you an awesome Thailand island tour!