If you're traveling to Thailand for the first time, you might be overwhelmed by all the destinations to choose from. And you're right, there are so many stupifying places to see in Thailand that it can be hard to pick the right ones for you.
The country boosts paradisiacal islands, a deep culture, breathtaking temples, mesmerizing beaches, lush jungle, and a mouthwatering culinary scene even for vegetarians and vegans.
After traveling a whole lot to Thailand covering most of the country, I've completely fallen in love with the country and find it perfect for first time travelers in Southeast Asia as one of the most organized countries in the region when it comes to tourism.
To make it easy for you, I'll list what I think are the best places to visit in Thailand for first timers. Some are popular tourist destinations, while others are more off the beaten path in Thailand.
Disclosure: This post may contain affiliate links. That means that if you make a purchase through one of those links, I will get a small commission at no extra cost to you. As an Amazon Associate, I earn from qualifying purchases.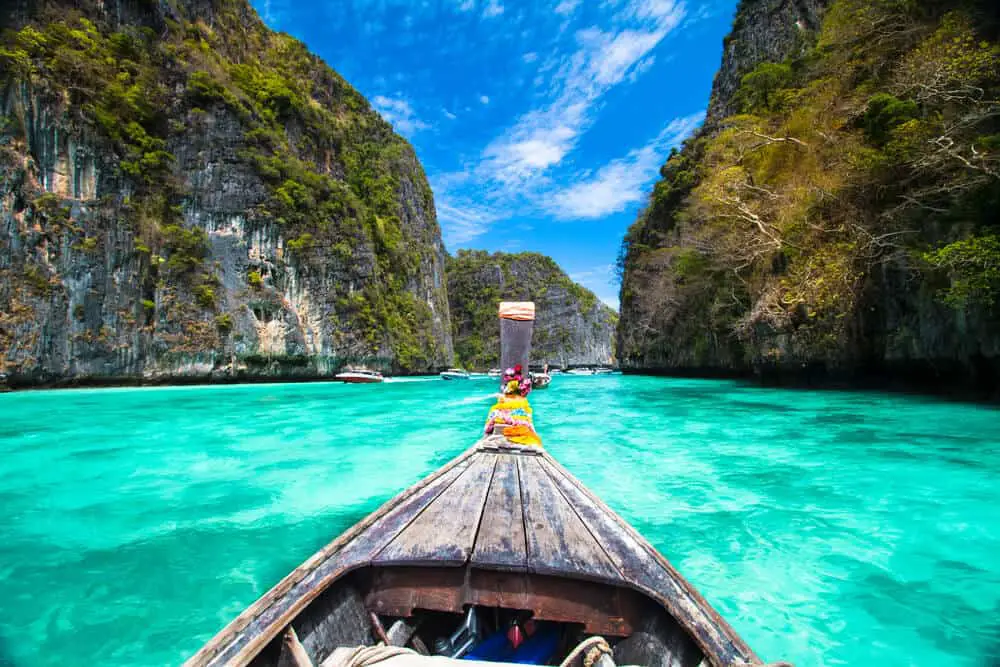 Responsible tourism in Thailand
Before we look at the best places to visit in Thailand for first timers, there are a few things you should be aware of when it comes to responsible tourism, especially ethical animal tourism.
First of all, you should be skeptical of anything that includes elephant rides, bathing elephants, and even feeding elephants. Riding elephants is a highly unethical practice – the elephant's spine is not created in a way that it should have weight on it and sitting on it is directly harmful to the animal.
So even if you are told that the elephants are treated well, don't fall for it. You can read more about it here.
There are a few ethical sanctuaries in the country where you can observe the animals, but be aware of "greenwashing."
Further, avoid all zoos and aquariums. All establishments that are for-profit will not care about the animal's welfare, but about the income they can produce.
Finally, the famous Thailand Tiger temples. Luckily, there was shed light on these unethical places a few years back and many were closed down. But, unfortunately, you'll still find tiger temples open.
There's simply no natural way that a tiger will let you pet it and let hundreds of tourists daily take selfies with them. tigers were found de-clawed, drugged, and chained so close to the floor that they literally wouldn't be able to move.
All in all, make sure you do your research and that you're skeptical about all activities and tours including animals.
In general, make sure your Thailand trip is as green as possible and try to make the most positive impact. You can read more about sustainable tourism in Thailand here.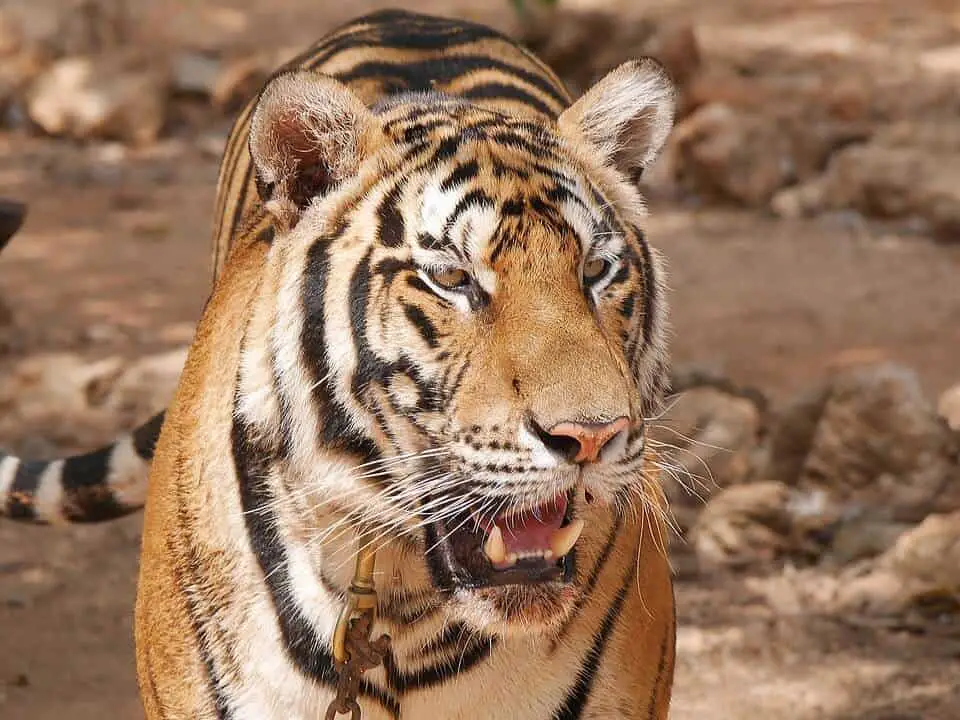 Best places to visit in Thailand for first timers
Koh Phi Phi
If you're looking for the best place to visit in Thailand for first timers, Koh Phi Phi comes high up on my list of destinations.
First of all, it's easy to reach the island from Phuket which has a busy international airport, often with budget flights. But it's also a lively island where it's easy to meet other travelers, party, chill at the beach with a book, drink fresh coconut, or go on boat trips.
Koh Phi Phi is also one of the best places to go scuba diving in Thailand and you can even take your PADI there.
However, there are heaps of other cool things to do in Koh Phi Phi. It's actually just one of an archipelago of 6 islands, Koh Phi Phi Don.
One of my favorite activities other than water activities is hiking up to Phi Phi Viewpoint where you'll see the epic view of the two beaches on each side of the island. You can also hike through the jungle to the other side of the island.
Phi Phi also has a lot of massage places, manicure salons, and any other wellness treats you can think of for a reasonable price.
Finally, make sure you at least spend one day on a longtail boat exploring the surrounding islands. Nearby, you also find Maya Beach, which is famous for the Leonardo di Caprio movie "The Beach", a place that is on most travelers' Thailand bucket lists.
Unfortunately, overtourism has taken its toll on the once paradisiacal island, so it has been closed for long periods and might close again.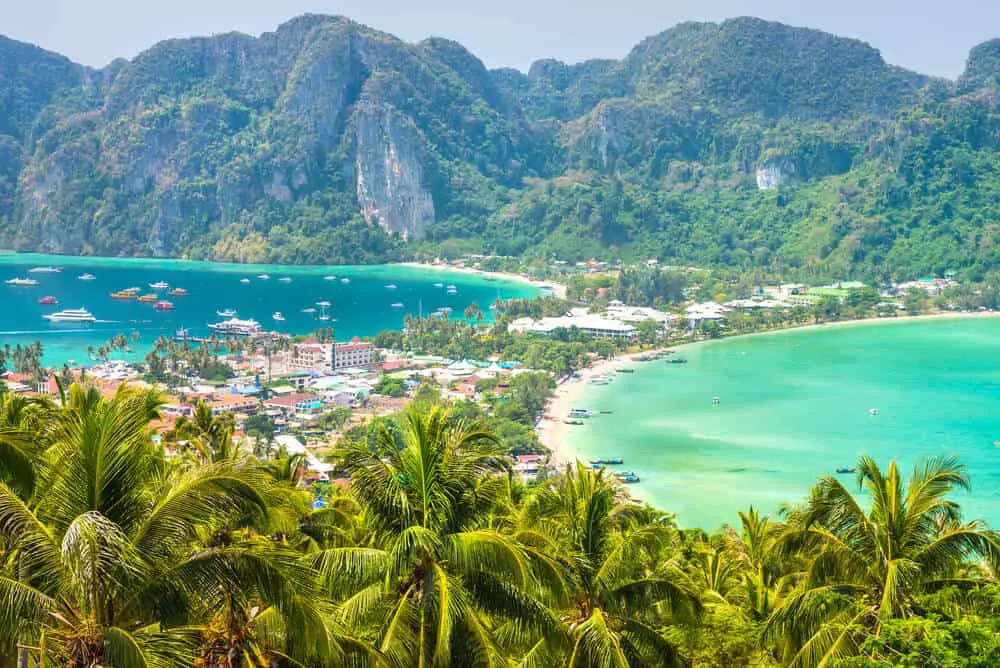 Phuket
When looking for the best place to stay in Thailand for first-timers, Phuket is a good choice. Being the biggest Thai island with its own international airport, there are endless things to do in Phuket, and the best way to get around is by renting a motorbike.
Explore the epic beaches, like the relaxing Kata Noi Beach and Nai Harn Beach. Head to the viewpoint Karon viewpoint where you'll get a bird's eye look at the three bays.
When it comes to temples, Wat Chalong is not to be missed as well as the Big Buddha and Wat Khao Rang (also featuring a big Buddha.)
Phuket Old Town is also very cute with colorful houses and a number of restaurants and bars to stop at. Finally, ensure that you make it to the epic Khao Rang viewpoint where you can enjoy sweeping views of Phuket and the surrounding islands.
As a note, one of the most popular places in Phuket, Patong, is also one of the areas with the most crime and fights among drunken tourists.
Personally, I always try to stay away from this area at night as I don't feel safe, but I know a lot of people who love walking around the buzzing streets where loud music eats up the next tune as you pass jam-packed bars with ladyboys welcoming you inside.
There are also a few things not to do in Phuket, like riding elephants and visiting the Tiger Kingdom. But you already knew that, if you read my section about sustainable tourism in Thailand above.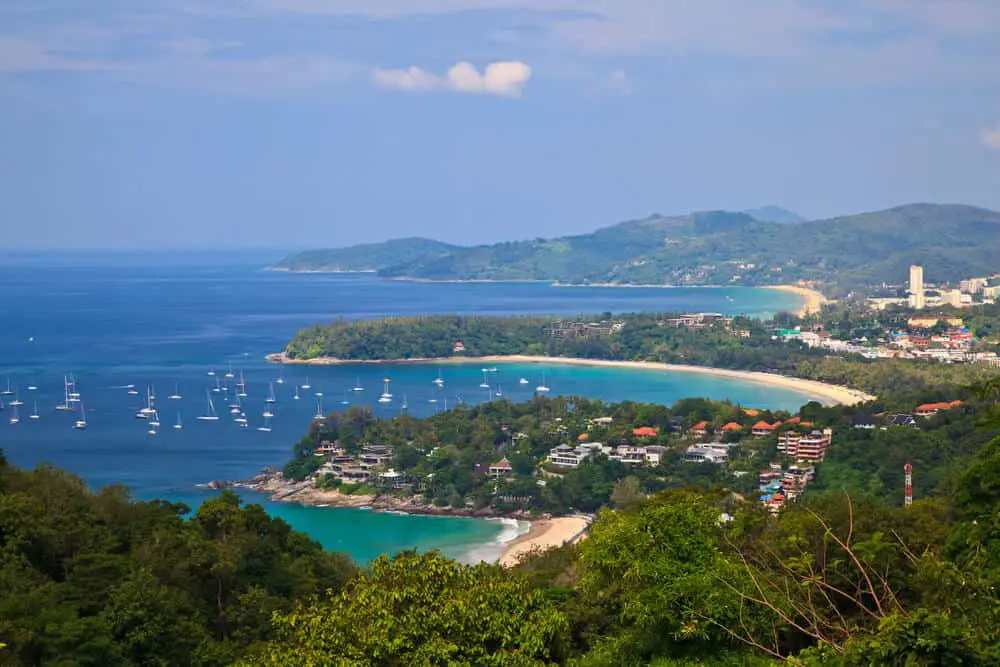 Koh Mook
When going on your first trip to Thailand, there's no reason to avoid the lesser visited places. One of the most stunning Thailand hidden gems is Koh Mook.
Actually, the island is visited by large numbers of tourists every day, but only to see the famous Emerald Cave. Boat trips from nearby Koh Lanta head to the outside of the cave.
From there, tourists swim 80 meters in the dark through the cave to the tiny beach inside it, surrounded by rock walls with curtains of green plants cascading down from above where the sun lights up the beach.
But Koh Mook is so much more than Emerald Cave. In fact, by staying at Koh Mook, you get the privilege of renting a kayak and heading to Emerald Cave at sunrise before all the tourists flock to this tiny paradise and get it all by yourself!
The island itself gives you the feel of a real Thai fishing island, yet it receives enough tourists that there are many hotels to choose from and it's organized enough even when it's your first time in Thailand and things feel new and foreign.
Koh Mook offers long, untouched beaches and dense jungles where the adventurous will love to go hiking. If walking isn't your jazz, rent a scooter and explore the island on two wheels.
You can easily get to Koh Mook from Koh Lanta by boat. You can also read my complete guide to Koh Mook here.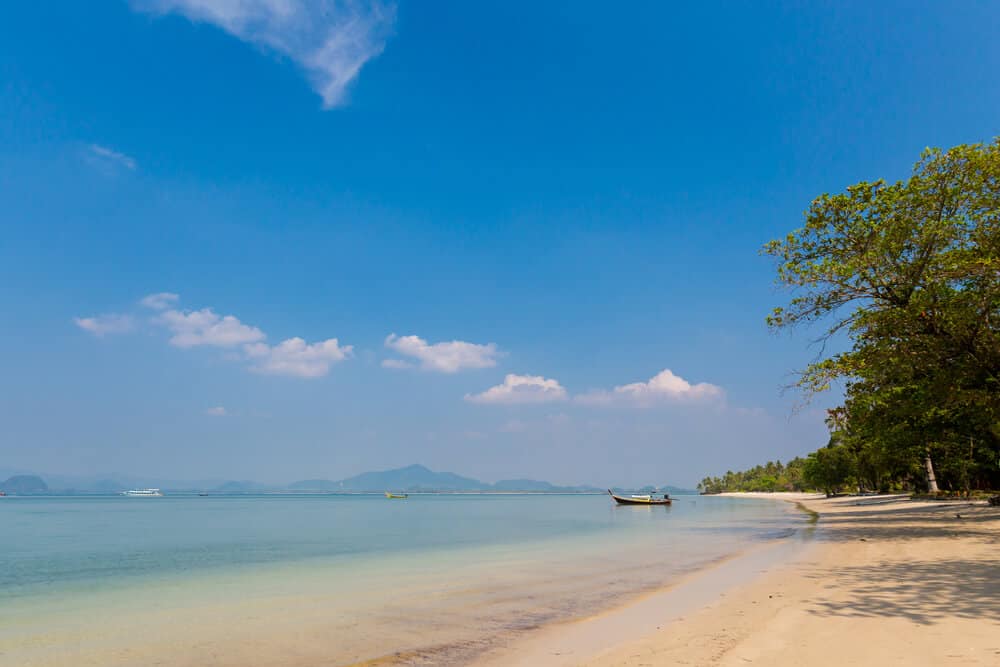 Koh Lipe
Koh Lipe. Where do I begin? It used to be one of the lesser-visited islands in Thailand, but with its raising popularity, it is now one of the must visit islands on any Thailand itinerary.
Situated in the far south of Thailand, Koh Lipe is a vibrant backpacker destination with lovely bungalows in all price ranges and a busy restaurant and bar scene.
The island features some of the most breathtaking post-card-perfect beaches you can imagine, and one of my favorite activities is to walk around the island, dipping in and out of the water on the way.
But the boat trips from Koh Lipe are also spectacular. Exploring the surrounding islands, snorkeling in the crystal clear turquoise water, and feeling the wind in your hair as the longtail boat takes you from one island paradise to the next. This is truly one of the best places to visit in Thailand for first timers.
If you plan to go scuba diving in Koh Lipe, check out one of the many diving centers. You will not be disappointed!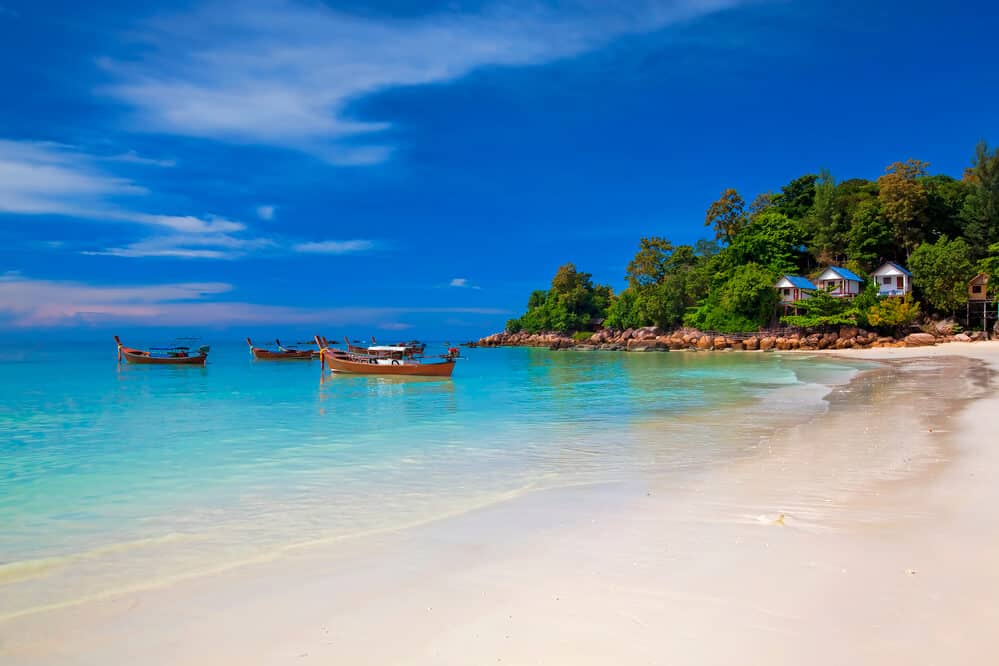 Koh Lanta
Thailand for first timers doesn't get much better than Koh Lanta. The energetic yet relaxing vibe on the island is awe-inspiring.
Whether you want to spend time on the beach reading a good book, chase the best viewpoints by scooter, or hike in the National Park, there are enough things to do in Koh Lanta for spending a couple of weeks there.
The many hippie bars along the beach where you can sip a cold drink on a pillow on the beach while listening to reggae music to top off the vibe.
If you need a change, take a day trip to Koh Lanta Old Town, where you will find charming old tree houses and shops.
If you're like me, you'll probably be looking for the best scuba diving in Koh Lanta, and you will not be disappointed. There are many dive centers across the island and they will most likely take you to Hin Daeng and Hin Muang which are the most popular dive sites.
If you don't go to Koh Mook, you should invest in a boat ride to Emerald cave.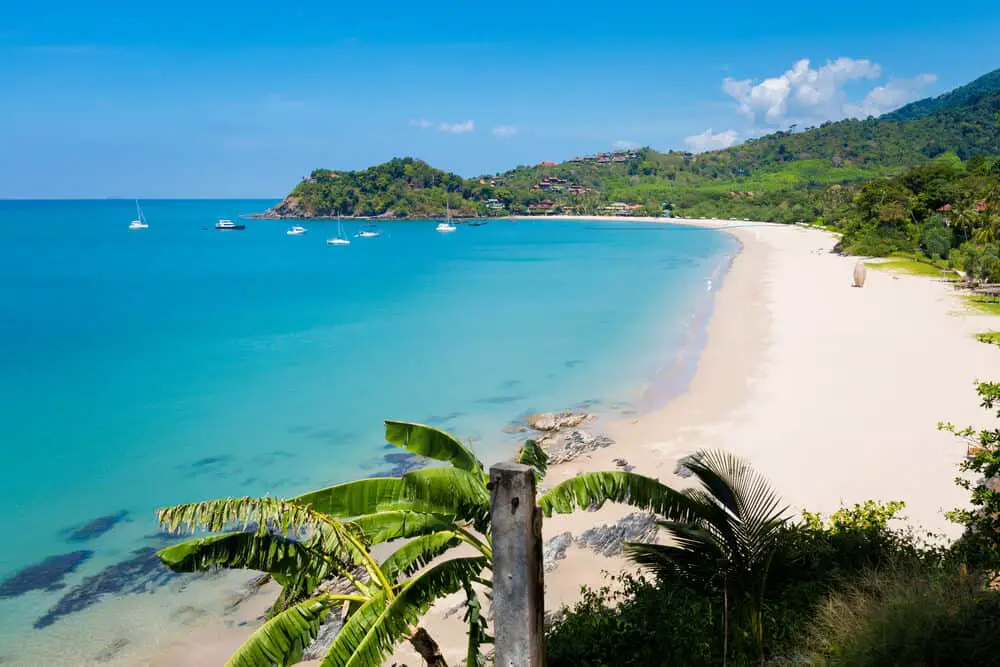 Koh Phangan
Whether you want to party hard at the full moon party or you want to have a spiritual island holiday practicing yoga every day, Koh Phangan has it all.
This bustling island paradise is perfect for a Thailand first time visit. The best way to get around is by scooter. If you're not used to driving, make sure you get an automatic as some of the hills can be hard. But steep hills also mean spectacular viewpoints!
Among the top things to do in Koh Phangan is hiking. Whether you take a hike to Bottle Beach to soak in the sun at this paradisiacal island or you want to tackle the highest peak of the island, the Khao Ra mountain, there are wonderful opportunities for you.
Beach bums will also love the island as there are some epic beaches in Koh Phangan, like Leela Beach and Haad Rin.
Also Koh Phangan has stunning dive sites only a short boat ride away, so if this is your thing, make sure you check out one of the many dive centers on the island.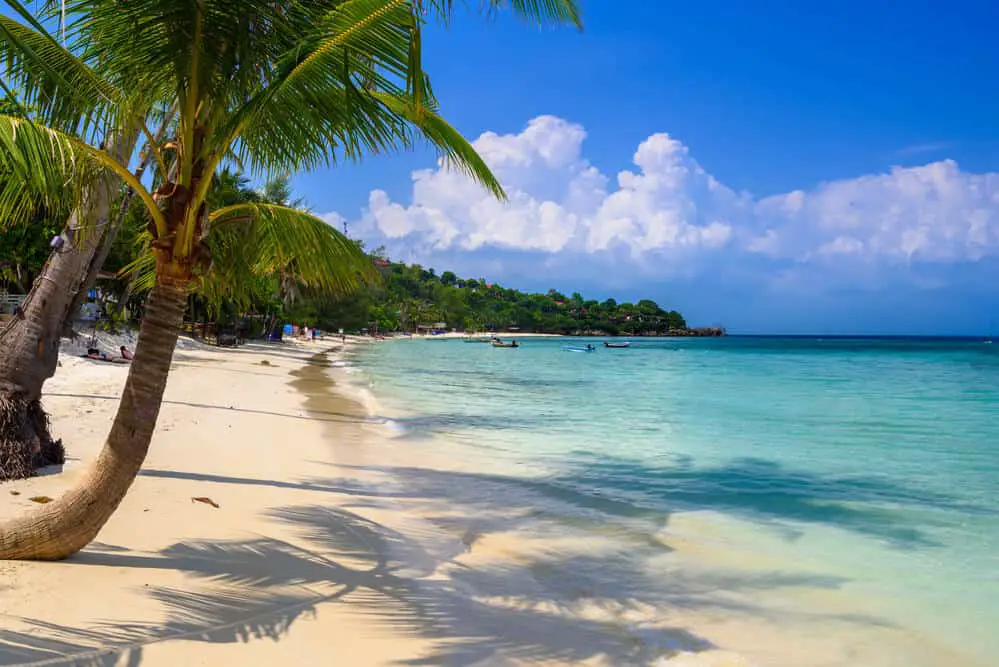 Koh Samui
Koh Samui is Koh Phangan's big brother and a wonderful place to go on a Thailand first visit. Frequented by Hollywod celebrities and budget backpackers alike, this island has something for everyone.
So let's start with the Big Buddha, which you will find in most places in Thailand, Koh Samui being no exception. A less expected attraction, is the large rock cluster Hin Ta and Hin Yai looking like a penis and a vagina.
Ledgend says it was a couple that went to another island to ask for a wife for their son. On their way back, the boat went under in a storm and they died. When they washed to shore, they turned into the stones you see today.
You should also visit the Secret Buddha Garden where you can walk through lush gardens dotted with Buddha figures and refreshing waterfalls.
Talking about waterfalls, you should not miss out on the Namuang waterfalls (they are situated about 30-minute hike from each other,) Secret Falls, and Khao Yai.
To explore the mesmerizing Angthong Marine Park, take a boat tour and spend an unforgettable day at sea, snorkeling in the crystal clear water or go kayaking.
There are also scuba diving sites near Koh Samui that you can discover with any of the diving centers on the island.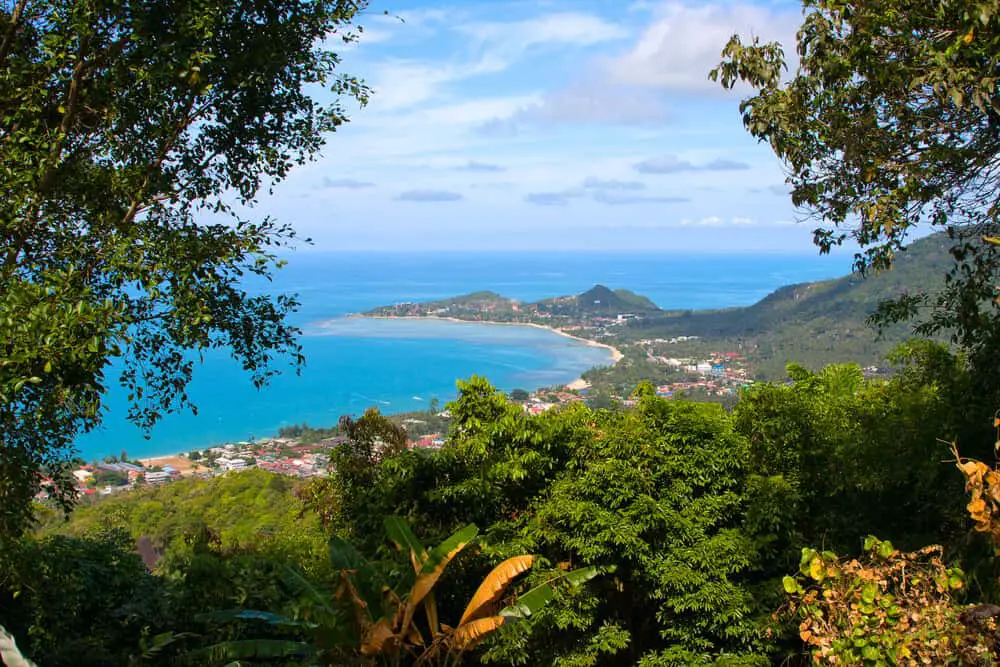 Pai
Once a well kept secret among backpackers that wanted to chill in the north of Thailand, Pai has become a popular destination. It sure is a good place to spend a couple of days when traveling in Thailand for the first time to get a break from beaches and cities.
It is still a chill place with a relaxed vibe. There are lovely restaurants and bars and interesting day trips where you can learn more about the Karen Long Neck Village and witness monks walking in line during early morning and collect alms. This is when towns people give food to the monks and the monks will bless them.
For hiking enthusiasts, hiking in Pai Canyon is a fun adventure – just make sure you have a good pair of hiking shoes. Rent a scooter and chase waterfalls like Pam Bok Waterfall and Mo Paeng Waterfall or spend the day soaking in Tha Pai Hot Springs.
Pai is really a place for relaxation and nature experiences, but even so, you can enjoy a vibrant night market with street vendors covering the main street of Pai once the night falls.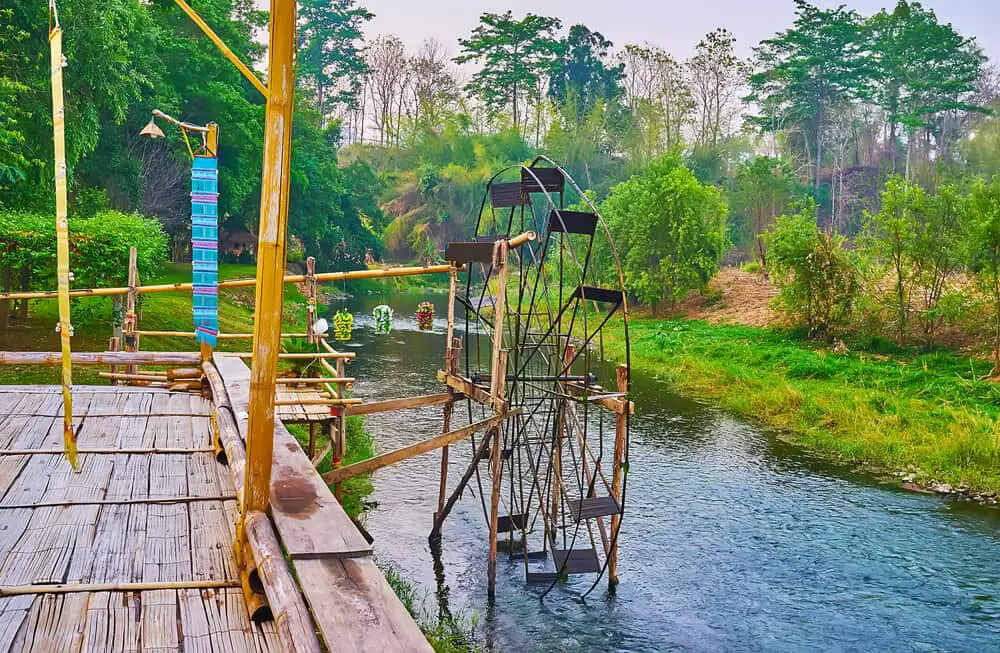 Bangkok
No list of the best places to visit in Thailand for first timers can go by without a mention of Thailand's messy capital city. There are endless things to do in Bangkok and once you stay a few days, you will start to get to know the different neighborhoods.
In Bangkok, you fins some of the most spectacular Asia landmarks like the Grand Palace and Wat Arun. The river is an important part of Bangkok and you should take a river taxi at least once while you are there to see the city from a different perspective.
While Bangkok might be a little messy to drive a scooter if you're not used to it, it's easy to find tuc-tucs to take you around, but make sure you bargain on the price as they will start way too high when they see tourists.
Other attractions you should not miss in Bangkok are the Wat Pho and Reclining Buddha, Wat Saket, and Jim Thompson's House.
Of course, the capital city is a wonderful place to relax with a Thai massage, go shopping, and eat local street food.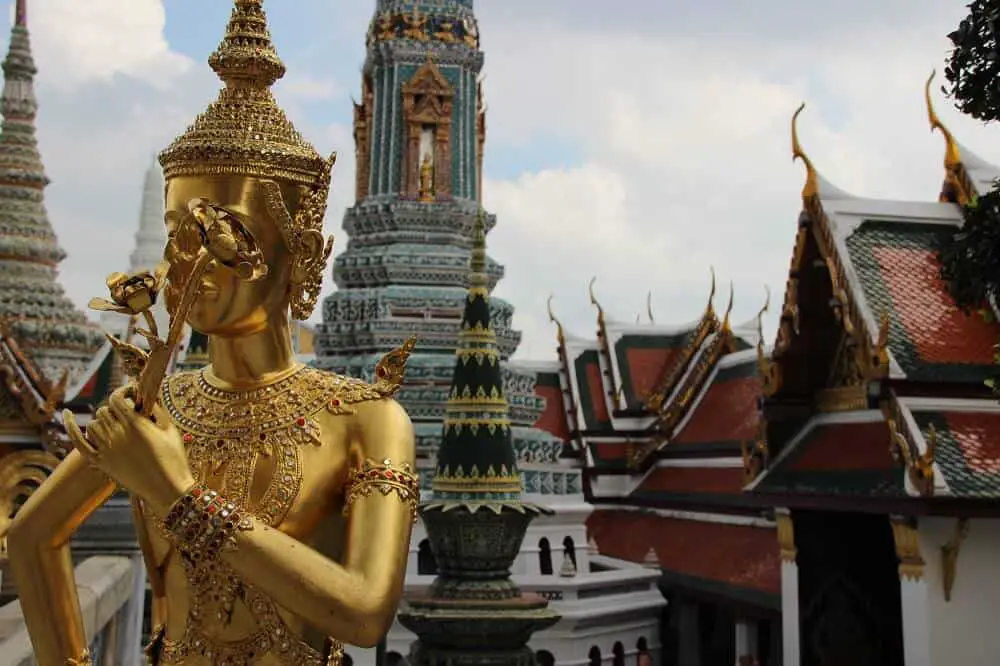 Chiang Mai
Among the best places to visit in Thailand for first timers is the quaint city of Chiang Mai. Jam-packed with restaurants, bars, and street vendors, Chiang Mai is a great place to get a first impression of northern Thailand.
I didn't expect to like it that much as I had expectations of it being very touristed, but surprisingly, I fell in love with the city straight away.
Start with exploring Chiang Mai's many temples like the Wat Phra Sing, Wat Chedi Luang, and Wat Chiang Man. If you head to the Wat Inthakhin Saduemang, you find the Temple Museum right next to it.
If you have the time, rent a scooter and head to the Doi Suthep National Park where you get epic 360 views of Chiang Mai from Wat Phra That Doi Suthep.
If you're anything like me and love chasing waterfalls, Huay Kaew Waterfall and Mon Tha Than Waterfall are not to be missed. There is also a small waterfall in Hmong Doi Pui Village.
Another beautiful site just a 15-minute drive outside the city is Lake Huay Tung Tao where you can go for a swim on a hot day (in dedicated areas!) There is also a cool place with straw animals to change up the scenery a bit.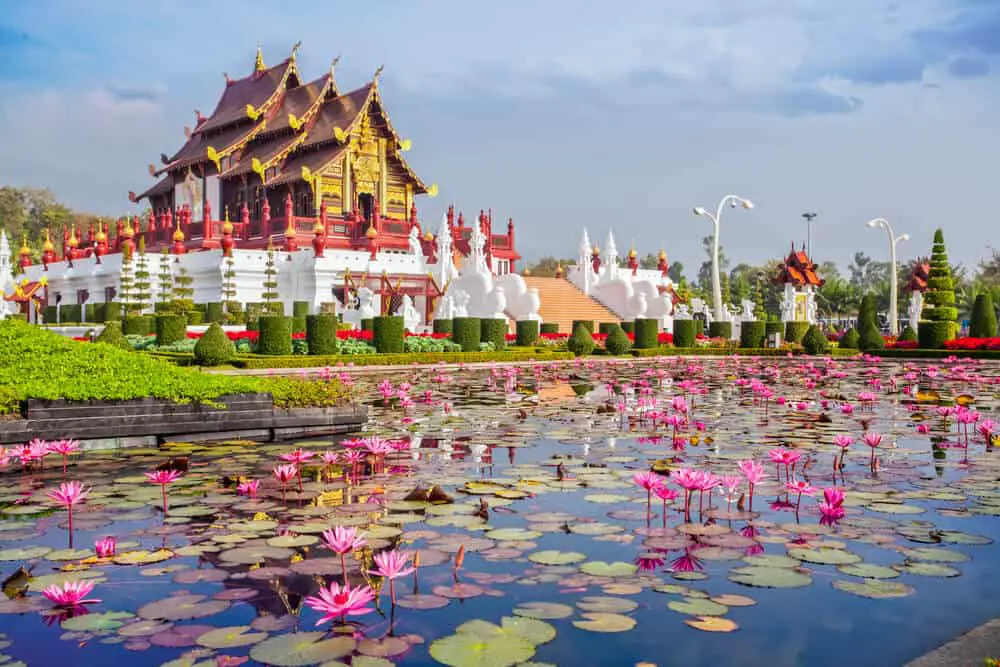 Reflections on the best places to visit in Thailand for first timers
I'm pretty sure you're confident about your Thailand first time visit after exploring these epic options of where to go. Most of these places, I've been multiple times, and with the years, they all become more and more prepared for tourism and it's easier to travel around each time.
So whether you're new to travel, solo travel, or you just haven't been to Thailand yet, I'm convinced you'll have a blast of a trip.
Thailand was my first solo travel destination where I didn't know anyone where I was going and I ended up getting friends for life and traveled most of the month and a half with other travelers I met on the way.
I find Thailand fairly safe to travel to, but of course, you must take basic precautions and not leave your valuables visible or unattended, especially in crowded destinations like Bangkok and Phuket.
The more off the beaten path you go, the more relaxed you can generally be with your belongings, but that's how it is all over the globe.
Enjoy your first trip to Thailand!