Koh Mook is mainly known for the mesmerizing Emerald Cave that you can only get through by kayak or swimming. Most visitors come from the nearby Koh Lanta on a day trip to visit the cave without paying attention to the rest of the island.
For this reason, there are only a handful of other tourists there and you can enjoy the long, white beaches by yourself. This makes it one of the top places to visit in Thailand for first timers.
Koh Mook is situated in the Andaman Sea just off the coast of the Trang Province on the Thai mainland and only an hour from the popular tourist island Koh Lanta which makes it the perfect stop when island hopping in Thailand.
If you are looking for an off the beaten path experience in Thailand, this is the place for you. This is the place to experience Thai village life without all the tourist stalls, and an excellent place to spend a few days for responsible travel in Thailand.
This is where you can see women and children picking shells at low tide and crabs with huge shells walking around the beach. This island gives you the authentic feeling of Thailand island life. Are you ready to explore Koh Mook?
Disclosure: This post may contain affiliate links. That means that if you make a purchase through one of those links, I will get a small commission at no extra cost to you. If you have any questions about these services or products, feel free to ask me.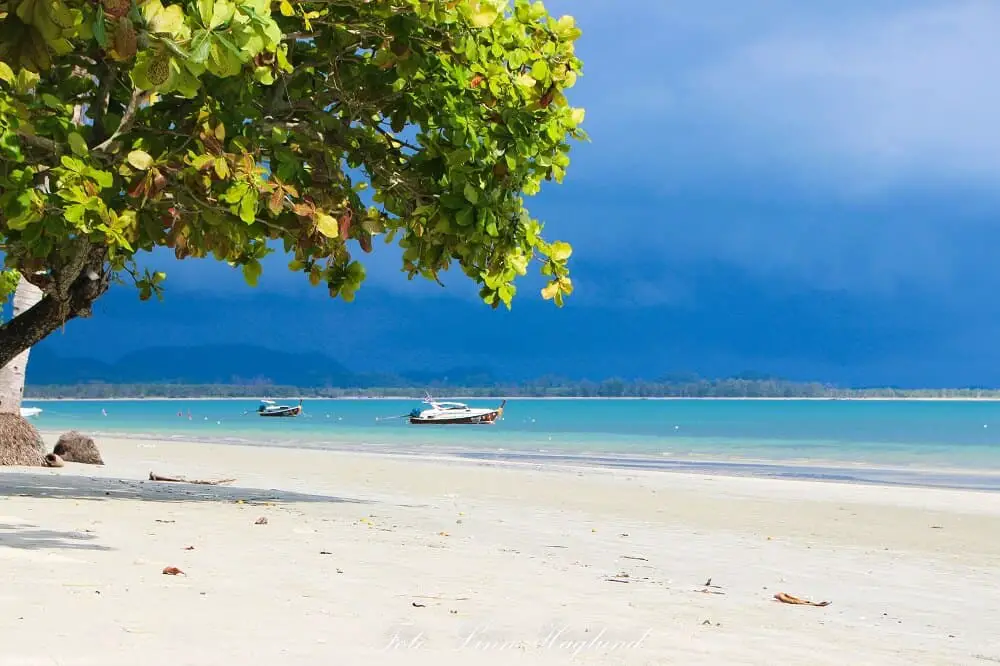 How to get to Koh Mook
You can easily get to Koh Mook from Trang and Koh Lanta, though it is possible to get there from smaller islands like Koh Kradan or Koh Ngai with a long tail boat. If you want a proper offbeat experience, the latter is a nice way to island hop between lesser known and lesser frequented islands.
Be aware that some ferry services only run in high season between November and April, so make sure you check the route before you plan your trip.
From Trang
From Trang, you will need to get a minivan to Kuan Tung Ku Pier where you get the ferry further to Koh Mook. You can buy joint tickets that include both the minivan and the ferry ride. The ride to the ferry is about 45 minutes and the ferry takes about 30 minutes. You also have an option to take an express transfer which includes minivan and longtail boat. This goes at your schedule so you won't have to wait.
From Koh Lanta
The only way to get from Koh Lanta to Koh Mook is by speedboat. This takes about 1 hour and 15 minutes and runs 7 times a week.
From Koh Lipe
The ferry ride to Koh Mook from Koh Lipe takes between 2 and 4 hours and run 7 times a week. You can book the ferry tickets at any travel agency on Koh Lipe or online.
---
Not booked your flight to Thailand yet? Do it here!
---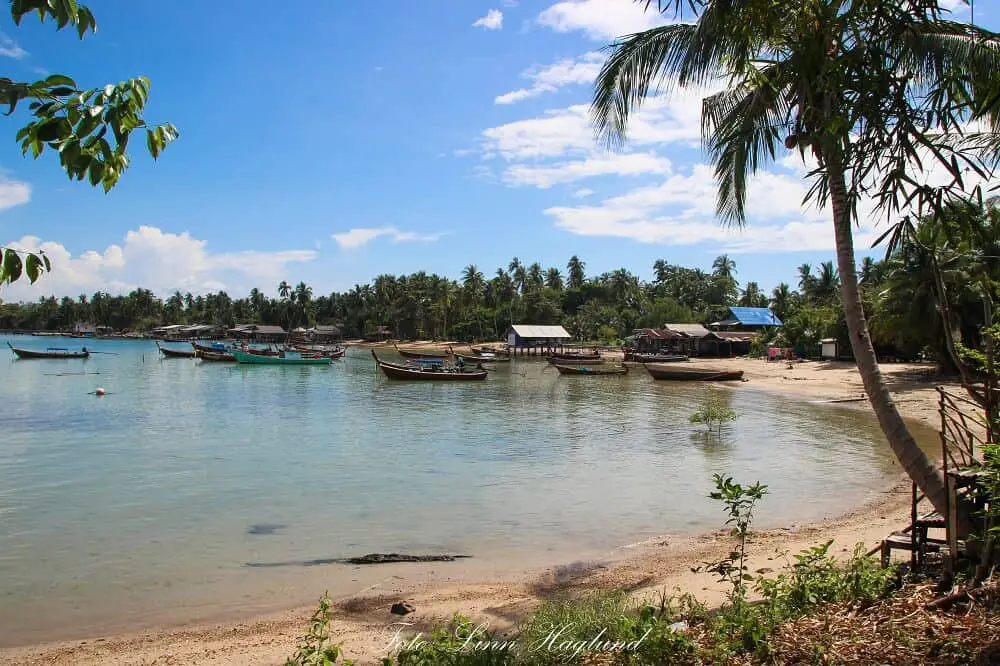 Flying into Bangkok? Check out the top things to do in Bangkok
Things to do on Koh Mook
There are plenty of things to do on Koh Mook if you are into raw nature and the Thai island culture. This is not the place for touristy flashy experiences that you get on popular places like Koh Lanta or Phuket. Koh Mook is a place for the adventurer and the curious traveler that enjoys the simple island life and one of the best quiet islands in Thailand. Here are some of the best things to do on the island.
Enjoy long, empty beaches
Koh Mook has some stunning long, white beaches. And the best of all, they are nearly empty for people. You can walk along the beach and hardly see any other tourist.
The nice thing is that you can actually see a lot of crabs and shell animals on the beach, most likely because people are not stepping on their habitat. I found it extremely interesting to observe them wandering around and doing their crabby things. There are not many places left where you can actually have a look at them up close.
Charlie Beach and Sivalai Beach are some of the best of the island, and there are both budget bungalows, tenting grounds and luxury resorts on the beach and around.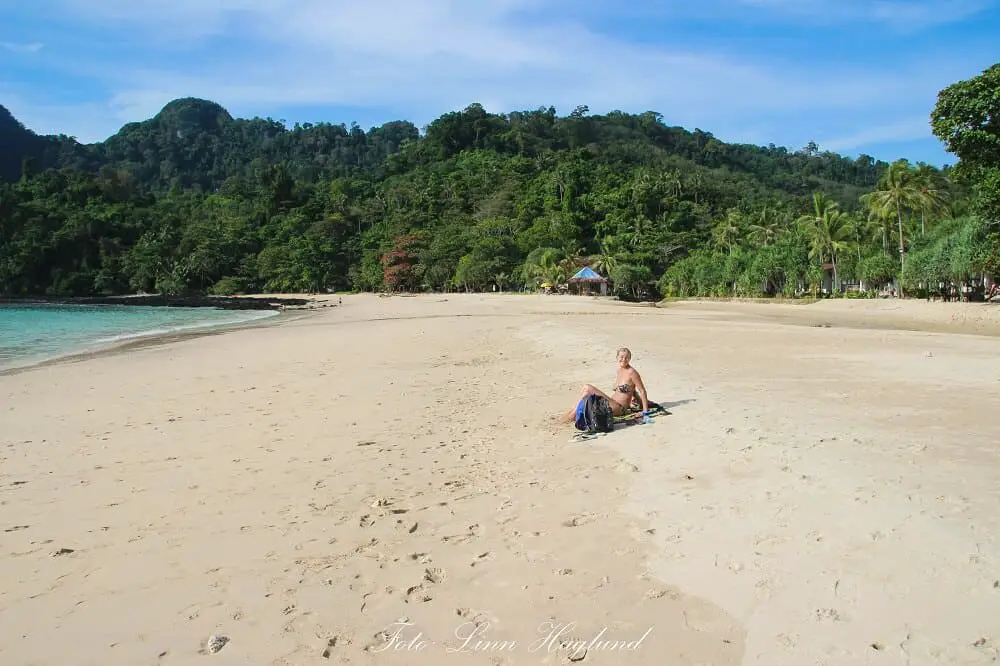 Explore the island by scooter or bicycle
Koh Mook is just big enough that you would like wheels to explore the island. This is the best way to get to beaches on the other side of the island and you probably do want to check out the different beaches.
Between Charlie Beach and Sivalai Beach, you pass the island village that winds its way inland. Here you will not find any 7/11, western restaurants or tourist stalls. There are some great restaurants serving local food and you can enjoy the true island village vibe. Further, you can also explore the lush green jungle this island has to offer.
Kayak to Emerald Cave
As mentioned at the beginning of this post, Emerald Cave is what most tourists want to see on Koh Mook as a must-see in Thailand. Thus, it gets extremely crowded and can lose its magic because of all the people.
But it doesn't have to.
If you rent a kayak and head off at sunrise, you will actually not only (most likely) be there all alone, but you will also get the best light to photograph. Remember to bring a flashlight/headlight and you're up for a kayaking adventure of a lifetime.
The cave is about 80 meters where you have to kayak through if not swim through until the end. Obviously, it is pitch dark most of that stretch. Once you are through, you will be awestruck by the small beach surrounded by tall, rough cliff sides that meets you. The light flows down at the beach, and at this time in the morning, you are most likely to be the only one entering this paradisiac place.
Make sure to bring your waterproof sports camera on this excursion. Also, if you take a snorkel, you can enjoy some nice snorkeling on the way back.
Note that when it is high tide, it is not possible to get through the cave. Make sure you check with those you rent the kayak from what times the high tide starts to make sure you get in and out of there safely.
Another option to explore Emerald Cave is to book a day trip by boat and swim through the cave. The tours offer snorkeling gear, waterproof flashlights, and lifesaving vests for the swim. Often these boat tours include several snorkeling stops on the way back from the cave.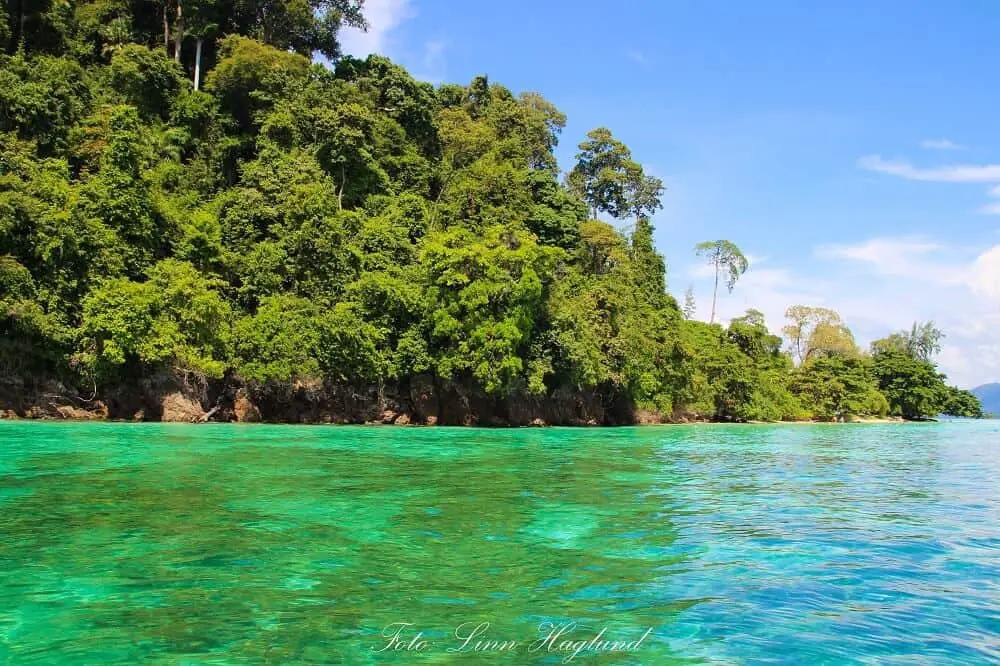 Take the jungle hike to Haad Sabai
On the northeast coast, just behind Ao Kuan, you find a jungle trail. It is possible to drive a part of it by motorbike or bicycle, though the dirt trail is fairly rough. Once you start walking, you can follow the signs to Haad Lo Dung if you want to have a swim to cool down on the way.
Once you get back up on the trail, continue towards Sabai Beach. Hiking through the thick, green jungle and cutting your way through the dense bushes involves you might get some unwanted bugs in your pants. Luckily you will be rewarded with a swim to get them all off when you finally arrive at the remote beach.
Make sure you bring enough water and some snack before heading out on this adventure as you will be likely to spend half a day to a day on this excursion.
Go scuba diving
One of the best things to do in Koh Mook is to go scuba diving. Featuring a few dive centers, the island's proximity to epic dive spots makes it one of the most underrated places for diving in Thailand.
Dive sites like Hin Daeng and Hin Muang are known as the best dive sites in the country and most divers go there from Koh Lanta. However, you can get a much more local experience by diving there off Koh Mook.
However, information on dive centers on the island is somewhat hard to find online, and it seems like active dive centers are changing frequently.
Therefore, I recommend heading to Charlie beach (there was a dive center on the resort which I don't know if still runs) and asking there if you can't find information at your own accommodation.
When is the best time to visit?
The best time to visit Koh Mook is between December and March. In the period May to November, there are heavy rainfalls and therefore low season.
Many hotels on the island close for this period and you can expect ferry routes to stop running as well. Therefore, if you decide to travel in the low season, make sure you check the availability of accommodation and transportation to the island up front.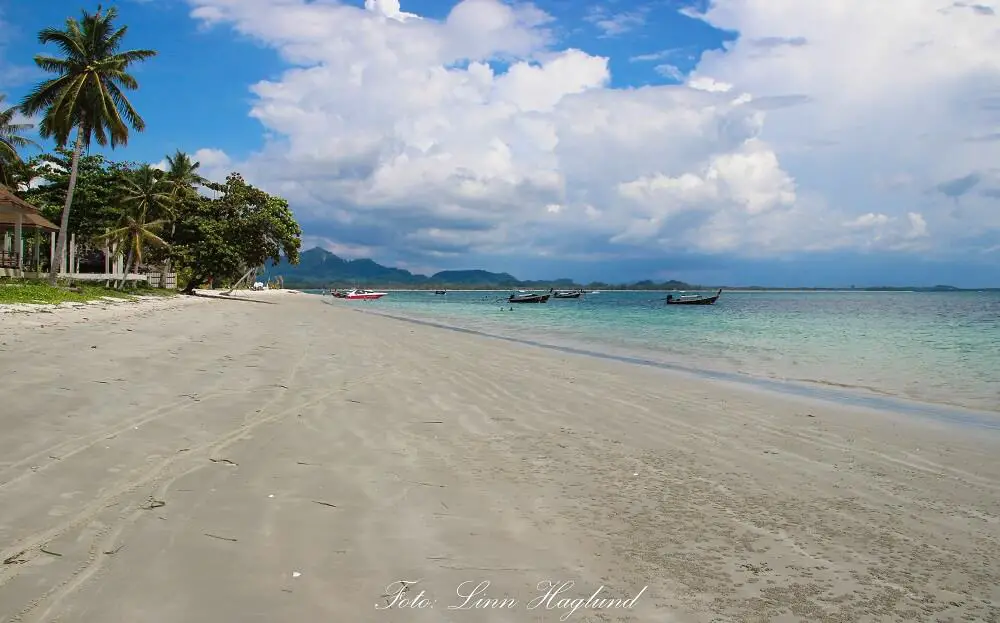 Plan your trip
There are no ATMs in Koh Mook. Therefore, make sure to bring enough cash. If you are desperate, there is a shop where you can buy "nothing" by card and they give you cash. However, they charge 5%-7% for the "withdrawal". Luckily, it is possible to pay for most accommodations with a card.
There are several budget-friendly bungalows on the island as well as luxury resorts. Book your accommodation of preference with Booking.com.
The island is quite large, so it is a good idea to book in advance so that you know where the Tuc-Tuc should drop you off when you get there.
To start planning, make sure you get Lonely Planet Thailand guidebook. I have traveled from the far north to the far south of the country with their guidebook and explored several off the beaten track places and hidden gems. It was the guidebook that helped me discover this amazing island.
Like this? Pin it for later!