The breathtaking Algarve coast is perfect for a road trip, dotted with charming towns and fun activities along the way. As one of my favorite corners of Europe, southern Portugal has so much to offer that you could probably spend months soaking it all in. However, most of us don't have that much time on hand, so a one-week Algarve road trip will cover quite a bit of the highlights.
There's no secret that I love road trips! The freedom of having a car is that you get to those places that are badly commuted with public transport and you get the chance to explore in your own paste. While living many years in Spain, I have done my share of south Portugal road trips too.
Here is a one-week Algarve road trip itinerary that you can change as you like, but I promise you'll get to explore some pretty amazing places and check out some of the best things to do on the Algarve coast!
Disclosure: This post may contain affiliate links. That means that if you make a purchase through one of those links, I will get a small commission at no extra cost to you. If you have any questions about these services or products, feel free to ask me.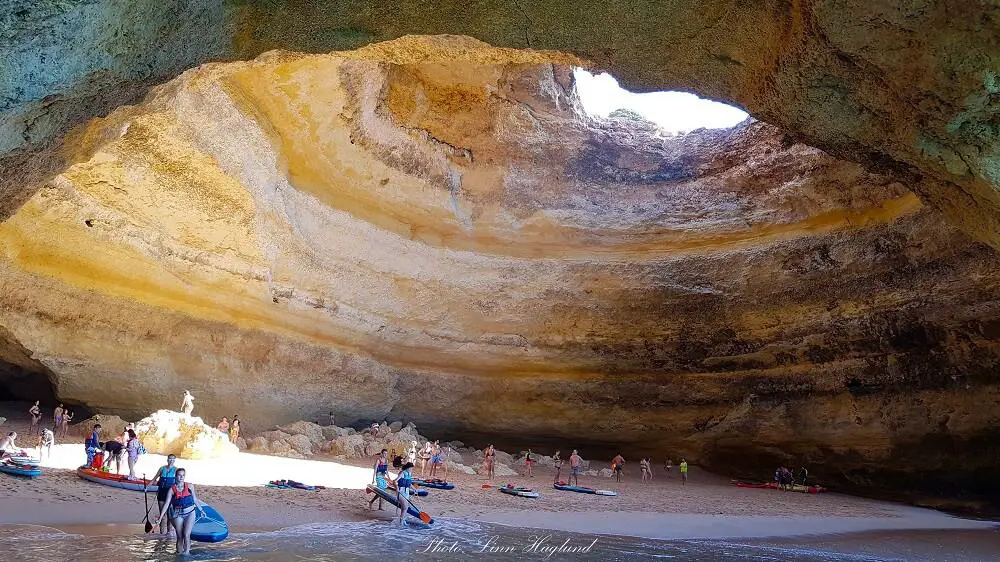 How to get to Algarve
The Algarve coast is easily commuted with the rest of Portugal, and even Spain, by road.
Faro has an international airport where you can pick up your rental car and start your road trip directly.
---
---
When is the best time for an Algarve road trip
Any time of year is great for an Algarve road trip. However, the hottest summer months can also be the busiest when it comes to parking at popular spots.
My favorite part of the year to road trip Algarve is in September or in May to mid-June. Simply because I find there are less people and the temperature and water is still warm enough to go swimming.
That said, I have been on the Algarve coast in December-January and locals are still surfing and swimming. If you're not so fuzz about going swimming in cold water or you don't want to go swimming at all, then the winter months are fantastic for a south Portugal road trip. The weather is usually nice and warm and there are notable fewer tourists around so you can venture with more peace.
Driving in Portugal
The roads in Algarve are in a good state and it's easy to get around by car. The motorway is full of automatic toll roads though, so the easiest way to pay, is to go to a service station and ask for it there. They will help you register your car's registration number so that you can drive through without problems.
You can pre-pay different amounts depending on how many times you pass the automatic tolls. If you ask nicely, they will most likely tell you how much they expect you to use, and if you see that you will go over the limit, you just stop by a service station again and refill.
Another option is to get the bill from the rental company after your trip, but you should ask them first. It might turn out more expensive.
Portugal has right hand driving and signs are easy to follow.
---
---
Remember to get travel insurance
If you haven't sorted your travel insurance yet, I suggest you do it right now. It's so much hazzle if something were to happen and you don't have it sorted.
Personnally, I opt for World Nomads as a responsibly conscious travel insurance company that I trust. They are super easy to deal with and have coverage for all types of travelers and adventure activities.
---
Book travel insurance with World Nomads here
---
Algarve road trip itinerary
This Algarve road trip itinerary is made for one week, but if you have more time on hand, there are plenty of things to do in Algarve and you can easily spend more days each place.
GOING CAMPING? Don't miss out on the best eco friendly camping gear and packing list
Day 1 Arravial in Faro
Faro is Algarve's capital city and with the only international airport in southern Portugal, it's the perfect place to start your Algarve road trip itinerary.
If you opt for staying the first night in Faro or drive to your next destination in the evening and stay there, you should definitely spend the day here and explore the charming old town surrounded by old city walls dating back to pre-Roman times.
See the Arco da Vila, one of the remarkable gateway in Faro's old city walls. It dates back to Moorish times, but got a Neoclassical face lift in 1812. The old city walls surrounding the old town, are also worth admiring.
Visit the second oldest museum in Algarve dating back to 1894, Faro Municipal museum. Just up the hillside behind Faro you can explore the spectacular Milreu Roman remains dating all the way back to the 300s.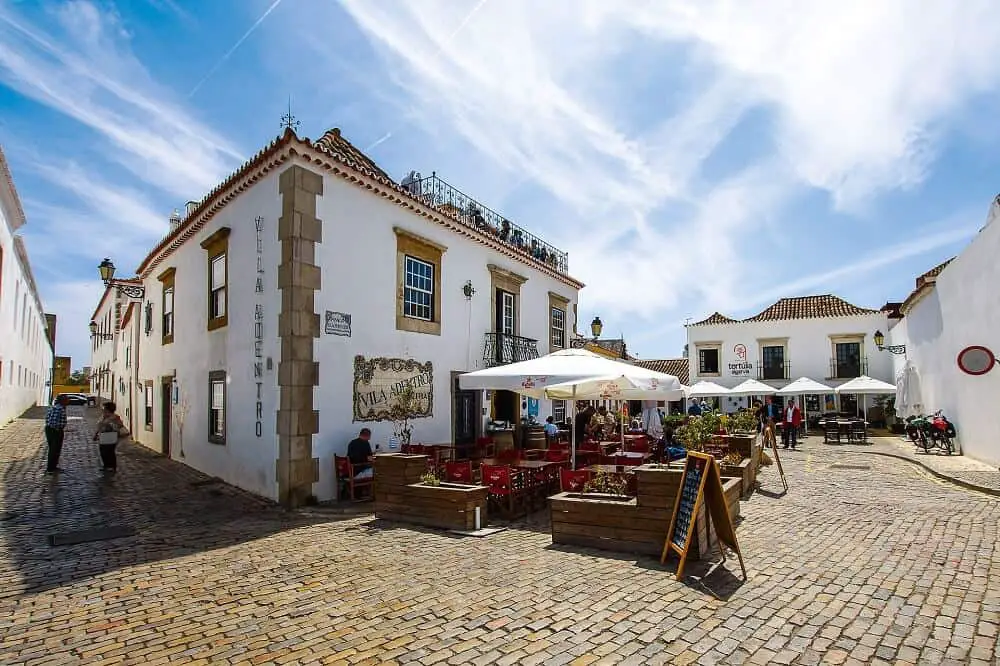 Where to stay in Faro
These accommodations both offer parking.
Lemon Tree Stay
Located in the historic town, this is a cute hotel with modern rooms and an excellent roof terrace with views. Shared kitchen if you don't want to go out for dinner. Breakfast included and free WiFi.
---
Book your stay with Lemon Tree Stay here
---
Hostel Casa d'Alagoa
If you want to stay in a hostel, this is a great budget option in the old town with both dorms and private rooms. You get free WiFi and shared kitchen if you want to make your own dinner.
---
Book your stay with Hostel Casa d'Alagoa here
---
Day 2 – 3 Albufeira
Albufeira is a popular vacation spot and much thanks to the many astounding beaches. Worth mentioning are Praia de São Rafael, Praia da Galé, Praia dos Salgados, and Praia da Falésia.
But there are a lot of things to do in Albufeira besides the beaches. Make sure you stroll through the narrow streets of the picturesque old town. From the pedestrian street, you can enter a tunnel through the rock that leads down to the beach.
Igreja Matris is Albufeira's main church, a beautiful Neoclassical structure from the end of the 18th century. Also the archeological museum, Museu Municipal de Arqueologia de Albufeira is worth visiting.
Other than chasing beaches, there are a lot of activities you can do! You can go stand up paddle boarding, surfing, kayaking, or go for a boat trip.
Exploring Albufeira from the water is truly rewarding as there are numerous caves in the astounding limestone coastline and mesmerizing secluded beaches.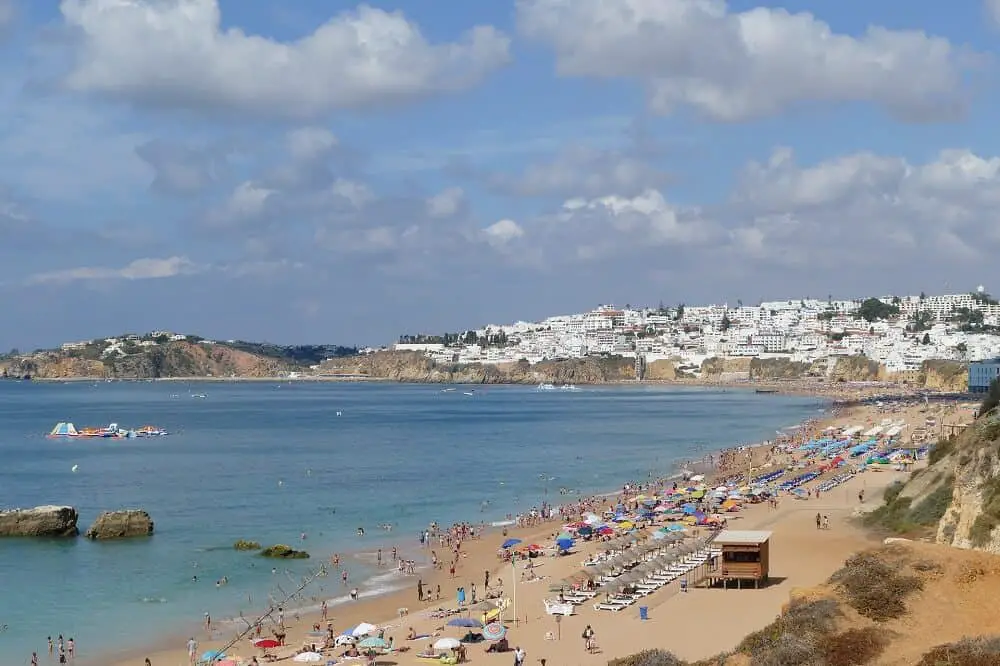 Where to stay in Albufeira
These accommodations have parking.
Agua Viva
A nice, privately owned place not too far from the center. With a private beach area, pool, and free WiFi.
---
Book your stay at Agua Viva here
---
Orange Terrace Hostel
Perfectly located 5 minutes from the Old Town, this hostel offers shared dorms, friendly staff, lockers, and free WiFi. Perfect if you want to connect with other travelers or travel on a budget.
---
Book your stay at Orange Terrace Hostel here
---
Day 4 – 5 Carvoeiro
Carvoeiro is a cute little village on the way to Lagos. With busy street cafes yet a peaceful atmosphere, Carvoeiro has surprisingly much to offer of natural beauty around.
Walk the scenic Carvoeiro Boardwalk all the way to Algar Seco where you can enjoy a natural pool, caves and cold drinks in the bar nestled between the cliffs.
From Algar Seco you can continue on the whole day hiking route, Seven Hanging Valleys Trail which stretches all the way to one of the worlds finest beaches, Praia da Marinha. If you opt for driving to Marinha Beach, there is plenty of free parking, though in the summer months, you might need to go early to get space.
Also one of the most astounding caves on the Algarve Coast is situates close to Carvoeiro. Benagil Cave. You can either get there by walking the Seven Hanging Valleys Trail and stop at Carvoeiro Beach (the trail goes naturally down on the beach before it continues a part on the road) or you can drive there.
Rent a stand up paddle board or a kayak to get on the actual beach inside the cave or go on a boat trip. Though the boats are not allowed to drop people off in the cave.
YOU MIGHT ALSO LIKE: Most spectacular hikes in Portugal you can't miss!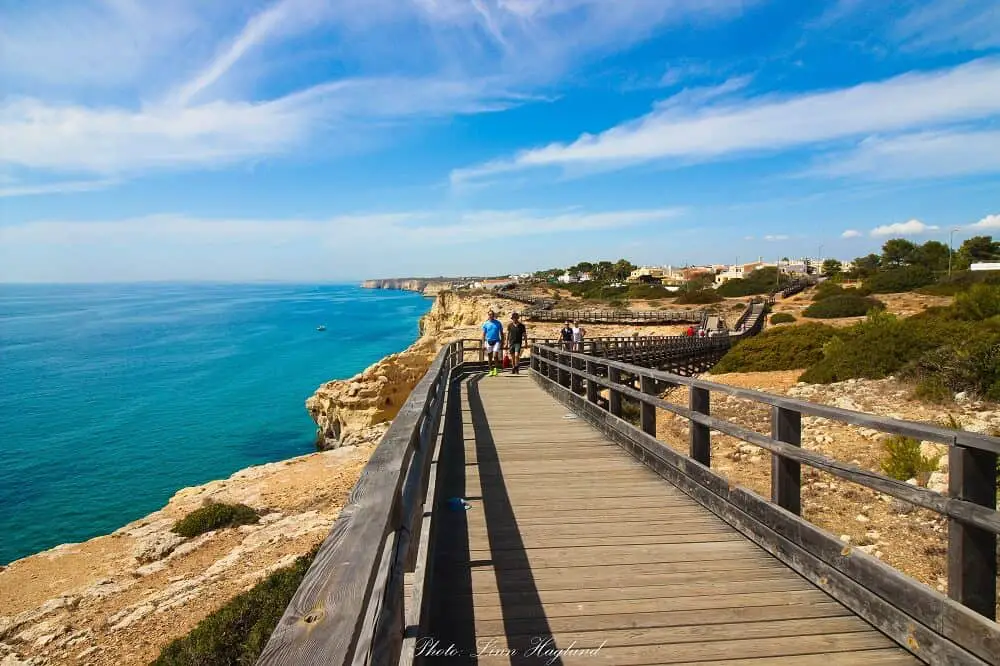 Where to stay in Carvoeiro
Quinta Das Amendoas
A friendly place to stay with kitchen, pool, and garden, only 2,6 kilometers from Carvoeiro center and walking distance to the beach. Free WiFi and parking.
---
Book your stay at Quinta Das Amendoas here
---
Day 6-7 Lagos
The last stop on your Algarve road trip is Lagos. One of my favorite towns in southern Portugal. There are so many things to do in Lagos you could probably spend a lot more than two days without getting bored.
After exploring the historic center with its
Learn hown to surf, go scuba diving, or explore all the amazing beaches around Lagos, like Camilo Beach.
Go on a day trip exploring the famous Sagres cliffs and Cabo de Sao Vicente. Then go to the mesmerizing cliffs at Ponta da Piedade, which I'm convinced it the most beautiful spot on the whole Algarve coast.
You can go on boat trips to explore these incredible rugged coastlines by boat and you'll get a whole other perspective.
Getting back to Faro: Believe it or not, but it's only 1 hour and 45 minutes to drive back to Faro from Lagos so you can comfortably spend your last day in Lagos and drive back to Faro to reach your flight and deliver your rental car.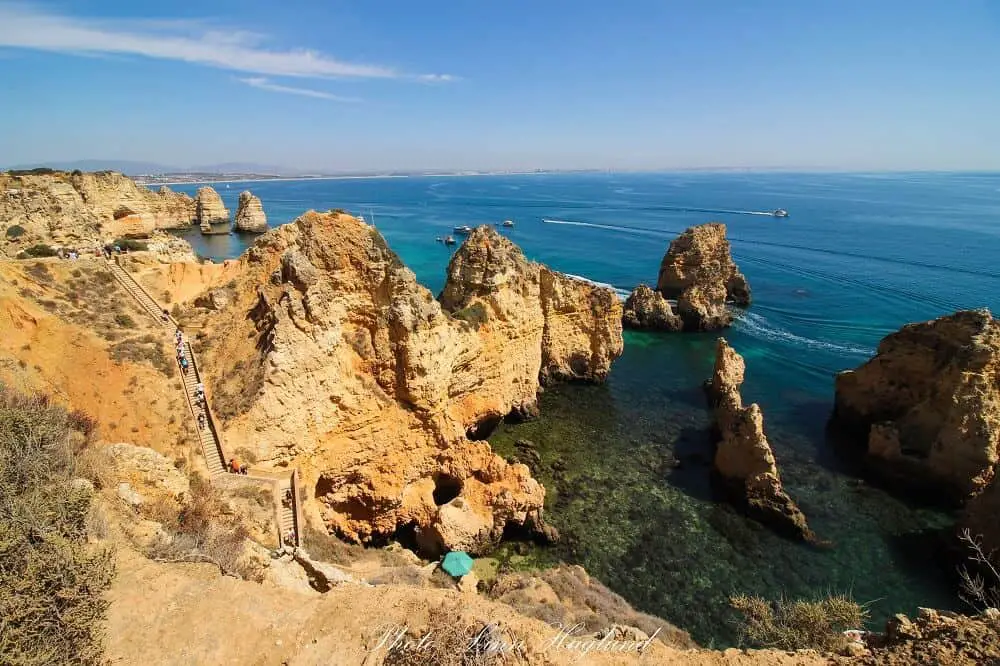 Where to stay in Lagos
These places have parking.
Casa Praia Mar
This is my top pic for Lagos. They have cute apartments with equipped kitchen, free WiFi, and a pool. It's walking distance to Praia Mar, a beautiful long golden beach.
---
Book your stay at Praia Mar here
---
Lagos Atlantic Hotel
A modern and clean hotel in walking distance to some of the best beaches in Lagos and the old town. Includes free WiFi, breakfast, parking, outdoors pool, and a fitness center.
---
Book your stay at Lagos Atlantic Hotel here
---
Lagos Marina Guest House
Also walking distance to Praia Meia beach, this guest house offers shared dorms for budget travelers. Free WiFi and parking included.
---
Book your stay at Lagos Marina Guest House here
---
Still not got your rental car? Book it here!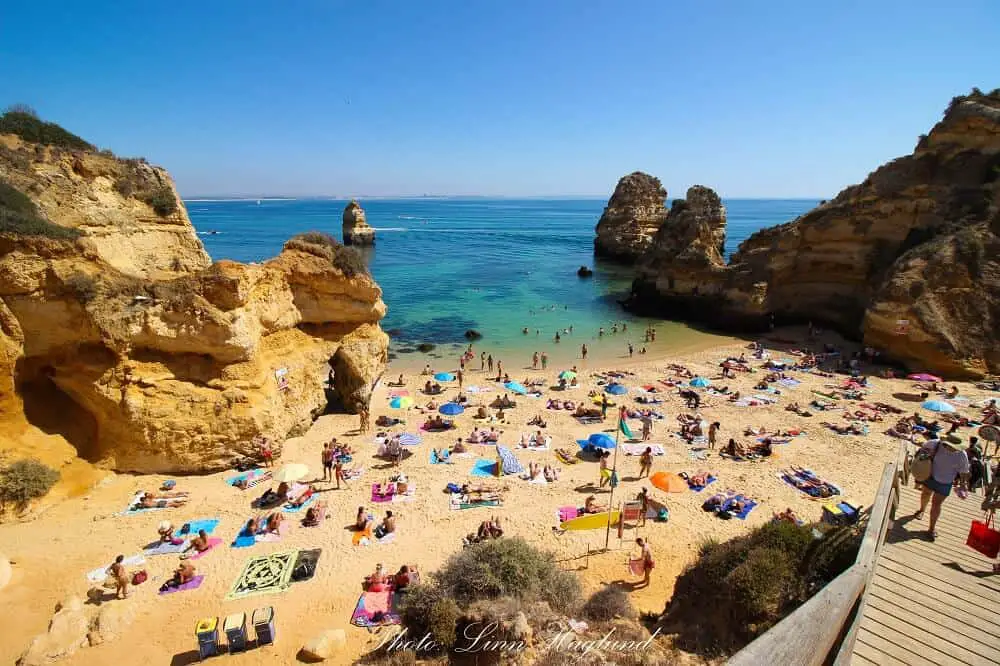 Considering extending your road trip beyond Algarve?
If you plan on extending your road trip by exploring more of Portugal, you should definitely take in Lisbon ad the fairy tale castles in Sintra. On the way to Lisbon, Evora is a great place to stop a couple of nights. There you can explore the impressive Chapel of Bones of Evora. Continuing north of Lisbon, make sure you make your way to Porto, Braga, and Portugal's only national park, Peneda-Gêres, for some hiking.
Responsible tourism on the Algarve
The Algarve coast being quite touristy, there are a few things you should be aware of when you travel there to assure responsible tourism.
Avoid unethical animal tourism
In Albufeira you find Zoomarine Algarve which is said to be a wildlife rehabilitation center. But unfortunately, they do have dolphin shows and seal shows. They also promote swimming with dolphins. These are highly unethical activities and I ask you to please avoid supporting this business.
You can read more about unethical animal tourism here and marine life in particular here.
Mind your waste
It's needless to say that you should always take any rubbish with you to a rubbish bin and not leave anything behind. But it is just as important to reduce the rubbish you create. By bringing a reusable coffee mug and a reusable water bottle, you save the environment for a lot of cups and bottles.
Respect the locals
The Portuguese are super friendly people and deserve being respected. Be kind, ask before you take pictures of people, and why not have a chat with the locals where you go. Learn about their history and culture, be curious, and appreciate the connections you get.
---
READ NEXT: Why is sustainable tourism important?
---
Like this? Make sure you pin it for later!