If you are planning to visit Florence in 2 days, you are in the right place. The historical capital of Tuscany is the perfect place to start your Italy itinerary.
Old chapels, historical bridges, a center for Italian art, astounding viewpoints, and delicious ice cream lure millions of tourists to this delightful city every year.
After all, we are talking about the city that gave birth to amazing artists and important scientists, most famously, the master himself – Michelangelo.
Florence is a great base for visiting other towns in Tuscany too as there are endless charming towns near Florence that should all be on your Italy bucket list.
You should at least spend 2 days in Florence to get through the most important attractions while still enjoying the city.
Ideally, you could make your Florence itinerary last for a week, but since you're here, I assume you don't have that kind of time. That's why I've made this perfect Florence 2-day itinerary so you can get the most out of your trip.
Disclosure: This post may contain affiliate links. That means that if you make a purchase through one of those links, I will get a small commission at no extra cost to you.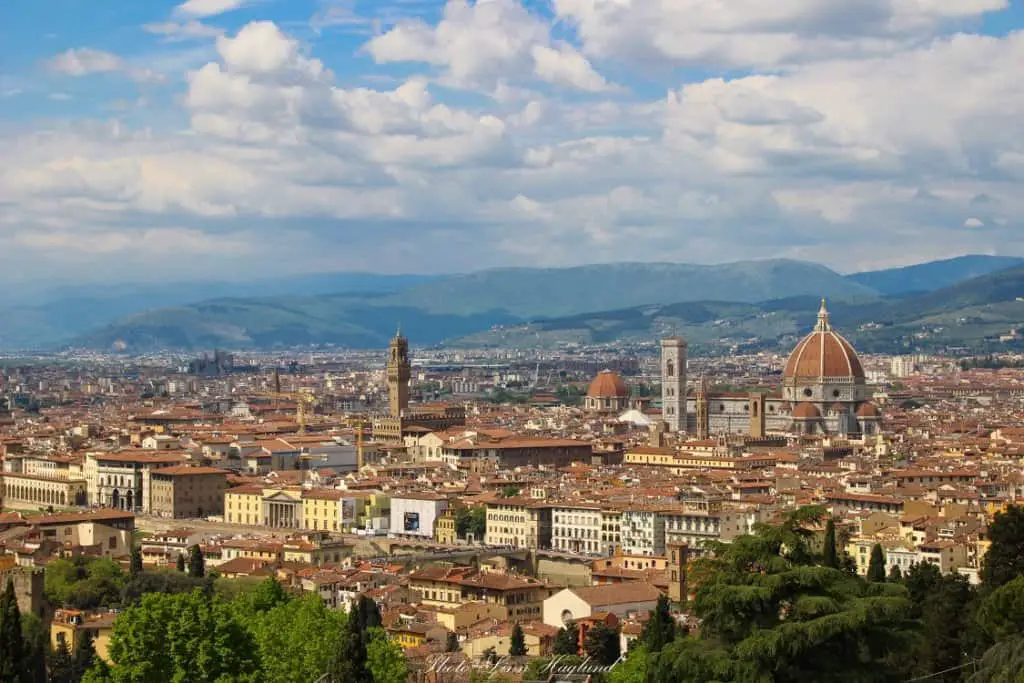 RELATED POSTS
How to get to Florence for a weekend
As the capital of Tuscany and one of the most popular destinations for weekend breaks in Italy, Florence is easy to get to no matter how you travel. Let me break it down for you.
By plane
Florence's airport (FLR) is the second busiest airport in Tuscany, after Pisa. It's situated 4 km from Florence city center and it only takes 15 minutes by car or taxi to get to and from the city.
You can also take the airport shuttle bus, Busitalia "Vola in bus". It leaves every 30 minutes and commutes between the airport and BUSITALIA Bus Station which is close to the SMN Railway Station. It usually takes about 20 minutes without any stops.
Pisa airport (Galileo Galilei International Airport) is also an option if you find that the tickets are cheaper. I've done that before and it's an easy 1 hour 15 minutes drive, which is great if you are going on a road trip in Tuscany.
But you can also take the high-speed Pisa Mover shuttle to Pisa's main train station, Pisa Centrale. From there, it's about an hour by train to Florence.
👉BOOK YOUR RENTAL CAR FROM THE AIRPORT HERE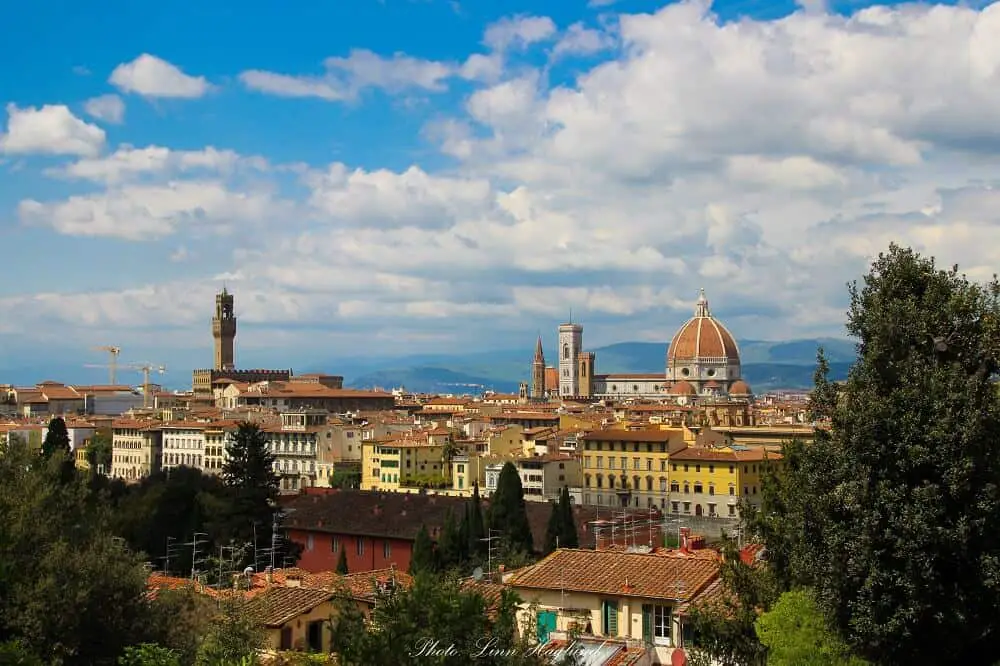 By car
Florence is well connected with the main highways in the country and can pretty much be accessed from all directions by car.
However, it's worth taking note that the historical center doesn't allow cars other than buses, taxis, and residents with special permits.
So before you drive to Florence, make sure you check where your hotel is located and ask where the closest parking is.
While it's not practical with a car during your Florence 2 days stay, you might be on a longer road trip in Italy and need to drive there.
By train
The main railway station in Florence is Santa Maria Novella (aka Firenze SMN). Not only is it well connected to the rest of the country, but it's also centrally located according to the main tourist attractions and local buses.
The second most important train station in the city is Firenze Campo di Marte, which serves a lot of the international trains on top of the national trains.
There are high-speed trains to Florence from Rome taking you there in right over 1.5 hours making the travel time considerably shorter than driving. This makes it considerably easier to visit Florence in a weekend from the capital.
By bus
Florence is also well connected by bus to other major cities as well as many of the bigger and smaller towns in Tuscany.
It takes 1 hour and 35 minutes by bus from Pisa, less than 3 hours from Rome, and less than an hour and a half from Bologna.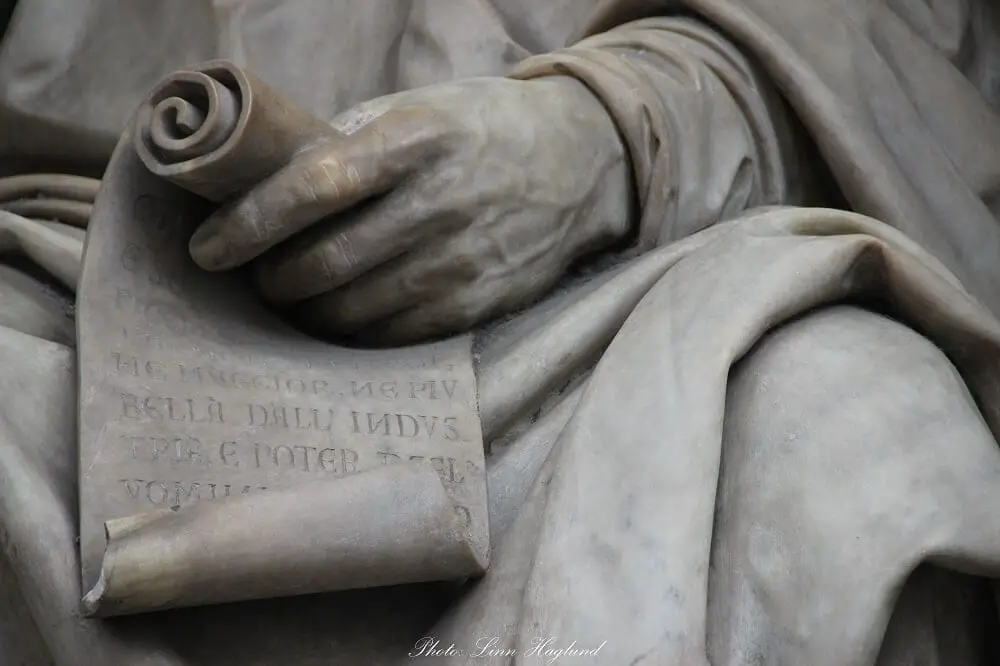 ---
YOU MIGHT ALSO LIKE:
---
Best time to go to Florence in 2 days
As one of the best places to visit in Italy, every month is a great month for visiting Florence in 2 days. However, there are a few differences you might want to consider before you decide which month is best for you.
Summer
July and August are without a doubt the warmest months in Florence, and daytime temperatures usually pass 30 degrees Celsius.
Sightseeing can get a tad hot but if you plan on going in this period, it means you have the best excuse to eat lots of gelato's to keep cool!
Spring and fall
April to June and September to October are the most pleasant months to go considering the weather and temperature. These are also the peak seasons, which means that there will be much more tourists around.
Spring is fabulous as you can take in the spring colors and the sweet scents of flowers in parks and alleys. Despite the crowds, it is my favorite time in Florence – or anywhere really.
If you enjoy fall colors, there is no doubt that fall is the best time for you to travel to Florence.
Winter
Florence is a great place for a winter city break in Europe, though it does get fairly cold at night, days are still mild and often sunny.
During the winter in Florence, you can absolutely enjoy the city without the crowds of peak season and it's a nice destination for winter sun in Europe. That said, you might get snow in Florence too, especially between December and February.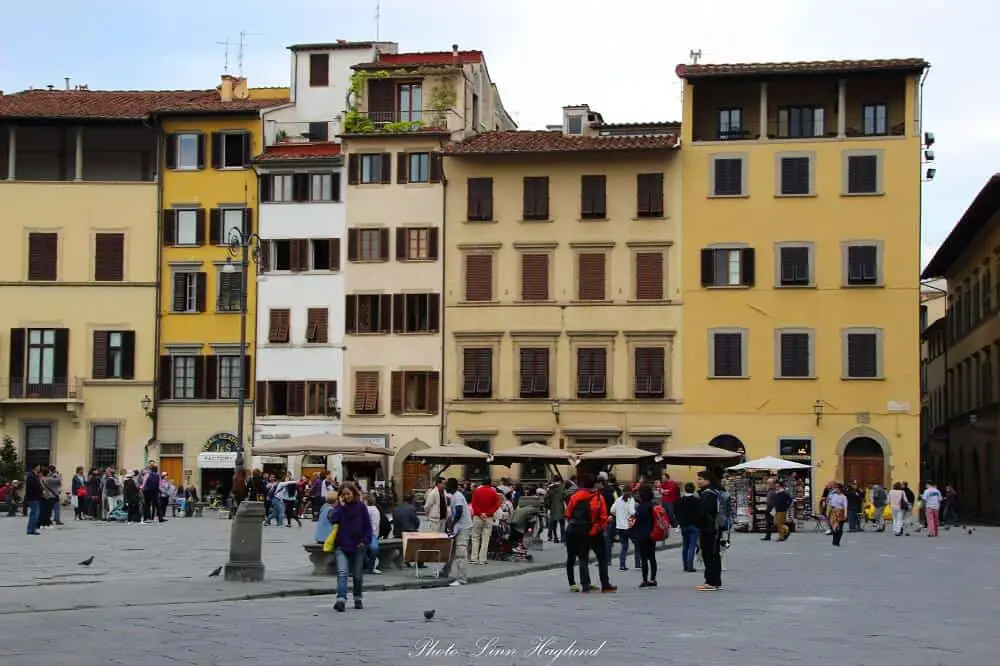 ---
Headed to Siena too? Read my Siena itinerary here.
---
Where to stay for a weekend in Florence
Florence is full of great hotels to stay at! Here are a few options around the historical center to make your Florence in 2 days itinerary as smooth as possible.
LUXURY: Palazzo Portinari Salviati Residenza D'Epoca – set in a historical building in the heart of Florence, this hotel has an indoor swimming pool and a spa and wellness center. The rooftop terrace offers splendid city views. It is also pet friendly.

MID-RANGE: B&B La Terrazza Sul Duomo – fabulous location with views of the Duomo and a rooftop terrace.

BUDGET: B&B Alla Corte dei Medici – set in a charming historical building this is a great budget option in the historic center.
---
WHERE ARE YOU HEADING NEXT?
---
2 days in Florence itinerary
Now, let's get to the exciting part and see what to fit into a Florence two-day itinerary!
I promise you, there are a lot of ice cream shops around, so don't be shy, and go get gelato whenever you feel like it.
There is no thing called too much gelato while in Italy. Especially not when going on Florence city breaks for 2 days.
In fact, I always make sure I grab one whenever I walk by a "Gelateria" and I still have some time until the next meal.
Florence itinerary – Day 1
Enjoy the views at Piazzale Michelangelo
Kickstart your 2 days in Florence itinerary with one of my favorite spots in the city, Piazzale Michelangelo.
This viewpoint is the absolute best in Florence! You have the whole city at your feet and can admire a staggering skyline dominated by the cathedral towering above the terracotta rooftops.
Besides, you will see how the Arno River floats elegantly through the city with its picturesque bridges crossing it.
Piazzale Michelangelo was built in the 19th Century by Poggi to showcase copies of the famous artist's masterpieces.
Behind the square, he built a structure that was meant to act as a museum for Michelangelo's work. Never really finished, the building now serves as a cafe and restaurant.
Still, a bronze copy of David and a handful of other replicas of Michelangelo's statues was erected before the work ceased.
You can easily walk up there from Piazza Ferruccio, a nice walk with constantly improving views, or take bus no. 12 or 13. There is also paid parking if you come by car. We drove there once and there was no problem parking there.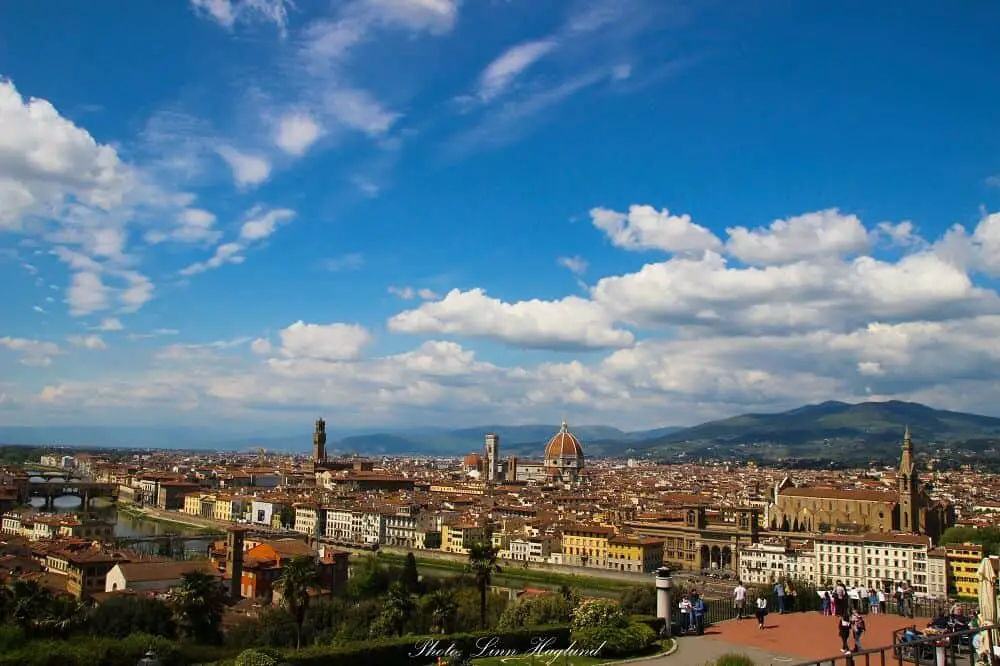 Duomo di Firenze – The Cathedral of Saint Mary of the Flower
The most prominent landmark of Florence, known for its staggering beauty, holds hundreds of years of history and must be on any itinerary for Florence Italy.
The Cathedral of Saint Mary of the Flower, mainly known as the Duomo by the locals, took 140 years to build.
The Duomo was built on top of a small church dating back sometime between the 4th and 6th centuries. There is a small museum in the Duomo dedicated to it where you can see the ruins of the old church.
Step into the Opera Duomo Museum and admire masterpieces of none other than Michelangelo, Donatello, and Verrocchio among other great names.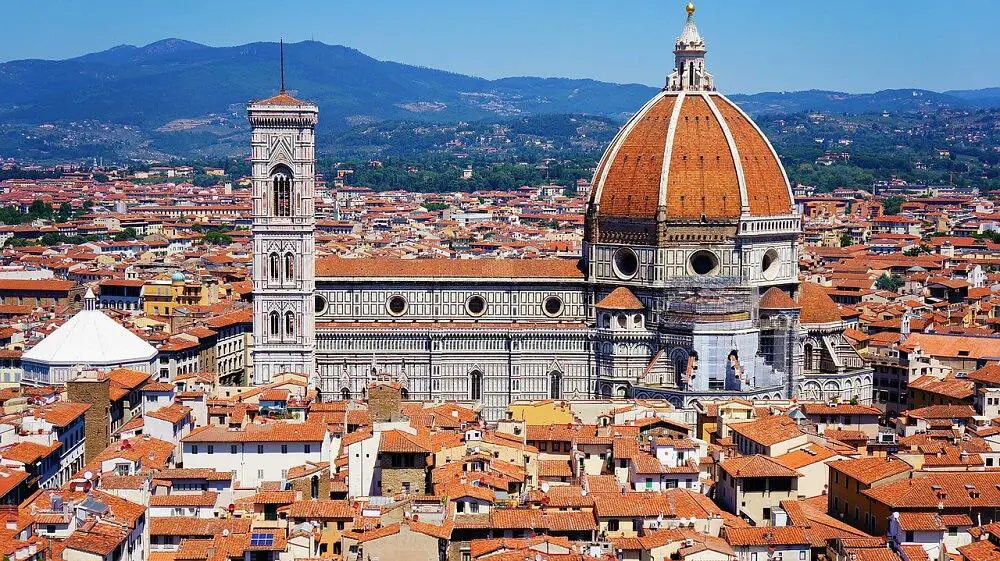 Climb the dome
Finally, make sure you climb the 463 steps up to the dome to reach the highest point in the city center.
As you walk up, you get the chance to admire the breathtaking artwork inside the dome itself, the magnificent frescos of Giorgio Vasari and Federico Zuccari.
They were painted in the second half of the 18th century and are some of the most spectacular details in the entire cathedral if you ask me.
While the cathedral is free to enter, you must purchase tickets for the dome and I recommend doing that in advance – at least a few days – to assure that you do not miss out on it.
👉PURCHASE A GUIDED TOUR OF THE DOME HERE
Lunch
Head to Mercato Centrale for lunch, the ultimate food market in town. You find pretty much everything here, so get lost and try out a few different things from the local cuisine.
Alternatively, you can look for a cute place to eat near the cathedral. With two days in Florence, you will get the chance to try out some restaurants in the old town either day.
See David in the Accademia Gallery
One of Michelangelo's most famous sculptures, David, is located in Florence's Accademia Gallery. This is a must on any two-day Florence itinerary or Florence short breaks.
While David is the highlight of the Accademia Gallery, there are a whole lot of other art pieces worth seeing inside.
Among them, you can see the Rape of The Sabines by Giambologna, Slaves by Michelangelo, Coronation of the Virgin by Jacopo di Cione, and Tree of Life by Pacino di Bonaguida.
👉BOOK A TOUR OF THE ACCADEMIA GALLERY HERE
The Uffizi Museum
This world-famous museum is stuffed with the finest Renaissance art featuring masterpieces like The Birth of Venus by Botticelli and The Annunciation by Leonardo da Vinci.
But you can also see pieces by Michelangelo, Simone Martini, Giotto, Filippo Lippi, and many more.
The corridors are adorned with paintings and statues, some of which are copies of old Greek sculptures from Roman times.
Being one of the most important art galleries in the world, it is one of the essential places to visit in Florence in 2 days.
I suggest you spend at least 2-3 hours walking around the museum as there's so much invaluable art history to be told between these walls.
You can also visit Palazzo Pitti and Giardino di Boboli while you're there if walking among art for that long isn't really your thing.
Make sure you book your tickets in advance because the Uffizi is by far one of the most popular attractions in Florence.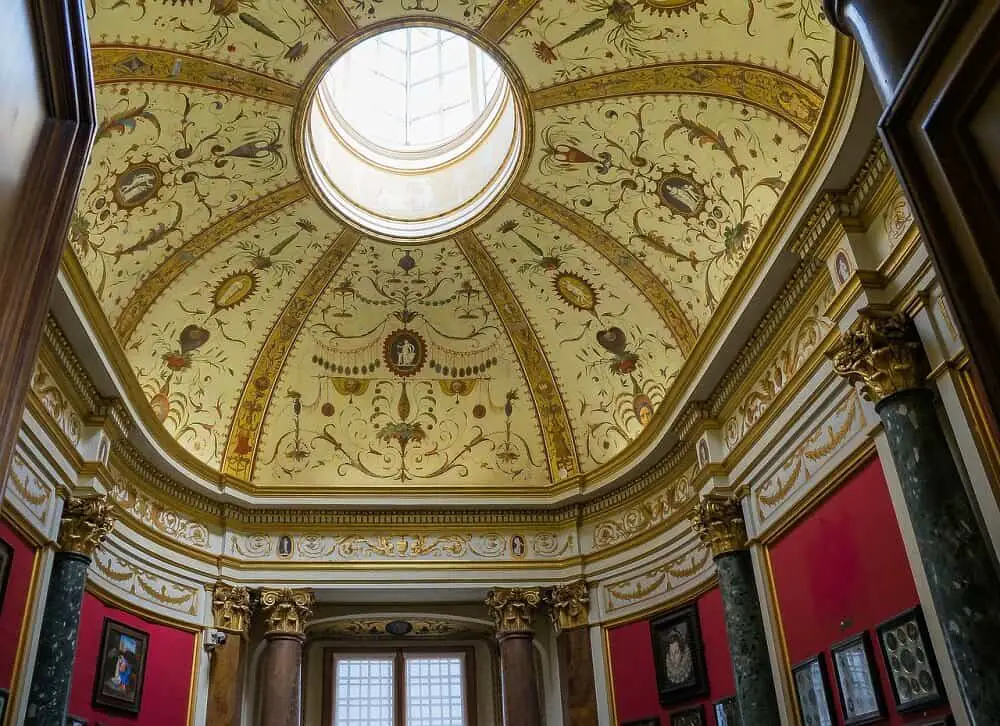 Dinner in Oltrarno
Head to the Oltrarno neighborhood for dinner. This is one of the hippest areas in Florence with a mix of vintage and modern making it a must-visit on any 2-day Florence itinerary.
And this is also the case for the food scene. You will find anything from intricate fusions to traditional meals.
Oltrarno is where the locals like to hang out, so it is definitely a great place for both food and a couple of drinks afterward if you are up for it.
---
Headed to Amalfi Coast after Tuscany? Read my guides:
---
Itinerary Florence – Day 2
Start the second day of your 2-day itinerary in Florence with a lovely breakfast either at the hotel or in a bar nearby. There will be a lot of walking and activity today, so you'll need the energy.
Ponte Vecchio
Start by walking to the iconic Ponte Vecchio. Dating back to 1345, the bridge used to function as a defense bridge and was the only bridge across the Arno River to survive World War II.
These days, it is mostly known for antique shops, jewelry shops, and art vendors. There is nothing not to love about this historical landmark with little pastel houses built on the outer walls with windows, terraces, and tiled roofs.
If you ask me, the highlight of this Florence 2-day itinerary and not only a unique photo subject but also one of Europe's most famous bridges.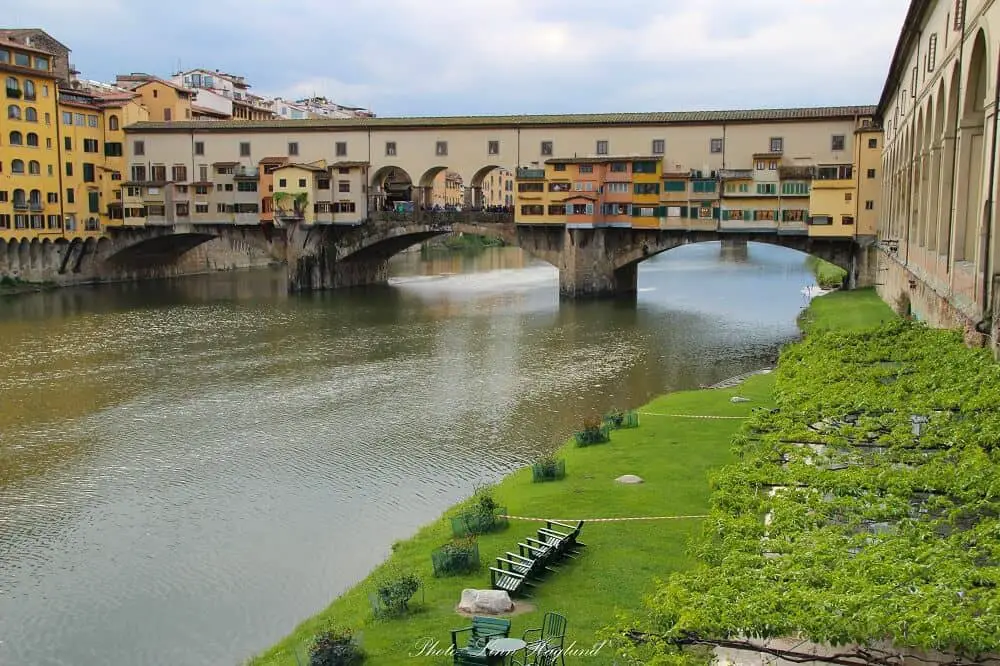 Get lost in the Old Town
One of the best things to do in Florence in a weekend is without a doubt to get lost in the cobblestone streets from Ponte Vecchio and through the old town.
The historic center is full of old churches, buildings, Gelato shops, coffee bars, and restaurants.
Strolling through the streets, popping into random churches on the way to admire the amazing inside, and losing the sense of direction as you find a cute little restaurant for lunch is hard to beat.
And what better than pasta and pizza for lunch AND dinner later? You are in Italy after all.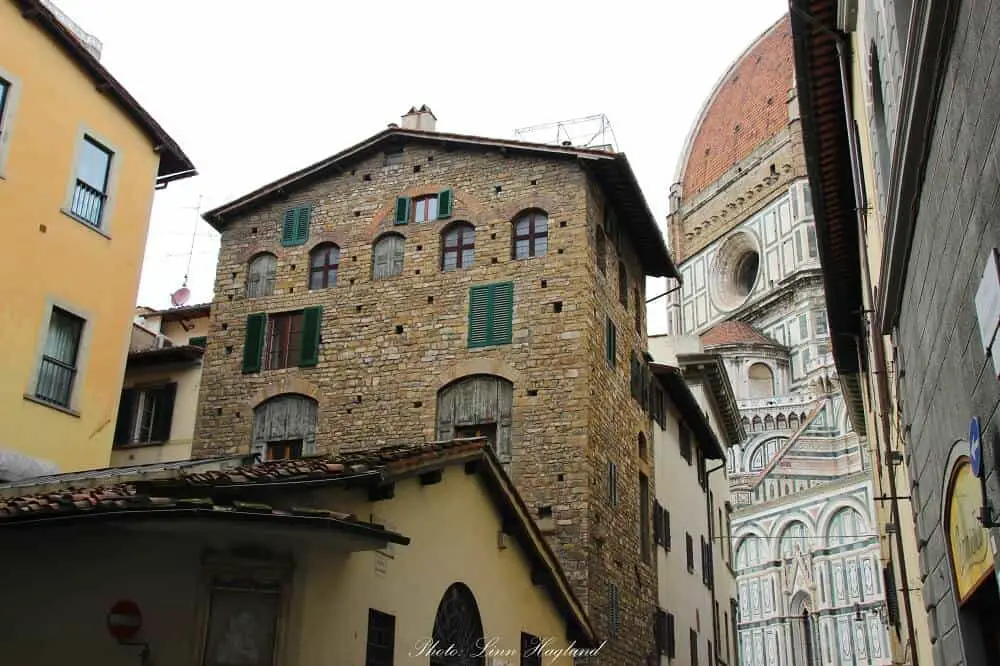 ---
RELATED: Things to do in Lucca
---
Basilica di San Lorenzo
This rustic church might just be the oldest church in Florence and was once the main cathedral in the city. There is evidence that dates this church all the way back to the year 393.
Other than the church, you can visit the wonderful Cannon's Cloister with its green garden, the museum of St. Lawrence Treasure, and the Cellar where Donatello is buried.
If there is an exhibit going on, it's possible to visit Medicea Laurenziana Library and I highly recommend doing it if the opportunity arises, to admire Michelangelo's impressive example of Mannerist architecture.
However, the highlights are the Medici Chapels, the burial place of the Medici family.
There are three parts to visit, the crypt, the Chapel of the Princes, and the New Sacristy, which is the actual mausoleum and none other than Michelangelo made the sculptures for the tombs of Giuliano and Lorenzo Medici.
This is by far one of the top attractions to see with only two days in Florence, Italy.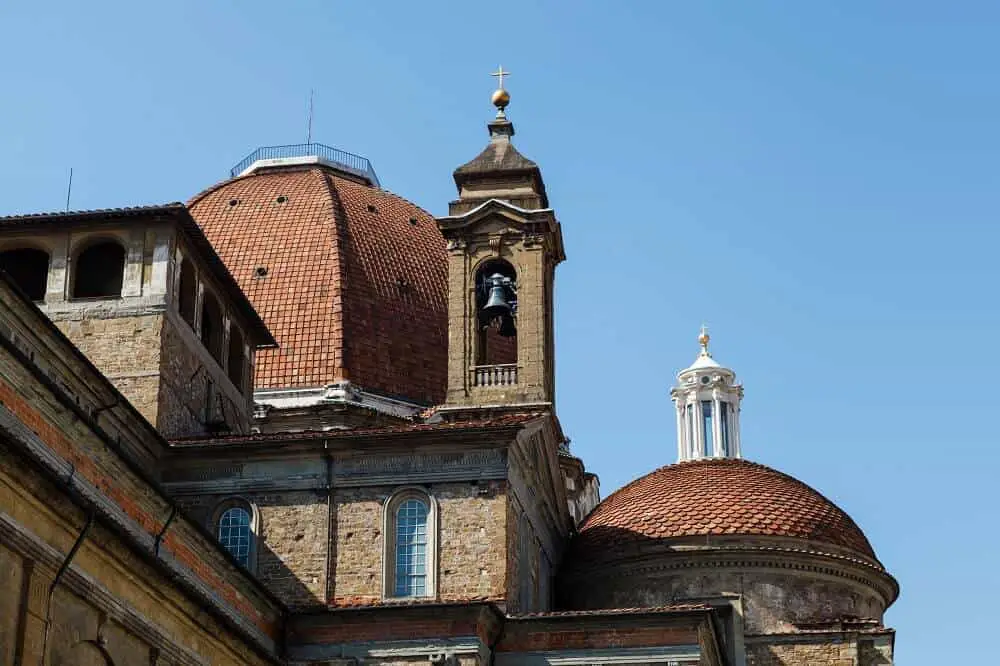 Have dinner in Old Town
Of course, you can have dinner wherever you want, but as it is the last night of your 2 days Florence itinerary, you might want to enjoy the historical center one last time.
Trust me, it is super charming at night when the warm, yellow street lights flow onto the cobbled streets!
Want to experience some wonderful wine trips from Florence?
Florence in 2 days – Be a responsible traveler
Florence is a tourist magnet. Being the gateway to Tuscany, millions of travelers set foot in Florence and though it is a big city, make sure you always treat locals with respect.
While exploring Florence in 2 days you can contribute to less waste by bringing your own reusable water bottle, metal straw, and takeaway containers. If you're a coffee junkie, you might also bring your reusable coffee cup.
I hope you enjoyed this Florence itinerary (2 days.) If you're headed on a road trip in Tuscany, you can read my complete road trip itinerary here.
---
READ NEXT: Italy off the beaten track destinations
Reflections on this itinerary for Florence
As you can tell, there are so many incredible things to see in this magnificent city and this itinerary for Florence covers the most important attractions that you can fit during a weekend in Florence.
Besides, you can always make any changes you feel like throughout the itinerary to custom-make your 2-day itinerary. Florence is such a magical city, so no matter what you end up doing, there is no way you can go wrong.
Happy travels!
FAQ on visiting Florence in two days
How many days do you need in Florence?
While I recommend at least 2 days in Florence, Italy, you can easily spend 3-4 days exploring the city and its magnificent attractions.
Is 2 days enough for Florence?
It is enough to visit Florence in 2 days if you want to visit the main highlights of the city. However, if you have more time on hand, I do recommend staying 3-4 days.
What to see in Florence in 2 days?
In Florence, two days will give you enough time to see the main attractions like the Uffizi Gallery, David in the Accademia Gallery, the Duomo, climb the Cupola, stroll the old town, cross Ponte Vecchio, and see the views from Piazzale Michelangelo.
Pin this Florence itinerary for later!