Dispersed Camping is one of the great ways to see the area around Yosemite and many other west coast national parks.
Yosemite National Park boasts some of the most epic hikes in northern California and if you're a nature lover and adventure traveler you are most likely interested in finding free camping in Yosemite to get the entire nature experience.
When looking for free camping, Yosemite has quite a few excellent options around the park which is good news for any adventurer planning to visit the park.
When camping in Yosemite, you get a lot more freedom to see the mountains without being so close to other campers but still being close to all of the fun things to do in Yosemite.
Exploring the National Parks is a favorite for many, and our list of free camping near Yosemite will surely help you do this.
Disclosure: This post may contain affiliate links. That means that if you make a purchase through one of those links, I will get a small commission at no extra cost to you. As an Amazon Associate, I earn from qualifying purchases.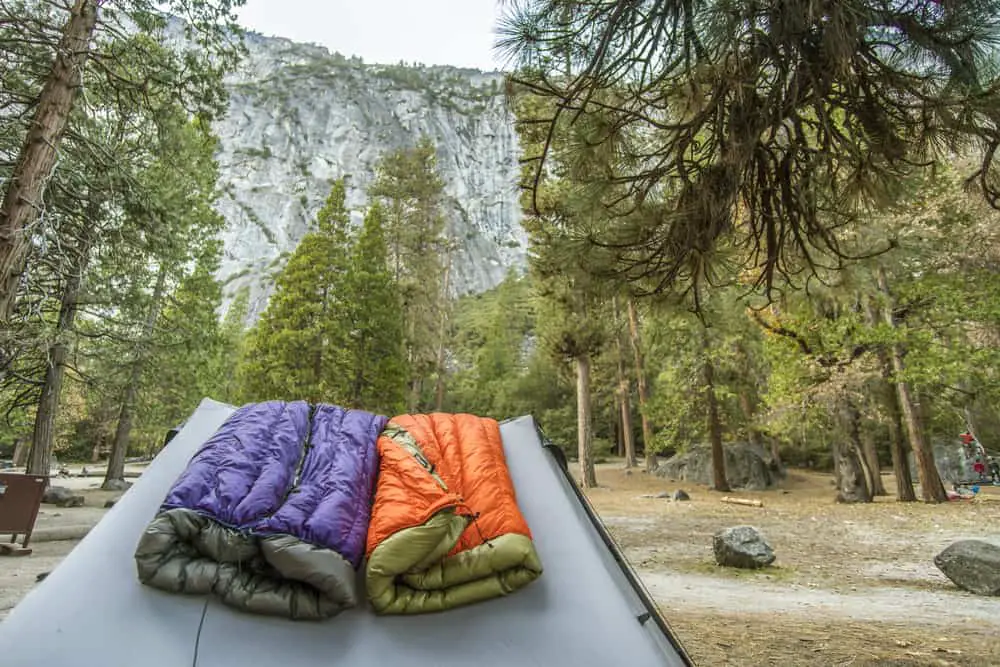 Other useful posts:
Eco friendly camping gear
Best tents for camping with dogs
Best pop up tents for camping
Best sustainable backpacks
The Ultimate road trip packing list
Free camping in Yosemite
Owens River Road Dispersed Camping
Owens River Road is a great option for those with larger rigs looking for free camping near Yosemite. It is right off the US-395 in California.
If you are wanting to stay here during the busy season or on the weekends, make sure you get there early because it is a popular location, especially for those with larger vehicles.
The road is paved but will turn dirt eventually. Once you turn on Owens River Road you will see a loop on your right that is a Forest Road that takes you to FR 2S85.
As you travel a little more down the Owens River Road, you will have a few more loop roads on your left, and if you pass those, you will see Big Springs Campground on your left, which is another free camping option in the area.
The GPS coordinates to Owens River Road are 37.737016969335535, -118.96750478955481.
Lumsden Campground
Another free camping outside Yosemite is the Lumsden Campground, a beautiful campground near a really pretty creek. The dispersed camping does have vault toilets, picnic tables, and fire rings.
The area is not huge, but it is not too small either. However, there are a few things to be aware of. This is not a big rig-friendly area or an area that is good for RVs or trailers. People do enjoy this area, so there is a good chance there will be other people.
The area is first come, first serve, so you will want to make sure you get up there early to make sure you get a spot. The road to the campground is a one-lane dirt road, so you will want to make sure you go slow and take your time. You don't need a 4-wheel drive to drive this road, but if it rains heavily, it could be useful.
Because this area is an enjoyable area and there are camping services like vault toilets and picnic tables, there is talk that this might turn into a fee area.
Generally, for sites like this, when they do turn into a fee area, the fee is 25 dollars or less, so there is a chance by the time you read this or head over to the Lumsden Campground, there could be a small fee to stay each night.
This site is 22.5 miles from Yosemite and about a 45-minute drive which is pretty good considering many of the expensive campgrounds outside of the park are a 30-minute drive.
Your GPS coordinates to Lumsden Campground are 37.84127052466353, -120.05179527584785.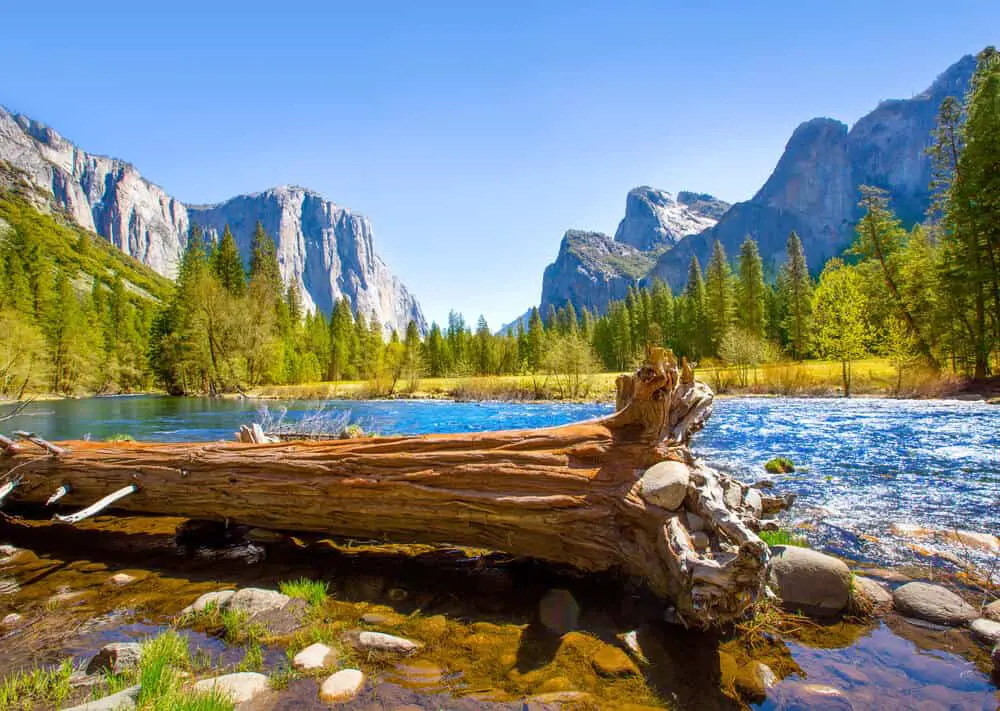 Lower Virginia Creek Primitive Campground
Lower Virginia Creek camping is a heavily trafficked dispersed camping area because it is only 5 min from the US-395 North in California near Yosemite.
There are vault toilets, and the area has 22 available sites which makes it one of the most popular free campsites Yosemite has to show for.
Along with the 22 sites, they have bear boxes and fire rings. Multiple sites are able to accommodate large trailers or motorhomes.
If the Lower area is full, you should check out the Upper Virginia Creek Campground. This is a beautiful camping area outside Yosemite, perfect for enjoying nature and relaxing in a camping hammock.
The GPS coordinates are 38.094399887011804, -119.21039069706653.
Upper Virginia Creek Primitive Campground
The Upper Virginia Creek Campground is a rustic campground in the Jeffery Pines Forest. It gets a good amount of use, similar to the Lower Campground, but it is a smaller campground.
The campground has 15 sites with fire rings and bear boxes, but this site is not good for large vehicles. It is not recommended for anything longer than 25 feet because there are some tight turns.
There is one vault toilet that is available, and whether the area is open or not depends on the weather. If the weather is bad, the site can be shut down for safety reasons.
In a typical year, you are about 50 miles from Yosemite National Park. However, there is construction going through 2023 on the 120 that leads into the park.
The road should be opening something in 2023, so make sure to check into that first. If that road is still closed, you have to go all the way around, which can be a day's drive and you should look for other campgrounds outside Yosemite.
The GPS coordinates to the campground are 38.09797688810721, -119.23345748792886.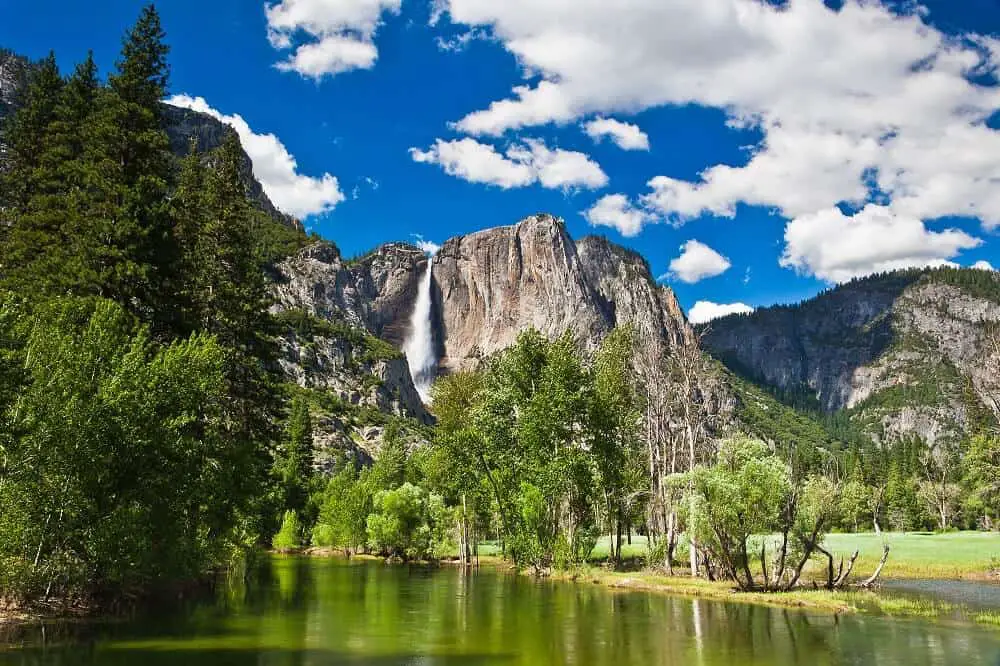 Hartley Springs Campground
Hartly Springs is close to the June Mountain Ski Area and is a large free dispersed campground. There are 25 sites available, and you are asked to self-register when you arrive.
Everything here is FCFS, and it is a high mountain camping area with an elevation of over 8,000 feet. The area is not open year-round, so if you are visiting national parks in winter and looking for camping outside of Yosemite you will have to consider a different one.
The campground is open from the middle of May to September or October. In the past, the area did not have bear lockers, but it appears there are some now.
However, do keep in mind you need to make sure you store your food correctly, as there can be animals in the area looking for food.
The area can fit larger RVs and 5th wheels. There are some fun areas where you can climb on some rocks that the kids will enjoy.
The campground has vault toilets, fire rings, and picnic tables. This is a great spot that is 28 miles from the east entrance to Yosemite.
However, if you plan on using the east entrance, you will want to make sure the CA-120 east road that takes you to Yosemite is open. It has been closed for a bit but should be opening in 2023 sometime.
If you are interested in staying at Hartly Springs Campground, these are the GPS coordinates 37.77584297314509, -119.03723367239105.
Nelder Grove Campground
The Nelder Grove Campground is a short distance from Yosemite, making it a fantastic free boondocking area. The road is tight and has multiple switchbacks, so this is not a road for those with trailers or large RVs. This is a campground for those who have camper vans or something similar.
The area gets medium usage because it is back in the mountains a bit, and the road is not large. They have been doing some construction on the Forest road and clearing out excessive brush, so the campground may be open, but it might not be.
There is no timeline currently available. If you want to stay here, you should try calling the forest service in the area and check for updates.
The area is open from May to December, and it also has picnic tables for use when you are there. This is a perfect campground to relax and play some camping games.
The GPS coordinates to the campground are 37.4354251243197, -119.58837883961752
Big Springs Campground
The Big Springs Campground is another heavily trafficked free dispersed camping near Yosemite National Park.
It does close in the winter like many of the dispersed camping areas, so it is important to check with the Inyo National Forest Service before going to this campground or others in the area to ensure they are open.
Hardin Flat Road
Hardin Flat Road is a nice dispersed camping area that is very close to California Hwy 120. There are only a few spots, but they are big rig friendly, and the Hardin Flat Road is Paved. You will be on a paved road until you get back to your campsite.
To get to Hardin Flat Road, you will turn on Golden Arrow Road, and after only a short distance, it runs into Hardin Flat Road. There are two spots right after the intersection. One is to your left, and the other will be to your right.
You are only about 30 minutes from Yosemite National Park from this area making it a very convenient location.
The GPS coordinates for Hardin Flat Road are 37.81232705256399, -119.90617500272737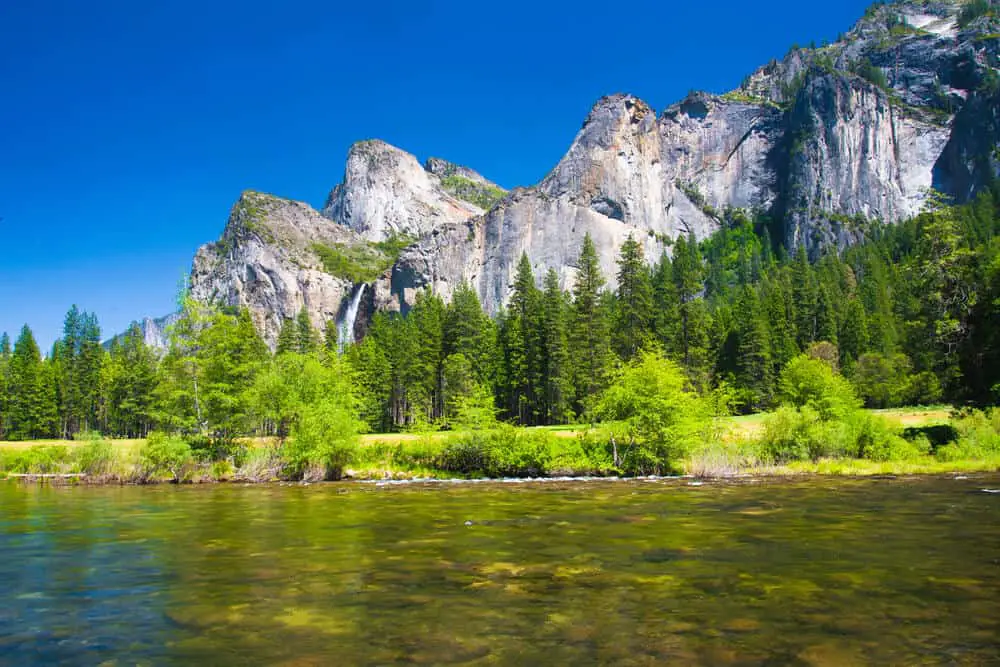 Redinger Campground
There are a few really nice things about the Redinger Campground besides being one of the best free campsites in Yosemite. You are right next to Redinger Lake, giving you some great options for playing in the water right next to your boondocking site.
You can stay for up to 14 days, and the campground is open year-round. There are many dispersed camping areas that are not open year-round, so if your typical spot is closed because of the time of year, you can check out Redinger Campground.
The downside of this area is that it does not fit large vehicles. If you are longer than 25 feet, you will not be able to stay here. This campground is also one that is not open for fires or charcoal grills, so if you want a fire, you can bring a propane fire pit or not have one.
The GPS coordinates to the Redinger Campground are 37.15167372481442, -119.4544114831087.
Evergreen Road Dispersed Camping
Evergreen Road is your typical dispersed camping in the national forest area, where you will have to drive a bit and explore to find an area to camp.
This is a great place to find a secluded spot or explore the forest. Many of the dispersed options don't show up until you have traveled 3 or 4 miles down the road.
Evergreen Road intersects with Forest Road 1S25. This is going to be another road that will have more and better options than Evergreen Road, so if you are not finding anything, make sure you give it a try.
Because many of these sites you will have to explore a bit to find, you probably don't want to bring a large RV.
Here are some GPS coordinates to get you close to where you will start finding some options 37.83459322897524, -119.84779856018973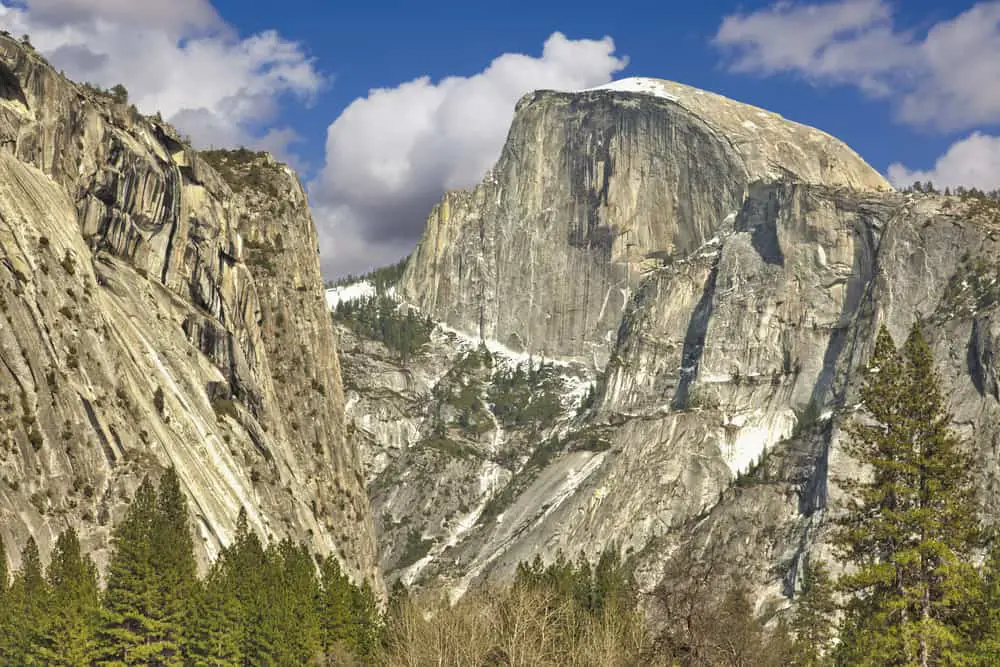 Summit Camping Area
The Summit Camping area is going to be hard to beat in terms of location. It is less than 10 miles from Yosemite, and it is not a super trafficked area, most likely because it is best for smaller units.
There is no fee to camp here, but it is your true dispersed camping. You can tell, as there are no services like toilets, but it does have a picnic table and a fire ring. Make sure you follow the Leave No Trace Principles when camping in spaces like this.
The area can be hard to find at night so make sure you are not showing up in the dark. We recommend never showing up in the dark, especially if you are boondocking.
The GPS coordinates for this location are 37.51059320621723, -119.69506785034248.
FAQ: Free Camping Near Yosemite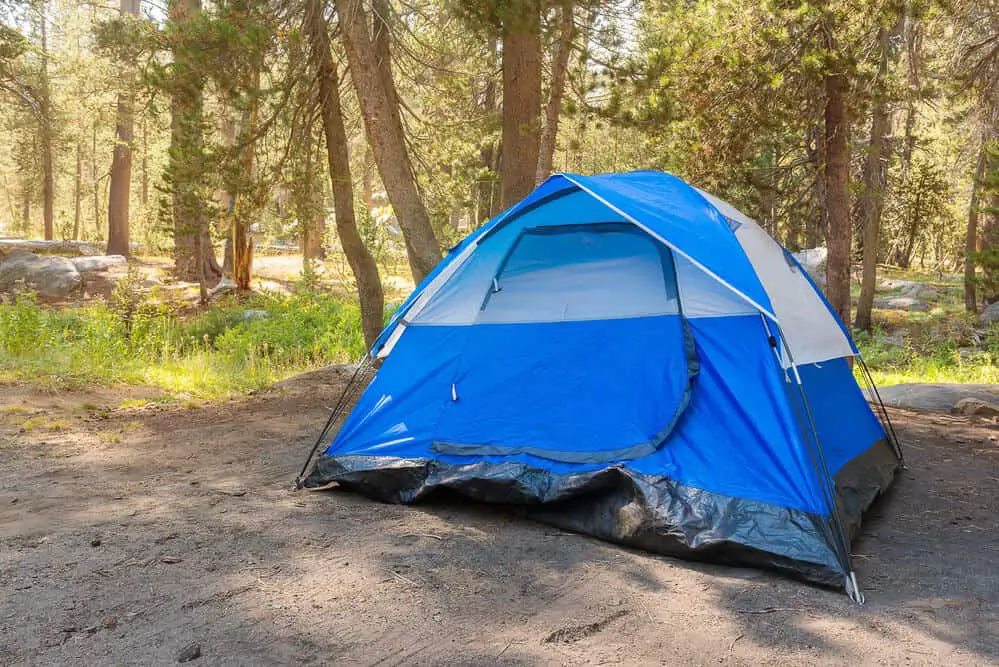 Can you camp at Yosemite for free? 
You can camp around Yosemite for free because there is an abundance of national forest land around the park. You cannot, however, camp for free inside Yosemite National Park.
Is there BLM land near Yosemite? 
There is not a lot of BLM near Yosemite, but there is BLM land. Most of the BLM land is North and East of Mono Lake. There is some Southwest of Yosemite called the Merced River Recreation Management Area.
Can you just camp anywhere in Yosemite? 
No, you cannot just camp anywhere in or around Yosemite. You must camp in areas that allow for dispersed camping or in a campground. We have created a good comprehensive list of free options near Yosemite.
Where can I sleep outside of Yosemite? 
In general, you can sleep in a campground or boondock in the national forests. There are some restrictions, so check out our free camping areas guide.
Conclusion: Free Camping near Yosemite 
Boondocking and free camping in Yosemite are some of the best enjoyments you will find. You are not as close to other campers, and it gives you a lot of flexibility, but it can be hard to find a spot that you like.
Therefore, we always recommend going early to grab a camping spot so you don't miss out on the amazing Yosemite National Park free camping options.
We hope you enjoy checking out these great places for free camping in Yosemite's surroundings for years to come.