Koh Lanta is one of the most beautiful islands in Thailand. Situated in the Andaman Sea, the island is part of the Krabi Province which makes it easy to access from Krabi and Phuket.
This was one of the first islands I ever visited in Thailand and I spent quite a bit of time there falling more and more in love with the vibrant beach bars, the abundant national park, the mesmerizing beaches, and the lovely people.
There are so many things to do in Koh Lanta, Thailand, that you can spend a lifetime there. However, there are some things you should not miss out on, so I made sure to include all the top things to do in Koh Lanta in this post so that you know where to focus your attention when you visit this paradisiacal corner of Thailand.
Koh Lanta is not only a fantastic travel destination that should be on any Thailand itinerary, but it is also a great starting point for island hopping in Thailand's Andaman Sea to the far south where you encounter another favorite, Koh Lipe. In fact, Koh Lanta is also one of the best places to visit in Thailand for first timers.
Read on to find out exactly what to do in Koh Lanta to make sure you create the best possible trip whether you're planning to stay on the island the entire trip or it is part of a larger Southeast Asia itinerary.
Disclosure: This post may contain affiliate links. That means that if you make a purchase through one of those links, I will get a small commission at no extra cost to you.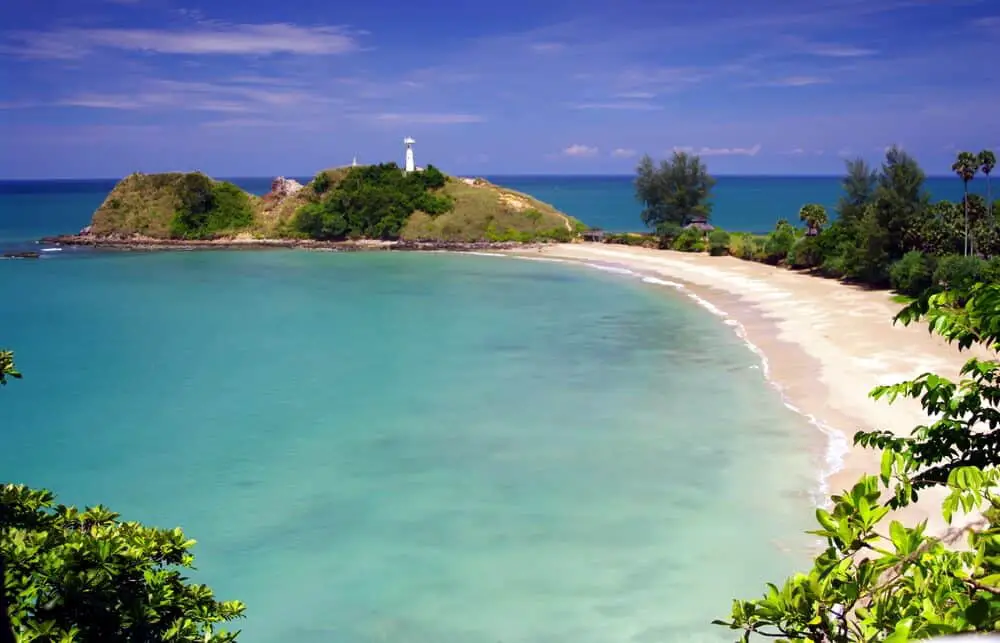 How to get to Koh Lanta
Koh Lanta is well-commuted by boat with nearby islands like Phuket and Phi Phi, as well as Krabi.
The travel time varies, but you are looking at around 3 hours from Phuket, 45 minutes from Phi Phi Don, and around 2 hours from Koh Lipe.
Check availability for your route here:
BOOK YOUR AIRPORT TRANSFER BEFORE YOU GO
Things to do in Koh Lanta
Relax at the beaches in Koh Lanta
Koh Lanta comes nothing short when it comes to spectacular beaches to spend lazy days on. I also love how there are several beach bars that serve vegan food.
Mostly, it is easy to eat vegan in Thailand in the big cities and touristy areas, and Koh Lanta is on top of the list.
Here are some of my favorite beaches on Koh Lanta.
Long Beach
One of the most enjoyable things to do in Koh Lanta is to visit Long Beach (Pra Ae Beach). This place offers a unique setting since it offers various restaurants and hotels on and near the beach, and the location is convenient for accessing the Saladan Pier. The sunset is also particularly stunning on Koh Lanta's west shore.
The weather is ideal for a walk down the beach. The beautiful colors of the sky will take your breath away. However, since so many people visit Koh Lanta in the winter months of December and January, Long Beach may get overcrowded.
Relax Beach 
Relax Beach, also known as Relax Bay, is a paradise and one of the best Koh Lanta attractions. This place should be included in your list of things to do in Koh Lanta.
This island's loveliest beach offers clear water, tall palm trees, and a tranquil atmosphere. It's quiet, with few tourists. Relax Bay is a terrific Koh Lanta beach recommendation for getting away from the crowd!
In truth, Long Beach on Koh Lanta contains the less busy and more serene Relax Beach. Along the main drag, tourists may discover a range of amenities such as restaurants, shops, and even ATMs. There are also several beach bungalows and watering holes to select from.
Klong Khong Beach 
Klong Khong Beach's relaxed atmosphere may make it different from other Koh Lanta beaches. Since it is not a well-known beach, Klong Khong is less commercial and crowded. Unfortunately, sea swimming is not ideal since there are sharp rocks in the water, making low-tide swimming difficult.
As a result, pools are available at both middle-class and luxury hotels. You don't have to stay at a luxurious resort to relax—many low-cost beach motels provide little pools.
Happy hour is available before, during, and after sunset—beach bars with appealing lounge spaces alternate with restaurants, massage parlors, and luxury resorts.
There are plenty of low-cost accommodations here, making this beach a worthy inclusion in your list of things to do on Koh Lanta.
Klong Nin Beach
Another excellent beach on Koh Lanta is Klong Nin. This beautiful beach has some pebbles, but much of it is swimmable and kid-friendly.
Like Koh Lanta's Long Beach, everything is spread out. Southern Koh Lanta beaches have beautiful hills and jungle backdrops.
There is a mix of modest, friendly beach bars and restaurants constructed in a shanty style, some of which embrace the trees, giving the beach area a distinct vibe unlike any other on Koh Lanta.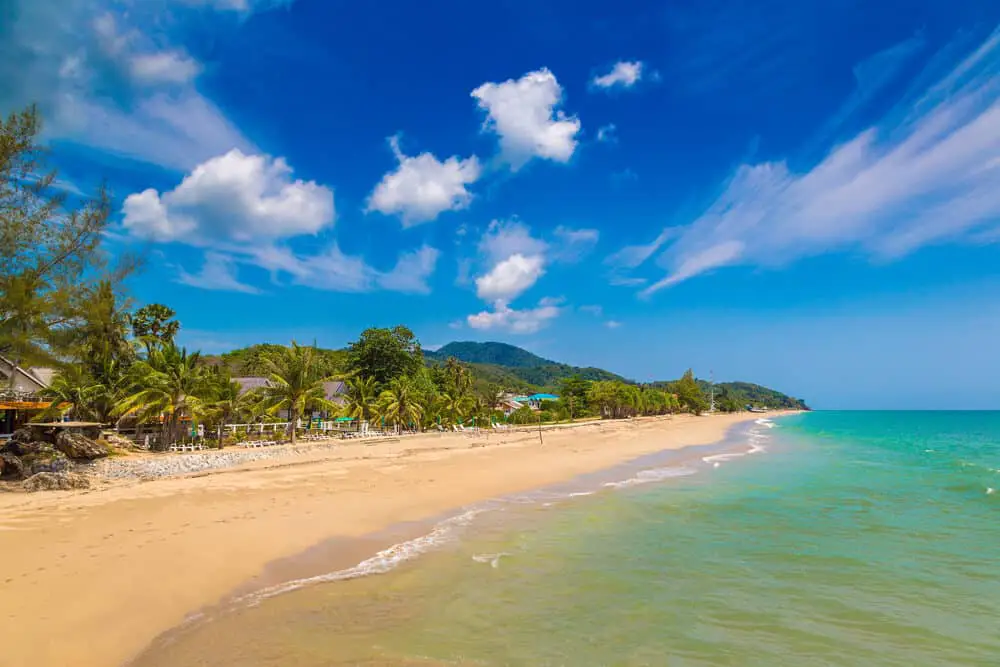 Rent a scooter and explore the island
Renting a scooter and driving around Koh Lanta is a fun way to see the island and its beaches. It's the most practical and cost-effective mode of transportation. Scooter rentals on Koh Lanta cost between 150 and 200 Thai baht daily, which is quite a bargain.
The whole island can be covered on a scooter in a single day. Some of our preferred destinations are listed below.
Cross the mountains to the tranquil east coast, and you'll find Old Town, a picturesque settlement with buildings built on stilts above the ocean. 
Visit Long Beach because it is the ideal combination of a relaxing beach and tasty dining options. You can't beat it for a stroll at dusk. There are many places to stay, but our favorites are the opulent Layana Resort and Long Beach Chalet.
Visit the park near the southernmost point of Koh Lanta to trek through the rainforest, see the lighthouse, and chill out on the beach. The price to get in is 200 baht, which is around $6.40. Stay far away from those monkeys!
Many restaurants, hotels, and tourism agencies on Koh Lanta hire scooters, making them easy to find. Your hotel is the most convenient location to rent a scooter.
If your hotel is unable to arrange a scooter rental, go down the street and inquire at a few other places to compare costs and deposit requirements.
Long Beach offers a few options, although they can be found all around the island. Automatic scooters are often rented for 150 baht ($5) to 250 baht ($8) per day.
Check out Lanta Sky and SALA Motorbike and Tour; they provide motorcycle rentals.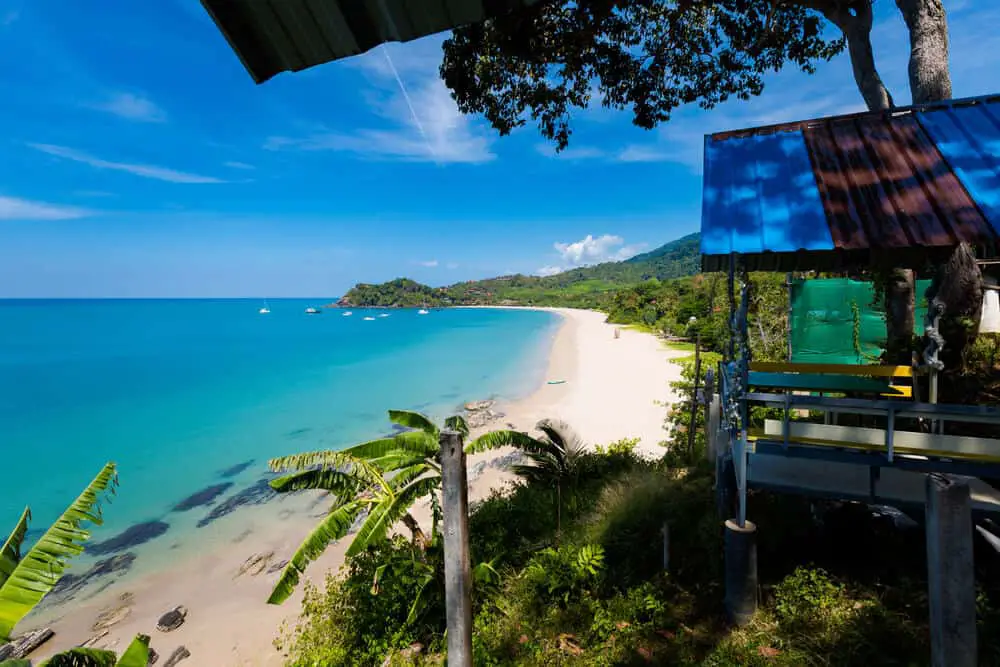 Visit Koh Lanta Old Town
Koh Lanta Old Town is on the eastern coast of Koh Lanta in Krabi Province and should be included in your list of things to do in Koh Lanta.
The town served as the island's port and commercial hub, protecting Arabic and Chinese merchant boats that previously traveled between Phuket, Penang, and Singapore.
Old Town is now the capital and home to several essential services, including a post office, police station, Buddhist temple, Chinese temple, the island's hospital, and a long dock.
You should definitely include Old Town in your things to do at Koh Lanta list to learn more about its fascinating history.
From the main road, the first thing you see when you get to Koh Lanta Old Town is a small roundabout with a big Buddhist shrine in the middle.
The Old Town Pier is in front of the roundabout. It is used to bring goods to the island and send goods off it.
Koh Lanta Community Museum is also close to the circle. This museum opened in 2007 to show boats, tools, and other items used by the island's different ethnic groups.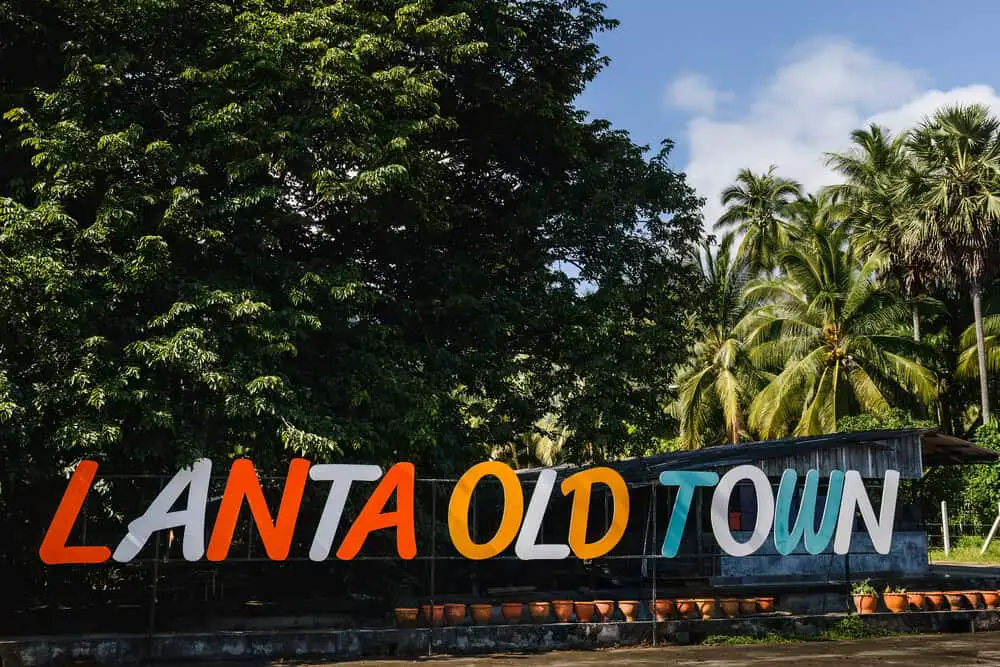 Go scuba diving
The major attraction on Koh Lanta is scuba diving. So, scuba diving at one of Thailand's top diving places should be on your list of Koh Lanta things to do.
Koh Ha, with its exceptional visibility, caves to explore, and a wide variety of marine life, including ghost pipefish and harlequin shrimps, is one of Koh Lanta's most popular dive sites.
Divers from all over the world go to Hin Daeng and Hin Muang to explore world-famous diving destinations; make sure to check them out! These diving sites have also spotted manta rays and even whale sharks.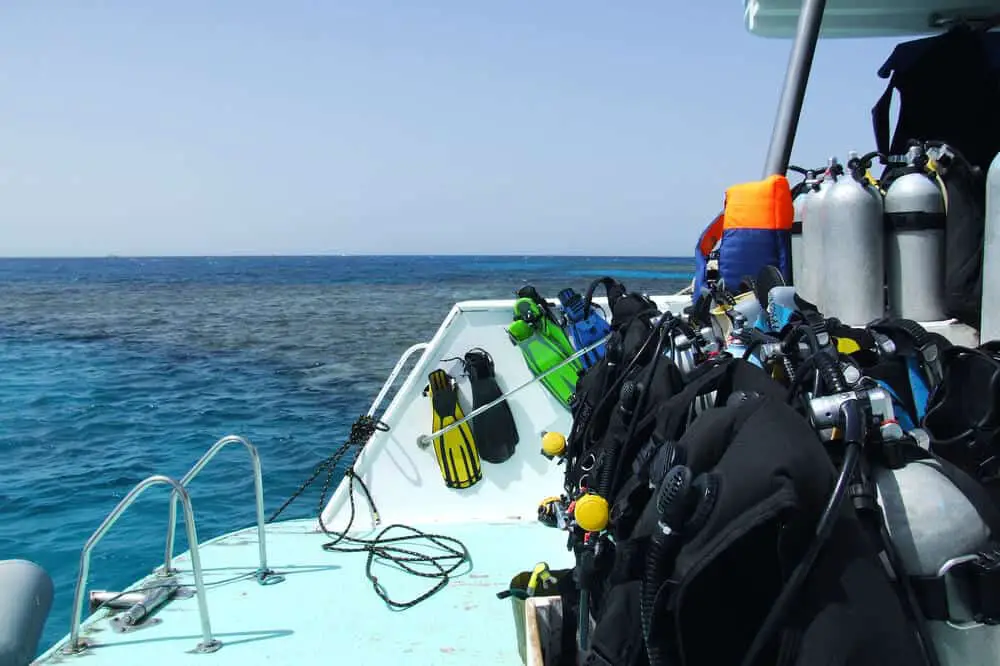 Go on an island-hopping tour
Going island hopping in Thailand is one of the best things I know and should definitely be incorporated into your Koh Lanta trip. There are many different tours you can choose from or you could go on an individual tour. In that case, I recommend at least visiting the islands of Koh Mook and Koh Ngai.
Koh Mook, or Koh Muk, is a tiny, beautiful island in the Andaman Sea on the southern coast of Thailand. The island is mostly undeveloped, with just a few little towns and patches of dense vegetation. The shoreline has palm trees, towering cliffs, and beautiful beaches that are waiting to be explored and enjoyed. Koh Mook is one of Thailand's most scenic islands, but the stunning Emerald Cave and the pristine Sivalai Beach are the highlights.
The Emerald Cave, a sea cave accessible only by swimming, is Koh Mook's most famous landmark. Many people stop at Koh Mook as part of an island hopping tour in Thailand before exploring the islands to the south, such as Koh Kradan and Koh Ngai.
If you want to experience a pristine, off-the-grid island, Koh Ngai is the place to go. Very little infrastructure has been built here; no roads, vehicles, or even motorcycles exist.
Hang out on Main Beach, a picturesque 2.5-kilometer strip running along the island's east shore. That's also where the vast majority of hotels are located. The powdery white sand is great for lounging in the sun and swimming. You may also catch the island's finest sunrise from here.
Hike out to the island's breathtaking lookout in the extreme southwestern corner. From Main Beach on the east coast, you may reach Paradise Beach on the south coast through a short route that takes about an hour to cover the distance. The hike up the moderately steep trail from Paradise Beach to the lookout takes another half an hour.
If you want to stay active, then a half-day kayaking trip around Koh Ngai may be your finest economical alternative. This 10-kilometer journey will probably take several hours, depending on how skilled you are at kayaking.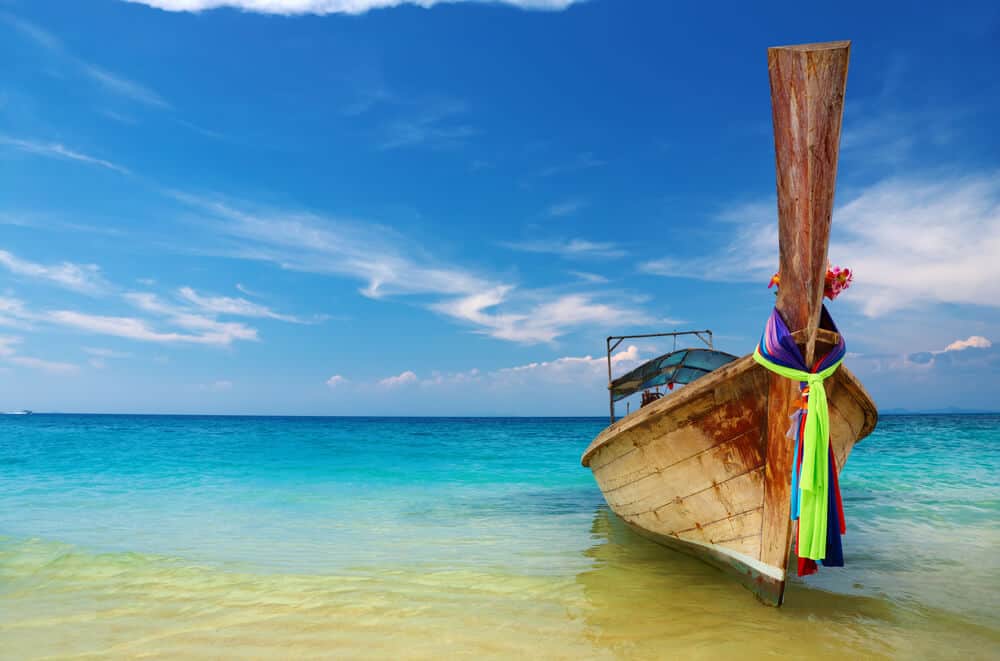 Take a boat trip to Emerald Cave
The magnificent Emerald Cave is a Thailand bucket list site and the location that put Koh Mook on the map for many travelers. If you don't include it as part of an island hopping itinerary, make sure you hop on a boat trip to see the cave.
Emerald Cave is only accessible by boat at low tide and calm waves owing to the risk of striking rocks and the cave's ceiling. You'll arrive at Emerald Cave by swimming through a tiny passage in the sea at the foot of a daunting cliff.
After reaching Emerald Cave, the area opens to expose a lagoon at the bottom of a massive sinkhole with a gorgeous sandy beach.
The popularity of Emerald Cave, on the other hand, is enormous, and it is visited by hundreds of visitors every day on one of the famed 4 Islands tours that can be taken from different locations surrounding Koh Mook.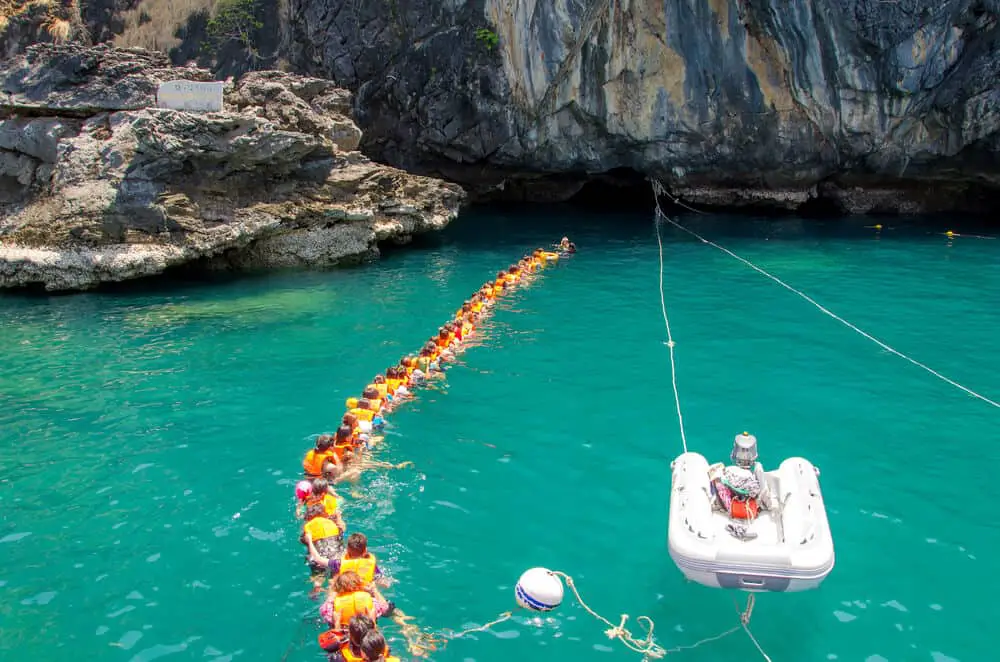 Go snorkeling
Another of the top things to do in Koh Lanta is of course snorkeling! If you're wondering where to go snorkeling on Koh Lanta, there are a few areas where you can snorkel right from the beach, the best of which are:
Long Beach – At the beach's northern end, there is a little headland where fish gather, and snorkeling is recommended.
Nui Bay – Near the renowned lighthouse on the island's southern edge, you'll discover some firm coral and plenty of fish.
Klong Dao – At Klong Dao's north end is a little reef called Kaweng. If the water is clear, you should be able to see some brightly colored fish. It is preferable to visit at high tide.
BEST SNORKLING AND BOAT TOURS FROM KOH LANTA
BE A SUSTAINABLE TRAVELER
Guide to Sustainable Tourism in Thailand
Have a Thai Massage
You may be tense after your trip to different islands. But don't worry because Koh Lanta is the holy land of Thai massage, which is good news. As you walk along the more crowded beaches, you will see massage salas and hear the soft call, "Massage, massage," inviting you to try the 2,500-year-old Ayurvedic practice based on body science and yoga movements.
Thai massage is more active and focused than other types of massage. Stretching and moving muscles and energy lines can help the blood flow and often have effects that last longer than other types of massage.
You can get a relaxing Thai massage at Nadear Massage Koh Lanta Island, on the main road, Klong Khong beach, across from the Three Sisters restaurant, or at Faikham Lanta Traditional Thai Massage, which is at 748, Moo2, Klong Khong, Saladan, Ko Lanta.
Explore Mu Ko Lanta National Park
Mu Ko Lanta National Park is one of the most spectacular national parks in Thailand and should definitely be on your list of what to do in Koh Lanta.
Waterfalls
For those looking for adventure, guided trips to the Khlong Chak Waterfall in Mu Koh Lanta National Park are available. The hike to the waterfall may be a lot of fun. Everything around you is pure nature, and you may experience the sights, scents, and sounds of an actual jungle. 
The Lighthouse
Even if a lighthouse is the last item on your agenda, if you find yourself in southern Thailand, you should certainly stop at the Ta Noad Cape Lighthouse. The iconic lighthouse is located on top of fifty-foot-high cliffs, giving travelers a spectacular vista and superb photo opportunities. Hiking enthusiasts of all ability levels would enjoy visiting it.
Hikes in the National Park
Koh Lanta Tiger Cave Hike is a 4.7-kilometer trail, rated as difficult and takes 1 h 15 min to complete. 
Haad Phra Ae East Small Loop is a 7.4-kilometer loop trail rated as moderate and takes an average of 1 h 38 min to complete. 
Khao Mai Kaew Cave Hike is a 1.9-kilometer trail rated as easy and takes an average of 41 minutes to complete. 
Pa Samet Daeng Nature Hike is a 2.7-kilometer easy trail that takes an average of 1 h 2 min to complete.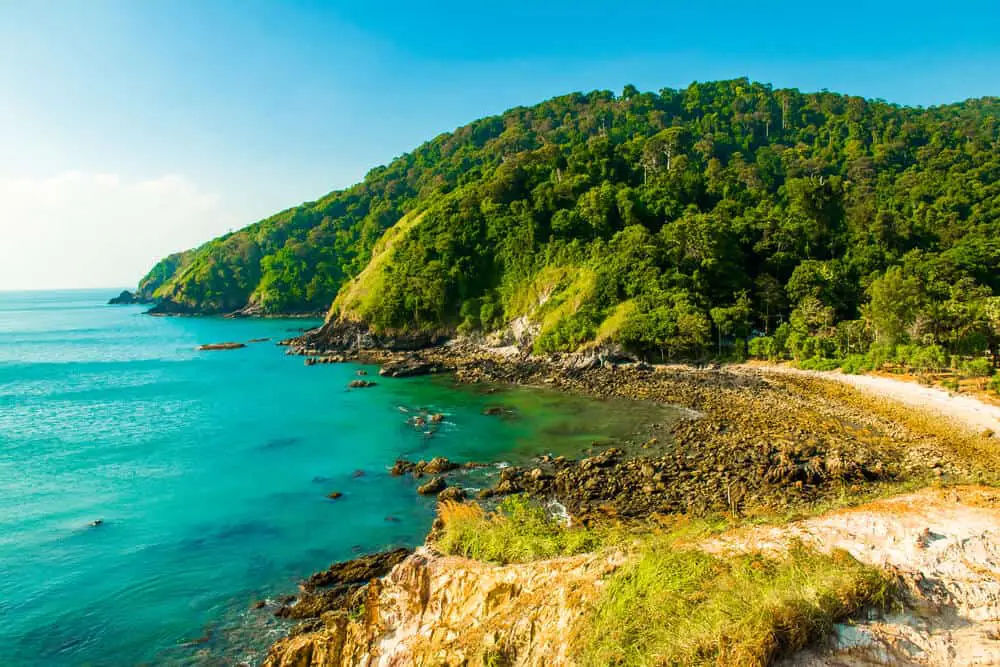 Join a beach cleanup or organize one yourself
TrashHero Thailand makes long-lasting, community-based projects that eliminate trash and make people change their habits to make less trash in the future.
TrashHero helps people get hands-on experience and learn about how trash affects the environment around the world through their Sustainable Projects.
As a result, long-term programs that bring communities together to get rid of the waste are developed, as well as strategies to limit the quantity of trash in the future.
The Alumni of Trash Hero Thailand have returned to their own countries to do their heroic cleanups. Click here to learn more about them.
Reflections on what to do in Koh Lanta
As you can see, Koh Lanta is jam-packed with things to do, so whether you're a beach dweller, party backpacker, or hiking enthusiast, there is plenty to hang your fingers in.
There is nothing more dreamy than a Thai Island, and Koh Lanta really ticks all the boxes. I hope you're already incorporating a beach clean-up in your travel plans to give back to the community and the natural environment you're visiting. You can read more about why sustainable tourism is important here.
Happy travels!