In the southwest point of Europe, known for its dramatic cliffs, incredible beaches, and sun all year round, Portugal is perfect for all things outdoors. And hiking is no exception. The Portugal hiking trails are spread across the country from easy day trips to multi-day treks.
What they all have in common is the astounding beauty of Portuguese nature. Together with other outdoor enthusiasts, I compiled this list of spectacular hikes in Portugal that are all worth a spot on any Portugal itinerary.
If you can't make them all, I get it, but you should definitely try to fit at least one of these treks into your trip.
Disclosure: This post may contain affiliate links. That means that if you make a purchase through one of those links, I will get a small commission at no extra cost to you. If you have any questions about these services or products, feel free to ask me.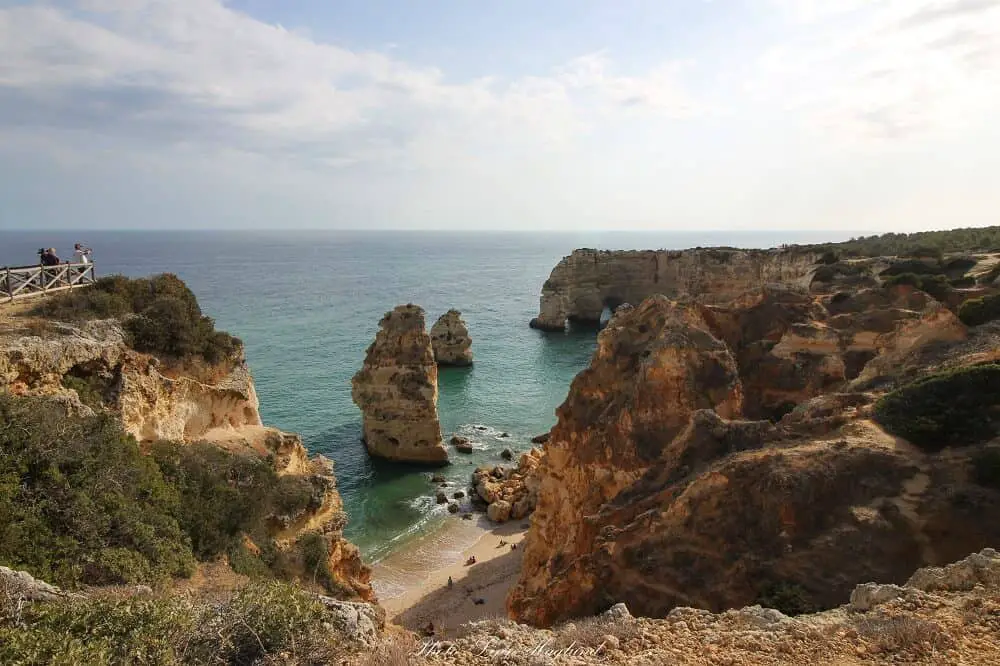 How to get to Portugal
With 3 international airports, in Lisbon, Porto, and Faro in the Algarve it's easy to get to Portugal from anywhere in the world.
The same Portuguese cities are also well commuted with the rest of Europe by train and bus. So traveling by land through Europe is no problem at all.
Once in Portugal, it might be easiest to travel by car. Especially as many of the hiking trails in Portugal are remote and can be hard to reach by public transport.
When is the best time to hike in Portugal?
Portugal is blessed with mostly sunny days and mild winter temperatures, thus good for hiking pretty much all year round. However, the months of June to August can get extremely hot, especially in the south, so make sure you bring a lot of water, a hat, and plenty of sunscreen if you opt for a summer hike.
The best hikes to do in summer are the ones that go past beaches so you can stop for a swim now and then. Otherwise, the rest of the year is ideal for hiking in Portugal.
What to pack for a Portugal hiking adventure
Depending on what time of the year you head out on your Portugal hiking adventure, there are a few things you should make sure you always prepare for.
First of all, and especially in the south, you need to protect yourself from the sun both with sunscreen and a cap or a hat. The sun in Portugal is strong all year round and it can ruin your hike if you get sunburned or overheated on the head.
Second, make sure you bring a good hiking backpack and good hiking shoes or boots so that you're comfortable while hiking Portugal's stunning trails.
Enough water is also a must, and I do recommend that you bring a good quality reusable water bottle that keeps the water cool throughout the day, like this favorite of mine from Greens Steel. If you're going on a longer trek, it's always recommendable with a water bladder in your backpack.
What to bring when trekking Portugal:
water
lunch
snack
hat/caps
good hiking shoes
comfortable backpack
hiking poles
reef safe sunscreen
bikini/board shorts + towel (on coastal walks)
camera/GoPro
Choose a responsibly conscious travel insurance company
Do you really need travel insurance when you go hiking in Portugal? It's completely up to you, but I highly recommend it. There are plenty of reasons why you should have travel insurance when you travel. I will only mention a few here.
First of all, if you happen to get seriously sick or injured on your hike it's nothing worse than having to pay the medical expenses yourself. But there are also other things that could go wrong, like lost baggage, stolen things from your hotel room or canceled flights. For this, it's good to have a trusted travel insurance company.
While choosing a travel insurance company you can also choose one that is promoting responsible tourism.
I choose World Nomads. They are easy, quick, and honest all the way. And I hate complicated. They are also market leaders in promoting responsible tourism. So, right down my lane!
However, my favorite part of using World Nomads travel insurance is that I can choose to give a micro-donation to support a community program when I buy travel insurance. What better for a responsible traveler than to give back through the insurance company you choose? If you want to know more, read my complete World Nomads review.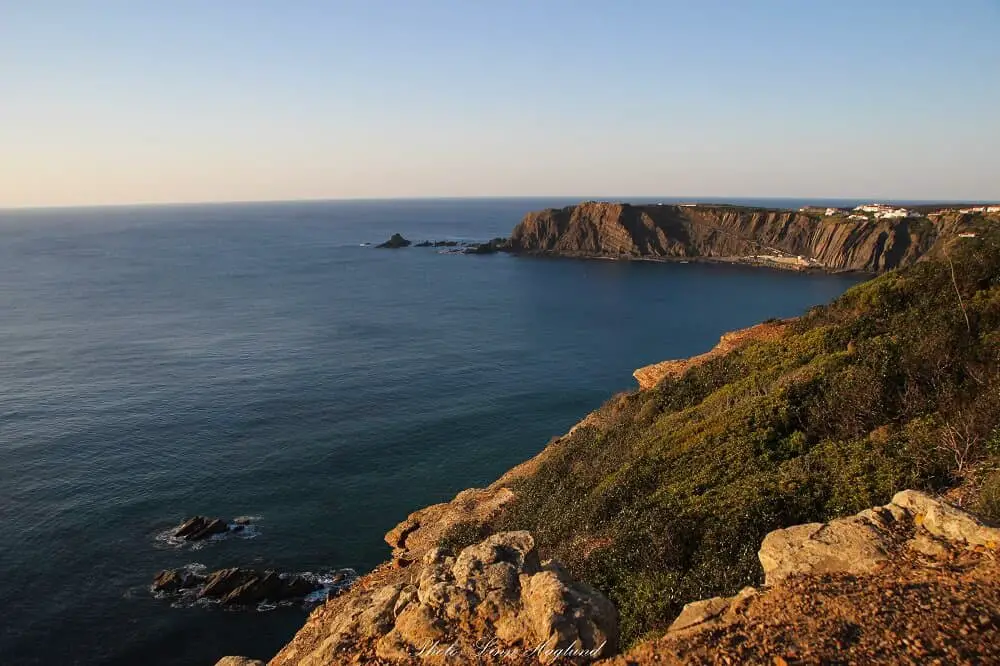 Before you travel and hike in Portugal, make sure you read these resources:
Best hikes in Portugal
Portugal hiking trails are many, way underrated, and incredibly beautiful. To get some inspiration, I asked some of my friends and fellow travel bloggers what their favorite hikes in Portugal are. Together, we ended up with the following list, starting with a beautiful hike I did last autumn.
I really need to go hiking more in Portugal as all the beneath hikes look spectacular! What about you?
Seven Hanging Valleys Trail
Details of the hike:
Distance: 11.5 km return
Type of hike: Linear
Start point: Carvoeiro
End point: Marinha beach (turning point)
One of the best hikes in Portugal is without a doubt the Seven Hanging Valleys Trail stretching along the top of the rugged cliffs between Carvoeiro boardwalk and Marinha beach on the Algarve Coast. This is a fairly easy, linear hike that takes about 6 hours both ways.
Walking past natural pools, breathtaking beaches, natural arches, and the most famous cave in Portugal, Benagil Cave, makes for one of the best hikes in Portugal.
Beginning from Carvoeiro, the boardwalk takes you past Algar Seco where it is well worth getting off the trail to wander around the cliffs for a bit. There is a natural pool but also a tunnel leading into a cave with two big natural windows with sea views.
Continue along the sun-kissed cliffs towards Alfanzina Lighthouse which is halfway. When you get to Benagil beach you will have to do a small part on the road before the trail continues. This is also a great place to stop to kayak to Benagil Cave if you have the time.
Once you get to Praia da Marinha you are stepping down to one of the most beautiful beaches in Algarve. Here you can buy drinks and food before walking back again. Even though you do pass beaches, it does get hot in summer. If you're in Algarve in winter, this is a perfect hike.
Hiking the Seven Hanging Valleys Trail is without a doubt one of the best things to do in Algarve, so make sure you add it to your bucket list!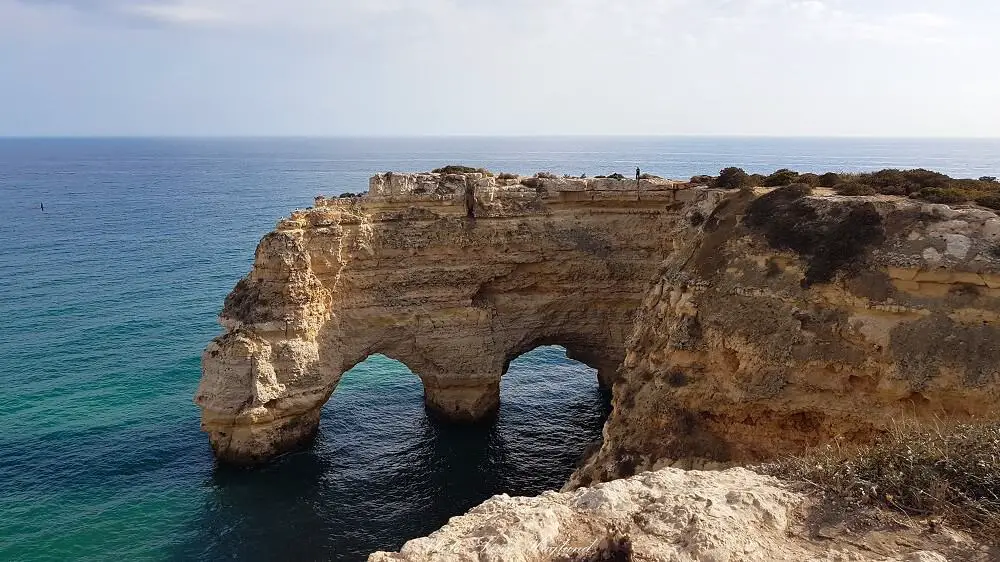 Ria de Aveiro Walkways
Details of the hike:
Distance: 10 km
Type of hike: Linear return
Start point: Esgueira Pier, Aveiro
End point: Fallen bridge in Vilarinho (7 km walk where you turn around)
Ria de Aveiro Walkways is one of the most beautiful hikes in Portugal and is popular to do biking as well. Starting by Esgueira Pier, follow the wooden boardwalk along the Ria de Aveiro, a saltwater lagoon that will rise and sink with the tides.
The beautiful landscape is home to multiple bird species, including wading birds and the area is popular among bird watchers. In fact, you'll pass a lookout hut just a few meters into the walk.
You can expect to use around 3 hours return without rushing. This is an easy walk that is mostly on the boardwalk, though you have to do small sections in the forest on trails with sometimes uneven terrain.
This walk is no arguing one of the most amazing things to do in Aveiro where you'll get close to nature without needing a high fitness level. The walk is also excellent considering you can turn around whenever you want and you don't have to walk the whole 10 kilometers.
If you visit Aveiro on a day trip from Lisbon, you can easily do this hike if you travel by car or rent a bike in Aveiro town.
Top tip! Schedule your hike to get the sunset on the way back. You'll be rewarded with breathtaking reflections in the water.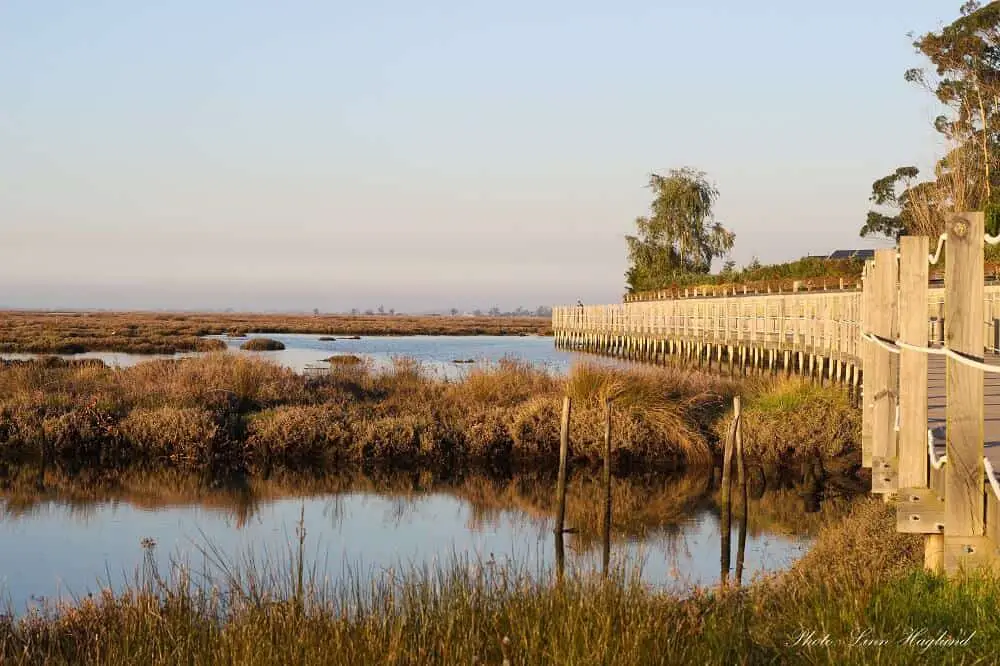 YOU MIGHT ALSO LIKE: MOST BEAUTIFUL TOWNS IN ALGARVE
Percurso do Bairro-Casal Farto
Details of the hike:
Distance: 14 km
Type of hike: Circular
Start point: Parking the Dinosaur Footprints National Monument, Fatima
End point: Same as start
Percurso do Bairro-Casal Farto in Parque Natural das Serras de Aire e Candeeiros is one of the best easy hiking routes in Portugal, especially when you combine it with the 2-kilometer trail to see the dinosaur footprints, which are some of the largest found in in the world. If you opt for this, you'll have to pay for the entrance at the visitor center.
No matter what you choose, you can park your car at the parking and the trail starts right at the entrance of the parking.
The trail is easy to hike and well-marked the entire way. Taking you through forest, farmland, stone walls, and a few turns through a neighborhood of houses before taking you up to the highest point where you have to turn around for the views.
Further, you'll enter lush, forested areas before looping to the tiny village of Casal Farto where you'll be charmed by old stone buildings.
You can expect to walk some stretches along the road, but as mentioned, there are trail marks the whole way that are easy to follow. The entire hike takes between 3 and 4 hours to complete.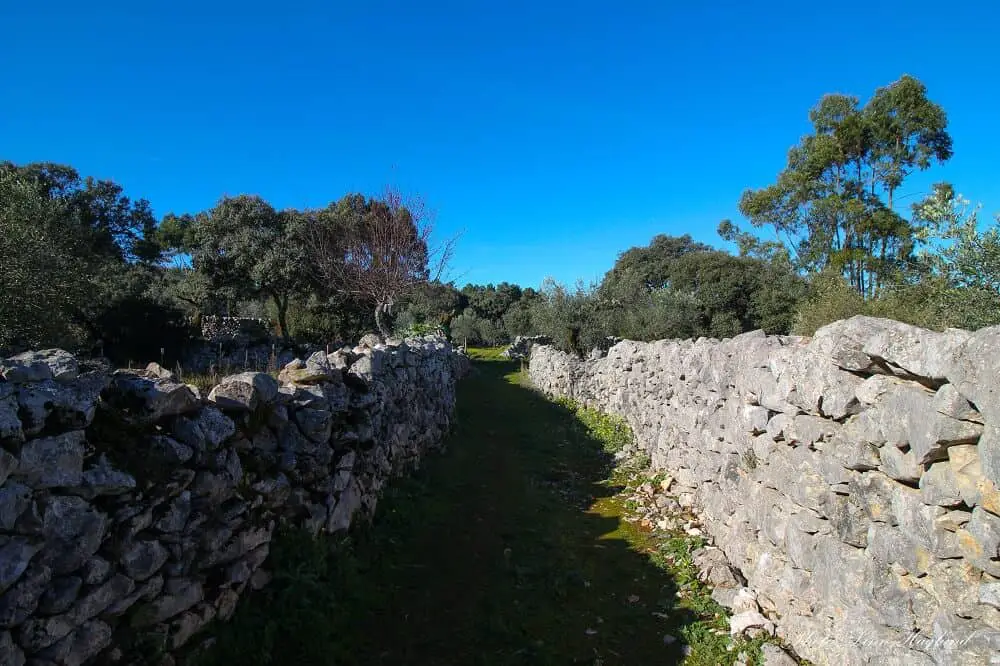 Serra do Topo, Caldeira do Santo Cristo & Faja dos Cumbres
Recommended by Greta of Greta's Travels
Details of the hike:
Distance: 10 km
Type of hike: Linear
Start point: Regional road next to the Eolic Park of Serra do Topo
End point: Faja dos Cubres
If you're looking for the best hikes Portugal has to offer, you have to add the Serra do Topo – Caldeira do Santo Cristo – Faja dos Cumbres trail to your bucket list. Located in Sao Jorge Island, it's considered a must for anyone planning a hiking trip to the Azores.
The trail starts just off one of the regional roads in Serra do Topo, at around 500m above sea level. The trail will take you all the way down to Faja dos Cubres, a small seaside town. It's a linear hike so make sure to organize your drop-off and pick-up accordingly.
You'll hike along a path lined with purple hydrangea flowers, and while you walk you'll be able to enjoy spectacular views over the green cliffs and sea. It's one of the most scenic hikes in Portugal, and it'll make it easy to see why the Azores are known as the Hawaii of Europe.
The trail is only around 10 km long, but given the many gorgeous viewpoints and attractions along the way, it can easily take all day. About half way you'll come across a waterfall, where you can stop for a refreshing mid-hike swim. Once you reach the sea you can also swim and relax in one of the many natural rock pools.
It's not a particularly hard hike, but given it's all downhill it can be quite tough on the knees. Take your time with it, and enjoy this stunning Portuguese hike!
Covao dos Conchos
Recommended by Izzy and Phil of The Gap Decaders
Details of the hike:
Distance: 8.2 km (return)
Type of hike: Linear
Start point: Lagoa Comprida
End point: Lagoa Comprida
The fascinating Covao dos Conchos in the rugged Serra da Estrela natural park in Portugal is an incredible man-made lake hole that's actually a bell mouth spillway and well worth the hike if you're road tripping Portugal.
Head through the pretty town of Seia in the Dao Valley (home of delicious wines) into the heart of Portugal's highest mountain range, to the start point of the hike, beautiful Lagoa Comprida.
The whole area around Cavao dos Conchos is a designated GeoPark, formed millions of years ago by glaciers, which have left fantastic irregular boulder fields, huge exposed slabs of rock and deep ravines to explore.
The trail is well signed at the start ad easy to follow. There are sections where water in the winter months tumbles quite large rocks onto the path – if you're not sure-footed or the ground is wet, poles would be a good addition for this hike.
The hike itself is a linear there-and-back easy walk, with just 173m of elevation over 8.2 km. If you want to spend time exploring the boulder fields along the track, touching base at various trig points along the route, and of course, spending time admiring Covao dos Conches itself, allow at least 4-5 hours.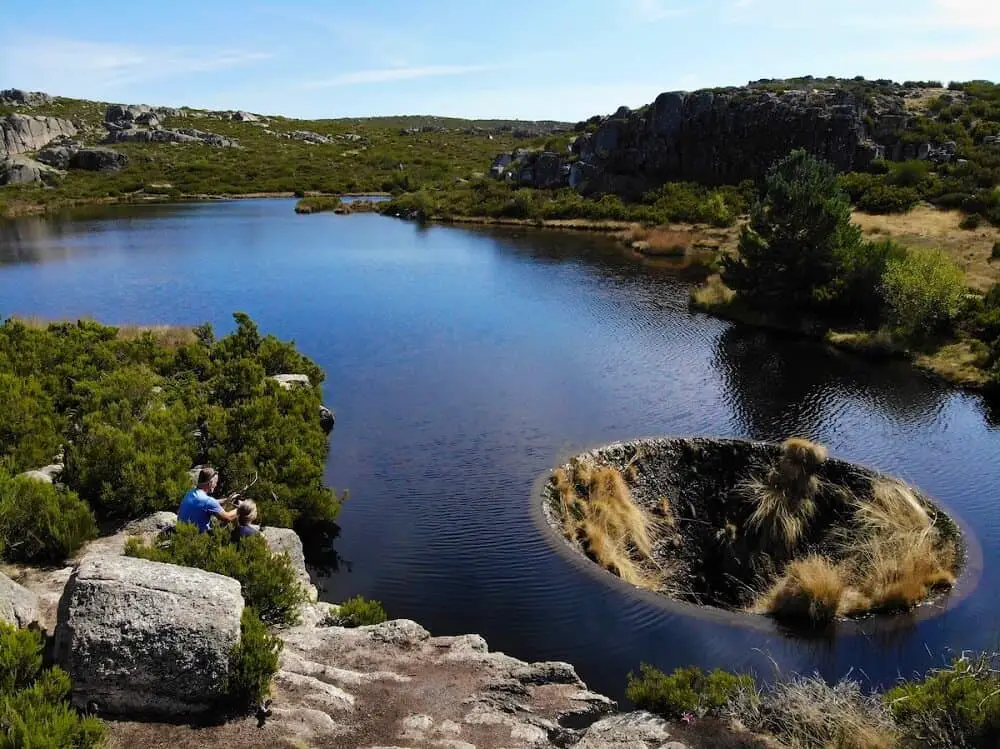 Santuário da Peninha Trail
Recommended by Katy of A Rambling Unicorn
Details of the hike:
Distance: 5.9 km
Type of hike: Circular
Start point: Santuário da Peninha car park
End point: Santuário da Peninha car park
Sintra is one of Portugal's most popular travel destinations – and for good reason. Filled with whimsical palaces and ornate gardens, Sintra is a truly magical place with surprises around every corner. The village is located in the stunning Sintra-Cascais Natural Park which is filled with a variety of historical sites and natural attractions.
Nestled in the Serra de Sintra coastal mountain range, Sintra is home to many lovely hiking trails as well. In fact, hiking Sintra is a great way to get acquainted with the area. There are hiking paths throughout the city to various castles and also to remote mountain destinations, making it one of the most beautiful hiking destinations in Portugal.
One of Sintra's best hikes is the Santuário da Peninha Trail. This easy trail loops around the remote Peninha Sanctuary (Santuário da Peninha), which sits on a rocky outcropping overlooking the Atlantic Ocean.
The Peninha trail starts at the car park and leads through a coastal forest which is often shrouded in wisps of fog. The path also leads by Anta de Adrenunes, an ancient cluster of granite stones believed to be a megalithic monument or Stone Age burial chamber.
The undisputed highlight of the hike, however, is the Peninha Sanctuary. Located at an elevation of 448 meters above sea level, the church was constructed in the 17th century at a site where the Virgin Mary was believed to have appeared. While the interior of the chapel is currently closed due to restoration efforts, the coastal views outside are stunning. You're definitely up for a hike Portugal can be proud of.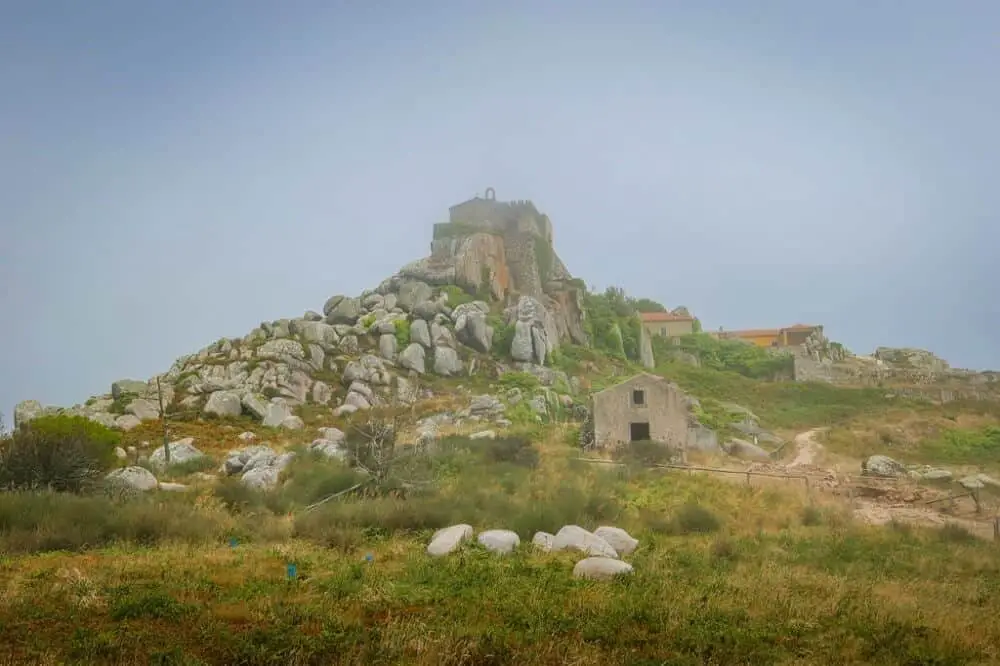 Nazare to Sao Martinho do Porto
Recommended by Victoria of Guide Your Travel
Details of the hike:
Distance: 15 km
Type of hike: Linear
Start point: Nazare
End point: Sao Martinho do Porto
The hike from Nazare to Sao Martinho do Porto is absolutely beautiful and a great way to escape the crowds and enjoy the Portuguese countryside. The hike takes around 3 to 4 hours depending on how fast you go.
It's not a round trip so you'll need to either take a bus on the way back or have someone pick you up if you don't want to walk back again.
Most of the trail goes along the coastline and the beautiful beaches that this area is known for. The hike is relatively easy and very scenic so it's highly recommended. If you're not up for doing the entire hike you can also choose to go for just a small part and then turn back.
The hike begins in Nazare and then leads you south along the coast line. The beaches in this area are surrounded by harsh cliffs and the trail will give you an incredible view over the area.
Nazare is of course known for its impressive waves and for being home to some of the best surf competitions in the world. What better way to enjoy the impressive scenery than from above with a birds-eye view over the ocean and Nazare?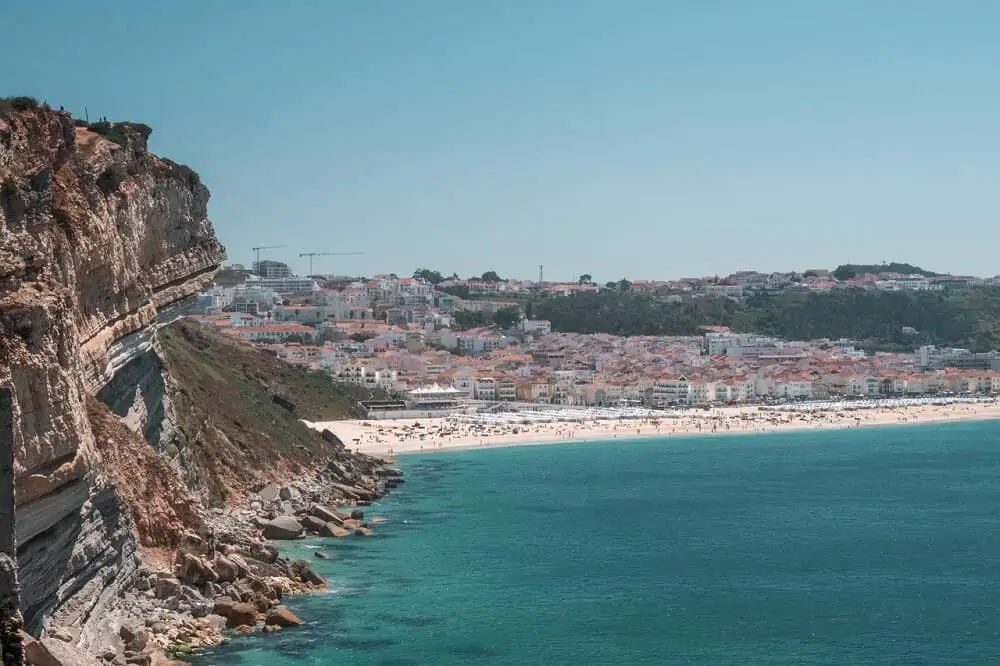 PR7 Trilho do Sao Bento, Peneda-Geres NP
Contributed by Alexei of Travel Lexx
Details of the hike:
Distance: 15 km
Type of hike: Circular
Start point: Sao Bento
End point: Sao Bento
Parque Nacional Peneda-Gerês, Portugal's only national park, is a hiker's paradise yet continues to fly under the radar of most visitors to the country. Exploring its ancient castles, traditional villages and an extensive network of trails is one of the best ways to spend a few days in Portugal's north. One of the best trails in the park is the Trilho do Sao Bento (PR7), which definitely makes it one of the best Portugal nature trails.
The hike starts between two small villages of Seara and Sao Bento, near the 17th century chapel of Sao Bento da Porta Aberta. The trail follows a cattle track up into the hills above the valley and offers stunning views of the Cavado River, small villages and surrounding mountains.
You'll pass longhorn cattle grazing in pastures high on the ridge, imposing rock formations and dense pine forests. The trail then double backs to the road and heads to the other side of the valley. There are ancient coal "furnas" or furnaces to check out here and some more sweeping views of the area.
The entire trail is around 15km long and takes about four hours to complete. It's possible to just do half of the loop from Seara to Sao Bento via the high ridge which offers the best views. It's relatively easy but there are some steep uphill sections. Autumn is an ideal time to hike – the heat isn't incessant unlike in summer!
Sao Bento is around 45km from Braga, the nearest major city. Public buses leave the main bus station bound for Calda do Geres, the park's hub and stop at Sao Bento. Journey time around 1 hr 10 mins/ €4.35 one way. Calda do Geres has plenty of accommodation and is a good place to base yourself for hikes in the park.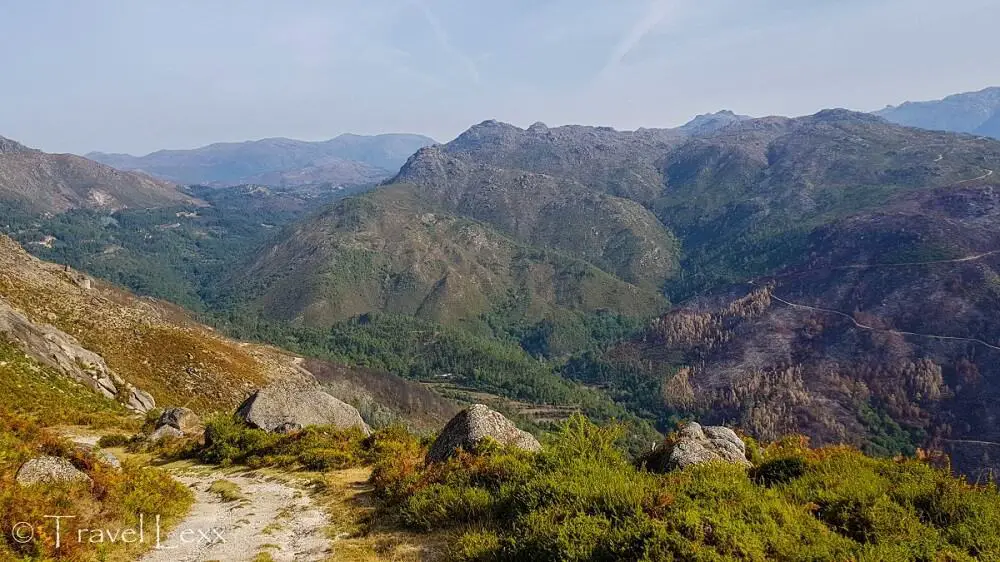 Costa da Caparica trail
Contributed by Wendy of The Nomadic Vegan
Details of the hike:
Distance: 10 km (return)
Type of hike: Linear
Start point: Fonte da Telha
End point: Lagoa de Albufeira (turning point)
Portugal has no shortage of beautiful beaches, but one of the most beautiful of all is just outside of Lisbon and, surprisingly, virtually unknown among foreign tourists. This 10-kilometer stretch of sand is called the Costa da Caparica and is backed by a striking range of red sandstone cliffs known as the Arriba Fóssil.
To experience the cliffs from both above and below, I suggest starting your hike in the shady green forest just behind Fonte da Telha and then heading north along the cliffs. When you're ready to head back, find an opening where you can scramble down to the coast and then walk along the beach for the return trip.
This hike is not especially difficult, although wayfinding up on the cliffs can be a bit tricky. I did this walk with a local hiking group, and our plan was to walk along the top of the cliffs from Lagoa de Albufeira to Cabo da Malha. At some point we couldn't find a way through, though, so we just climbed down to the beach.
If you're worried about getting lost, you could just stick to the beach the whole time. This is probably the most beautiful viewpoint anyway because you have views of the cliffs in one direction and the ocean in the other.
There are a few simple beach restaurants in Fonte da Telha where you could eat after your hike, but you'll still want to bring snacks and plenty of water. I was pleasantly surprised to find a bar called Bambu that served three different types of veggie burgers! Just one more example of how vegan-friendly Lisbon has become.
From Lisbon, it's about a half-hour drive to Costa da Caparica. Unfortunately, there is no direct public transport. Without a car, the best you can do is to take the Roma-Areero-Setúbal train to Foros de Amora and then take a taxi or Uber from there, or just Uber it the whole way.
Paiva walkways
Contributed by Jorge and Cláudia of Portugal Things
Details of the hike:
Distance: 16 km (return)
Type of hike: Linear
Start point: Areinho
End point: Espiunca
The Paiva walkways (passadiços do Paiva in Portuguese) are one of the best hikes Portugal has to offer. They are located in Arouca, about 65 km south-east of Porto. Yet, the best way to get there is really by car and it takes about 1 hour, by public transport, it is quite difficult and it will take you a few hours.
This hike has a length of 8 km and is done on walkways along the left bank of the Paiva River. The trail has breathtaking views of the canyon and you will pass through waterfalls and the rapids. In Summer there are several spots where you can swim in the river refreshing from the sun or even have a picnic under a pine tree.
Overall the whole hike is 16 km with return it is just a one-way hike. But if you wish you can do the 8 km and then hire a taxi to bring you back to the starting point or, turn around in the middle of the walkway. The Paiva Walkways are a fun hike with amazing views that we highly recommend it.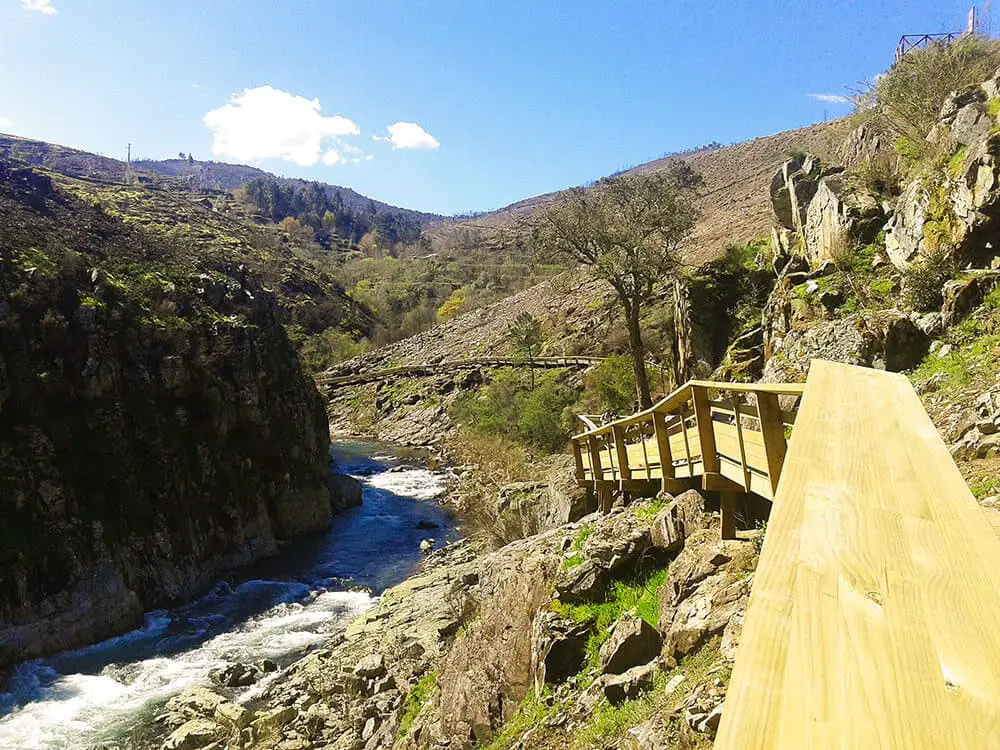 ---
YOU MIGHT ALSO LIKE: The prefect Algarve road trip
---
Trilho dos Currais (PR3)
Contributed by Josh and Sarah of Veggie Vagabonds
Details of the hike:
Distance: 10 km
Type of hike: Circular
Start point: Geres
End point: Geres
As a hiker, no visit to Portugal would be complete without venturing to Peneda-Geres National Park in the north of the country. It's a relatively unexplored region but has a plethora of hiking trails, suited to all interests and abilities. 
Of the hiking trails in Peneda-Geres National Park, it's the looping Trilho dos Currais (PR3), or in English Coralls Trail which really takes the biscuit. The route leaves from Geres, is about 10 km long, takes around 4 hours and is well signposted. It's a good day on the trail and is recommended for intermediate-experienced hikers. 
This stunning hiking trail starts at the bottom of the valley, before slowly traversing up the valley side towards the plateau. Along the way, you pass through dense pine and oak forests, and boulder fields, with a good chance of seeing some of the resident wildlife. There are even wolves in the region, though you're unlikely to come across them. 
From the top, you'll find motivating views across the whole valley – it's really a spectacle!
Another awesome thing about this hike is that it's accessible throughout the year. The summer sees more hikers and higher temperatures but the climate is also great in spring and autumn. Going in spring, when rainfall is highest, also means you'll be able to see waterfalls in their full glory. 
Be careful traveling during late summer, when forest fires are the most common. We got chased off the mountain by embers and flames further ahead!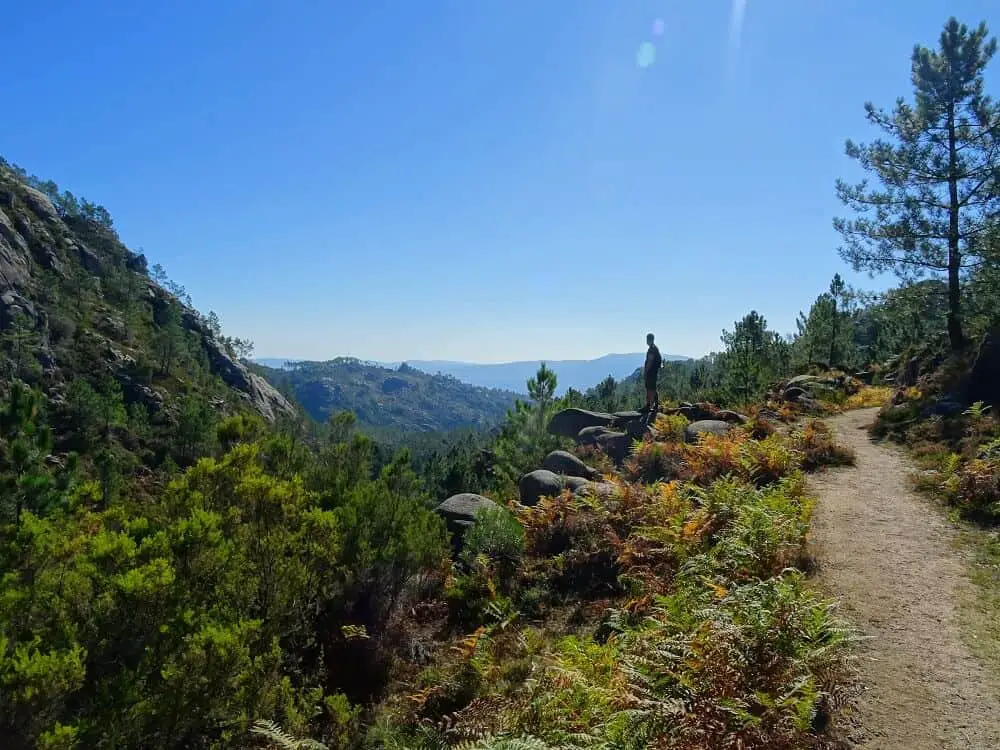 Praia do Telheiro
Contributed by Nina of Where In The Worlds Is Nina
Details of the hike:
Distance: 6 km
Type of hike: Linear
Start point: Cape St. Vincent
End point: Praia da Ponta Ruiva
There are a lot of hikes in the Algarve and luckily so! The Algarve area in Portugal is absolutely stunning with it's orangey and sandy colored craggy cliff sides and the azure blue waters that lapse against the rocky shores.
Aside from just basking on the beautiful beaches here, you can actually hike above them, and even find some hidden coves to enjoy for yourself. 
One of the coolest hikes, and beaches, for that matter, is on the Praia do Telheiro hike on the far west of the country. Dusted with red and orange, the cliffs offer epic views in the abyss that is the Atlantic Ocean. They call the area just south of this The End of the World, because it really seems like there's nothing else out there…
Hiking the trail is a mix of coastline and walking through sandy trails and shrubbery. To get to the actual beach of the same name, you'd need to veer off the path and down a short sandy trail to get there. While the trail is around four miles, you don't have to do the entire thing, or on the other hand, you could extend it too.
Praia da Ponta Ruiva would be the next beach over to visit and you'd only need to add a few more minutes to your trail. This is an out and back trail and you're fully exposed the entire time, so make sure you bring sunscreen.
To reach this hike, you'll be best off basing yourself in one of my favorite towns in the Algarve, Sagres. To access the trail, you'd really need your own car to explore. The public transportation in this area isn't the best, as to so many other Portugal hiking trails.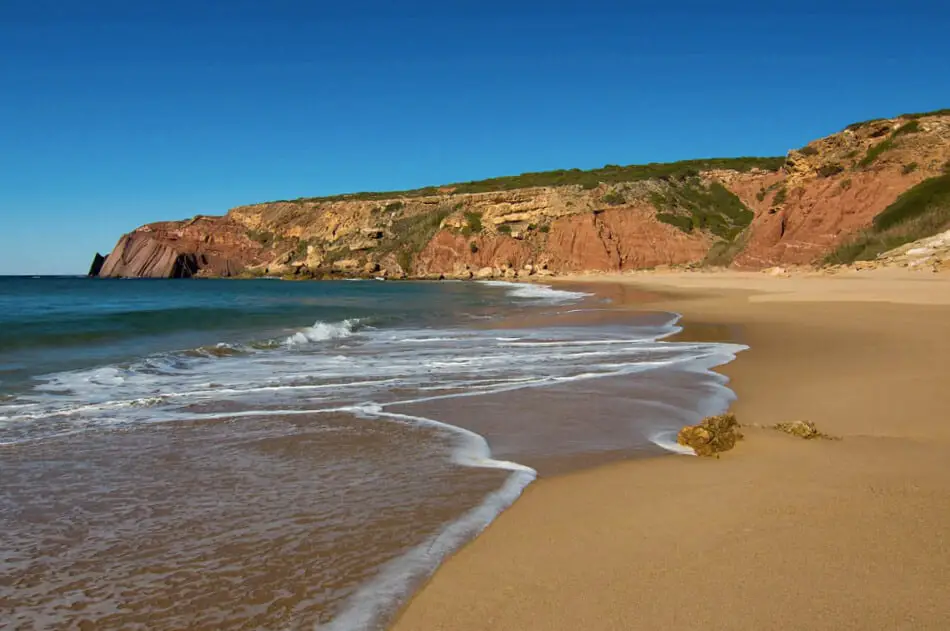 Rota Vicentina
Contributed by Izzy and Phil of The Gap Decaders
Details of the hike:
Distance: 750 km
Type of hike: Linear
Start point: Lagos
End point: Sines
The Rota Vicentina is a meandering 750 km collection of trails through the south-west of Portugal, in the Algarve and Alentejo regions. The coastal route of the Rota Vicentina is also called the Fisherman's trail and is one of the most beautiful coastal hiking trails in the world, according to the Condé Nast Traveler magazine.
Starting in Lagos and heading east along the Algarve coast, the trail then heads north all the way to the port of Sines. Many people hike the whole trail, which can be broken down into thirteen well-signed sections, mainly under 20 km each and suitable for a day hike. At each stop, you will find campsites, hostels and plenty of bars and restaurants.
The coast here is spectacular, especially on the raw and wild western part of the trail. Here the mighty Atlantic Ocean meets high sandstone cliffs and vast sandy beaches which stretch for miles. The huge rollers crash into the landmass with such force, you can sometimes feel the ground move.
The hiking is relatively easy although often sandy and on single trails. The track undulates along the heavily eroded cliffs, grassy headlands and often deserted beaches with incredible views and bird life to keep you entertained.
Go at any time of the year, we hiked here in December and enjoyed having the trails to ourselves, apart from a few local fishermen using this aptly named route to get to and from their fishing spots. You're definitely up for one of the most astounding multi day hikes Portugal has to showcase!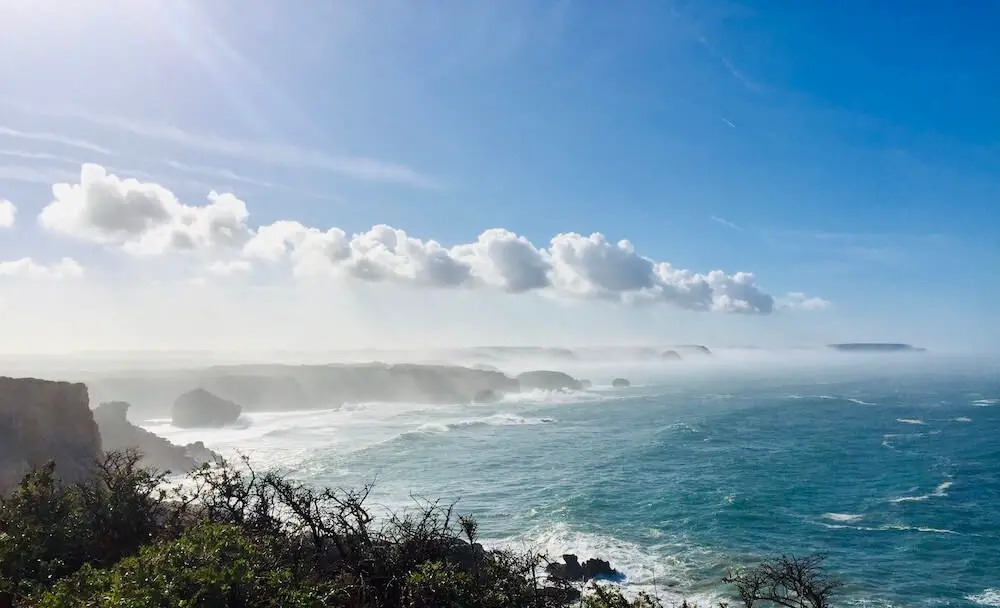 You might also like: 15 Fun things to do in Lagos
Tips for responsible hiking in Portugal
When hiking in Portugal, as anywhere, it's important to leave no trace. Here are a few tips for your hiking adventure.
You can also read why sustainable tourism is important here.
Bring a reusable water bottle
By bringing a reusable water bottle you avoid contributing to single-use plastic waste.
There are many good bottles to choose from but if you don't have one yet, I can recommend this eco-friendly steel bottle from Greens Steel. It keeps the water cold the whole day without any toxins and has a lifetime warranty.
If you like to filter the water, this one from Brita is a good option. You can feel comfortable that the tap water in Portugal is perfectly drinkable but it can be filtered in the Brita filtered water bottle for better taste and quality.
Buy your hiking snacks locally
When you buy the snacks for your hiking trip make sure you buy it from local shops instead of large chains. This way you contribute to the local economy and the small businesses, which is always good for sustainability.
Bring eco-friendly sunscreen
When you go hiking in Portugal chances are you'll be exposed to a lot of sun and will need sunscreen. Make it an eco-friendly sunscreen so that you minimize the harm it has on the environment.
This sunscreen from Hello Bello is both cruelty-free and vegan.
Leave no waste behind
That goes for all waste, even fruits and seeds. While it might be biodegradable there are two main reasons why you shouldn't throw it in nature.
Though it might be biodegradable, and it seems great to plant a seed that could become a tree one day, this tree will most likely not be endemic to the. Planting plants that don't belong there can lead to harm in the natural eco-system and plants natural to the area can be threatened.
Most of the time, food rests are eaten by animals and insects long before it turns into soil. This is no good as it is not a natural food for the animals in the area. Also, if it is not ecological it harms even more.
Stay on the marked path
Staying on the marked path assures that you contribute to protecting the natural fauna. Also, on the coastal hikes, there can be parts that are right through dangerous to walk where eroded cliff sides can be fatal. Look after both mother nature and yourself when you hike in Portugal!
Leave wildlife alone
If you come across wildlife while you are hiking in Portugal leave it with observing from a distance. It might be tempting to get up close (I know I'm guilty of that!) and maybe even feed the animals to attract them. This might lead to distress and surely malnutrition! So leave them alone and enjoy the privilege of seeing them in the wild doing their thing.
READ NEXT: Ponta da Piedade – The most beautiful spot in Algarve?
Pin it for later!