Packed with culture, music, breathtaking nature, architecture, and a sunny coastline, Andalucia is the perfect setting for a road trip. After living in the region for almost ten years, I've driven through most of it. Personally, I can't get enough of this part of Spain.
Its uniqueness and strong heritage is a colorful blend from the Moors, Romans, Greek, and Phoenicians which together stand for 3000 years of settlements in the southwestern European peninsula.
I created this epic southern Spain road trip itinerary so that you can get the best of Andalucia both the most popular places and more off the beaten path destinations in Spain.
Find out how to spend 10 days on an Andalucia road trip and have the time of your life! Oh! And if you have more than 10 days, I've included tips for other exciting things you can fill your days with along the way.
Trust me when I say you won't get bored on a road trip in Andalucia, after all, you're heading out on one of the most epic road trips in Spain.
Andalucia is also one of the best places to visit in Spain for first timers, so if it is your first time in the country, I am sure you will have a blast with this introduction!
Disclosure: This post may contain affiliate links. That means that if you make a purchase through one of those links, I will get a small commission at no extra cost to you.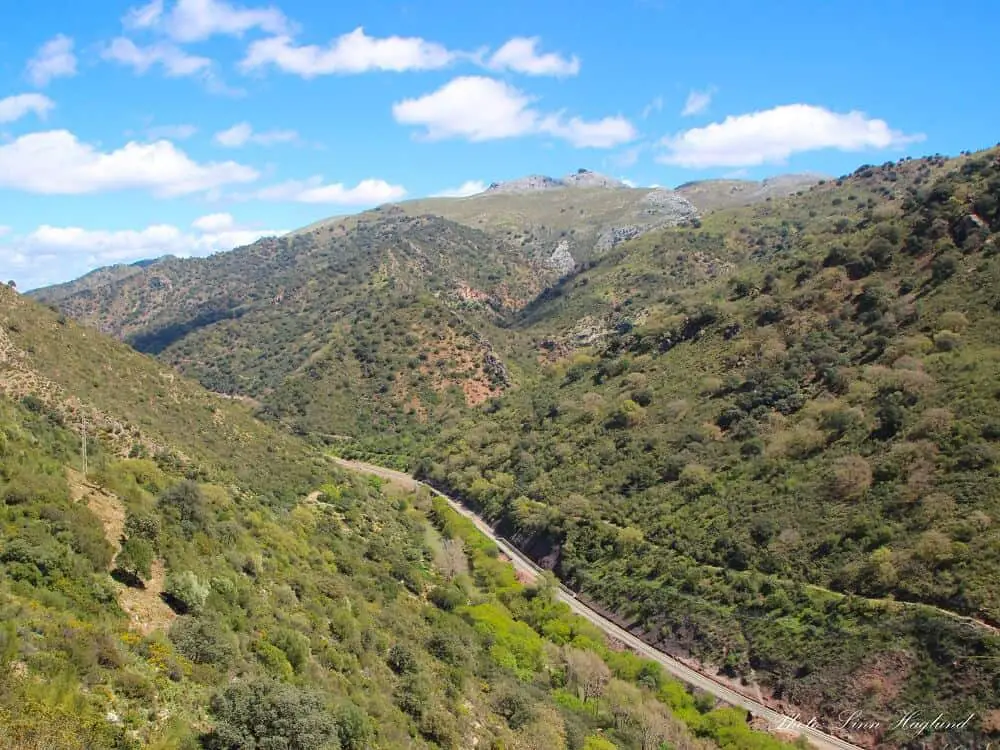 How to get to southern Spain
Southern Spain is easily commuted by road from the rest of the country and from Portugal, but also has international airports in Málaga, Seville, Jerez de la Frontera, and Almeria.
This southern Spain road trip starts and ends in Málaga which is the airport with most international flights and normally cheaper flight deals than the other airports in Andalucia. but you can easily fly into Seville or Jerez de la Frontera and move around on the days if that works better for you.
---
Book your flights to Málaga here
---
Rent a car for your south Spain road trip
Before you start your south Spain road trip, you'll need a car. Unless you have your own you can use, you probably need to rent one for the occasion.
Before you choose your rental car, make sure you consider how many you'll be in the car and how much luggage you'll bring.
Southern Spain is not considered a safe place to leave your belongings visible in the car, so make sure you can fit everything into the luggage compartment whenever you leave the car parked up.
Further, I recommend you get full coverage when you book your rental car because things happen, especially in southern Spain. I can't even count the rifts and the dents I have on my car and they all came while my car was parked.
If this happens and you don't have full coverage, it can turn out expensive. To give you an idea, I once needed a rental car to drive from Seville to Málaga airport. I left it for 2 hours outside my apartment in Seville and it had gotten a rift on the back when I got back. Of course, it doesn't always happen, but better be safe than sorry.
---
---
Driving in southern Spain
In general, driving in southern Spain is pretty easy and the main roads are well maintained. It's first when you get to more rural areas that you can experience narrow, uneven roads with lots of holes and bumps. And maybe even unpaved roads. But then you know you're off the beaten path!
But as anywhere else, there are a few Spanish road rules to be aware of when driving in southern Spain.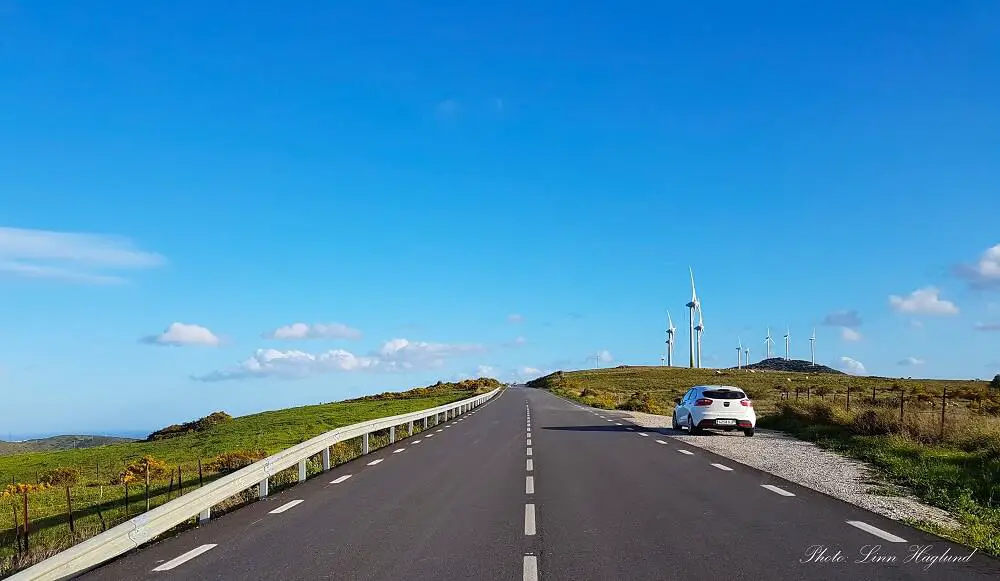 Speed cameras
First of all, there are a lot of speed cameras throughout the region. They are all marked, though with blue and white signs demonstrating that there is a speed camera ahead.
However, be aware that some of these measure the time it takes for you to drive from one point to another. One camera will take a photo of your car at the starting point and one camera will take a photo at the endpoint to make out the average speed of your vehicle.
This means you have to follow the speed limit for the given amount of kilometers, or you will be fined. These signs have the text "Control de velocidad en tramo de XX Km." The XX will vary depending on the distance between speed camera one and two.
Speed cameras take photos from behind as you drive past them. The most common you will see are grey boxes on the side of the road or they can hang on the back of signs across the road. These signs often tell you there is a speed control "Por du seguridad – Control de velocidad."
There are also random speed controls performed by police.
Road police
In Spain, they also have different kinds of police that you should be aware of. Guardia Civil (green and white cars), Policia Local (white/blue/yellow cars), and Policia Nacional (dark blue cars). You can also see them on motorbikes, usually two or more together.
Most of the time the police cars drive with the blue lights on to show presence. If there is an accident on the road, Guardia Civil are usually the first ones on the scene and do an excellent job in maneuvering traffic if necessary, most of all to secure safety on the road. They are extremely helpful in case you should puncture a tire or have a breakdown on the road.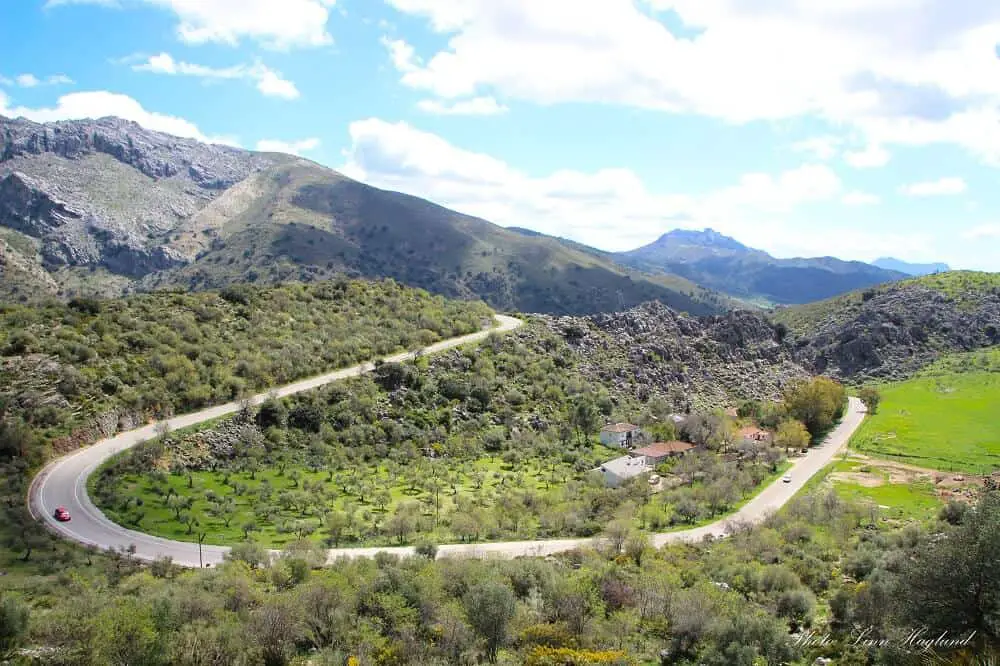 Spanish road rules
There are a few Spanish road rules I want to point out, as I think they're easy to break without knowing. On top of the following, there is a mountain of other rules that you can find on the Government's traffic site.
Driver and all passengers must wear a seat belt
It's not allowed to drive in flip flops or barefoot
The alcohol limit for drivers that have had their license more than 2 years is 0,5mg per milliliter of blood and 0,3mg for those who have had their license less than 2 years. My recommendation: Don't drink if you drive.
It's not allowed to use a mobile phone when you drive or stand still on a red light etc. This includes the use of headphones.
You can only use the horn for avoiding an accident or if there is another emergency.
You're not allowed to have the arm outside the open window. Both hands should always be on the steering wheel and both eyes on the road (yes, they do fine you if they're in the mood for it!)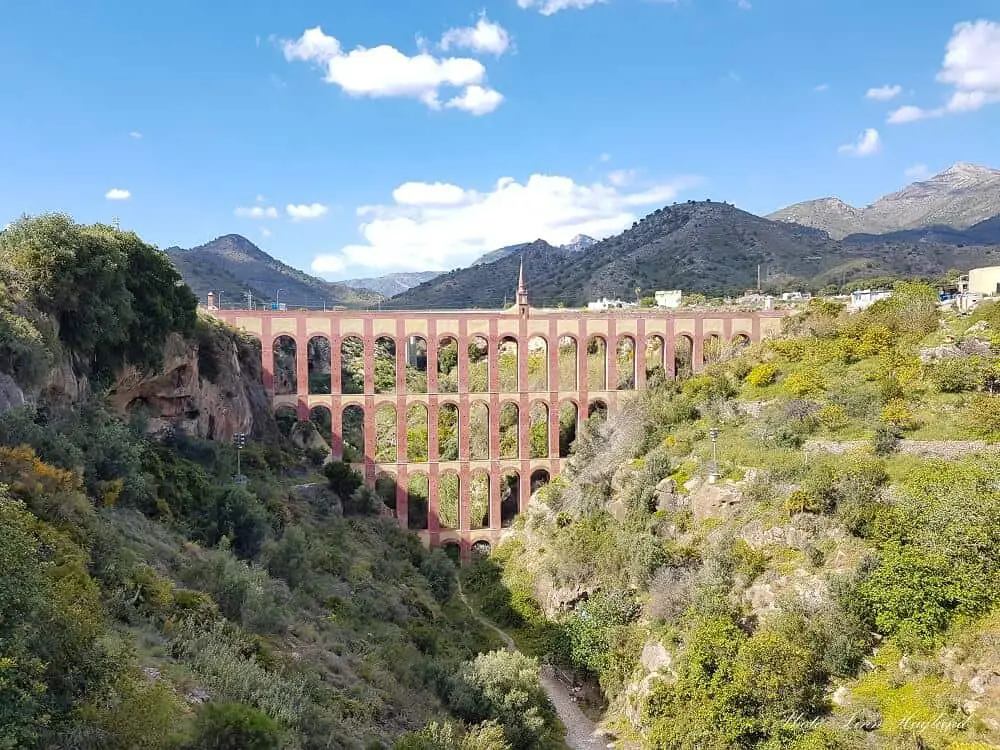 Parking in southern Spain
You might wonder where you can park and not on an Andalucia road trip. I have listed the most common parking areas and how to park there.
In cities, you will find parking along the road marked blue lines. These are spots you have to pay for, normally Monday to Saturday within certain hours (09:00-21:00/09:00-14:00). You find the correct times on the paying machines along the road. Note that you need to put in your license plate number when you pay.
Parking slots marked with white lines are free.
If there are no parking slots, often in smaller towns or villages, a yellow line along the road means no parking. Make sure you also check for signs by the road. Some places you can park at certain hours of the day, this will be marked with a sign.
If you park on a small street, it could be remote areas or by beaches, make sure you park the car completely outside the road. Your tires should not be on the road at all or you'll be fined, or even worst, they might tow away your vehicle.
Some streets in certain towns in Andalusia can have parking on one side of the street every second month and the other side of the street every opposite month. These are marked with no parking signs on each side of the road with which months you are not allowed to park. Unless it's the first of the month (when they come and tow away all cars that have forgotten to change side), it's safe to park on the same side of the road as the other cars.
Certain parking areas, especially near popular beaches, have official or unofficial parking vigilantes that you have to pay cash for watching the car. Some places have fixed prices like 1 Euro while other places you can give them whatever change you want. It's not normal to give more than a Euro unless they have a set price and ticket. Then it can get much more expensive.
Parking houses are expensive, but you find them in all major cities and some large towns if you prefer them for convenience.
Altogether, if you're in doubt about parking somewhere, ask the locals nicely and they will help you out. I do that all the time!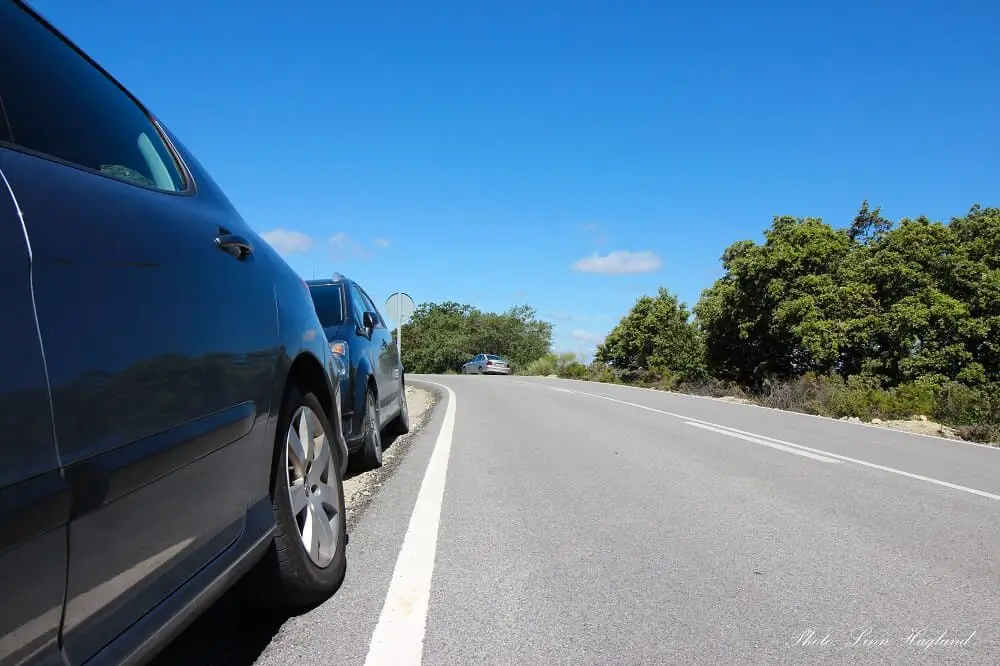 Make it a responsible Spain road trip
Unfortunately, there are places in Andalucia experiencing overtourism as well as unethical animal tourism is widely spread as a part of the culture. As a responsible traveler, you don't want to contribute to either. Here are a few things to keep in mind when on a south of Spain road trip.
Avoid animal tourism
Animal tourism comes in many forms and while there are ethical animal encounters like observing mountain goats when hiking or heading to some of the best places for whale watching in the world in the Strait of Gibraltar, there are cruel animal tourism activities too.
First, I'll mention bullfights. While the pro-bullfighting movement will disguise this activity in the name of culture, there is nothing ethical about torturing and killing living beings for people's amusement.
Luckily, more and more tourists see that these days. However, a lot of travelers visit the bullrings outside performance times as a pure tourist attraction. It's also included in many tours, especially in strong bullfighting cities like Seville and Ronda.
But what happens when you pay a ticket fee to a bullring? Money goes to support more bullfights.
Do you want to support that? Only you have the answer, but I absolutely hope you won't.
Another unethical animal activity, that unfortunately still happens, is donkey rides. You can ride a donkey in Mijas Pueblo in Costa del Sol to see the village. But there are so many reasons why you should not do that!
First of all, they carry way too much weight, they aren't treated properly, and not getting enough rest or playtime. the animals are standing all day and night without the possibility to lay down to sleep.
There are organizations like the Donkey Sanctuary that work hard to improve the donkey's well-being, but there's a long way to go. To learn more about donkeys and their work, visit the Refugio del Burrito instead where they rescue donkeys and mules from all over the country.
Finally, there are a few zoos and aquariums in Andalucia. I'd recommend you to stay away from them as they're for-profit and put tourists' amusement in front of animal welfare – or release animals into the wild when possible.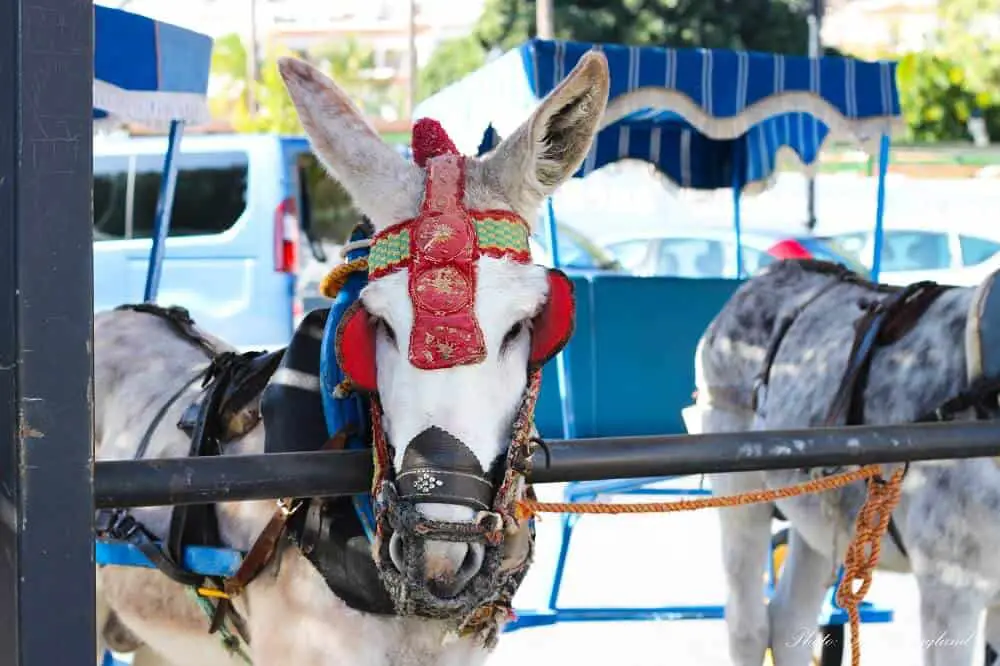 Respect the local communities
Whether you travel to popular tourist destinations or you go a bit more off the beaten path, make sure you always respect the local communities. It's common sense really, but with the increasing Instagram tourism, it seems like people's front doors become the place to stay in line for pictures.
Just imagine that was your front door. And I'm not saying you can't take pictures in cute streets with charming blue doors and flower pots. Just consider your behavior when doing so.
There are also a lot of tourists that don't hold their alcohol, especially on the coast. This is also where you should consider whether a bikini is enough to wear when you walk between the beach and your hotel. Most of the time I'd say that a t-shirt or shorts would make a comfortable difference for the locals that come home from work so they don't have to deal with half-naked tourists walking around.
Also, the language can be a barrier. Most of the time, it's enough with a humble smile and some sign language if they don't know English. Just don't take it for granted that they speak other than Spanish, especially in the smaller villages.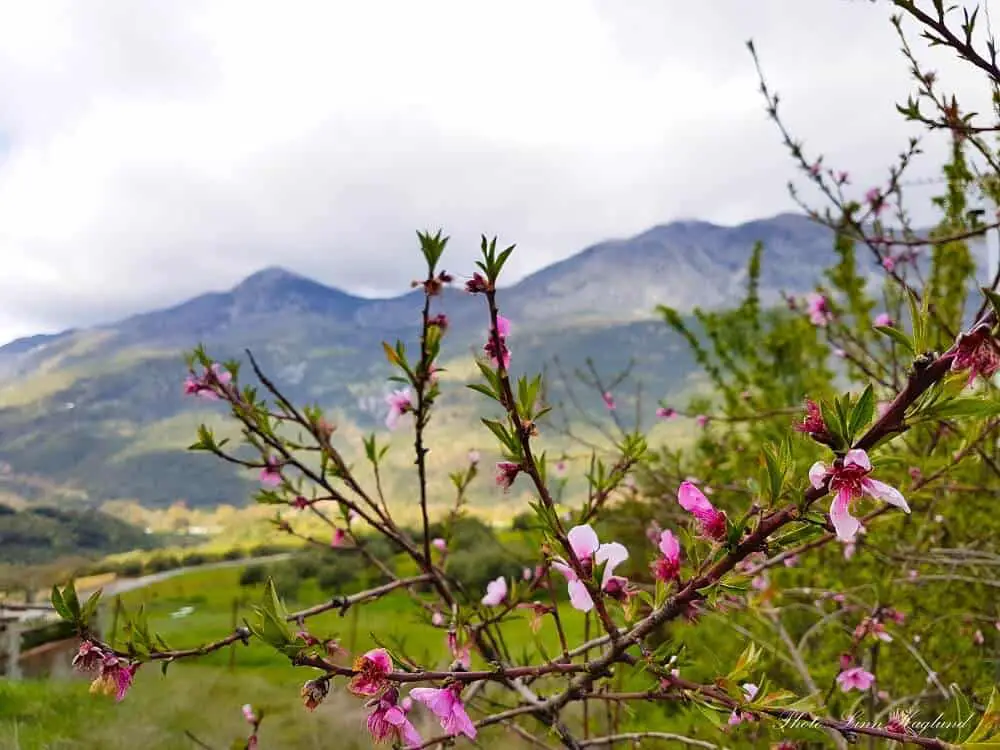 10 Day Southern Spain road trip itinerary
If you only have 10 days for your southern Spain road trip, I suggest you do the following route:
Day 1 Malaga
As you land in Malaga, there is no way you can leave this amazing Spanish coastal city without seeing the main highlights. Start off visiting the Moorish Alcazaba fortress and the Gibralfaro castle.
They're both set on a hilltop with incredible city views. You can also visit the Roman theater, sitting right below the Alcazaba.
Have lunch at the Plaza de la Merced or anywhere along the way that you find appealing. It's hard to go wrong in Malaga with all the incredible tapas bars.
After lunch, head to Malaga cathedral and spend the rest of the day wandering the streets in the historic center.
You can visit museums like the Picasso Museum, the Flamenco Art Museum, or go shopping in Calle Larios.
Or maybe you want to explore the beaches, like Malagueta beach? Stroll down to the new port for dinner for the best sunset there is in Malaga.
Where to stay in Malaga: Casual del Mar Málaga Budget options: Casa Salamanca or Hotel Goartín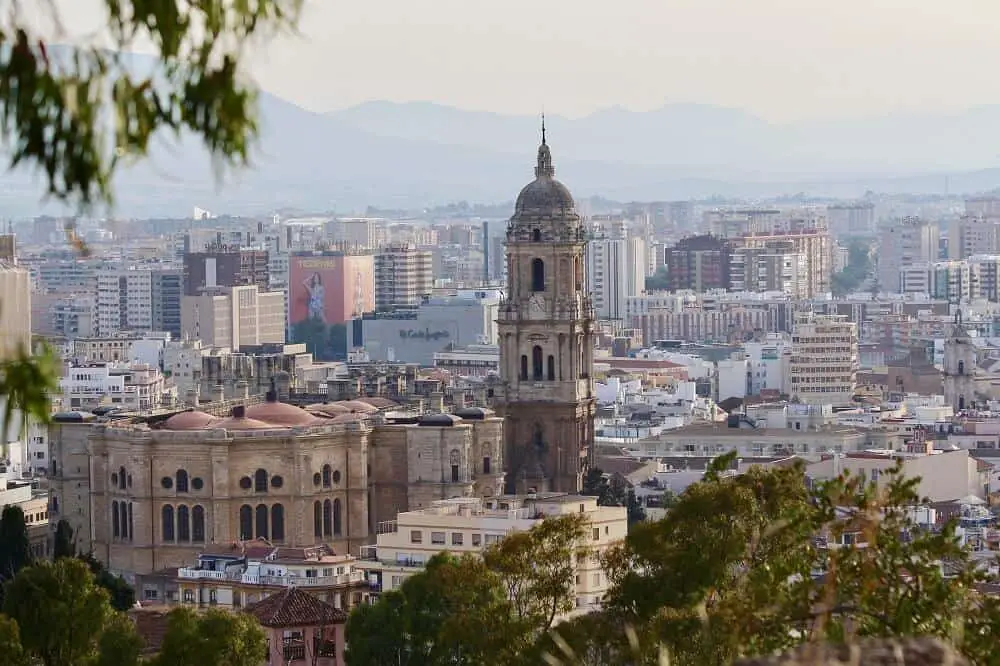 IF YOU HAVE MORE TIME….
Visit the beaches of Maro from Nerja
Visit Frigiliana from Nerja
Go scuba diving in Nerja
Hike Rio Chillar or Rio Higueron river hikes
Day 2 Nerja – Salobreña – Granada
Start early in the morning so you get the most out of the day because you'll be visiting two pretty amazing coastal towns today.
Driving from Malaga to Nerja takes about 45 minutes. Plot it into your GPS and you'll get there easily. There is a large outside parking area in Nerja not far from Balcon de Europa. Usually, you'll have to pay to stay there, but there is also free parking along the roads before you get into the center.
Nerja is one of the most popular coastal towns in Spain, and full of charm. I suggest you head to Balcon de Europa to see the beautiful coastal views and stroll around the charming streets – maybe have ice cream. There is a really nice ice cream shop right off the square itself.
Nerja boasts some of the most beautiful beaches in Andalucia, so if you want to go for a swim, you can walk down straight from Balcon de Europa to the beaches below or walk farther away to Burriana or even drive to the beaches of Maro.
As an alternative, you can visit Nerja Caves, some of the most spectacular in Spain. They're only situated within a 10-minute drive from Nerja and you can book tickets online so that you secure your entrance time.
But don't forget the time, you don't want to miss out on Salobreña, another one of Andalucia's stunning white towns. Have your lunch either before you go or after you arrive in Salobreña, but remember the Spanish lunch hours. Most restaurants won't serve food after 15:30-16:00.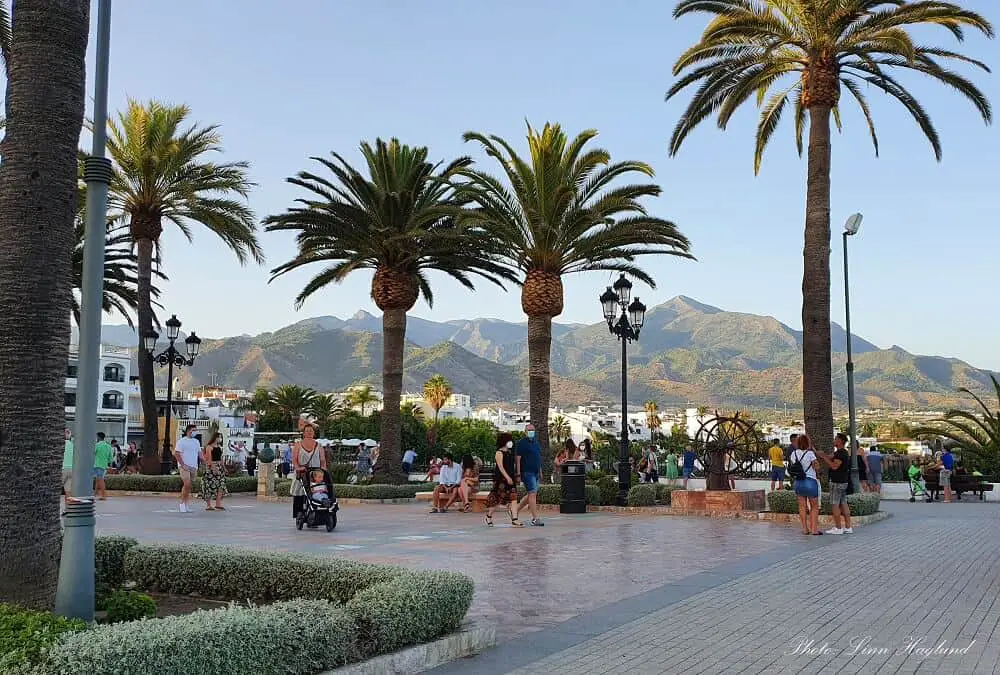 Driving from Nerja to Salobreña takes about half an hour. There is parking along the streets there, but you should avoid driving up the hills towards the old town. Keep to the main streets towards the beach and walk from there.
Once you get to Salobreña you should walk up to the castle overlooking the coast. It's a beautiful area around it too. Spend some time getting lost in the streets between colorful pot plants cascading down the whitewashed houses.
Salobreña is an astounding example of Andalucia's charm. There are squares and small bars where you can enjoy a cold drink on a hot day. You should also bump into the church of Nuestra Señora del Rosario when wandering around. It's really worth a visit.
Before you leave Salobreña, make it down to the beach and walk on the Peñon, the little rock formation forming a mini peninsula from the beach. You'll get great views of the little hilltop that the old town is situated on, crowned by the castle on top.
IF YOU HAVE MORE TIME….
Explore the coastal hikes and beaches in Cabo de Gata for a few days
Spend a day in Almuñecar
In winter, go cross-country skiing in Puerto de la Ragua in Sierra Nevada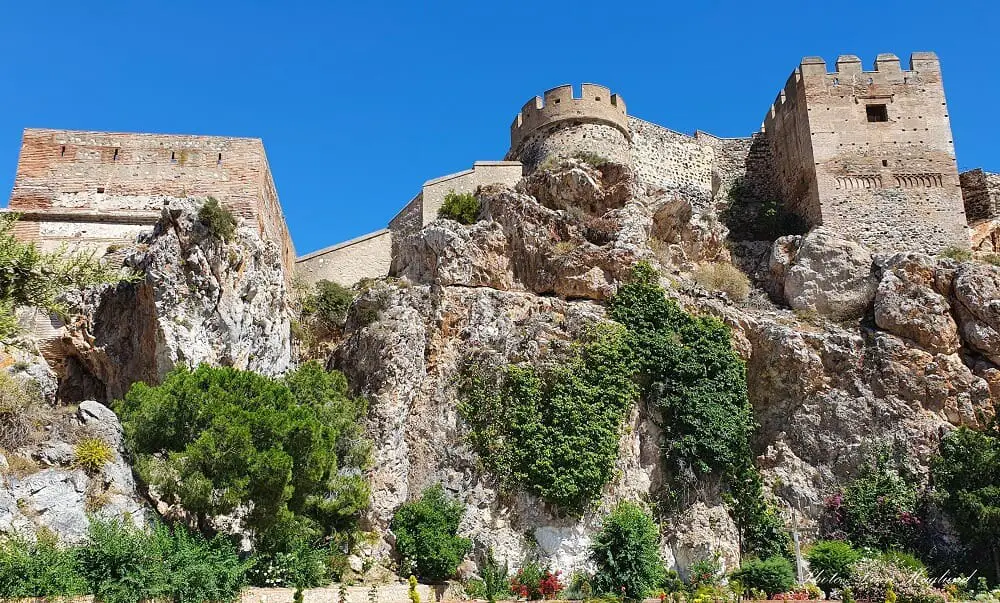 Before it's too late, get going to Granada where you'll stay the night and have a late dinner. The drive is only 50 minutes and once you've parked up the car and settled in the hotel you can enjoy a nice glass of local wine or beer.
Where to stay in Granada: Hotel Santa Isabel La Real Budget options: Granada Old Town Hostel or Antares
Day 3 Granada
Get up early and after breakfast, it's time to explore Granada historical center, also known as the Albaicin neighborhood. This is the Arab neighborhood of Granada and is situated on a hill with astounding views of the Alhambra.
Make sure you see the San Nicolas church situated on the square and viewpoint of the same name. This is probably the most popular viewpoint of the Alhambra as you get the mesmerizing backdrop of the Sierra Nevada mountain range behind, often snowcapped if you don't go there in summer and autumn before snowfall.
Worth visiting is The Bañuelo, which is an incredibly well-preserved ancient Arab bath and national monument. You can see opening times and get tickets here. Also the 15th century The Dar-al-Horra Palace is a must-visit. Book your tickets here.
After lunch, make space for visiting Granada cathedral, get lost in the narrow streets, and venture to Sacromonte to check out a flamenco show in one of the caves. You can book tickets in advance here.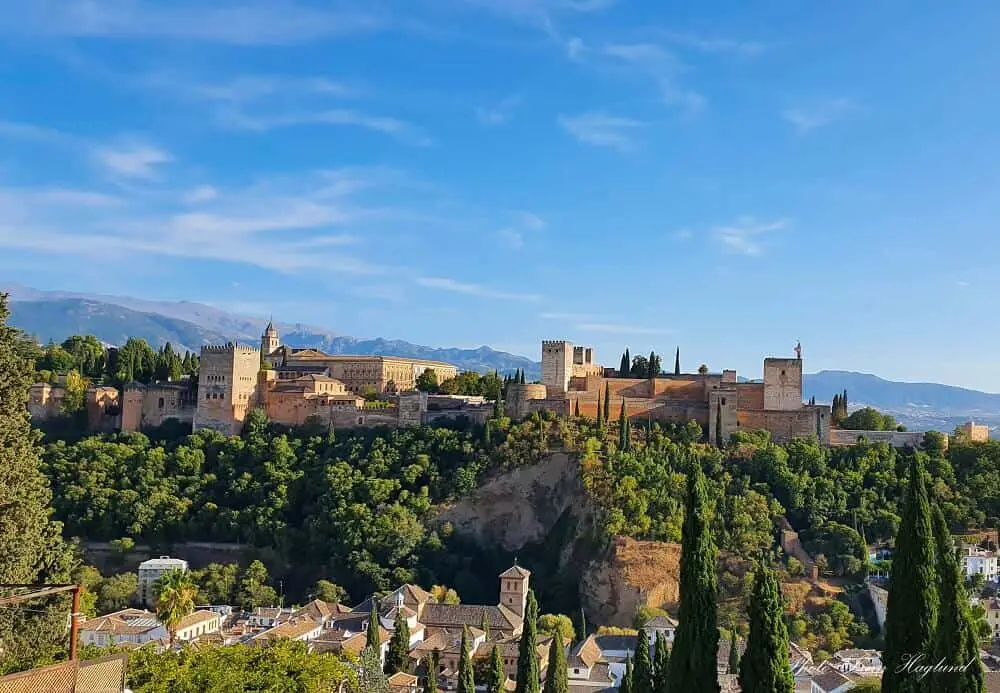 Day 4 Granada and Alhambra
Today is the day you'll be exploring the incredible Alhambra fortress, castle, and gardens, an impeccable UNESCO World Heritage site. As one of the most visited landmarks in Spain, this is without a doubt one of the highlights of this Andalucia road trip itinerary.
Top tip! Book tickets online for the Alhambra as early as possible before your trip, they get fully booked pretty quick and you don't want to miss out on this experience!
The Alhambra is divided into three main parts, the Nasrid Palaces, the Alcazaba, and the Generalife gardens. You have to make sure you get tickets to all of them. You can book tickets from the official ticket office here where you can visit individually.
Usually, I'm an independent visitor when I see tourist attractions, but the Alhambra is worth visiting with a guide. There's so much to learn about the history of Andalucia from this immense complex. If you prefer to go by yourself, you also have the option of a self-guided audio tour.
You should set off at least half a day for the Alhambra and if you can get tickets for the morning, it's the best. Then you can get lunch when you're finished and spend the rest of the day getting lost in the enchanting streets of the old town and enjoy the last night in Granada soaking in the atmosphere in this special city.
TOP-RATED ALHAMBRA GUIDED TOURS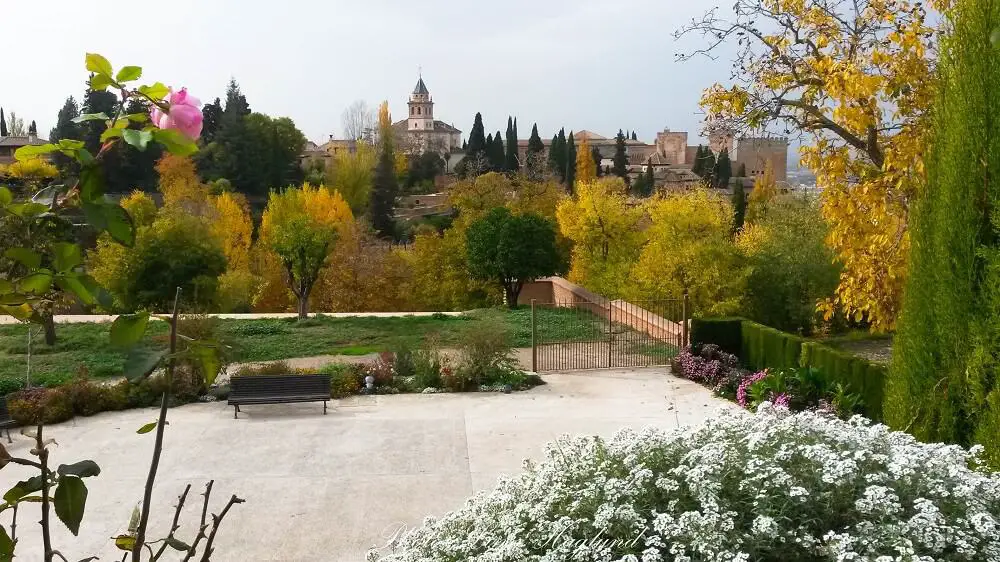 Alternatively, if you want to get active in nature, you have time to drive the 25 minutes to Monachil to hike Los Cahorros. This is a really fun gorge hike that takes you across several hanging bridges, one of them 63 meters long, past water holes, and waterfalls.
There are sections where you have to duck under the mountain and hold on to metal handles that are pinned into the mountain walls to get past. It's ideal to do with kids too and the whole round trip takes about 4 hours or you can walk back through the gorge.
There is a large parking lot in Monachil and the trail is well signposted. If you're unsure how to find the trailhead, ask anyone on the street. This hike is the main reason anyone visits Monachil.
IF YOU HAVE MORE TIME….
Take a day or two in Cordoba
Visit the witch village of Soportújar
Go skiing in Sierra Nevada (if you happen to be there in winter)
Day 5 El Caminito del Rey – El Torcal de Antequera – Seville
It takes 1 hour and 35 minutes to drive from Granada to El Kiosko Restaurant in Ardales, where you have to park to do El Caminito del Rey hike. You have to book tickets in advance! These get booked up really quickly once they get released, so make sure you don't forget. Book for the first available in the morning so you get the most out of your day and you'll also find parking easier. There are buses taking you back from El Chorro at the end of the hike to your car. Make sure you have 1.55 Euros in coins for the bus.
Today is going to be a long day with two spectacular stops in nature. First, we'll stop by the jaw-dropping Caminito del Rey in Ardales. This used to be the most dangerous hike in the world, but was fixed up and reopened in 2015. Today, you get a security brief and helmet before you head out on an astonishing walkway pinned 100 meters up the vertical cliff wall in the grand and narrow gorge.
The hike takes 2 hours + the 20-50 minutes it takes to walk from El Kiosko Restaurant to the checkpoint and start of the hike. Read everything you need to know about hiking El Caminito del Rey here. For booking the official tickets, check for availability here. If they're booked out, check for guided tours here.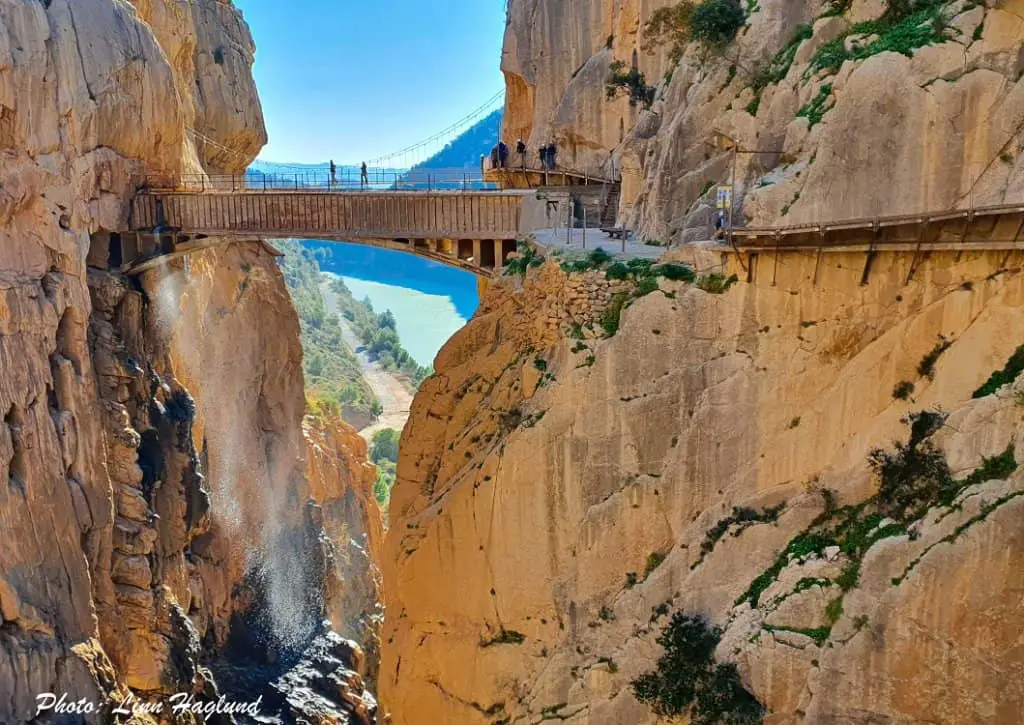 I recommend you have lunch at El Kiosko Restaurant before driving to El Torcal de Antequera, as there isn't much food to get at the café up there.
El Caminito del Rey is not for the faint-hearted, and if you know you have severe vertigo, you might want to skip this.
Then you have two options.
You can either hike the Mirador de las Buitreras, starting at El Kiosko Restaurant too, but when you get to the tunnel before the checkpoint, take up the track on the right side instead.
This is a free hiking route where you in addition to spectacular views, also can see the Caminito del Rey from afar. There are usually loads of vultures circling on this spot (thereof the name of the hike: The vulture viewpoint.) It takes about 1.5 to 2 hours return.
The second option is to drive straight to El Torcal de Antequera and spend the remaining time in the town of Antequera which is really beautiful.
Driving from El Kiosko Restaurant to El Torcal de Antequera takes about an hour. There is parking on top by the information center, but on the weekends it can fill up quickly. There are two large parking lots at the bottom of the hill and if you see that these are getting full, you might as well save the effort of driving up to find it full and park up there. You can either walk up along a trail on the left side of the road, this will add a couple of hours to your total walking time or you can get the bus that goes between the bottom parking and the visitor center at the top. It costs 2 Euros return that you need to pay in cash to the driver.
El Torcal de Antequera is one of the most impressive natural landmarks there is in Spain boasting one of the most unique karst landscapes in Europe. 150 Million years ago, this area was under water.
It's slowly been pushed up to reach 1300 meters above sea level and weather throughout all these times has left us with incredible rock formations, caves, tunnels, and fossils across an area perfect for walking.
This is a walk that the whole family will enjoy. You can choose between a 45-minute route or a 2 hour one. I do recommend the longer route as I find it much more beautiful.
There's also a big chance you'll see wild mountain goats crossing your path or posing on one of the impressive rocks. Make sure you don't chase them or try to touch or feed them.
There is a café at the visitor center where you can get some snacks and drinks before you head towards Seville where you can relax with a tapas dinner and good wine.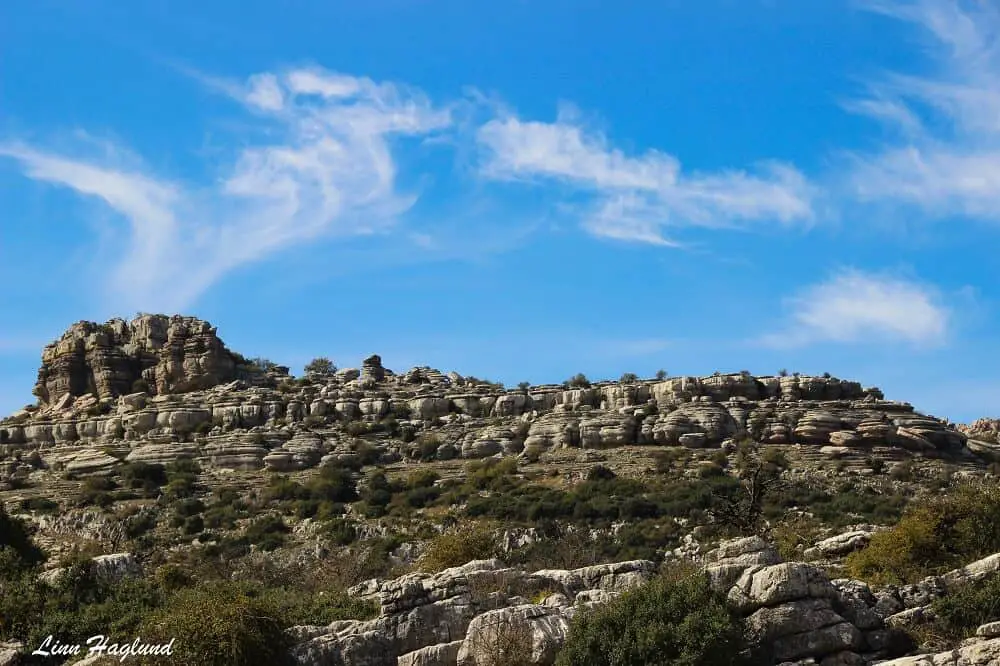 It takes about 2 hours to drive to Seville and you want to get going before it gets dark as there is hardly any lighting along the motorway and it's extremely tiring to drive in the dark.
Where to stay in Seville: Hotel Casa Imperial Budget options: Hotel Villa María or La Flamenka Hostel
Day 6 Seville
Though I always recommend a minimum of 3 days in Seville, you can get a good taste of Andalucia's charming capital city in 2 days. And I think we can all agree that on a road trip, Andalucia's most beautiful city can't be overlooked!
Get up early and get ready for the historical center, starting off with Seville's Cathedral, a UNESCO World Heritage site. The Giralda and the Royal Alcázar are situated right next to it and you can get guided tours covering them all together so that you avoid the lines.
After all this history it's perfect to go for a stroll in the nearby neighborhood of Santa Cruz where there is a myriad of restaurants to choose from for lunch.
After lunch, head to the Metropool Parasol on Plaza de la Encarnacion, the newest and most hated attraction by the locals. The modern structure resembles a mushroom, thereof the nickname "Las Setas" meaning the mushrooms.
Here you'll get pretty cool views of the city, but you can also check out the Archaeological Museum below where there are different remains and artifacts from the site.
For dinner, head over to Triana on the other side of the Guadalquivir River – make sure you walk the famous Triana Bridge. This is where you find the best and most authentic Flamenco shows too.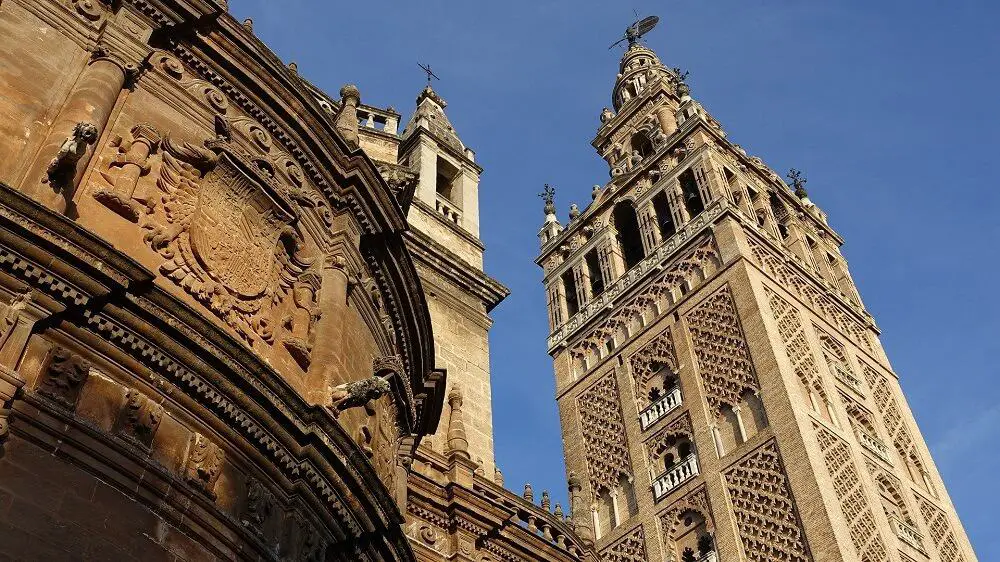 FOR ACTIVE TRAVELERS:
Day 7 Seville
Start the day with a good breakfast before walking to Plaza de España, my absolute favorite place in Seville. The stunning building is not that old but beautifully decorated with tiled benches outside, each of them marked with one of the 50 Spanish provinces.
With a small canal, lining the half-circled building with rowboats taking tourists up and down, Plaza de España has actually earned the nickname "Venice of Seville" and a visit there is a must do in Seville.
Plaza de España is situated right next to Seville's largest park, Parque de Maria Luisa. It's not only the biggest green space you find in the city, it's also the most beautiful. With paths passing Moorish fountains, tiled benches, and creative statues, you can walk around enjoying a little break from the city life.
After lunch, spend the rest of the day getting lost in the streets, soak in the local life, walk along the Guadalquivir River, or maybe go for a boat trip. Make sure you see the Torre del Oro that proudly towers along the river too.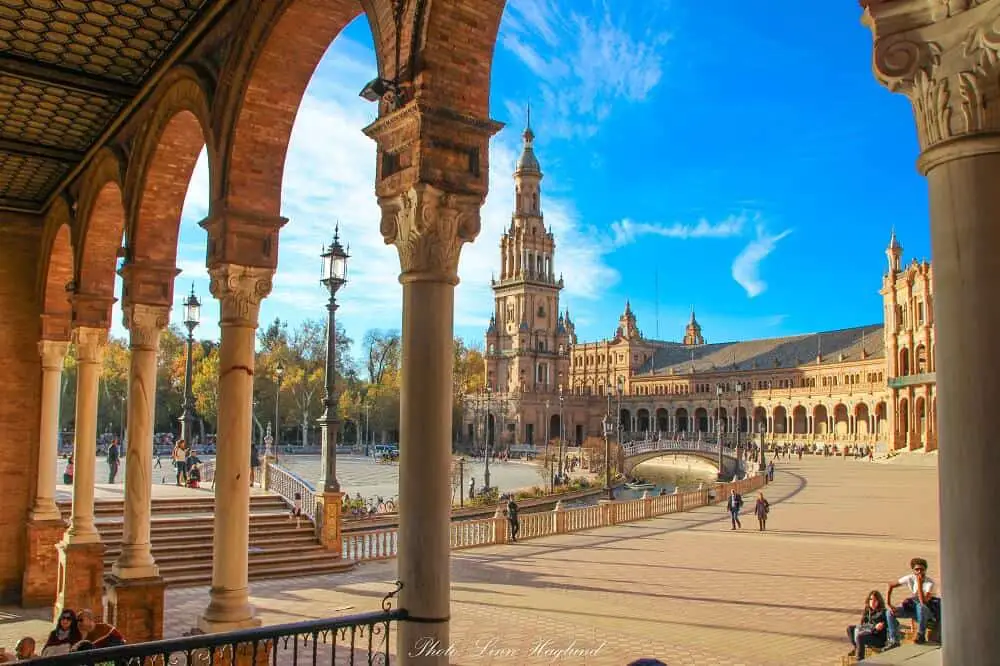 I suggest you drive to Jerez de la Frontera either the same night or early the next morning, depending on if you want to soak in more of Seville's vibrant nightlife or head to a lesser-visited gem mainly frequented by Spanish tourists and sherry fanatics.
It takes about an hour to drive from Seville to Jerez de la Frontera.
Where to stay in Jerez de la Frontera: Hotel YIT Casa Grande Budget options: Hostal Sanvi or Hotel Carlos V Jerez
Day 8 Jerez de la Frontera
There are so many great things to do in Jerez de la Frontera that you'll have a jam-packed day! As the sherry capital of Andalucia, there's no questioning you have to go on a sherry tour of some of Spain's most famous bodegas, like Gonzáles Byass and Tio Pepe.
But even though sherry isn't your thing, don't worry! Jerez de la Frontera has more than 20 churches and convents that you'll easily bump into just by getting lost in the streets – which you definitely should take your time doing with a day in the city. A couple of the most noteworthy are the Iglesia de Santiago and the Iglesia de San Juan de los Caballeros.
Since Jerez de la Frontera is so small, it's also perfectly walkable and you'll have no problems finding the cathedral – which is one of the most beautiful in Andalucia – and the Alcazar. If you happen to be there on a Sunday, you can stroll around the flea market in Alameda Vieja, right next to the Alcazar, where you can find some pretty cool stuff.
There are plenty of tapas bars and restaurants for both lunch and dinner. You're in a much less touristed city than Seville, which I'm sure you'll appreciate.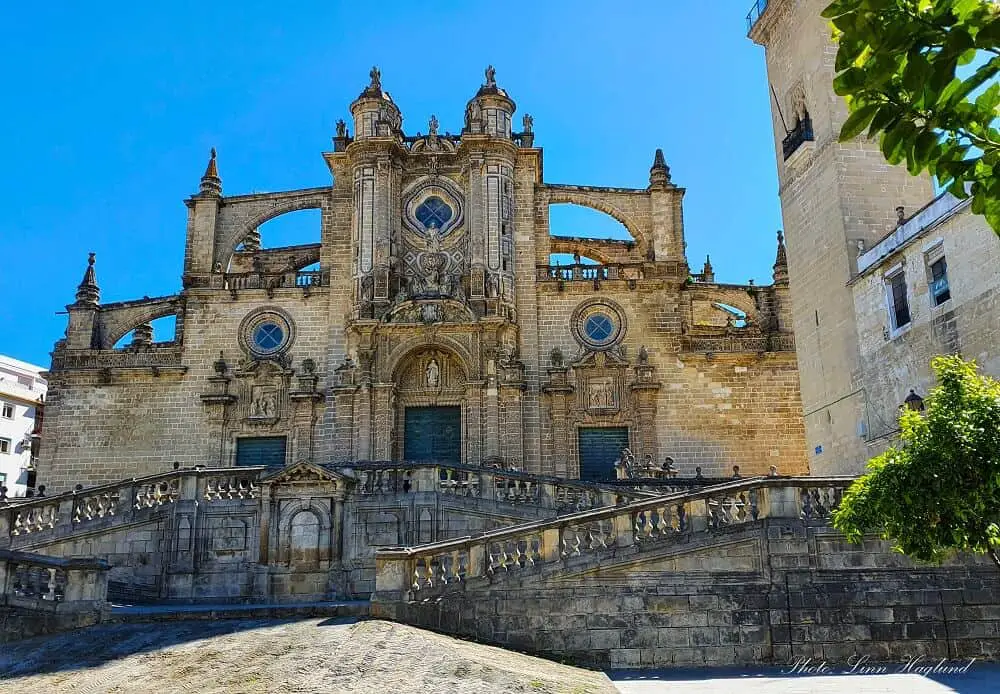 IF YOU HAVE MORE TIME….
Take a day trip to El Puerto de Santa Maria (or stay there a night before heading to Cadiz
Take a day trip to the dramatic whitewashed village of Arcos de la Frontera
I recommend you head to Cadiz before or after dinner so that you can enjoy the night scene of this amazing city. One day is certainly not enough, but it still gives you a good insight.
Driving from Jerez de la Frontera to Cadiz only takes half an hour.
Where to stay in Cadiz: Hotel Monte Puertatierra Budget options: South Hostel Cádiz or Hospederia Marqués
Day 9 Cadiz
Cadiz is one of the most beautiful cities in Andalucia with its impressive cathedral being the most prominent landmark. While you visit the cathedral and climb the clock tower, you're not far from the Roman Theater. But there are plenty of things to do in Cadiz.
From the cathedral, take a walk along the seaside on the Paseo del Vendaval (where you also get awesome views of the cathedral if you turn around!) towards the San Sebastian Castle and Castillo Santa Catalina.
There, you'll also find a couple of the popular beaches in Cadiz city, but they're far from the nicest you'll find! If you have extra time, I highly recommend that you explore the most beautiful beaches in Cadiz, as they are some of the most stunning in the country.
Cadiz food Market is a unique place to have lunch to soak in the radiant vibe, but you can also get great food in other parts of the city like La Viña or around the Cathedral.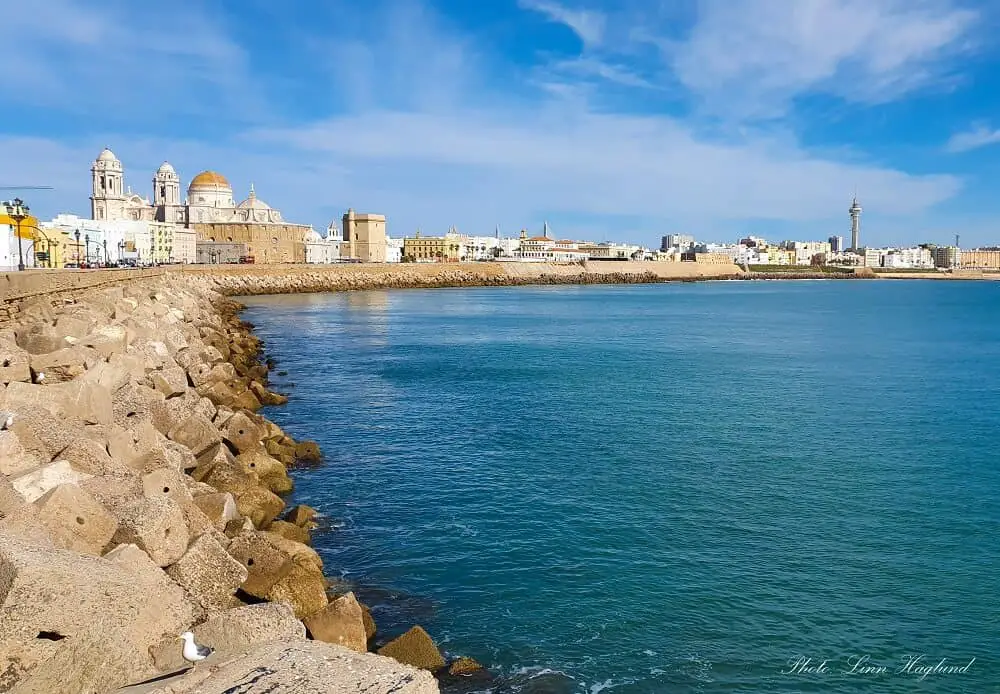 Day 10 Ronda – Setenil de las Bodegas – Malaga
This is the final day of your road trip in Andalucia, and you'll make two epic stops on the way back to Malaga. Start the day early with a breakfast of champs so that you're ready to take in everything this day.
Driving from Cadiz to Ronda takes about 1 hour and 45 minutes. Once you get to Ronda, there is plenty of parking in the streets before you get to the historic center. However, for only a few hours, you might as well leave the car in a public parking lot to save time driving around. I usually leave it in the one at the top of the shopping street and walk down the shopping street to the historic center.
The most prominent attraction in Ronda is without a doubt the majestic Puente Nuevo which dramatically connects the two sides of the El Tajo Gorge the town is set upon. To get the best view, cross the bridge and walk down the path of Camino de Los Molinos.
From the top of Puente Nuevo, you can also walk the Hemingway pathway to the famous viewpoints of Mirador de Aldehuela and Balcón del Coño where you'll get the whole countryside in front of you.
Take a walk down to the Puente Viejo (the old bridge) and visit the Arab baths before heading back to the shopping street for lunch on your way back to the car.
Yes, Ronda is home to Spain's oldest bullfighting ring, but I don't recommend visiting. It's situated next to Puente Nuevo. But since it's still being used, your innocent ticket money will go to more bullfights. Until they stop this cruel activity, please be a responsible traveler and avoid it.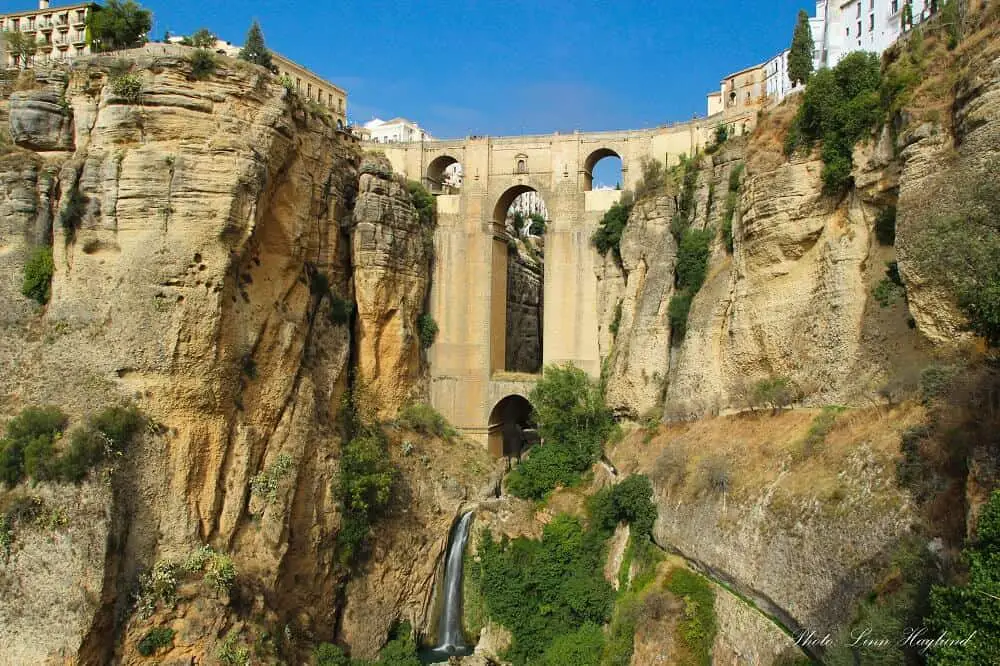 Your next stop is Setenil de Las Bodegas – the village that's built in the rock.
Driving from Ronda to Setenil de Las Bodegas takes approximately 20 minutes on narrow mountain roads. The scenery is breathtaking! Setenil de Las Bodegas is tiny. Really tiny. So the parking options aren't that many, but just before entering the village, there is a public parking lot or you can drive past and above the village and park along the street.
You don't need much more than an hour in the village to see it all, as it's pretty much just two streets, one on each side of the river. They take you under the rock where shops and restaurants are built straight into the rock wall and the overhanging rock creates natural shade. It's possible to drive through here too, which is pretty cool!
If you want to sit down at any of the cave bars to have a drink or tapas, there are plenty of options. To see the little village from above, just walk up the road that goes around it for awesome views.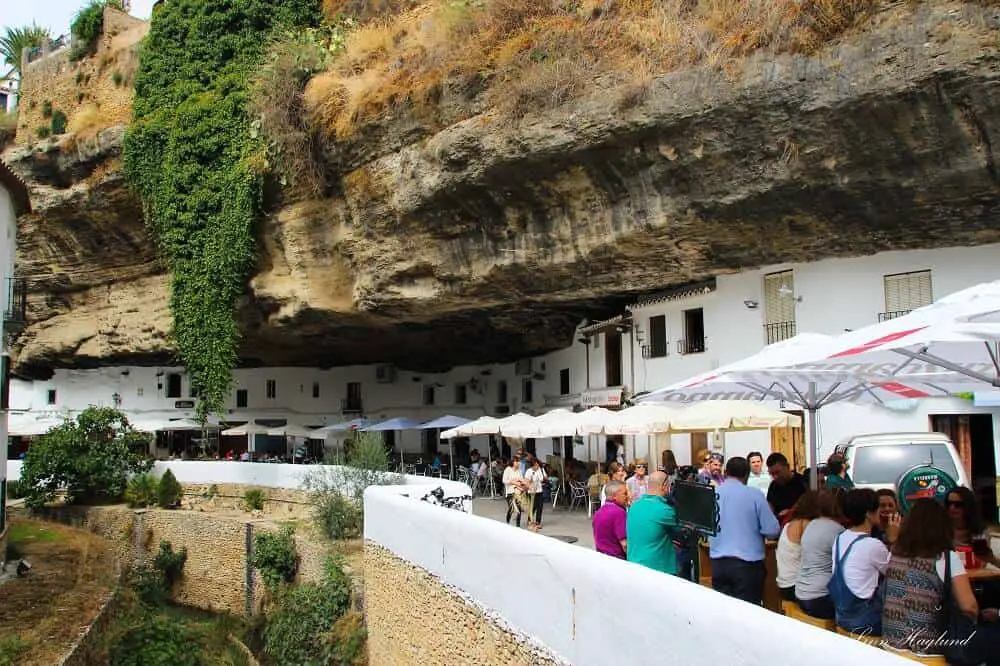 IF YOU HAVE MORE TIME….
Visit Zahara de la Sierra for the best views
Head to Cueva del Gato for a fresh water swim
Visit the white village of Cortes de la Frontera
Visit the Roman baths of Hedihonda and Casares village
Visit the blue Smurf Village of Júzcar
Hike Chorreras de Balastar from Faraján for mesmerizing waterfalls
Visit the whitewashed town of Gaucín
Driving back to Malaga from Setenil de Las Bodegas takes approximately 1 hour and 15 minutes.
If you still have time when you return to Malaga, enjoy the atmosphere and tapas scene to the fullest. This is truly an enchanting city!
Reflections on a 10-day Andalusia road trip
There's no doubt. As a destination for a spectacular road trip, southern Spain is full of amazing things to see and do. 10 days only gives you a small taste of what the region has to offer and I'm sure you're already thinking about coming back for more.
Though a lot of the places suggested in this itinerary can be crowded and are very popular with tourists, they are must-see places for any first-timer in the region.
Make sure you're prepared and have booked tickets in advance where you want to enter, especially for Alhambra and the Caminito del Rey, so that you don't miss out on them.
PIN IT FOR LATER!