There are endless options for weekend breaks in Spain whether you want a getaway in nature or prefer city life.
With incredible cities like Barcelona and Seville waiting to be uncovered layer by layer and natural destinations hiding the best hikes in Spain, you are spoilt for choice.
It is not hard to see why more than 70 million international tourists chose Spain in 2022 and numbers are expected to increase.
After living in the country for over a decade, I've explored a great part of it from Spain's hidden gems to the most popular cities and towns. And I'll tell ya, some of them are just perfect for a weekend in Spain.
In this post, I'll share the best destinations for a Spain weekend break so that you can start planning your next trip to this marvelous country.
Disclosure: This post may contain affiliate links. That means that if you make a purchase through one of those links, I will get a small commission at no extra cost to you.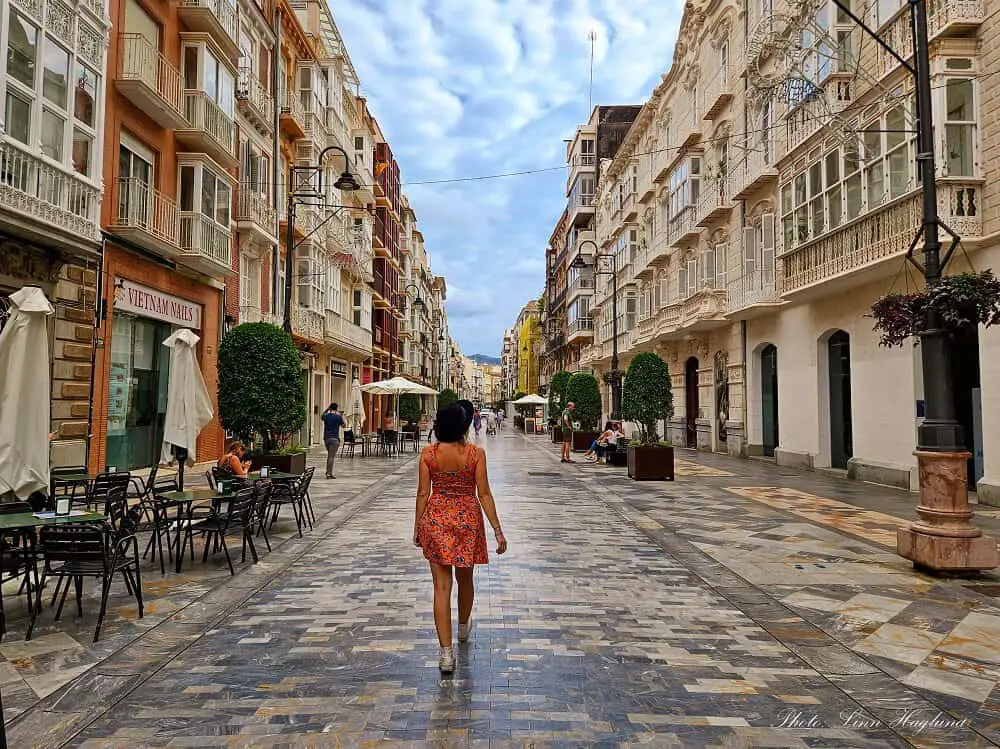 Weekend breaks in Spain
Mérida
Mérida might not be the first destination you hear about when looking for weekend trips to Spain. However, it is a completely underrated city with a wealth of attractions.
Mérida is mainly known for its incredible Roman remains and UNESCO sites in the Archaeological Ensemble of the city.
It consists of the most impressive remains, the Roman Theater and Amphitheater. But there is a wealth of things to do in Merida and many of the Roman remains are decorating the streets and free to see.
Among them, you find the Temple of Diana, Pórtico del Foro, and the majestic Aqueduct of Los Milagros.
Beyond the incredible amount of Roman remains, make sure you pay the Moorish Alcazaba a visit and step into Santa Eulalia Basilica and Crypt.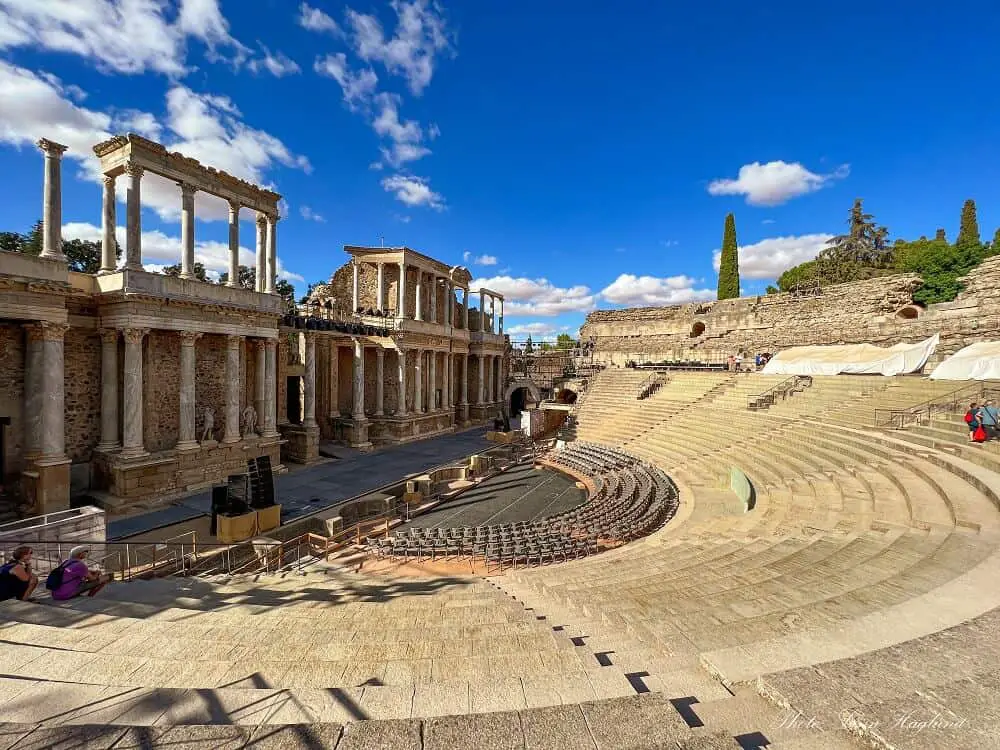 Madrid
Madrid is one of the best weekend breaks in Spain. If you thought one day in Madrid was enough, think again.
There are plenty of things to do in Madrid like visiting the majestic Royal Palace and the cathedral. Shopping enthusiasts will also enjoy a weekend in Spain's capital city, especially exploring the majestic Gran Via with its shops.
Another attraction I suggest including in your 2 days in Madrid itinerary is the temple of Debod which was transferred from Egypt to Spain as a donation for the help with flooding when the Aswan Dam was built.
Plaza Mayor is the most impressive square in the city and a perfect place for lunch any day. Besides, Madrid has an array of vegan restaurants and cafés worth checking out!
With a Spain weekend away in Madrid there is also plenty of time to explore the museums and stroll around the city's green spaces. The Retiro Park is a must-visit with its ponds and majestic monuments.
If you wonder where to stay in Madrid, I suggest the historic center.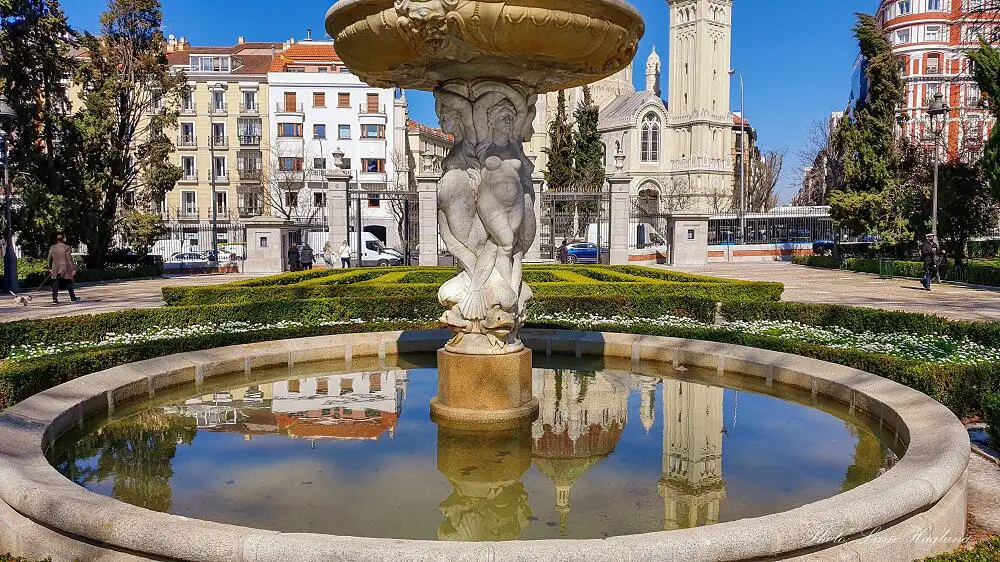 Costa del Sol
Costa del Sol in Andalucia makes for a wonderful weekend away in Spain. It is also a great destination if you travel to Spain solo as it's safe and approachable with plenty of things to do.
Malaga's coastline is a paradise for those who look for beaches, beach bars, and nightclubs. Especially Torremolinos, Benalmadena, Fuengirola, and Marbella.
But it's also home to some of the best beach towns in Spain lined with mountains perfect for hiking. Among the most beautiful hikes are La Concha behind Marbella, El Saltillo in Canillas de Aceituno, and Rio Chillar in Nerja.
Note that hiking in Costa del Sol even in winter can be scorching hot in the sun, so make sure you wear hot-weather hiking pants that are breathable and slap on heaps of sunscreen.
Costa del Sol is ideal for water adventures too, like kayak tours in Nerja, paddleboarding in Benalmadena, or boat trips in Marbella. You might also enjoy dolphin watching.
Among my favorite hillside towns you should not miss out on are Frigiliana, Mijas Pueblo, and Ojén. They are all picture-perfect with whitewashed houses, colorful potplants, and exceptional coastal views.
As you can tell, Costa del Sol makes for perfect short breaks in Spain with so many fun things to see and do.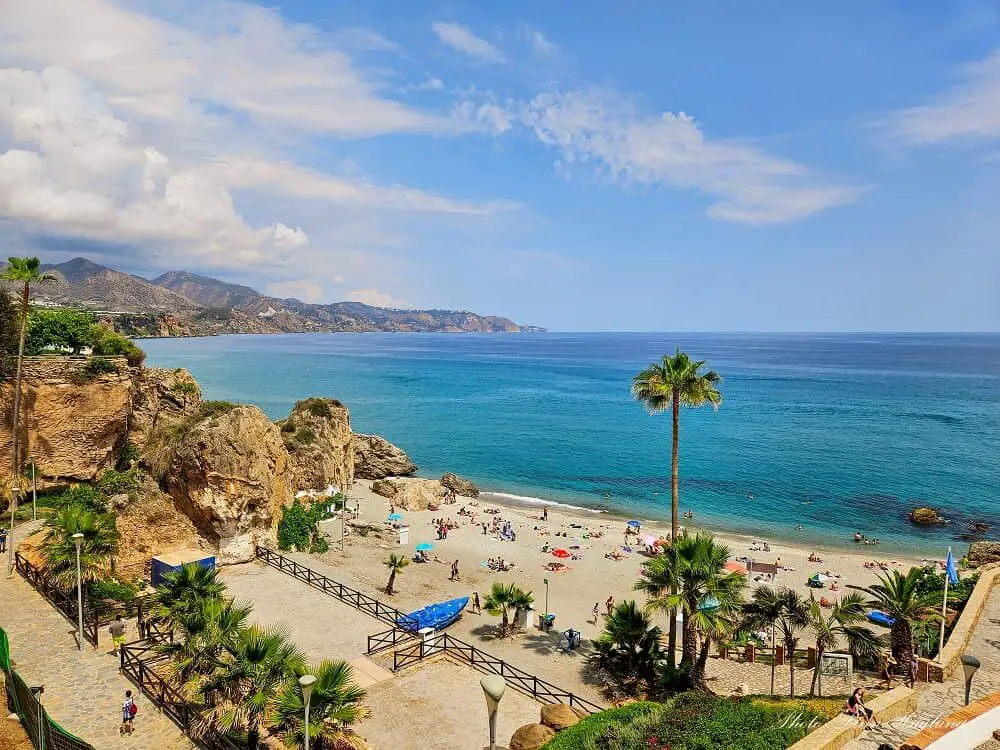 Murcia
Murcia is a lesser-known city in Spain that you certainly should consider visiting. Located right above Andalucia, it makes for one of the best Spain weekend breaks.
There are plenty of things to do in Merida and the city is walkable. Make sure you visit the Catedral de Santa Maria. There are plenty of restaurants and bars around to admire it from the outside too.
Besides, the Real Casino de Murcia is great to visit. It dates back to 1847 and is one of the most impressive buildings in Murcia, elegantly combining modernist and eclectic architectural styles.
Stroll through the center, discover the colorful Plaza de Las Flores, and search for street art. There is also a nice walk along the river and a giant fish statue in the water.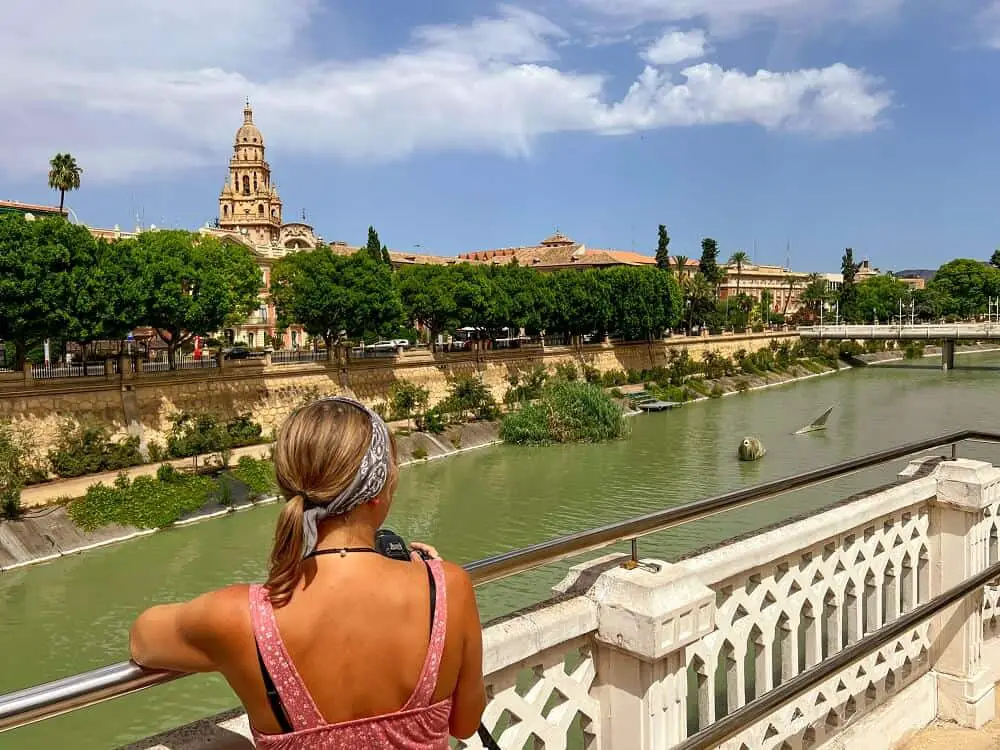 Seville
One of the most popular weekend breaks to Spain is to Andalucia's capital city, Seville. There is so much to do and so many places to discover that a weekend can even feel short.
Make sure you visit the UNESCO-listed cathedral, Giralda Tower, and Real Alcazar. You can get a joint ticket covering all attractions with a guide which is worth it.
This is a great way to learn more about Seville's Moorish history and after the reconquest.
Stroll through the quaint neighborhood of Barrio de Santa Cruz, attend a Flamenco show, and climb the Metropol Parasol for views of the city.
My favorite attraction in Seville is Plaza de España with its half-circle shape, thousands of tiles from Triana, and a little canal where you can take a romantic boat trip.
Speaking of boat trips, Seville's boat tours on the Guadalquivir River are a great way to see the city from a different perspective.
By the river, you find Torre de Oro, an old watch tower once used to guard the goods that were transported on the Guadalquivir.
If you're looking for where to stay in Seville, I suggest finding a place in the historical center to stay near all the top attractions.
BOOK BEFORE YOU GO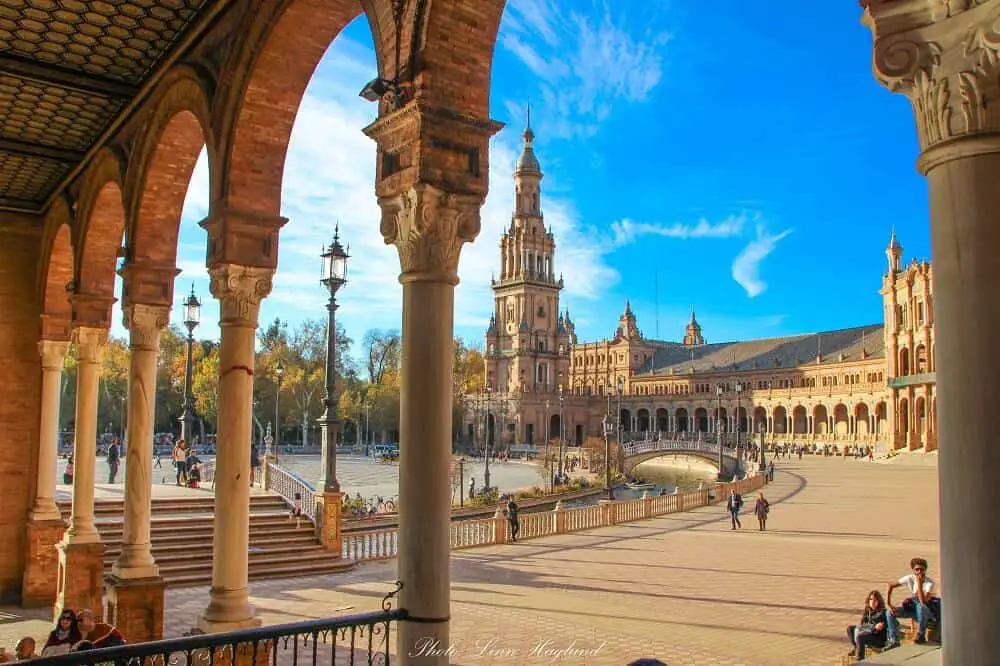 Toledo
Toledo is one of the most popular day trips from Madrid by train. In fact, most people only go on a day trip to Toledo.
But trust me when I say this wonderful city deserves at least a weekend. There are plenty of things to do in Toledo from getting lost in the old town to eating all the marzipan and visiting the many museums.
Among the most prominent museums in Toledo are the El Greco Museum, and the Alcázar de Toledo which dates back to the 10th century and now houses different museums dedicated to Toledo's history and Spain's army.
The Catedral Primada is impressive both from the outside and inside, but even more impressive is the Monasterio de San Juan de Los Reyes with its late Gothic and Mudéjar styles.
The monastery is a symbol of the Christian reconquest of Toledo and the chains on the outside wall represent the Christian prisoners that were freed after Muslim rule.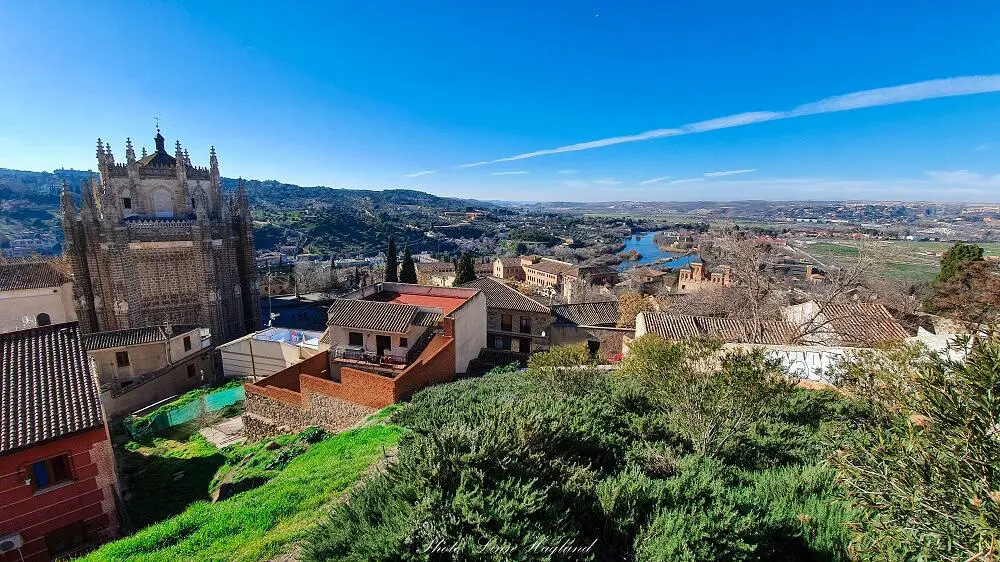 Cartagena
Cartagena is definitely topping the list of Spain mini breaks with its epic Roman remains and quaint old town.
A lot of people only spend one day in Cartagena, but swiftly realize that you need a lot more time in this wonderful city.
There are plenty of things to do in Cartagena, and on a Spain weekend trip, you get the time to explore the main attractions and museums.
Make sure you visit the Roman Theater of Cartagena and the castle for the emblematic views of the port. You can take the panoramic lift to the top if you find it hard to walk the hill.
Among the most noteworthy museums, you find the Roman Forum Museum, the Punic Wall and the Punic tombs, the National Archaeological Museum, and the Naval Museum.
Cartagena Old Town is full of charm with its old houses, the Casino, and shops and cafés that are located in historic buildings.
Besides walking around taking in the beauty of the city, make sure you don't miss out on all the street art and take a Cartagena boat tour to complement your trip.
To get the most out of your visit, I recommend getting a city pass to save money on attractions. We got the Roman Theater, the Castle, the Panoramic Lift, and the Roman Forum Museum in one ticket and saved money.
But there are also guided tours and other pre-booked tickets you can get to see other attractions. I will list the best ones below.
Finally, check in at a hotel in the Old Town to enjoy this lovely area as much as possible.
BOOK BEFORE YOU GO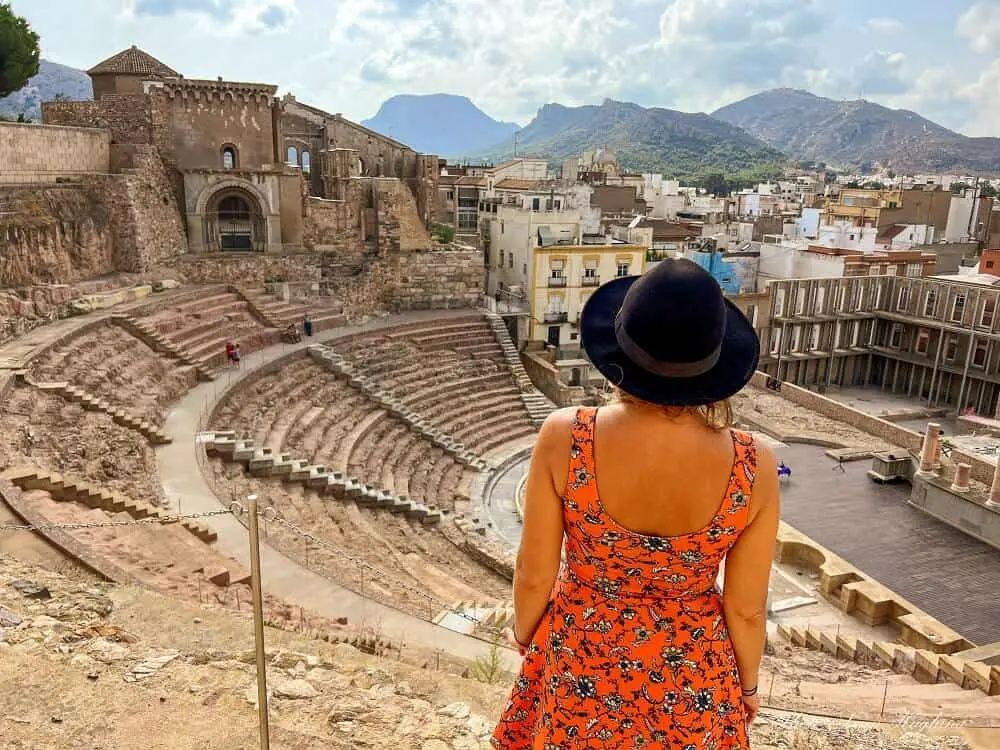 Barcelona
When looking for weekend holidays to Spain, Barcelona usually always pops up first in mind, and not without a reason.
The wonderful city is home to Gaudí's magnificent works and enthralls millions of tourists every year. If you have never been to Barcelona, it is a good opportunity to go now.
A weekend trip in Spain is just enough to see the highlights of the city as, in my opinion, one day in Barcelona isn't enough.
With 2 days in Barcelona, however, you get the chance to see many of the highlights like the Sagrada Familia, Park Güell, Casa Batlló, Casa Mila, La Rambla, and the Boquería Market.
Maybe you can even squeeze in a sunset cruise or one of the other boat trips in Barcelona before your weekend ends.
There is so much to do in Barcelona that a weekend break in Spain visiting the city alone might just not feel enough.
Due to high demand, it is crucial that you book your entrance tickets in advance and I recommend doing so as soon as possible to assure that you can get the entrance times that you want to plan your itinerary as smoothly as possible.
BOOK BEFORE YOU GO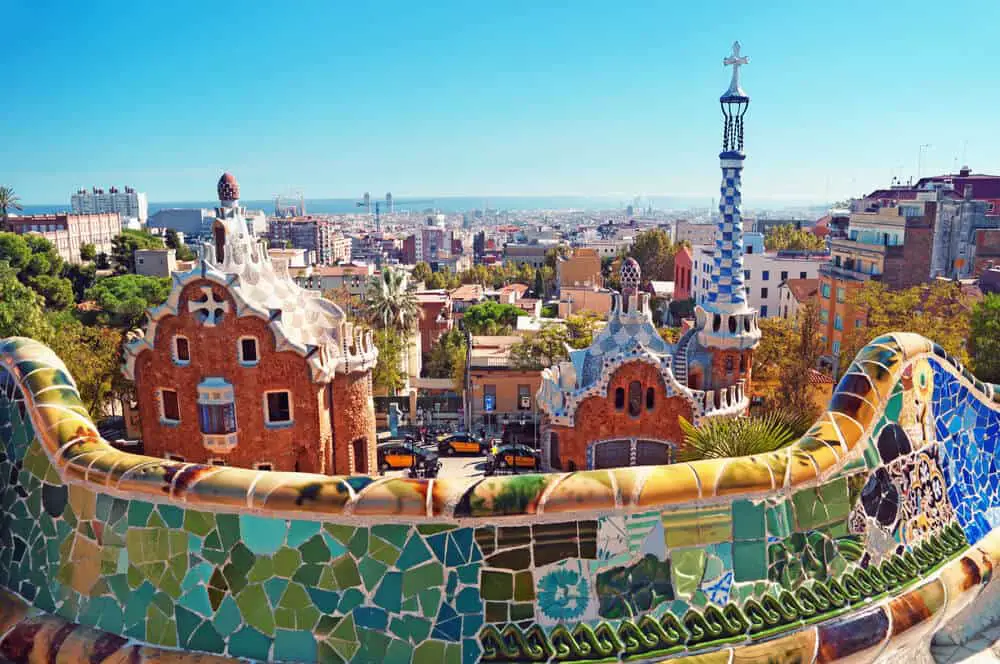 Mallorca
Another great destination for weekend breaks in Spain is Mallorca. The Balearic island is perfect to explore during a weekend and I warmly recommend a road trip in Mallorca to get the most out of your Mallorca itinerary.
You will get the chance to see some of the most enchanting coastal towns in Spain, but also the magnificent mountain range of Tramuntana with some of the most charming towns in Mallorca, like Soller, Valdemossa, and Fornalutx.
Palma de Mallorca is also a wonderful city and visiting the majestic Catedral-Basílica de Santa María de Mallorca is truly one of the best things to do in Mallorca. Nature lovers will also enjoy all the hiking routes and cycling routes on the island.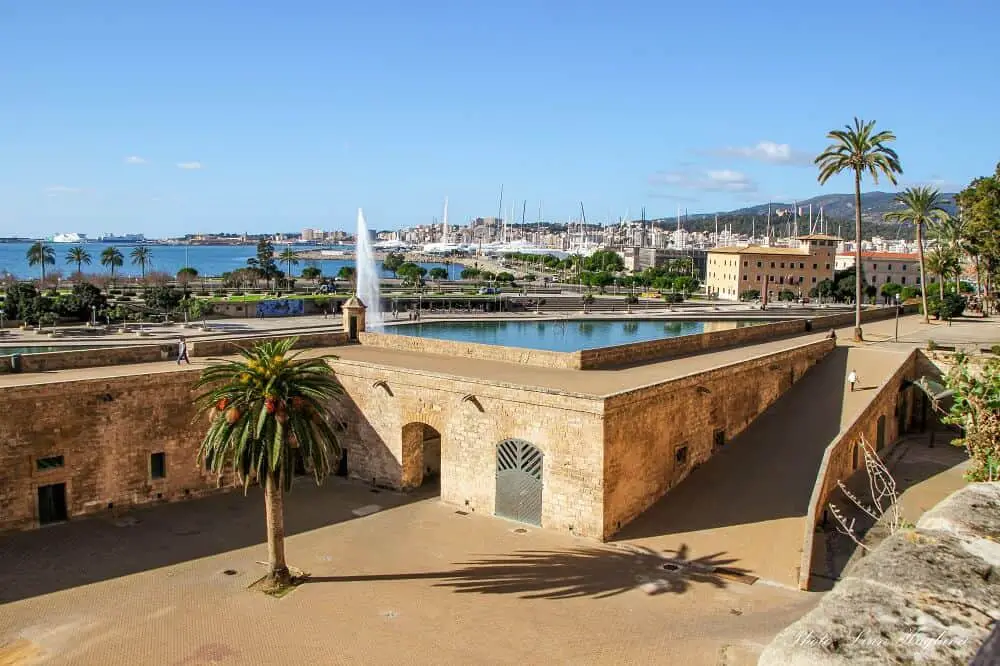 Tenerife
Another epic island for memorable Spain weekend trips is Tenerife. Truth is, this has been one of my favorite island getaways because there is so much to do there for every type of traveler.
Nature lovers and active travelers will love the north and the impressive Teide National Park. You can take a cable car up to the (nearly) top of Mount Teide, the highest peak in Spain.
From Moon-like landscapes to lush forested areas and pristine beaches Tenerife is a wonderful nature destination and a road trip around Tenerife is the best way to see the most of the island.
But there is also a vibrant party scene on the island, especially in the summer making this a popular resort destination with plenty of fun water activities.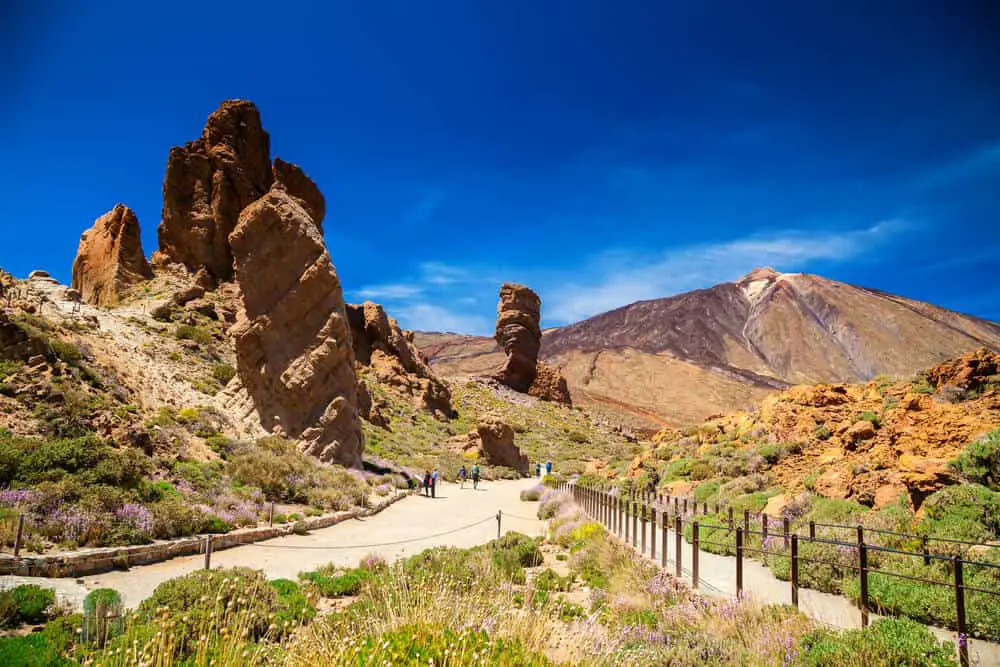 Andalucia road trip
An Andalucia road trip makes for the perfect weekend break in Spain. With so many beautiful and historical cities and whitewashed towns dotting the coastline and the inland's rolling hills.
Culture lovers will enjoy the influence and fusion of earlier settlements that you find in the architecture and food alike.
You can easily fly into Malaga and drive through places like Antequera, walk through the unique karst landscape in El Torcal, visit the world-famous Alhambra in Granada, and circle back through Nerja and Frigiliana.
Another beautiful route is through the villages in the Serrania de Ronda, where you can see picturesque villages like Casares, Gaucín, Ronda, and the village in the rock, Setenil de las Bodegas.
From Seville, you can loop down the coast and see Jerez de la Frontera, Cadiz, and El Puerto de Santa Maria.
But there are endless options with so much beauty to uncover that no matter how many times you have traveled around the region you will always find new places to discover.
Trust me, I've lived there for 10 years and still haven't been everywhere. But I can warmly vote for the region holding some of the best road trips in Spain.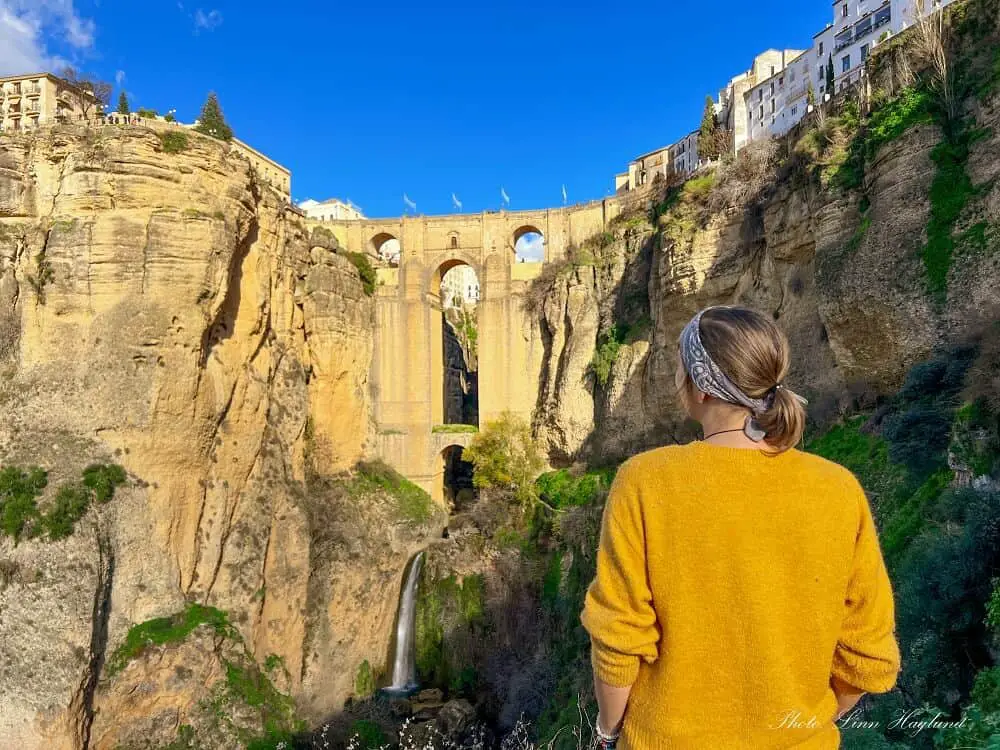 Cabo de Gata
One of the most wonderful weekend trips in Spain to avoid the crowds is Cabo de Gata Natural Park in Almeria.
In fact, it's been my favorite weekend getaway for years when I lived on the busy Costa del Sol. There are several villages to stay in like San Jose (my first choice,) Cabo de Gata, La Isleta, and Las Negras to mention a few.
But you definitely need a car to get around. If you don't have a car, I suggest staying in San Jose, where you can hike to some of the prettiest beaches, Los Genoveses Beach, Barronal Beach, and Monsul Beach.
The town also has a charming marina and a vibrant urban beach. There are also plenty of restaurants and bars and it doesn't die out completely off-season like other towns in the area.
Other attractions worth seeing in the area are the Tabernas Desert, the Mini Hollywood, where several western movies have been filmed, Playa de Los Muertos, and the Salinas in Cabo de Gata where you can see Flamingos.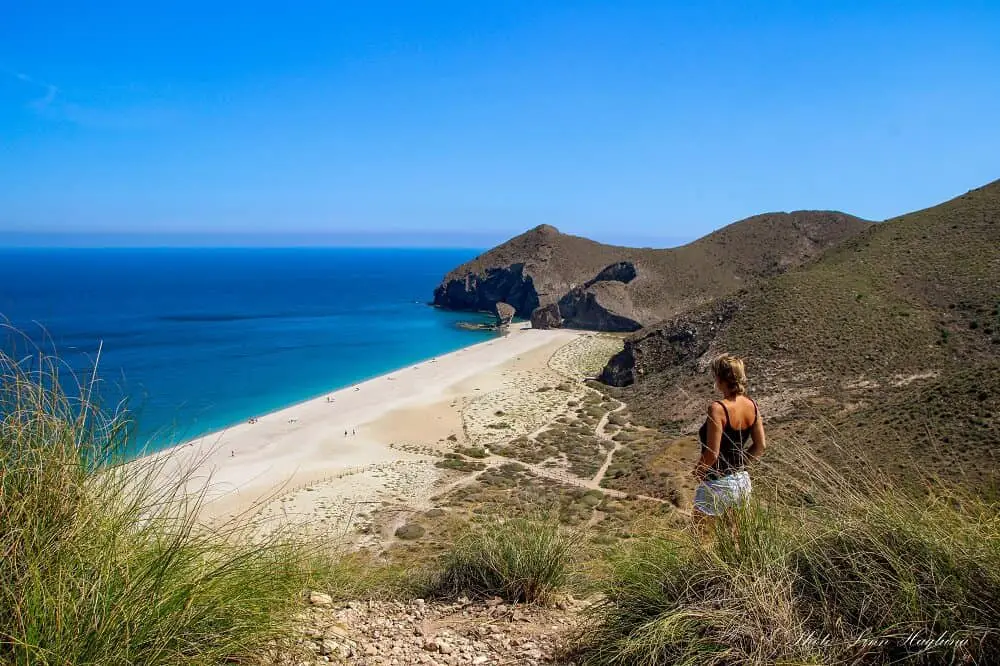 Alicante
Alicante is a wonderful coastal city in Spain with a vibrant nightlife, beautiful beaches, and a picturesque hilltop castle.
A stroll through the old town is one of the best things to do in Alicante. The narrow streets, whitewashed walls, colorful flowers cascading down narrow balconies…
There are plenty of cozy cafés and bars to grab a drink and in the summer, you can laze at the beaches.
But the biggest attraction in Alicante is the Castle of Santa Barbara towering 166 meters above the city offering exquisite views of the coastline.
Cordoba
Likely one of the most underrated cities in Andalucia, Cordoba is home to 4 UNESCO sites and holds a unique cultural and religious heritage.
The main attraction is the Mosque-Cathedral, the only mosque that wasn't destroyed after the reconquest but was rather partly restored to become a cathedral.
Now, you can see the Christian chapel surrounded by Moorish columns and Islamic features. I highly recommend a guided tour to learn more about its intriguing history as it shifted hands between Christians and Moors several times throughout the years.
Other highlights are the colorful patios, the Alcazar de Los Reyes Cristianos, and the Jewish Quarter where you can enter one of the few surviving synagogues in Spain.
Cordoba's Old Town is super charming with plenty of hidden restaurants and bars in the narrow streets. This is definitely one of the cities that deserves to be on top of anyone's Spain bucket list.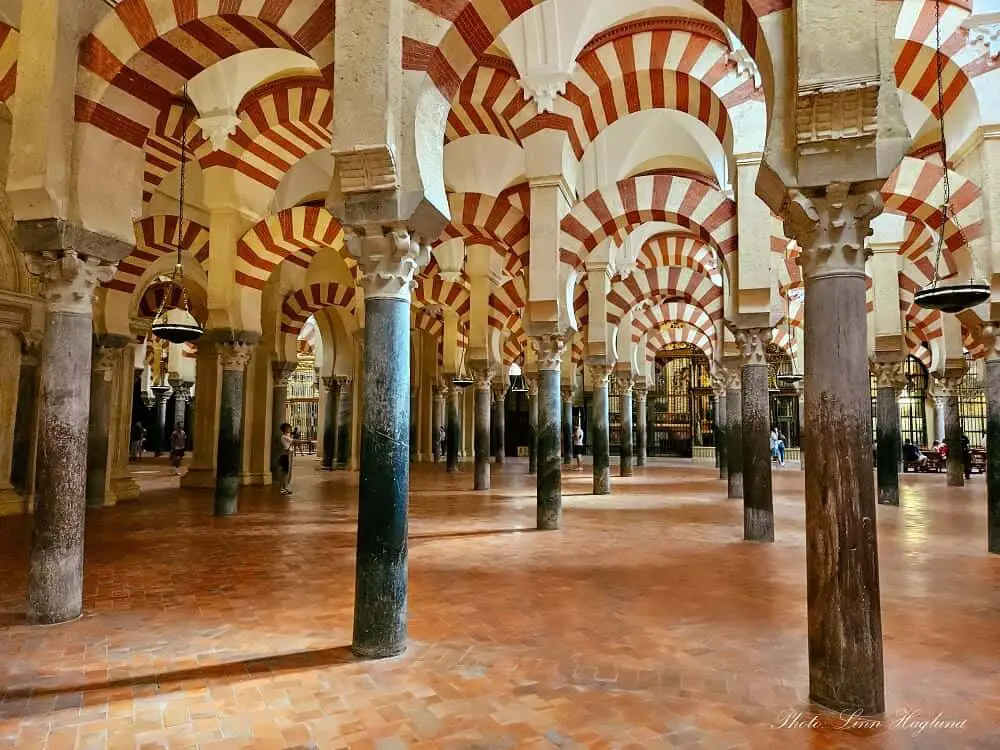 Valencia
Valencia is easily one of the top weekend breaks in Spain. It's an incredibly wonderful city with a lot of variety and no questioning the country's capital of art.
Among the best things to do in Valencia, you should spend a few hours in the City of Art and Science where you find several museums on the topics.
It's a lovely and modern area and even though you don't go inside the museums, it is really beautiful outside with interesting architecture and water where you can rent small boats to paddle around.
Personally, I'm more of an old-town-gal but even I loved this area!
the old town, on the other hand, is like a completely different city. Make sure you enter Valencia Cathedral and take in all the beautiful architecture. My favorite building is the Gonzales Martí National Museum of Ceramics and Decorative Arts.
BOOK BEFORE YOU GO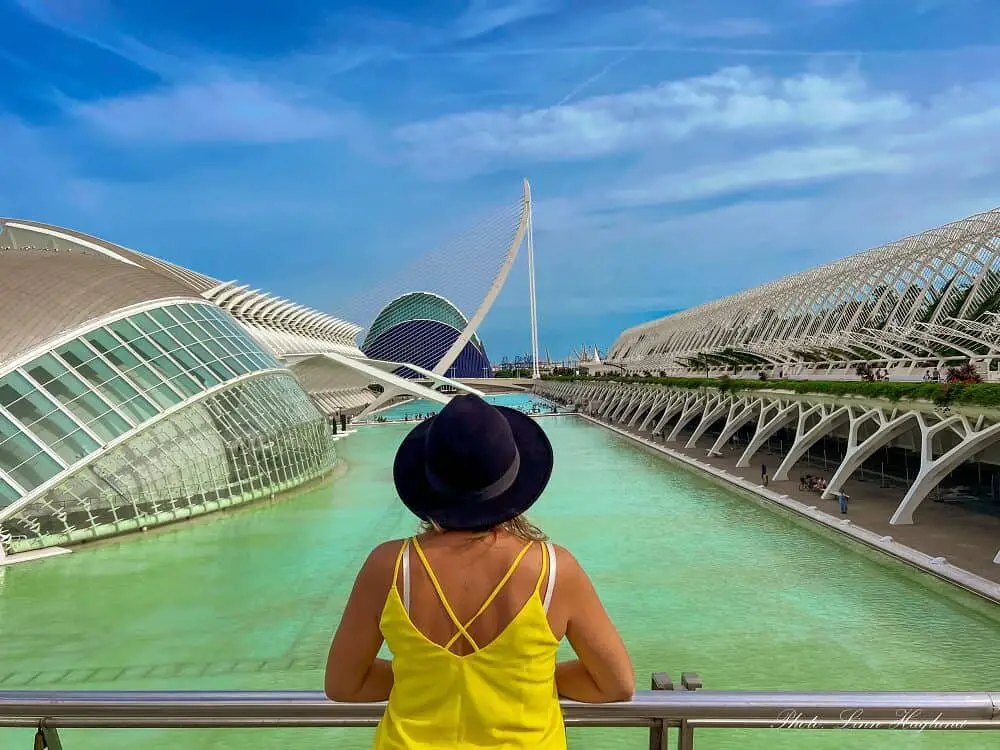 Granada
One of the most beautiful city breaks in Spain to take over a weekend is the historical city of Granada in Andalucia.
The main highlight is the Alhambra complex overlooking the city with a picturesque backdrop of the Sierra Nevada Mountain Range.
You can easily spend half a day exploring the Alhambra with its castle, fortress, palace, and colorful gardens.
If you are looking for where to stay in Granada, you can even check in within the Alhambra's own walls in an old monastery at Parador de Granada.
Stroll around the old town of Albaicín, the oldest neighborhood in Granada to get a true feel of the city, try different tapas, and enjoy the beautiful views of the Alhambra.
The old Gypsy Quarter of Sacromonte is also worth visiting for its cave houses. There is even a Cave House Museum where you can see what an old Gypsy home would look like.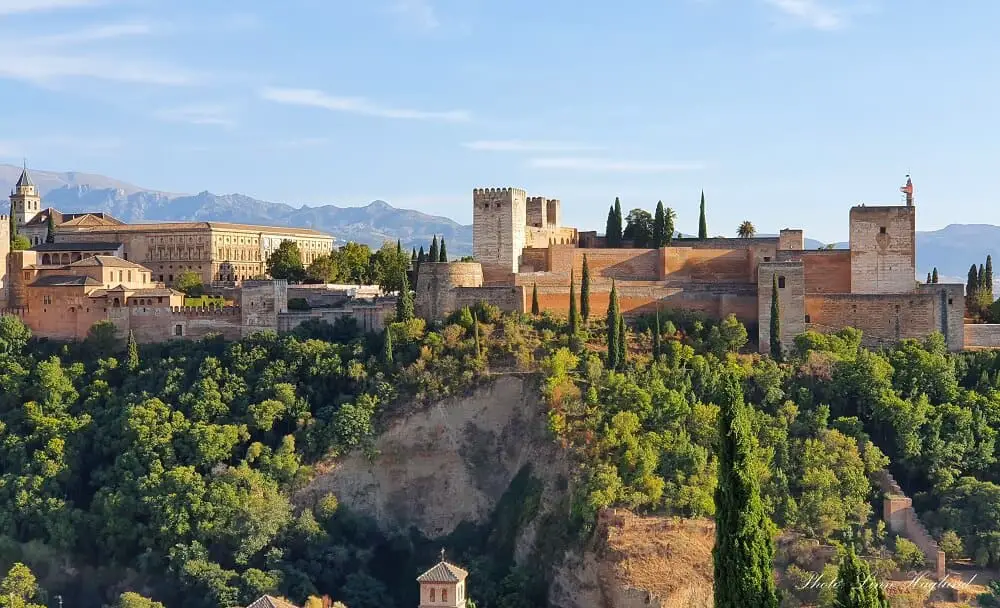 Sitges
Sitges is a great weekend getaway in Spain and is only half an hour from Barcelona Airport. The quaint city is full of charm with a beautiful marina and lovely old town.
In the summer you can enjoy the beaches and beach bars while dining in the old town's cobbled streets. In winter you can go hiking in the surrounding hills to exquisite coastal views.
But there are plenty of things to do in Sitges besides that. Step inside the 15th-century Church of Sant Bartomeu and Santa Tecla and explore the Carrer Fonollar where you find the Cau Ferrat Museum Maricel Palace and Museum.
The marina is also charming and lovely to walk around in the evenings.
Cadiz
One of my favorite cities in the south, Cadiz makes for one of the best Spain weekend getaways for those who search a local Andalusian feel and a relaxed coastal vibe.
Proudly referred to as Cadifornia by locals, the surf is great all year round and attracts surfers from all around.
But Cadiz has a lot of history, as Spain's oldest continuously inhabited city with several Punic and Roman remains scattered around in parks and alleys.
The most prominent attraction is Cadiz Cathedral recognized by its golden dome. Climb its clock tower for epic coastal views and climb the Tavira Tower further into the old town for the best views of the cathedral.
Besides, top attractions include the Castle of San Sebastian, Santa Catalina Castle, the urban beach of La Caleta, and the city's main green lunch the Genovés Park.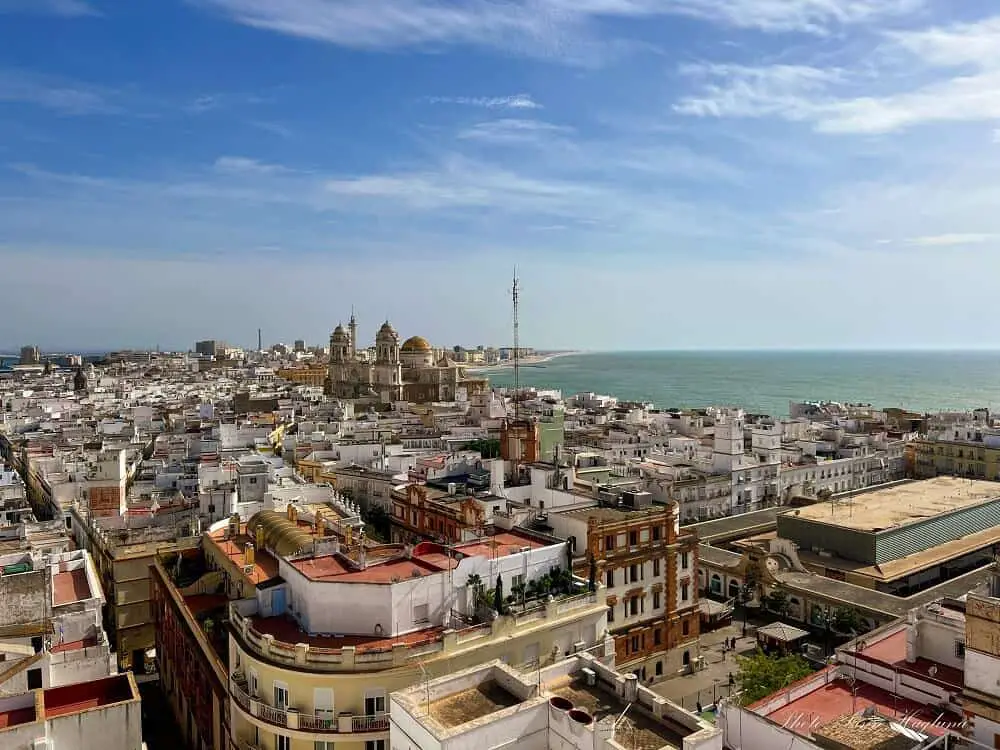 Malaga
Malaga is an all-time favorite destination for people going on 2 night breaks in Spain as it's accessible and has great weather all year round.
The beaches are fantastic, but even in the winter, you can enjoy 20-degree (Celsius) days walking around the old town, eating your weight in tapas, visiting museums like the Picasso Museum, and climbing up to beautiful city views.
The main attractions are the hilltop castles of the Alcazaba de Malaga and the Gibralfaro. They both have Moorish origin, though there have been defensive structures on that same spot for much longer.
The Roman Theater is sitting in the foothills of the Alcazaba and is free to visit. There are also boat tours from Muelle Uno which is a lovely marina to go for a stroll or grab dinner and watch the sunset from.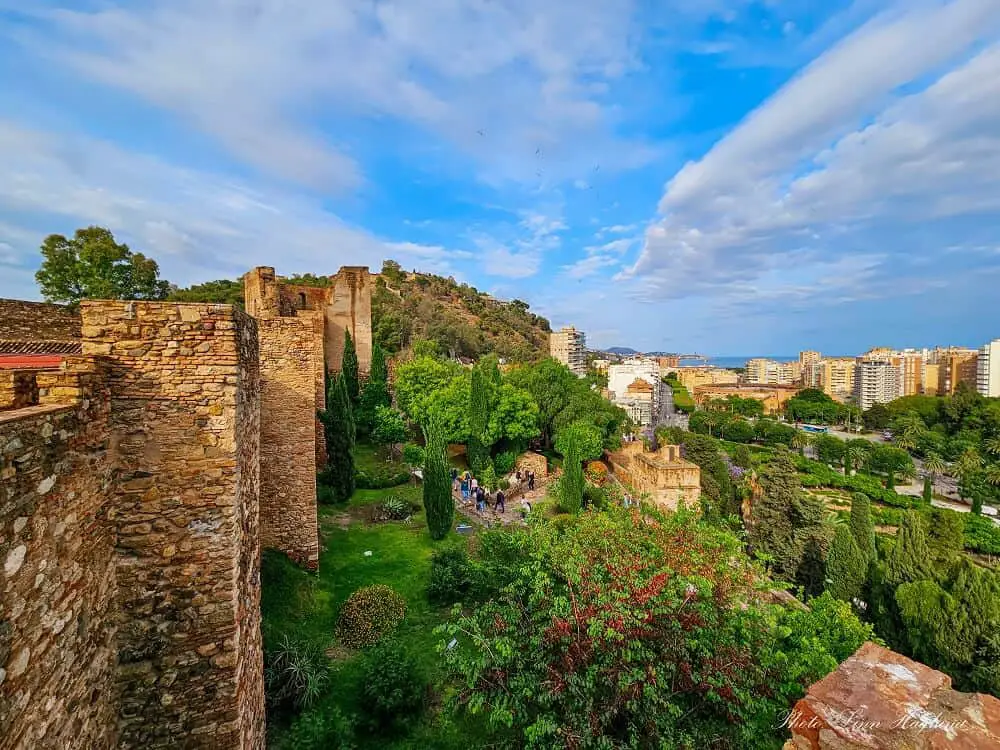 Reflections on Spain weekend breaks
When it comes to epic weekend breaks, Spain has no shortage and I hope you got some ideas for your trip in this post.
I've personally traveled to all of these places and can vouch that they are great for a weekend trip to Spain.
No matter how many times you have traveled to Spain, there is always something new to discover so whether you're looking for the best places to visit in Spain for first-timers or you are revisiting the country for the tenth time, I'm sure you'll have a blast.