Spain is recognized for its spectacular beaches, cheap drinks, and rich cultural heritage. The coastal cities in Spain offer all of this and some of them have a wondrous proximity to nature too.
If you have considered traveling to Spain, coastal cities might just be on your radar because of this. The Mediterranean country allures millions of tourists every year, mainly visiting cities like Barcelona and Madrid, but also the fabulous coastlines like Costa del Sol, Costa Blanca, and Costa Brava.
There is a wealth of beach cities in Spain worth visiting and in this post, I have listed the most beautiful so that you can start the process of deciding where to set your next vacation.
Read on to explore the best coastal cities in Spain!
Disclosure: This post may contain affiliate links. That means that if you make a purchase through one of those links, I will get a small commission at no extra cost to you.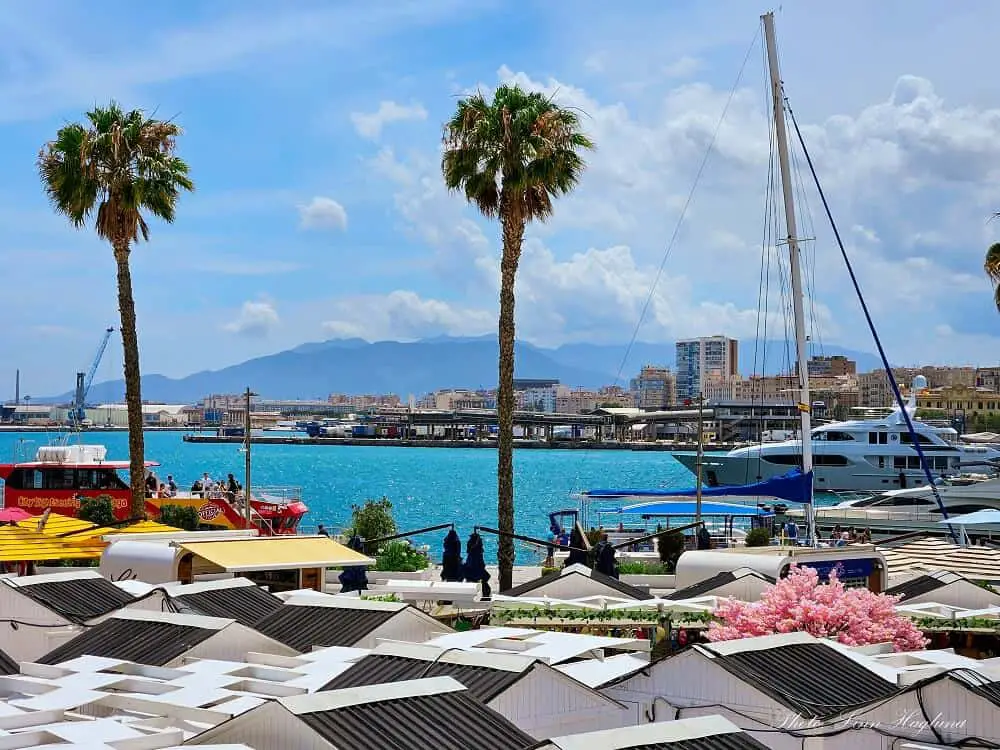 MORE FROM SPAIN
Best coastal cities in Spain
Cadiz
Cadiz is one of the best coastal cities Spain has to show for. Dominated by Cadiz Cathedral and its golden dome, there are plenty of things to do in Cadiz.
For the best views, climb the cathedral's clock tower and the Tavira Tower, one of the city's remaining watch towers. You can also enter the Roman Theater for free.
Head to the promenade that will lead you to San Sebastian Castle, Santa Catalina Castle, and the iconic La Caleta Beach. Further, you will reach the iconic Parque Genovés, a lush botanical garden with a lake and waterfall.
The old town invites for aimless strolls, tapas, and drinks. Cadiz is one of the cities in Spain with beaches that maintain a local atmosphere making it one of the most traditional weekend breaks in Spain.
Cadiz also hosts Spain's oldest and most unique carnival. It dates back to when the city was trading with Venice and sailors came back introducing the new tradition with a Spanish twang. This is by far one of the top Spain bucket list experiences you can have.
Cadiz does not have its own airport but is easily reached from either Seville Airport or Jerez de La Frontera Airport. The city is also well-commuted by train and bus to other cities and towns.
WHERE TO STAY:

Soho Boutique Cádiz – stay in the heart of the old town within walking distance of the beaches and the top attractions.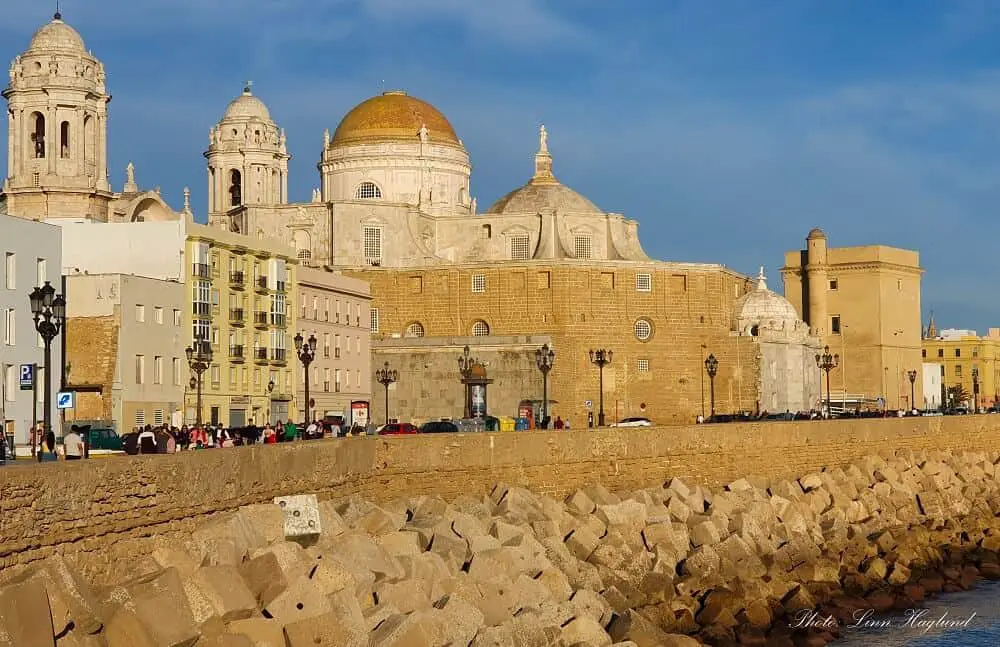 Malaga
When looking for cities in Spain near the beach, Malaga comes as a long-time favorite. Malaga has a wonderful fusion of local and international, modern and traditional, and it allures you with its endless charm.
Visit the Moorish Alcazar and the Gibralfaro overlooking the city and providing sweeping views of the port area. The Roman Theater sits at the foothills of the Alcazar and is surrounded by restaurants and bars.
If you want to learn more about the history, make sure you book a guided tour.
The cathedral is also worth entering and I suggest climbing the rooftop for epic city views. The old town is a delight to walk around whether you want to visit Picasso's natal house or savor local tapas.
There are also plenty of Malaga boat tours you can take from the Muelle Uno whether you want to go snorkeling or sip drinks on a relaxing sunset cruise.
But Malaga is also the gateway to some of the best hikes in Spain, only a short train ride from the world-famous El Caminito del Rey. Make sure you book tickets a good time in advance, as it is a popular tour.
It is also easy to reach the Sierra Nevada to hike Mulhacén, the highest peak in mainland Spain and the lesser-known El Saltillo trail featuring one of the country's longest hanging bridges.
Malaga has its own international airport and is well connected with buses and trains too making it a central arrival spot for Andalucia and a good starting point for any southern Spain road trip.
WHERE TO STAY:

Hotel Palacete de Alamos – this is definitely where to stay in Malaga with an incredibly cozy atmosphere and within walking distance from the city's main tourist attractions.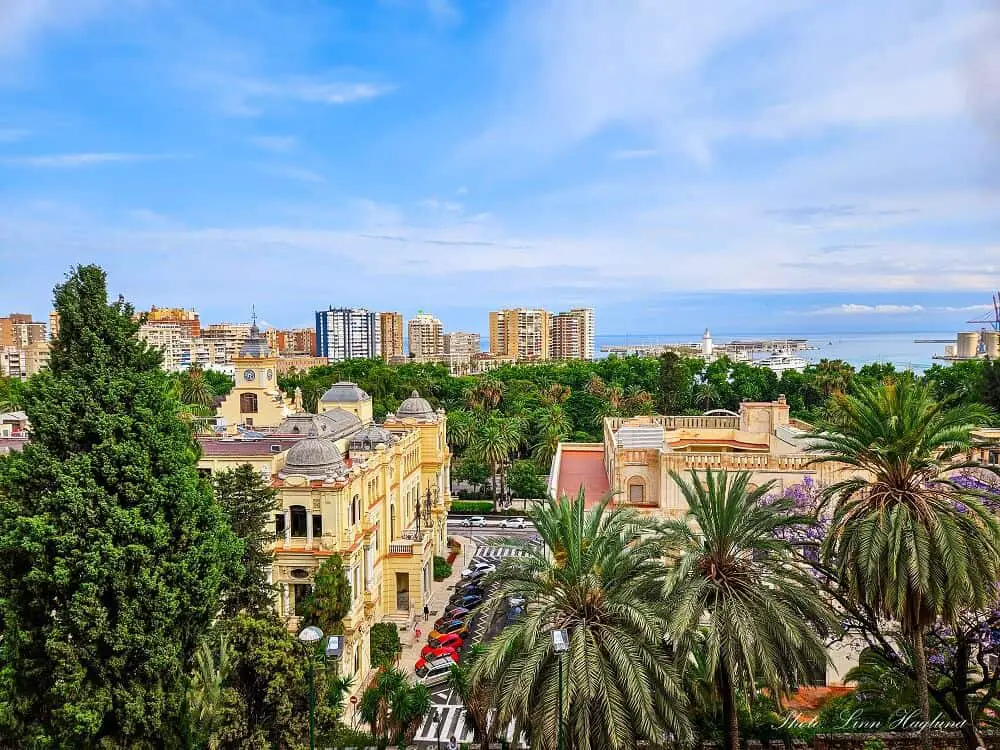 FUN ACTIVITIES IN MALAGA
Huelva
Huelva is one of the most underrated coastal cities Spain has to offer. Its glory days were during the 1800s when it was an English colony.
There are plenty of things to do in Huelva and the English legacy is dotted all around the city from the architecture to the unique Muelle del Tinto.
Located right on the edge of Marismas del Odiel Natural Park it is blessed with mesmerizing salt marshes and vading birds like flamingos.
Surrounding the city, you also find some of the most beautiful sand-swept beaches in the country.
The easiest way to get there is by bus or car from Seville Airport.
WHERE TO STAY:

Senator Huelva – stay in the city center for an affordable price. What I love, is that you can bring your pooch too.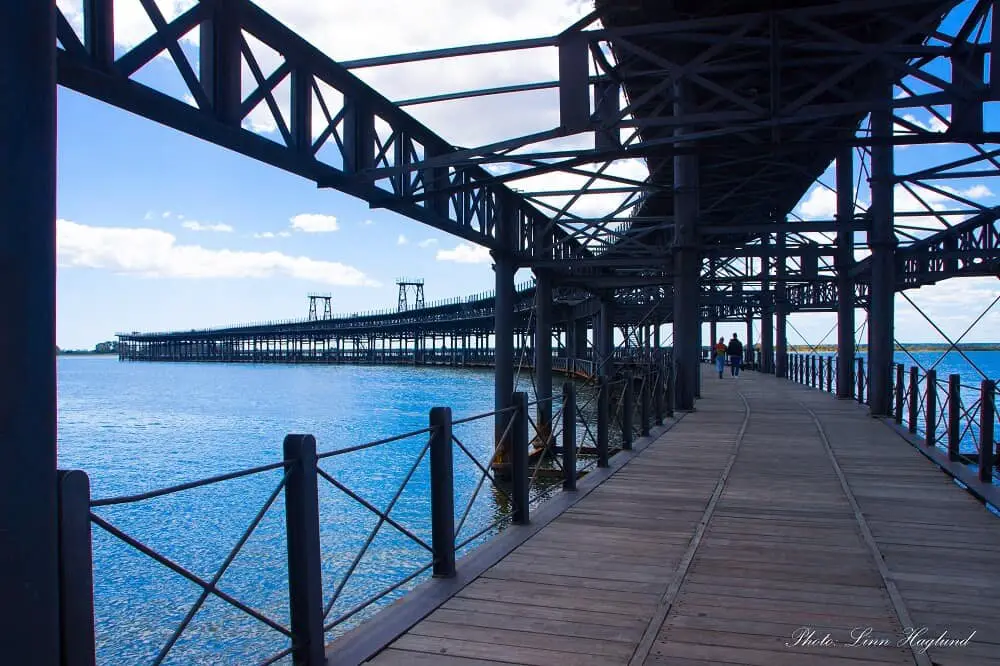 Almuñecar
Aluñecar is by many considered Spain off the beaten path. Yet, the charming coastal city in Granada's Costa Tropical is well worth the visit.
Go for a stroll along the promenade and climb the steps up to Peñon del Santo where you can enjoy sweeping views of the coastline.
Almuñecar castle is also a must-visit, seemingly a heritage from the Moorish that ruled Andalucia, but it actually dates back to the 7th century BC and was first built by the Phoenicians.
Almuñecar also has an interesting botanical garden with the ruins of a Roman fish salting factory. Besides, the city holds the remains of a Roman aqueduct.
As you can tell, there are a lot of things to do in Almuñecar and it should not be undermined as a destination for your next trip.
Getting there is easy from Malaga Airport, Almeria Airport, or Granada Airport with only a 1-2 hours drive from either.
WHERE TO STAY:

Hotel Helios Costa Tropical – a fabulous hotel right on the beachfront within walking distance to the city center and its attractions.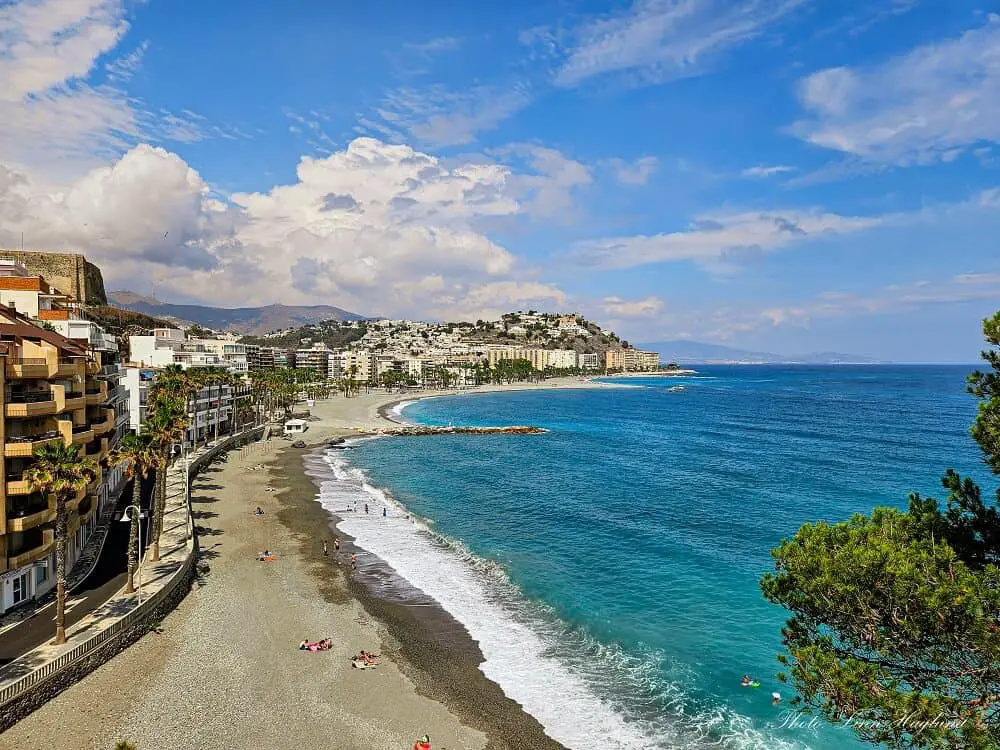 Palma de Mallorca
By Bella from Passport & Pixels
Located on the largest Balearic Island off the eastern coast of Spain, Palma de Mallorca offers a fantastic blend of historic charm, seafront beach vibes, and modern amenities.
As you stroll through its cobbled streets and soak up the Mediterranean sunshine, you'll understand why it's a much-loved – though remarkably underrated – destination for visitors from around the world.
Even though it's a small and very walkable city, there are loads to see and do on a city break in Palma. The place to start is the historic Old Town where you'll discover magnificent architecture such as the iconic Palma Cathedral and the Almudaina Royal Palace.
Get lost in the narrow streets, lined with quaint cafes, boutique shops, and delicious tapas bars, and don't miss Ca'n Joan de s'Aigo, one of the oldest chocolate shops in Europe.
The best thing about Palma is that as well as being a buzzing city, it's also right on the seafront with a picturesque marina and several decent beaches to choose from, making it one of the best beach cities in Spain.
Head to the golden sands of Playa de Palma or Cala Mayor, swim in the Mediterranean or take a boat ride around the bay.
Palma de Mallorca is easy to get to by plane from the rest of Europe and by ferry from the mainland. Once there, it is a great base for a Mallorca road trip.
WHERE TO STAY:

Petit Palace Hotel Tres – hidden in a narrow street in the heart of the Old Town, this luxurious boutique hotel offers elegant rooms with a small rooftop pool and gym, just a short walk from all the city's main attractions.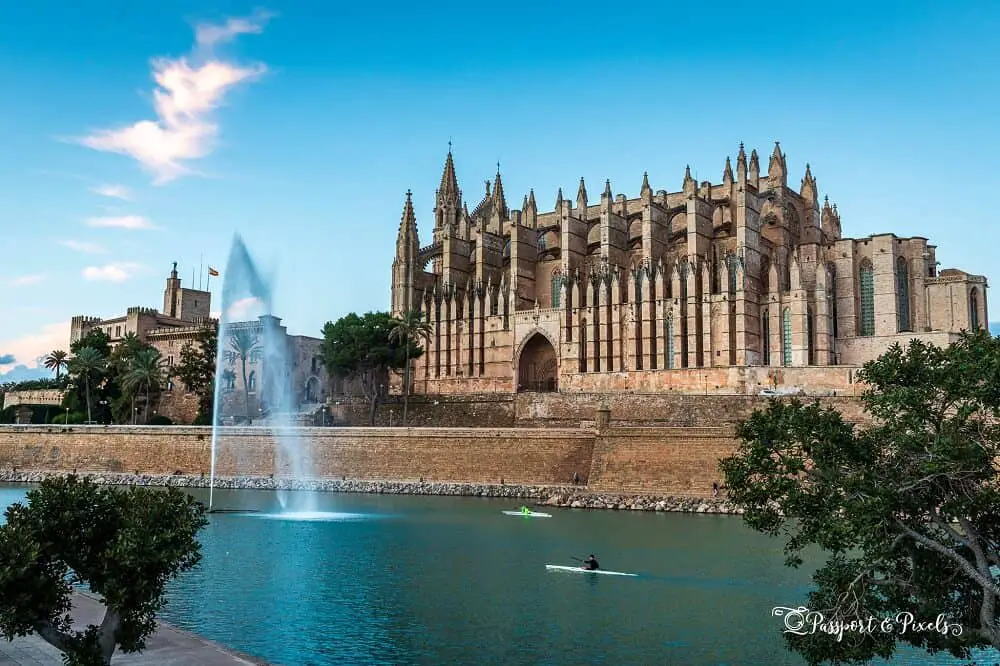 FUN ACTIVITIES IN PALMA DE MALLORCA
Peñiscola
By Anna of Spain Inspired
Peñiscola, perched prettily on the Costa del Azahar, is Spain's answer to your seaside dreams.
Just imagine it: a strikingly beautiful old town, crowned by a grand castle, all set on a rocky headland jutting into the sparkling Mediterranean Sea.
If your camera isn't already twitching in excitement, it soon will be!
As for things to do, start with the Papa Luna Castle, which is kind of a big deal. It served as a papal residence in the 15th century and offers 360-degree views that'll make your Instagram followers green with envy. 
Take a stroll through the maze-like cobbled streets of the old town, lined with boutique shops and tapas bars offering yummy bites. And, of course, don't forget to leave time to bask in the sun on the city's gorgeous beaches. 
The easiest way to get to Peñiscola is to either hire a car or take a train from Valencia or Barcelona. In fact, if you're short on time, this could even be a fantastic day trip from Valencia, even if it'll be a pretty long day by the time you get back.
So staying a night or two is well worth it, because you are about to visit one of the most beautiful coastal cities in Spain.
WHERE TO STAY:

Hotel Boutique La Mar – adults-only boutique hotel offering a serene, grown-up vibe just a stone's throw from the sea. It's got all the charm you'd expect of a boutique spot, with a dash of modernity thrown in for good measure.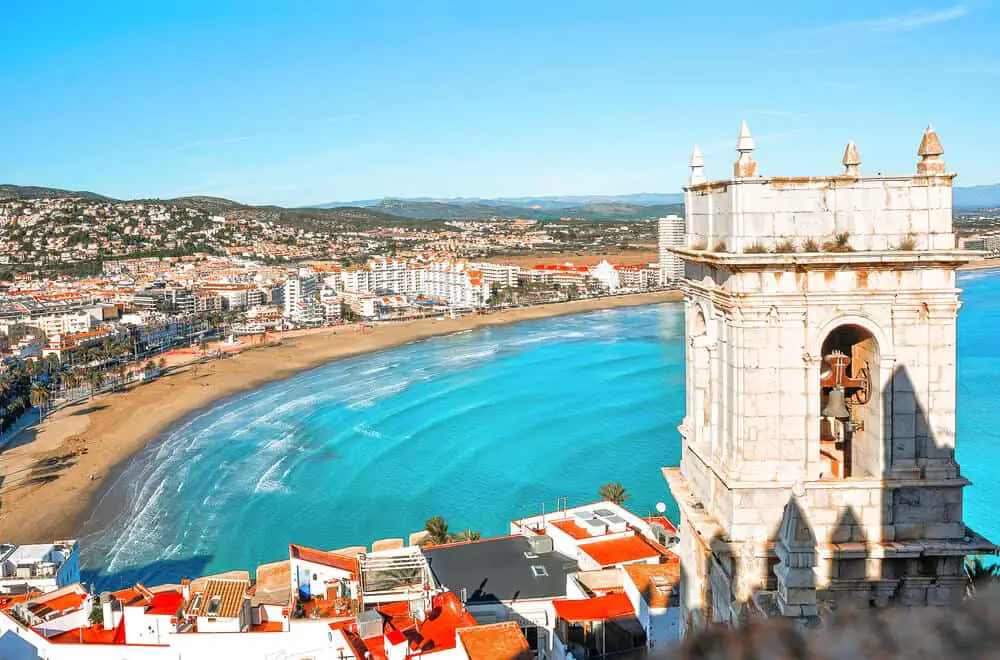 Bilbao
By Nicola of All About RosaLilla 
If you're looking for the quintessential Spanish coastal city, look no further than Bilbao. This beautiful city in northern Spain has something for everyone – stunning architecture, rich culture, and buzzing nightlife.
Whether you're spending one day in Bilbao or longer there are lots of things to do in this vibrant city.
Formerly an industrial city, Bilbao is now uber-cool and a mecca for art lovers everywhere. It is relatively easy to get to as it has a large international airport just 15 minutes from the city center and of course a large port with ferries and cruise ships visiting from all over the world.
Bilbao is home to the world-famous Guggenheim Museum, where you can see some of the world's most renowned works of art, along with sculptures like Maman and Jeff Koon's Puppy.
The Guggenheim Museum is a must-see, but Bilbao has so much more to offer.
You can immerse yourself in local life at Azkuna Zentroa, explore Bilbao's winding streets in Casco Viejo by foot, take a leisurely cruise along the Nervion River, or simply enjoy pintxos and soak up the atmosphere in Plaza Nueva.
Bilbao is the perfect place to enjoy the incredible gastronomy that Basque Country has to offer and you simply have to try txakoli, a slightly sparkling wine produced in Spanish Basque Country.
Be sure to visit the historic La Ribera market that has stood at the heart of Bilbao for over 90 years and is a hub for locals and tourists alike.
Game of Thrones fans can enjoy visiting nearby Gaztelugatxe and football lovers will be right at home at San Mamés.
Bilbao is a city that offers a captivating mix of history, culture, art, and gastronomy, so get ready to explore this fabulous beach city in Spain.
WHERE TO STAY:

Hotel Miró – located opposite Bilbao's Guggenheim Museum and just minutes from the Ensanche shopping district.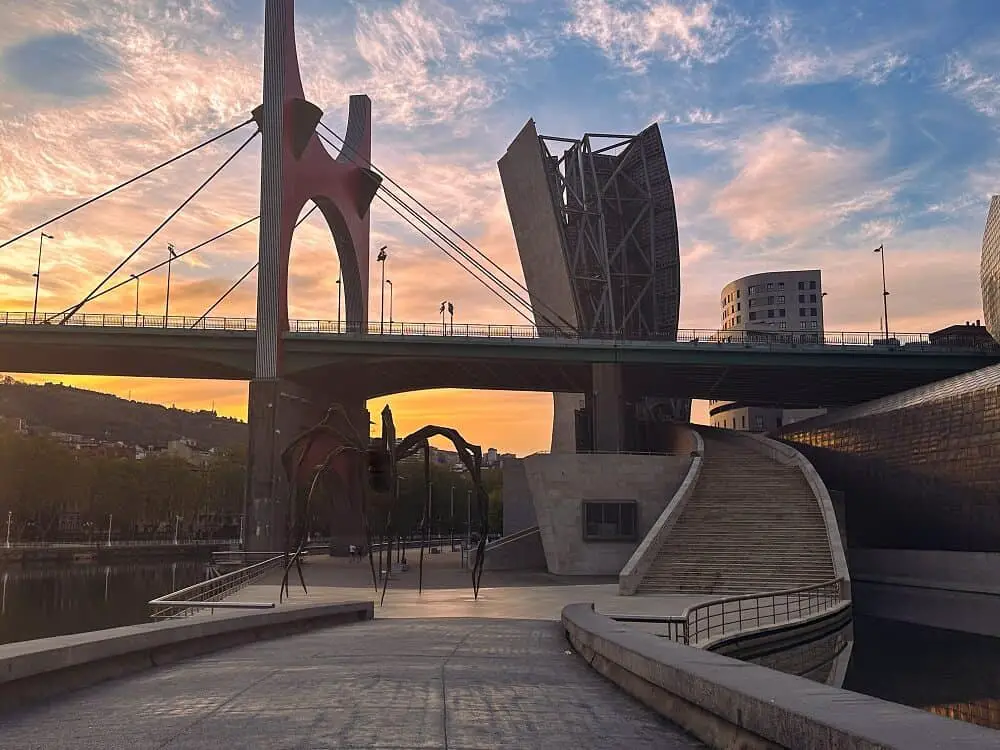 Cartagena
By Anya of Road is Calling
One of the truly interesting but not so popular coastal cities in Spain is Cartagena, located in the southeastern region of Murcia.
It stands out among other Spanish beach cities due to its diverse range of architectural styles and a deep connection to the sea.
Thanks to Cartagena's location, coming to see it is easy from many popular destinations in Spain, including the capital city of Madrid.
But my favorite way to pay this city a visit is on a trip from Valencia to Malaga by car because it provides an opportunity to explore its best sights within a day.
While Cartagena is not a particularly small city, it is manageable to explore it within a short period of time.
If you decide to go there too, make sure not to miss the Roman Forum and the Punic Wall. Many people usually go only to the Roman Theater, skipping the Roman Forum.
This used to be once the heart of Old Cartagena which was the ancient Roman city and had the name of Carthago Nova. It served as a central gathering place for social, political, and commercial activities.
Among other must-visit spots are Concepcion Castle (a hilltop fortress with panoramic views), the Museum of Archaeology (with artifacts from various historical periods, including the Roman and Islamic eras), Casa Maestre (a modernist mansion in the city center), port of Cartagena, and of course historic Old Town with beautiful City Hall, Casa Cervantes, and interesting Archaeological Museum. 
WHERE TO STAY:

NH Cartagena – stay in the heart of the historic center and a short walk to the marina.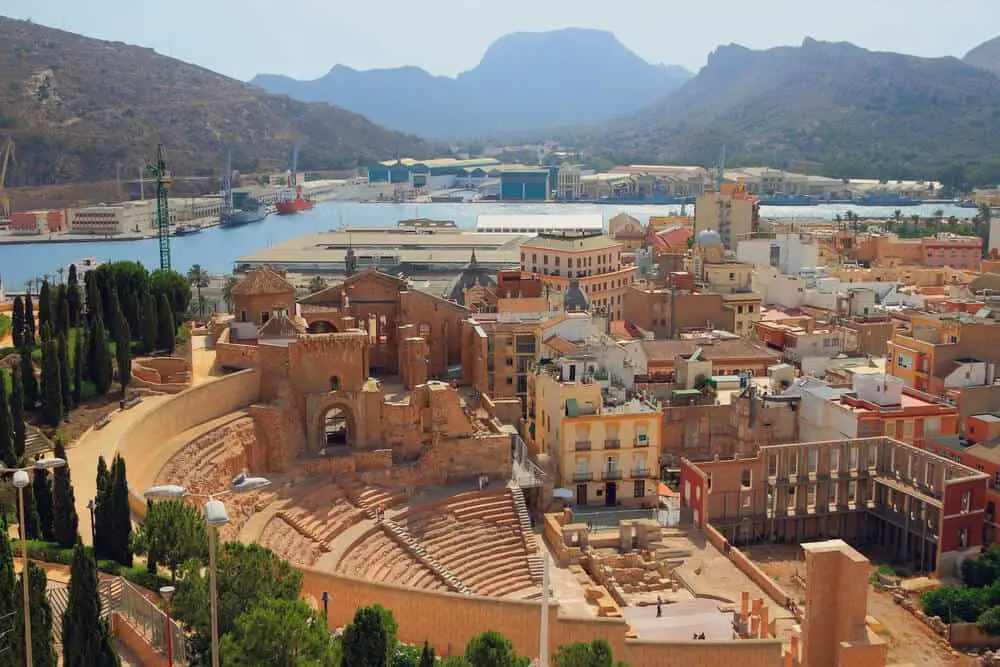 Valencia
By Yesenia of The Sisters Who Voyage
Valencia is a gorgeous and fun city to explore when you are looking beyond just nice beaches and delicious food, making it one of the most loved coastal cities of Spain.
Although Valencia is home to stunning beaches, it also offers much more for the wandering tourist, even if you only have one day in Valencia.
One of the best things to do in Valencia is to explore the Jardi del Turia Gardens. These lush green gardens are lovely to stroll through after a filling meal since they are located near Old Town.
While in the area, stop at Torres de Serranos to see gothic-style towers that stand tall near Ciutat Vella.
Then head to Old Town for some authentic Valencia Spanish food; there are also a few good Italian spots in the area.
Other highlights in Valencia are the gothic Valencia Cathedral and Micalet, the Llotja de la Seda, a 15th-century silk exchange that is an exquisite reminder of Valencia's Golden Age, and the calming wetlands of Parc Natural de l'Albufera.
With several golden beaches at only a short trip from the city center, Valencia is by far one of the best coastal cities in Spain.
You can easily reach Valencia via a flight through the nearby Manises Airport, or if you prefer the train, you can get off at Estació del Nord.
In fact, Valencia is also one of the best day trips from Madrid by train. The city is also a great base for some of the most beautiful road trips in Spain.
WHERE TO STAY:

Only YOU Hotel Valencia – located in the heart of the old town, this hotel is a great place to retreat after a long day of sightseeing.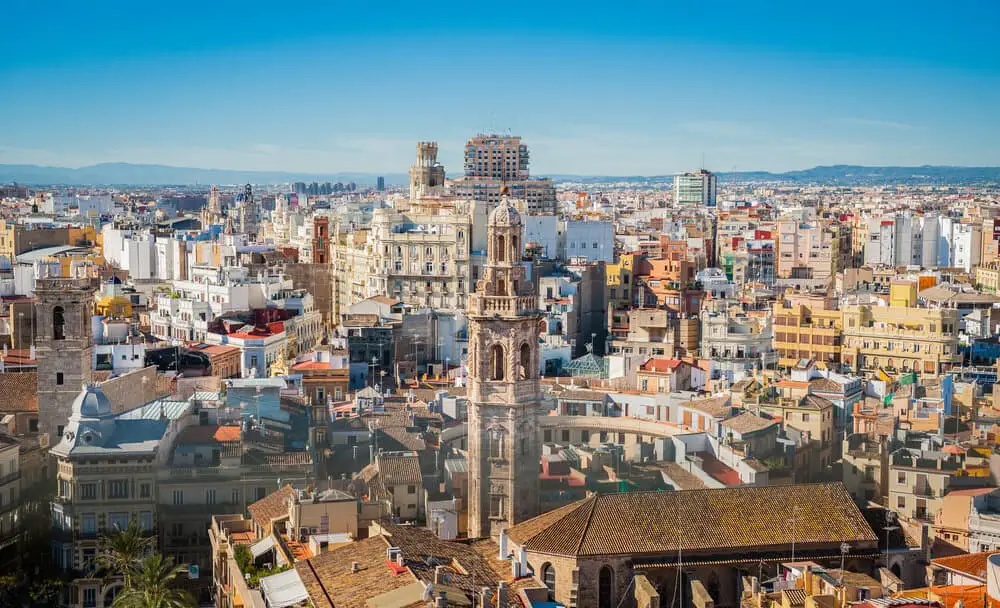 FUN ACTIVITIES IN VALENCIA
Gandia
By Valencia Revealed
Gandia is a charming coastal city in Spain that offers a delightful blend of history, culture, and stunning beaches.
With its rich heritage, beautiful landscapes, and wide range of activities, Gandia can be a fantastic day trip from Valencia or a holiday destination in its own right.
Gandia's history is tightly linked to that of the Borgia family. The seven centuries-old Borgia Ducal Palace is a must-visit, showcasing Gothic and Renaissance architecture and lavishly decorated interiors.
Gandia is divided into two – the historic city center and the coastline.
Featuring long stretches of sandy beaches with crystal-clear waters, Playa de Gandia is the most popular beach, offering a vibrant atmosphere, water sports facilities, and a lively promenade lined with restaurants, bars, and shops.
For a quieter experience, Playa Nord is an excellent choice with its tranquil ambiance and scenic dunes.
To reach Gandia from Valencia, you can take a direct train from Valencia's Estació del Nord, which is quite convenient. The journey takes approximately one hour.
WHERE TO STAY:

Hotel RH Bayren Parc – Located just steps away from Playa de Gandia, it offers comfortable rooms, a refreshing pool, and a restaurant serving delicious Mediterranean cuisine.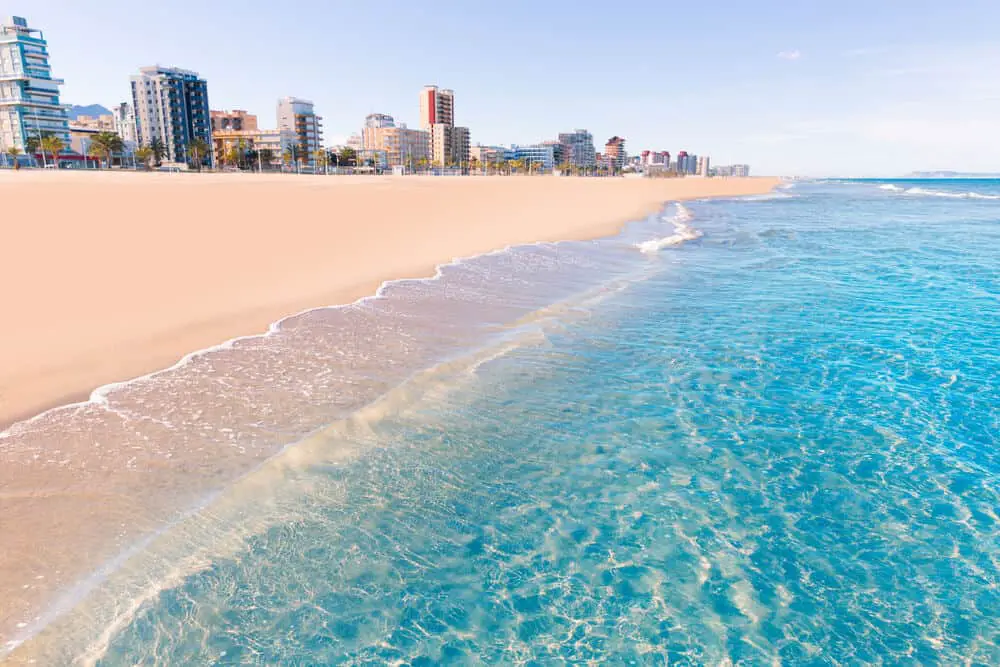 Barcelona
By Lisa of Waves and Cobblestones
Barcelona is definitely one of the best beach cities in Spain.  Of course, it has beautiful beaches and delicious cuisine, but it's the unique attractions that make Barcelona a must-visit destination in Spain.
One of the top things to do in Barcelona is to see the magnificent architecture of Antoni Gaudí (his buildings are collectively a UNESCO World Heritage site.)
Visit the whimsical Parc Güell and admire the vibrantly colored mosaics, or just stroll the streets of Barcelona to spot Casa Milà and Casa Batlló. 
Gaudí's masterpiece is the awe-inspiring basilica of La Sagrada Familia. Each façade is decorated in a different style, and the interior is spectacular. 
If you want to go inside, be sure to book your tickets in advance!
Another must-see attraction in Barcelona is Las Ramblas. This 1.2km pedestrian boulevard is a hub of activity, filled with cafés, bars, shops, museums, churches, and more. 
It's a great place for people-watching, including the entertaining street performers. Be sure to visit La Boqueria, Barcelona's fantastic food market. 
Visitors fly into the city via the Barcelona–El Prat Airport.  From there, it's easy to take public transportation to the city center. 
WHERE TO STAY:

Hotel Jazz – this hotel is centrally located just blocks from Plaça de Catalunya and Las Ramblas.  Don't miss the rooftop bar – it's a great place to wind down at the end of a busy day of sightseeing!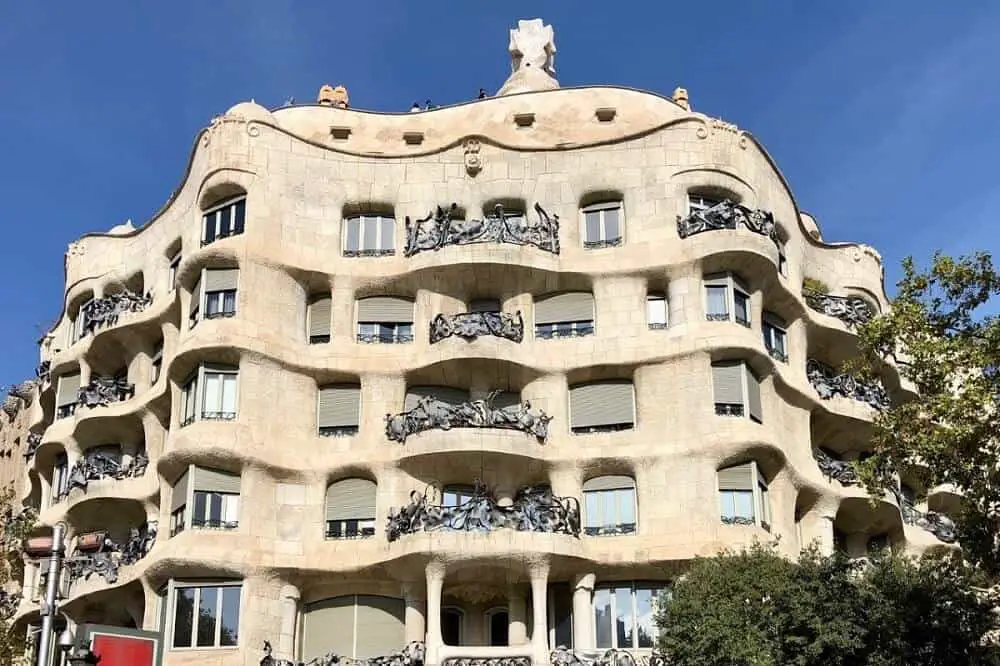 FUN ACTIVITIES IN BARCELONA
Puerto de la Cruz
By Cristina of My Little World of Travelling
Puerto de la Cruz is one of the most beautiful coastal cities in Spain on the island of Tenerife, and there is no doubt why travelers choose it as their summer holiday. 
There are plenty of things to do in Puerto de la Cruz, from visiting museums and historical buildings to relaxing at its black sand beaches. 
When visiting Puerto de la Cruz, you can't miss its botanical garden with a wide variety of plants from around the world.
If you like photography, don't miss the colorful neighborhood of Las Ranillas, located next to the historic center.
Last but not least, Lago Martianez is another unmissable in the city. It consists of an outdoor pool complex. They aren't just regular pools but natural pools overlooking the sea.
Also, Puerto de la Cruz is close to lovely towns like Orotava, Icod de los Vinos, and Garachico. 
The easiest way to get to Puerto from overseas is by flying to Tenerife South Airport and taking a bus from there. If you travel from Spain, you can fly to Tenerife north airport, which only receives national flights. 
WHERE TO STAY:

H10 Tenerife Playa – It is a few minutes walk from Lago Martianez and has outdoor pools and wonderful sea views from the balconies.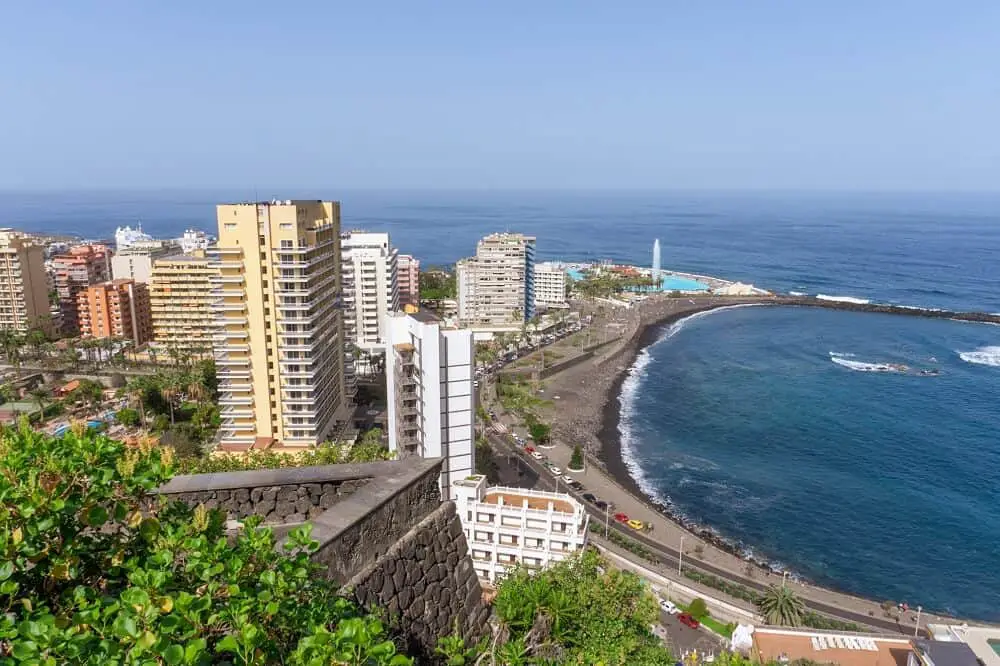 Santander
By Pilar of Travel The World Pages
Santander is a hidden gem on the Northern coast of Spain. It is the city of Cantabria, a mountainous
region of spectacular beauty and one of the most spectacular Spanish beach cities.
With more than 12 beaches in the city and surrounding areas, and some of the most stunning hiking trails and waterfalls in Spain, just a stone's throw away from the city, Santander will for sure not disappoint you.
You can also enjoy some architecture by visiting its cathedral, built between the 12th and 14th
century, and the Menendez Pelayo Library, built in 1915 with its cultural Botín Center by the architect
Renzo Piano which was inaugurated in 2017.
Further, the Magdalena Palace was built by the city government between 1908 and 19012 to offer a holiday residence for the Spanish royal family.
The city and its surrounding villages are also popular among water sports lovers. You can do water
activities, such as surfing, kite surfing, and scuba diving.
You can get to Santander by plane from some European and Spanish destinations, by train or bus
from Barcelona or Madrid or by ferry from Plymouth (UK).
WHERE TO STAY:

Soho Boutique Palacio de Pombo – wonderful palace hotel a short walk from the seafront promenade and the city's tourist attractions.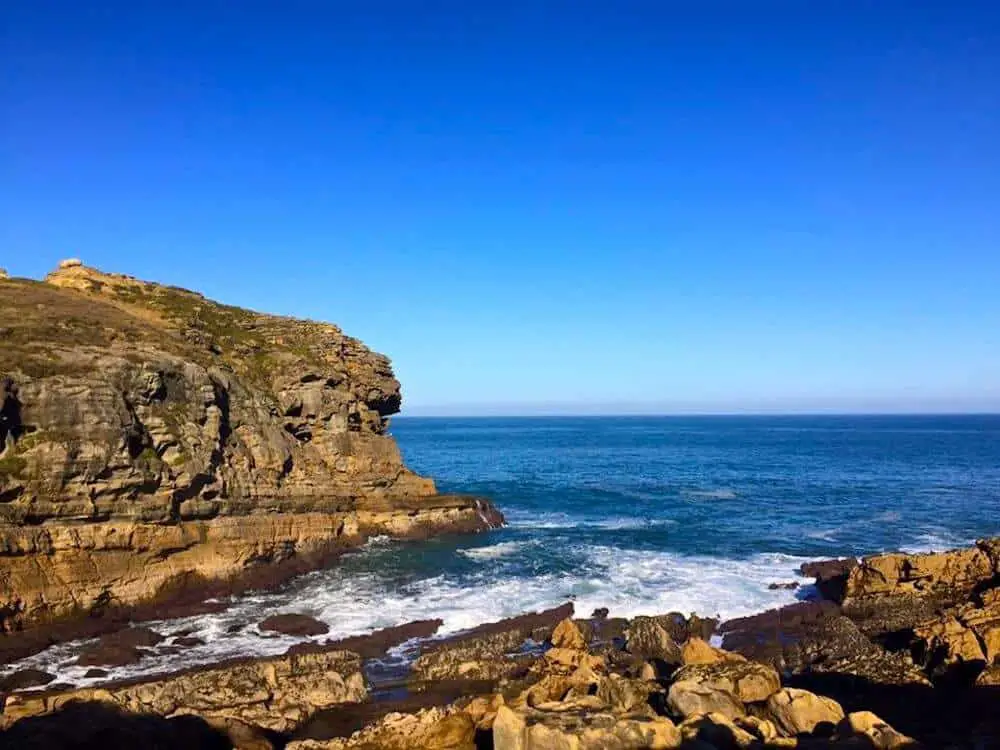 Ibiza Town
By Louise of Travel With the Whitrows
Ibiza Town is located on the southern side of the island of Ibiza, a Balearic Island that can be found off the southeastern coast of Spain.
You can fly directly into Ibiza Town from most cities across Europe, this can take between 1 – 2.5 hours depending on where you're traveling from.
If you have the spare time in your itinerary to travel at a slower pace then you can also take a ferry into the port of Ibiza Town. This journey can take up to 8 hours and leaves from several ports on the Spanish mainland.
While staying in Ibiza Town take the time to stroll through the Dalt Vila to the top of the Ibiza Castle. The walk to the top takes around 45 minutes but allow an hour or two to explore the cobbled side streets.
It's worth the effort as you'll be rewarded with views across the whole of Ibiza Town. For a more relaxing activity, hop on a ferry at the Ibiza port and cruise around the Ibiza coastline where you'll visit small coastal towns including Es Caná and Cala Llonga.
This is by far one of the most beautiful beach cities in Spain.
WHERE TO STAY:

Sud Ibiza Suites – Stay in beachfront luxury! The hotel is central and within a 20-minute walk of Ibiza Castle and the Ibiza Port. Stay in one of the large and modern studio apartments with a stunning sea view, plus other amenities including wifi, parking, and a fitness center.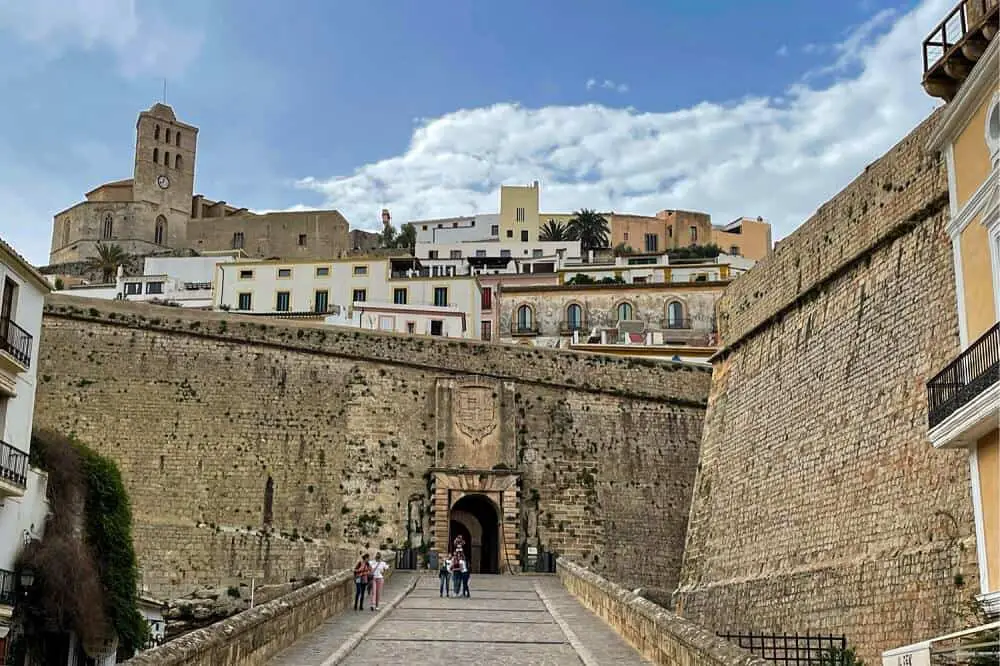 Alicante
By Jacoba of Op Reis Met Co
Alicante is a vibrant city located on the southeastern coast of Spain, known for its beautiful beaches, historic landmarks, and lively atmosphere.
To get there, you can fly to Alicante Airport, which serves both domestic and international flights. Alternatively, you can reach Alicante by train or bus from other major cities in Spain.
Once you arrive, there are several great things to do in Alicante. Start your trip by visiting Castillo de Santa Bárbara, an impressive fortress perched on top of a mountain.
From here, you can enjoy panoramic views of the city and the Mediterranean Sea. The site of the hilltop castle makes Alicante one of the favorite beach cities in Spain.
Go for a stroll along the Explanada de España, a picturesque promenade lined with palm trees.
Also, make sure to explore the Barrio de Santa Cruz, a charming old quarter filled with narrow streets, lots of steps, flowers, and white-washed houses.
For beach lovers, Alicante offers endless stretches of sand such as Playa del Postiguet, where you can soak up the sun and take a refreshing dip in the turquoise waters.
If you're interested in history and culture, make sure to visit the Archaeological Museum of Alicante (MARQ), which houses fascinating exhibits showcasing the region's rich heritage.
WHERE TO STAY:

Hotel Hospes Amerigo – This luxurious boutique hotel is located in a former monastery in the heart of the city, just steps away from Concatedral de San Nicolás and Plaza del Ayuntamiento. A comfortable place for a memorable stay in Alicante.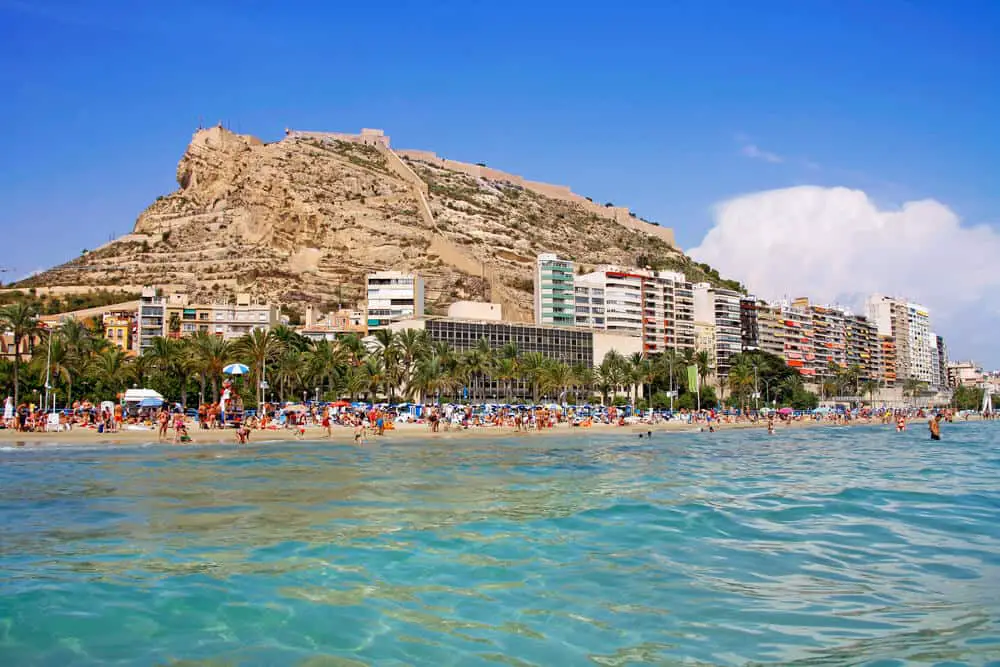 Reflections on the best beach cities in Spain
Summarizing the coastal cities in Spain, they all have their charm and beauty. History and beaches go hand in hand and you are based in locations perfect for day trips to other unique destinations.
I hope this post helped you decide where to set your next vacation.
Happy travels!