Planning a road trip in Spain but not quite sure where to go? Well, you're in the right place, because in this post I'll share some of the best road trips in Spain.
The immense mountain ranges, charming hairpin mountain roads, endless olive groves, mesmerizing coastlines, and desert landscapes all contribute to Spain road trips being among the best in Europe.
While quite a few scenic mountain roads can be narrow and not always in a perfect state, the main roads between cities are usually great for driving.
For such a diverse country, it's hard to pick out the best places for your road trip and it all comes down to what you prefer to explore on a road trip.
This post will give you some ideas for beautiful road trips in Spain to add to your bucket list, whether you enjoy the outdoors, charming towns and villages, or the beaches.
Disclosure: This post may contain affiliate links. That means that if you make a purchase through one of those links, I will get a small commission at no extra cost to you.
Plan for your Spain road trips
Before you head out on your road trip adventure, there are a few things you need to plan and prepare to make sure you have a successful trip.
You can also read my complete road trip packing list to make sure you don't forget anything essential. I've also written a useful guide to eco friendly travel accessories you might like.
Flight
Depending on where you live, you might need a flight to Spain. Consider the airports around your road trip starting point. Sometimes you might find a cheaper flight to a city that's a couple of hours away.
As an example, whenever I traveled from Norway to Seville before I moved to Malaga, I would either fly to Jerez or to Malaga airport. Because I saved so much money (and back in the days before direct flights – time.)
So be flexible on where you pick up your rental car, and make sure you know which airport you land on before booking it.
Vehicle
Secondly, you'll need a vehicle. Obviously! It's a road trip.
Make sure you rent a good rental car that fits your needs. If you're going to lesser-visited places and hiking routes in the mountains you might need a 4×4 to get where you want without growing grey hair from the stress of deep holes in the road.
However, if you stick to the main roads, you'll be fine with a normal car or van and all you need to consider is how much space you need for people and luggage. And trust me, you don't want to be crammed up the whole trip so if you're more than two people it's highly recommendable with a larger car.
Make sure you rent a car as early as possible so that you don't end up with fewer options or paying way more than you should.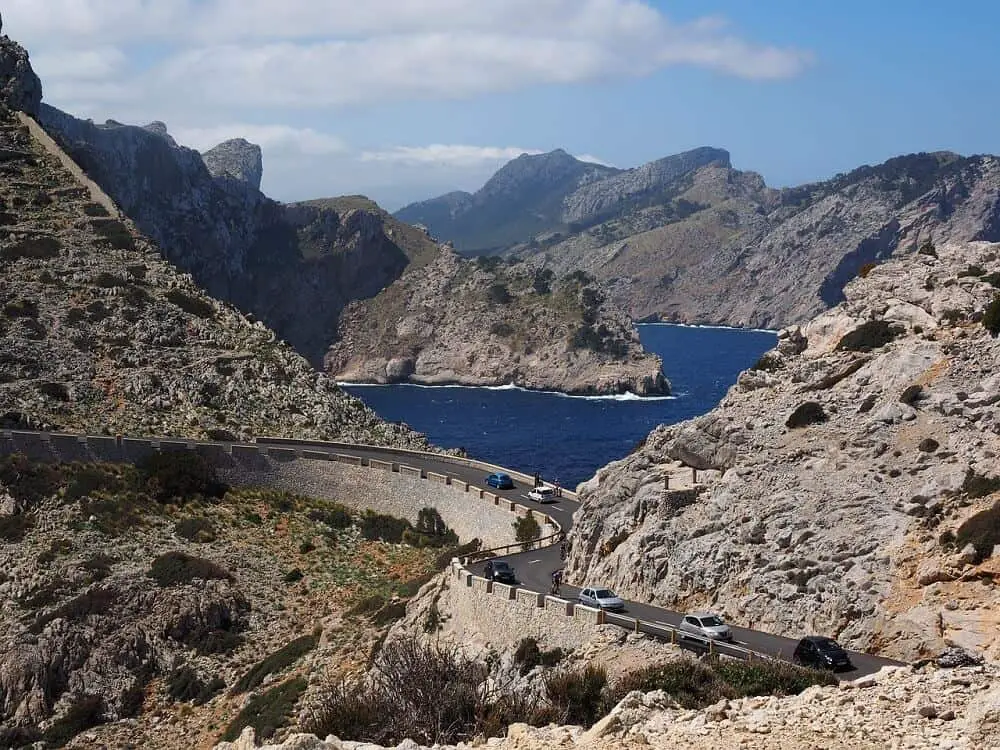 Where to stay
Even if you're the go with the flow kind of road tripper, it can be a good idea to have a slight idea of what kind of accommodation you want to stay in. If you're on a budget, booking upfront can be crucial so you don't get stranded somewhere and forced to pay three times the amount than you'd budgeted for because everything is full. Especially in high season.
Consider that most Spanish go on their vacation in August, so if you plan a summer road trip, you'll have to book up front or it might be all fully booked.
If you're going camping, make sure you spot out the camp sites along the road trip you're planning on doing to see where it's most convenient to camp. Wild camping in Spain is illegal.
---
IF CAMPING YOU MIGHT WANT TO READ THESE POSTS TOO:
---
Best road trips in Spain
Andalusia white villages road trip
Recommended time: 2-3 weeks
Start and end point: Malaga
Length: 840 km
Top Tip: Bring your hiking boots in winter and your bathing suit in summer!
A southern Spain road trip through the white villages in Andalusia is an experience of a lifetime and no doubt one of the best road trips in Spain.
The picturesque region is also one of the best places to visit in Spain for first timers, so I would definitely recommend it if it's your first time in the country.
This itinerary starts and ends in Malaga, as it's the most popular airport in Andalusia, but you can easily start in Seville, Jerez de la Frontera (Cadiz), or Granada too.
Start your journey through the "Pueblos Blancos" with the beautiful whitewashed village of Frigiliana that overlooks one of Malaga's most beautiful coastlines which are Nerja and Maro. There is a lot to do around Frigiliana; you can visit Nerja Caves, snorkel in crystal clear water in Maro, and hike in the mountains around the village.
Next, head to the charming village of Salobreña in Granada province, where you can also soak in the sun on one of the best beaches in Andalusia. Soak in the beautiful coast, stroll the cobblestoned streets through flowers cascading down the whitewashed walls, and visit the hilltop Moorish castle.
Continue up to Lanjarón village which is home to the bottled water of the same name. From there pass Granada (or stop by for a night or two if you have the time) and make your next destination Loja. From there, you can continue to Osuna in Seville province, which's recognized by the medieval castle overlooking the village.
Your next stop is Arcos de la Frontera. One of the most dramatic whitewashed villages balancing on top of a vertical cliff with the most astounding views and a great ambiance.
From there, continue through the coastal town Conil de la Frontera, walk the love route in Vejer de la Frontera, visit Los Caños de Meca, and drive on to Tarifa for the spectacular beaches.
Make sure you don't miss out on Bolonia beach and sand dunes – you'll pass them before you get to the village. Valdevaqueros Beach is also well worth it.
From Tarifa, you can make a stop in the hilltop village, Mijas Pueblo, before ending your Andalusia road trip in Malaga.
If you don't have that much time for your road trip, you can shorten it down by driving straight to Osuna from Malaga or cut down on a few of the stops in Cadiz.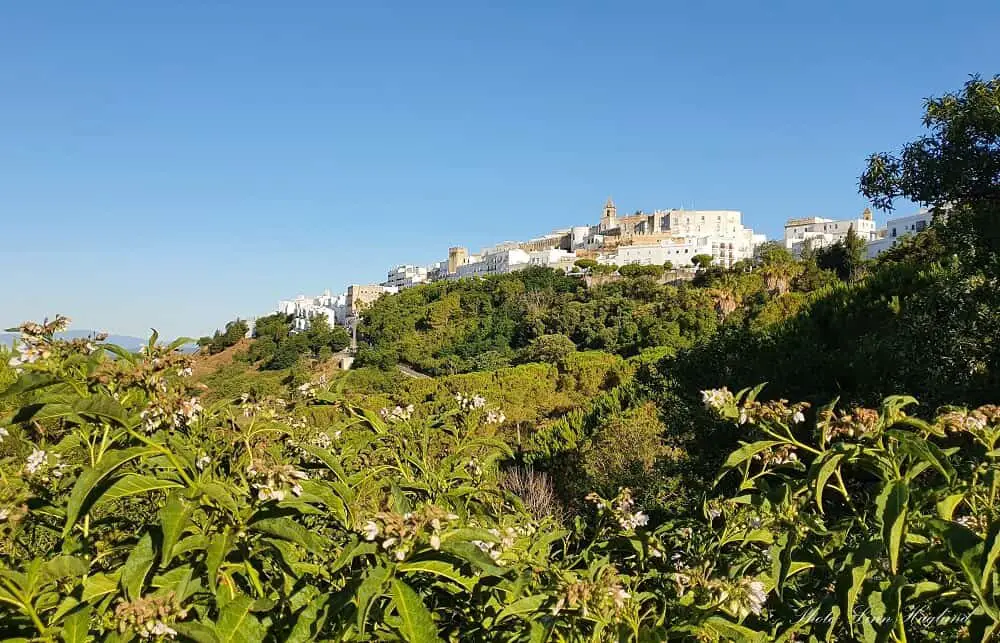 Mallorca road trip
Recommended time: 4-5 days
Start and end point: Palma de Mallorca
Length: 340 km
Top Tip: Don't rush it! Take your time to savor the different stops and if you have more time, use it.
A road trip around Mallorca is such a huge adventure! Covering a couple of the many underground caves and the most stunning towns in Mallorca, this is a road trip not to miss.
Though the island is quite so small, there is so much to explore and if you have more time, don't hesitate to extend your road trip.
From Palma de Mallorca, head to Drach Caves, the most famous cave system open to tourists on the island. It features crystal-clear lakes and an underground concert. Next, head to another incredible cave system worth a visit, the Artá Caves.
After exploring Mallorca underground, spend the night in Port de Pollenca. It's an amazing experience to see the sunrise from Cap de Formentor Lighthouse and the Formentor Viewpoint is a must-stop.
If you're into hiking, the Tramuntana Mountains also have a whole lot of spectacular hiking trails with dramatic views to explore.
Next, head to Pollensa village where you can get lost in the charming streets, find hidden squares, and artisan shops. Walk the 365 steps up to the chapel on top of Calvary Hill for stunning views.
Continue on to another quaint hilltop village, Fortnalutx. On the way, you should stop by Lluc Monastery, one of the most sacred sites on the island.
Further, stop in Soller, one of the most popular towns in Mallorca for its old-school tram that commutes between Palma de Mallorca and Soller.
You should spend at least one night there and take a tram ride to Port the Soller, the lively port where you can hop on a boat trip to get some wind in your hair.
Other hilltop villages you should not miss on your way back to Palma de Mallorca, and that are both worth a night, are Deia and Valldemossa.
I also recommend spending at least one day in Palma de Mallorca as it is one of the prettiest Spanish coastal cities.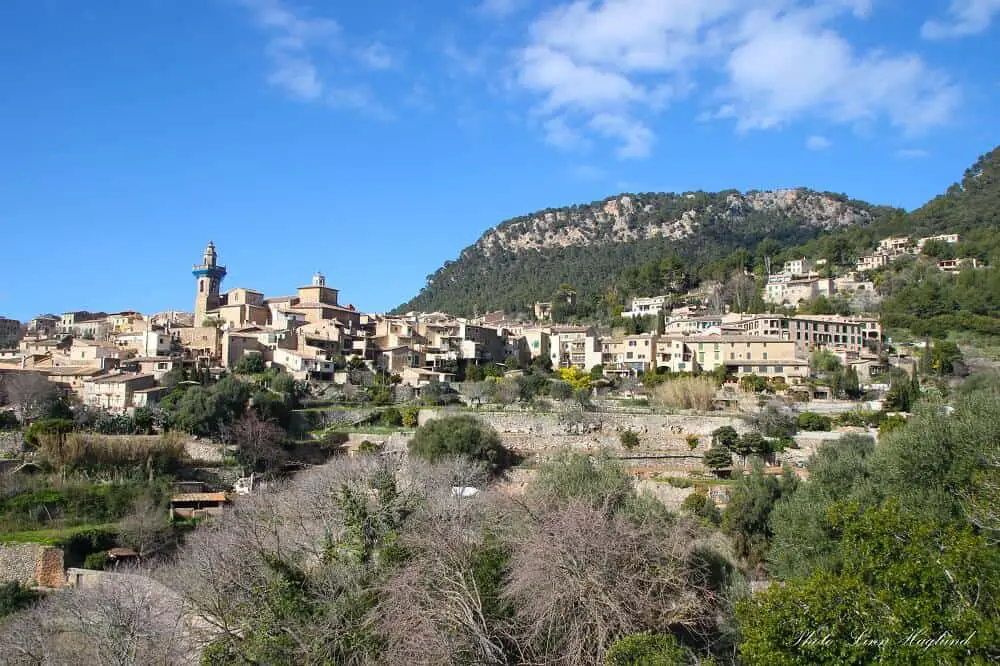 Costa Blanca road trip
Recommended by Martina and Jürgen of PlacesofJuma
Recommended time: 7-10 days
Start and end point: Xabia-Alicante
Length: 100 km
Top Tip: Go in March for amazing weather and almost no tourists!
Costa Blanca is absolutely recommendable for an unforgettable road trip in Spain. The so-called White Coast is located in the province of Alicante, and there are not only magnificent beaches but also countless fantastic attractions and romantic villages to discover.
The best place to start is Xabia in the north. Along the picturesque cliff coast, you will discover absolute dream beaches, such as Granadella Bay or Cala del Moraig, just to name a few.
Next to continue is Calpe, one of Costa Blanca's highlights. The coastal town is famous for its Peñon Ifach mountain – a massive rock that shapes the landscape of the coast. But lovely are also the pink flamingos that live in the small salt-lake in the middle of the city, and of course the colorful old town of Calpe.
Then it's on to Altea, the white town. Here you can explore a beautiful old town with a view of the sea and the enchanting snow-white houses that have made Altea so famous. If you need more action, take a detour from there to Benidorm, where the "Manhattan of Spain" awaits you with countless skyscrapers, clubs, and amusement parks.
After that go to continue your road trip to the colorful town of Villajoyosa. It is still little-visited and therefore an insider tip on Costa Blanca. Last but not least, plan some time for visiting the city of Alicante. There you will also find a fantastic old town and wonderful beaches to relax on!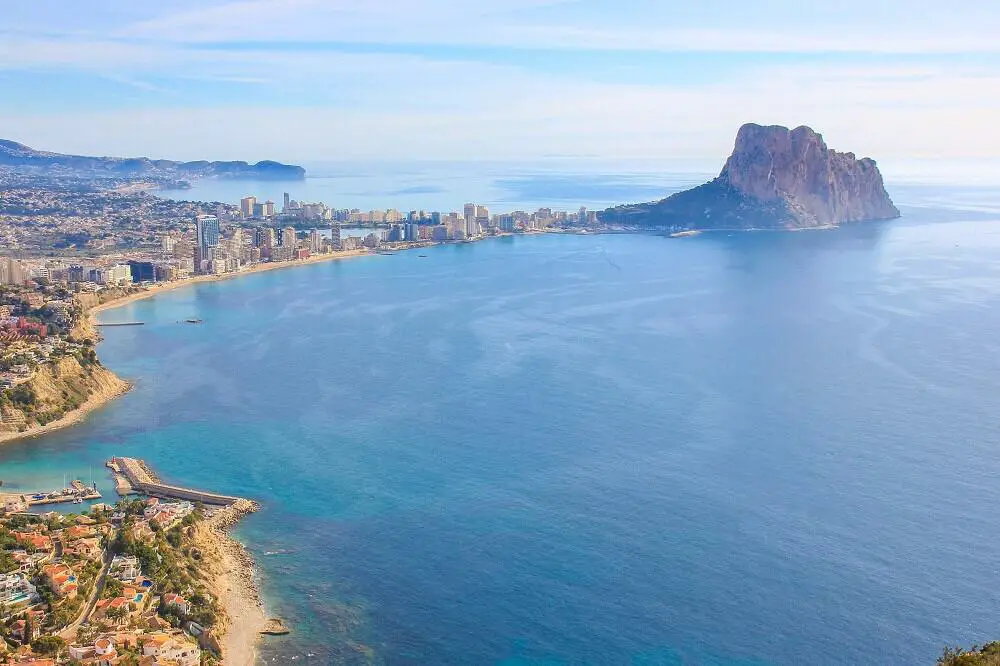 Picos de Europa road trip
Recommended by Megan of Packing up the Pieces
Recommended time: 4-7 days
Start and end point: Santander
Length: 440 km
Top Tip: The Picos de Europa sees little international tourism, but to see the beauty of the park with fewer tourists visit during the shoulder season, just before and after the peak summer months.
This offbeat road trip twists and turns through the stunning Picos de Europa, the little-visited National Park in the north of Spain.
What is spectacular about these mountains is that they sit less than 15 km from the Cantabrian Sea. This road trip crosses three autonomous regions of Spain, including Cantabria, León, and Asturias.
Start from Santander, Spain's port town with tons of seafood tapas bars and plenty of options to rent a car. Stop by Fuente Dé, to zip up the cable car and get fantastic views of the mountains. Sleep in Potes, the adorable medieval village surrounded cozily by the mountainous backdrop.
The next morning, head to the breathtaking Cares Gorge, one of the most popular day hikes in the entire National Park. But first, stop by one of the many viewpoints like San Glorio.
The Ruta del Cares cuts through the gorge, crosses beautiful bridges, and connects the two hamlets of Caín de Valdeón and Poncebos. Sleep in either of the villages or Oseja de Sajambre, which is en-route to tomorrow's destination of Cangas de Onís
Arrive early to Cangas de Onís and spend the day exploring the incredible Lagos de Covadonga. There are plenty of hikes, viewpoints, and the abandoned Buferrera Mines to explore.
Cangas de Onís has a lovely Basilica and an old Roman bridge. Sample one of the traditional cider bars, which are wildly popular in this region.
The next day exit the incredible Picos de Europa, but make one more stop at Spain's charming village of Santillana del Mar. Stretch your legs and wander the charming cobblestone streets before returning back to Santander.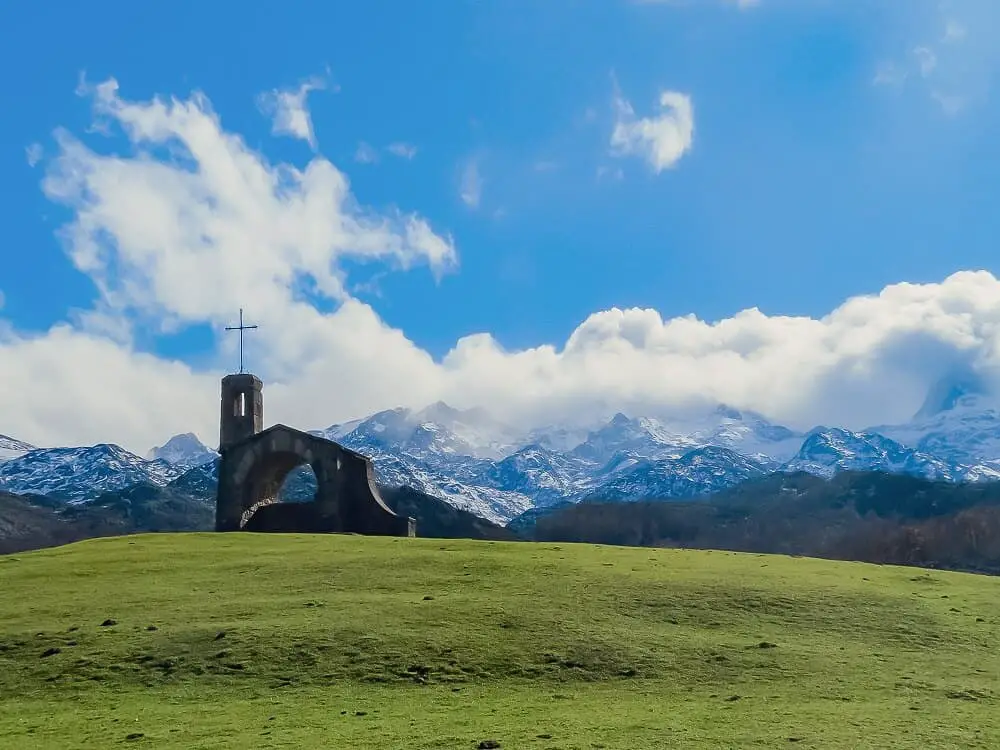 Ibiza road trip
Recommended by Yulia of Miss Tourist
Recommended time: 3 days
Start and end point: Ibiza Town or any point along the way (circular route)
Length: 85 km
Top Tip: Add an extra day to your itinerary and leave the car behind to take the passenger ferry to Formentera Island, an incredible scenic island with amazing wildlife.
Ibiza is the ideal road trip destination when it comes to incredibly relaxing and scenic islands in Spain. With one road that circles practically the entire coast, plus many more veins that run across the island. It can be done in just a day, or extend your trip to spend more time in each epic location.
What's more, this road trip covers the majority of the most popular towns and beaches to stay in Ibiza so no matter where you are staying, this is an option for you!
Ibiza town is the best place to stay in Ibiza for first-timers and is a great place to start your epic journey. Head northeast towards the town of Santa Eularia and visit the Mirador de Santa Eulalia del Río, a breathtaking lookout over this gorgeous old town.
Continue north to San Carlos to visit its incredible hippy market, this is the best place to pick up your souvenirs from the trip.
Next, check out the impressive view from the Punta Moscarter lighthouse (if you can time this for sunset it is epic.)
Continue onto Platja de Cala Xarraca and take a relaxing natural mud bath to the left of the bay before washing off in the gorgeous clear waters.
Afterward, make sure to join a tour through the Cova de Can Marçà as you head west for an unmissable underground waterfall and lights show before heading to Cala Aubarca or Mirador Penya Esbarrada for a hike.
Lastly, cool off by going cliff jumping at Punta Galera. This is near San Antonio where you can have a delicious dinner in one of the best restaurants on the island before returning to your starting point after an epic journey!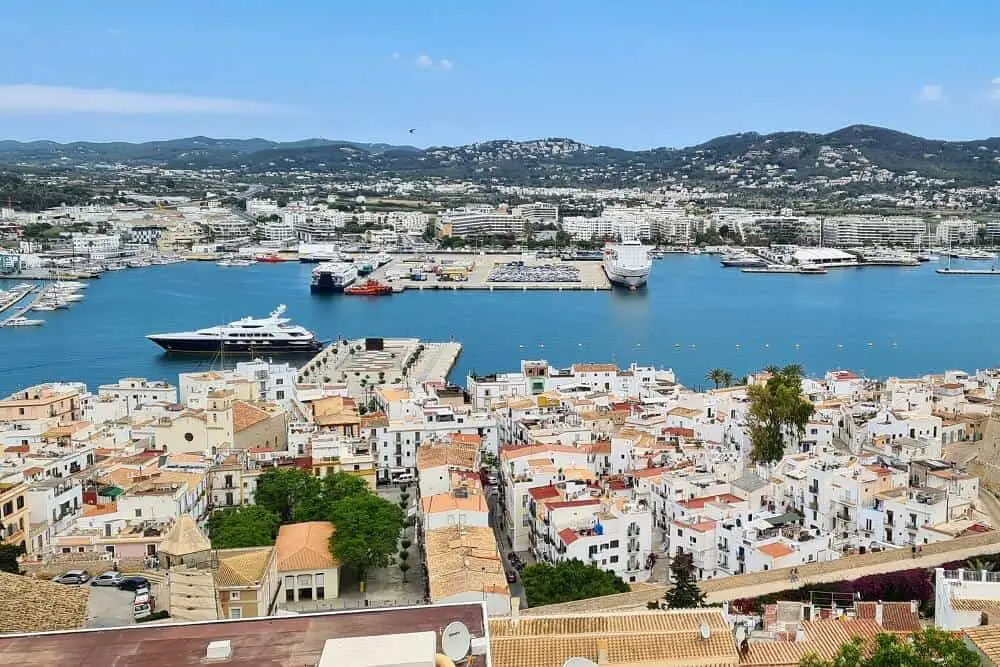 San Sebastian to the Portuguese border (Quintanilha) road trip
Recommended by Victoria of Guide Your Travel
Recommended time: 7-10 days
Start and end point: San Sebastian to Quintanilha, Portugal
Length: 600 km
Top Tip: Go camping along the way for a more affordable trip.
A road trip from San Sebastian to the Portuguese border is a unique way to experience the Spanish countryside in the north of the country.
The trip starts in the beautiful city of San Sebastian where you can explore the historic city center, one of the many beaches, or other exciting attractions. Just 100 km from San Sebastian lies Bilbao which is a much larger city.
The drive takes just under 1.5 hours and is easily manageable. Bilbao is all about museums and the Guggenheim Museum or the Museum of Fine Arts are some of the best around.
Next head to Burgos which lies 160 km south of Bilbao. This smaller city has a lot to offer including the stunning Burgos Cathedral, the Arco de Santa Maria, and the Monasterio de las Huelgas.
Next, make the 1.5-hour drive to Valladolid. Try to spend at least one or two full days here as there are lots of great activities and things to do.
Make sure to try authentic Spanish tapas in Valladolid in one of the many bodegas. You'll love the Plaza Mayor and the Cathedral de Valladolid which are both examples of incredible architecture.
From Valladolid it takes around 2 hours to reach the Portuguese border by Quintanilha.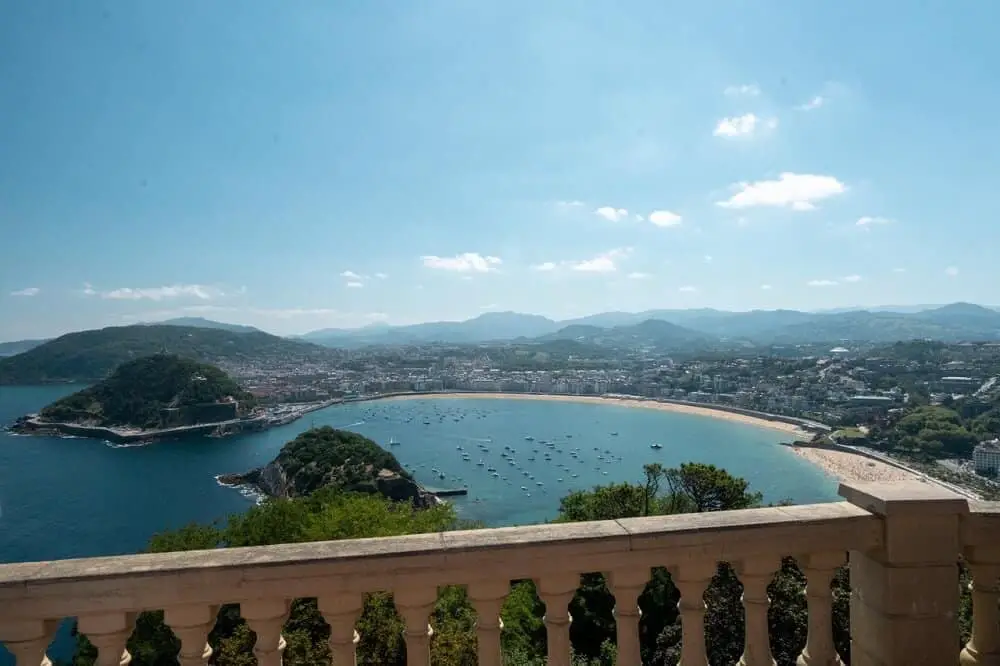 Menorca road trip
Recommended by Nadine of Le Long Weekend
Recommended time: 7-10 days (but can be done quicker if you're short on time)
Start and end point: Mahon
Length: 165 km
Top Tip: Although hiring a small car for the narrow roads is advisable. If you plan on driving to some of the more remote beaches, it may pay to hire something a bit sturdier! Also, take your hiking shoes, as some beaches aren't accessible by car.
Menorca isn't a large island – you can drive from one end of the island to the other in well under an hour! But it's full of amazing historical and natural attractions that shouldn't be missed.
To make the most of your time on the island, put aside at least a week to sample the various villages, towns, walks, and incredible beaches.
Start in the capital, Mahon, and wander through the old town. This is a good place for shopping and there are some incredible eateries hidden among the picturesque streets.
That night, or early the next day, drive to Binibeca Vell. This whitewashed village looks like it has always been there, but in fact, it was built in the 1960s.
After a wander around, hop back in the car and head towards Cala Galdana. Some of the most beautiful beaches in Menorca can be accessed by walking along the ancient pathway, Cami de Cavalls, in either direction.
Your next step will be the historic capital of Menorca, Ciutadella. A beautiful harbor town, with many attractions to discover, it's worth staying a day or two.
Following, drive back to the North coast and stay in the seaside village of Fornells. This makes an excellent base to discover the wild and untamed landscapes and unique red sand beaches.
Finally, Es Grau is another beautiful village in the middle of a nature reserve. Spend your days hiking, swimming, or kayaking out to uninhabited islands. From here it's a quick drive back to Mahon.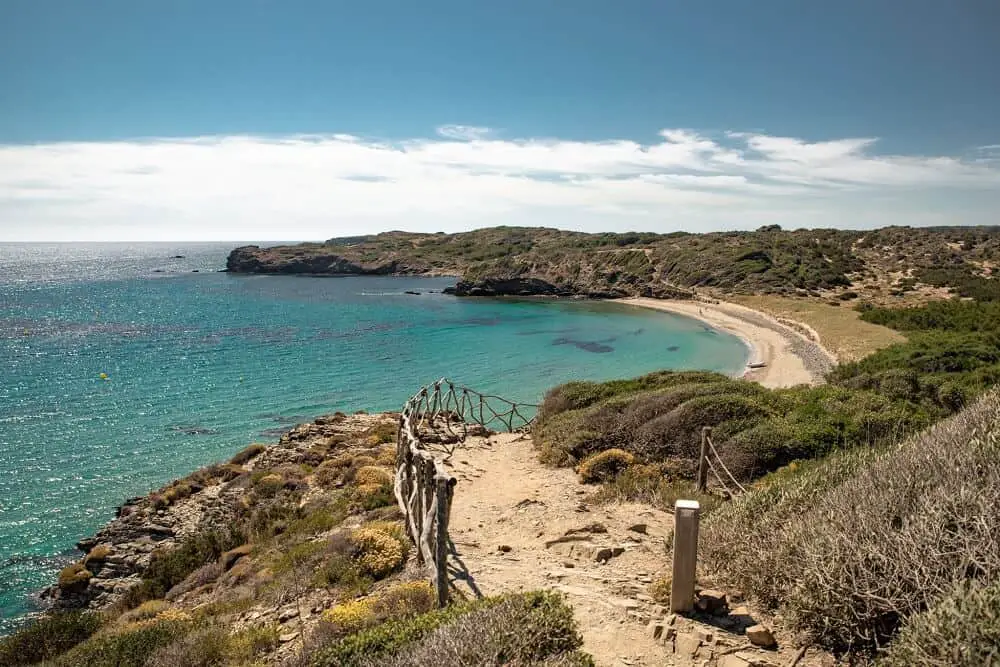 MORE FROM SPAIN
Bilbao to Santiago de Compostela Road trip
Recommended by Izzy and Phil of The Gap Decaders
Recommended time: 1 week
Start and end point: Bilbao – Santiago de Compostela
Length: 600 km
Top Tip: Stay in one of the many atmospheric Paradors along the route (hotels set in some of Spain's oldest disused religious buildings)
Whether you're traveling Spain in a motorhome or car, this road trip through 'green' Spain will see you hugging the spectacular north coast along the Atlantic Ocean from Bilbao to Santiago de Compostela.
Bilbao is home to the renowned Museo Guggenhiem and now rivals San Sebastian with its lively restaurant and bar scene. From there, head west to the Picos de Europa for excellent hiking in the beautiful peaks of this small, yet perfectly formed mountain range.
Oviedo is the next stop. An intimate and elegant city, Oviedo is another foodie paradise, with a vibrant gastronomic scene and home to Spanish cider. If you visit in October, you'll be in the middle of the apple harvest in Asturias, a region in which you could easily lose yourself for a few weeks.
La Coruña is up next, passing by the spectacular Playa de Las Catedrales (Cathedral Beach) en-route. This dynamic city is home to a busy port, a laid-back beachfront resort, and an atmospheric old town.
Finally, you'll reach Santiago de Compostela, the endpoint of the famous Camino de Santiago pilgrimage route and your last stop. The city is a UNESCO World Heritage Site and is undoubtedly one of the most beautiful cities in Spain. Full of twisting alleys, dramatic squares, and religious buildings, spend a day exploring and discovering this most iconic Spanish city.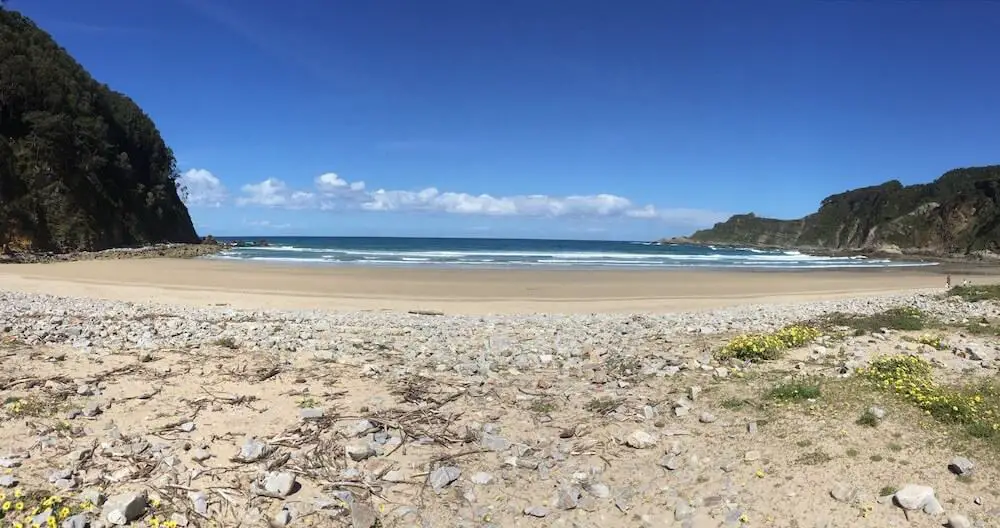 Catalonia road trip
Recommended by Tom of The Travelling Tom
Recommended time: 6 days
Start and end point: Barcelona
Length: 722 km
Top Tip: Check out the beautiful seaside town of Cadaqués, which was home and a holiday destination for many famous artists such as Salvador Dalí.
A Catalonia road trip is a brilliant way to see one of the most beautiful regions in the country and one of the most impressive road trips in Spain.
Starting in Barcelona, the trip takes you in a loop around the region in seven days. It covers 722.4 km (448.8 miles) and takes in some of the best and most underappreciated places in Spain.
The beachside city of Tarragona is one such place. It's only a short drive from Barcelona but is a beautiful spot. The beach is fantastic, but the city has more to offer than just sand. It's home to an impressive Roman amphitheater and walls too. History buffs will love this stop.
The trip will also involve visiting other great places in Catalonia. Figueres is home to the Salvador Dali museum, which is worth the trip alone. It's a visually striking building, which tells the life story of the great artist.
From there, it's down to another historic city, Girona. Episodes of Game of Thrones were filmed there, such is its medieval beauty. The iconic houses which line the river are also a sight to behold.
From Girona, it's south to Tossa de Mar, which is one of the most scenic places in Spain. The beach is idyllic and the backdrop of the castle on the far side makes it a stunning location.
It's a perfect place to visit on a warm summer day to bask in the warm Mediterranean sun. A final stop before the end of the trip is Montseny, which is a nature lover's paradise. Be sure to bring hiking boots, as there are some well-worthy trails to check out.
Catalonia is a microcosm of what to expect from Spain. Great beaches, fascinating history, and stunning nature. A trip around Catalonia is a great way to get a feel for the beauty of this region and Spain as a whole.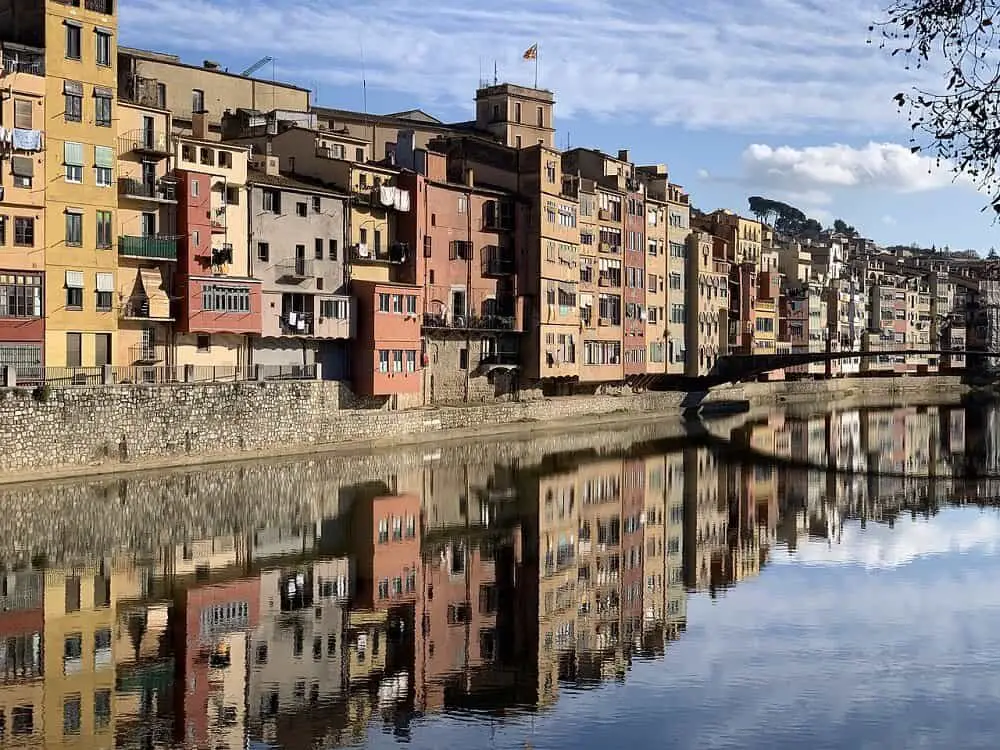 Reflections on road trips in Spain
There is no doubt! When it comes to road trips, Spain is amazing. The variety of places to see from north to south and west to east is exceptional. With so many incredible places only reached by car, you're up for an unforgettable experience.
Hopefully, you've found your favorite road trips around Spain for your next adventure!
If you haven't booked your rental car yet, what are you waiting for? Book it here now so you don't miss out on the best deals!
Pin it for later!