When looking for the best coastal towns in Spain, you might get overwhelmed by such a great coastline like the Spanish.
I totally get it, and you might even be tempted to stop everywhere on a road trip or simply not be able to decide on the base for your vacation.
There are so many incredible coastal towns in Spain boasting exquisite beaches, pristine waters, pumping nightlife, traditional experiences, and a relaxed seaside atmosphere.
There is something for everyone, and in this post, I'll share some of the absolute best beach towns in Spain so that you can start planning your vacation.
Disclosure: This post may contain affiliate links. That means that if you make a purchase through one of those links, I will get a small commission at no extra cost to you.
MORE FROM SPAIN
Best coastal towns in Spain
Nerja (Malaga)
Nerja is one of the best beach towns in Spain with epic beaches and turquoise, transparent water. There are a whole lot of fun things to do in Nerja besides relaxing on the beach, snorkeling, kayaking, and going on boat trips.
The town itself is charming and offers plenty of shopping opportunities and energetic restaurants and bars, even outside the summer months.
You can also visit Nerja Caves, which is home to the largest stalagmite in the world with its 32 meters of altitude.
Make sure you book tickets in advance, so you avoid waiting or even worst, finding it fully booked when you arrive.
Among the many hiking routes in Nerja, make sure you hike Rio Chillar, an epic river trek through narrow ravines.
There are waterfalls and swimming holes along the way that will leave you mesmerized. Most of the hike is in leg-deep water, so it is crucial that you wear a sturdy pair of shoes for river hiking.
Nerja is located at a 50-minute drive from Malaga International Airport. If you prefer public transport, there are buses you can take.
WHERE TO STAY:

Parador de Nerja – stay in a unique accommodation with a large outdoor swimming pool and outdoor area. It is at a short walking distance from both the old town and Burriana Beach.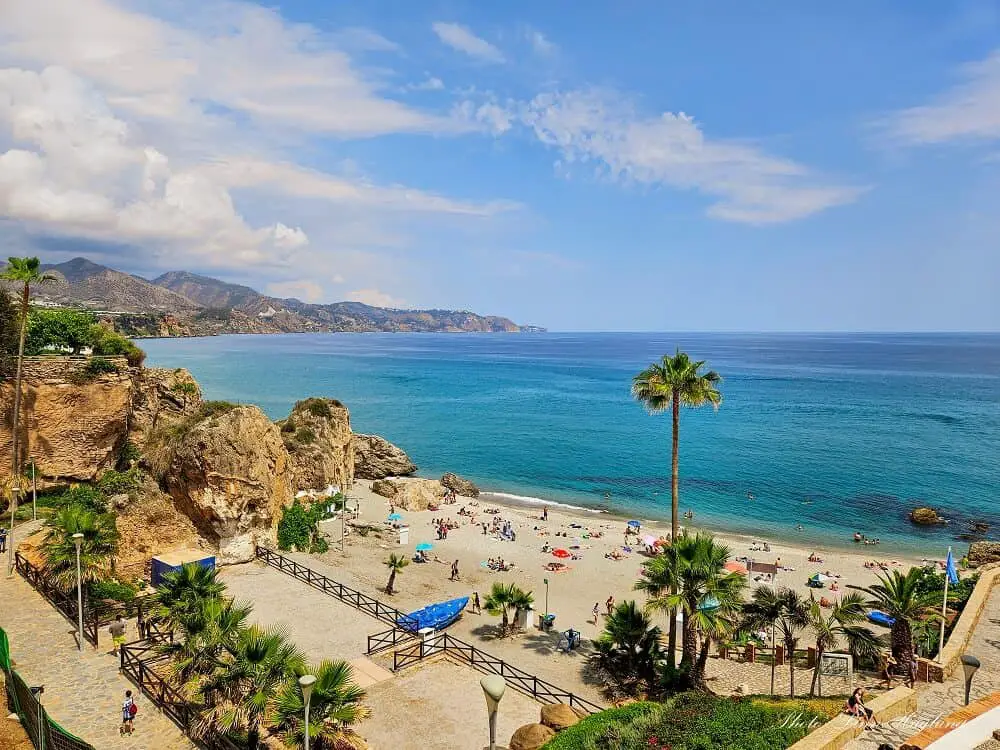 El Puerto de Santa Maria (Cadiz)
One of the best seaside towns Spain's Andalucia hides is El Puerto de Santa Maria. It is part of the Sherry Triangle, together with Jerez de la Frontera and Sanlucar de Barrameda, allowing you to taste some of the country's best sherry wines like Osbourne.
Besides, it is strategically located just a short boat ride from Cadiz which is one of the most beautiful coastal cities in Spain.
El Puerto de Santa Maria is blessed with pristine beaches and a vibrant bar and restaurant scene, especially during summer and on the weekends.
Among the biggest attractions, however, you find the San Marcos Castle and the imposing Iglesia Mayor Prioral.
The town is located a 20-minute drive from Jerez International Airport and 1 hour and 25 minutes from Seville Airport. There are buses you can take from both cities.
WHERE TO STAY:

Soho Boutique Puerto – a fabulous hotel with a rooftop pool and terrace, and it allows pets. The beds are also super comfortable.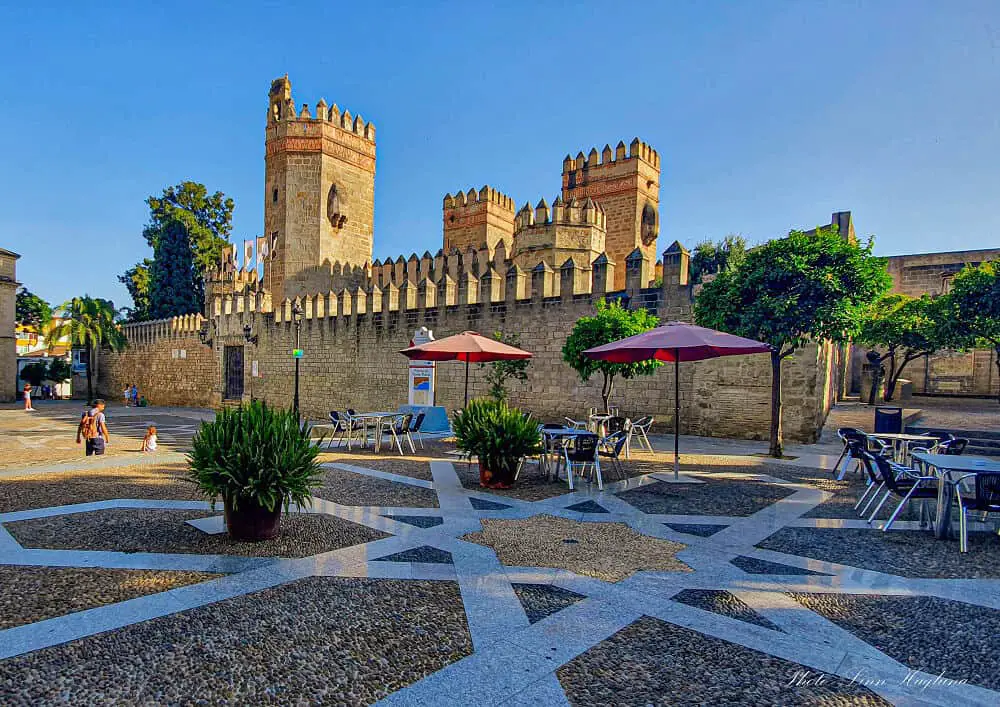 Roquetas de Mar (Almeria)
If you are looking for small beach towns in Spain, Roquetas de Mar is an excellent choice. There are plenty of bars and restaurants, a seaside castle, and a lighthouse.
I particularly love how the castle is set on the beach with a nice promenade beside it.
Lined with excellent beaches with all necessary amenities and lifeguards in the high season, you can enjoy lazy days at the beach.
If you fancy a sunrise or sunset hike for epic coastal views, head to Antenas de Aguadulce, just a short drive from Roquetas de Mar in nearby Aguadulce. It is a short, but strenuous hike, but I promise you that you will not be disappointed.
The nearest airport is in Almeria, at only a 30-minute drive. But you might find more flights going to Malaga, which is just over 2 hours away by car.
WHERE TO STAY:

Soho Boutique Puerto – a fabulous hotel with a rooftop pool and terrace, and it allows pets. The beds are also super comfortable.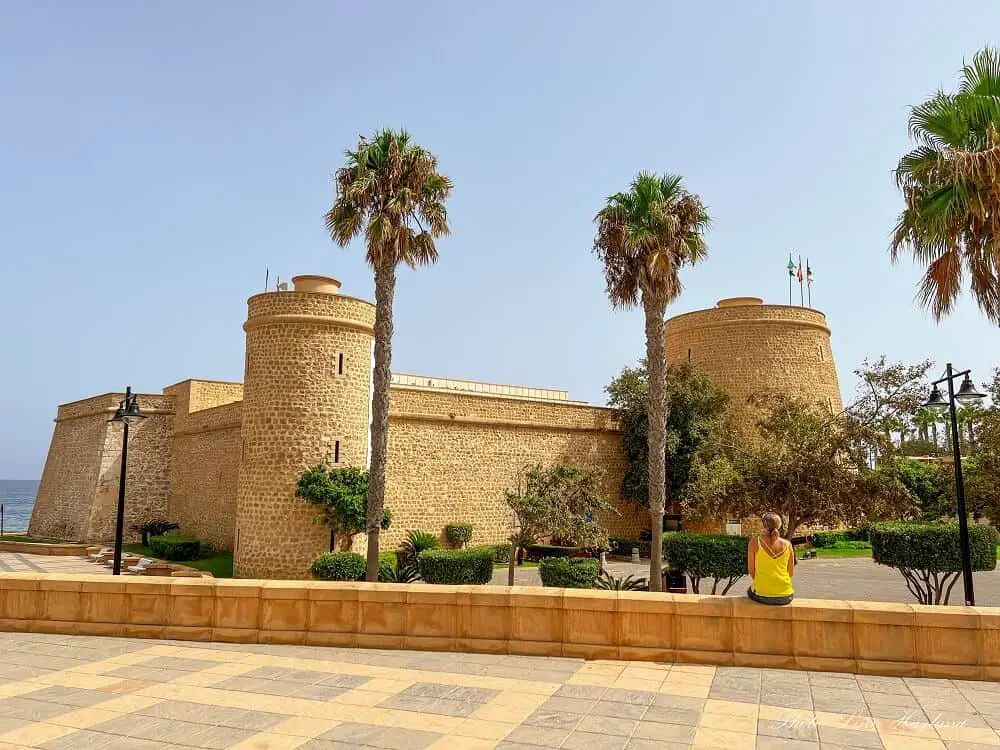 Benalmadena (Malaga)
Benalmadena is one of the most beautiful coastal towns in Spain with a vibrant beachside, great nightlife, and a wealth of boat tours to take from relaxing sailing cruises to energetic speedboat tours.
The coast is covered in golden beaches, but there are also a lot of lovely green spaces, like Paloma Park.
On the hillside, overlooking the beaches, you can wander the enchanting cobblestoned streets winding their way through whitewashed houses and vibrant squares in Benalmadena Pueblo.
Among the top attractions, you find the fairytale Colomares Castle, an impressive monument to Christopher Columbus.
You can also take the Cablecar to the top of the mountain overlooking Benalmadena – or if you are up for a challenge, walk there. Talking about walking, if you enjoy a hike, there are several epic hiking routes crisscrossing the Sierra.
Getting to Benalmadena is easy. It is located close to Malaga and it only takes 20 minutes to drive from the airport. There are also buses and trains straight to the town.
WHERE TO STAY:

Mac Puerto Marina Benalmádena – a fantastic hotel with several outdoor pools and a spa and wellness center right at the Marina with beaches nearby.

Boutique Hotel Pueblo – a lovely boutique hotel in the heart of Benalmadena Pueblo making it an easy walk to any restaurant and bar in the village. Close to Colomares Castle, but further away from the beach.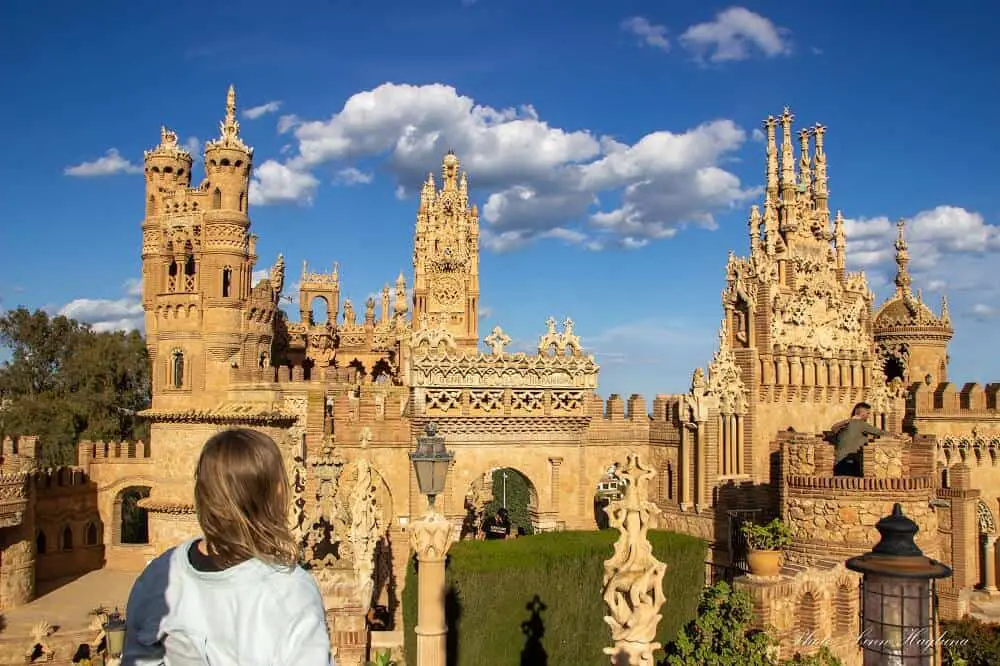 Tarifa (Cadiz)
Tarifa is without a doubt one of the best small beach towns in Spain for anyone wanting to dive into water sports like surfing, windsurfing, and kitesurfing.
The spectacular beaches in Tarifa are fantastic for these activities as this area receives a lot of wind. However, days without wind are splendid for sunbathing.
Among the top activities to do besides water sports, is to go dolphin and whale watching. The Strait of Gibraltar is a hotspot for exactly this. Especially during July and August, you can spot Orcas there.
But Tarifa also boasts a Moorish Castle and a wealth of hiking trails. The old town is as charming as it can get with a maze of cobbled streets where you will find numerous boutique shops, health food restaurants, and bars.
There are buses from Cadiz and Malaga to Tarifa, but the easiest way is to drive. This is also the best way to explore all the beaches, as the best beaches can be quite far away from town, such as Bolonia Beach and Valdevaqueros Beach.
WHERE TO STAY:

Hotel Boutique Room Tarifa – a cute boutique hotel centrally located in Tarifa with a roof terrace where you can take in the views of Tarifa, the Strait of Gibraltar, and Morocco.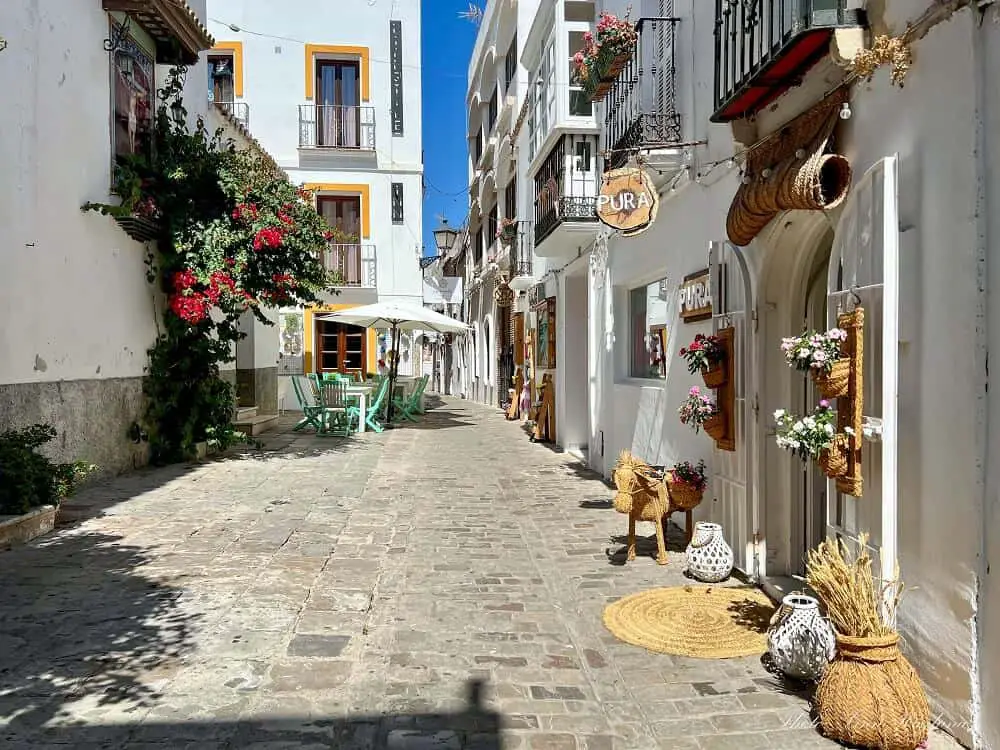 Aguilas (Murcia)
Aguilas is a lovely seaside town that boasts comfortable tranquility even in the high season. It is by far one of the best Spain beach towns to visit for a quieter atmosphere.
The picturesque bay makes for wonderful walks along the promenade, walk to the castle, and seaside drinks.
Make sure you stroll around town looking for the old-fashioned windmills and finding the best viewpoints. Among the most charming things about Aguila is all the painted stairs you find around town.
This little piece of paradise might just make you fall in love. It is located only an hour's drive from Murcia International Airport.
WHERE TO STAY:

Hotel Puerto Juan Montiel Spa & Base Nautica – located opposite the marina, this hotel has an outdoor swimming pool in the high season and a spa and wellness center.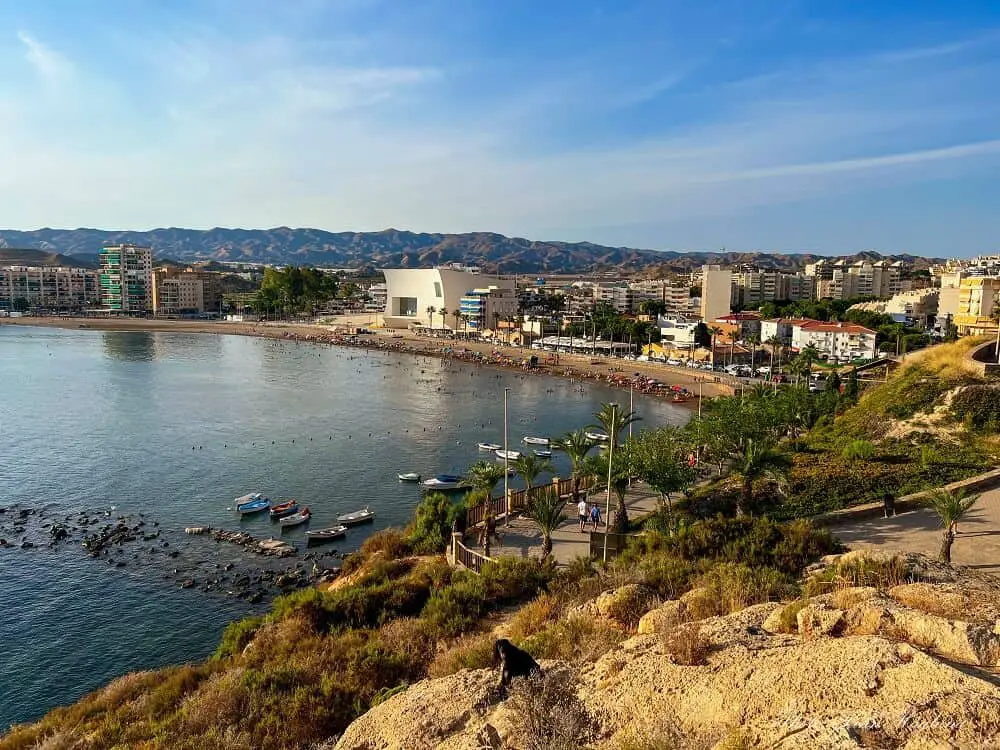 Cala d'Or (Mallorca)
By Marjut of The Smooth Escape
Cala d'Or is a small holiday town on the island of Mallorca. Situated on a spectacular stretch of coastline in the southern part of the island, the town is best known for its stunning white sand beaches with dazzling blue water.
It is a popular summer destination that attracts visitors from all over the globe, being one of the best coastal towns Spain has to offer.
Because of its beautiful natural setting, there's no doubt that one of the best things to do in Cala d'Or is to go beach-hopping.
The area is home to several small sheltered coves known as 'calas' where you can go snorkeling, swimming, SUPing, or simply lounge on a sunbed. The most famous ones are Cala Gran and Cala Esmeralda.
Other fun activities in Cala d'Or include visiting Mondrago Natural Park, going on a boat trip, exploring the town's picturesque marina, and taking day trips to the Drach Caves or the iconic Calo des Moro beach. 
Cala d'Or is located 65 kilometers from the island's capital city Palma de Mallorca and can easily be reached by bus or car. The driving time is about 1 hour.

WHERE TO STAY:

Casa Ceiba Maria – this family-run guesthouse is situated just a short walk from the beach and offers a nice outdoor pool, spacious rooms, and a wonderful breakfast.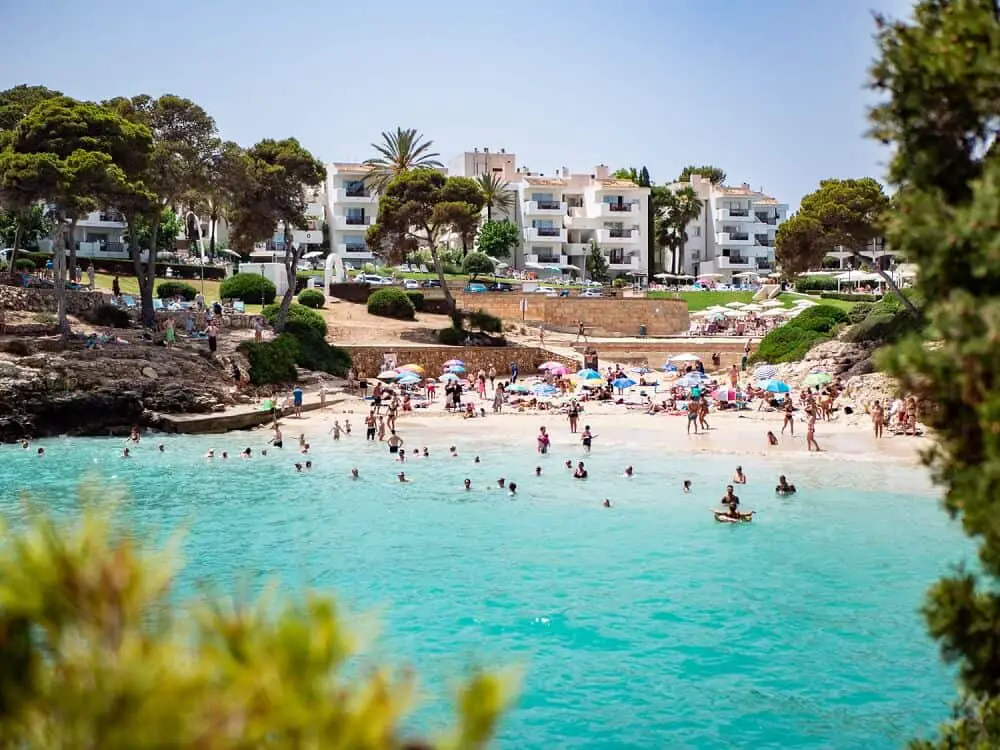 Tossa de Mar (Girona)
Recommended by Julie of Toronto to Anywhere
With its spectacular beaches, medieval castle, and charming ambiance, the town of Tossa de Mar on the Costa Brava is one of the best coastal towns in Spain and well worth visiting.
Tossa de Mar is situated in the stunning coastal region of Catalonia in northeastern Spain. Located just an hour north of Barcelona and not far from the border with France, Tossa de Mar is easy to visit by car, public bus, or through a guided tour.
Arriving in Tossa de Mar, you will be greeted with a magnificent view of the medieval walled town, also known as the old town.
During your visit, you will want to spend time wandering through the cobblestone streets and climbing the castle walls before relaxing in one of the many excellent restaurants with panoramic views of the beach.
There are several beach options in Tossa de Mar, including Platja Gran, the largest and most popular beach.
The beaches are ideal for swimming, snorkeling, or scuba diving making them popular with locals and tourists alike.
For those looking for a little more activity, there are hiking trails that will take you up along the coastal path high above the town and along the Costa Brava.
Tossa de Mar is an ideal destination for anyone looking to explore the Costa Brava. So why not plan a trip to this amazing Spanish coastal town today? You won't regret it!
WHERE TO STAY:

Casa Granados Boutique Hotel – an excellent hotel option. With a rooftop pool, a highly-rated restaurant, and a great location, a stay at this delightful hotel is highly recommended.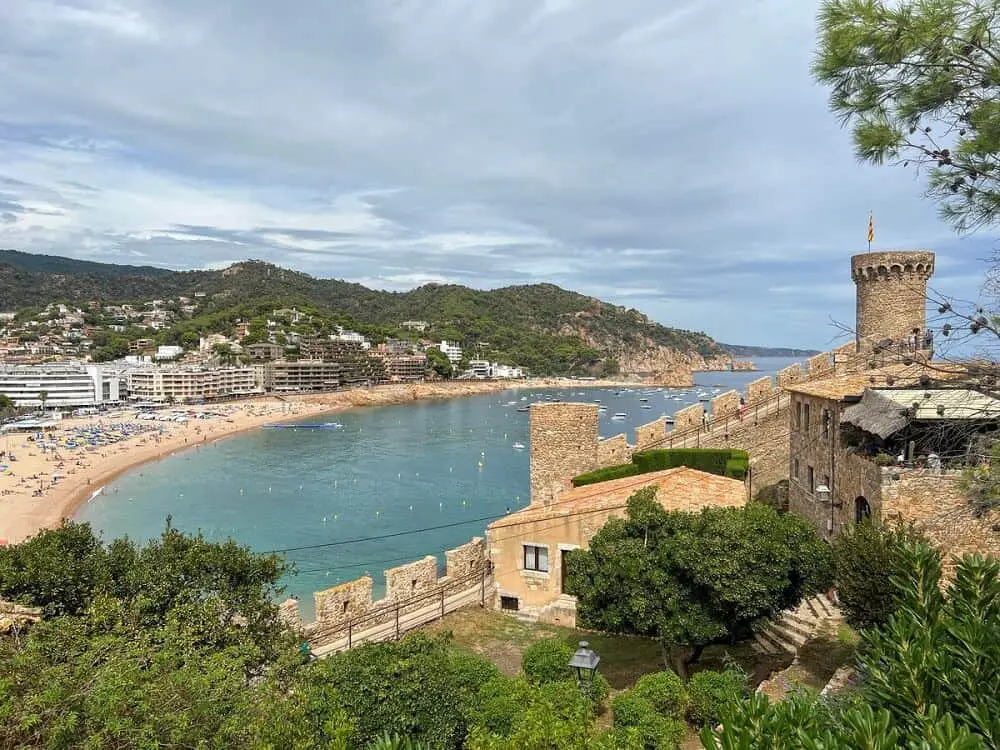 Alcudia (Mallorca)
Recommended by Linda of Hiking the Alps
Alcudia is located in the north of the Balearic Island of Mallorca and is one of the best beach towns in Spain.
It is located 50km from the island airport and capital Palma de Mallorca, idyllically between the Mediterranean Sea and the mountains of the Serra de Tramuntana.
This makes this Spanish coastal town an ideal base for nature lovers, beach vacationers, and culture enthusiasts.  
The fantastic sandy beach of Playa de Alcudia is one of the largest beaches on the island. It offers over 10km of fine white sand and clear turquoise waters.
It is truly a paradise for sun worshippers but also for water sports enthusiasts. Things to do include activities such as jet skiing, sailing, and diving.  
Only 2 km away from the vibrant beach life is the historic old town of Alcudia. It is car-free and surrounded by a well-preserved 14th-century city wall.
This is the oldest city fortification of Majorca at 6m high and 1.5 km long and partly walkable with 26 watchtowers and a multitude of gates.
Another great thing to do in Alcudia is visit a Roman excavation site. Between the two different parts of the town the ruins of a forum with theater and the residential quarter of the former city of Pollentia from about 100 BC, is definitely worth seeing.
RELEVANT READING: Mallorca road trip itinerary
WHERE TO STAY:

Hotel Sant Jaume – Small but very fine, quiet, and yet right in the middle of the Alcudia old town is the family-run the hotel is an ideal starting point for exploration tours around the popular coastal town of Alcudia.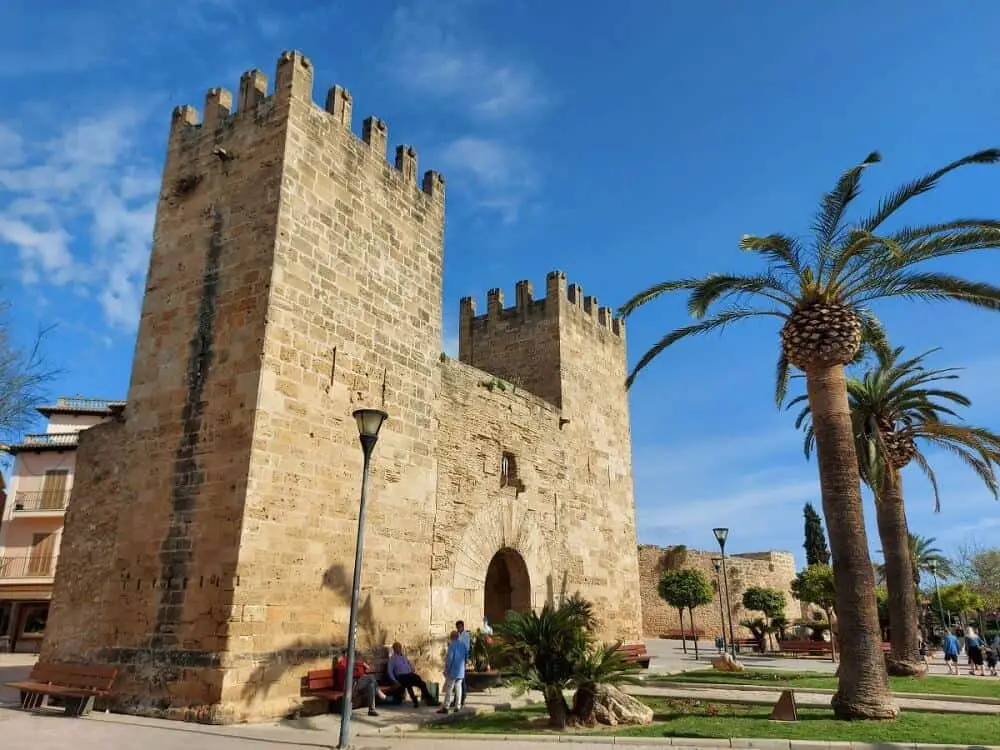 Garachico (Tenerife)
Recommended by Caroline of Veggie Wayfarer
Nestled on the beautiful Canary Island of Tenerife lies the little coastal town of Garachico, one of the prettiest Spanish seaside towns you will come across.
Most tourists tend to stick to the south of the island, ensuring Northern Tenerife and the many little towns on this part of the island, have remained wonderfully authentic and are rarely overrun by large flocks of tourists.
Explore the picturesque town on foot, meander through the myriad of streets, adorned with traditional Canarian architecture and colorful buildings.
Don't miss the chance to visit the iconic Church of Santa Ana, a stunning example of Baroque design.
Visitors looking to cool off from the blistering heat should head to the Garachico Natural Pools, formed by ancient volcanic eruptions, for a refreshing dip in crystal-clear waters.
History buffs can delve into Garachico's past by visiting the Castillo de San Miguel, a fortified castle dating back to the 16th century.
The castle provides a glimpse into the town's defensive history and offers the very best views over the tiny town.
The Interpretation Center of the Cañadas del Teide National Park is a must-visit to learn about the volcanic history which has shaped the town you see today.
Make sure to step into El Rebojo de Garachico, a farm-to-table restaurant serving traditional Canarian cuisine at local restaurants, and try dishes like papas arrugadas (wrinkled potatoes) with mojo sauce.
WHERE TO STAY:

Hotel San Roque – Stay in an 18th-century villa with an outdoor pool and terrace as well as a wellness center where you can indulge in a massage or facial treatment.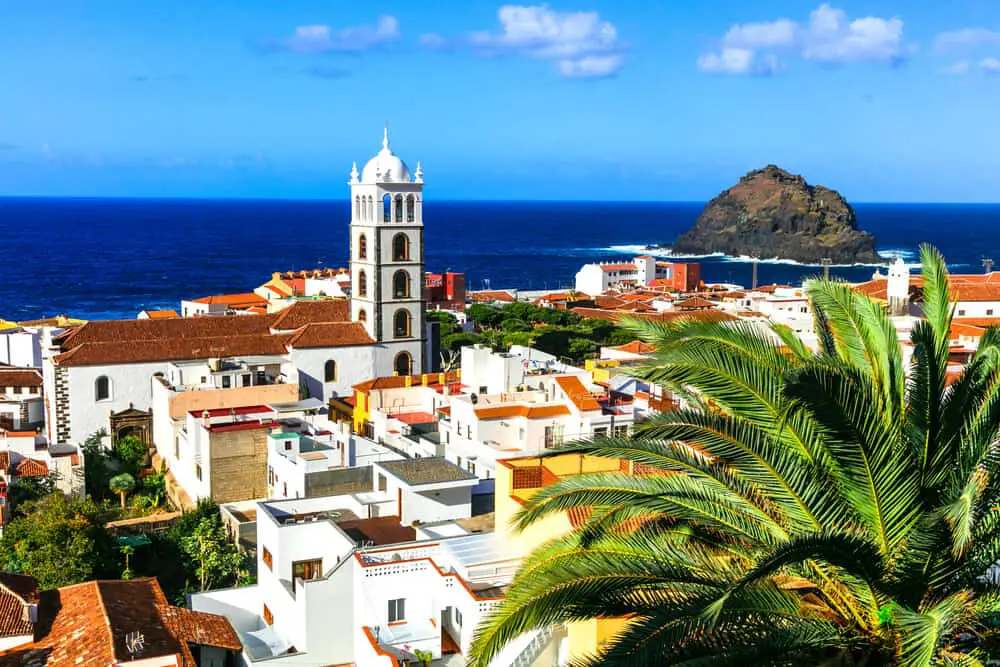 Cadaques (Girona)
Rachel of Barcelona Uncovered
Situated on the scenic Costa Brava, Cadaques is one of the most beautiful and enchanting coastal towns in Spain.
Its whitewashed buildings and Mediterranean sun offer island vibes just around the corner from the city of Barcelona. 
Now you're ready to explore! Take a walk through the cobblestone streets and soak up the town's picture-perfect scenery – a panorama of white buildings, lively restaurants and cafes, and the sparkling coves of white sand that surround it. 
This town is notably known for being home to the Salvador Dali house, where the famous artist left pieces of his own art and history that visitors can enjoy. It's not a trip to Cadaques without a visit to this well-preserved home. 
Next, make the 20-minute drive to Far del Cap de Creus Lighthouse – another famous landmark with panoramic views. The wind can get fierce up here, so don't forget a jacket. 
When you're done capturing the beauty of the village, enjoy dinner at Restaurant La Sirena for a cava and some Mediterranean dishes. End your evening with a stroll to Santa Maria de Cadaques – a must-see church and the highest point of the town. 
Renting a car is key to unlocking the best sights of not just this charming village, but the incredible region around it. While there are bus options, you'll miss out on the endless sightseeing spots nearby, like Ruines d'Empuries and Figueres, all within an hour's drive. 
WHERE TO STAY:

Boutique Hotel Villa Gala – A fantastic boutique hotel with an outdoor pool and the best views of the town. It also has an excellent restaurant and bar on site.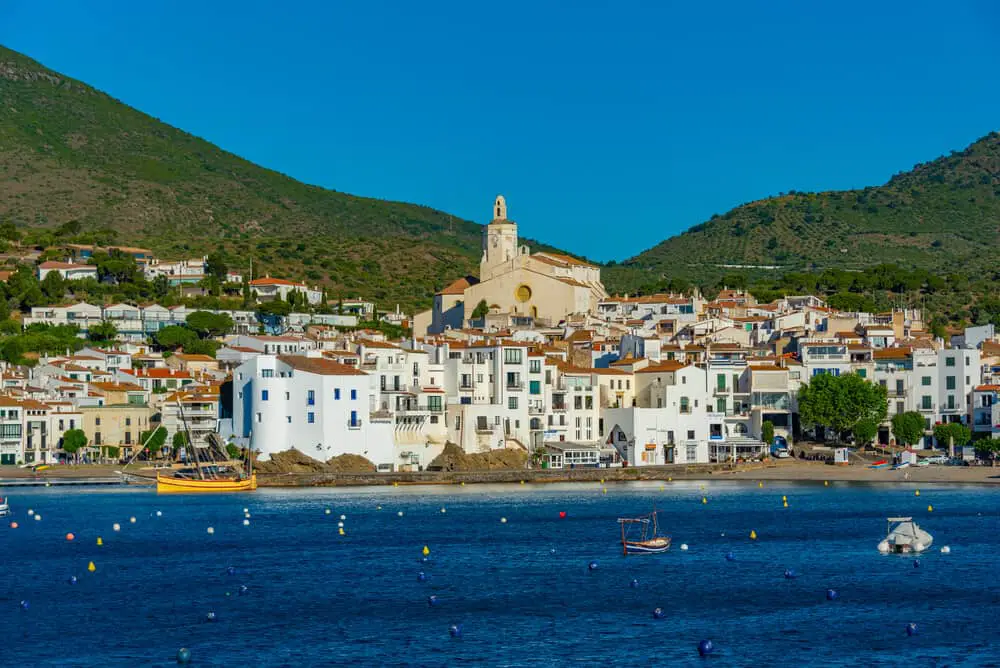 Villajoyosa (Alicante)
Recommended by Kali of Kali Travel
Spain has hundreds of famous seaside resorts but little-known Villajoyosa on the Costa Blanca is one of the cutest.
The pretty old town with brightly colored fishermen's houses overlooks a golden sand beach and the Mediterranean Sea.
While Villajoyosa is only a few kilometers from Benidorm, the two coastal towns are worlds apart. La Vila Joiosa, as it's correctly called in the local Valencian language, is a traditional fishing village where you can watch the trawlers come into harbor each day with a freshly harvested catch. This is not a party town, but a laid-back place to enjoy a peaceful summer holiday.
A wide promenade runs past Central Beach to the leisure harbor. The way is lined with restaurants, and seafront cafés where you can lounge with an ice cream or cocktail. The iconic Chocolateria is just up the hill and reached on a moving ramp.
Villajoyosa's 15 kilometers of coastline hides a dozen smaller bays and rocky coves, apart from the lengthy sands of the main beach.
From lively La Cala de Villajoyosa, a cliff walk ends at tree-shaded Playa del Torres where there's a beach bar, locally known as a Chiringuito.
Playa El Paraiso and sheltered Bon Nou Cove, and the pebbly shores of the wilder but dog-friendly La Charca, are just some of the beaches leading down towards Alicante city.
To reach Villajoyosa by road, take the AP7 motorway (exit 66) or the N-332 coast road. You can also get there on the Alicante TRAM or by ALSA bus. The nearest international airport is Alicante-Elche.
WHERE TO STAY:

Hotel Vistamar Wellness – a great place to stay with outdoor pools, and an onsite restaurant and bar.
Calpe (Alicante)
Recommended by Martina of PlacesofJuma
Calpe is a stunning beach town and undoubtedly one of the most charming coastal destinations to visit in Spain.
Located in the heart of the Costa Blanca, Calpe is renowned for its towering 332-meter-high rock, Penon de Ifach, nestled between two beaches and shaping the coastline's landscape.
Apart from this natural beauty, Calpe offers a range of other exciting attractions. The wide sandy beaches lined with palm trees are breathtaking and provide ideal conditions for swimming and sunbathing.
Additionally, there is a beautiful promenade with restaurants and cafes right by the sea.
The colorful old town of Calpe is a must-visit and forms a charming contrast to the modern coastal metropolis.
As you stroll around, you will be surprised by the small, charming streets and the colorful staircases that make for excellent photo opportunities.
There are also fantastic places to sample the local Spanish cuisine. The pink flamingos of Calpe are another feature that makes this coastal town so special in Spain.
Yes, hundreds of these magnificent birds flock to a saltwater lake in the city center, which you can observe and photograph during a leisurely walk.
Calpe is easily accessible by bus from major cities such as Alicante, Valencia, Madrid, and Barcelona. The nearest international airport is located in Alicante, about 60 kilometers away.
WHERE TO STAY:

Gran Hotel Sol y Mar a great adults-only hotel with a spa and a dreamy infinity pool with views of the Peñon de Ifach Rock.
Getaria (Gipuzkoa)
Recommended by Megan of Packing Up the Pieces
One of the best coastal towns in Spain is the picturesque village of Getaria. This charming fishing town sits on a peninsula that jets into the Cantabrian Sea in northern Spain.
Located in the spectacular Spanish Basque region, Getaria is a fantastic and easy day trip from the seaside city of San Sebastian.
Getaria is home to a small fishing port and boasts two beaches. One beach is popular with families and has a small cafe, while the other changes with the tides and is popular with surfers.
The village is surrounded by vineyards that produce grapes that make the unique Txakoli Basque wine. Getaria also boats a Michelin Star Restaurant, Elkano, making it a must-visit destination for inspiring foodies.
Getaria is steeped in rich history and has connections to the Camino de Santiago pilgrimage route. The Camino Norte passes through the village and is a popular stopping point for pilgrims.
Getaria is a delight to wander, but don't leave without climbing up Aldamar Parkea where there are sweeping views of the sea, village, and the lighthouse.
WHERE TO STAY:

Saiaz Getaria Hotela – a lovely hotel set in a 15th-century restored property with sweeping sea views.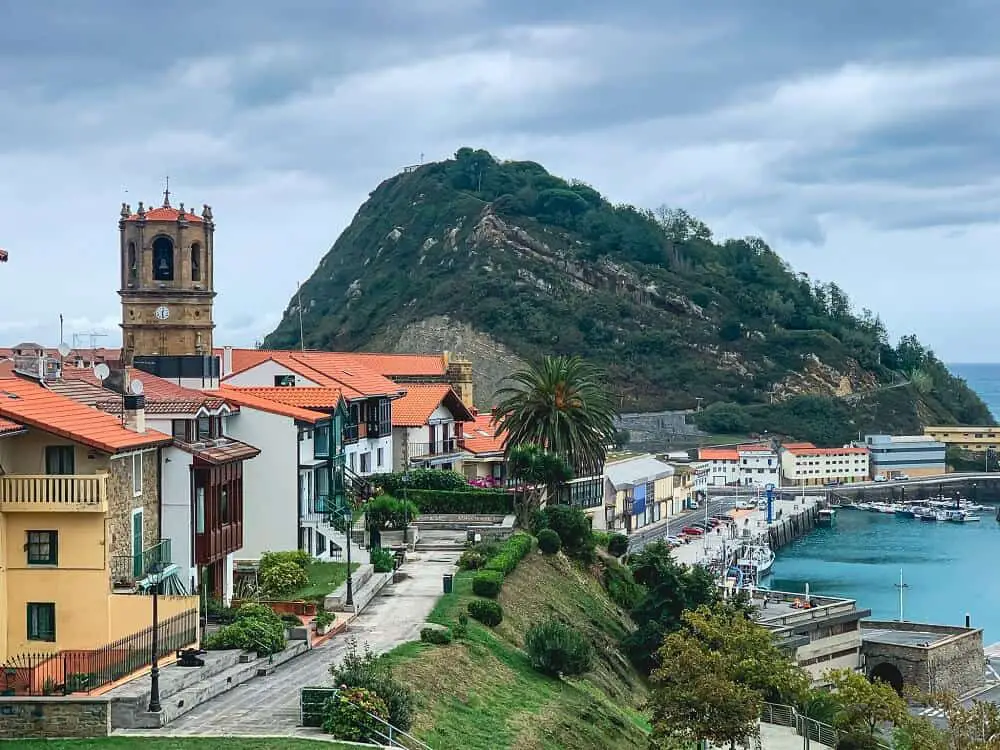 San Juan de la Rambla (Tenerife)
Recommended by Karen of Outdoor Adventure Sampler
San Juan de la Rambla is a beautiful coastal village on the island of Tenerife in the Canary Islands. The town is located on the quieter northwest coast of Tenerife, away from the popular beaches and resorts in the south.
Its old-world charm enchants visitors looking for historic buildings, cobblestone streets, and whitewashed homes.
Playa Las Aguas marks the fishing village part of town. Enormous waves crash against the sea rocks creating a magnificent scene of frothy white and ocean blue that draws artists to paint its beauty.
Restaurants serving the freshest local food cling to the cliffs providing splendid views of the Atlantic.
Charco de la Laja is a natural rock pool at the foot of a steep stairway. Swimmers can enjoy the calm of the pool while ocean waves crash on volcanic lava rock surrounding them.
Nature lovers will also enjoy the centuries-old trail running along the coast all the way to Puerto de la Cruz.
Called the Rambla de Castro, this coastal walk offers some of the most magnificent ocean overlooks in Tenerife.
San Juan de la Rambla is an excellent place to stay while exploring the rest of the island. It is close to the Teide National Park boasting the highest point in Spain.
It is also possible to take day trips to the mountain village of Masca or to kayak and snorkel with the sea turtles of Tenerife.
WHERE TO STAY:

Casa Tenerife – budget-friendly accommodation with an outdoor pool and exquisite views of Mount Teide and the ocean.
Green Sky – a family-friendly apartment with excellent views.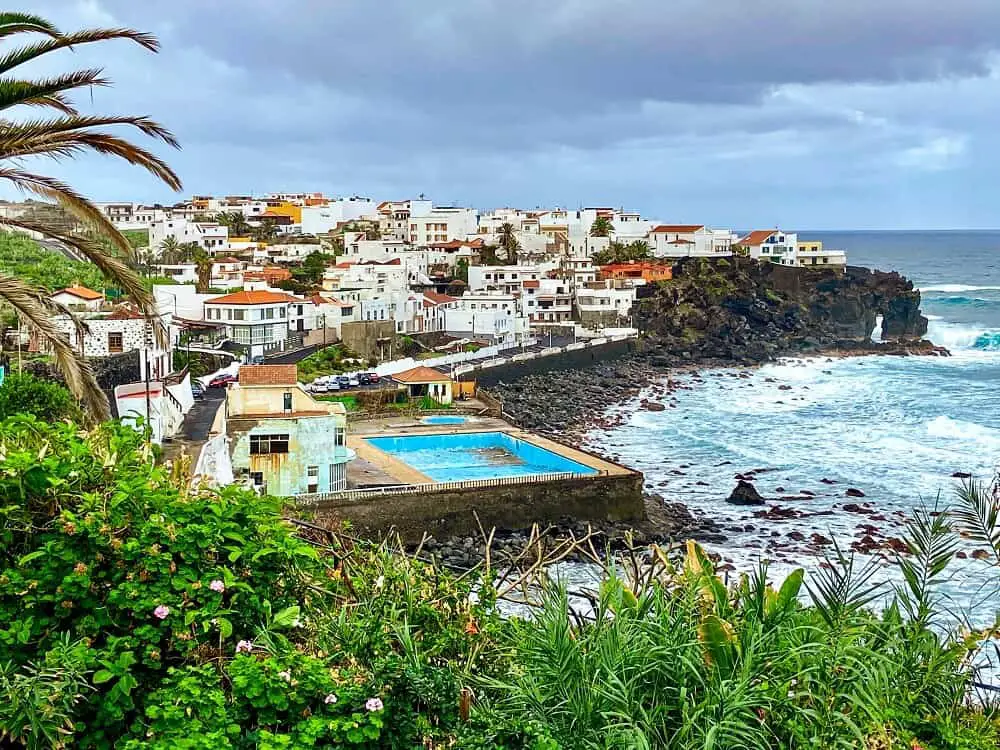 Sitges (Barcelona)
Recommended by Paulina of Paulina on the Road
Sitges is a charming town set along the Mediterranean Sea, which is considered one of Spain's favorite vacation spots.
This picturesque town is known for its beautiful beaches, prominent gay community, and cultural festivals, making it one of the best seaside towns in Spain.
Along with museums and historic galleries, the beautiful town offers so much more to see and do. You can begin by taking a morning stroll along the Sitges seafront esplanade.
This beachfront promenade is a great way to start the day and explore the town from one end to the other.
On the way, you'll find some local restaurants where you can get your caffeine intake and some popular snacks from Spain.
After that, you can head to Church of Sant Bartomeu & Santa Tecla. You would love to experience the long stairway and the 17th-century church building, especially if you are a history geek.
The top of the church offers spectacular views of the nearby beach.
If you happen to be there in February, make sure you don't miss the Sitges Carnival which is a week-long celebration including performances, costumes, floats, and late-night parties.
Explore some art at the superb cliffside, Maribel Museum. Soak in the beautiful views of the sea along with witnessing the one-of-a-kind workpieces from the Modernist, Noucentista, and Luminism art movements.
You can reach Sitges easily by train from Barcelona which takes 44 minutes, so there is no wonder why it is such a popular Spain beach town.
WHERE TO STAY:

Platjador – stay centrally located in this fabulous hotel with a rooftop pool and sun terrace.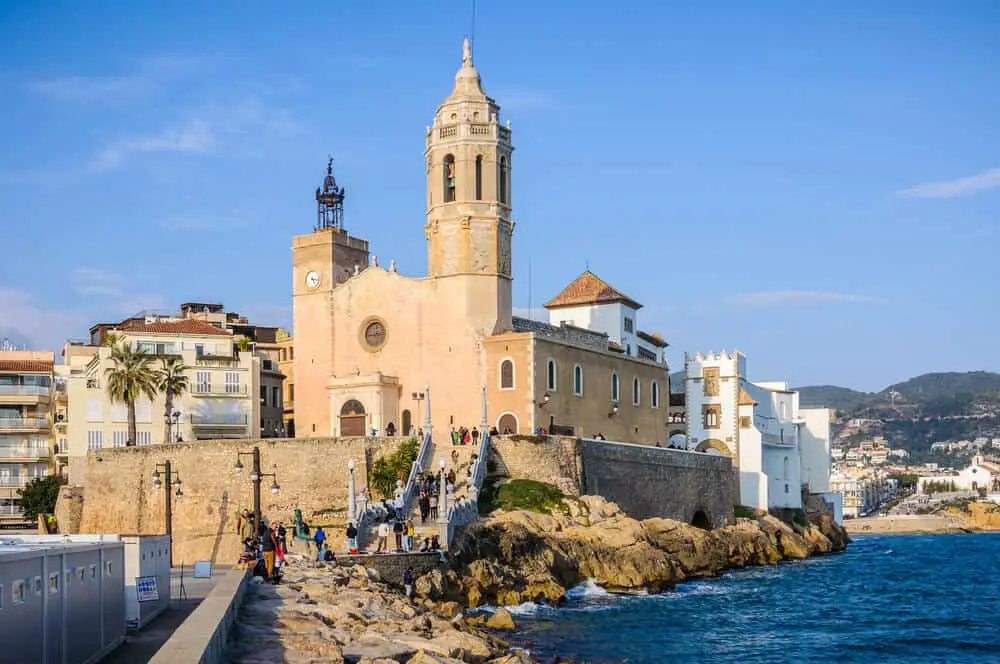 Reflections on the best beach towns in Spain
As you can tell, there is a whole heap of splendid Spain beach towns to discover. From the south to the north, there is so much coast lining this fabulous country.
No wonder millions of travelers visit Spain every year. In fact, 2022 saw over 70 million international tourists.
With this roundup of the best coastal towns in Spain, I am sure you can easier make up your mind about where to travel.
Happy travels!