If you plan a trip to Pai, you are in for a treat. Surrounded by a lush northern Thailand nature scene and off the beaten path experiences, you won't run out of things to do in Pai.
I traveled there a few years back and totally fell in love with the little mountain town. It is the perfect place for anyone traveling to Thailand for the first time, but also for those returning time after time.
Pai is a place that leaves a mark on your heart, and you'll leave a piece of your soul there forever. There are so many wonderful things to do in Pai Thailand whether you stay for a few days or months.
Since I only had the time to stay a few days, and it's been a while, I asked Charlotte from the travel blog Sacred Footprints to let us in on what to do in Pai and all the top sustainable travel tips for the area.
She took her first trip there back in 2016, returning years later to stay for one week, and ended up living there for a few months! Pai's captivating and magical allure will do that to you.
Although most of your day will be spent simply enjoying the beautiful scenery and chilled vibes of this secret hippy heaven, there are many places to explore. Read on to discover the top highlights and unique discoveries of Pai.
Disclosure: This post may contain affiliate links. That means that if you make a purchase through one of those links, I will get a small commission at no extra cost to you. As an Amazon Associate, I earn from qualifying purchases.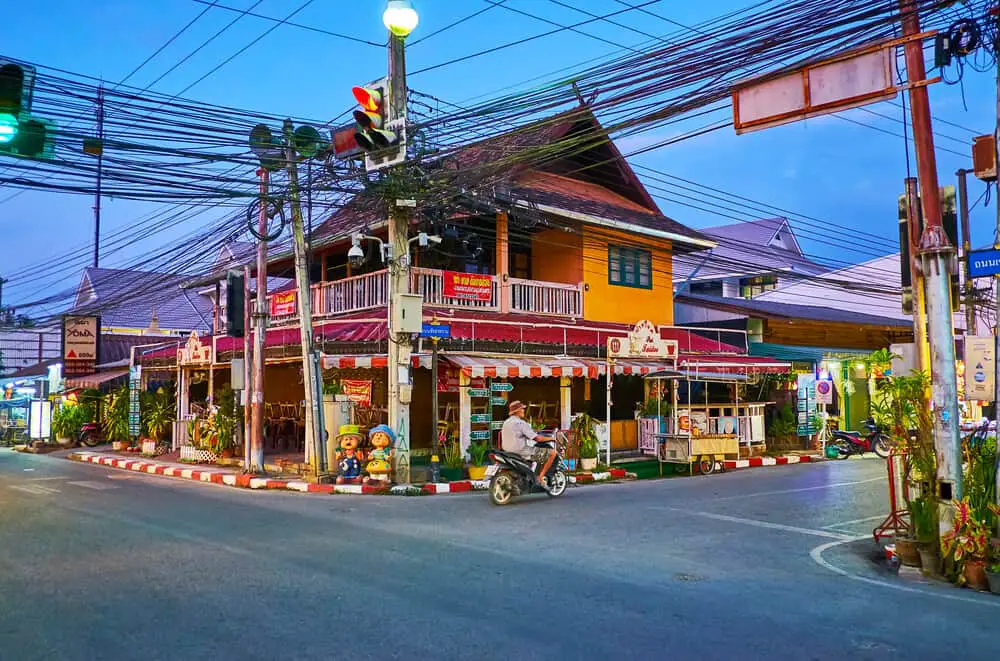 Getting to Pai Thailand
Firstly, I hope you don't get car sick. If you do, please take some travel sickness tablets. Although the journey there is stunning, the road is quite the adventure, with nearly 800 narrow bends to wind around, taking 3 hours from Chaing Mai! 
Chaing Mai is a great landing spot for northern Thailand from Bangkok or your travels up or down to the islands. Pai is 135km from Chaing Mai and you can easily arrange any minibus transport from your hotel or hostel. They will pick you up and drop you at the door of your new accommodation in Pai.
Where to Stay in Pai
Pai has many accommodations, from luxury resorts to mid-range boutiques, wellness retreats, and budget backpacker digs! Pai caters to everybody.
Pai is also a digital nomad hotspot, so you can easily rent private apartments and houses for long-term rentals.
Best for budget backpackers
Even though it is a budget hostel, it has a pool and one of the best, if not the best, hotel views in Pai. They also have family dinners, community events, and a fire show at night.
Best Mid-Range Hotel
These stunning riverside cottages look out onto the best of Pais nature and waterfront. They are large spacious, and individual private cabins with a shared pool and common space. It's reasonably priced with a great location.
Best Luxury Hotel
You can genuinely spoil yourself here at the reverie siam resort. With a beautiful pool, mountain views, and excellent staff, there's not much more out can ask for from a luxury retreat.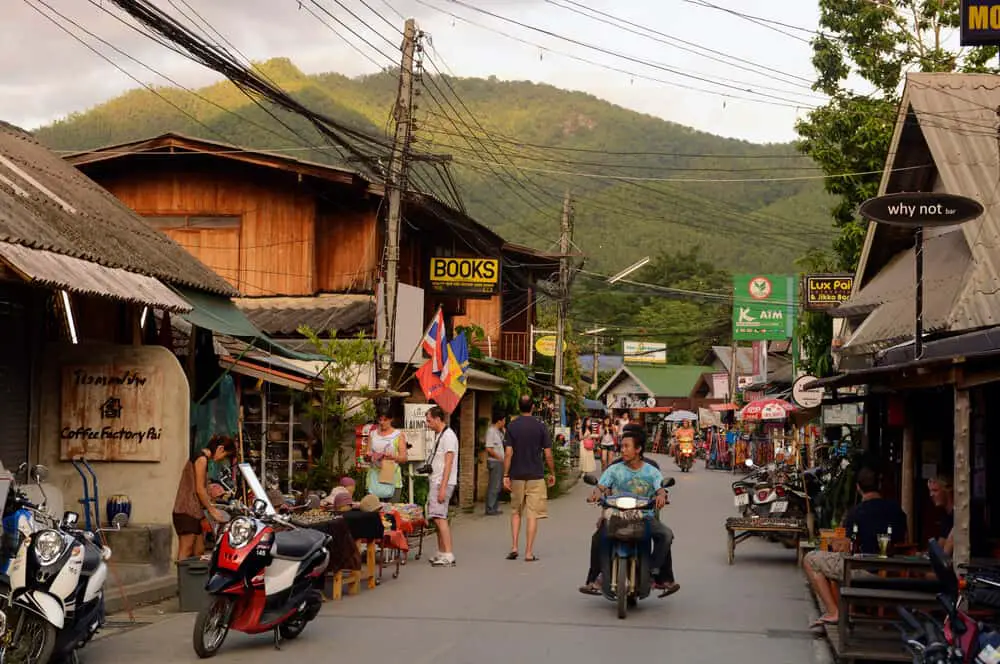 What is so Special about Pai?
Pai has been a popular backpacking destination for years. However, it continues to maintain its quaint and mystical vibe, which still makes it somewhat of an off the beaten path Thailand destination.
Nestled into stunning mountain scopes, luscious forests, and rice paddies, it's the ultimate northern Thailand getaway.
There are so many things to do in Pai for every type of traveler. You'll find everything from hot springs, waterfalls, spoken word poems, live music, and vibrant nightlife!
It's the best of both worlds.
Calming, chilled, serene atmosphere by day and plenty of fun and entertainment to be had by night! This is why it is known to be one of those places you visit and will stay for way longer than planned, so if you haven't already, make sure you add Pai to your Thailand bucket list.
Best things to do in Pai
Now, let's get into what to do in Pai Thailand so that you can start planning your Pai itinerary.
Pai Canyon
Pai Canyon is an incredible spot for hikes or watching the sunset. It's a short drive up from the main village of Pai and an unmissable excursion on your trip to Pai.
The terrain is like something I've never seen before and one of the most spectacular sunset spots in Pai Thailand. Things to do for adventurers include a scramble down the rocks and get lost wandering the endless paths that meander around the canyon's forests.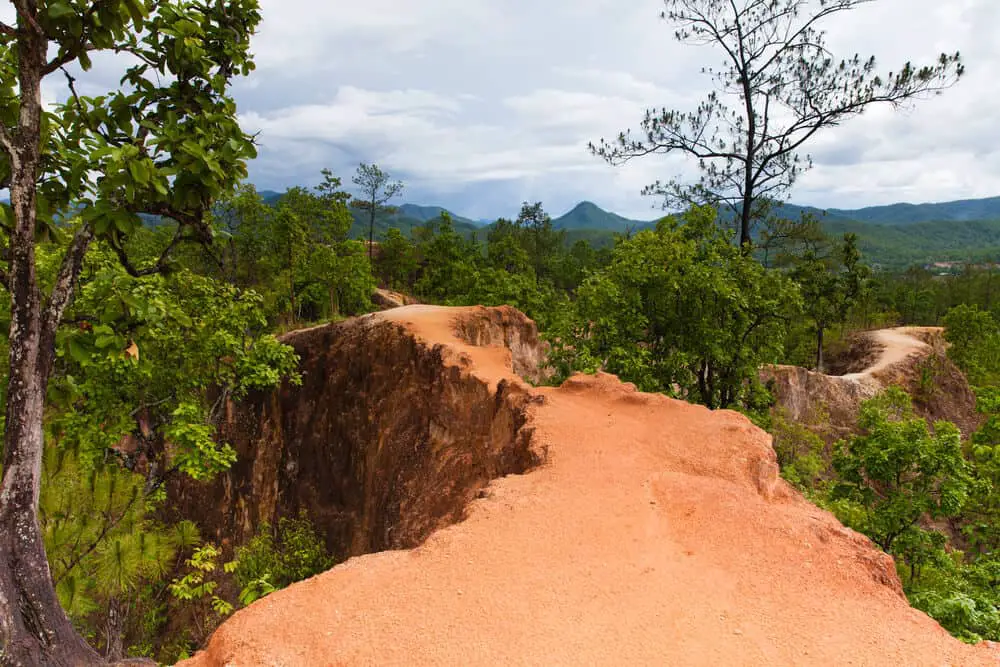 2 Day jungle trek and homestay
If you are in Pai for around a week or so, I cannot recommend this enough. You can hire a trekking guide as a group and hike through lush forests just out of Pai for two days.
Then spend the night in a local hill tribe deep in the remote jungle that will cook their local delicacies for you and share exciting and robust local alcohol (optional.)
It's a fantastic experience and a once-in-a-lifetime opportunity. The whole thing can easily be arranged, and there are many places to book such trips at the hotels or in the village!
Top tip! Check for the burning season when they clear the forest! We, unfortunately, went in this time of protecting the forest by burning dead and infected trees. The smoke wasn't that pleasant! However still worth doing, but if this is a cause for concern for you, it's worth checking.
Pai's night market
Every night, the main Pai walking street, fills up with the most delicious street food vendors and stalls selling beautiful clothes and hippy trinkets. 
I probably gained a stone living in pain due to living on mainly banana and Nutella pancakes most nights, but what can you expect when it's one of the most delicious things to do. Pai is a foodie's paradise.
They have everything from sushi, sweets, BBQ, curry, healthy fresh vegan spring rolls, and other exciting choices. It's considered the best market in Asia, especially if you are a foodie.
I especially loved that they have healthy fresh options there too, which is rare for most of Asia.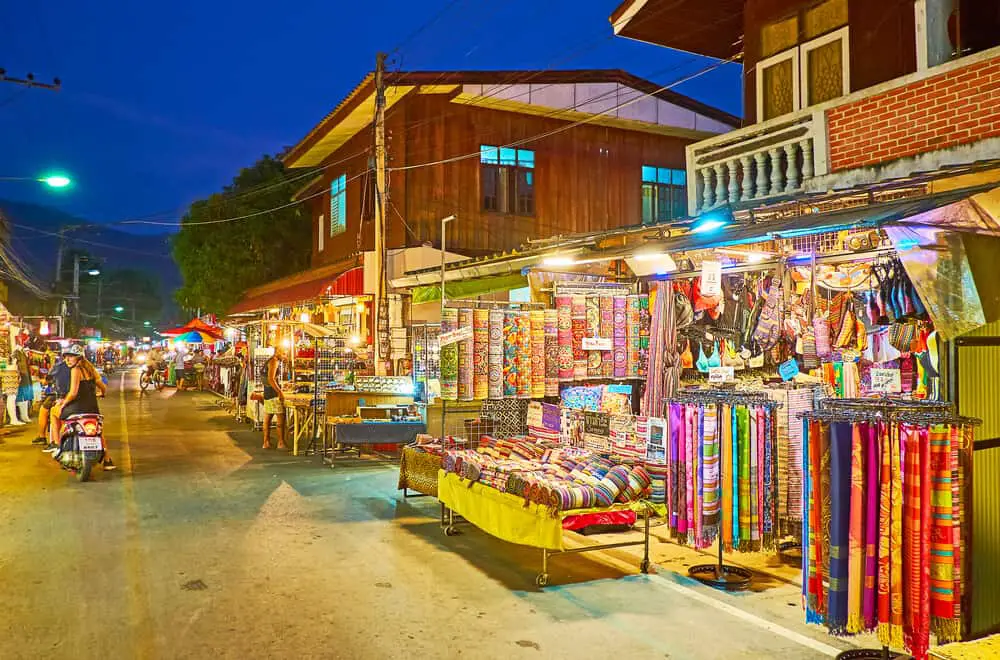 Learn to juggle at Pai Circus School
Pai Circus School is one of the Pai attractions I was fortunate enough to stay at in Pai. I ended up living there for a month. They offer both dorms and private huts and have an excellent pool overlooking the mountains.
You can also go there on a day trip to learn circus activities like juggling, slack-lining, and even fire poi and staff. They host a fire show in the evening, which some residents put on, and you can join in and show off your new talent if you want.
Pam Bok Waterfall
Pai has several beautiful waterfalls. Perfect for the hot and humid days that can brew up in the mountains! Among my favorite Pai waterfalls, is the Pam Bok, which is a short scooter ride from Pai.
It's a lot quieter than the others, which makes it a lovely, tranquil getaway. One day we have the whole pool to ourselves, and there is no reason why you shouldn't be that lucky, or at least be there with very few other travelers.
Mo Paeng Waterfall
The most famous waterfall in Pai is the Mo Paeng Waterfall. It has lots of little pools and slippery rocks which are great fun to slide down which makes it one of the coolest things to do in Pai.
This waterfall has the most beautiful setting and makes a perfect day trip to cool down in the Thai heat.
If you are short on time, you could do the waterfalls and the springs in one day, but if you have more time, try to spread them over a couple of days so you don't feel too rushed trying to navigate them all and get time to enjoy them too.
Learn to ride a scooter
If you haven't ridden a scooter before, Pai is the perfect place to start out. The long quiet roads give you space to practice and go slow which makes it one of the best things to do in Pai for scooter newbies.
There's no rush, and it feels safe on the roads up there compared to other places in Thailand where traffic is heavy and the stress level easily goes up.
However, be careful in the rainy season, as the roads can be slippery. That said, if you feel safe and have an international driving license, rent a scooter after some lessons and practice driving up to the waterfalls and canyon.
This long quiet drive gives you the confidence you need to learn, and you'll easily come back feeling like a Pro that can take on any road in Asia.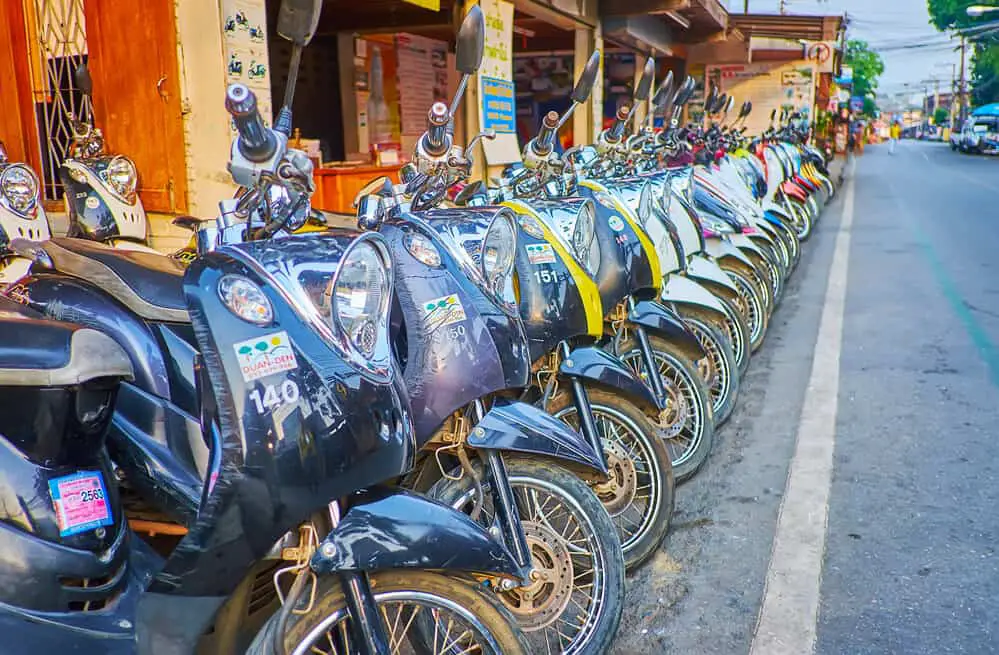 Tha Pai Hot Springs
These spectacular hot springs are only 7km from Pai town and make for an incredibly relaxing and alternative day out.
Soak up in the springs whilst relaxing in the lush surroundings. Perfect in the cooler winter months, as it can get a little cooler in the north compared to if you go island hopping in Thailand's south.
It's a very social place and a great place to meet other like-minded travelers whether you travel with a group or you go solo.
Sai Ngam Hot Springs
The Sai Gnam Hot Springs is another great option for a relaxing day soaking in nature. The natural springs are wrapped in the lush green jungle and are truly one of the most relaxing places to visit in Pai.
However, they are a little further out of town. Tha Pai Hot Springs is south of the Pai and Sai Ngam Springtake north and it takes about 25 minutes to get there by scooter or car.
Land Split
The Land Split is an intriguing stop near Tha Pai Springs that's worth a visit.
Several years ago, a farmer's land began to split and crack due to mysterious soil erosion. It now looks like there's been a mass earthquake there.
The farmer lost his livelihood and house due to the natural disaster, so he opened it as a tourist attraction where he offers donation-based snacks and drinks! An excellent way to support the local community and the farmer after his tragic loss.
The White Buddha (Wat Phra That Mae Yen)
Wat Phra That Mae Yen, also known as the White Buddha, is one of the most popular things to see in Pai. You can see the buddha from most places in Pai, nestled up on the top of a reasonable 353 steps.
However, it is well worth the effort to get there.
Not only is it an amateur Buddhist pilgrimage, but you are rewarded with some of the most beautiful views in Pai from the top. It's about 2km out of town to the path that leads to the top. 
Try to get up there for sunrise or sunset. It is even more impressive!
Also, remember to cover up. It's not strict, but no bikinis or tank tops for men. Just be respectful. This is a religious site, and respect must be adhered to.
Pai's Nightlife
Pai's nightlife might just turn into some of the most hilarious and great nights in your entire time in Thailand. It feels a world away from the hectic bars of the islands but still provides an incredible amount of fun.
Some bars are open until sunrise, yet if you are less of a wild child, enjoy tranquil cocktails by the river before heading home for a well-earned rest. There is something for everyone in Pai, which makes it so unique.
Spirit bar is an amazingly cool place to watch live music. Almost Famous is another famous bar there worth visiting.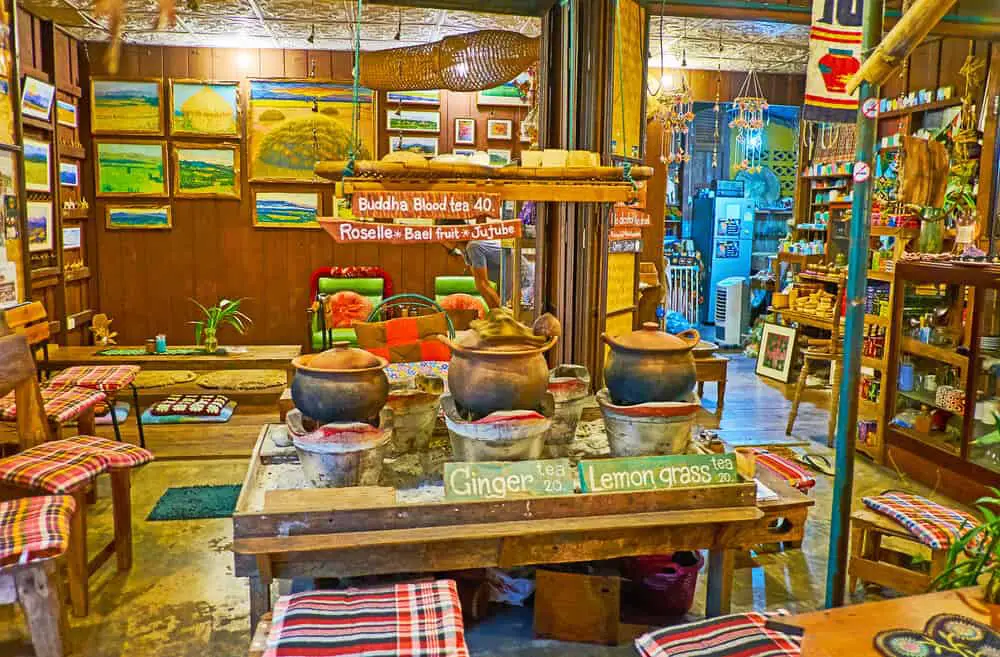 Tubing down the Pai River
Once a popular activity in the neighbor country of Laos. However, it got banned due to the amound of drunken accidents and dangers tourists got themselves into.
Pai, on the other hand, is starting their own tubing experience. Hopefully, escaping the same misbehaviours as in Laos.
For around 10 USD, you can rent an inflatable doughnut and cruise down the river for about an hour, meeting fellow travelers along the route.
This tubing experience is definitely one of the best activities in Pai, especially on hotter days! But be sure to wear a hat to escape nasty sunstroke.
Get inspired at Spoken Word Cafe
If you prefer poetry over music, head to 'Art in Chai'. They host a spoken word night once or twice a week, where creatives and hippies alike can perform their beautiful, inspiring and moving pieces to a small crowd over a cup of tea and cake. 
Tham Lod Caves
If you are heading out towards Mae Hong Son, a small town further into the depths of north Thailand (highly recommended) then stop at the incredible Tham Lod Caves en route.
Alternatively, you can take a day trip via minivan. It's about 35km from Pai, which takes you to these spectacular limestone cave systems.
They are also known as spirit caves. A river runs through the caves, which you can float on via a bamboo raft whilst exploring the ancient coves by ladders.
This is surely an unforgettable day out and well worth the visit. It's also surrounded by forest walks which makes for a refreshing, pleasant stroll in the day's heat.
Whitewater rafting
If you are an adrenaline junkie, then this one is for you. White water rafting is a relatively new experience in Pai and makes for an incredible day out.
There are options for one-day or two-day tours that take you meandering through some powerful white rapids in the exotic Thai jungles.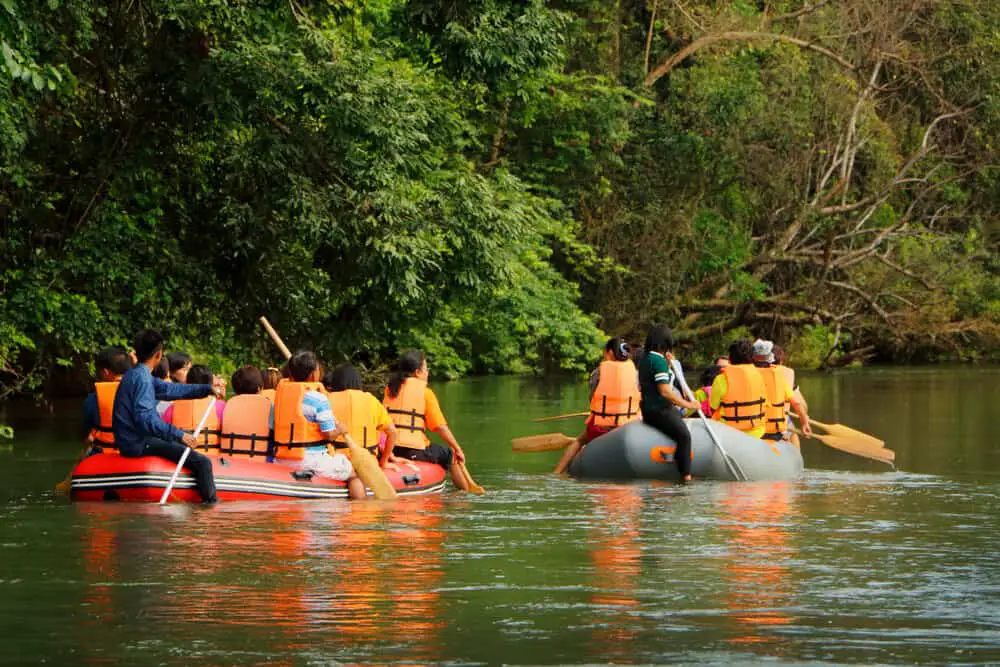 Santichon Village
On the outskirts of Pai is the Chinese village of Santichon Village, founded by migrants from the border. Though it's slightly gimmicky and touristy, it's still worth a visit to look at a different culture and try some delicious Yunnan cuisine.
It's about a 5km journey out of pain to get there, and the residents are amiable and always want to chat about where you are from and what you are doing in Thailand. 
Eat Eat Eat!
I already mentioned the vast array of food choices on the night market, but Pai is like the Canggu of Thailand. If you have ever been to Bali, you will know what I mean.
There are many cafes, vegan joints, hotel restaurants and bakeries to satisfy your cravings. Thai food is some, if not the best, in the world, and you get a plethora of other cuisines to choose from too! Best of both worlds.
Mae Hong Son
A few hours further east of Pai is Mae Hong Son. You can either go on a day trip or on a 1 night trip from Pai to visit some of the local hill tribes.
It's an interesting and unique cultural trip where you among other things can learn more about the Karen Longneck tribe.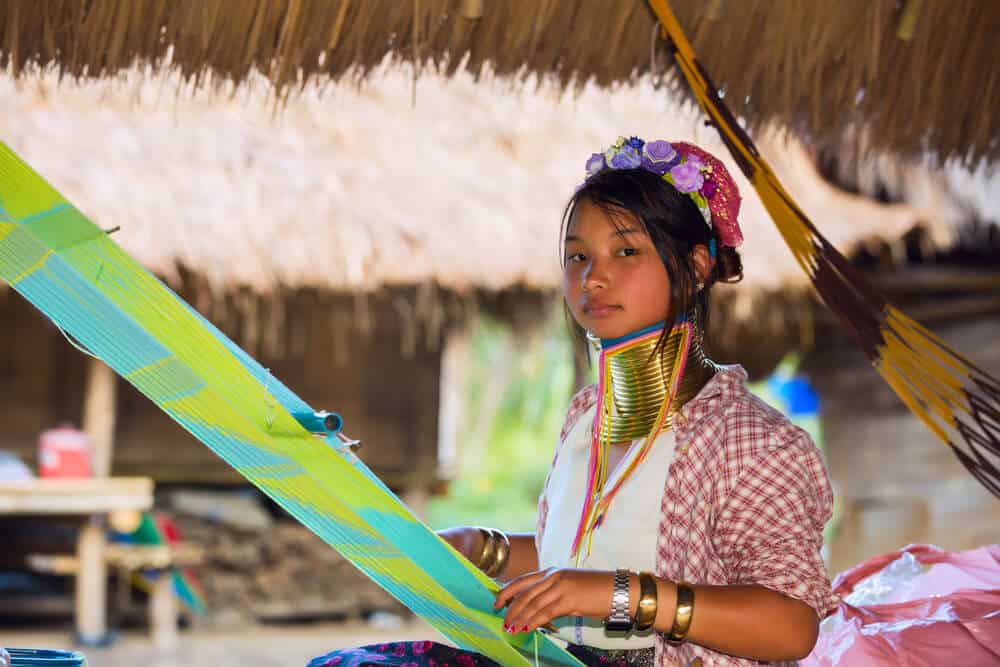 Love Strawberry Pai
This is a strange roadside attraction on the way up to the Pai Canyon. Stop off here to see fresh strawberries growing (in season) and get yourself a strawberry milkshake, ice cream or juice for your sunset at the canyon.
It's absolutely delicious!
Pai's Memorial Bridge 
Pai's memorial bridge is a heartfelt reminder of World War 2 invasions from the Japanese. Worth a visit to pay homage to this historical site and have a moment of reflection.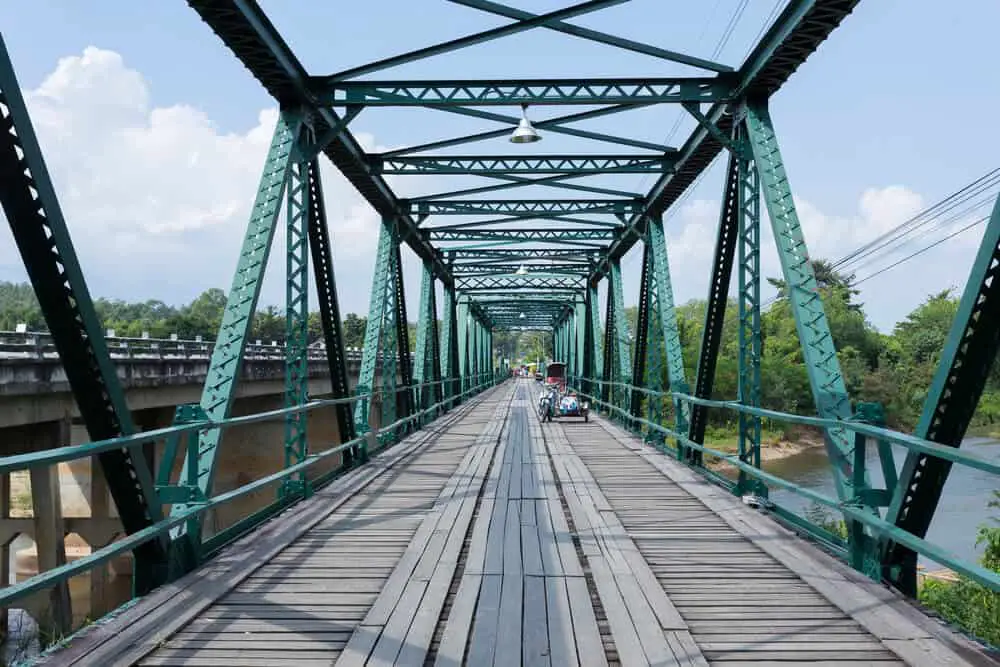 Yoga & Meditation
One of the most popular activities in this boho town is spiritual-seeking activities like yoga and meditation.
You can practice many places, most looking out onto stunning rice-filled scenery. It's also a great place to escape the party scene and meet like-minded soulful humans if that's your kind of thing.
Shaolin Kung Fu Training
Five minutes from Pai is a Kung Fu training center. Learn Kung Fu, Chi Kung, self-defense, and meditation from a world-champion teacher and indulge in organic health meals whilst training.
It's got stunning views so you can get fit, learn new skills and be in awe of Pais nature all in one go. This is definitely one of the top things to do in Pai.
Ethical tips and sustainable onwards travel
Pai is mostly a very ethical village and a top destination for sustainable tourism in Thailand. Here are some ethical and sustainable travel tips for Pai and beyond.
Pai has a vast array of eco friendly and vegan cafes. Being a hippy town it's a great place for vegan food and clothing.
If you want to visit an elephant sanctuary while in Thailand, the one near Pai is said to use unethical animal tourism practices, so avoid it unless this changes. An ethical elephant sanctuary to visit in the area is the Elephant Nature Park in Chiang Mai. It has a reputation for being one of the best ethical animal conservation sites in Thailand.
The amount of flights taken these days is terrible for the environment. Make your travels more sustainable by moving long distances by bus or train instead of by plane, and discover locally by bicycle or by foot.
Pai is a great place to travel onwards to Laos from if that's in your itinerary. An alternative way to travel to Laos is by houseboat from Pai. From there you can easily travel by land through Vietnam and into Cambodia for a larger southeast Asia itinerary.
Reflections on Pai things to do
There is no questioning that when in Pai, things to do and see are in abundance. Whether you're an adrenaline junkie, party animal, or looking for peace-seeking and inner journey, Pai has what you're looking for.
It's been one of my favorite places in Thailand where I always wanted to return, so I'm super happy that Charlotte wanted to share all these tips and things to do in Pai with us. I'm sure you'll find some of these Pai attractions interesting and that your Thailand itinerary will be full of adventure!