If you consider visiting Florence in one day, you might find it hard to decide on what to do and see.
Because truth is, there is way too much art history in this flamboyant city to see everything with only one day in Florence, Italy.
That said, you can absolutely explore a lot in a day in Florence. It has been one of my favorite cities in Italy for decades and thus I have created this perfect 1 day in Florence itinerary so that you can get a taste of what this magnificent place has to offer.
Being the home of Michelangelo, it naturally houses some of his grandest works, but there is a delightful fusion of historic and modern in Florence.
A mingle of local and tourist feel to it that is impossible to describe. You must be there to take it all in.
In this itinerary, you will explore the best places to visit in Florence in 1 day, and if you are anything like me, you will leave already planning your return. Because Florence does that to you. It makes you come back.
Disclosure: This post may contain affiliate links. That means that if you make a purchase through one of those links, I will get a small commission at no extra cost to you.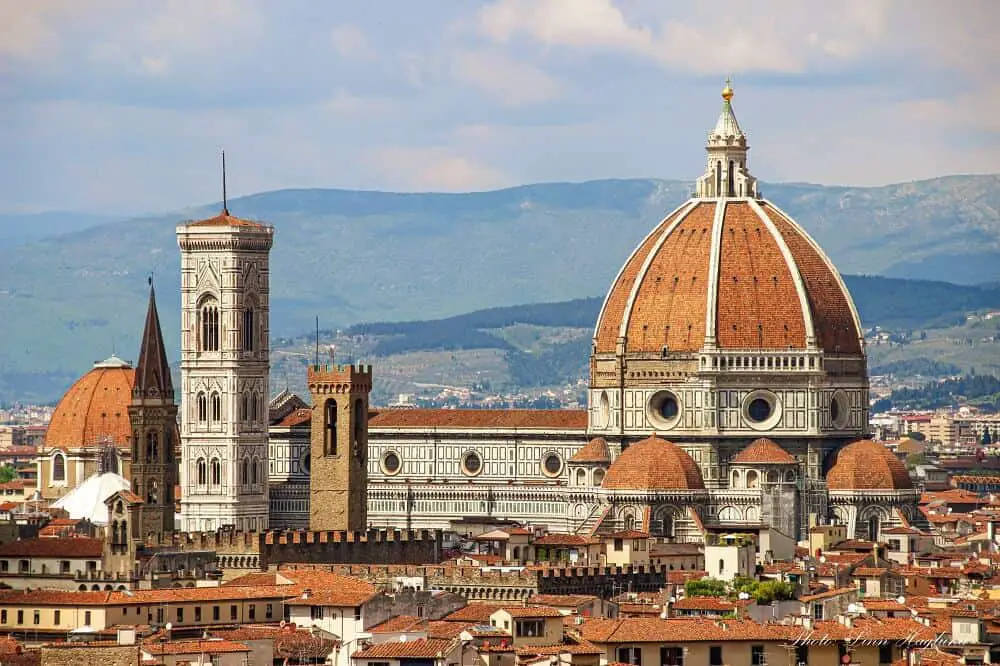 RELATED ARTICLES
How to get to Florence
Florence is the main entrance hub for Tuscany which makes it incredibly accessible from all over the world with its international airport, Amerigo Vespucci Airport.
But you can also fly into Pisa and drive to Florence in an hour and 15 minutes.
Besides, there are excellent bus and train connections from most of the major cities and towns to reach Florence.
Whether you go on a day trip to Florence from Rome or Bolognia, you will find that the trains are way faster than driving.
If you are going on a road trip, I suggest looking for a hotel with parking, as it is not allowed to drive in the city center for others than residents and public transport.
🚂BOOK BUS AND TRAIN TICKETS HERE
🚗BOOK RENTAL CAR HERE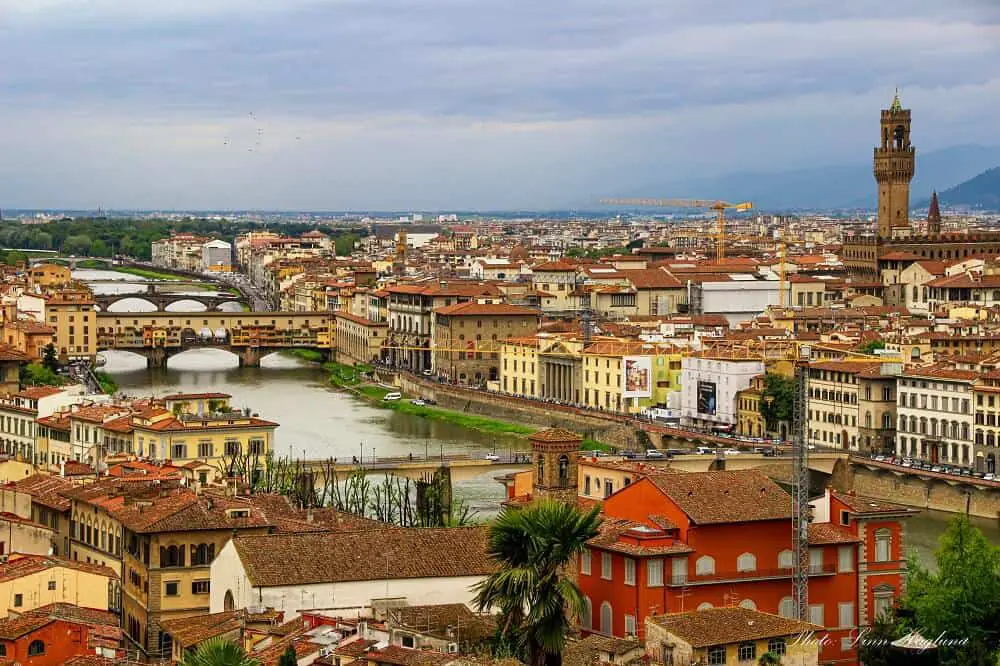 Where to stay in Florence
If you are going on a day trip to Florence from a nearby city or town, you probably don't need accommodation, but if Florence is part of a more extensive Tuscany road trip or itinerary through Tuscany, you might want to stay a night or two in the city before moving on.
Here are my top picks for where to stay in Florence:
LUXURY: Palazzo Portinari Salviati Residenza D'Epoca – set in a historical building in the heart of Florence, this hotel has an indoor swimming pool and a spa and wellness center. The rooftop terrace offers splendid city views. It is also pet friendly.

MID-RANGE: B&B La Terrazza Sul Duomo – fabulous location with views of the Duomo and a rooftop terrace.

BUDGET: B&B Alla Corte dei Medici – set in a charming historical building this is a great budget option in the historic center.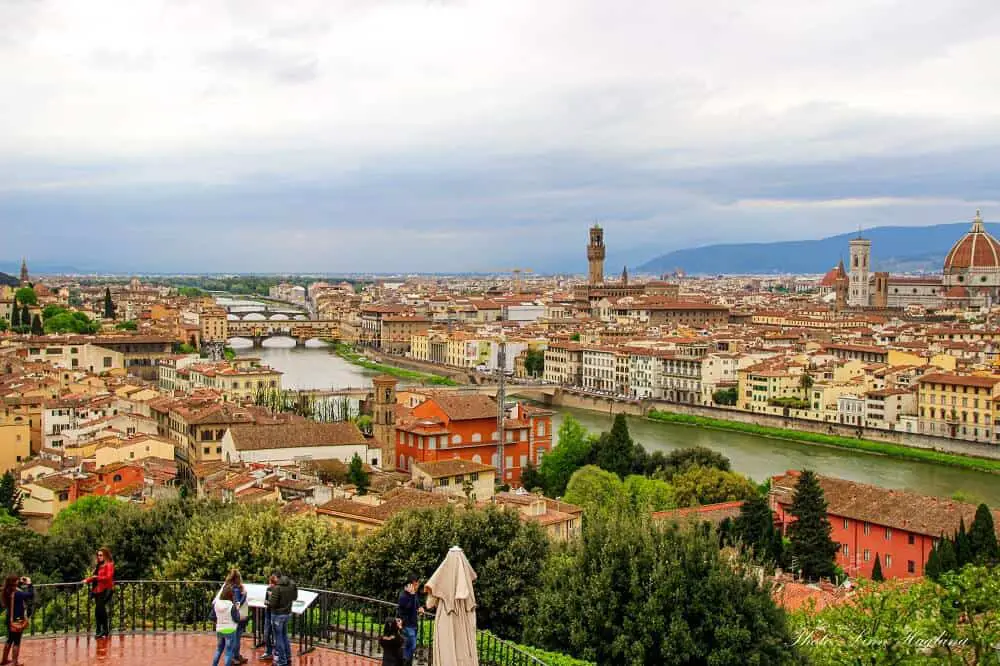 Best time to visit Florence in one day
Florence is a perfect all-year-round destination and no matter when you visit, a day in Florence will be fabulous.
Winter in Florence can bring snow and temperatures are normally around 10-15 degrees Celsius in the daytime. It is a wonderful time of the year to explore art galleries and drink red wine over a nice pasta or pizza.
During the festive season, Florence lights up and is a wonderful place to wander the Christmas markets and even go ice skating.
Summer in Florence, on the other hand, is the high season even though temperatures reach the low 30s. It is the perfect time to indulge in those incredibly delightful gelatos you find on every street corner in Florence.
Spring and fall, however, offer milder temperatures and are perfect for sightseeing. Personally, I love spring as flowers bloom and the air is filled with new hope, sweet scents, and all-over happiness.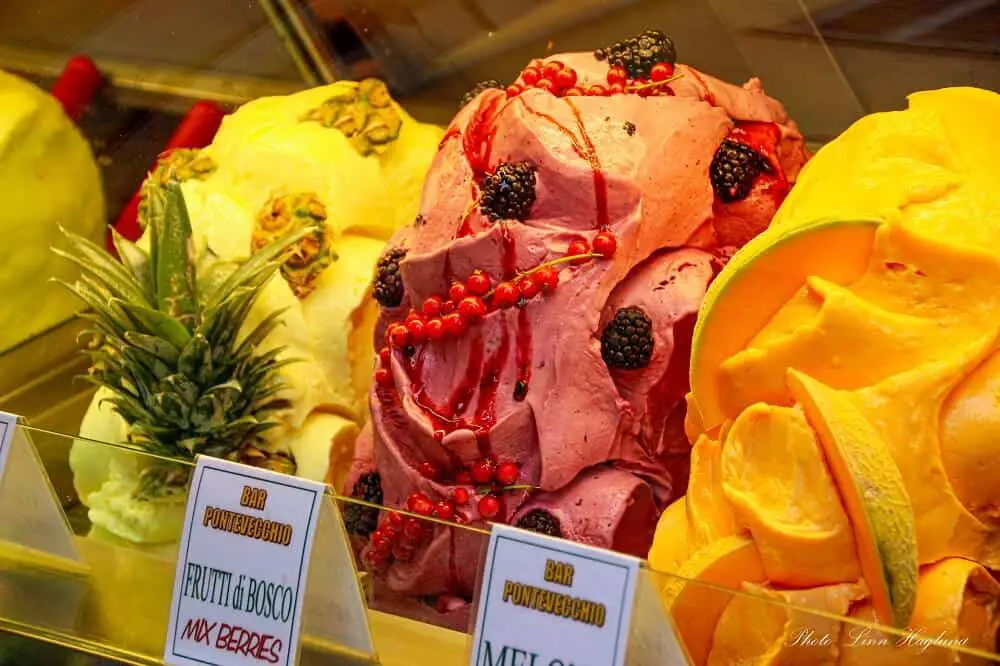 Things to do in Florence in one day
The Artistic Aura of Galleria dell'Accademia
If you're spending just one day in Florence, Italy, then making Galleria dell'Accademia your first stop is a must.
A staple in any Florence 1 day itinerary, this art museum, opened to the public in 1784, is a destination that captivates any art enthusiast.
Housing an unparalleled collection of artworks that span centuries, the gallery allows visitors to step back in time and explore the evolution of art and the influence of different eras.
However, the Galleria dell'Accademia is best known for one masterpiece: Michelangelo's David. Created between 1501 and 1504, David is a shining beacon of Renaissance sculpture.
Standing over 5 meters tall, this iconic statue is a feat of artistic brilliance, carved from a single block of Carrara marble. The statue represents the biblical hero David, a favored subject in Florentine art.
The raw power and emotion conveyed through David's muscular form and concentrated gaze are truly mesmerizing – take that from one who isn't generally into art galleries.
The attention to detail, evident in every carved vein and muscle, highlights Michelangelo's unparalleled skill and mastery of his craft. It's a sight that stands as one of the must-see things in Florence in one day.
In addition to David, the gallery also exhibits other remarkable sculptures by Michelangelo, including 'Prisoners' or 'Slaves,' a series of unfinished works that provide unique insight into the artist's creative process.
But you can also see masterpieces by artists like Giotto, Sandro Botticelli, and Jacopo di Cione.
As a result, your visit to the Galleria dell'Accademia becomes more than just a tour – it's an immersive journey into the Florentine artists' universes, a profound exploration of their minds and talent, and an essential experience on any Florence one day tour.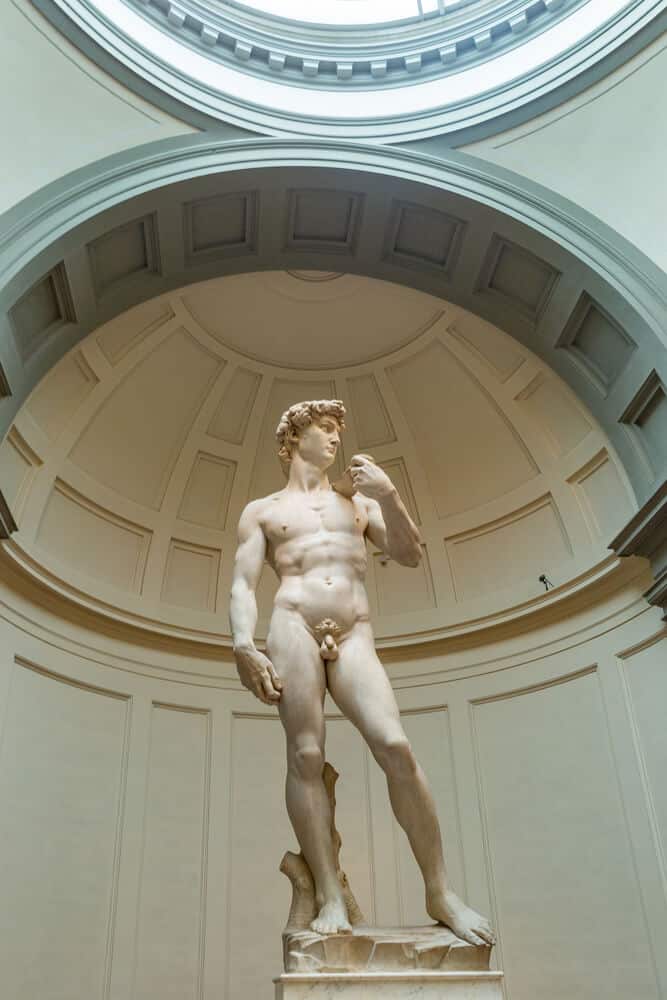 Delving into the Majesty of Duomo
Once you have had your fill of Michelangelo's genius, head towards the city's architectural crown jewel – the Duomo, a significant part of any Florence 1 day itinerary.
Officially known as the Cathedral of Santa Maria del Fiore, the Duomo took nearly 140 years to complete, witnessing multiple architects working on its design. Its green, pink, and white marble exterior makes it a magnificent sight.
As you step inside, the grandiosity of the cathedral unfolds. The hollow interior can house up to 20,000 people and features stunning stained glass windows and intricate frescoes.
The mosaic pavements and the clock above the entrance, designed by Paolo Uccello, add to the cathedral's awe-inspiring beauty.
The Duomo isn't merely a place to visit in Florence in 1 day; it's a dive into the deep end of Florence's history and art culture. In my opinion, it is one of the most impressive Duomos in Italy.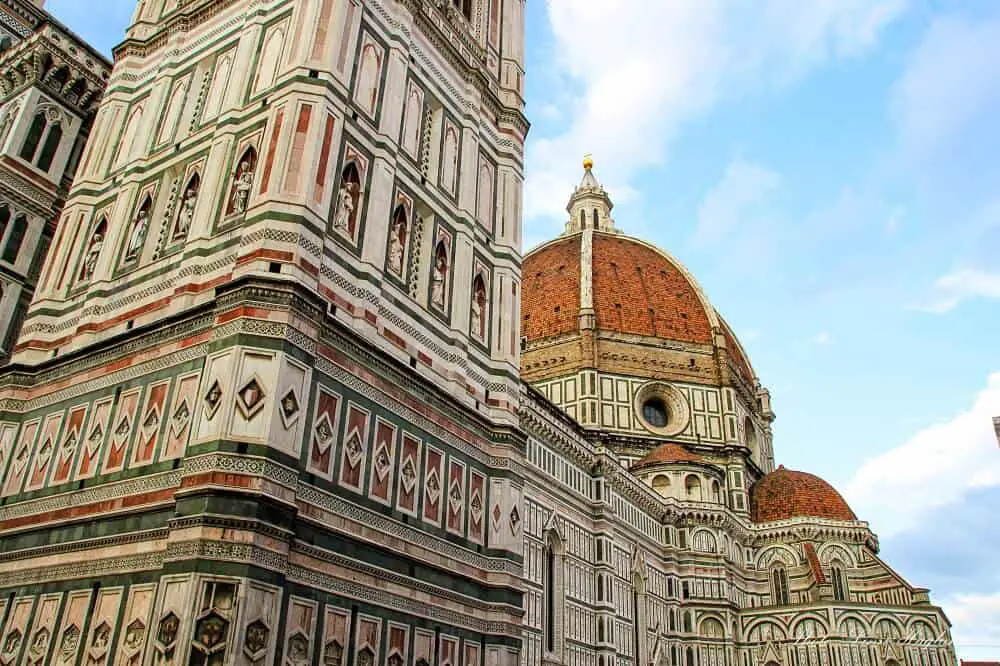 Climb The Cupola
What to see in Florence in one day extends beyond the ground level. High above the city skyline, Duomo's Cupola offers an unparalleled perspective of Florence.
Designed by Filippo Brunelleschi, this dome is a feat of engineering and a city symbol. However, climbing the Cupola requires a separate ticket and early booking.
The journey to the top involves a climb of over 460 steps. As you ascend, you'll pass by the dome's interior, beautifully adorned with frescos depicting the Last Judgment by Giorgio Vasari and Federico Zuccari.
Once you reach the top, you'll be rewarded with a breathtaking panorama of Florence, a sight that epitomizes the experience of spending 24 hours in Florence.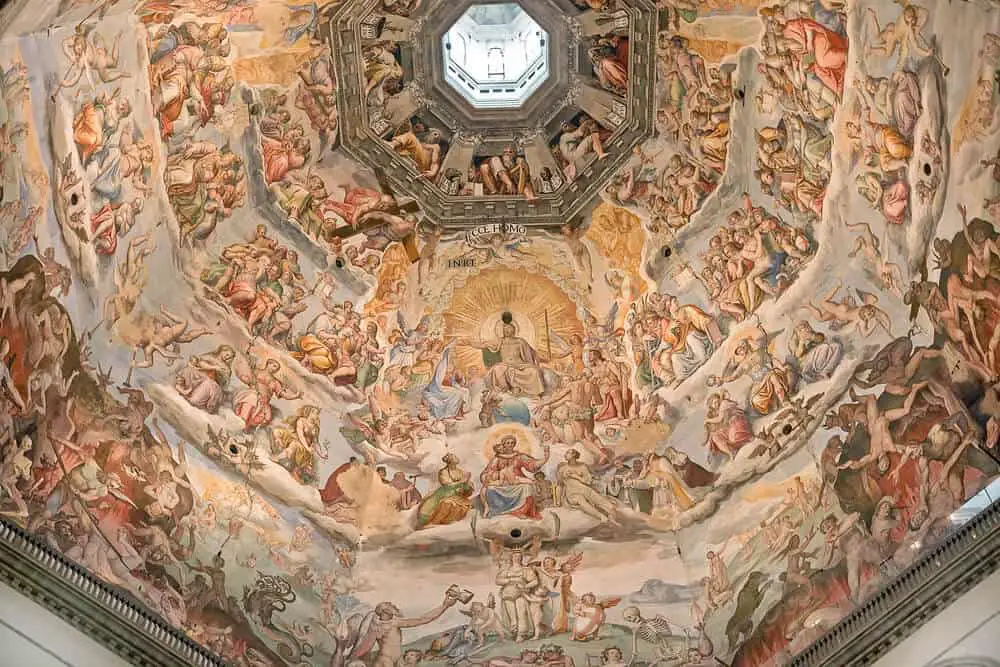 Unwinding at Piazza della Signoria
Having climbed the Cupola and immersed yourself in history, you might feel the need to rest and rejuvenate.
Where better to do so than at Piazza della Signoria? This open-air museum and the bustling square are integral to a Florence one-day tour.
Surrounded by historic buildings like Palazzo Vecchio, and adorned with stunning statues, including the statue of Neptune and a replica of David, the piazza invites you to sit and soak in the city's vibrant atmosphere.
Being a popular meeting point, Piazza della Signoria is surrounded by numerous cafes and restaurants serving a variety of cuisines. As a vegan, you'll find ample options to satisfy your hunger while adhering to your dietary choices.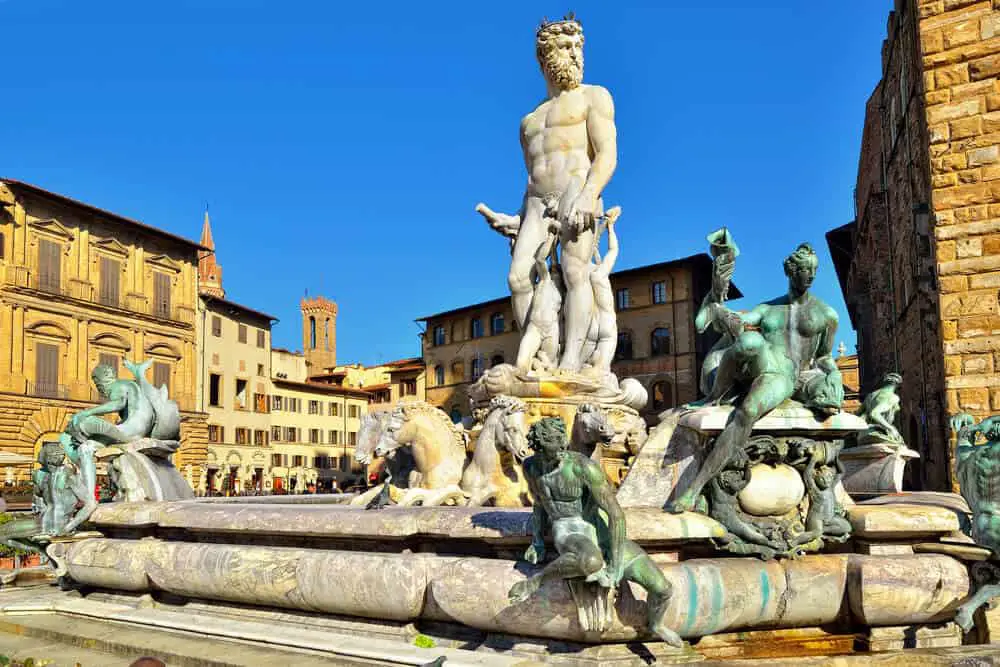 A Walk Through Time on Ponte Vecchio
Following your lunch, a stroll on the Ponte Vecchio, another must-see in Florence 1 day itinerary, is highly recommended. This Medieval stone bridge, dating back to 1345, is one of the city's best-preserved architectural wonders.
Lined with shops selling everything from souvenirs to high-end jewelry, Ponte Vecchio bustles with life. The picturesque views of the Arno River from the bridge add charm and make it an ideal spot for photography enthusiasts.
This bridge is more than just a crossing point; it's a vibrant marketplace, a historian's delight, and a viewpoint all rolled into one.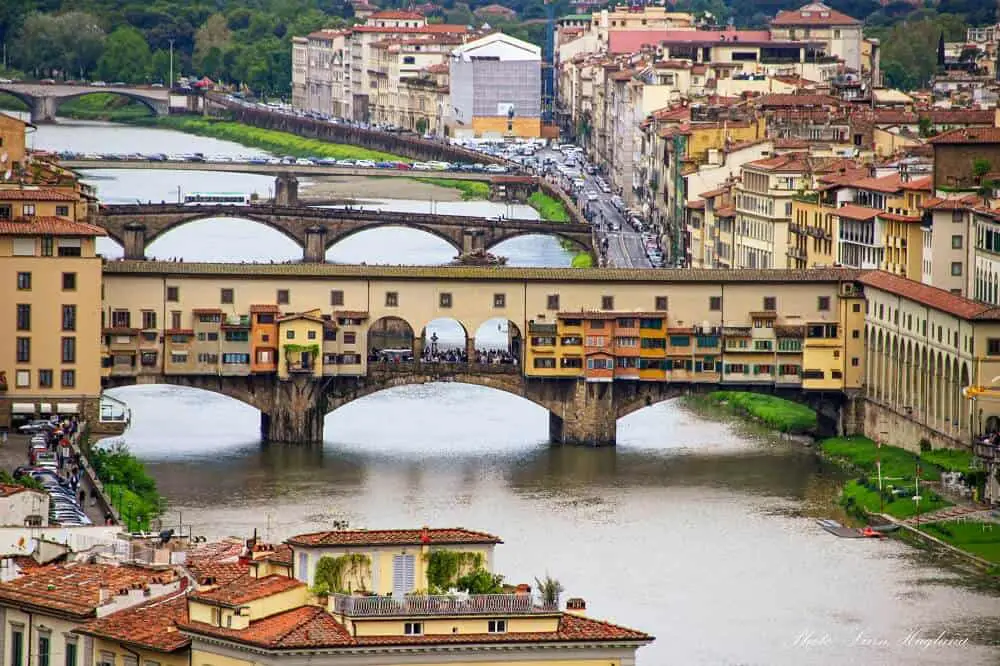 Savoring the Sunset at Piazzale Michelangelo
As your 1 day in Florence Italy nears its end, head to Piazzale Michelangelo, a distinctive square built in 1869 by the architect Giuseppe Poggi.
Designed during the major restructuring of the city's walls, the square was conceived as a tribute to the city's renowned artist, Michelangelo Buonarroti.
The original plan was to build a monument filled with replicas of Michelangelo's artwork; however, due to a series of complications, this ambitious project was never completed.
Today, Piazzale Michelangelo showcases a bronze replica of Michelangelo's 'David,' along with other sculptural replicas, inviting visitors to appreciate the artist's prowess against a backdrop of breathtaking city views.
Beyond the mesmerizing sights of Florence, Piazzale Michelangelo is a testament to the city's enduring reverence for its artistic heritage.
This square offers an impressive panoramic view of Florence, and the spectacle is even more magical at sunset.
As the sun dips and casts its golden glow on the city, the vista is something you'll cherish for a long time. Many consider it the best way to bid farewell to the town on a Florence one day trip.
Piazzale Michelangelo is not only a viewpoint but also houses cafes and restaurants. These establishments offer the opportunity to extend your stay at the square, enjoy the local cuisine, and immerse yourself in Florence's sublime ambiance under the twilight sky.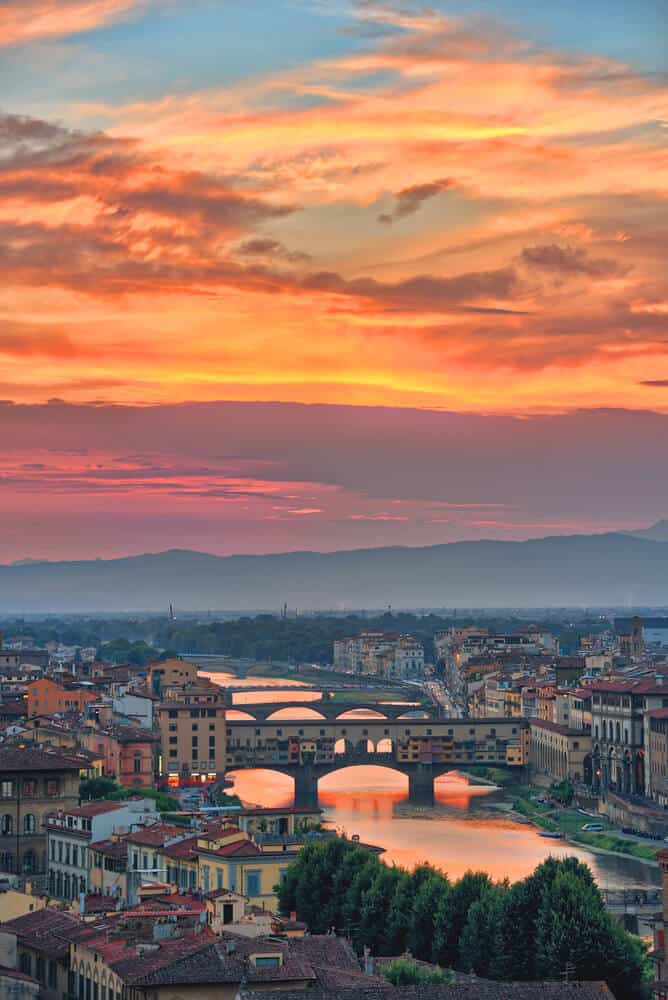 Dining in Oltrarno
After the sun sets, it's time to explore the other side of the Arno River – Oltrarno, Florence's artisan quarter.
This neighborhood, though less frequented by tourists, holds its charm. Known for its bohemian spirit, Oltrarno boasts some of Florence's best eateries, ideal for dinner.
With a wide range of vegan and vegetarian options, you can enjoy a sumptuous meal that captures the essence of Italy. Dining in Oltrarno is the perfect way to wrap up your Florence one day itinerary.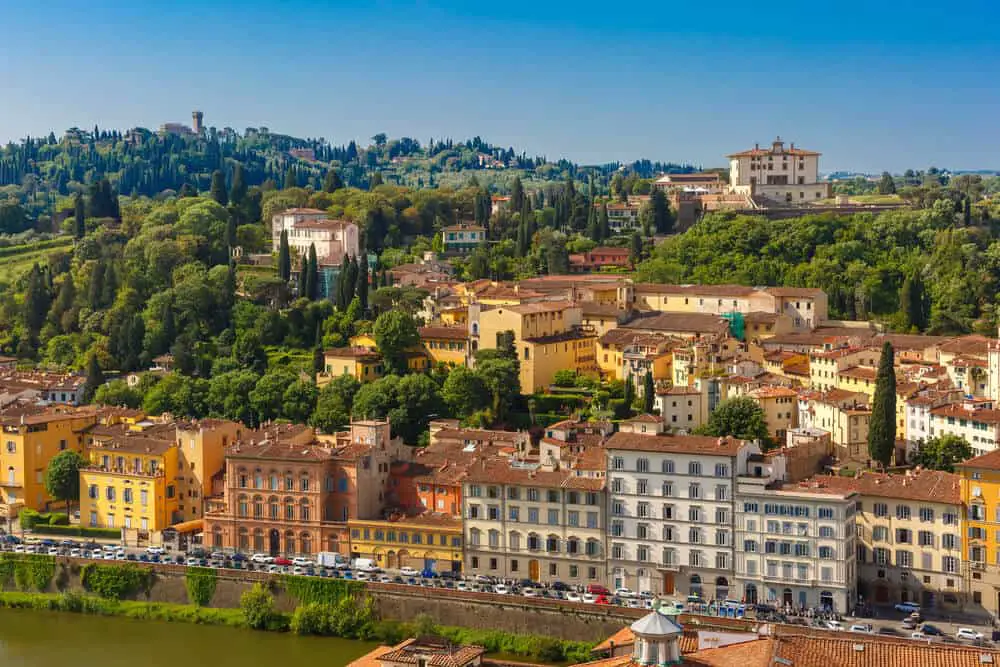 Reflections on one day in Florence
Visiting Florence in one day might seem like a challenge, but with careful planning, it is possible to get a taste of its history, art, and culinary delights.
Whether spending a day in Florence or extending your stay, this city will surely leave you longing for more.
I would recommend spending 2 days in Florence if you can, because, after all, it is one of the best weekend breaks in Italy. But if you only have a day to spare, I am sure you will have a fabulous day trip to Florence.
Happy travels!