Albufeira is one of the most popular towns in Algarve, if not THE most popular. But not without reason. Strolling through the charming streets, relaxing on the beach, and the fun water sports are only some of the many things to do in Albufeira. Situated only half an hour from Faro Airport on the Algarve Coast, it boasts some of the finest beaches at the same time as there's a vibrant nightlife.
But there are also things you should be mindful about when you travel to this beach town as an ethical traveler and I'll go through that too so that you can travel responsibly with good consciousness.
Disclosure: This post may contain affiliate links. That means that if you make a purchase through one of those links, I will get a small commission at no extra cost to you. As an Amazon Associate, I earn from qualifying purchases.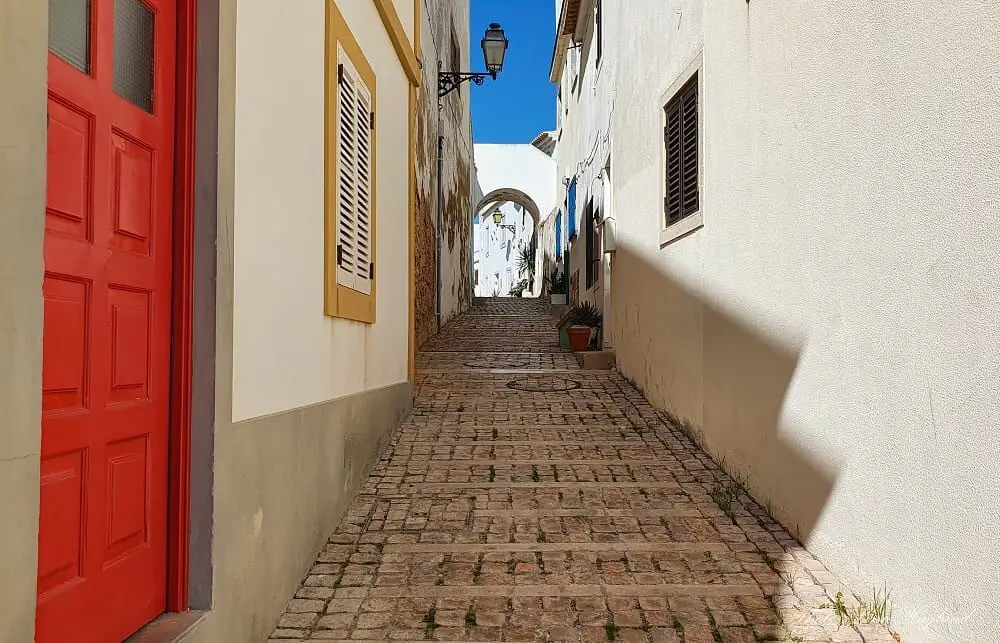 Animal tourism to avoid in Albufeira
Zoomarine
Zoomarine is one of the few places in Europe where you can swim with captive dolphins. And it horrifies me. Some of the issues that dolphins in captivity face are changes in their natural diet and depression. Yes, depression. Wild dolphins can swim up to 100 km daily – how are captive dolphins going to even get close to that in a tiny tank? Not to talk about having people physically hanging onto them?
This, together with being in an empty tank with no other natural marine life leads to depression, and according to Dolphin Project, many captive dolphins are fed antidepressant medication even after years of training. So don't let their cute smiling face fool you.
There is nothing ethical about having captive dolphins for people's amusement and it's not educational for children to learn that it's ok to keep them in captivity and interact with them.
If you want to see dolphins, take a dolphin safari and see them in the wild where they have the freedom to live as dolphins should! There is no better way to educate your children about wildlife than to see them in the wild. And in Algarve, you can.
You can read more about unethical animal tourism and marine life in this post. I have also written more on animal tourism in general here.
But now, let's get over to the fun stuff!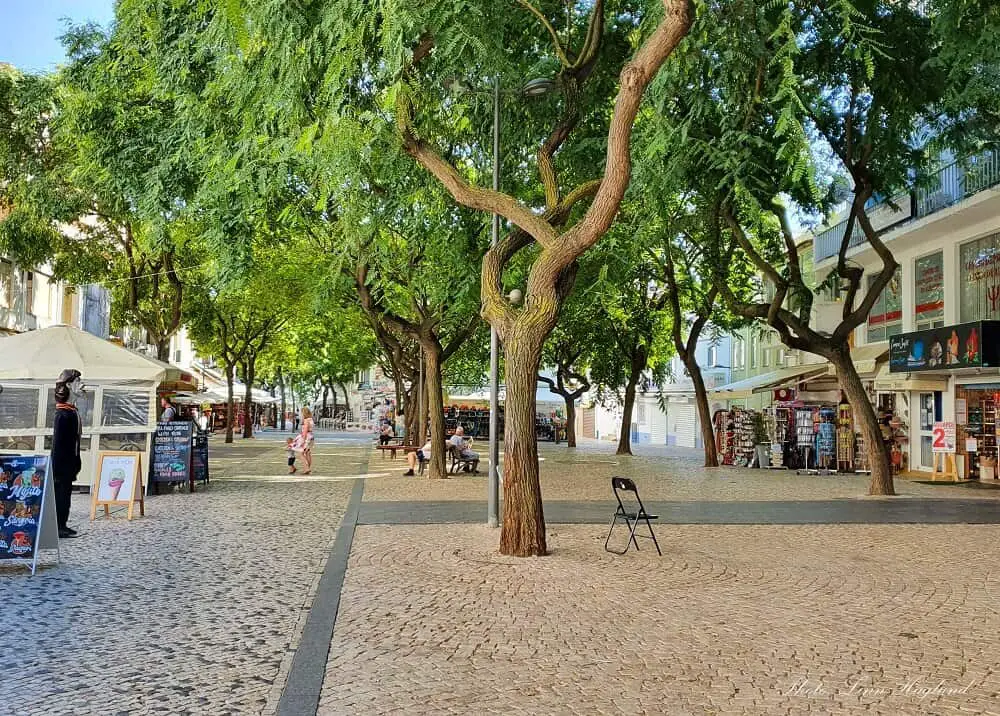 ---
BEFORE YOU TRAVEL MAKE SURE YOU HAVE GOOD TRAVEL INSURANCE!
READ MY WORLD NOMADS REVIEW HERE
---
Best things to do in Albufeira
Situated on one of Europe's most astounding coastlines, there is no end to what to do in Albufeira Portugal and it's the perfect place to base yourself for your Algarve itinerary. Here I'll go through the best things to do in Albufeira and its surroundings.
Get lost in Albufeira Old Town
While in Albufeira, things to do are endless, and wandering the streets of the quaint old town is definitely one of the musts! The town is built upon a cliff but climbs down all the way to the beach so make sure you wear good walking shoes when walking around. Luckily, there are plenty of bars to sit down for a rest and a cold drink.
There are also a lot of beautiful viewpoints with beach views from the top of the cliff. Walk down towards the shopping and bar streets for more action.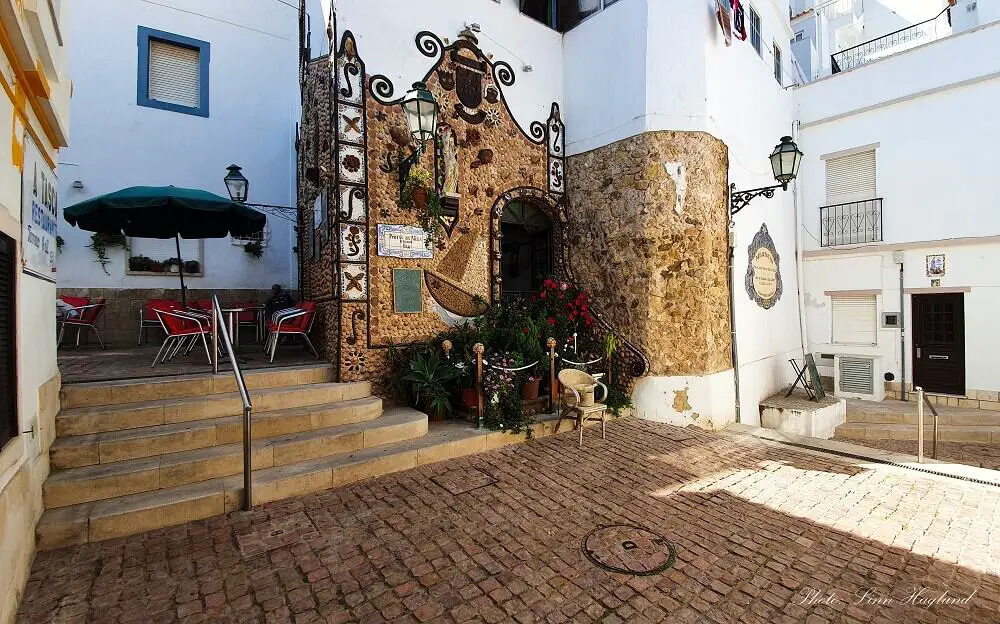 Visit Igreja Matriz
The late 18th-century neoclassical church, Igreja Matriz is one of the finest in the Algarve. Before it, there was another church here that was built in the same place as an earlier mosque.
The interior is unique with traditional blue tiles on the central nave and a statue of the patron saint, Nossa Senhora da Conceição from the early 16th century.
It's definitely worth a visit and you should include a visit to the Museum of Sacred Art which is in one of the side buildings.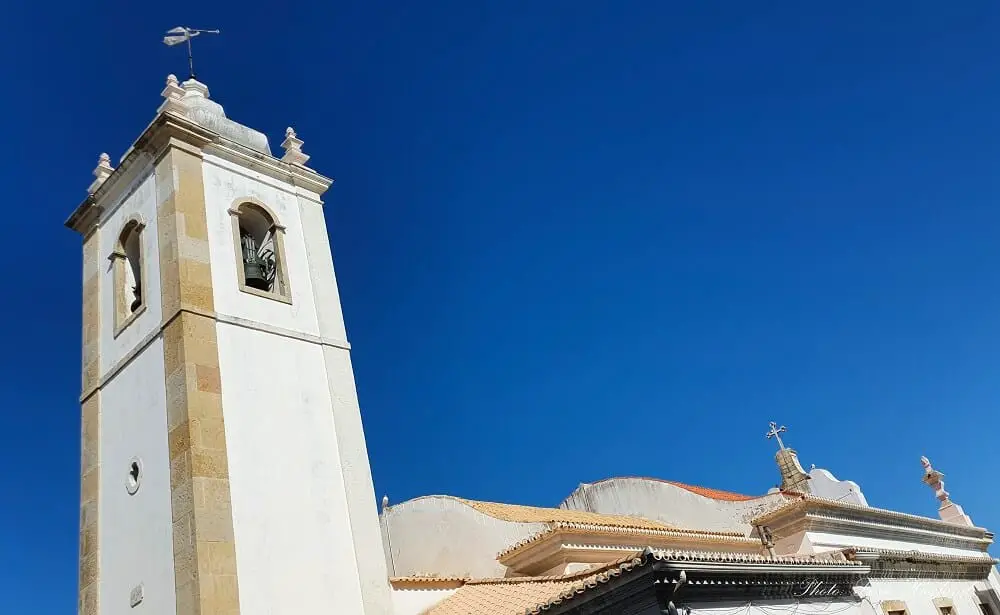 Chill at the beach
There are many stunning beaches in Albufeira. The main beach, Praia dos Pescadores, is situated right off the old town. Next to Praia do Pescadores you can walk through a tunnel to Praia do Tunel. On the other side, there is Praia da Oura. This is usually frequented by a younger crowd as it's close to the party strip in Albufeira.
The Albufeira beaches are mostly comfortable with sunbeds and bars available as well as several water activities for the adventurers.
But if you walk further up and down from the town, you'll find stunning beaches that are a bit more secluded. With a car you can enjoy breathtaking beaches like Praia da Marinha, which has been nominated the most beautiful beach in the world several times.
READ: The most beautiful beaches in Algarve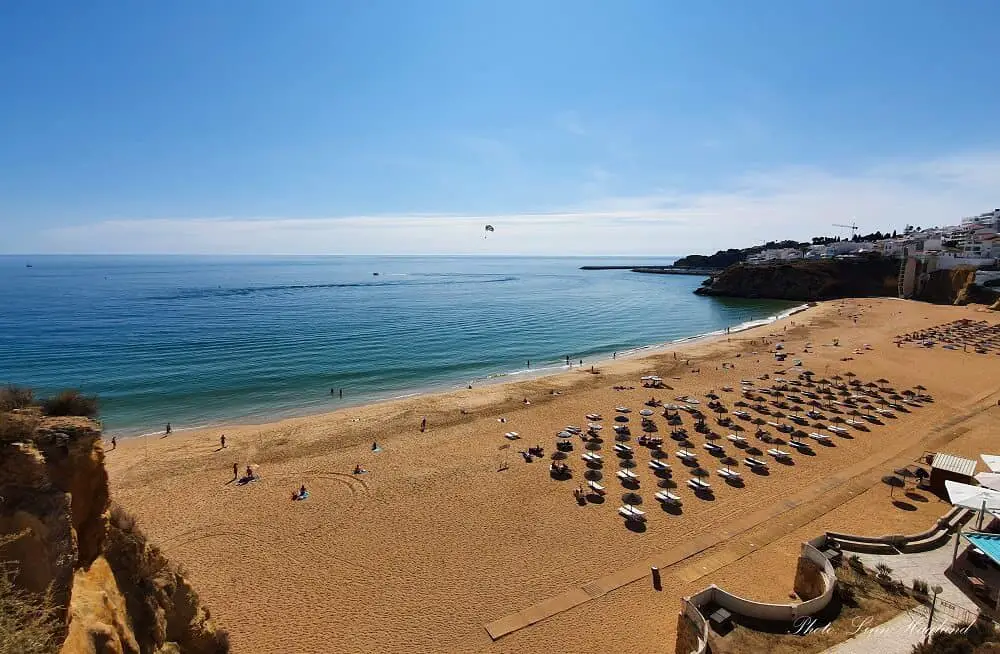 Take a boat trip
One of the best Albufeira activities are the many boat trips taking you to explore the nearby caves and cliffs from the ocean side. The whole coastline is jampacked with caves that you can only get to by boat so this is not only one of the best things to do in Albufeira but in the entire Algarve.
Make sure you bring lots of water and sunscreen (reef safe!) on your boat trip. And of course, never throw anything in the water. Going on smaller boats is usually better as there aren't that many tourists on it covering the views. There is no doubt this is one of the best things to do in the entire Algarve.
Where are you heading next?
Visit Benagil Cave
A boat trip to see Benagil Cave is a must and one of the most amazing things to do near Albufeira. The stunning cave is just off Benagil beach but can only be seen by boat, SUP, or kayak. Hiding a beach only lit up by a sinkhole in the cave ceiling, this has become one of the most popular attractions in Portugal.
The boats are not allowed to enter the cave to drop off people, so if you go by boat, you'll only be able to see the cave from the outside, but it's absolutely worth it.
However, if you have a car and can get to Benagil beach, preferably early in the morning, you can rent a standup paddleboard or a kayak and make the few meters from the beach to the cave. It's not recommended to swim as the waves can bring underwater currents and get pretty heavy.
Pro tip! If you travel to Algarve during winter, you'll avoid the worst crowds at the caves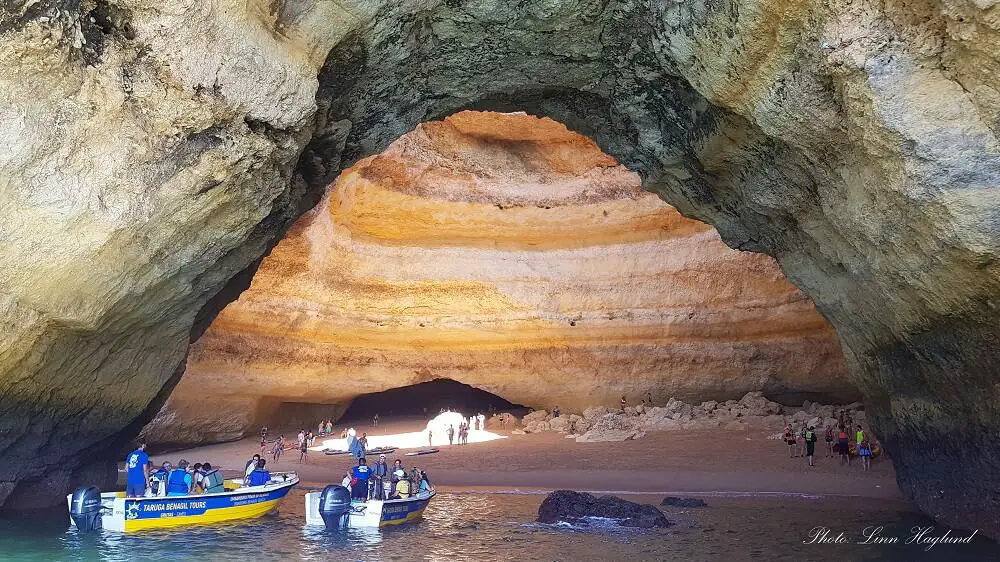 Miradouro do Pau Bandeira
The most popular viewpoint in Albufeira is situated on top of the escalators in Barrio do Pescadores and boasts stunning views of Albufeira Old Town and the beaches. There is also a lovely ice cream shop nearby, and who doesn't love ice cream with a view?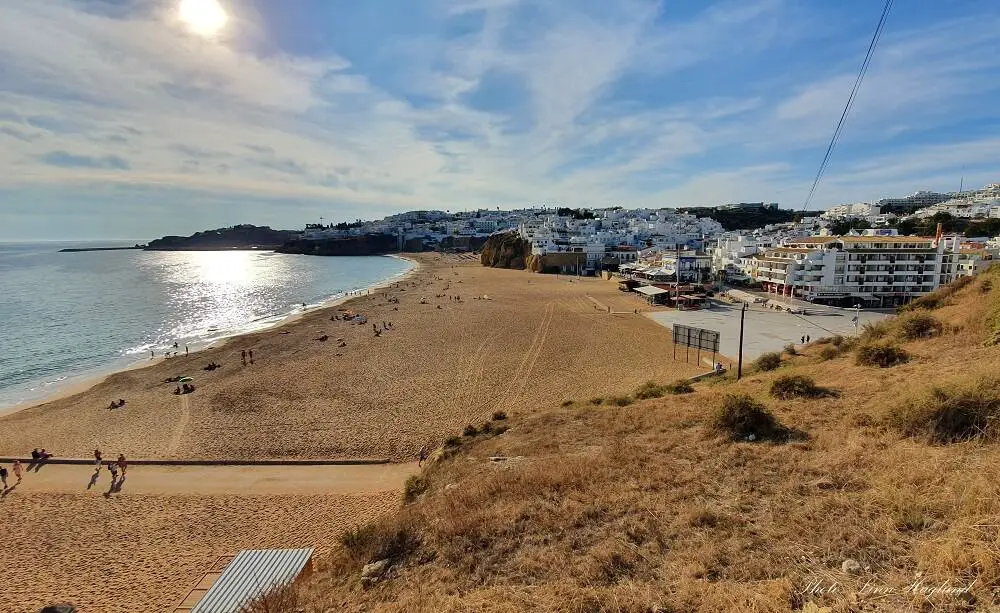 ---

YOU MIGHT ALSO LIKE: Top things to do in Lagos
---
Stand up paddleboarding and kayaking
One of the most rewarding ways to see the coast is through the many water sport activities you can do from Albufeira, like standup paddleboard (SUP) and kayaking. It gives you the tranquility of being out on the ocean as well as the freedom to stop at secluded beaches and see caves close up.
This is definitely one of my favorite activities in Albufeira. If you're not comfortable going alone or if it's your first time, you can go on a tour with a guide that can help you get started.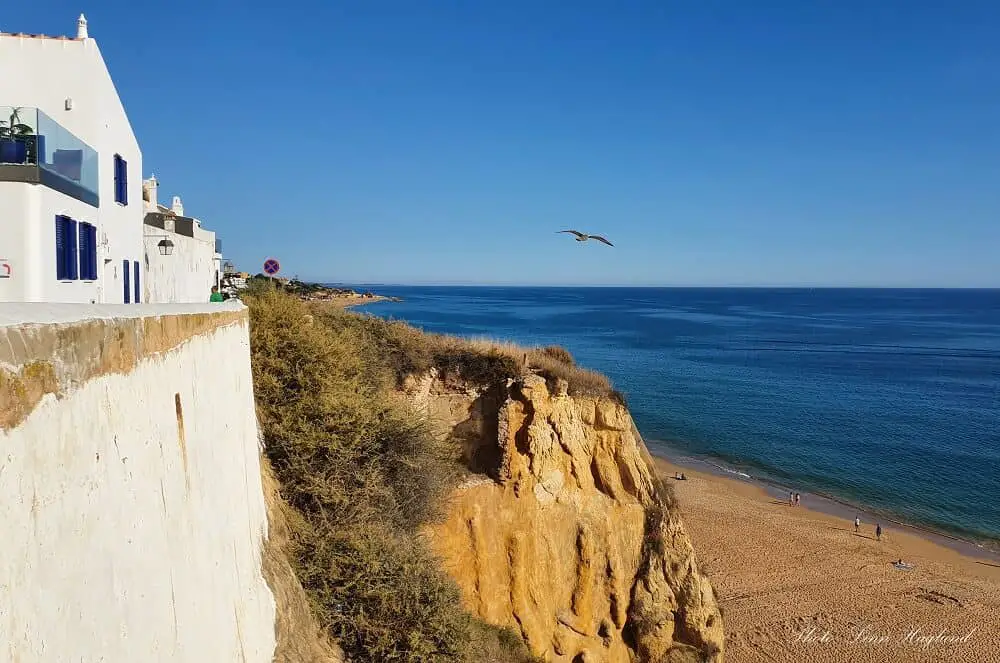 Visit Museu Municipal de Arqueologia de Albufeira
The archeological museum in Albufeira is definitely worth a visit for any history buffs. It houses a lot of interesting artifacts from Roman times, from Arab times, and other prehistoric objects.
It's a great way to do something different and to see another side of the Algarve.
The museum is open from Tuesday to Saturday. For updated opening hours see their website here.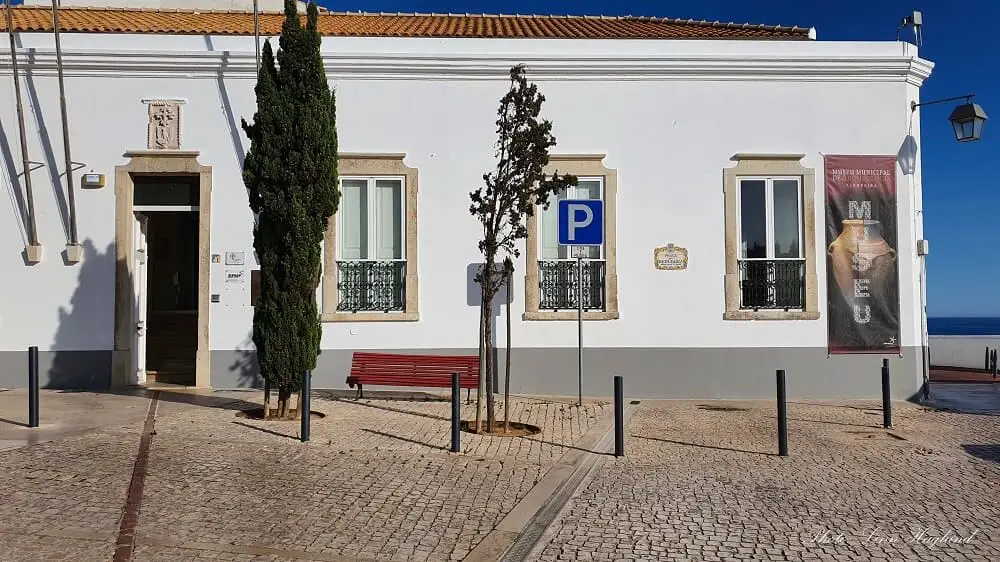 Igreja de São Sebastião
Igreja de São Sebastião is another whitewashed church worth a visit. This 18th-century church sits on Praça Miguel Bombarda where a 16th-century church used to be.
It's a blend of different architectural styles from Baroque to Manueline and there are statues inside dating back to the 16th century.
You can also visit the church's museum, Museu de Arte Sacra which showcases different pieces of religious art. This church is definitely one of the best Albufeira attractions that you should visit during your stay.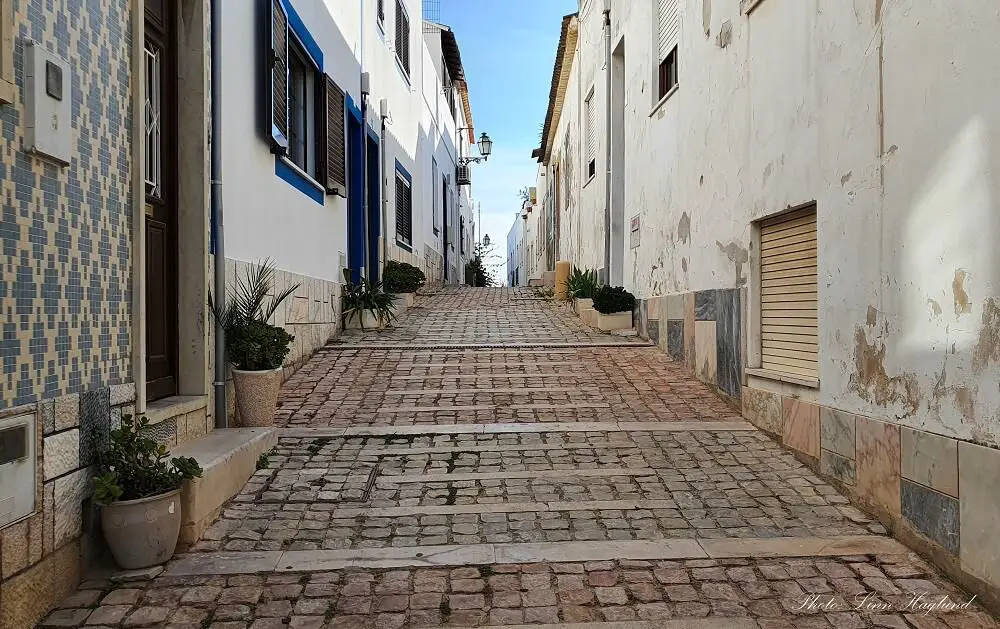 Castelo de Paderne
About 10 kilometers inland from Albufeira you can visit the ruins of Castelo de Paderne. The castle was built by the Moors in the 12th century and in the coming years, it was in the hands of both Christians and Moors through a bloody century.
But before today's ruins were built, this site was used by the Romans. You can even see an old Roman bridge not far from the castle.
Dolphin watching
One of the best things to do in Albufeira, Portugal, is to go dolphin watching! There are many different boat tours taking tourists out to look for these amazing animals and I tell you there's nothing more incredible than seeing these wonderful creatures playfully swim around the ocean. Wild and free.
This is a wonderful activity in Albufeira for the whole family and as opposed to the Zoomarine, this is an ethical way to see dolphins. Make sure you go with a company that respects the animals and report any unethical approaches.
Walk Seven Hanging Valleys Trail
If you like to walk, you should get on your hiking shoes and walk one of the best hikes in Portugal. It's only a half an hour drive from Albufeira to Marinha beach where you can start and end the Seven Hanging Valleys Trail.
The views are spectacular along this coastal cliff walk where you can stop at several beaches, sinkholes, and Alfanzina Lighthouse.
The hike takes you all the way to Algar Seco and Carvoeiro Boardwalk where you can explore caves and have something to eat before turning back the same way.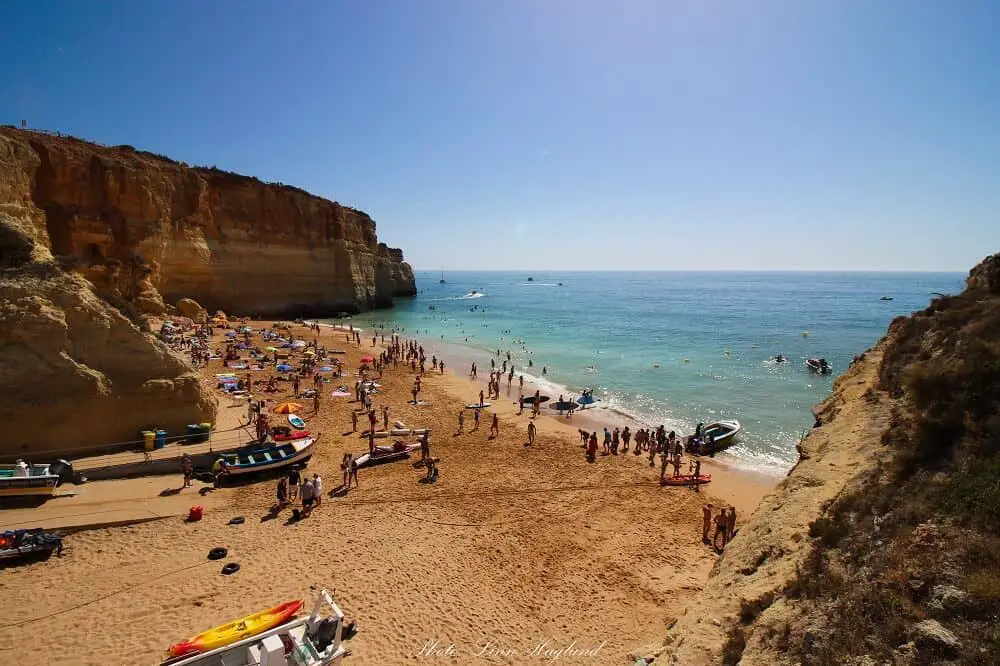 Visit Ponta da Piedade
Driving from Albufeira to Ponta da Piedade only takes 45 minutes and it's one of the most beautiful rock formations on the Algarve in my opinion. You can also take a boat trip to explore the cliffs and rock formations from the ocean, but it's really worth it to take the drive and wander around the area.
The short hike down the steps to the waterfront or just walking the boardwalk along the cliffs makes it a wonderful half-day out. If you want to expand the day with an unforgettable beach escapade, head to the nearby Camilo Beach, one of the most beautiful in the area.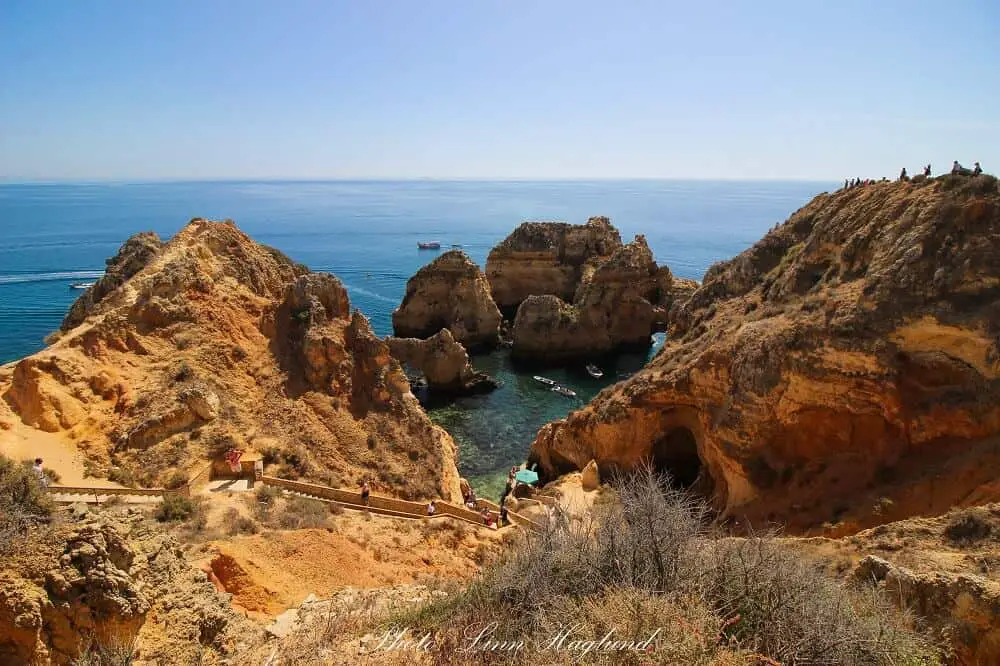 Reflections on what to do in Albufeira
There is no doubt there are plenty of fun things to see in Albufeira for adventure lovers. You get a good mix of culture, nature, and outdoor adventures so even though you're not a party person, Albufeira has a lot to offer.
Albufeira was actually the first place I visited in Portugal and has always been stuck with me as a charming place with icy cold water. It's become a place I visit frequently as I go on my Algarve road trips and I hope you enjoy it just as much as I do.
Pin it for later!