Winter in Algarve, Portugal, is highly underrated if you ask me. The sun-kissed southern part of Portugal is the perfect getaway when large parts of Europe experience cold and dark days. Untamed beaches, staggering cliffs, colorfully tiled fishing villages, and incredible surf are only some of the things you can expect from Algarve in winter.
If you're looking for European winter sun, Algarve is the place to be! While they wear mittens and warm coats in northern Europe, people are surfing and sunbathing in Algarve.
This doesn't mean you can have colder days and need to bring a jacket. I've been to Algarve during winter several times, as I love going off season – and it's just a short road trip from where I live.
So many times I've been asked if it's worth going on winter holidays in Algarve. The short answer is yes. But if you want to know more about what to expect from winter in the Algarve and what to do, read on! Here's everything you need to know and what to expect from a winter trip to this beautiful part of Europe.
Disclosure: This post may contain affiliate links. That means that if you make a purchase through one of those links, I will get a small commission at no extra cost to you. As an Amazon Associate, I earn from qualifying purchases.
Winter weather in the Algarve
So how is really the winter weather in the Algarve? There are more than 300 days a year of sun. So what about the remaining 65 days?
In the winter, Algarve gets a good mix of rain, wind, and calm sunny days. I do recommend that you check the weather forecast before you go, but I'll be honest.
If you get there at the right time, you can experience temperatures way up in their 20s (Celsius) which makes it perfect to chill by the pool and work that tan on a lazy day. You'll notice a huge difference in temperatures compared to Lisbon in winter.
That said, you should always be prepared for wind and rain. Think of it like a north European summer. But maybe with a bigger chance of nice weather. Yeah. Definitely a bigger chance of nicer weather.
Personally, I've never experienced other than sunny warm days during winter in the Algarve and I've been there pretty much every single month of the year. Mostly between December and February as I find it the perfect time of the year to explore without the crowds.
However, hot days don't mean that nights don't get cold. You can easily expect a drop in temperatures between 25 degrees Celsius in the daytime to 10 degrees at nighttime. While on colder days, you can experience 12-15 degrees in the daytime.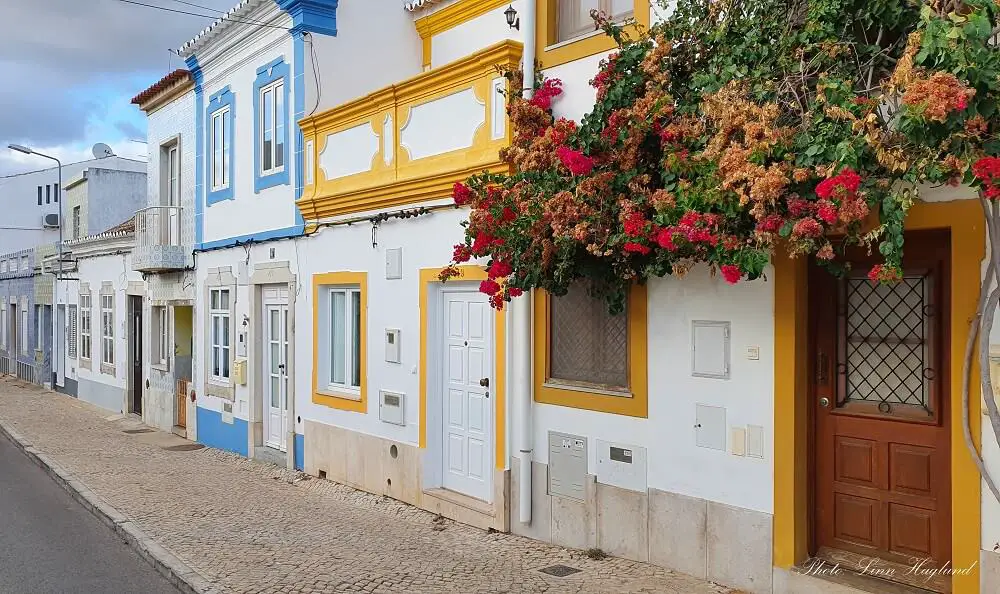 What to pack for Algarve winter holidays
Now you know that you can get warm days or rainy days during your Algarve winter holidays, so you'll need to pack for it all to be on the safe side.
A versatile jacket that protects against wind and rain is a good idea with a thick sweater to were under it on cold days. I also recommend a comfortable pair of hiking shoes or sneakers that you can use for both hiking and walking around town.
MAKE SURE YOU HAVE THE FOLLOWING WITH YOU TO ALGARVE IN WINTER:
Rain/wind jacket
Sweater
Scarf/beanie/gloves
Bikini/board shorts
Go Pro
Camera
Hiking shoes
Water bottle
Reasons to visit Algarve in the winter
There are plenty of reasons to go to Algarve in the winter and before we look at all the fun things to do there, I'm pretty sure these things will make you book your ticket straight away!
Winter sun
Most importantly, winter in the Algarve means a good portion of vitamin D! Especially if you come from colder and darker countries, winter holidays in the Algarve is a great escapade.
It feels so good to walk along sun kissed cliffs and have a cold beer on a sunny terrace in one of the cute Portuguese villages and towns.
If you need a break from doing things and just want to exist, you can just relax by the pool or on the beach with a good book and you might just forget that it's winter. Algarve does that to you on a warm sunny winter day.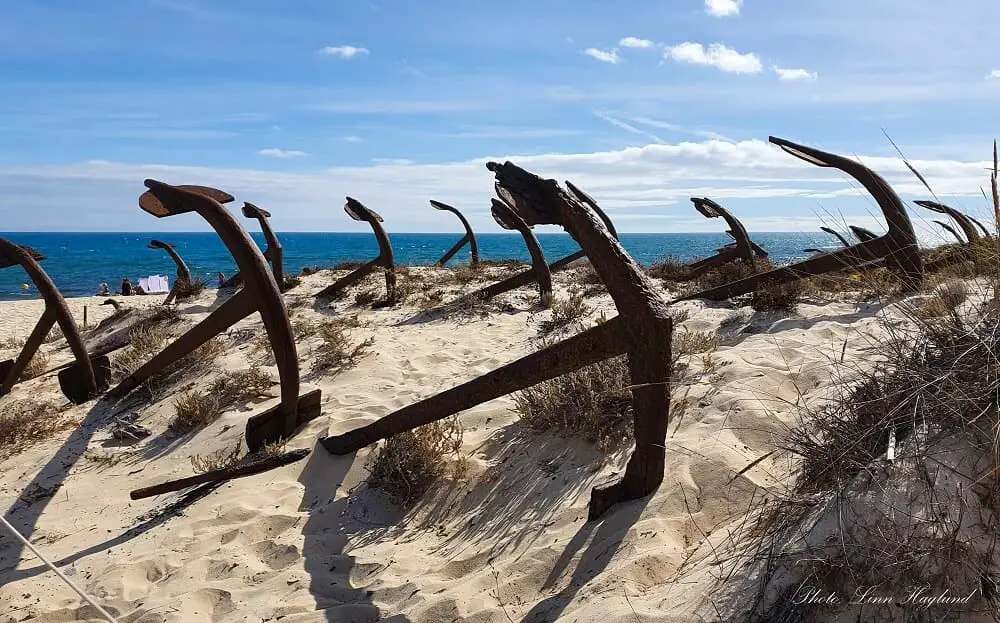 Off-season
Traveling off-season is one of the best things you can do for the local economy and for your own pleasure. Algarve is a popular Europe travel destination and has been prone to overtourism before the pandemic.
Avoiding the busiest periods of the year means that you can enjoy the most popular places in your own pace without the stress of other tourists trying to walk past or standing in a queue to get those photos that you want.
Imagine getting photos of long golden beaches without crowds of people being in your pictures. It's pretty awesome!
Cheaper accommodation
There's no secret that accommodation prices go down in the winter months, like most other summer destinations. Whether you want to travel on a budget or you want to take advantage of cheaper luxury hotels, I'm sure you'll be pleased with the saved money that you can use for other things.
Look for hotels in Algarve here.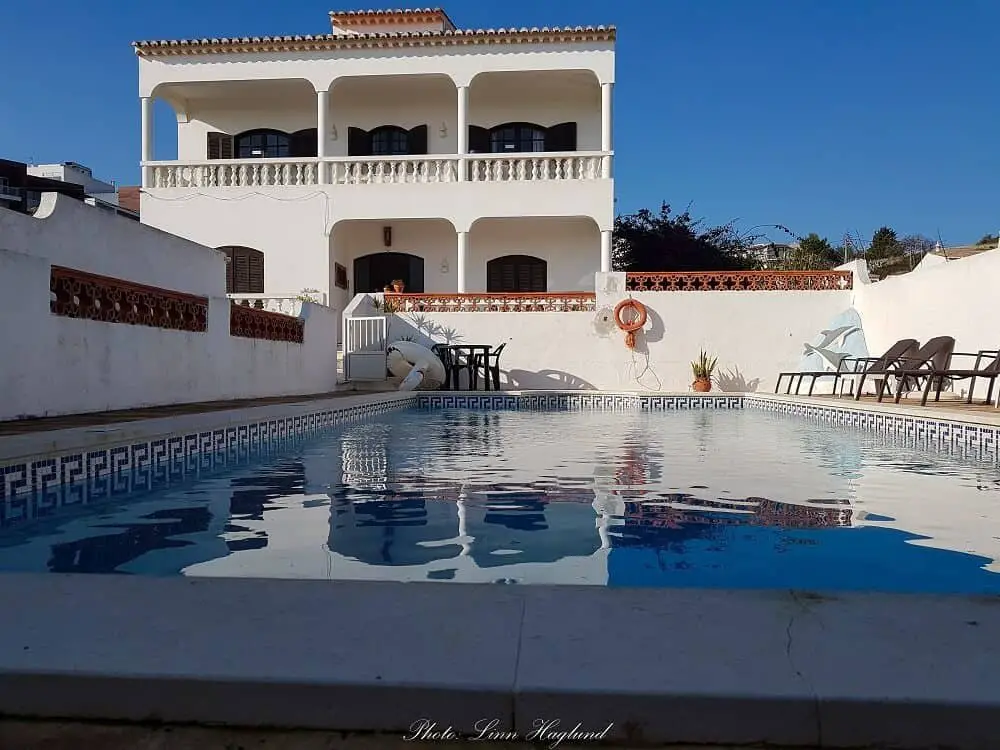 Cheaper flights
Even the flights to Portugal tend to be cheaper for the winter months. So why not book your flight to get some winter sun straight away?
Check out prices for flights here.
What to do in winter in Algarve
There are a lot of things to do during the winter months in Algarve, some of them are even so much more pleasant in winter than in the summer. Here are my favorite things to do in Algarve that are perfect for winter.
Explore the beaches
Personally, I think it's way too cold to go swimming in the Atlantic Ocean in winter. Yet I see heaps of tourists swimming during the winter, so I guess it all depends where you're from and what you're used to.
Swimming or not, you can explore some of the most astounding beaches in Algarve without the crowds of the summer months, which means you can really enjoy their beauty. I can't get enough of these beaches, but in summer… it's just too crowded!
Winter on the other hand, the beaches are perfect for sunbathing at day and peaceful walks at sunset.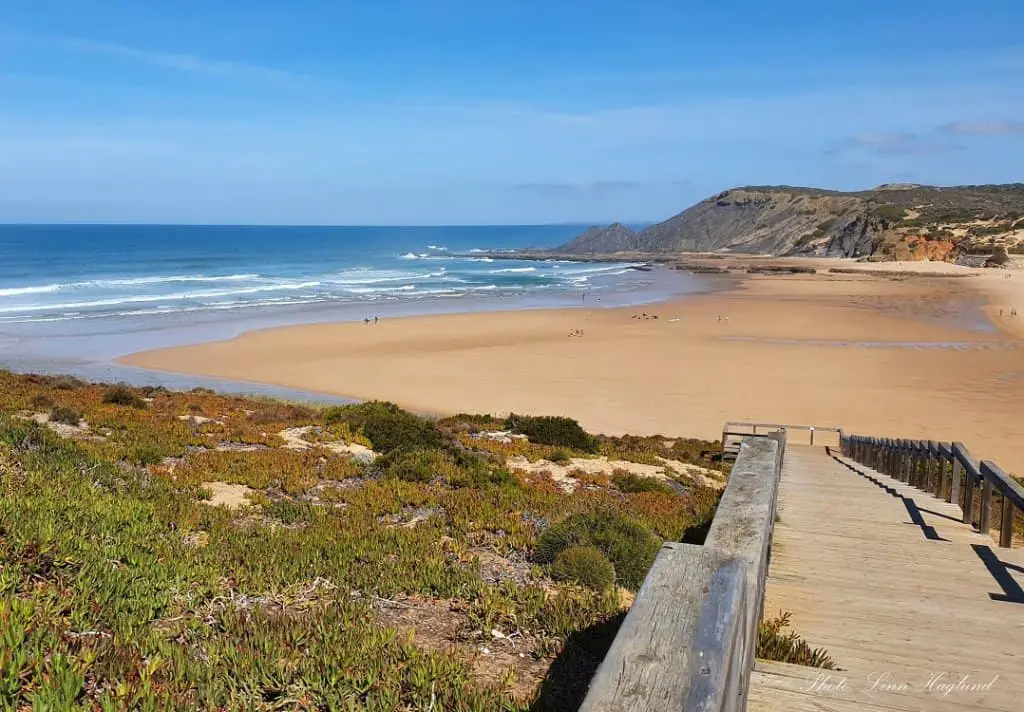 Learn how to surf
While it's cold in the water, there's nothing a wet suit can't fix combined with a fun water activity. Learning how to surf is the perfect activity to do all year round in southern Europe, so why not during your winter holidays in Algarve?
If you're worried about it being cold, I'll promise you that you'll soon warm up. The activity will keep your body warm and the fun you'll have when you start riding those first waves will make you forget about the fact that it's supposed to be cold in the water. If I can do it, so can you!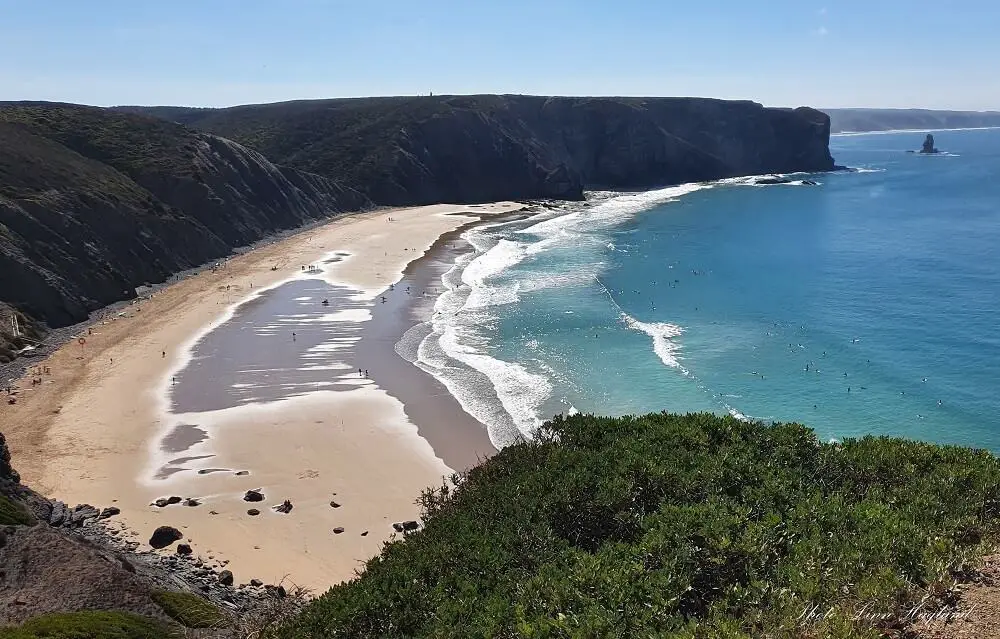 Visit the towns of Algarve
There are so many beautiful towns in Algarve and the good thing about going in winter, is that they aren't as crowded and you can actually get a feel about the day to day there.
Tavira and Olhão are both great places to base yourself for Ria Formosa Natural Park. You can walk over to Tavira Island and see the anchor Cemetery or go on a boat trip to see the other islands.
Albufeira has plenty of things to do even in winter. The party scene might be calmer, but you'll enjoy the enchanting town, restaurants, views, and water activities.
Finally, Lagos is probably my favorite town. It's proximity to Ponta da Piedade and Sagres is gold!
Go on a road trip
An Algarve road trip is one of the best things to do in Algarve in winter. You can not only get to all toe towns and villages without relying on public transport (which can be a pain at times,) but you can also visit all those offbeat places that are hard to get to otherwise.
The perfect road trip goes from the east to the west (or the opposite way,) including Ria Formosa Natural Park where I recommend that you at least stop by Tavira, Santa Luzia, and Olhão for the best access to the islands but also can enjoy these beautiful villages and towns.
If you fly into Algarve, you should also spend a couple of days in Faro at the beginning or end of your road trip. Albufeira, Lagos, and Sagres are other must-stops. Mainly for the natural scenes they are close to.
The Sagres Cliffs are astounding and so is the Sagres Fort. But my favorite natural rock formations around Lagos is Ponta da Piedade. You could take a boat trip to see it from the sea side too.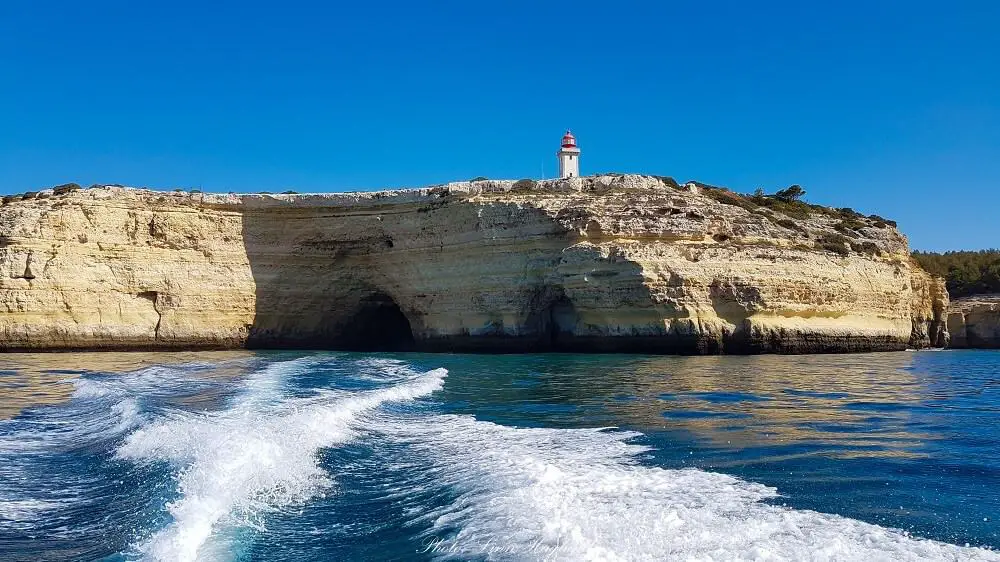 Hiking
The Algarve coast boasts some of the most astounding hikes in Portugal and I'll tell you that the winter months is the best time to explore them due to the temperature.
Walk the bewildering cliffs of Sagres or the captivating Seven Hanging Valleys Trail from Carvoeiro to Praia da Marinha beach. On the way you can stop by Benagil beach and either rent a kayak or a SUP to see the breathtaking Benagil Cave, one of the most famous sea caves in Europe – which is jam-packed in the summer.
If you want a shorter and easier hike, try one of the board walks like the one from Ponta da Piedade or Carvoeiro Boardwalk, where you can explore the splendid natural pool, caves, and rock formations at Algar Seco.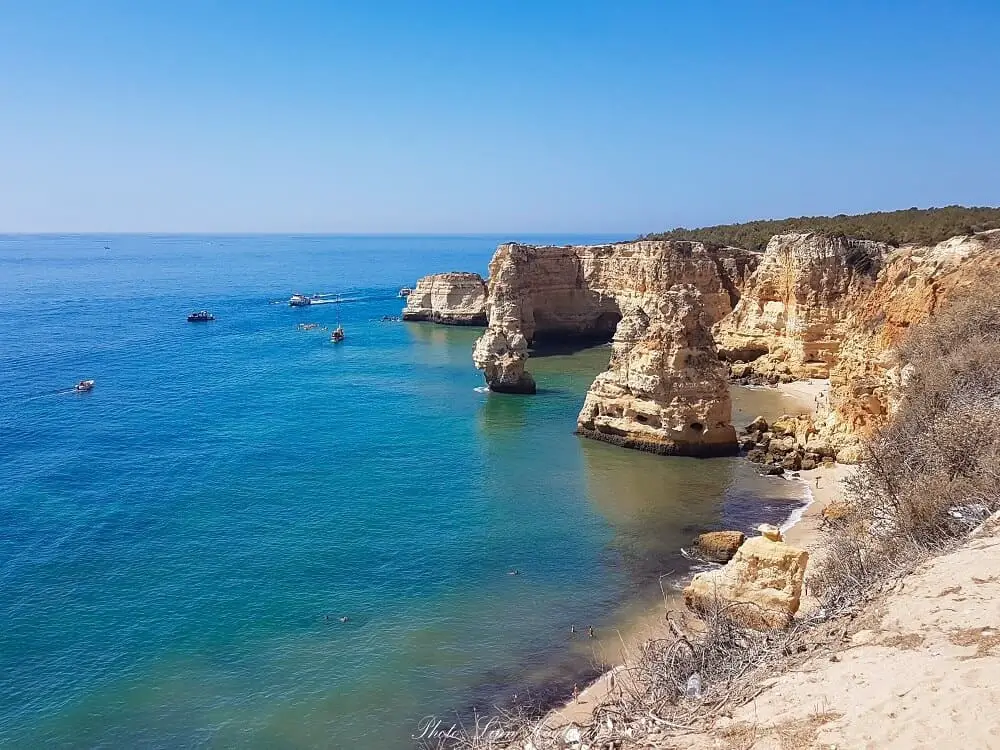 Go on boat trips
For taking in winter sun, Algarve is the perfect place to go on boat trips. There's such an impressive coastline to discover from the sea with an insane number of sea caves.
There are several boat trips leaving from the coastal towns like Albufeira and Lagos and anywhere in between that will take you to to see the mesmerizing Benagil Cave, but also to the hundreds of other lesser-known caves that are only seen from the water.
There are also numerous hidden beaches and the rock formations along the coast are breathtaking. Discover the twin arches and Ponta da Piedade from the boat, it's so much fun!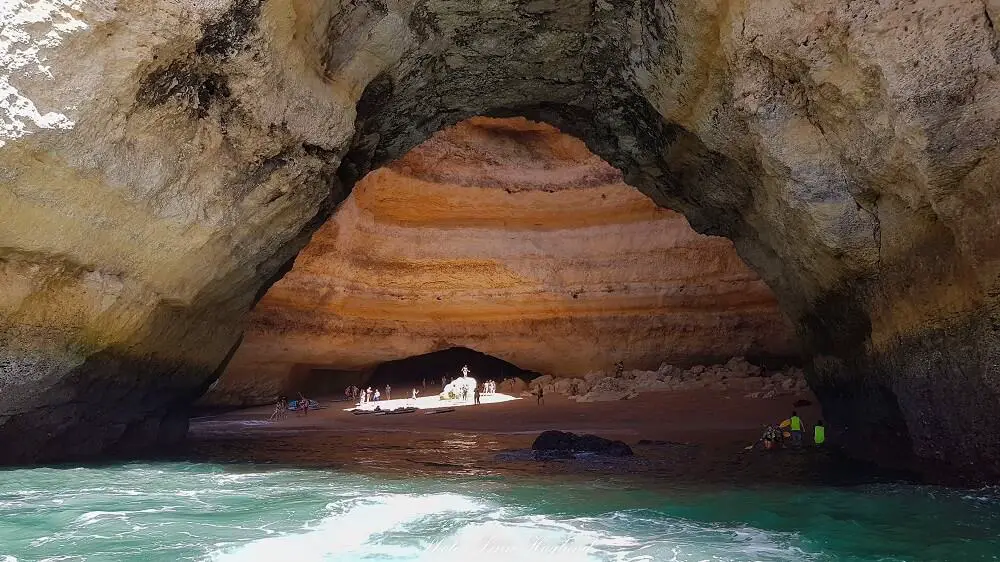 Reflections on winter in Algarve, Portugal
Winter in Portugal's Algarve coast is without a doubt worth the trip! This captivating corner of Portugal is truly wonderful and seeing it in winter gives you the time to really soak it in without the stress of the crowds.
If you're still not convinced winter in the Algarve is worth it, I don't know what will. But for me, this is the best time of the year to travel Portugal's south. Make sure you always practice responsible tourism and leave no trace.
Happy travels!