Thailand's dynamic capital city is a stopover for many Southeast Asia destinations and is usually the starting point of most travelers' Thailand itinerary.
Even travelers, like myself, who normally don't like big messy cities at all, see themselves forced to visit. I've been through Bangkok several times this way, spending one or two nights there. And guess what?
I started liking Bangkok after a few visits. There are so many things to do in Bangkok and slowly, as I stayed in different parts of the city, I kept discovering little corners that appealed to me and made me feel like I was in a smaller town.
You might not love big cities, but Bangkok has its own way of pulling you in and making you feel comfortable, so just give it a chance. Or three. Due to the many attractions, the river, and the vibrant atmosphere, the city is actually a good place to visit in Thailand for first timers.
Here are the best things to do in Bangkok for first-timers, but before you go, make sure you're up to date with Thailand sustainable tourism practices.
Disclosure: This post may contain affiliate links. That means that if you make a purchase through one of those links, I will get a small commission at no extra cost to you. As an Amazon Associate, I earn from qualifying purchases.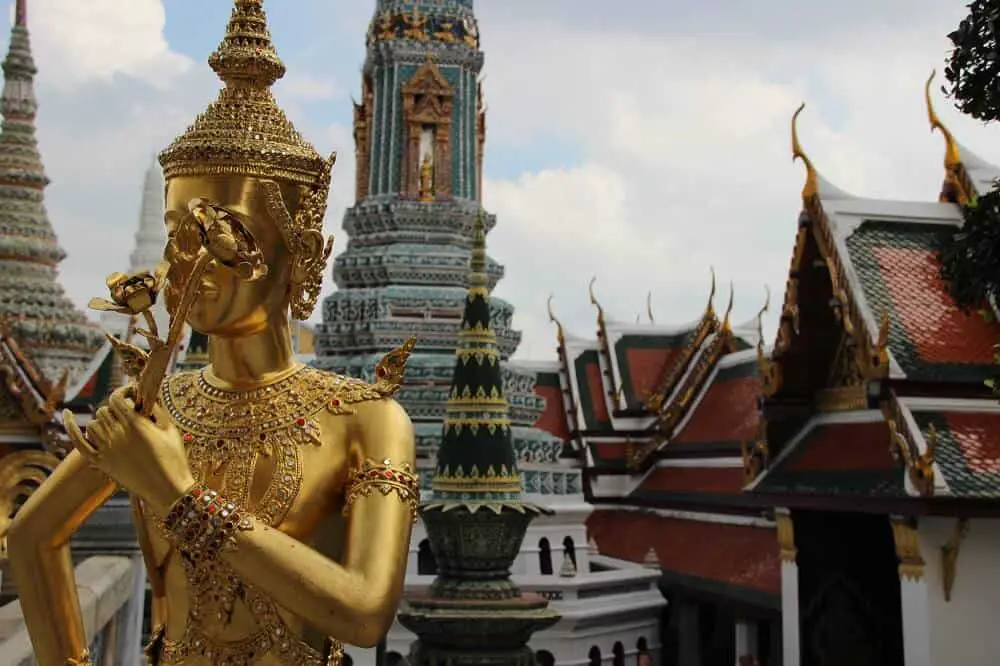 MORE FROM THAILAND
Best things to do in Bangkok
If this is your first time in Bangkok, you have to see the main attractions in the city. So here are the most important Bangkok attractions that you can't miss.
YOU MIGHT ALSO LIKE: The ultimate Asia bucket list
The Grand Palace
The Grand Palace is one of the most popular places to visit in Bangkok and one of the most visited Asia landmarks and one of the top bucket list Thailand sites.
Built in 1782, it housed the King of Siam. Later on, the Thai King lived there with his royal court and government for over 150 years, until 1925.
Within the Grand Palace complex, you also find the 14th Century Emerald Buddha which is safely situated in the Wat Phra Kaew temple. Though no kings live in the palace today, it's still used for ceremonies.
Golden stupas, enormous guardian statues, and colorful details, and wall paintings leave millions of visitors in awe. There is no reason for leaving Bangkok without visiting the Grand Palace. To avoid the worst crowds, try to go as early as you can in the morning.
Opening hours: 08:30-16:30 (last entry at 15:30)
Entry fee: 500 Baths
Dress code: Men must wear long pants and women must cover their knees and shoulders, though clothes can not be "revealing" in any way. Flip-flops are also not allowed.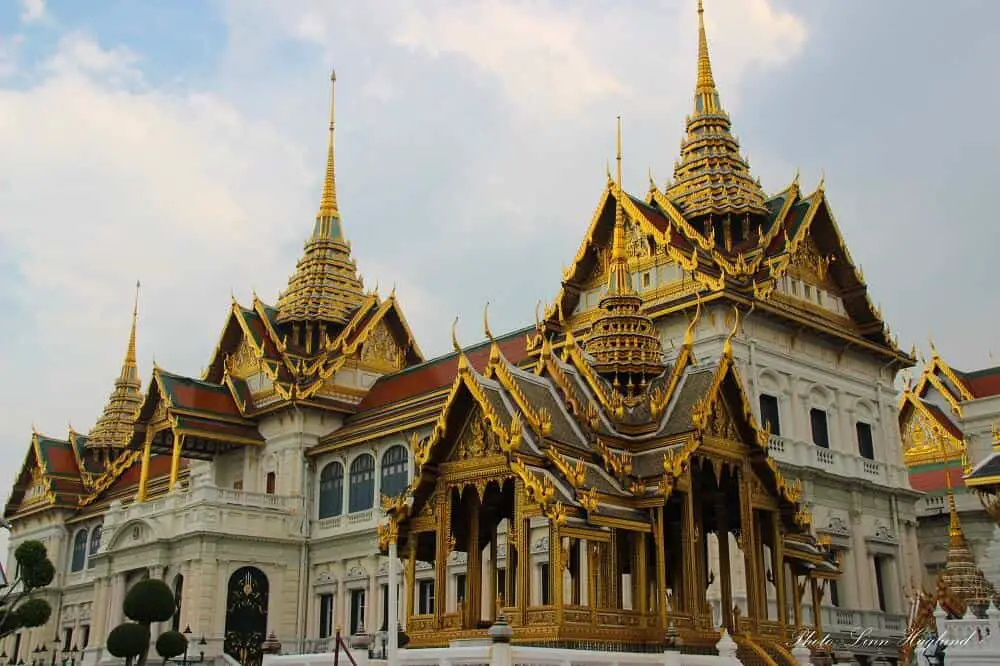 Wat Arun
Wat Arun, also known as the Temple of Dawn, is in my opinion the most beautiful temple in Bangkok. Situated on the side of the river, the colorful prang towers elegantly 82 meters above you when you reach it by boat. The river taxi stops right by the entrance which makes it easy to access.
Climbing the steep, narrow steps is a challenge – and even more so walking down – but the views are absolutely worth it. And the site in itself is fascinating with the small, colorful porcelain mosaics covering the structure.
At night, between 19:00 and 22:00 you can enjoy an incredible light show, and the main stupa is lit up with green light.
Opening hours: 08:00-18:00
Entry fee: 50 Baths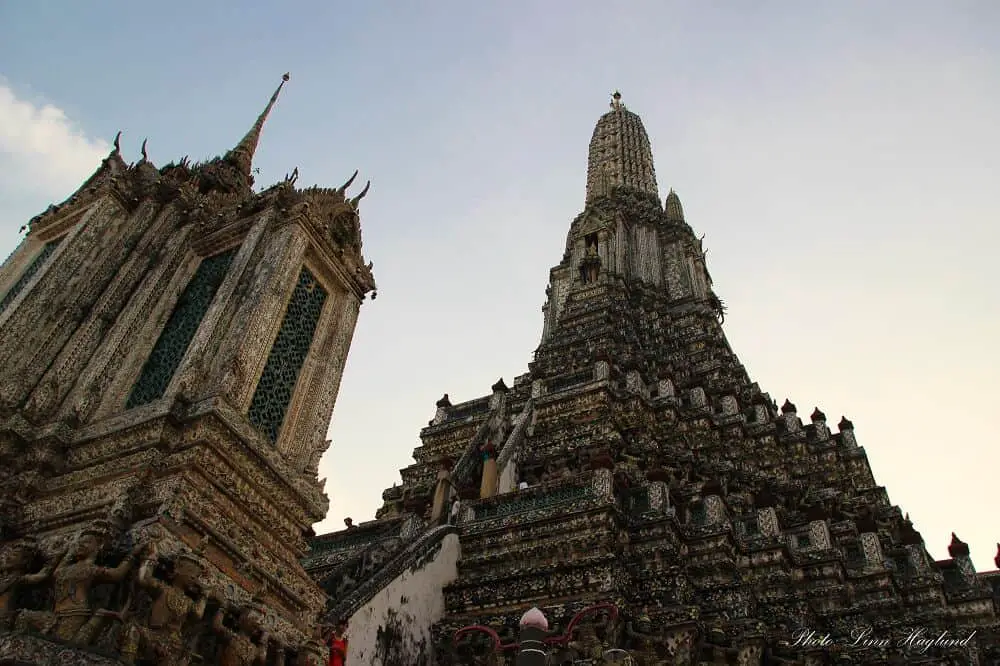 Wat Pho and the Reclining Buddha
Not far from the Grand Palace, you find one of Thailand's oldest Buddhist temples. It's known for the largest reclining Buddha in Bangkok with its 15 meters in height and 45 meters in length. The feet are carefully decorated with pearls.
You can buy 108 coins for about 20 baths and put one coin in each of the 108 bowls in the room of the reclining Buddha for good luck.
Besides the gigantic Buddha, you can admire 394 golden Buddhas in the Buddha Gallery and yet another Buddha statue guarding King Rama I's ashes.
Opening hours: 08:00-18:30
Entry fee: 200 Baths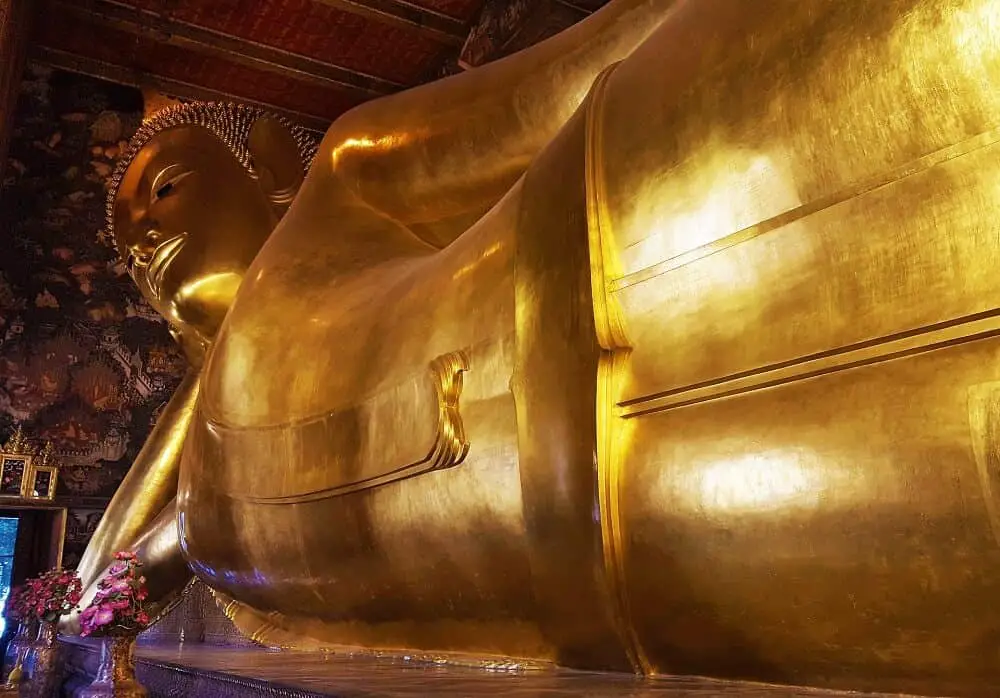 Take a river cruise
One of the best things to do in Bangkok is to go on a river cruise. This is a great way to see the temples from the water, but also to get some relaxation from the busy city and popular attractions.
If you want to explore the river as a local, just grab a river taxi from any of the stops and hop off where you feel like it. This is the cheapest way to cruise the river, but not the most comfortable.
There are plenty of river cruises with dinner where you can float into the sunset and see the lit-up temples along the river.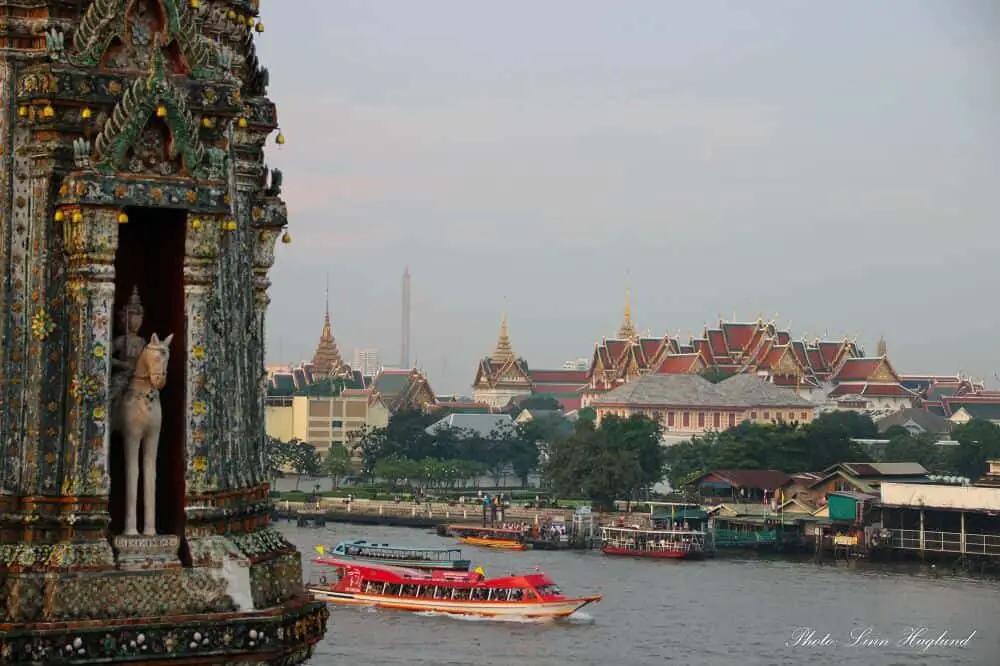 Khao San Road
Khao San Road used to be the hottest backpacker area for cheap accommodation. However, with the years, it's become super touristy thus prices have risen.
But this street is still enchanting to go for a drink in the evening or to have dinner in one of the many restaurants. I really enjoyed this part of Bangkok. Even though it's touristy, it's still got a cool vibe to it.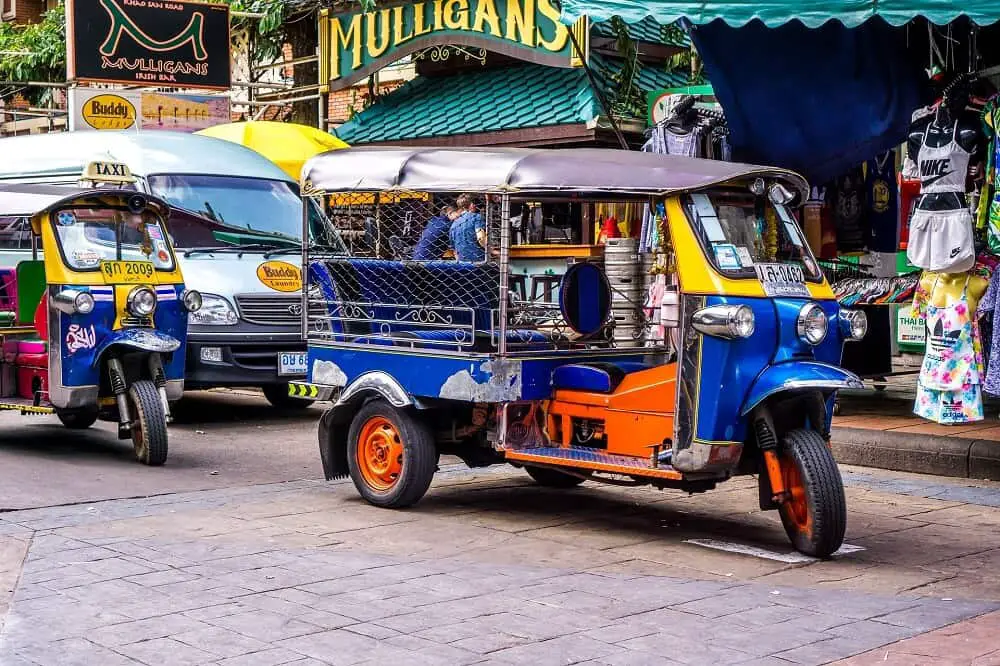 Take a swan boat in the Lumphini Park
The Lumphini Park is the largest green space in Bangkok with a length of 2.5 kilometers and a great place to unwind after a busy day in the city.
Rent a swan boat and paddle in the calm lake into the sunset and you'll soon forget you're in one of the biggest cities in Southeast Asia. This is a perfect family activity, or maybe you want to go on a romantic paddle with your loved one?
There are many activities in Lumphini Park like playgrounds, a basketball field, and even free aerobic sessions!
Opening hours: 11:00-19:00 (last entry 18:00)
Entry fee: 200 Bath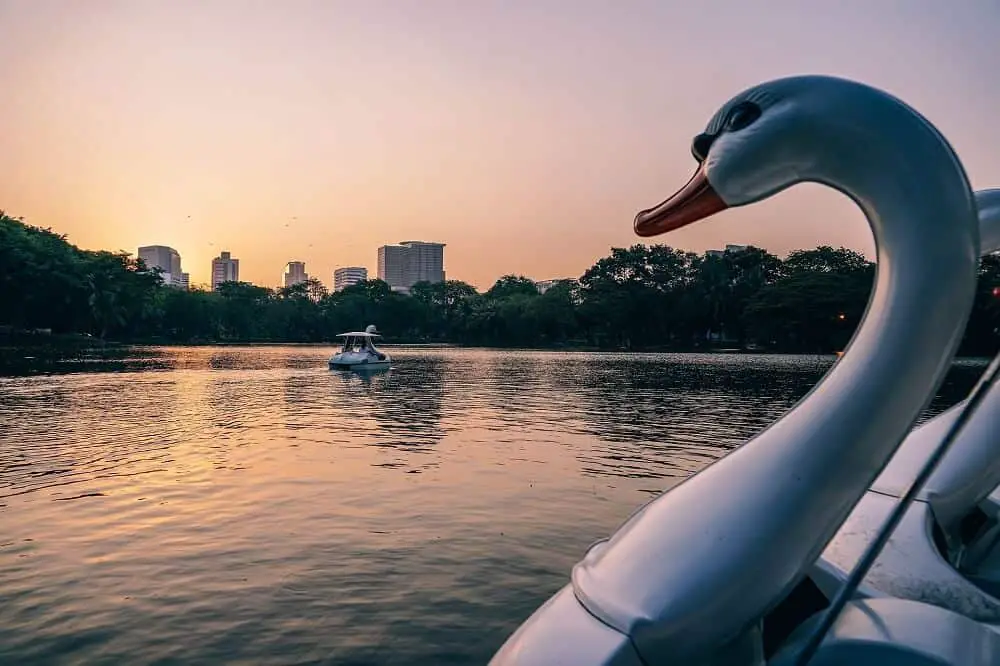 Go to a floating market
There are many floating markets in and around Bangkok and one of the best things to do in Bangkok is to soak up the vibrant, colorful chaos that these floating markets represent. It's a unique place to go shopping for local handicrafts or taste local food.
The largest and most popular in the country is the Damnoen Saduak Floating Market about 90 minutes by bus. But there are more to choose from and the biggest isn't necessarily the better when it comes to Thailand.
Head to the Wat Sai Floating Market, dating back 150 years when Chinese traders started trading there. Now it offers a unique fusion of both Chinese and Thai cultures. This market is only a 10-minute drive from the city center and you can easily get there by Tuc-Tuc. Note that Wat Sai Floating Market is closed on Mondays.
If you want to get off the beaten path, head to bang Nampheung Floating Market outside the city where you'll meet fewer tourists and get a more authentic experience. This market is only open Saturdays and Sundays, though.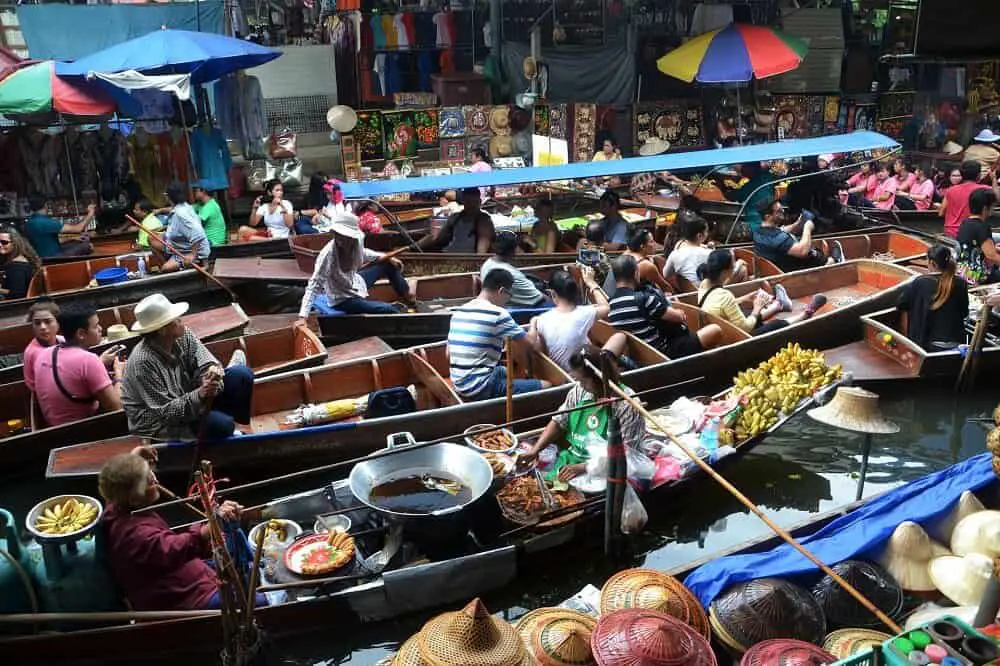 Jim Thomson's House
In the 1950s and 1960s, the American businessman and art collector Jim Thompson helped revitalize the silk industry in Thailand and he was a co-founder of Thai Silk Company. In 1967, on a trip to Cameron Highlands in Malaysia, he disappeared and was never found.
Jim Thompson is also known as the "Silk King". His house in Bangkok is the perfect place to learn more about the history of Thai Silk Company and Jim Thompson's intriguing story.
The house was built with parts brought to Bangkok from wooden houses in Ayutthaya.
Enjoy a Thai Massage
One of the absolute best things to do in Bangkok, especially if you've recently been on a long-haul flight or been backpacking for weeks before landing in Bangkok, is to get a Thai Massage.
You pretty much can't say that you've been to Bangkok without having a massage. There are so many places to choose from and I still haven't been to a massage place in Bangkok that hasn't delivered.
It's typically a lot of bending and turning that can feel awkward at first, but it leaves your body amazing afterward. An alternative is a foot massage if you're on a strict budget.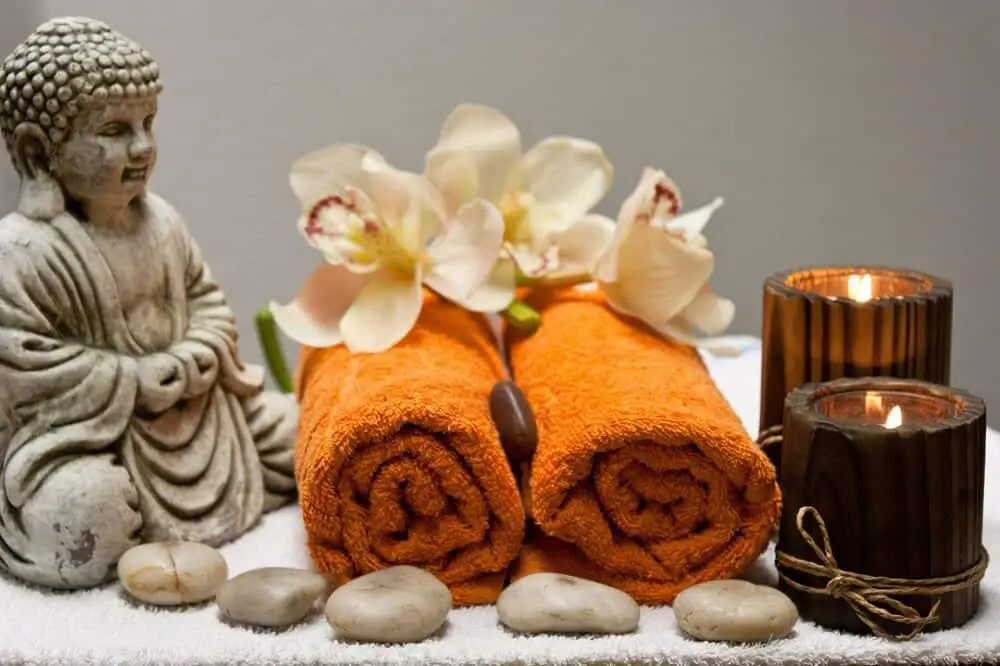 Visit Wat Saket
Another one of the astounding temples of Bangkok that you have to visit is Wat Saket, dating back to the Ayutthaya period. The temple was renovated and renamed by King Rama I when Bangkok became the new capital. Also known as the Golden Mount, it's one of the best places to visit in Bangkok.
318 steps take you slowly up to the golden stupa where you also can gaze at the panoramic view of Bangkok's rooftops. The walk up to the Buddhist temple is lined with beautiful Buddha statues, plants, and streams.
Opening hours: 07:30-19:00
Entry fee: 50 Bath
Top tip! Go for sunset when Bangkok's skyline goes beautifully pink.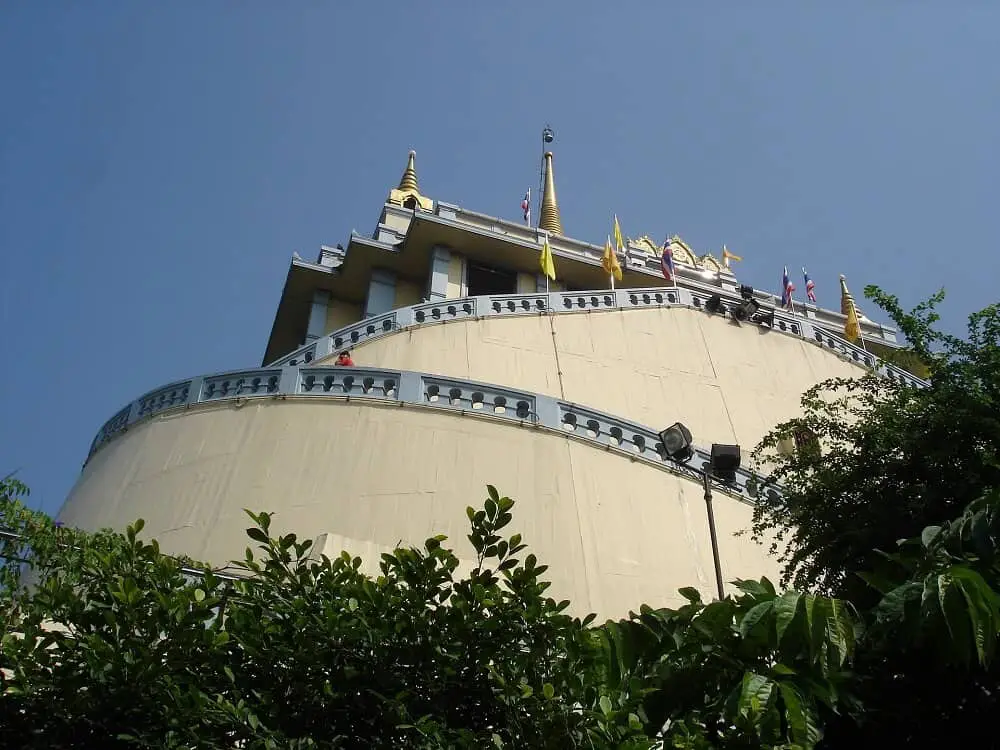 Reflections on things to do in Bangkok
When in Bangkok, things to do are endless, no doubt. But if you only have a day or two in the city, these things are definitely a good start to seeing the top attractions in Bangkok.
But if you have more than 2 days in Bangkok, you should take your time and soak in the atmosphere in each corner of the city that you visit. It'll soon set a spell on you.