Known for its spectacular beaches, vibrant nightlife, and rich cultural heritage, there are things to do in Phuket Thailand for every kind of traveler.
Phuket makes a great base for island hopping in Thailand as it's located in easy access to nearby islands like the popular Koh Phi Phi as well as some of Thailand's hidden gems like Koh Yao Yai.
Finding the best things to do in Phuket Thailand is the most exciting part of travel planning, though it can feel daunting with all the options available. But don't worry, you're in the right place!
And after living there for three years, I had the chance to sort out all the best things to do on this small tropical island.
From lounging on idyllic beaches to exploring intriguing temples, offbeat markets, and exquisite local cuisine, this guide has you covered.
So strap in, and let's enjoy a fun time checking out what to do in Phuket!
Disclosure: This post may contain affiliate links. That means that if you make a purchase through one of those links, I will get a small commission at no extra cost to you.
This is a guest post written by Kyle from the travel blog The Travel Runner
MORE FROM THAILAND
How to be an ethical traveler in Phuket
As travelers, we hold the key to ensuring our experiences don't just serve our goals but also respect the places we're visiting.
Sustainable tourism in Thailand is important to keep in mind when traveling to Phuket. Areas are suffering from overtourism and nature is feeling the pressure, in some places more than others.
And not to mention, one of the most popular things to do in Phuket is surprisingly still elephant rides (I can't emphasize enough how important it is to say no to this activity!)
Here's how you can make a positive impact with ethical travel in Phuket:
Respect Local Customs: Dive into the local culture, but remember to respect it. This means dressing modestly when visiting temples/religious sites and understanding local etiquette.
Support Local Businesses: Choose local. Whether it's dining, shopping, or tours, supporting local businesses ensures your contributions sustain the community.
Eco-friendly Choices: Opt for accommodations and activities that prioritize sustainability. Simple actions like refusing single-use plastics, conserving water, and sticking to marked trails during hikes make a difference.
Wildlife Interactions: Phuket has different wildlife experiences, but not all are ethical. Avoid venues that exploit animals for entertainment. Instead, look for responsible wildlife tours that prioritize animal welfare and conservation. Read this post about ethical animal tourism for more information. Here is a post about animal rides specifically.
Volunteer Wisely: If you're looking to volunteer, research thoroughly. Ensure the organization is reputable and genuinely benefits the local community or environment.
Remember, ethical travel isn't just a series of checkboxes; it's an ongoing commitment to being a fantastic guest.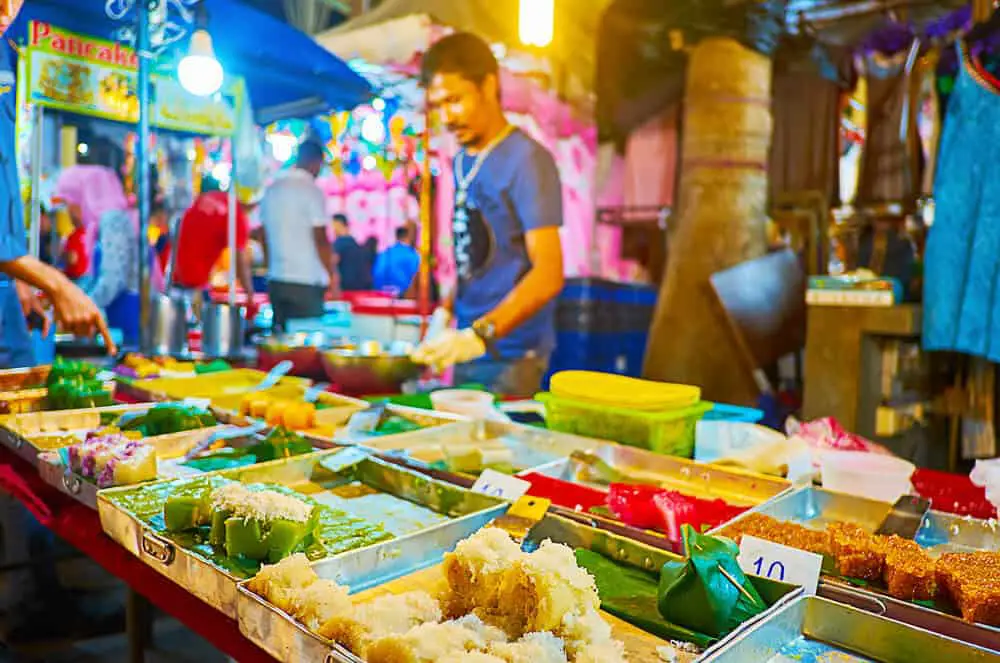 Best things to do in Phuket, Thailand
Explore the best beaches
First up on your Phuket things to do list? Explore the beaches, of course. They're not just spots to visit; they're experiences.
Head to the west coast of Phuket for the best beaches. Places like Kata, Patong, Bang Tao, and Surin are must-visits. Here's why:
Patong Beach: It's all about excitement here, with thrilling water sports and lively beach bars. Don't miss the famous Bangla Road nearby.
Surin Beach: Ideal for a chill day. The clear water and quiet atmosphere are perfect for unwinding.
Kata Beach: A surfer's paradise. The waves are fantastic, and the vibe is energetic, making it one of the best activities in Phuket for water lovers.
Bang Tao Beach: A bit of everything, from relaxed beach huts to buzzing nightclubs, and it's one of the longest beaches in Phuket.
But these are just starters. There are plenty more beaches in Phuket to explore, so get out there and find your personal favorite.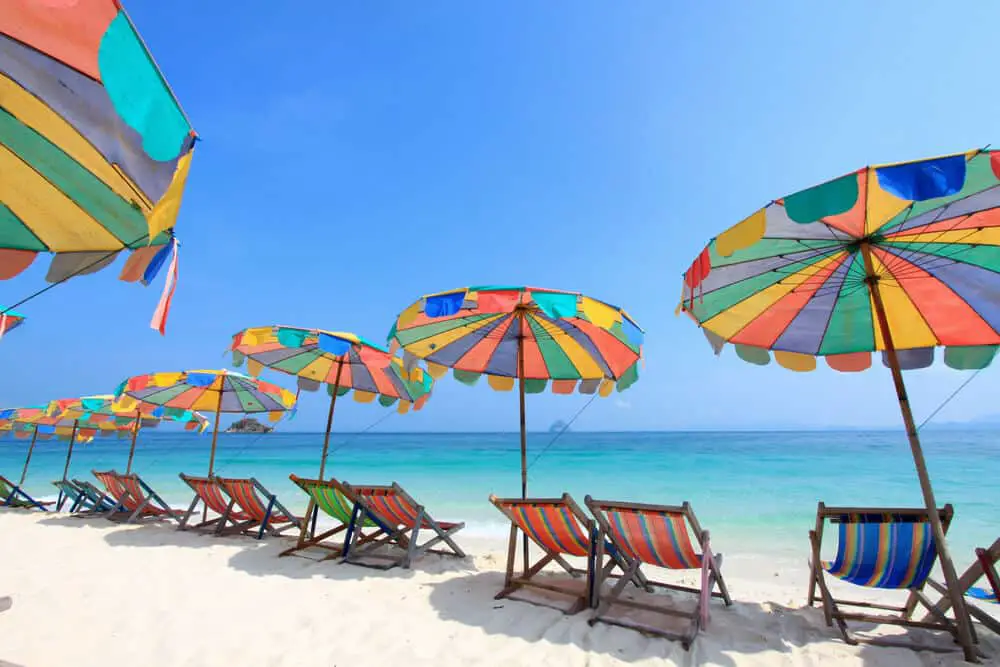 Visit Big Buddha of Phuket
Let me introduce you to the Big Buddha of Phuket. This huge statue is 45 meters tall and shines bright with white Burmese marble and probably the most prominent attraction in Phuket. You can see it from many places on Phuket island.
Your trip starts with a drive up to Nakkerd Hill. The ride up the hill has cool views and some places to grab a bite. If you're up for it, take a motorbike taxi to the top; it's a fun ride!
Once at the top, you'll see Big Buddha up close and get to see a lot of Phuket from high up. It's a great spot for photos!
You can also help with building the Big Buddha. You can buy a brick with a small donation and write your name on it. It's a cool way to leave your mark.
Besides the Big Buddha, there's a hall with many Buddha statues. If you time it right, you can see monks at prayer time, giving you a real taste of Thai culture. Just remember, it's a respectful place, so dress properly, covering your shoulders and knees.
Not far from the entrance to Nakkerd Hill, you can visit Wat Chalong. It's another peaceful spot to learn more about Thai culture. (We'll talk about this place in a bit!)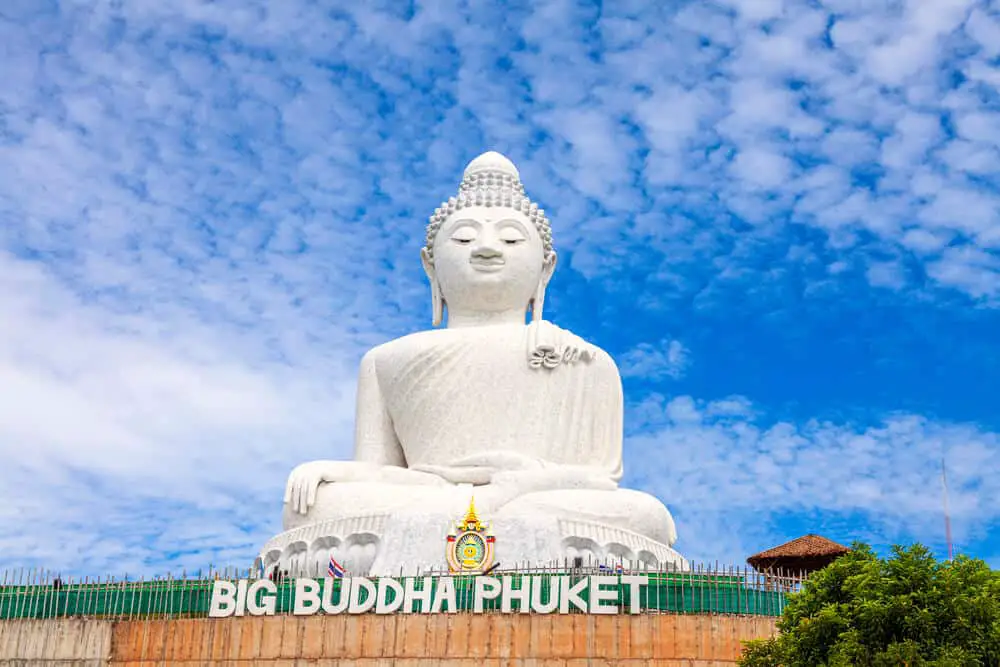 Explore the viewpoints around Phuket
Phuket isn't just about beaches and night markets; it's also a haven for eye-catching viewpoints.
Over my three years there, I made it a mission to find the top spots where the horizon stretches endlessly and I highly recommend it as one of the top activities in Phuket Thailand.
Each sunset painted the sky with colors that photos just don't do justice to. Here are some spots where you can soak up Phuket's natural beauty:
Windmill Viewpoint: Nestled in a quiet spot, this viewpoint has a functional windmill set against the backdrop of the endless ocean dotted with yachts. It's a serene place to catch the sunset while enjoying a picnic.
Samet Nangshe Viewpoint: This is your go-to place for witnessing a spellbinding sunrise. The early morning light over Phang Nga Bay's emerald waters is a sight to behold.
Karon Viewpoint: Known for offering a sweeping view of three west coast beaches. The juxtaposition of blue seas, white sands, and green foliage creates a picturesque scene.
Visiting these viewpoints adds a refreshing touch to your Phuket adventure, letting you see the island from high above. It's a different way to appreciate the beauty that surrounds Phuket.
And yes, your camera will be working overtime capturing these stunning vistas!
These scenic spots provide a tranquil escape from the bustling streets below. So, when you plan your trip to Phuket, spare some time to visit these viewpoints and etch Phuket's natural splendor in your memory.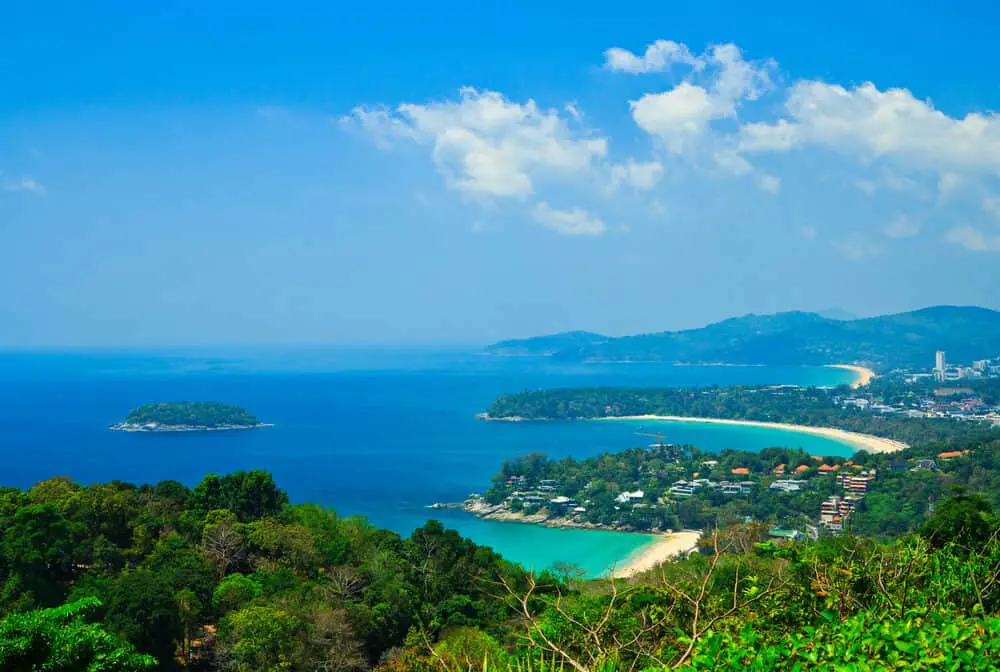 Take part in the Vegetarian Festival in Phuket Town
If you're in Phuket between September and October, don't miss the Vegetarian Festival in Phuket Town. 
It's not just about vegetarian food but a week-long cultural celebration known locally as the "Nine Emperor Gods Festival" making it one of the best Phuket activities to attend. 
Here's a quick rundown:
Food Galore: Explore a variety of vegetarian dishes and embrace the vegetarian lifestyle for a week.
Lively Processions: Enjoy the energetic processions that fill the streets with color and excitement.
Spiritual Ceremonies: Experience the serene ceremonies that are a core part of this festival.
The festival dates follow the Lunar Calendar, so check the exact dates when planning your visit during September and October. 
This event offers a deep dive into Phuket's cultural scene, making it a must-do activity in Phuket for those keen on exploring Thailand's rich traditions beyond the beaches of Phuket.
So, mark your calendar, head to Phuket Town, mingle with the locals, and immerse yourself in the festivities.
It's a chance to see Phuket from a new cultural lens.
Take a day trip to Koh Phi Phi
No visit to Phuket is complete without a trip to the sun-soaked, turquoise-watered paradise that is Koh Phi Phi.
Why visit, you ask?
There are plenty of things to do in Koh Phi Phi. First, it's home to the white sand of Maya Bay — where Leonardo DiCaprio's movie 'The Beach' was filmed.
And, after visiting, you'll probably be tempted to pull a Leo and never leave. Remember to take care while visiting as it had to be closed for years due to overtourism.
Fun fact: Koh Phi Phi is actually a group of six islands, with Phi Phi Don and Phi Phi Leh being the most famous.
Next, climb aboard a longtail boat and let it whisk you away to Monkey Beach. I'm sure this may come as a surprise, but this beach has tons of monkeys on it!
An interesting thing we learned is that the monkeys only visit during the day. They'll escape to the town in the evenings to find food.
Sadly, the food people leave behind often makes them reliant on it. So, don't feed the monkeys; keep a safe distance!
End your day with a climb up to Phi Phi viewpoint as the sun begins to set.
You'll see why this trip is worth every tan line with a panoramic view of the islands kissed by the warm, golden hues.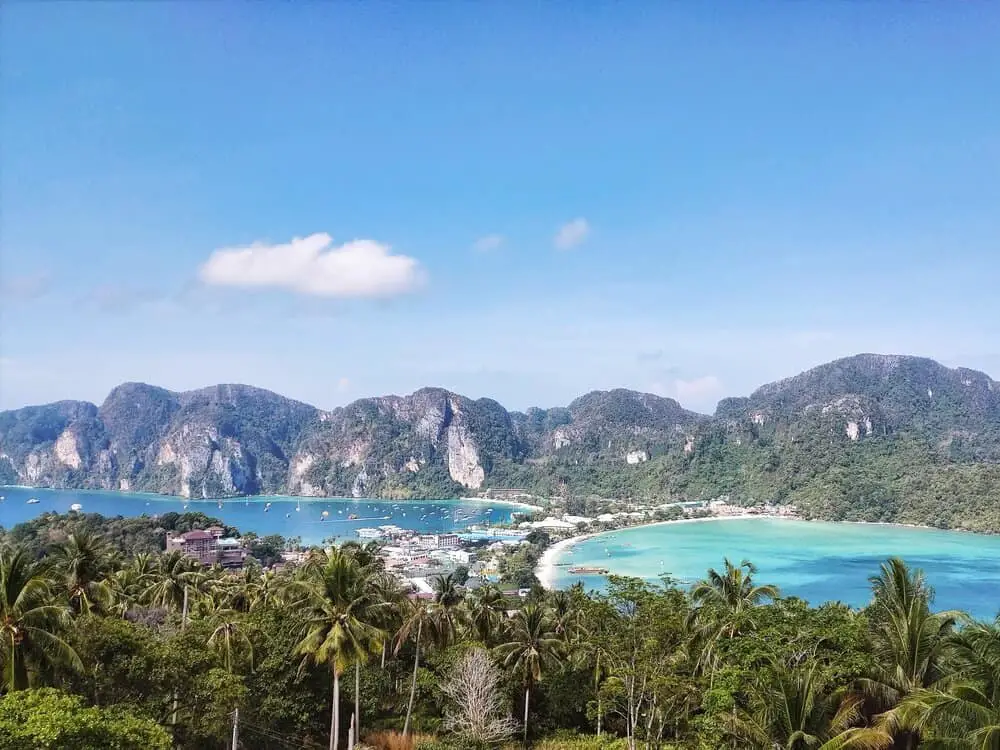 Shop at one of the many night markets in Phuket
When the sun dips in Phuket, the night markets wake up, brimming with local crafts, genuine Thai dishes, and vibrant shows.
So if you wonder what to do in Phuket at night, get set to bargain for deals and dive into delicious street food. Or, sit back and enjoy the bustling atmosphere!
Here's a peek at some must-visit markets:
Chillva Market: A top pick for its cool ambiance, live bands, and various stalls showcasing food, fashion, and art. It's a Phuket attraction that's popular with everyone.
Phuket Weekend Market: This renowned market offers an eclectic mix — from vintage finds and fresh fruits to artsy pieces and tech gadgets. It's also where I first (and last!) tasted a bug.
Boat Avenue Market: A regular spot for me during my Phuket stay. Expect a touristy crowd, live tunes, a vast food selection, and loads of souvenirs.
Every part of Phuket has its nearby night market, a key element for a true Thai adventure. Don't miss out!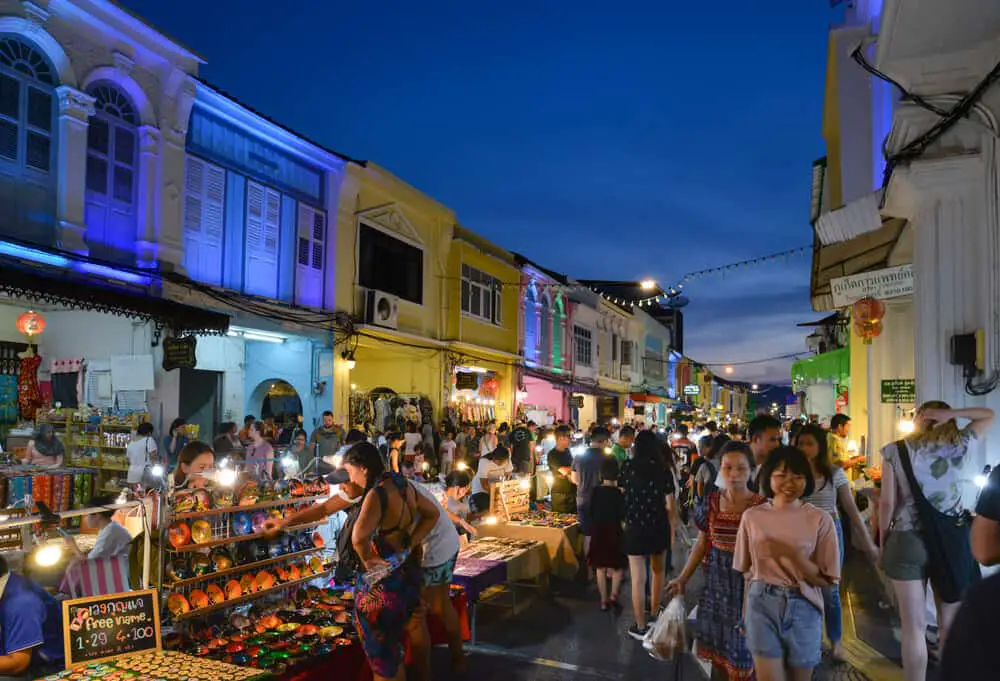 Explore Wat Chalong
Wat Chalong is Phuket's most significant temple, contrasting the island's usual hustle.
Here, the atmosphere is steeped in spirituality, from chanting prayers to the sight of monks and shimmering golden statues.
Don't miss the Grand Pagoda, home to a revered Buddha relic and walls covered in detailed murals — a genuine immersion into Thai Buddhism.
For a different perspective, head up the pagoda. 
The view from the top is a Phuket must-see, showcasing landmarks like the distant Big Buddha. While Wat Chalong might not be a nightlife hotspot, its cultural aspect offers an unforgettable experience.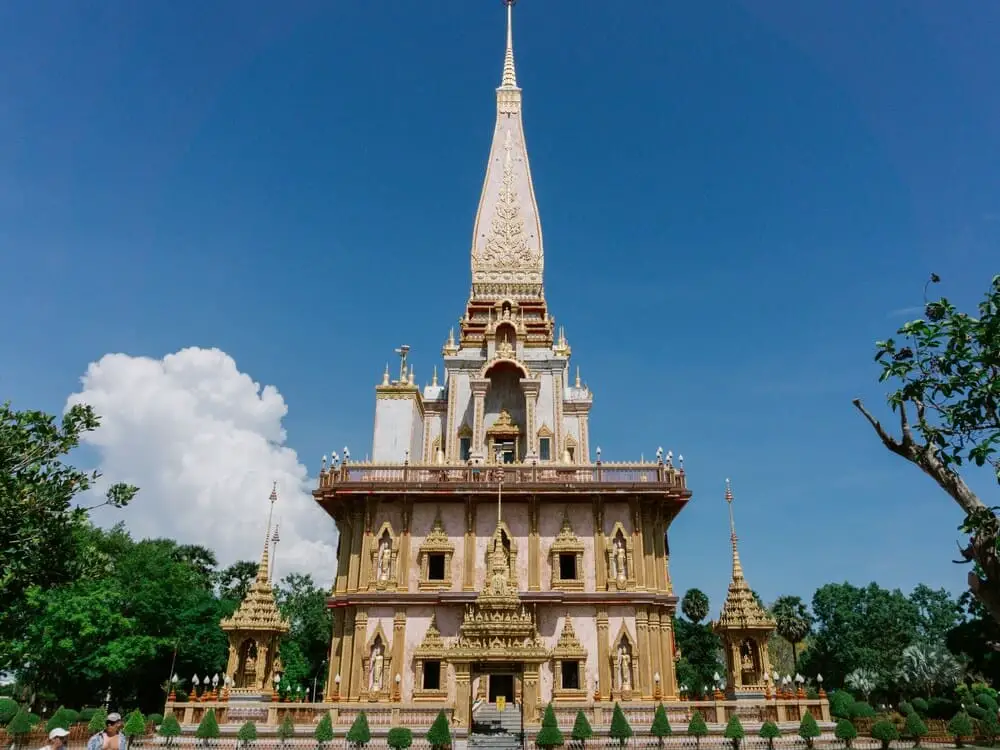 Take a hike through Phuket's jungles
This island isn't just for seaside relaxation and vibrant nightlife — it's a hiker's hidden jackpot.
We're talking about immersing yourself in nature, far from the comfort of your beach towel and cocktail. To truly grasp Phuket, you've got to explore its rich, green forest and meet its local wildlife up close.
Hiking is one of the top things to do around Phuket, yet so underrated among visitors.
So, how about we ditch the sandals and lace up some sturdy boots? 
Here are the top hiking adventures in Phuket:
Kathu Waterfall: A journey through dense greenery leading to cascading waters. It's especially lively during the rainy season, and the climb offers different waterfall tiers to explore.
Big Buddha: Stunning vistas, Thai jungle, and tranquil monk chant at the end—one of the most unique hikes in Phuket.
Monkey Hill: Ideal for those who enjoy playful wildlife encounters. Expect lots of macaques, but remember, we're the guests here — no feeding or touching.
Black Rock: A secluded haven for hikers, nestled among tall trees with an awe-inspiring coastal view. The perfect spot for relaxing.
So, gear up, embrace your inner explorer, and set off on these lesser-traveled paths exploring some of the must-see places in Phuket for nature enthusiasts.
Visit Phuket Old Town
Get ready for the charisma overload that is Phuket Town!
Unlike its sandy counterparts, this place is all about cultural richness. Its streets? A patchwork of history, with Sino-Portuguese buildings painting a picture of the past.
Nothing beats wandering these narrow alleys, each corner a live canvas telling local stories. Forget galleries; the art's all around you.
Then, skip the usual retail spots. Here, it's all about one-of-a-kind finds. Think of handmade crafts and timeless antiques.
If you need something (anything, really), Phuket Town is the place to find it making it one of the best places to visit in Phuket for shopaholics and antique lovers.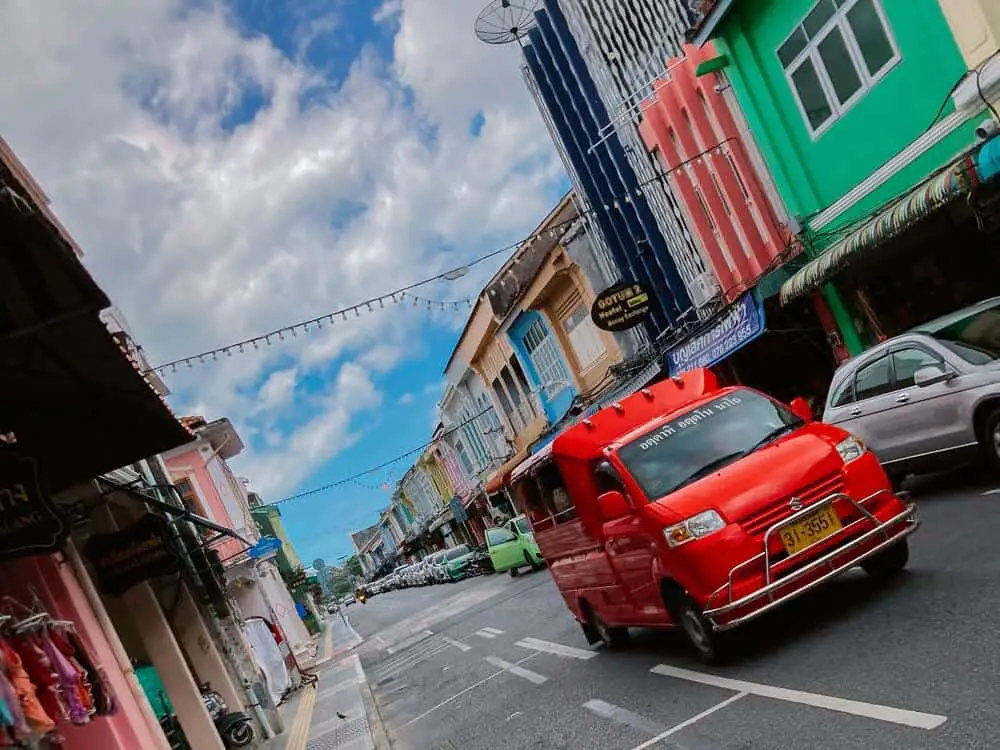 Surf at Kata Beach
Kata Beach isn't just for pro surfers. Surfing at Kata Beach is simply one of the best things to do in Phuket Thailand for adventure seekers.
During the monsoon season from May to November, it's an ideal spot for anyone keen to try surfing. Newbies can practice near the shore while experts head out for more giant waves.
Even if you're not into surfing, it's no problem. 
Relax with good food, watch the surfers, or enjoy the postcard-worthy sunsets. If you're up for surfing, there are plenty of rental options, but remember the sunscreen. 
After a day in the water, nothing beats a hearty Thai meal to wrap things up.
Conclusion: What to do in Phuket
This is just a tiny taste of the things to do in Phuket Thailand, but I'm sure it'll keep you busy for quite some time.
You could spend months here simply enjoying the beaches, sampling the food, and exploring the places hiding right off the main tourist spots. So I encourage you to explore as much as possible when you visit.
There are also plenty of day trips from Phuket making it a top spot to base yourself to explore Thailand.
Happy travels!
---
Author Bio
Kyle is the writer behind The Travel Runner. He's a full-time traveler and adventurer who's visited over 20 countries, including places like Thailand, Mexico, Vietnam, and Albania. He prefers a slower pace to his travels to explore destinations more in-depth and to get a feel for what life is actually like there. He's usually off exploring trails with his fiancée, Kaitlyn, when he's not writing.
---