Planning a Florence 3 day itinerary can be overwhelming at first. It's hard to pick and choose which monuments to see, what museums to visit, and how to spend your downtime. And what about where you are going to eat?
I've been traveling to Italy for 20+ years and have been based in Florence for the last 10, giving me expert insights on all that Florence has to offer.
I've seen it all countless times over the years. After many trips and experience planning for friends and family, I'm confident in sharing my top itinerary for visiting Florence in 3 days.
In this 3 days in Florence itinerary I'll take you through how best to visit the city center without compromising any of the top attractions and main sights.
Even if you only have 3 days in Florence, you can have an amazing experience filled with an array of activities for the whole family.
I'm also including my personal recommendations for eating vegan in this guide. Not all of my recommendations are vegan-specific restaurants but they are authentic Italian eateries that make it easy to find a variety of food for vegans.
Disclosure: This post may contain affiliate links. That means that if you make a purchase through one of those links, I will get a small commission at no extra cost to you.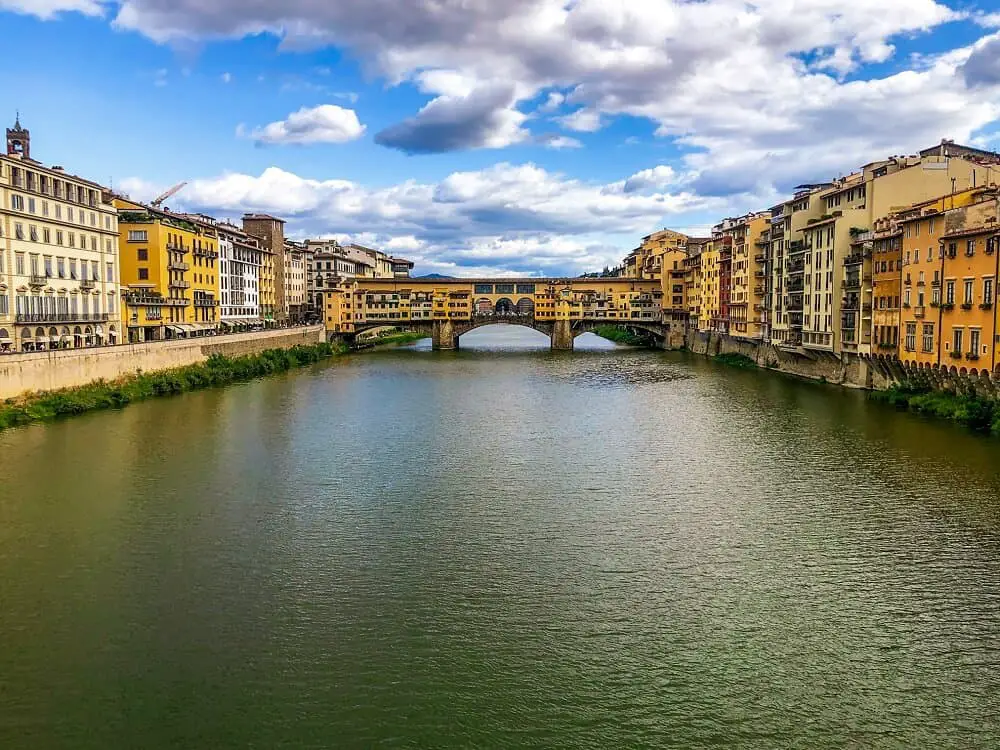 MORE FROM TUSCANY
This is a guest post written by Louisa Loring of EatingAroundItaly.com
Best Time of Year To Visit Florence, Italy
Because Florence is so small, it easily feels overly crowded, as if it's a busy museum, especially in the summer months. If possible, try to visit Florence, Italy in the Spring from mid-March to mid-May or in the Fall from the end of September through mid-November. 
These time periods are a good compromise between the amount of tourists visiting Florence and good weather. It's still mild during these times yet the height of tourism hasn't picked up yet, allowing you to actually enjoy the most memorable sites that Florence has to offer. 
If you are really looking to visit Florence when tourism is at a low, consider mid-January through early March.
It's a bit more gloomy and you are certain to always get a bit of rain but the crowds are nothing compared to what you will find in June, July, and August. Yet, Florence in winter has it's own charm.
How to Get to Florence Italy
The best way to get to Florence is to fly into Peretola Airport (Amerigo Vespucci Airport) located 20 minutes outside of town.
This is the closest airport to the Historic District of Florence. Take either a taxi to your accommodations or the tram to the main train station of Santa Maria Novella.
From the train station, you then take a taxi or walk to your destination in the center of Florence. 
If you fly into another airport, note that Italy is well connected by the public rail system. Arriving at the main train station in Florence is easy from other airports but be sure you get a ticket to Santa Maria Novella, not Rifredi or Campo di Marte which are smaller train stations outside the city center.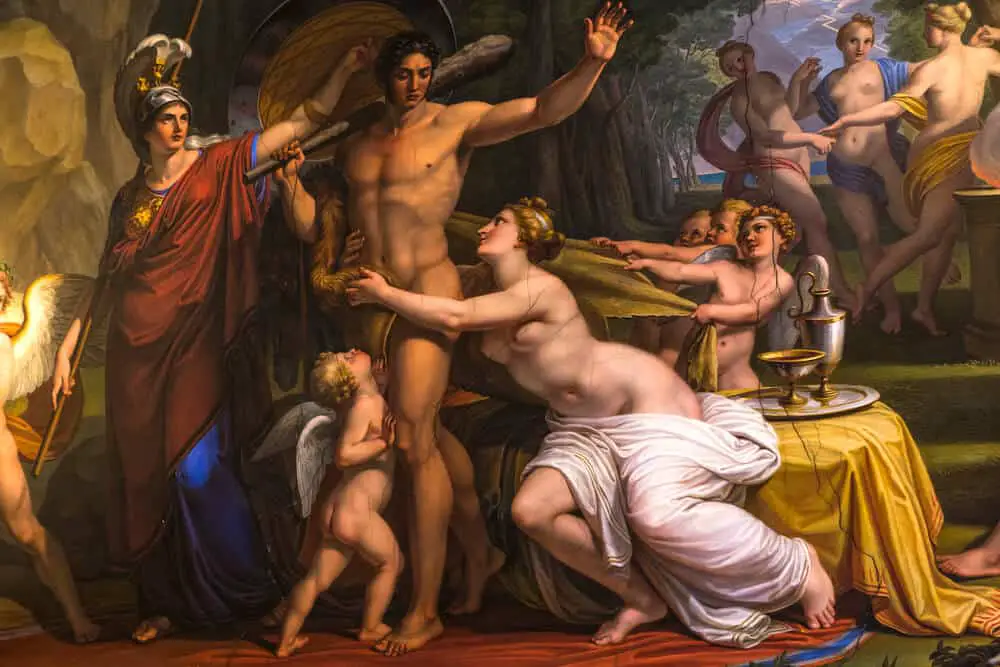 How to Get Around Florence Italy
Florence is a relatively small city built around important historical architectural monuments and museums. The entire city is, in fact, a UNESCO World Heritage site in itself!
Because of this, Florence is best visited on foot. Everything is very close together and even the longest distance between one end of the city and the other is no longer than 45 minutes.
Book your accommodations within the city center walls and you will be able to visit the major tourist attractions all within a small area.
If for any reason being on your feet all day is too much, consider renting a bike from Ridemovi, which offers regular or electric bike and electric scooter rentals.
Every year I notice the city investing more in bike-safety infrastructure and awareness. Many small bike companies offer bike tours as well, which is another fantastic way to see the entire city in just one morning. You can also venture out on wonderful Tuscany bike tours to explore the countryside.
If you are interested in taking the local buses, purchase tickets for the Autolinea Toscana buses and tram at newsstands and tabaccai (identified with a large black T sign hanging outside).
Many bus lines leave from Piazza San Marco, about a 10-minute walk from Piazza del Duomo. The tram, on the other hand, leaves from the Santa Maria Train station and brings you towards the outskirts of town outside the city center.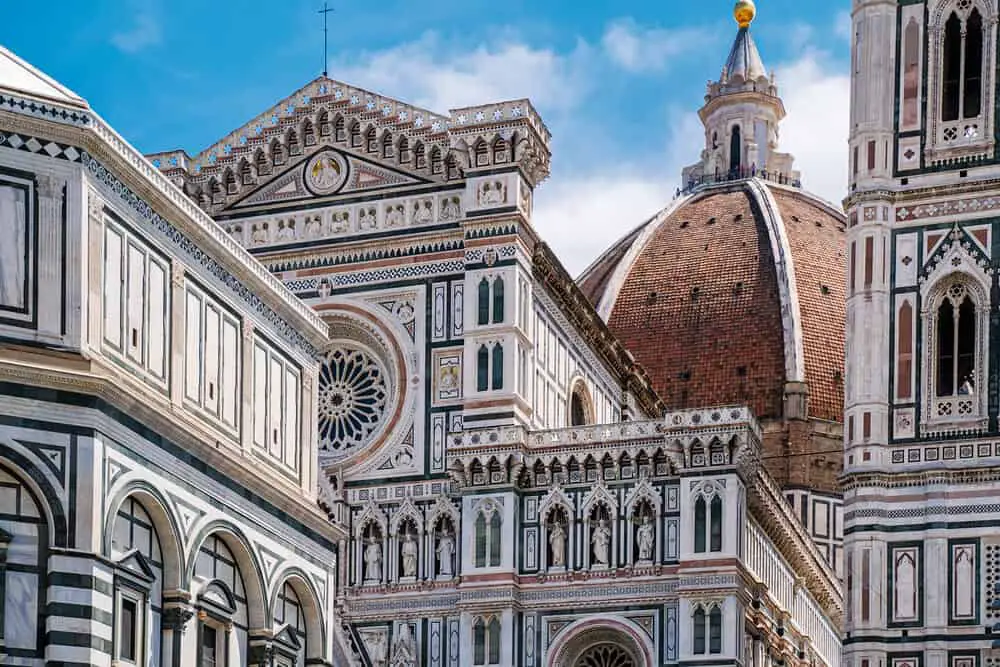 How to Best Visit the Sites in Florence
Most of the activities, sites, monuments, and museums that I talk about below require tickets to visit.
I highly suggest you pre-book for the most popular attractions, especially during the high tourist season in the summer months to avoid waiting hours under the sun in line. 
All tickets are available for individual purchase but many offer combined ticket prices. Don't purchase your tickets before looking at every possible ticket option because there are many combined ticket options. 
For example, the Pitti Palace offers a series of tickets but the combined ticket to all the internal museums and Boboli Gardens is the best value if you plan on seeing it all. 
The best ticket value for 3 days in Florence Italy is the Firenze Card, a digital or paper pass ticket valid for 72 hours upon activation, granting you access to many of Florence's most popular tourist attractions.
Check their website for purchase details and for a full list of what is included and excluded.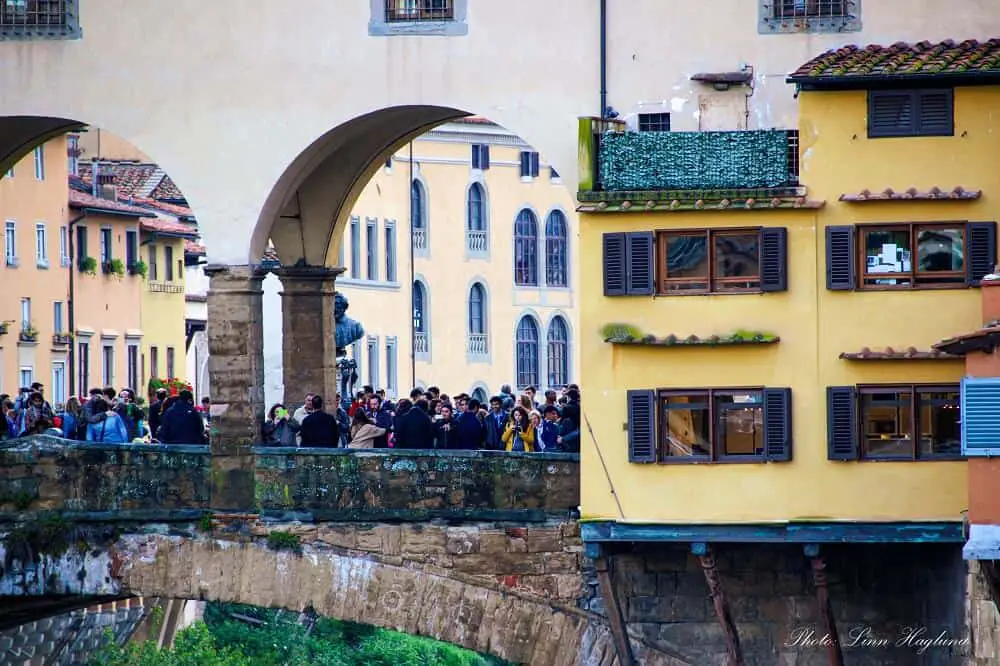 Where to Stay in Florence
When choosing accommodation in Florence, you should be thinking primarily about location.
Because most of what you'll see in Florence in three days is within the Historic District and Oltarno (the other side of the Arno River), you should book something central. 
For luxury stays, I suggest Portrait Firenze with various room options overlooking the Ponte Vecchio with a stunning terrace alongside the river.
Hotel Lungarno, just across the river on one of Florence's most iconic and best streets for eating, drinking, and shopping Oltarno, is a similar luxury hotel. 
For travelers looking for a slightly less expensive hotel (compared to the suggested hotels above), I highly suggest SoprArno Suites or AdAstra, both boutique accommodations run by the same family offering just a few individually designed rooms.
AdAstra, although a bit off the beaten track, overlooks Florence's largest private garden, Il Giardino Torrigiani, in the city center.
For a budget-friendly stay, look into B&B Alla Corte dei Medici. It's set in a lovely historical building a short walk from Florence Old Town.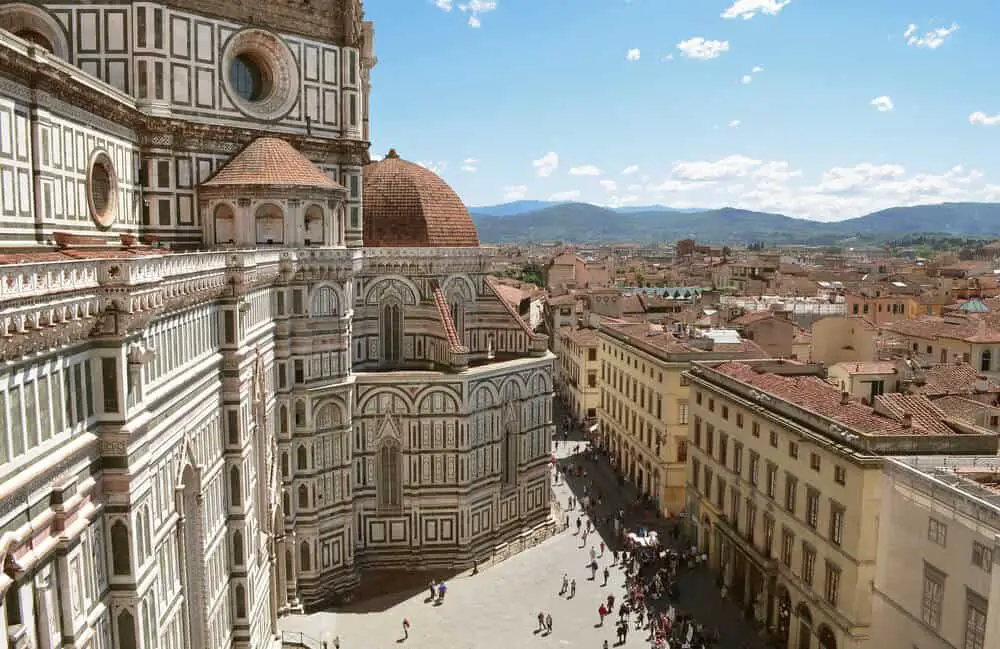 Day 1 – Florence 3 day itinerary
Start your day with a good breakfast either at the hotel or a café nearby. You're about to embark on an intensive Florence itinerary, 3 days go by quickly, and you want to make sure you eat all the great food so why not start with breakfast?
Walking Tour of City Center
Many of Florence's most important monuments are actually buildings that are best enjoyed from the outside in the large squares.
Orienting yourself within the Historic District and the main attractions is the best way to give yourself context for the rest of your three days in Florence.
Start off in Piazza del Duomo, Florence's grandest square home to the Santa Maria del Fiore Cathedral.
From here, walk down Via Roma to Piazza della Repubblica, home to the iconic carousel and famous bar Gilli. If you're lucky, you'll catch a glimpse of some Florentine street performers.
There is really no rule for how much or when you can eat gelato in Italy so be sure to refuel and check out one of the many gelaterias within the historic district. 
Edoardo (all organic) and Grom (best for gluten-free folks) are close to the Duomo while Perché No! and Venchi are located just off of Piazza della Signoria. 
Head down to Piazza Nuova where you'll come across the famous leather market and porcellino bronze sculpture (wild boar). Rub his nose with a coin and let it slide down into the grate for good luck. 
Make your way up to Piazza della Signoria where you will come to Palazzo Vecchio and the Uffizi Gallery. Don't miss La Loggia dei Lanzi, a large portico dotted with famous sculpture replicas and David by Michelangelo just next to the grand Palazzo. 
Look for The Fountain of Neptune, an enormous fountain with several statues including the statue of Neptune by Bartolomeo Ammannati and Giambologna. 
Lastly, backtrack a block to Ponte Vecchio, the most iconic bridge in Florence. Today, this bridge is where the most famous gold and jewelry makers are located but historically it was a place of trade between local artisans, farmers, and craftsmen.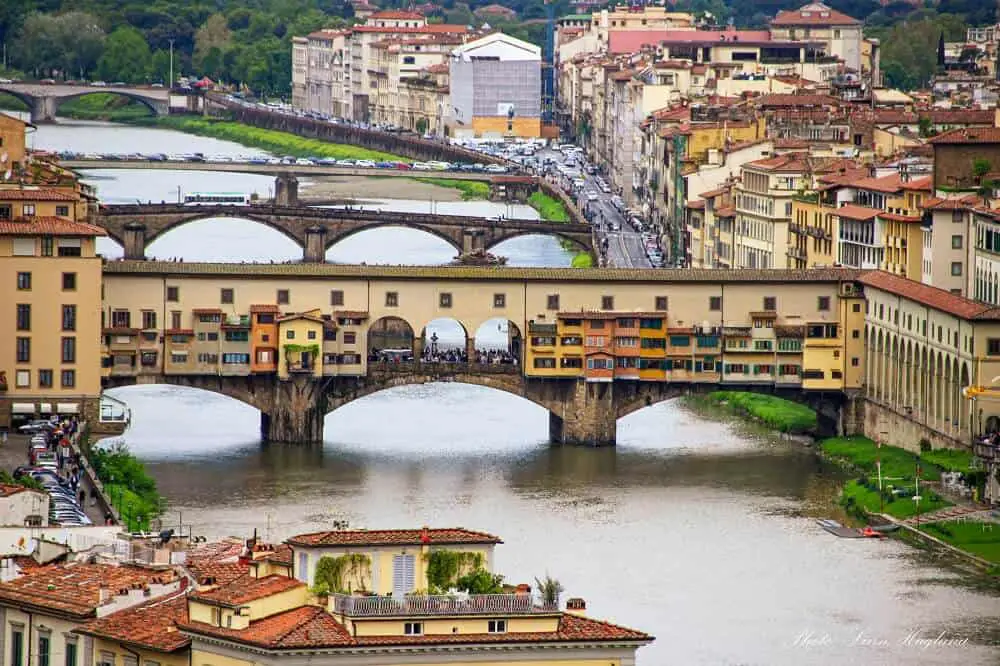 Lunch at Trattoria Cammillo 
Borgo S. Jacopo, 57r
Trattoria Cammillo, just a short 10-minute walk from Palazzo Pitti offers up classic Italian cuisine in an elegant atmosphere, making it a great eatery to add to your itinerary.
Florence has few better restaurants where you can easily find Tuscan vegan food by nature such as pappa al pomodoro, panzanella, bruschetta, minestrone, crostini ai fagioli, ribollita, pasta e fagioli, and pasta e ceci.
Always book ahead. 
If you can't get a table, check out Osteria Cinghiale Bianco (Borgo S. Jacopo, 43), which also serves up classic Tuscan cuisine. 
Tip: If for any reason you don't see a particular vegan dish on an Italian menu, look at the contorno (sides) section of the menu and order an array of grilled vegetables, cooked beans, roasted potatoes, sauteed greens, salads, etc. Many Italian pastas are also vegan by nature if you don't put cheese on them.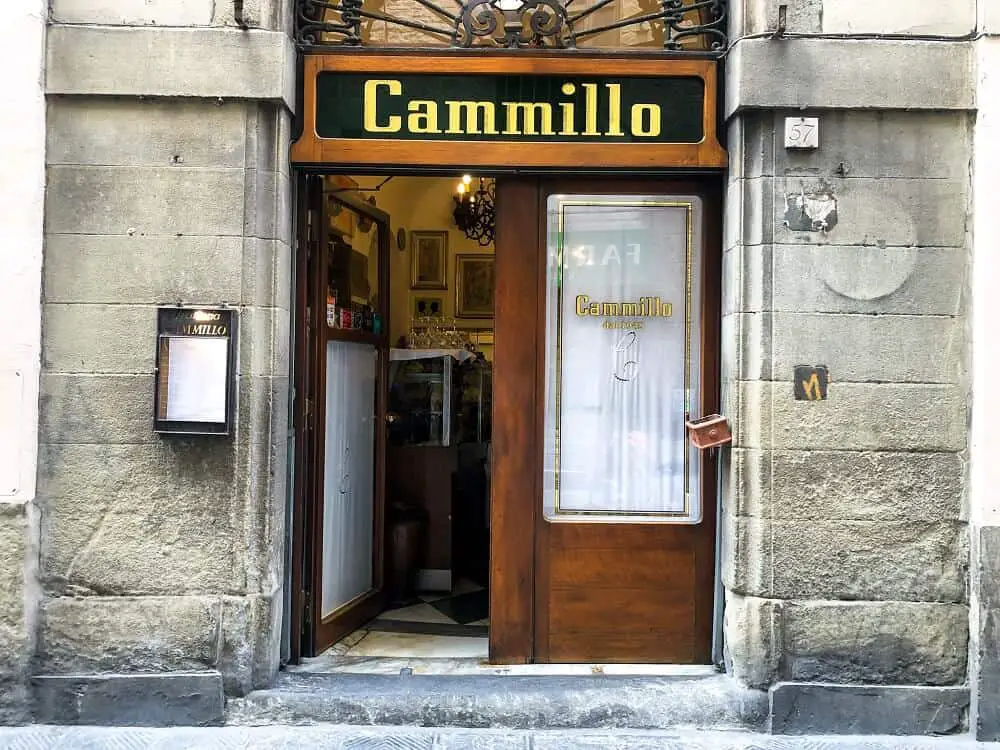 Palazzo Pitti and Boboli Gardens
Start your afternoon with a visit to the Pitti Palace, followed by a visit to the Boboli Gardens. Start with the palace as it's quite hot in the middle of the afternoon, making the gardens less appealing.
The palace was once home to the Medici Family but today is a conglomerate of several museums (Gallery of Modern Art, Silver Museum, and the Galleria Palatina and staged rooms of the Family.)
Stroll through the Boboli Gardens, entering through the backside of the Pitti Palace after your visit. Take your time exploring the small paths, large walkways, fountains, grottos, and various sculptures.
Note that you must book tickets in advance to ensure a time of entry that suits your 3 days Florence itinerary. You can get a joint ticket and I recommend getting a guided tour of both to get the most out of your visit.
👉BOOK A GUIDED TOUR OF PITTI PALACE & BOBOLI GARDENS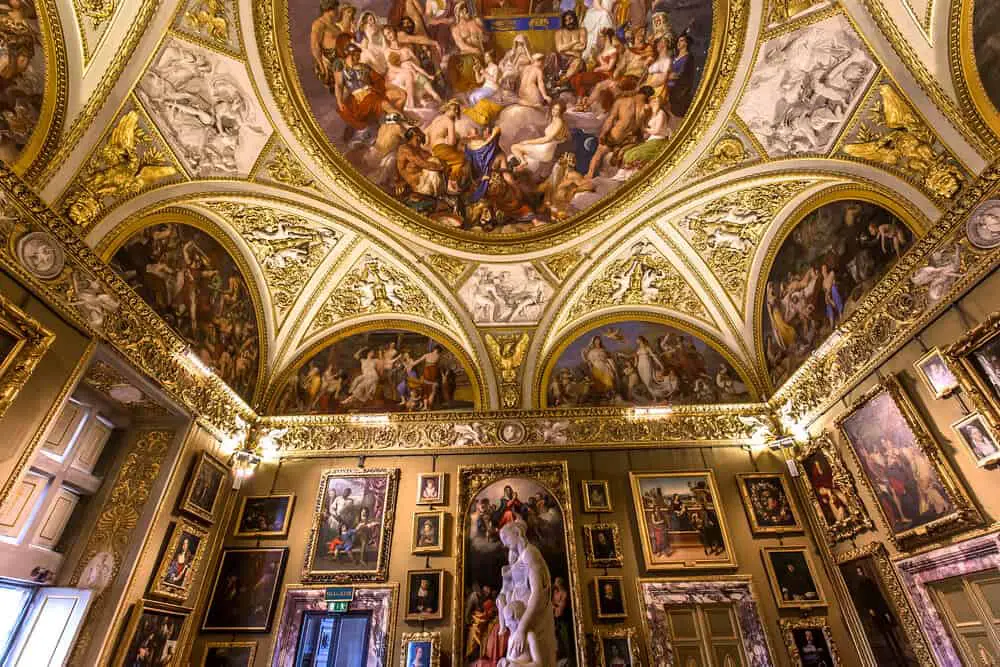 Santo Spirito
Leave enough time at the end of your first day for an aperitivo or coffee in Piazza Santo Spirito. This beautiful piazza is quite simple and seemingly unimpressive from a first glance but this is where authenticity beats through the city walls.
Santo Spirito is where the locals live making every restaurant, bar, and cafe a great, authentic choice. It is truly a gem to add to any list of what to do in Florence in 3 days, especially if you want to experience an authentic part of the city.
If you have some time, take a moment to explore the tiny streets, home of some of Florence's artisans, boutique shops, and handcrafted goods.
On Sundays, this square is home to several markets (organic and antique, for example) depending on which Sunday of the month.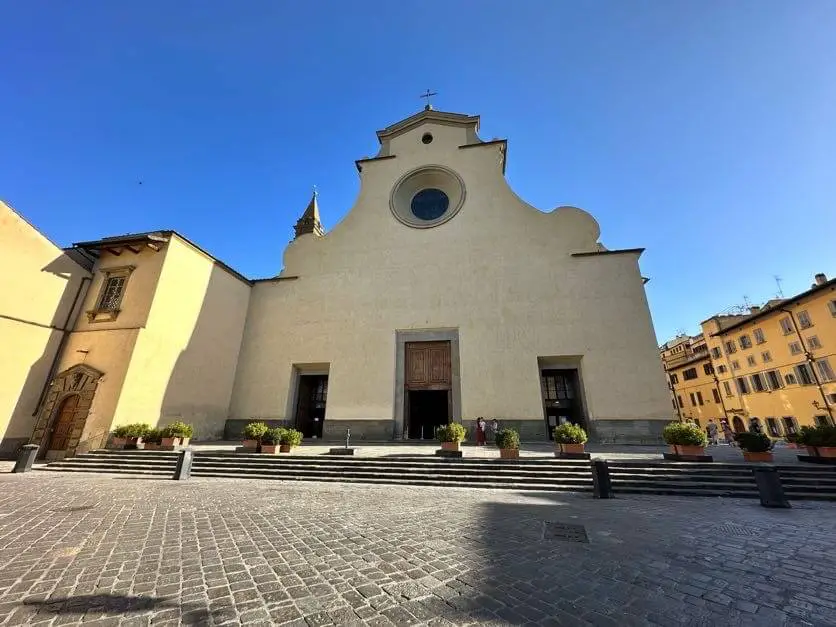 Dinner at Raw Vegan Firenze
Via Sant'Agostino 11B
This hole-in-the-wall right off of Piazza Santo Spirito offers small bites from the first thing in the morning with breakfast bowls to lunch and dinner options with large salads, raw pizzas, and vegan poke bowls.
They specialize in detox diets for locals, offering a variety of cold-pressed juices and smoothies. 
Raw Vegan Firenze is only open until 20:00 so if you plan on eating later on, check out Santo Falafel (Via Sant'Agostino 28r), just next door, which is also vegan.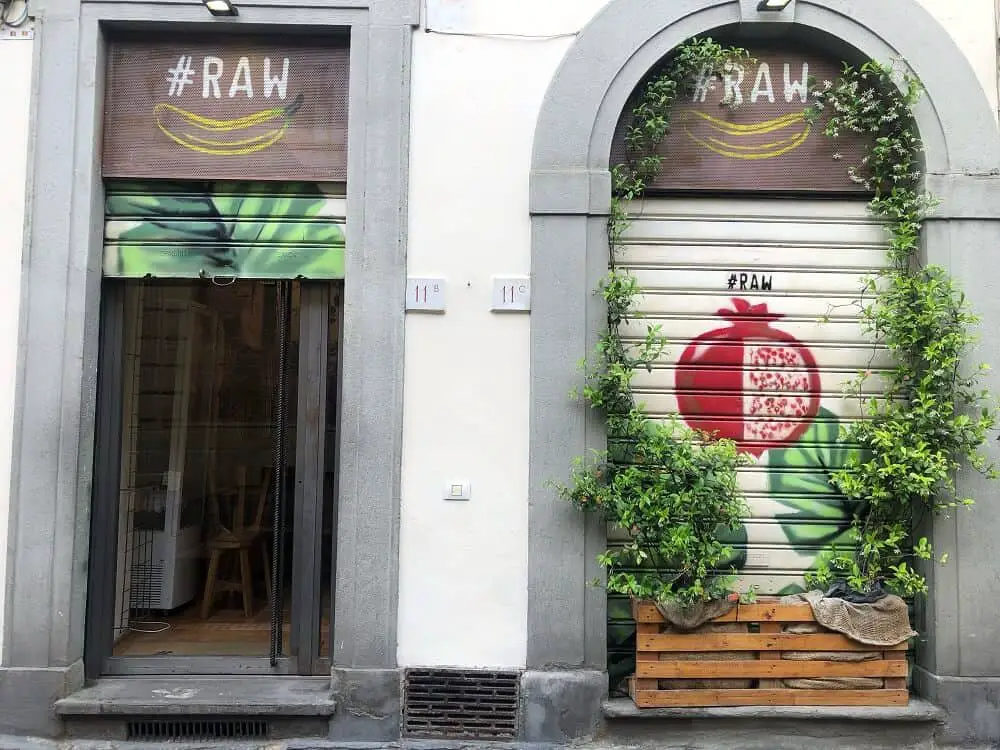 Day 2 – Florence itinerary 3 days
Start the second day of your explorations of Florence for 3 days with a nice breakfast in the hotel or in a café nearby where you can enjoy a true Italian coffee.
The San Lorenzo Complex
The Basilica of San Lorenzo, located just off the main train station of Santa Maria Novella, was first consecrated in 393 but it wasn't until the Medici Family came into the picture that this church really became important.
The entire family is buried in the chapels, designed by Michelangelo and Brunelleschi making it an inevitable place to visit on your Florence 3 day itinerary.
The basilica seems rather plain on the outside but it's quite stunning once you step foot indoors. The contrast between the interior and exterior is exactly what makes it so fascinating.
The complex includes five parts: the chapels where the Medicis were buried over the years, the library, the cloister, the church, and the Old Sacristy, but you need separate tickets to visit the chapels and the church.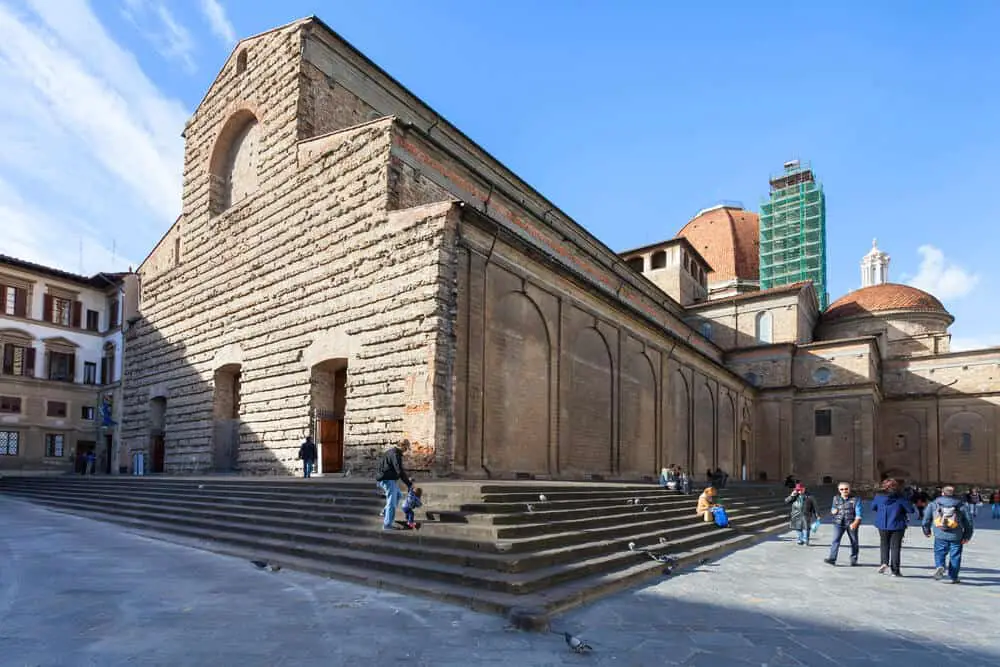 San Lorenzo Market and the Mercato Centrale
Just off of the San Lorenzo Church is Florence's largest outdoor leather market and daily farmers market. 
Via dell'Ariento starts the leather street market, taking you up to Mercato Centrale, with various vendors selling Florentine gifts, leather goods, pottery, and other clothing and shoes.
Upon arriving at the actual Mercato Centrale, the outdoor leather market of San Lorenzo wraps around the market building, identified by large iron gates. 
The ground floor of the Mercato Centrale is home to all the local vendors selling all sorts of staples including fresh fruit and vegetables, food souvenirs, meat, fish, cheese, truffle goods, and bread until the late morning. 
Upstairs is the market's newest addition, a type of Italian food court with small, artisan restaurants specializing in a specific food item.
Everyone can order at a different 'stall' or 'restaurant' and then all sit down together to eat at communal tables.
Choose from fresh pasta, Italian pizza, charcuterie and cheese boards, sandwiches, and even international specialties such as an Asian dumpling stand and an artisan selling American-style BBQ.
Don't be turned off by the international flare – this place is a really fun and great way to try a variety of Italian food. (open daily 9:00 AM-12:00 AM).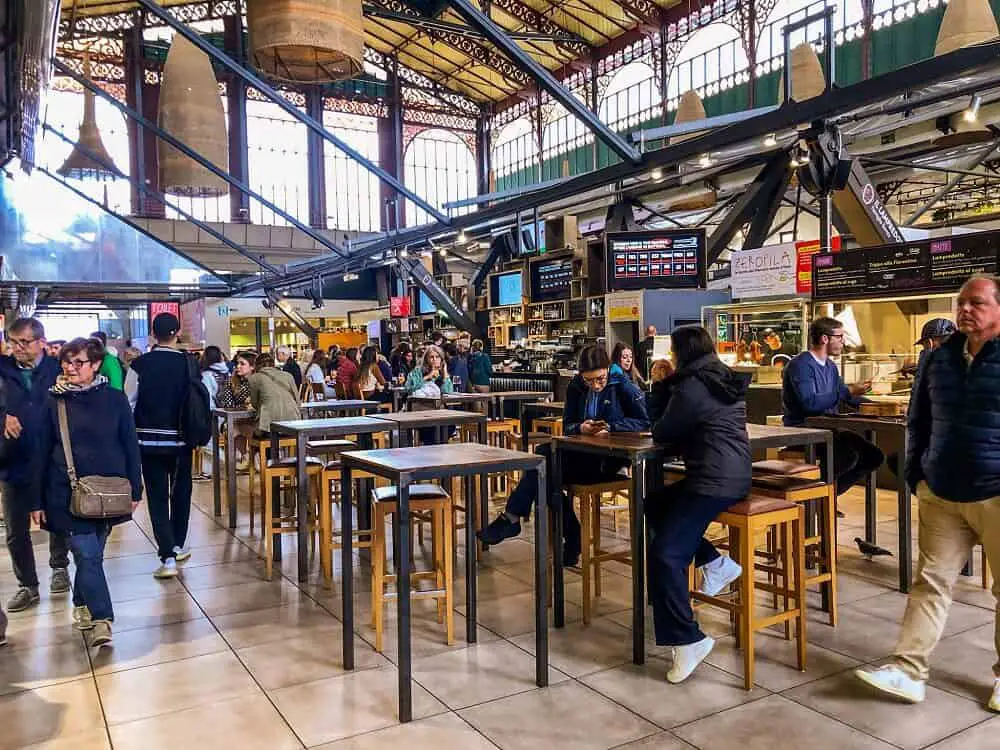 Lunch At Vegetarian and Vegan at the Mercato Centrale
Piazza del Mercato Centrale, Via dell'Ariento
While you can choose from several of the small specialized restaurants on the top floor of the Mercato Centrale, the Vegetarian and Vegan run by chef Marcella Bianchi is going to be a sure homerun.
Her menu changes seasonally based on what she finds locally grown by the surrounding Florentine farmers.
Enjoy salads, burgers, smoothies, and juices, and don't miss her selection of dried goods to bring home such as jams and dried pasta.
Santa Maria del Fiore Duomo Complex
Taking time to actually visit the Duomo complex of Santa Maria del Fiore and climb either the Duomo or Giotto's bell tower is a must on any 3 days Florence trip.
While the most fascinating part of the Duomo is the actual facade, the other activities in the complex should not be overlooked. 
Choose either the Duomo or Giotto's bell tower to climb and pre-book, purchasing one of their pass options such as the Brunelleschi Pass, Giotto Pass, or the Ghiberti Pass, each granting you access to more or less all of the complex for a total of three days.
I don't suggest you climb both the Duomo and the bell tower. The view is similar and it's a lot of stairs: over 400 each!
The bell tower is considered slightly easier because there are fewer steps and there are a couple of spots to stop off and catch your breath.
When climbing the Duomo, the staircase can get very narrow at points and it's almost impossible to stop without holding everyone behind you up.
However, this climb gives you a closer look at the mesmerizing frescos in the dome ceiling – which in my opinion makes it well worth it.
You really should visit the Baptistry of St. John, right in front of the Duomo, and take in the beautiful golden mosaics (currently under restoration).
The Opera del Duomo Museum, located at the back of the Cathedral is where you can view all the original artwork of the Duomo complex, including the original facade and famous bronze Gates of Paradise of the Baptistry.
👉BOOK ENTRY TO THE DUOMO COMPLEX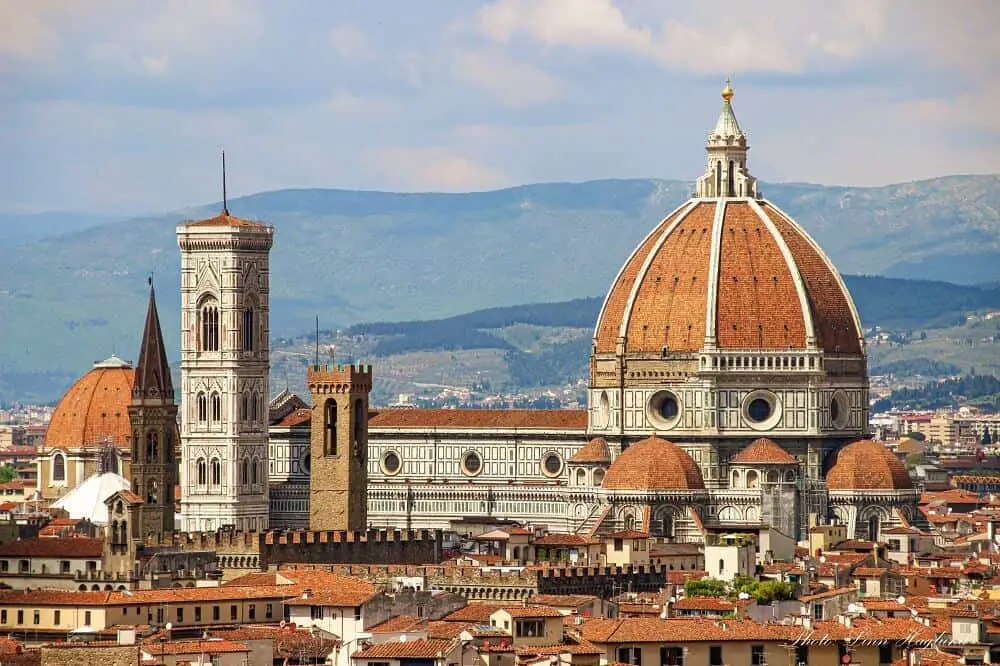 Accademia Gallery
Finish your afternoon at the Accademia Gallery, most famous for Michelangelo's original David in the Hall of Prisoners.
You will also come across many other important Renaissance and Gothic masterpieces, sculptures, and an important collection of musical instruments belonging to the Medici Family.
The Accademia Gallery is one of the must-visit art galleries on any 3-day Florence itinerary with a wealth of interesting art pieces.
Pre-book a timed entrance to the museum 8:15-18:50 (closed Monday). For a more in-depth understanding of the art, I suggest taking a guided tour.
👉BOOK A GUIDED TOUR OF THE ACCADEMIA GALLERY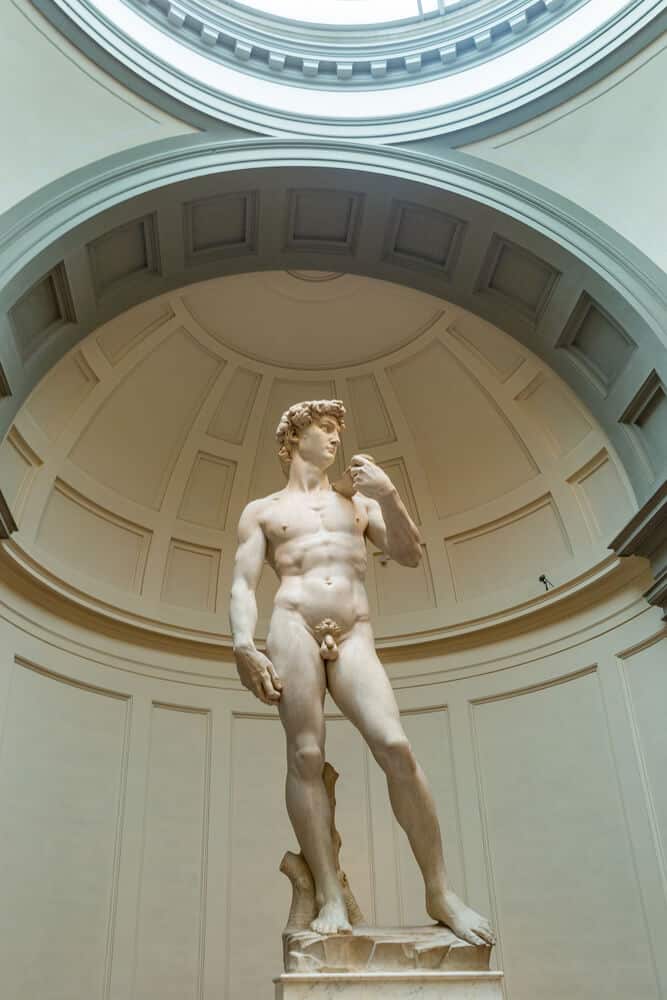 Dinner at Il Vegano
Via San Gallo, 75r
Il Vegano is a fun, hip vegan bistro with an art gallery inside where you will find a young crowd in the mood for reliable vegan fare.
Enjoy Italian classics as well as vegan burgers and fries. This is for those who want a quick bite after a long day without a wait. 
For a more formal evening, check out SimBIOsi Organic Pizza and Pasta (Via de' Ginori, 56r). This restaurant is not vegan but they have dishes that are vegan on the menu (be sure to double-check their seasonal menu online before booking a table.)
After dinner, head to Carabè Gelateria close by, specializing in Sicilian gelato flavors and vegan treats such as granita. 
Vegan Gelato Tip: Eating vegan gelato in Florence is very easy to come by. Most gelaterias have their flavor board broken up by dairy/non-dairy (often fruit-based).
Double check before ordering but most fruit flavors are dairy-free. Non-vegan ingredients used in gelato are milk and egg, so make sure you ask.
Day 3 – Florence for 3 days
It's time to get ready for the last day of your Florence Italy itinerary. 3 days go fast and today, you will fill up the day with even more exciting attractions.
After breakfast, you're about to explore one of the most famous art collections in the world, so make sure you've had your morning coffee.
The Uffizi Gallery
Any Florence 3 day itinerary requires a trip to the Galleria degli Uffizi, one of the world's most important art museums, which is why you should put aside an entire morning.
You will absolutely need to pre-book your visit for the Uffizi Gallery because of the enormous crowds it draws every day.
While I often urge visitors to try and really get lost in the monuments and streets of Florence without being glued to a guidebook, an actual guide is very helpful at the Uffizi because of how vast the collection is.
A guide will be able to point out some of the museum's hidden gems apart from the most famous works of Botticelli's "Birth of Venus", Leonardo Da Vinci's "Annunciation" and Caravaggio's "Medusa".
Good To Know: The last Sunday of every month at the Uffizi Gallery is open for free. While this is really great for people on a dime (the Uffizi is quite expensive), it also gets extremely crowded. If this is your only day to visit, get in line early! 
Don't miss the rooftop bar inside the museum. Not only is this a good opportunity to rest and get a breath of fresh air but it's also a great way to see the city from above.
TICKET OPTIONS FOR UFFIZI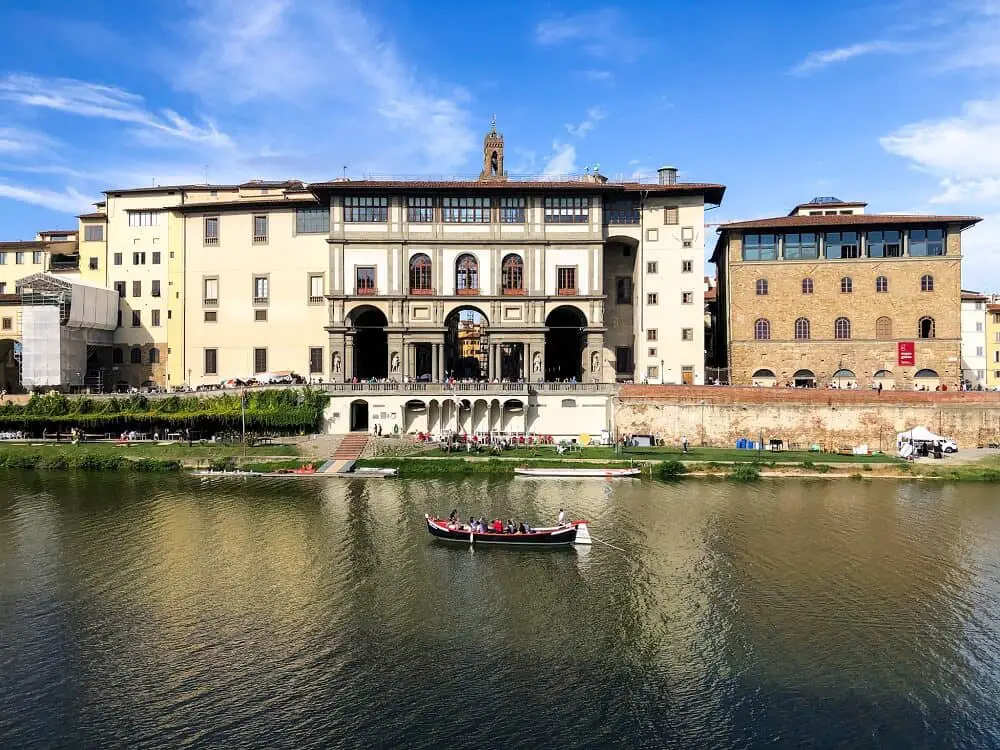 Lunch at Berberè Santa Croce
Via dei Benci, 7
It would be sacrilegious to come to Florence and not indulge in one of their amazing pizzerias, scattered throughout the city center. Even if you have dietary restrictions or prefer to eat vegan, have no fear. 
Particularly at Berberè, located just down Via dei Neri at the corner of Via dei Benci at the backend of the Uffizi, you can find great sourdough pizza crusts, including whole-wheat options.
Order the marinara for a naturally vegan-free Italian pizza or opt for a grilled eggplant or zucchini pizza without the cheese. 
Tip: Eating pizza in Italy as a vegan is easy as long as you specify that you cannot at all eat dairy or other animal products.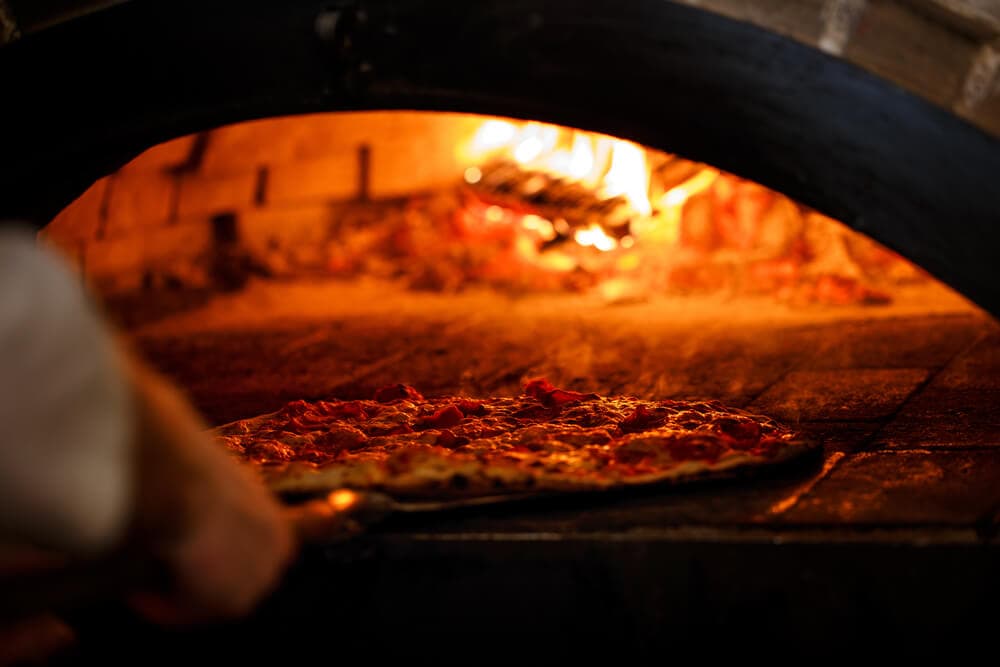 Santa Croce
Continue your Florence three day itinerary by heading down to Santo Croce continuing down Via dei Benci where you will find the grand Piazza on your right.
Visit the Santa Croce Church, one of Florence's most beautiful and important churches. Once inside, visit the famous crypt (home to the resting Michelangelo, Galileo Galilei, Rossini, and Machiavelli) and 16 different chapels and a cloister. 
The interior is elaborately decorated in gold, with detailed frescos and sculptures. If you are visiting in the summer months, I do suggest you pre-book online, and opt for a guide for a more complete visit, even though it's much less crowded than the Duomo of Florence.
👉BOOK A GUIDED TOUR BASILICA SANTA CROCE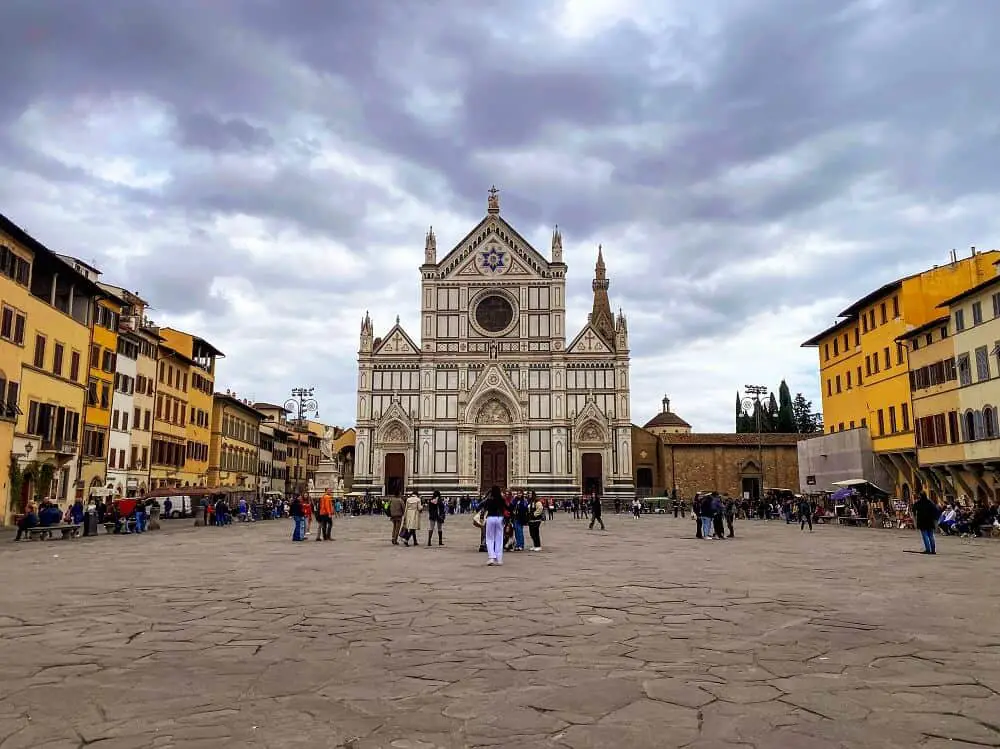 Piazzale Michelangelo
Make your way back to the Arno River and cross over to Ponte alle Grazie to the neighborhood of San Niccolò marked by a tall brick tower.
This is the absolute best spot (along with Ponte Santa Trinità) to take a picture of yourself with Ponte Vecchio in the background. 
Depending on your personal preference and timing, you may want to kill a bit of time in the San Niccolò neighborhood with an aperitivo or gelato, being sure to arrive at the Piazzale for sunset.
The views of the city are just as beautiful even if it's not timed exactly with sunset, though it's hard to beat a pink sky reflecting in the Arno River. 
From the bottom of the San Niccolò tower, take the switchback walkways and stairs curving around up towards the Grande Piazzale Michelangelo overlooking the city.  
Once at the Piazzale, make your way to the edge of the balcony overlooking some of the most panoramic city views of Florence. The square is dotted with souvenir vendors, small bars, a cafe, and famous replica sculptures.
For a less crowded viewpoint, continue the hike up to the San Miniato al Monte Church, just above the Piazzale. 
There is a large parking lot at the top, making the viewpoint accessible by either car, taxi, or bus 23 and 13.
There is no better way to round off your 3 day itinerary. Florence doesn't get much better than at sunset from Piazzale Michelangelo.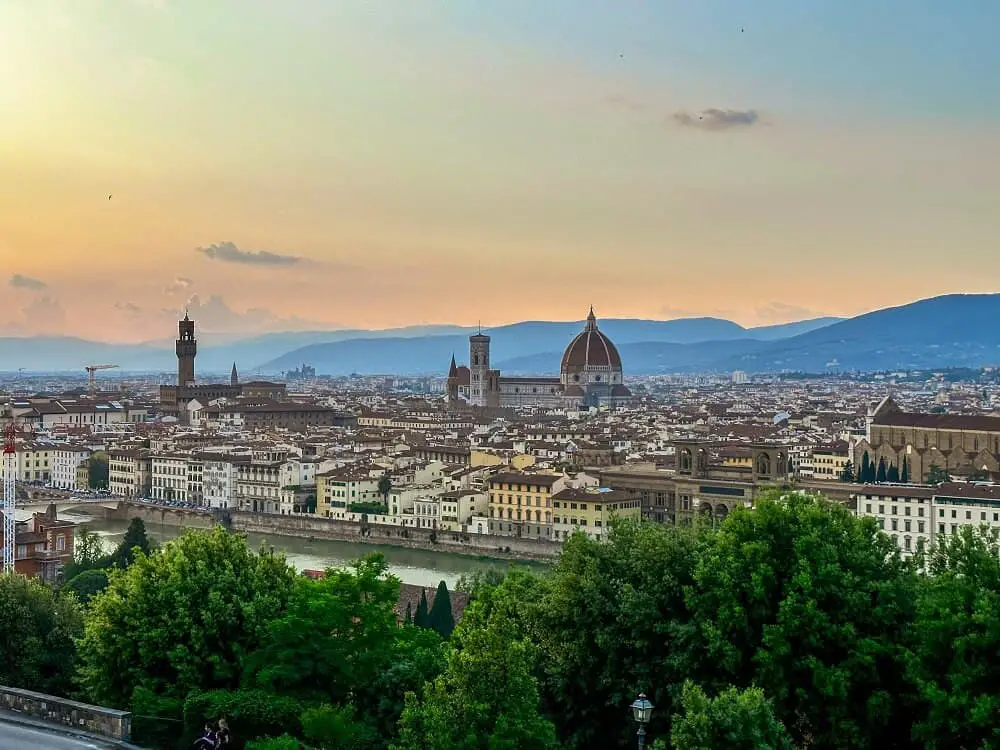 Dinner at Brac
Via dei Vagellai, 18r
Brac has become a popular restaurant in Florence even for non-vegetarians and non-vegans.
Enjoy great cuisine from either their vegetarian or vegan menu in a lovely bookshop setting with a contemporary art gallery.
Pre-booking recommended!
Reflections on a Florence 3-Day Itinerary
While a 3 day trip to Florence can seem overwhelming to plan, it's easy to see and enjoy the most famous monuments and sites without missing out even if you only have three days for your itinerary. Florence 3 days trips are enough to get time to enjoy the city while seeing all the most important attractions.
A successful trip to Florence starts with a solid itinerary that can then be tweaked to your own interests and personal preferences. Each day is broken into half days, making it easy to tailor to your needs.
Especially considering that many of the top attractions require that you book a time slot in advance, you might have to swap around on the days to fit everything into your Florence 3 day itinerary.
Further, the fact that Florence is so small makes it easy to see it all on foot and be flexible with your travel plans.
If you are particularly enjoying a site, skip the next or simply take it in from the outside (Duomo for example is most beautiful from the outside and you can get a panoramic view from the Piazzale di Michelangelo if you skip the Duomo climb.)
Alternatively, if you aren't up for so many museums, enjoy Michelangelo's famous replica David outside of Palazzo Vecchio in Piazza della Signoria and skip the Accademia altogether.
So with a little planning and my well-thought out 3 day itinerary in Florence, you won't be disappointed with your visit to Florence, Italy.
Happy travels!
FAQ – 3 day itinerary in Florence
How many days in Florence?
I recommend spending a minimum of 3 days in Florence to see all the main attractions but also get the chance to soak in the vibrant atmosphere of the beautiful city.
Is 3 days enough in Florence?
You can see the most important attractions in Florence Italy in 3 days while you also get some time to soak in the atmosphere. If you have a tight Italy itinerary, you can make it one or two days, though that will be more rushed.
What to visit in Florence in 3 days?
A 3 days itinerary in Florence Italy, gives you the chance to see the main art galleries, the Duomo Complex, a couple of basilicas, and the Pitti Palace. Besides, you get time to see different viewpoints and spend time in the historic center.
---
Author Bio
Louisa Loring has been traveling to Italy since her teenage years when she first fell in love with the Italian way of life, leading her on a path to an Italian Language and Literature degree. She now resides in Tuscany where she has worked in tourism, as a content creator, creative writer, and with food and wine for 10+ years, most recently for her online publication EatingAroundItaly.com.
---