Getting lost in the narrow streets of Toledo's old town is like getting lost in time. There is no corner without a spectacular medieval building you need to explore before you keep walking.
Probably even in the wrong direction of where you planned to. With so many incredibly wonderful distractions it is hard to get through it all on a day trip to Toledo.
One of many interesting facts about Spain is that the country has the world's third-largest number of UNESCO World Heritage sites and Toledo is known as the mighty UNESCO World Heritage town of central Spain.
With so many interesting things to do in Toledo, it is not strange that the city tops the list of the best places to visit in Spain for first time visitors.
That's why I put together the most important things to see in Toledo Spain if you are short of time in this fascinating city.
At the entrance of the old town by Puerta del Sol, there is a tourism office. I Recommend you go there to get a free map to keep track of where you are and where you are going.
The streets are easy to get lost in and as the distractions are many, it is a good idea to have some guidance along the way.
Before we get to the Toledo itinerary, let's have a look at some practical information.
Disclosure: This post may contain affiliate links. That means that if you make a purchase through one of those links, I will get a small commission at no extra cost to you.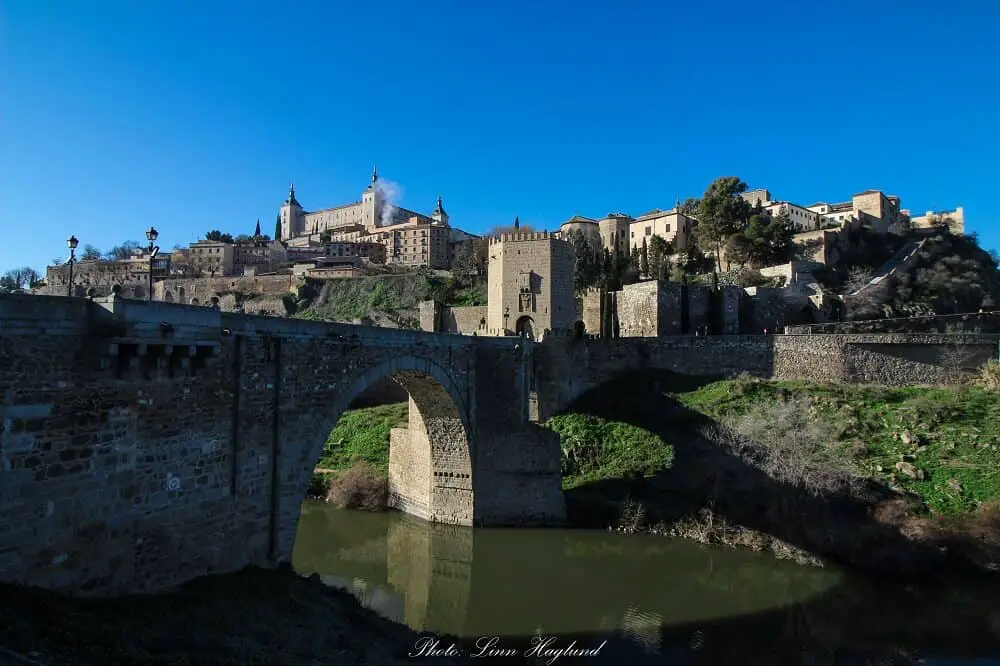 MORE FROM SPAIN
How to get to Toledo Spain
The most common is to go on a Toledo day trip from Madrid. There are tours, of course, but you can easily get there independently by bus, train, or car.
Besides, there are multiple organized tours from Madrid to Toledo if you prefer the commodity.
By car
It only takes an hour to drive from Madrid to Toledo. It is not allowed for non-residents to drive inside the Old Town, but there are a few large, free, public parking lots just outside.
I used the one by Puente de Alcántara. If you put Alcántara Parking Toledo in your GPS, it will take you there.
From the parking, walk up to Puente de Alcántara, cross it, cross the traffic lights at the road on the other side and turn right up the hill (NOT straight through the arch in front of you). After a few minutes, you will come to the mechanic stairs where you want to go UP to the end.
Once at the top of the mechanic stairs, you are between Puerta del Sol down the hill and Plaza Zocodover a couple of hundred meters up the hill.
By bus
There are numerous bus companies commuting between Madrid and Toledo, and prices start at less than 6 euros. ALSA offers 74 trips from Madrid to Toledo a day, and that is only one company, so there is no doubt you will find a bus!
Buses leave from Plaza Elíptica transport hub at level 1 and drop you off at Estación de Autobuses de Toledo.
By train
The train from Madrid to Toledo is the fastest option. For 10 Euros you get there in only half an hour!
Trains leave from Puerta de Atocha train station in Madrid and get you to Toledo train station.
From there you can take the local bus straight into the Old Town at Plaza Zocodover or you can walk the same stretch which is only a 20-minute walk without photo stops.
Organized tours from Madrid to Toledo
If you prefer the comfort of an organized tour to Toledo, there are multiple choices from Madrid. These will typically include the bus ride, a local guide, and some of the entry tickets.
If you're planning a larger Spain itinerary, this might be an easy option to avoid too many planning details.
I suggest this day tour to Toledo as it gives you plenty of free time to uncover the city beyond a guided walking tour and entrance to the cathedral.
👉BOOK A GUIDED TOUR FROM MADRID
If you also want to discover the historical town of Segovia on the same day tour, I suggest this option.
It is a great opportunity if you don't have the time to go on two day trips from Madrid, but want to see both places. And I really recommend seeing both.
You won't get as much time in each, but at least you get a few hours and a walking tour that gives a lot of information and is truly valuable.
POPULAR TOURS FROM MADRID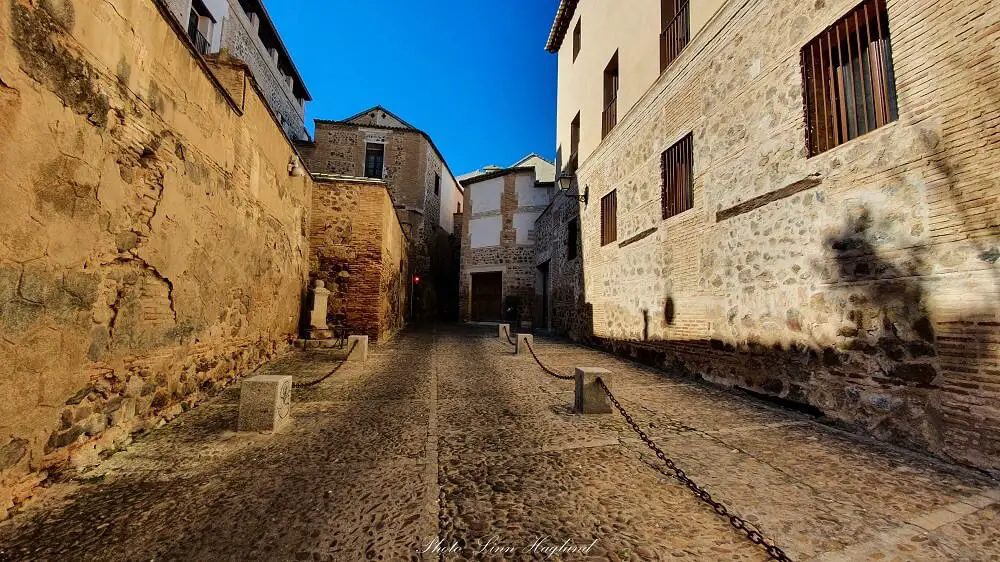 Best time to go on a Toledo day trip
The peak season in Toledo is April to June. In this period, it's not too hot in the daytime and not too cold at night. Prices normally go up, but it is a pleasant time to be there.
In the summer months of July and August, it can get extremely hot, and if you have the opportunity to avoid visiting at this time that is probably the best. Some local shops might be closed at this time of year.
The rest of the year, temperatures can be nice, sunny, and warm at day time, but drop drastically at night. Especially January and February are extremely cold months you can get your share of rain.
Even though the autumn and winter months are less touristy, there will always be high numbers of tourists roaming around this popular Spanish city.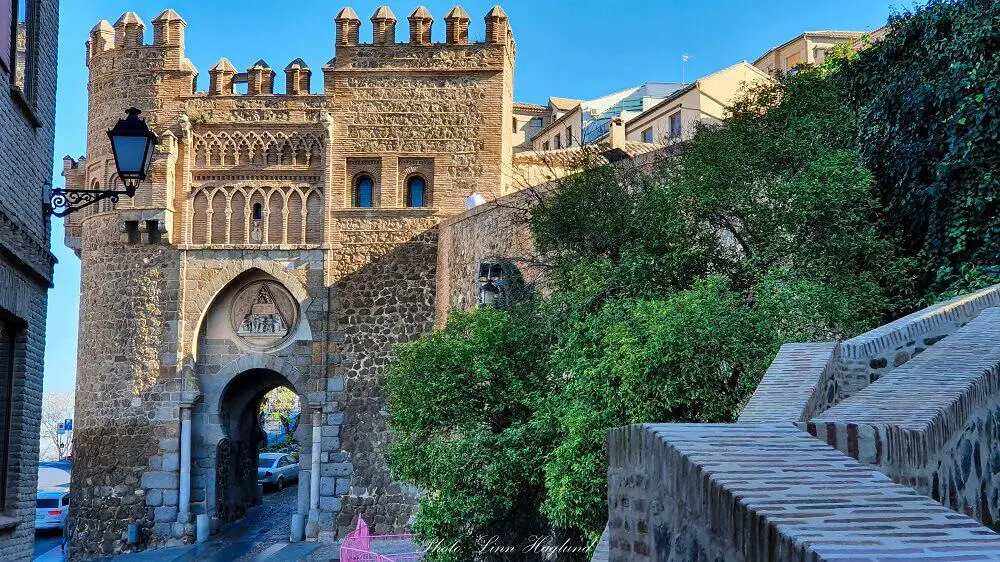 ---
Make sure you have a good, eco-friendly backpack for your day trip to Toledo.
---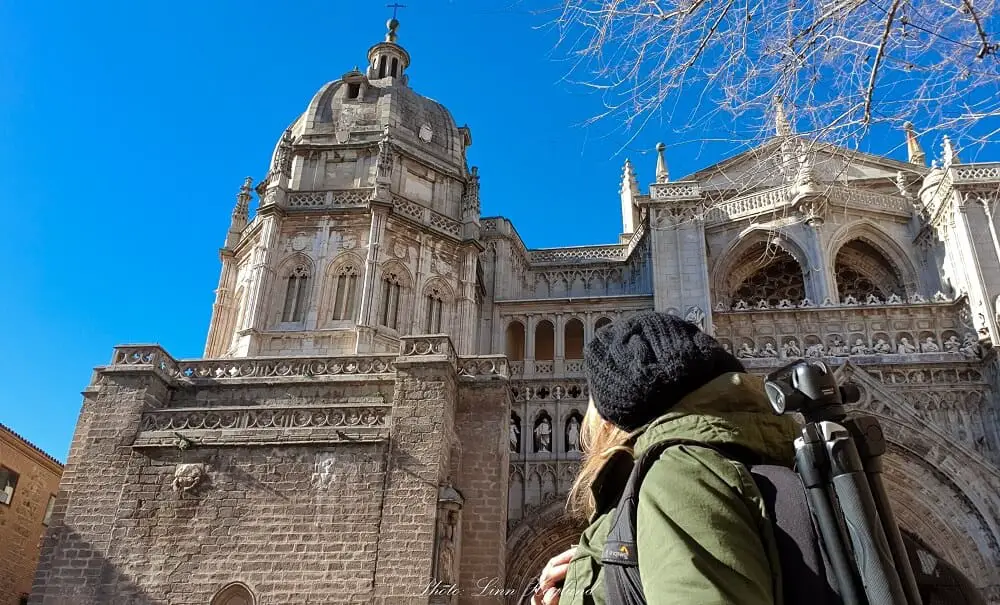 You might also like: Road trip in Mallorca: Explore the best of Tramuntana
Day trip to Toledo itinerary
Now that you are all set to go, let's start our one day in Toledo itinerary!
Make sure you arrive early so you get the most out of the day, and your shoes better be comfy because you have a day full of walking ahead of you!
To save yourself some money on entrance tickets you can buy a tourist bracelet that gives you entrance to many different attractions. In 2020, prices start at 9 Euros. You can get the bracelet at the tourist office (Paseo Merchán, S/N, 45003 Toledo. Opening hours all days 10:00-18:00).
If you come walking from outside the Old Town, I suggest you enter by the Puerta del Sol (Sun Gate) and walk up to Plaza Zocodover from there. On the way, you will enjoy the beautiful views of the city below.
If you park at Azarcuiel Parking, then you will get the views of the impressive bridge instead but still, come up by Plaza Zocodover.
Plaza Zocodover
Plaza Zokodover is a great place to start your Toledo itinerary as it is central to other places you will want to see.
In the case that you come to Toledo by train and take the bus directly to Plaza Zocodover, you can take a quick walk down to Puerta del Sol if you like. It is only a few minutes walk down the main road.
The square used to be the hub of the city throughout history, from Roman to Arab times. The current name of the square, Plaza Zocodover, really just dates back to 1945 when it was reconstructed, after changing names numerous times before.
There is a long and dark history to the square, where they had public burnings, and bullfights. It is said, that they kept the bodies of dead people that didn't have any family in the middle of the square, in what they called the cage of the dead.
Today, the quaint square is a meeting point for city tour guides and is overflowed with fast food giants.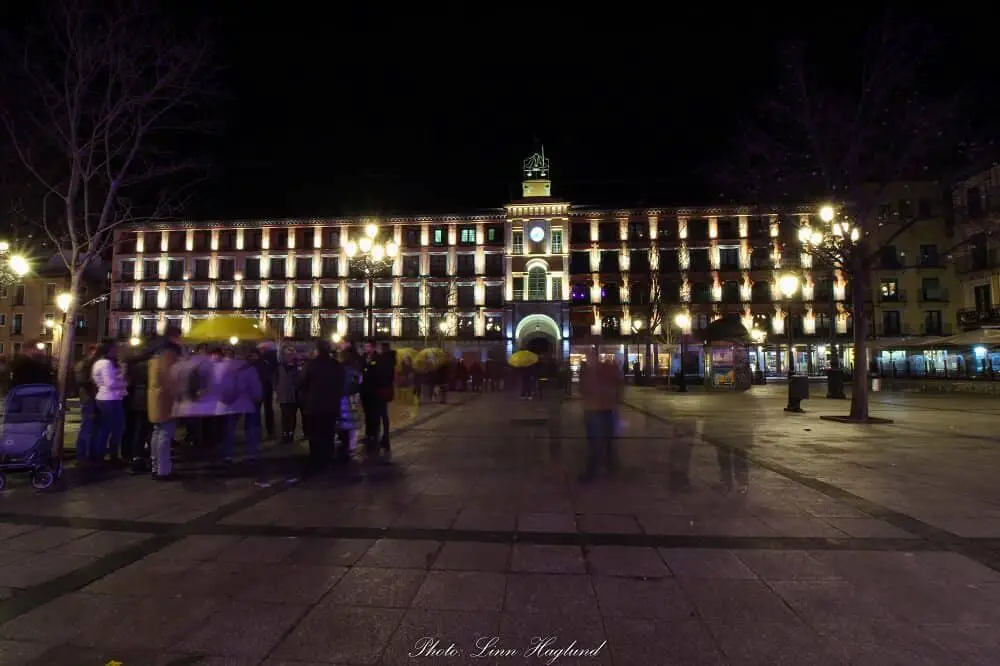 El Alcázar
By walking up the main road from Plaza Zocodover, you get straight to the Alcázar de Toledo, a fortress sitting on the city's highest point. Originally the construction dates back to Roman times, but was later rebuilt during the time Alfonso VI and Alfonso X reigned and again under the reign of Emperor Charles V. Now it houses a military museum.
Outside the Alcázar, there is a garden with spectacular views of the river below. Also, a good spot for sunset.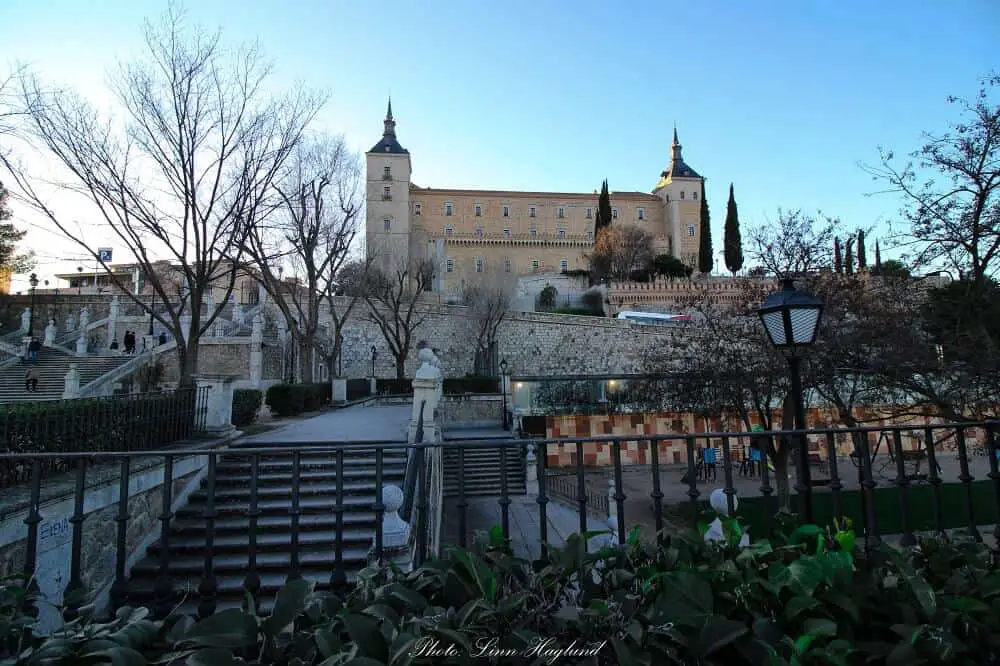 Catedral Primada
Toledo's Catedral Primada is an eye-catching medieval Gothic structure in the middle of Old Town. Walking up from El Alcázar it's only a 7 minutes walk, as long as you don't get trapped gazing at all the beautiful architecture along the way.
The exact spot where the cathedral stands today has been a central place for worship since Muslim rule when the town's main mosque stood there. Later, it was converted into a church and eventually destroyed. Long after, the Catedral Primada of Toledo was built on the same ground.
On the square in front of the cathedral, there is a beautiful piece of art, similar to a pond that fills up with water to give you incredible reflections of the cathedral and surrounding structures.
The inside of Catedral Primada is full of implausible details and an art gallery with masterpieces of artists like El Greco, Velázcuez, and Goya.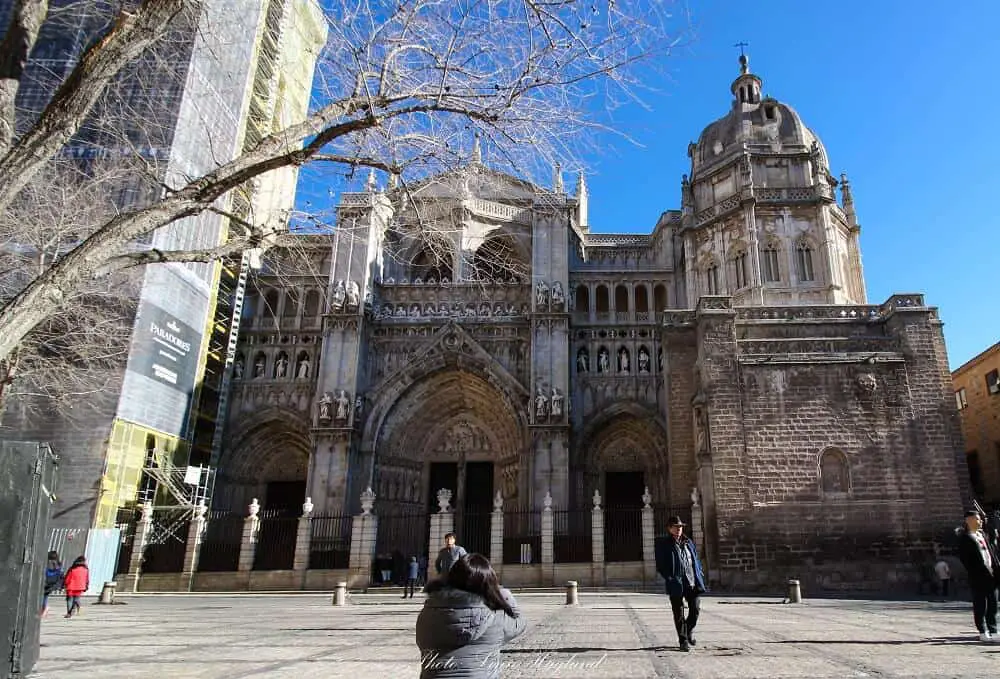 Lunch at Restaurante Madre Tierra
Restaurante Madre Tierra is a vegetarian restaurant with vegan options, just around the corner of Catedral Primada. The food is good and though I have read a couple of bad reviews on the service there, I experienced it as great.
One time, I had my dog, Ayla, with me and they let me take her inside and prepared me a table in a corner so I didn't have to take the food with me out in the cold.
After energizing with some food, it's time to head to the Jewish Quarter of Toledo Old Town.
Plaza Virgen de La Gracia viewpoint
Make sure you make a stop at the viewpoint of Plaza Virgen de La Gracia on your way to Monasterio de San Juan de Los Reyes. I ended up here by chance, but it was absolutely worth a peek at the monastery from above and the river views. From there, it is a short walk down charming, narrow, winding roads.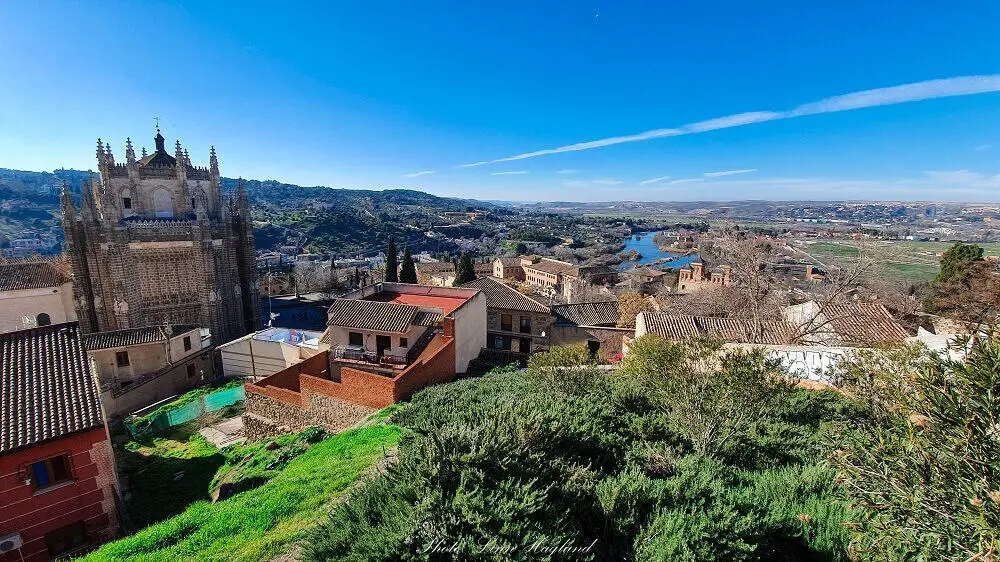 Monasterio de San Juan de Los Reyes
The Gothic monastery was built to celebrate the birth of a son and the victory of a war. The main facade is decorated with the chains of the freed Christian prisoners from Muslim times (you can see them on the left wall of the picture below).
The two-level cloister is one of the absolute highlights with a late Gothic style on the bottom floor and a Mudéjar on the second floor.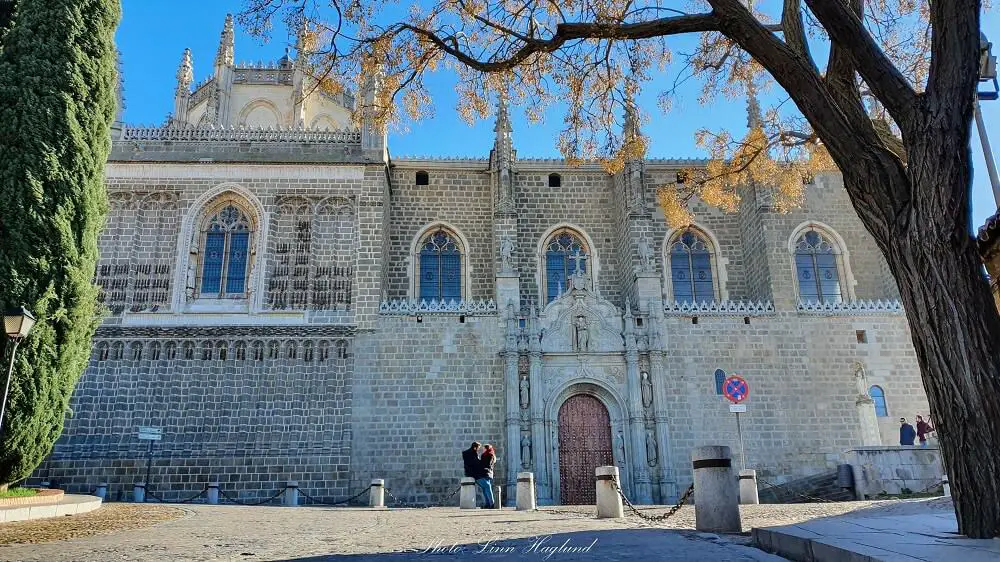 Puente de San Martin
Puente de San Martin is just next to Monasterio de San Juan de Los Reyes. It is one of 3 Medieval bridges crossing the Tajo river. With 5 arches, the biggest one in the middle has a span of 40 meters wide and 27 tall, which is pretty unique for the time it was built. The bridge has fortified towers at the ends for protection.
If you are the adventurous kind and have the time, you can try the zipline that goes across the river beside the bridge.
Opening hours for the zipline Fly Toledo are 10:00-18:30 and the price is 10 Euros.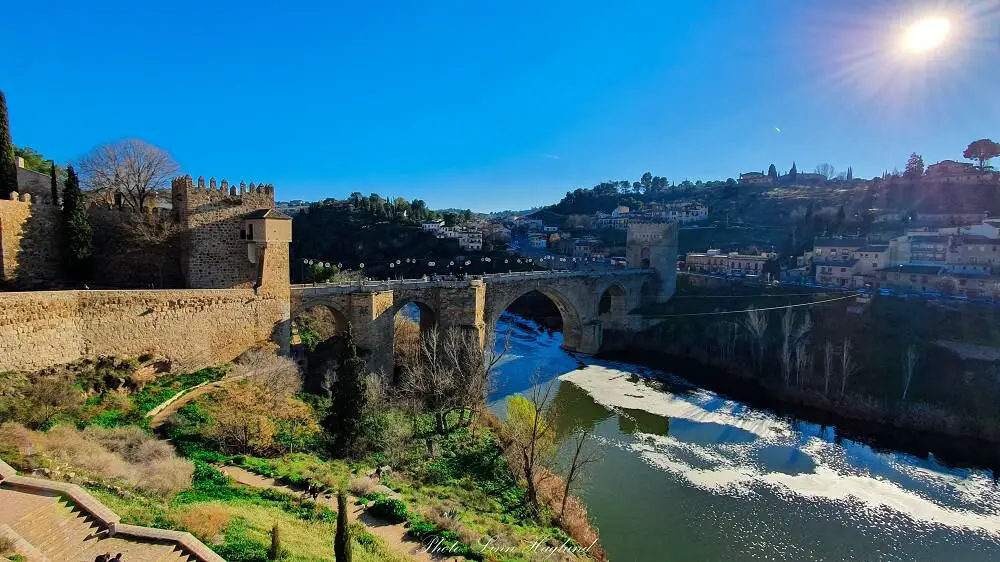 End the day with dinner at Piensa En Mi Taqueria Mexicana
There are many places to have dinner in the Jewish Quarter if you don't want to move too far. However, I went to this tiny Mexican that was packed with locals. And I went back again because the food was sooo delicious! Piensa En Mi Taqueria Mexicana is situated in Calle Plata 15, only a few minute's walk up from Plaza Zocodover. They have good options for vegetarians and vegans and very cheap and mouthwatering tacos.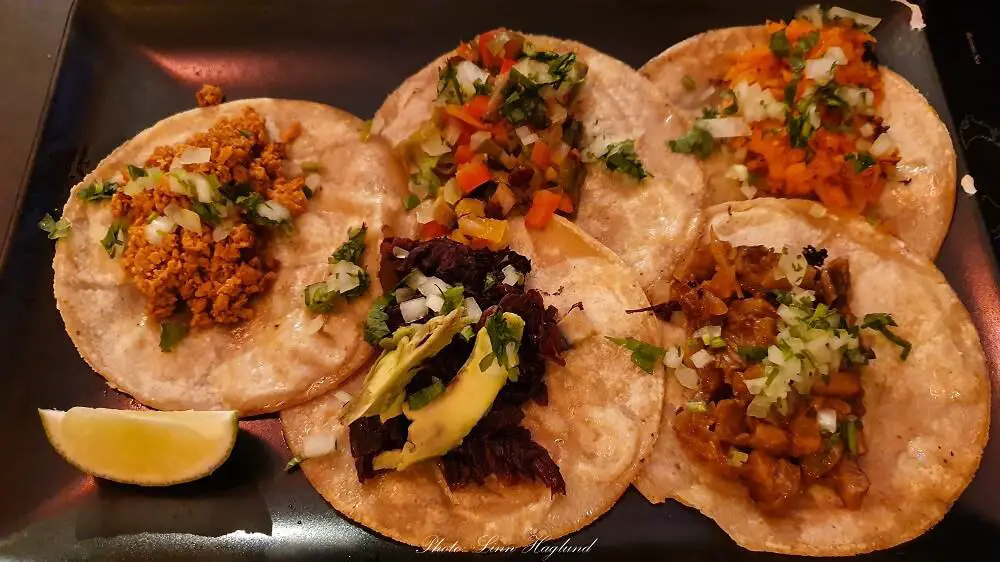 Responsible tourism in Toledo
As a natural tourist destination, Toledo is a city that at times gets too many tourists at once as it is an extremely popular day trip destination.
If you have the chance, you should try to spend more than one day in Toledo, but if you don't you should totally go for the day!
An option is to try to travel in the low season as I did.
Make sure you respect the locals and be friendly even though you feel stressed to get to see everything in a short time.
There is a bull ring in Toledo that is still used for bullfighting. Please stay away from activities related to this and give your vote against unethical animal tourism and events.
Luckily, there are more and more bullrings shutting down across Spain, but unfortunately, there are still a lot left that are extremely popular. Among them, Toledo bullring.
The old town in Toledo is, as mentioned before, a UNESCO World Heritage site so help out by keeping it clean and use the rubbish bins provided. If you travel with a dog, not only do you have to pick up its poop. You also need to pour water over its wee, or you can get a fat fine.
Dog owner or not, make sure you bring your reusable water bottle on your day trip to Toledo. This way, you don't contribute to plastic waste.
The tap water in Toledo is drinkable, so you can fill it up during the day. I love my eco-friendly water bottle from Bambaw as it keeps the water cold all day no matter how hot it is outside. If you like to filter your water anyway, test out this filtered water bottle from Brita.
With these small acts of responsible tourism, you will make a big difference.
Pin it for later!