After a couple of days exploring Spain's beautiful capital city, you might look for the best day trips from Madrid by train to expand your Spain itinerary.
I don't think any city is better situated for exploring Spain's hidden gems than Madrid.
Smack bang in the center of the country, it's the perfect day trip hub; you can truly uncover some of the prettiest and most charming towns and cities near Madrid by train. 
What's more, Madrid is well serviced by a range of comprehensive rail services, so reaching other regions of the country honestly couldn't be easier.
If you're looking to travel to Spain and want a way to get off the beaten track without needing to hire a car, then you really can't go wrong with taking the train.
As one of the best places to visit in Spain for first timers, Madrid is a fabulous base for exploring some of the most beautiful cities in Spain as well as enchanting Medieval towns and historical sites.
Read on to uncover some of my absolute favorite day trips from Madrid by train so that you can travel sustainably while experiencing some absolute gems.
Disclosure: This post may contain affiliate links. That means that if you make a purchase through one of those links, I will get a small commission at no extra cost to you.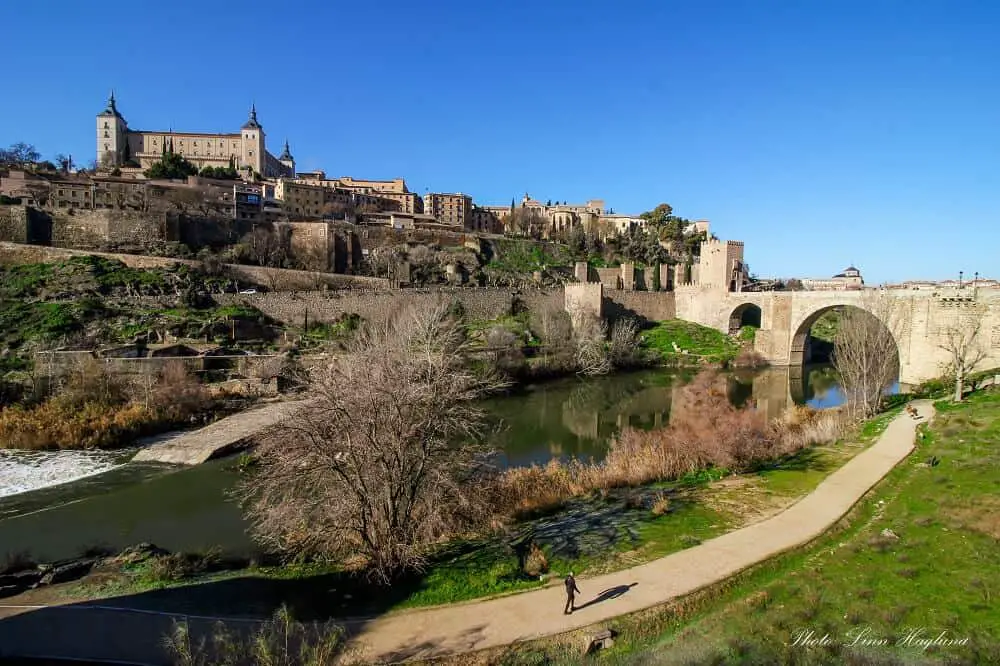 MORE FROM SPAIN
Navigating the Spanish Rail Network
Spain is home to a pretty diverse selection of rail services – nationwide, you've got the Renfe network, which is the Spanish national operator.
Renfe is in charge not only of the high-speed AVE trains that crisscross the country but also of a number of local routes. 
Beyond that, you'll find smaller companies in charge of suburban or intercity services. And, beyond that, Renfe does have a handful of competitors that operate their own high-speed trains between Spain's cities, which does wonders for keeping prices low. 
I'd pretty much always suggest that you purchase your tickets for train travel in Spain in advance wherever possible.
This is actually a requirement for almost all long-distance rail services in the country, and some short-distance ones, too; additionally, trains on some of the more popular routes can and do sell out during peak periods. 
Besides, booking your tickets in advance will generally see them costing a fraction as much of what they would if you'd picked them up on the day – I think that's as good a reason as any! 
Some discounts are available in Spain for train travelers; children under 4 travel free, for instance, while child fares exist for anyone under 14.
The Tarjeta Dorada, for seniors, grants users a 25% discount on all train tickets. Major operators in Spain also sell rail passes, which can make for a good way to save some money if you'll be using the country's train network extensively during your trip.
Best Time to Take Train Trips from Madrid
I'd argue that one of the advantages of train travel in Spain is that it's a robust means of getting from point A to B that is impacted minimally by factors like the weather and season.
Most of the high-speed, intercity trains in Spain are air-conditioned, for example, so you won't need to worry about getting too hot riding them in the summer. 
With that being said, train ticket prices will be higher the greater the demand for them is – if you're planning your holiday on a bit of a shoestring, you may want to visit Madrid in winter or fall.
However, spring and summer are when Spain really comes alive, so you'll find that there's more to do at this time of year, both in Madrid and wherever you might want to visit on a day trip from the city. 
In this vein, if you're trying to figure out when the best time to visit Madrid might be for some train day trips, I'd argue that things like the weather and the seasons need not play too major a role – provided that you know what to expect.
Best Day Trips from Madrid by Train
Toledo
Toledo is one of the oldest and most historic cities in all of Spain, making it one of the best Madrid day trips by train.
It's got a reputation for its stunning medieval architecture, Jewish roots, and its charming, walled old town.
The fortress of the Alcázar de Toledo is an absolute must-see; the same goes for the austere, imposing Monasterio de San Juan de los Reyes and the Catedral Primada Santa María de Toledo. 
If you hadn't guessed it already, this ancient city is an incredible place to sample some of the highlights of Spain's spiritual landmarks and religious architecture.
I can also heartily recommend checking out Museo del Greco on a day trip to Toledo Spain. The Greek artist spent many of his years painting in Toledo.
Something else that I loved about Toledo was how easy it was to get there by train from Madrid. With regular departures throughout the day from Madrid's Puerta de Atocha and a journey time of a little over 30 minutes, it really doesn't get much more convenient than that!
And while marzipan is typical during Christmas in Spain, Toledo is famous for it all year round!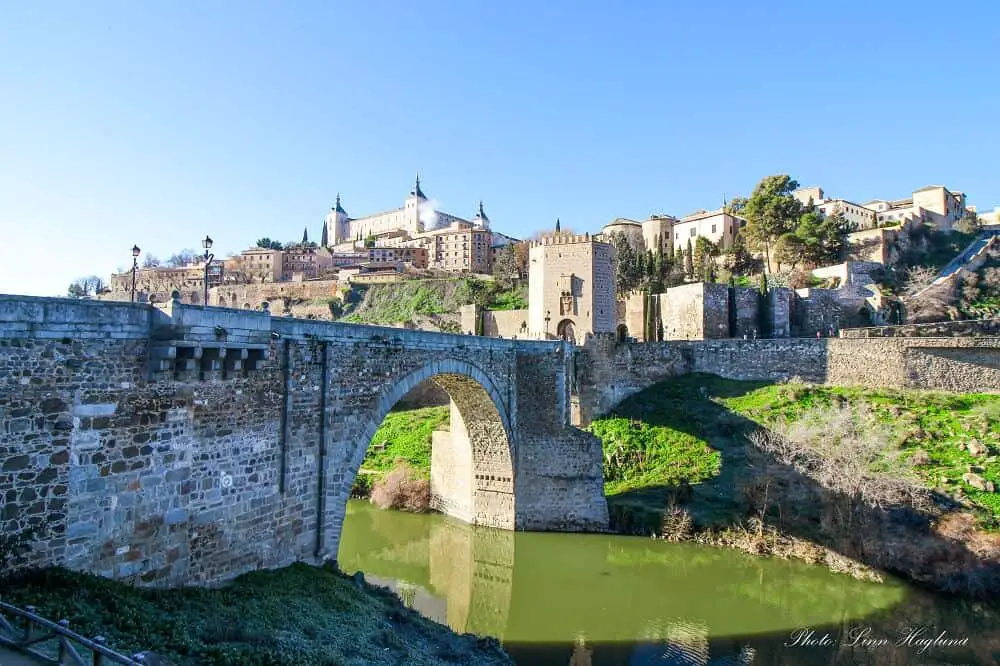 Segovia
Another top choice is a day trip to Segovia from Madrid. Even in a country as ruggedly historic as Spain, Segovia stands out as being a bonafide architectural wonderland in my mind.
Among the best things to do in Segovia are to visit not only the city's aqueduct, which was built all the way back in the Roman era but the jaw-dropping design of the gothic Segovia Cathedral and the dreamy Alcázar castle.
Both beggar belief (with the latter somewhat resembling Carcassonne in the south of France). 
Combine these incredible sights with some other iconic landmarks, like the Plaza Mayor and the palace of La Granja of San Ildefonso, and you've got an absolutely winning day trip by train from Madrid.
Getting there by rail couldn't be easier, either; you can hop on at Madrid-Chamartín-Clara Campoamor and disembark at Segovia Guimoar.
Tickets are very affordable and the journey usually takes less than half an hour – I really can't think of a more accessible option for a day trip from Madrid than that!
Valencia
Stunning Valencia is a global favorite, and for good reason, it hits most travelers' Spain bucket list. It's by far one of my favorite coastal cities in Spain.
Despite being one of the country's largest cities, Valencia still manages to retain a relaxed, down-to-earth feel; in more recent years, it's been attracting plenty of attention thanks to the way it marries its gorgeous old town district with its groundbreaking City of Arts and Sciences museum. 
I think Valencia is one of Spain's most exciting, dynamic cities; something that's all the more impressive when you consider the atmosphere of the place.
With one day in Valencia, I can thoroughly recommend that you check out the city's central market (Mercado Central de Valencia), Valencia Cathedral, and the gothic La Lonja de la Seda as some of the best things to do in Valencia.
You could also join one of the many bike tours in Valencia to get around easily and learn more about the city.
If you'll be traveling to Valencia from Madrid via train, then you can expect your journey to take around two hours. There are regular departures from Madrid's Chamartín station, as well as Puerta de Atocha.
BEST ACTIVITIES IN VALENCIA
Zaragoza
Straddling the sleepy river Ebro, Zaragoza is probably most famous for its basilica, the Cathedral-Basilica of Our Lady of the Pillar, as well as the myriad of architectural styles and schools represented in the many historic buildings dotted around the city.
The basilica is absolutely stunning – I think it just might be one of the most impressive religious buildings in the whole country – and the way the river frames its façade makes for a fantastic photo opportunity. 
Some of the most impressive landmarks in Zaragoza include the Palace of Aljafería, as well as the Plaza del Pílar, and the sprawling park of José Antonio Labordeta.
I love this city's distinctly Spanish skyline, and I urge you to pay it a visit if you're in any way an architecture enthusiast. It's by far one of the best train trips from Madrid you can take in a day.
Direct trains depart fairly regularly from Madrid's Puerta de Atocha to Zaragoza, and the journey typically takes around an hour and 15 minutes.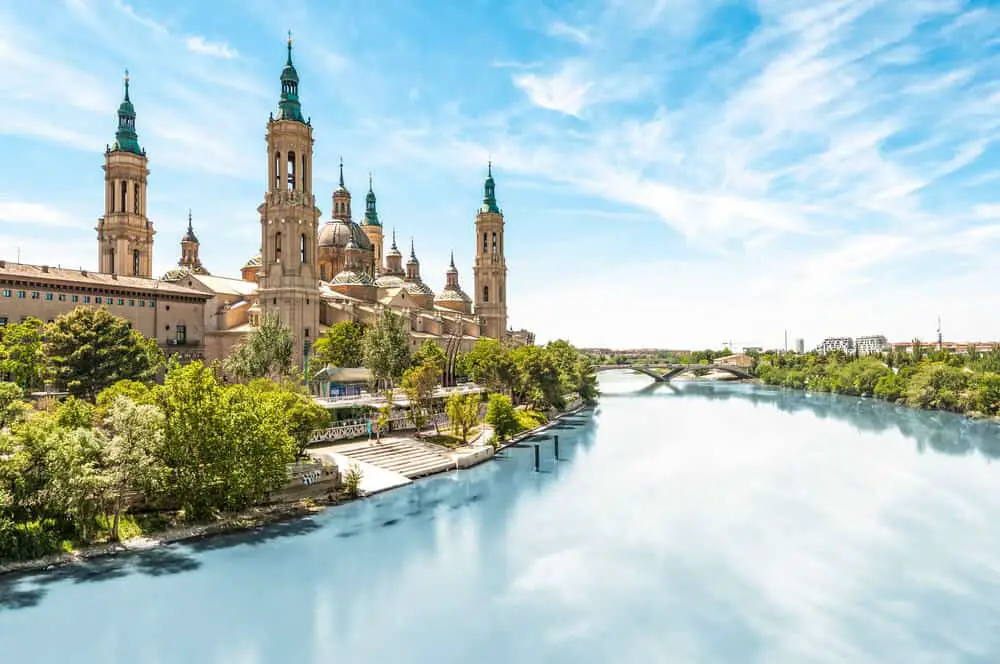 Córdoba
Colorful Córdoba and its world-famous Mosque-Cathedral are on plenty of bucket lists, and I hardly think it's much of a surprise.
This gorgeous city is probably one of the best places in the world to see authentic, old-world Moorish architecture; of course, the Mosque-Cathedral, or Mezquita-Catedral, has, over its long lifespan, served as one of the major seats of both Islam and Christianity for people living across Spain and beyond. 
If you pay a visit to this incredible Andalusian city, I encourage you to check out the Alcazar and Roman Bridge, too, which are perfectly possible with only one day in Córdoba.
Córdoba is also a veritable mecca for archaeology enthusiasts (does that go without saying?) – the Archaeology Museum, Palacio de Viana, ruined Roman Temple, and Plaza de la Corredera are all also must-sees.
Finally, make sure you book a tour to see the magnificent Patios of Cordoba. If you happen to be there at the beginning of May, you will be able to see them all for free as the locals open their private patios to the public.
Thanks to Spain's fantastic network of high-speed trains, reaching Córdoba from Madrid really couldn't be easier.
Departures run from Puerta de Atocha reasonably frequently, and you can expect the journey itself to take roughly two hours one way.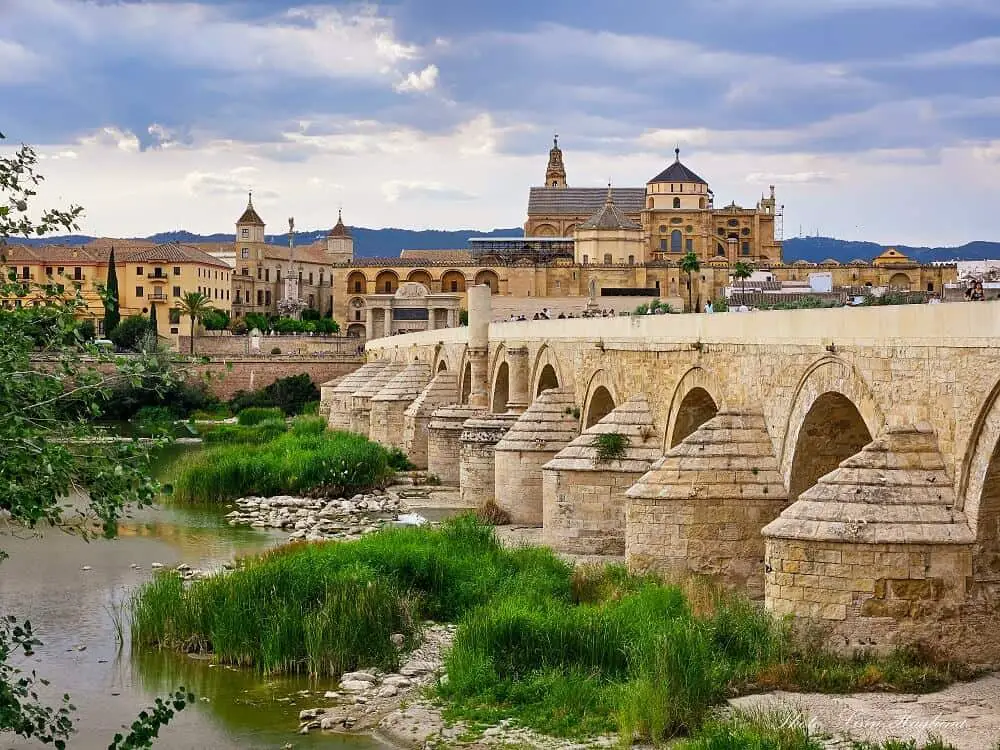 El Escorial
The fact that more people don't know about El Escorial always blows my mind and I highly recommend it as one of the top day trips from Madrid by train.
Almost a city unto itself, this ginormous building, found just outside Madrid's city limits, is the world's largest Renaissance structure; it's essentially a monastery, hunting lodge, basilica, library, museum, pantheon, royal palace, school, hospital, and university, all rolled into one. 
These are all split into two separate buildings; the old monastery and the palace complex. Some of the attractions in the monastery offer free entry, but I recommend paying the full price of admission so that you can see and do as much as possible during your visit.
The guided tour is also a fantastic way to learn the rich and, at times, unbelievable history of this very unique building. 
Trains departing from Madrid will get you to El Escorial in a little under an hour, leaving primarily from Chamartín station.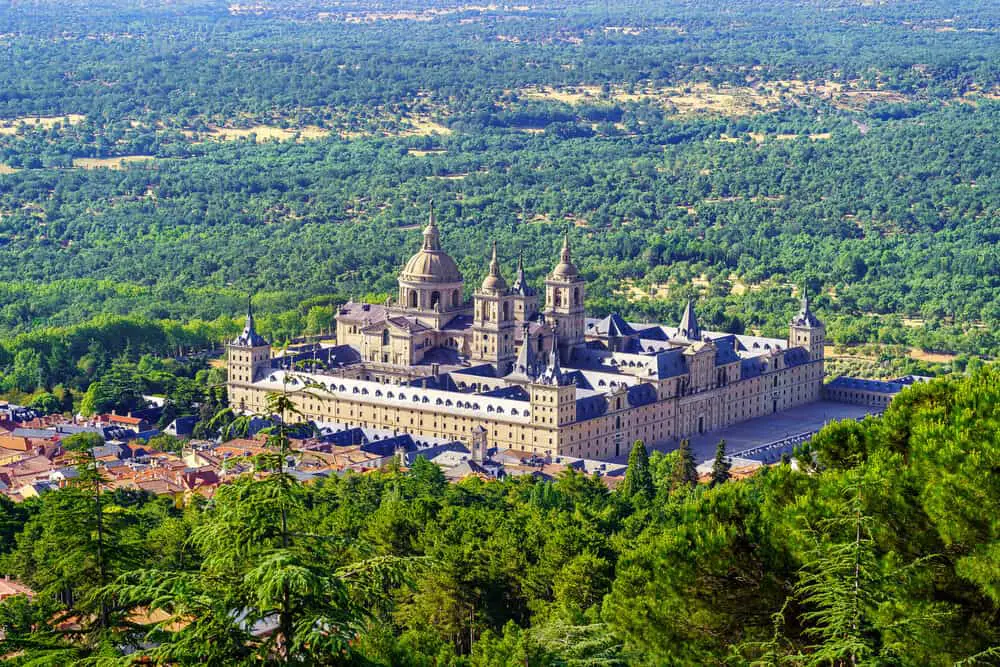 Cuenca
The mysterious mountain city of Cuenca has been beguiling and enthralling visitors for centuries. I love the way its perfectly preserved medieval walls enclose the historic old town; the way Cuenca hangs precariously over the cliffs below it makes for a pretty impressive photo op, too, if you dare!
Nowhere in the city better illustrates this than the houses of Casas Colgadas, whose residents must be pretty brave indeed.
Other things to do in Cuenca include the stunning cathedral, as well as a number of excellent museums, like the Paleontology Museum and the Museum of Science.
The city is also home to a number of beautiful parks, which make for a lovely place for a stroll, no matter the weather!
Getting from Madrid to Cuenca is simple by train. Between the stations of Chamartín and Puerta de Atocha, there are typically departures every half hour or so, and the journey usually takes around an hour.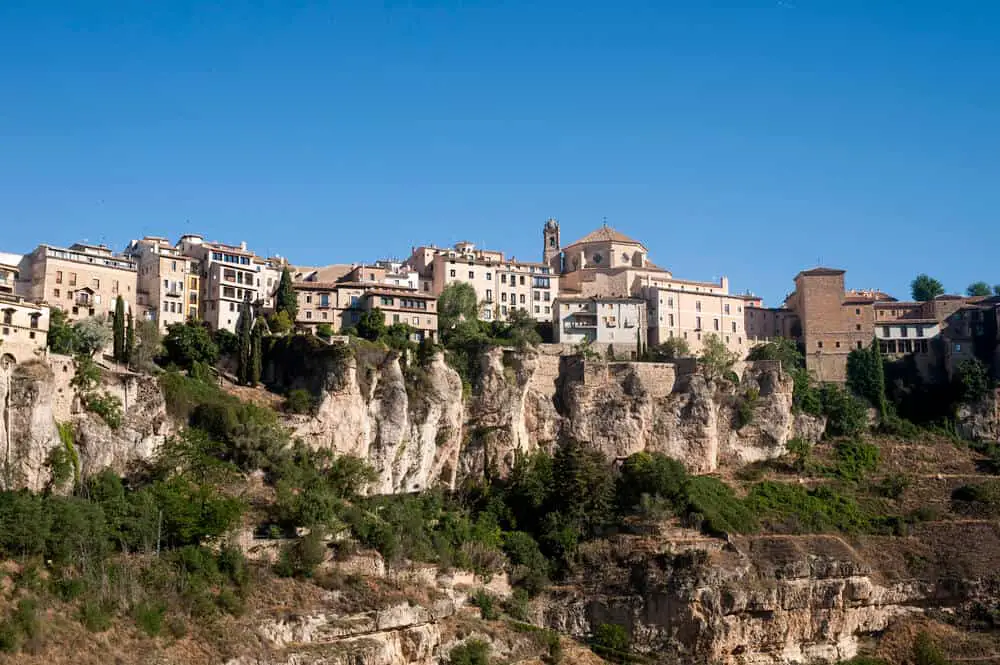 Alcalá de Henares
You hardly need to be a literature buff to have heard of Don Quixote (unless you were born under a rock!) and Alcalá de Henares is the birthplace of said legendary book's just as legendary author, Miguel de Cervantes. 
But that's far from being all the city has going for itself. In fact, its whole historic city center is a UNESCO World Heritage Site; not too shabby, if you ask me!
While there is, naturally, a museum that's been converted out of Cervantes' old place of birth, some other sites I think are definitely worth a visit in this cool little city include Laredo Palace, the Corral de Comedias theatre, the Regional Archaeological Museum of Madrid, and the various convents and churches that call Alcalá de Henares home. 
To reach Alcalá de Henares via train, you can depart from Puerta de Atocha. The journey takes just over 40 minutes.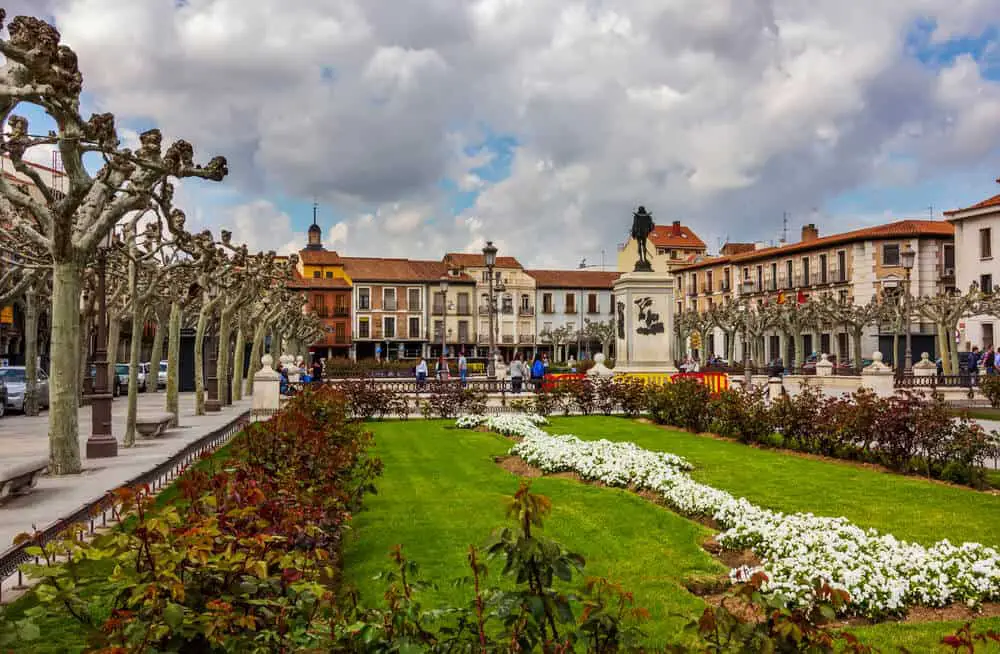 Aranjuez
Aranjuez is best known as the home of the Royal Palace of Aranjuez, which is probably one of the most eye-catching and distinctive in the whole of Spain.
You can almost think of the place as a Spanish Versailles; the palatial (both literally and figuratively) complex features expansive gardens, as well as the Renaissance-style palace itself, which honestly needs to be seen to be believed. 
While most of the landmarks and sights worth seeing in the area are found within the palace grounds, the town of Aranjuez is quaint and picturesque; it's somewhere I enjoy coming for a stroll on a balmy afternoon, for example. 
Traveling from Madrid to Aranjuez by train is a pretty straightforward affair, too, taking about 45 minutes from Puerta de Atocha.
You'll usually find that there are departures every 20 to 30 minutes or so, ensuring that you have plenty of flexibility to plan your trip however you like.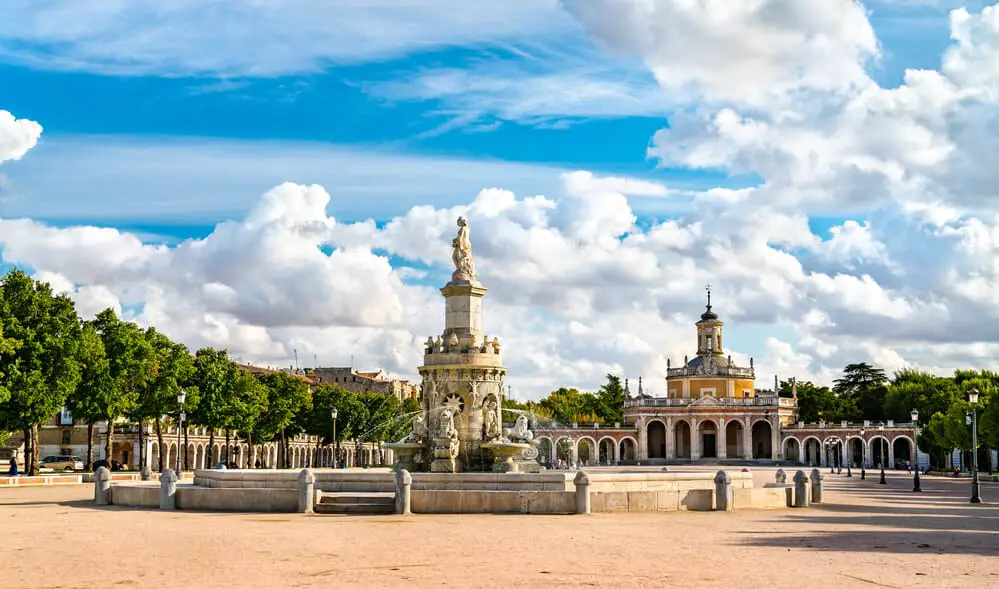 Valladolid
Valladolid really has my heart; not only is it famous for its incredible array of pristinely preserved medieval buildings, but it's also home to one of my favorite parks in all of Spain, the atmospheric and tastefully decorated Parque Campo Grande. 
The expansive public square of Plaza Mayor de Valladolid makes an impression on pretty much every visitor to this charming city.
Other than that, I suggest that you check out the local cathedral, as well as the Museum of Casa de Cervantes and the Palace of Santa Cruz. 
Slightly further afield than some of the day trips on this list, Valladolid takes a little over an hour to reach from Madrid via train.
With departures typically every half hour or so from Chamartín station, you'll generally have a decent amount of flexibility as far as when you leave and arrive.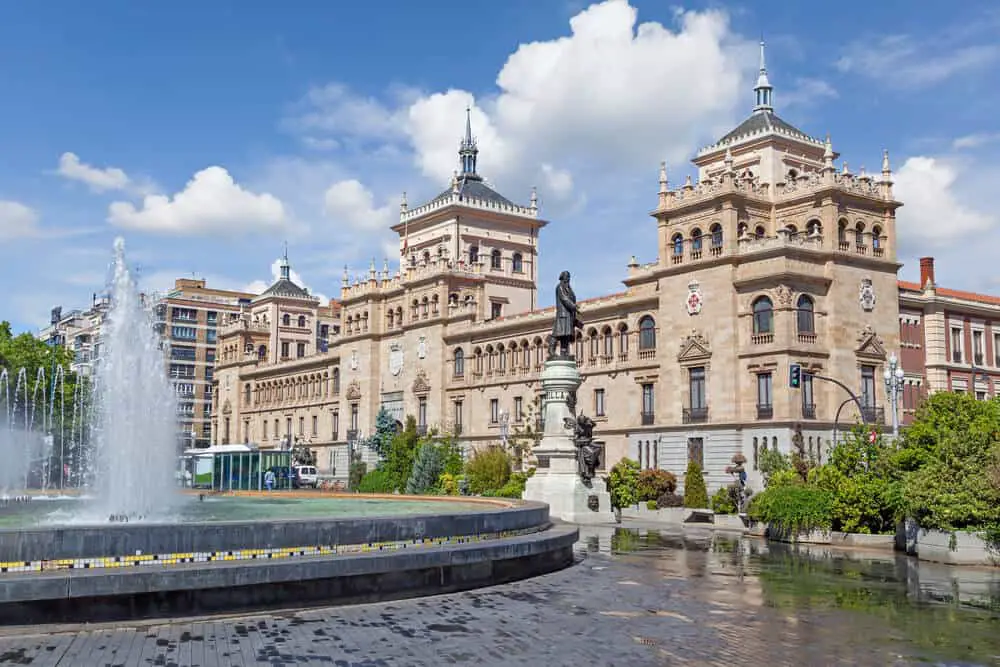 Tips for Planning Your Day Trip
Before you set out on your day trip or day trips from Madrid by train, you'll naturally want to make sure that you're well prepared. Consider the weather and the kinds of activities you'll be doing in advance; do you need a good pair of hiking shoes, for instance, or a raincoat? 
When working out which trip or trips you want to make, you should probably consider how many days in Madrid your holiday is going to include. Will heading out on multiple-day trips give you enough time to really get to know Madrid itself?
And, finally, while it probably sounds obvious, navigation apps like Google Maps are absolutely invaluable when you're exploring a new place and trying not to get lost – especially if you've got a return train to catch later that day.
Final thoughts on Madrid day trips by train
As you can tell, there are so many amazing day trips by train from Madrid that you can take. It truly is one of the best hubs for day trips in the country considering the great rail connection of the city.
I'm sure you found some cool day trips from Madrid by train to explore in this list, they are truly epic destinations all of them.
Happy travels!